Staining wood furniture black is often an unexpected choice, but can be really very beautiful. Here are our 3 favorite black wood stains tested on 7 species of wood!
I love selecting the perfect finish for a piece of wood.
Different stain colors can compliment the wood's grain or cover it completely for a totally new look.
I have really enjoyed using black wood stain lately.
We originally purchased a can to stain the legs of this wooden desk for Sean's mom.
All of her inspiration had black metal legs, so black wood stain was a way to get that look while still using wood.
Black wood stains can also be used if you want a dark, masculine look. If you have a rich-toned, moody colored space, black is a great option.
Black stain can also be used to cover up wood with dark knots in it. As you will see in my samples, black stain has really great coverage.
Black wood stains have a lot of cool applications, so let's check them out!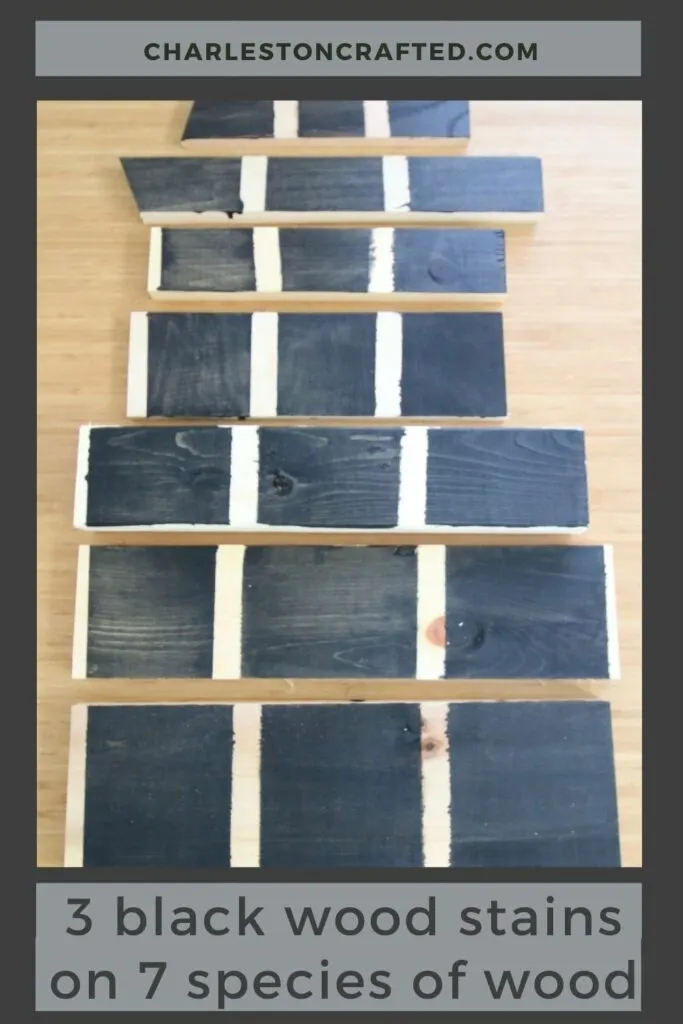 The best black wood stains
The three black wood stains that we are sharing are:
Minwax True Black
Varathane Black
Varathane Classic Black
We are sharing these because they are all slightly different and all great in their own ways.
Plus, they are easy to find. Varathane is carried at Home Depot and Minwax is at Lowes. So, if you have those two stores, these are basically all of your black wood stain options.
We tested each of these wood stains on 7 different types of woods so you can see how it might look on your project:
Poplar
Oak
Cypress
White wood
Pine
Birch plywood
Standard 2×4
Click here to read about how we tested ten different wood stains on 5 species of wood each!
Minwax True Black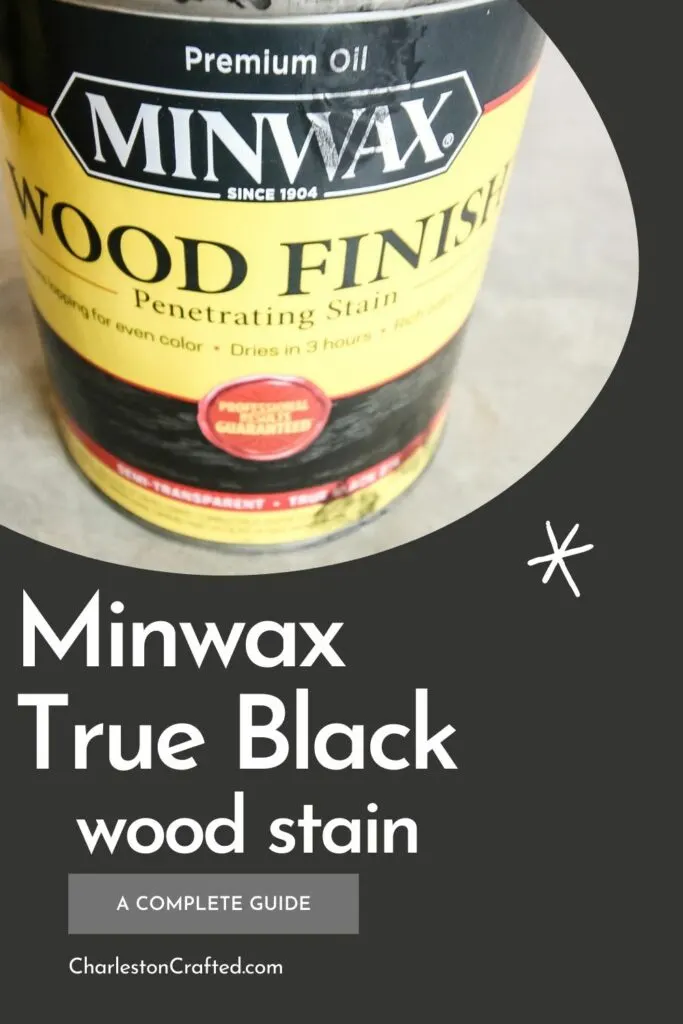 True Black is made by Minwax and is available at Lowes.
This is a seriously BLACK stain. It's almost always full coverage with no wood color showing through – you only see the texture of the wood.
Black matte is really pretty and if you want the coverage of paint with the benefits of stain, this is my pick!
Click here to read my full review of Minwax True Black.
Varathane Black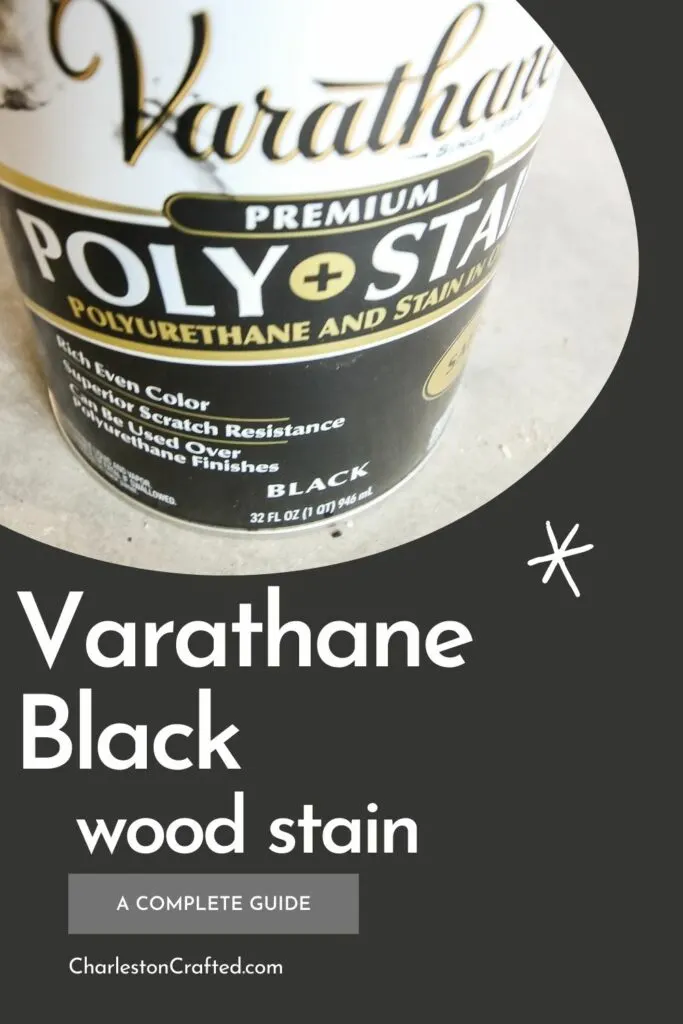 Varathane makes a stain called Black. This is the blend with built in poly, which I love because it saves a step.
If you notice a slight sheen, it's because the poly has a satin finish.
This is the lightest of the black stains that I tried, and lets a decent amount of wood color show through.
Because of this, some of the woods look a bit splotchy. You could combat this with a good pre-stain wood conditioner or by applying a second coat.
Click here to read my full review of Varathane Black.
Varathane Classic Black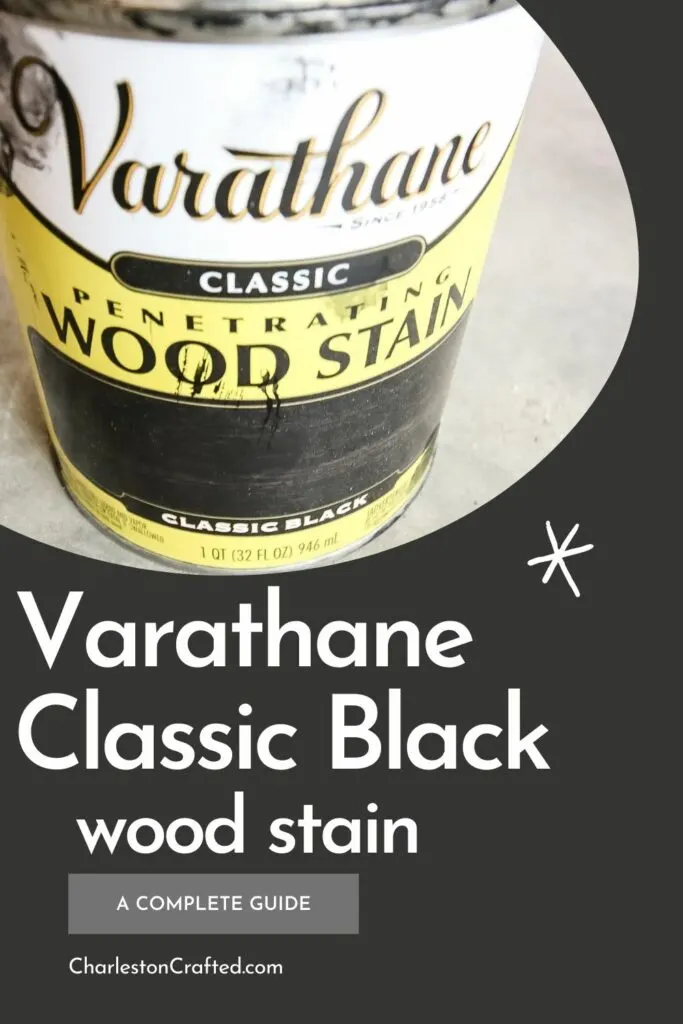 Classic Black is a stain by Varathane and is generally available at the Home Depot.
This stain has good coverage but does let some wood color shine through. If you want black without it being 100% black, this is my top pick.
Click here to read my full review of Varathane Classic Black.
Black Stains on each type of wood
Here's a snap of these black wood stains on each type of wood.
I left them on one board each to help keep the grain as consistent as possible.
You can see strips of the raw wood (from where I applied painter's tape) between each swatch.
These are unedited photos taken in indirect natural light.
From left to right: Varathane Black, Varathane Classic Black, Minwax True Black
Poplar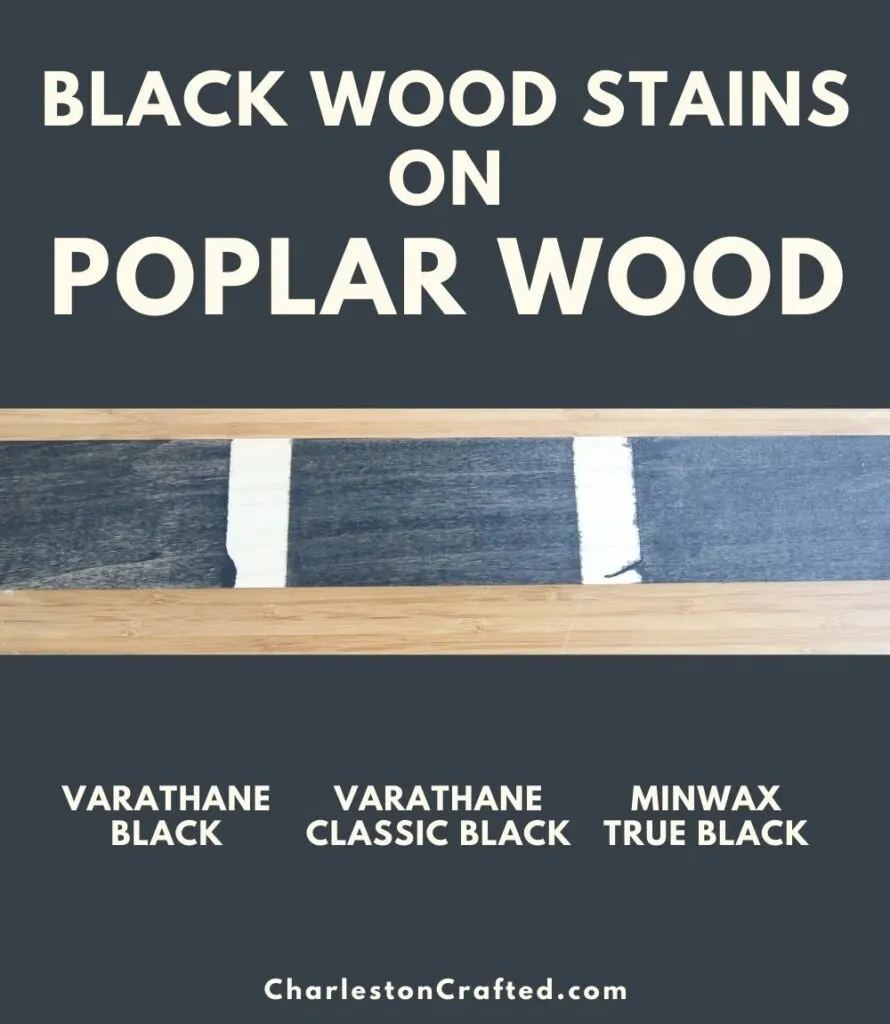 Poplar is a popular wood for building with. It has natural green undertones.
I was actually surprised at how light True Black looks on poplar – it definitely lets the specks of wood shine through.
Varathane Black lets a lot of wood through and it almost seems like a "white wash" effect but black. It looks a bit rustic which is great if you are going for that look.
Classic Black is once again a medium between the other two stains, with a bit of wood showing though, especially in "waves" along the grain.
Oak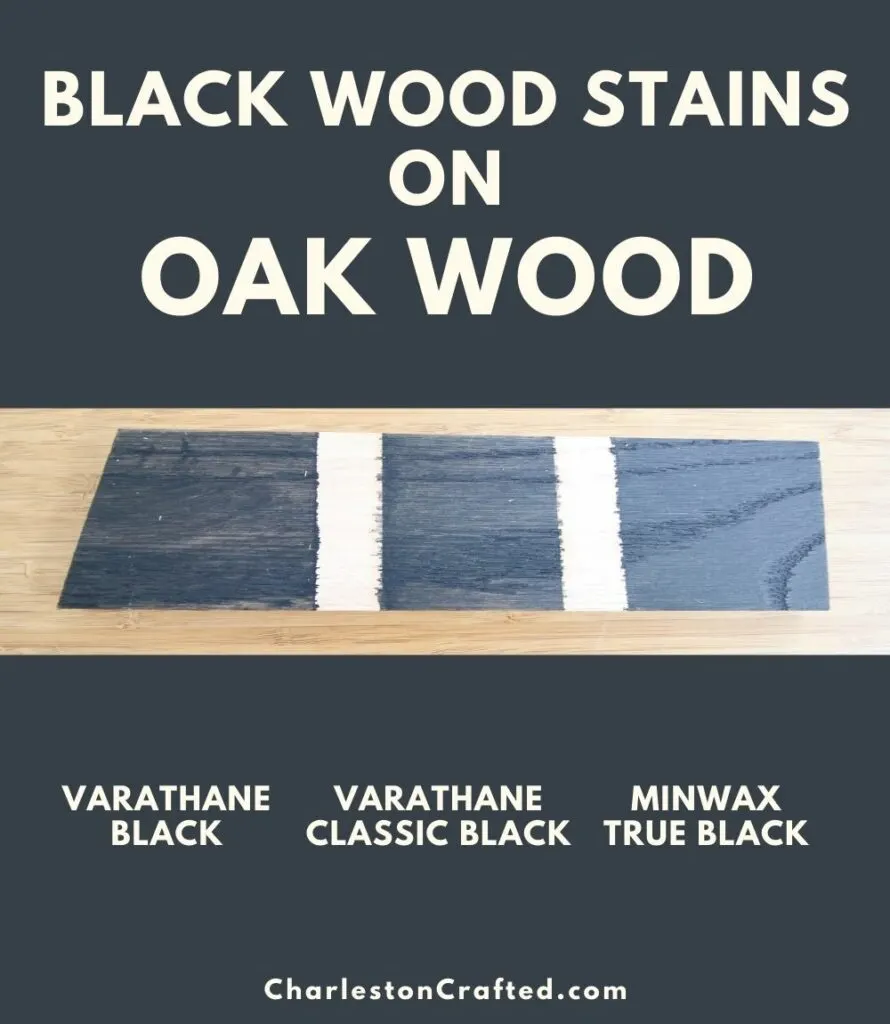 I would never actually stain oak black – it's too expensive and beautiful – but I had to try it for this experiment.
Varathane Black gives an obvious black coat but still lets I'd say 20% of the wood's natural color show through.
Classic Black gives more like 90% coverage. And True Black gives 100% coverage – you can see the texture of the grain but zero color.
I'm actually surprised that I like the True Black here – having it all matte black really lets the beautiful grain shine.
Cypress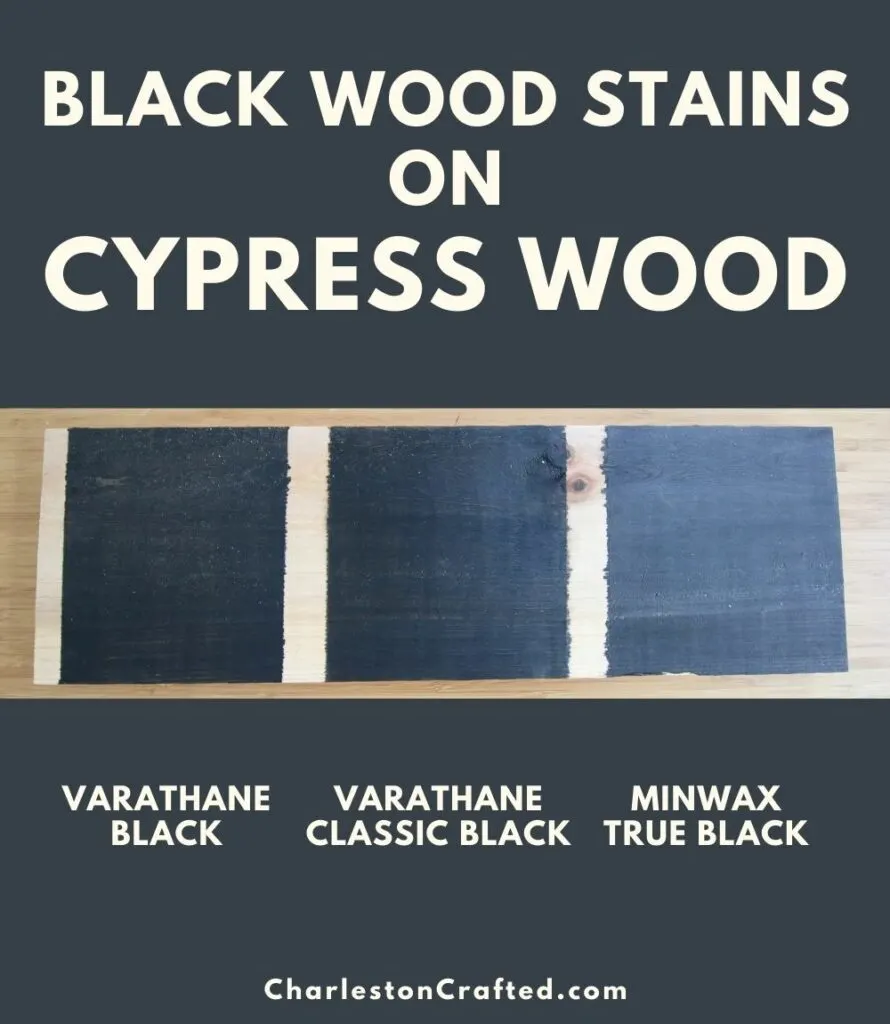 Cypress is a wood with natural reddish undertones and I think it is really beautiful naturally so staining it black honestly pained me!
That being said, I like how Black obviously colored the wood black but the redness still shows through on the grain.
Classic Black let a little grain show through but not really much to speak of. And True Black is full coverage.
I'd never stain cypress black, but if I had to, I'd choose Varathane Black.
White wood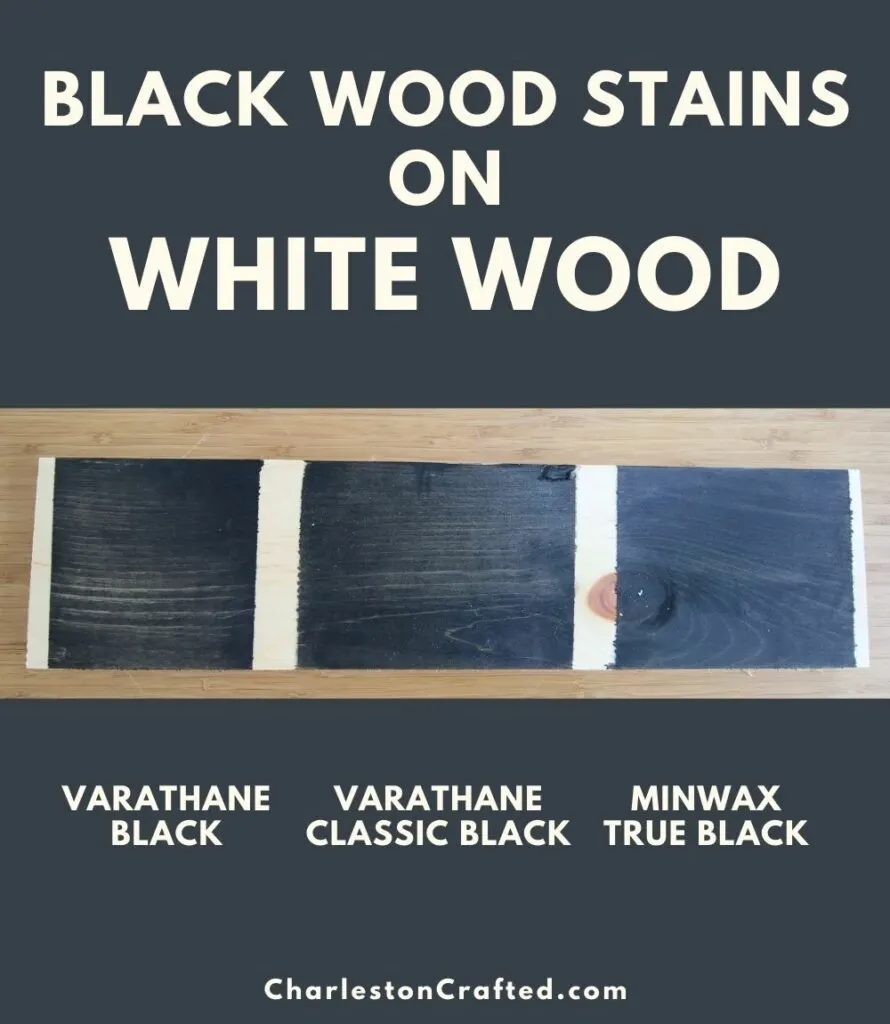 White wood is an inexpensive wood with light tan color and medium-dark brown knots.
True Black is once again the darkest here, with almost complete coverage. You see almost just the texture of the grain thru it.
Black is the lightest with the most lightness along the grain and Classic Black has a small amount of lightness or uneven absorption of color around the grain.
If you want all-black, go True Black. If you want a bit more grain and wood showing, I like Classic Black for this one.
Pine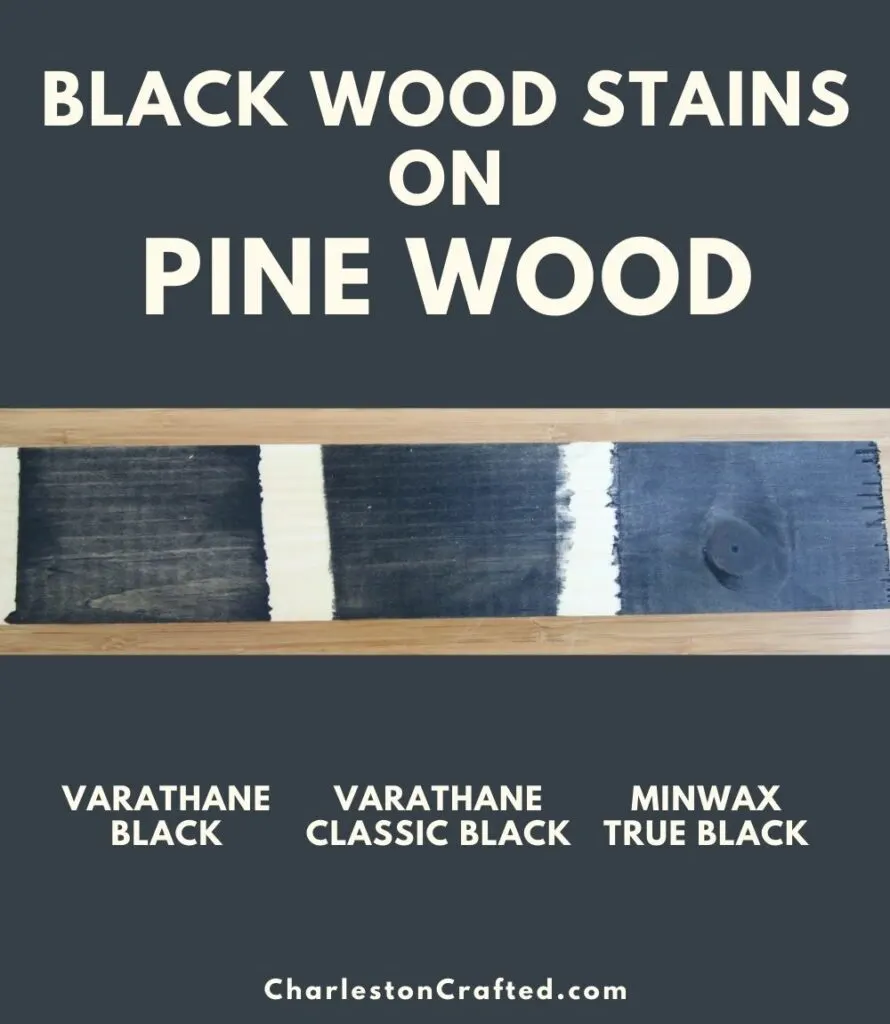 Pine is a light wood with yellow undertones and tan graining, as well as dark brown knots.
Varathane Black looks really splotchy and not it's best on pine.
I like how Classic Black lets the texture of the grain and a bit of lightness through but still gets even coverage.
True Black gives full coverage with no wood showing through.
Birch plywood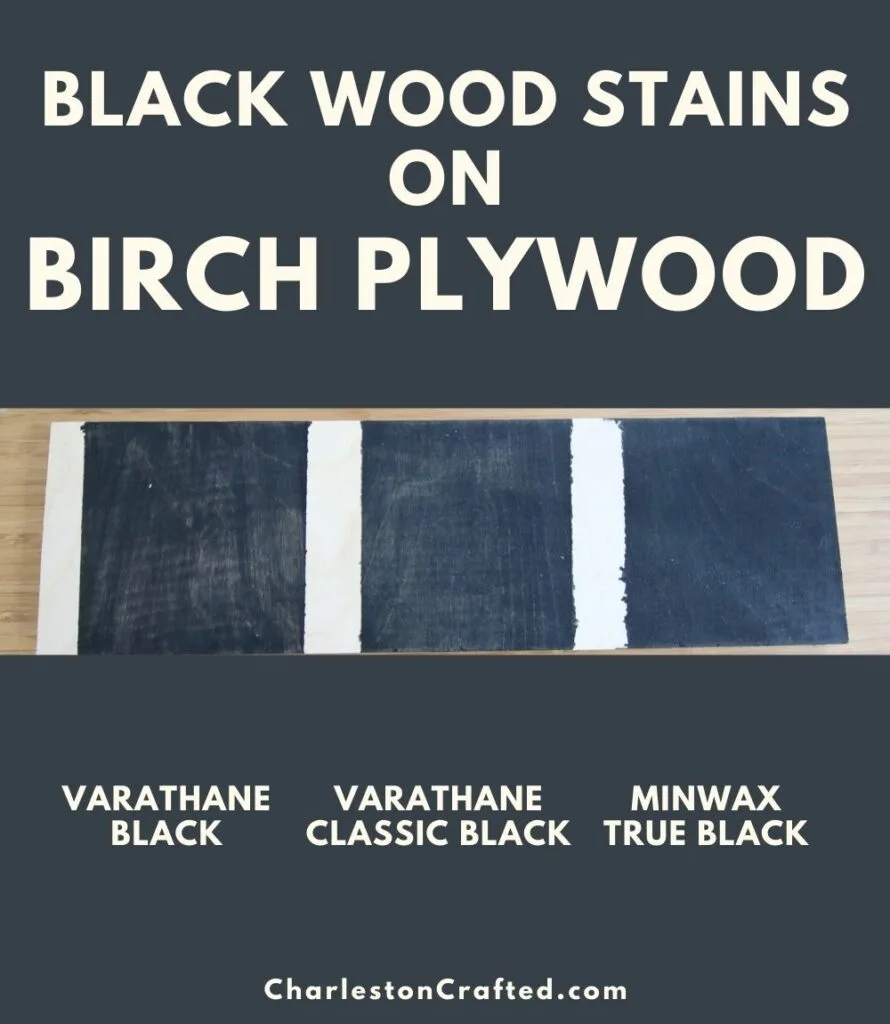 Birch plywood is a very light wood with gorgeous natural graining.
I feel like Varathane Black absorbed really unevenly and splotchy. The other two stains absorbed much more evenly.
Classic Black gave good coverage with a tiny bit of lightness along the grain.
True Black is as black as if you'd painted it solid.
I definitely prefer Classic Black on birch.
Standard 2×4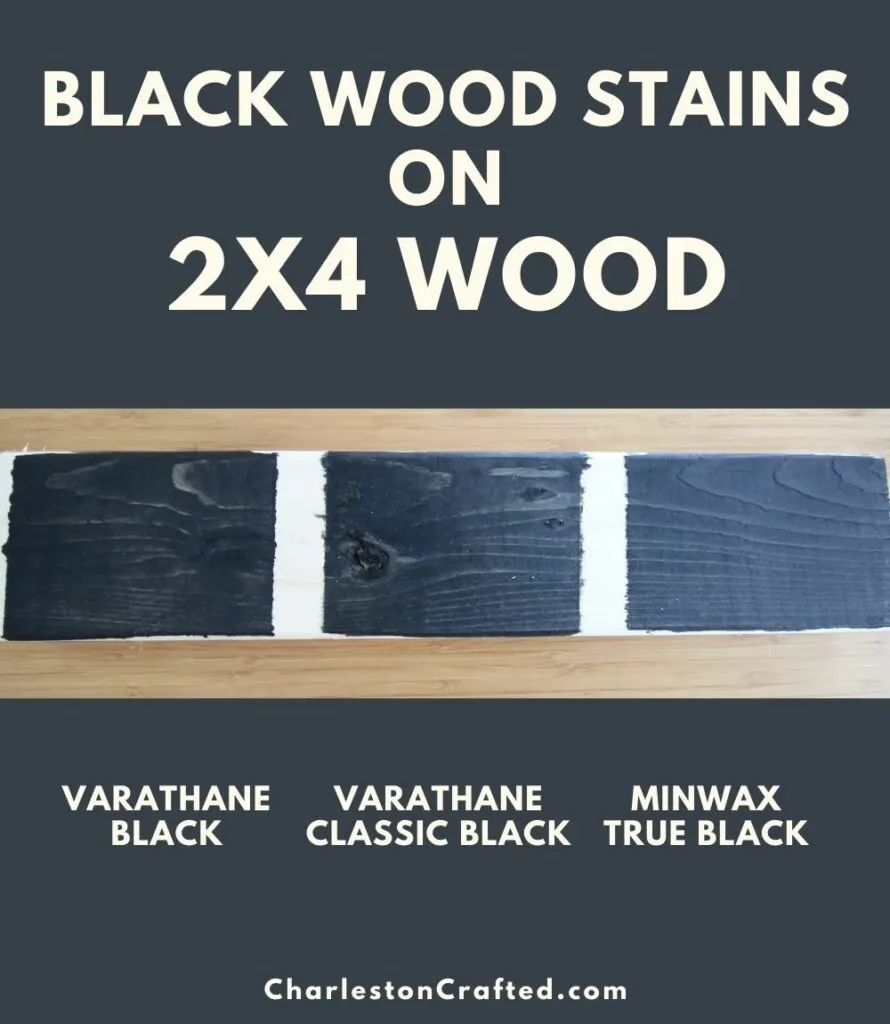 2x4s are very light wood with lots of holes and knots and a wave-like grain.
True Black gives full coverage, almost like a paint (but absorbed into the wood and not sitting on the surface like paint does).
Black wiped off a good bit along the wood grain, giving it an uneven look.
I like how Classic Black gave good coverage but still let a bit of the grain show through on this one.
Black stain vs. black paint
If you are trying decide between black stain and paint for your wood project, let me share the benefits of using a wood stain:
The natural beauty of the wood shines through
Paint can look more plastic or fake than stained wood
Paint can peel or chip since it sits on the wood's surface, but stain soaks into the board and will not scratch off
Stain usually needs only one coat and if you use the stain + poly in one, doesn't even need a top coat
Paint has a much longer dry time than stain
Can I make black stain with paint + water?
You can water down paint for a "white wash" type look, but black.
However, it is really hard to color match or touch up since it's hard to mix it exactly the same twice.
Plus, watered down paint will peel and scratch like paint!
Can I use black stain over stained wood?
You can definitely apply black stain over already stained wood. But, since these stains have so much coverage, it will likely cover up the stain underneath entirely.
If wood has poly or another protective coat on it, lightly sand before adding stain to make sure it absorbs evenly
How do you stain wood black?
Black wood stain is really easy to apply!
It's important to start with clean, sanded wood. Wood straight from the store can have a slight coating on it, so be sure to lightly sand to expose the fresh wood underneath.
You may then apply a wood conditioner if you want to help the stain absorb more evenly.
Wood conditioner is very important with dark wood stains, which look splotchy more easily.
Think of wood conditioner like this: kind of like your skin, wood has spots in it that are naturally dryer than others.
Those dry patches will absorb a lot more stain than the less dry spots. So, they will appear darker and create spots, splotches, or streaking.
Wood conditioner or pre-stain is like lotion for your wood, evening out the dry spots and allowing the stain to then absorb evenly.
Then, apply the stain. I like to use a lint-free cloth and apply in the direction of the woodgrain.
Let sit for five minutes or more and then use a clean cloth to wipe off any excess. Don't forget to check the sides for drips!
Be sure to check out my other DIY wood stain ideas!
Video demonstration
Check out my video showing how to stain wood black and all of these wood stains sampled!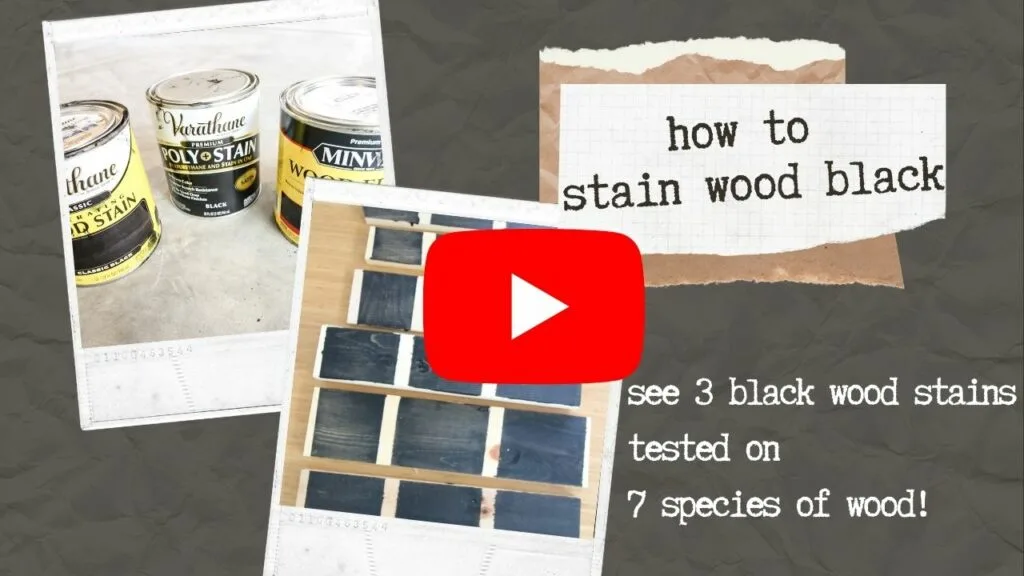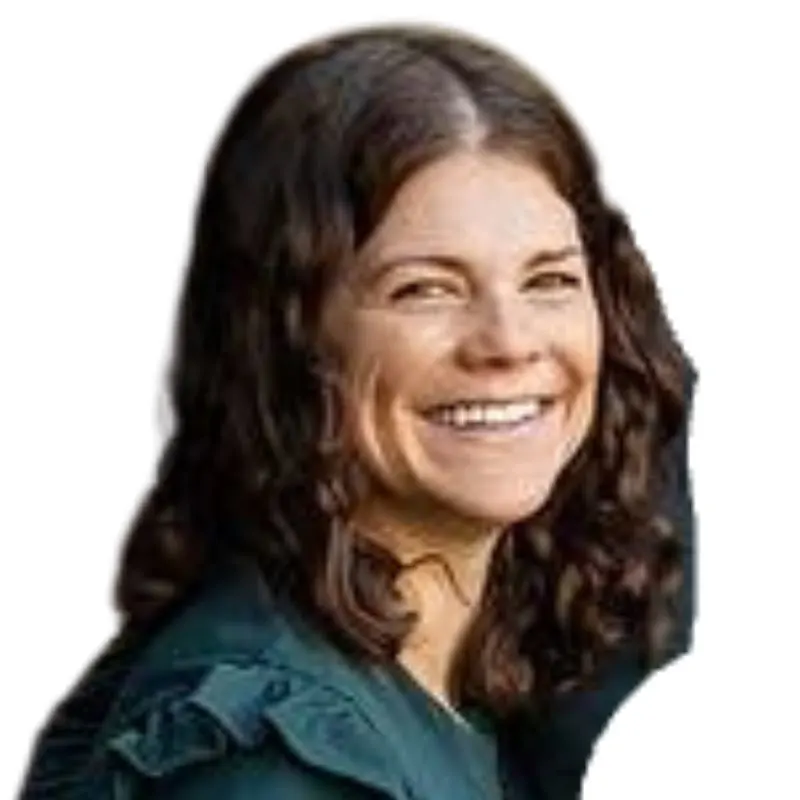 Hello, I'm Morgan, half of the creative force behind CharlestonCrafted.com! With a passion for DIY that dates back to 2012, I've transformed three homes and now I'm dedicated to helping others craft their dream spaces. Let's turn your house into a home together!