Looking for the perfect white wood stain? Here is everything that you need to know about Varathane Antique White including how it looks on seven types of wood!
I have been loving staining furniture pieces white lately.
White wood stain can give a look that leans modern, coastal, or even rustic farmhouse.
If you are looking at white wood stains at Lowes or Home Depot, there are basically three choices – read about them here.
Today I want to talk about Varathane's Antique White.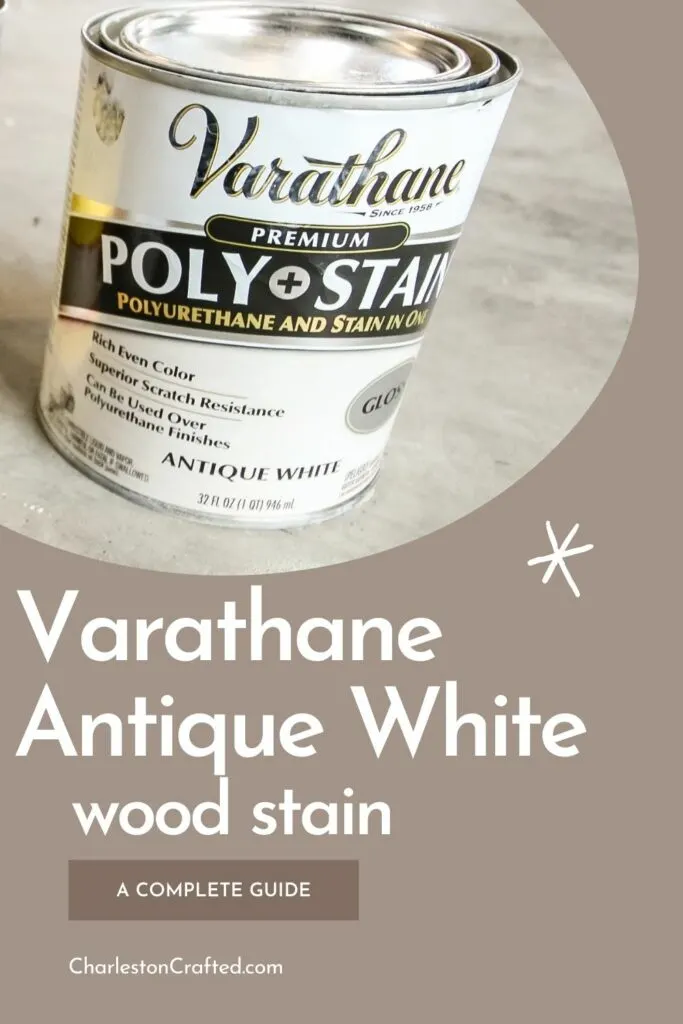 Varathane Antique White
Varathane brand stains are readily available at the Home Depot. This brand is actually owned by the same company that owns Rustoleum!
Click here to buy Antique White on Amazon.
Click here to buy Antique White from Home Depot.
Antique white is a very light white colored wood stain. The color is very faint and settles into the ridges of the wood.
This is a great option if you want just a faint white color added to your wood while still letting the natural grain be the star.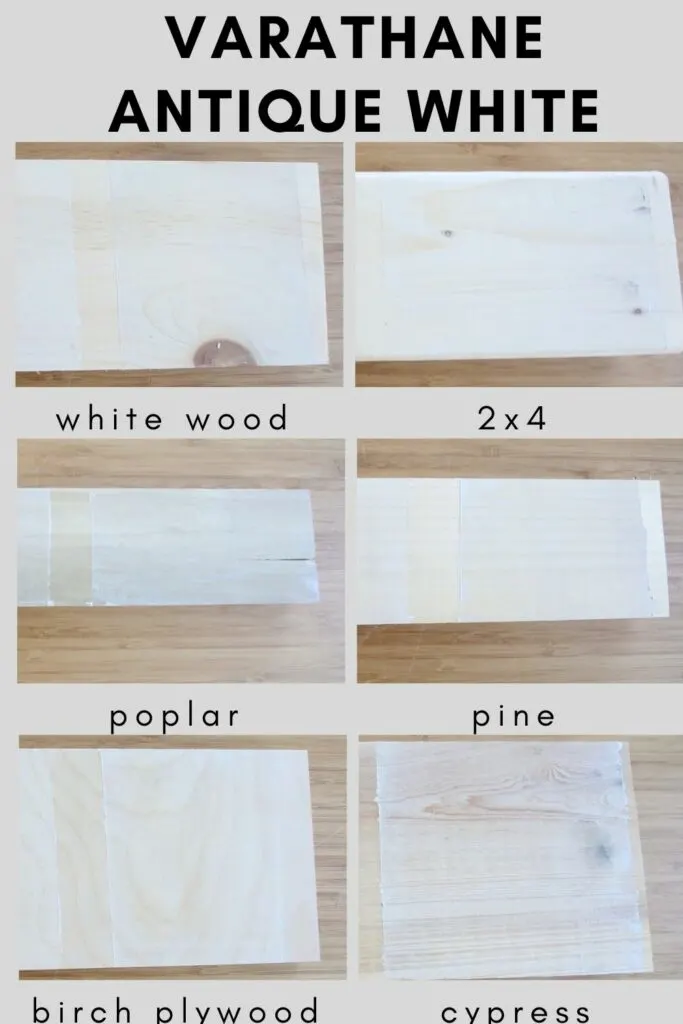 Antique White stands out the most on darker woods – like the oak or cypress below.
It looks very faint on light, white woods.
The can of Antique White that I got has built in poly and a glossy finish. That gives this stain a slightly different look. Keep finish in mind when you shop for stains with built in polyurethane!
Below I have sampled Antique White wood stain on seven species of wood. In the photos, Antique White is the far right sample.
How does Varathane Antique White look on oak?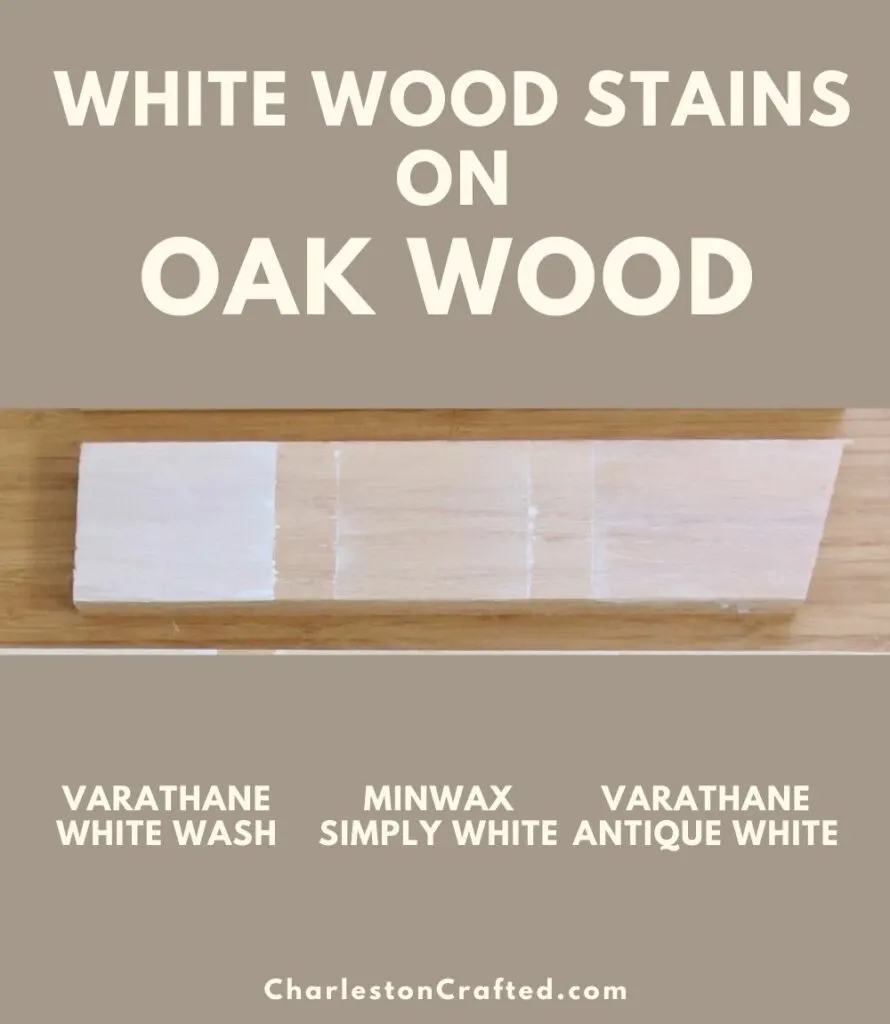 Red oak, which is what I sampled, has a slightly toasty natural look to it. So, applying a white stain totally transforms the look.
While I'm not one for staining nice wood like oak, the very light and transparent feel of Antique White actually is a really good option if you want the oak to shine but be slightly lightened.
Be sure to check out all of the best wood stains on oak!
How does Varathane Antique White look on pine?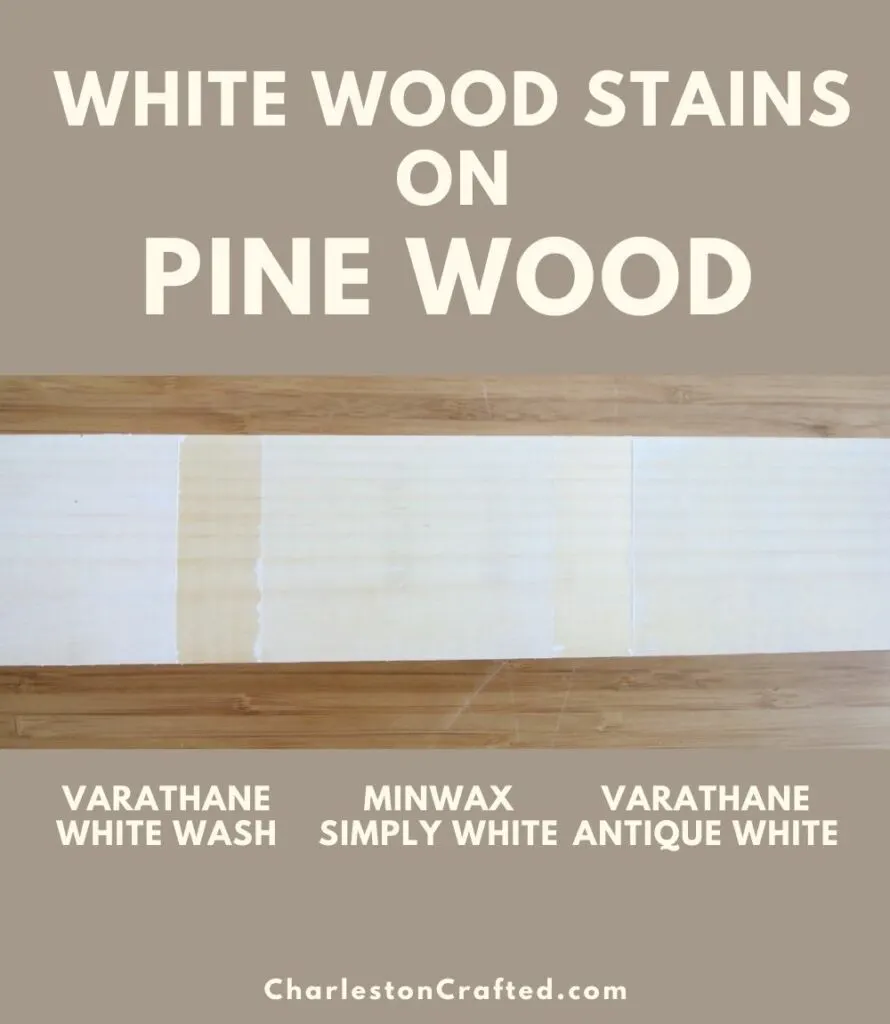 Antique White barely shows up on pine.
Pine usually has slightly yellow undertones, so the white in this stain cuts down on that, but otherwise doesn't do much to cover the wood.
How does Varathane Antique White look on poplar?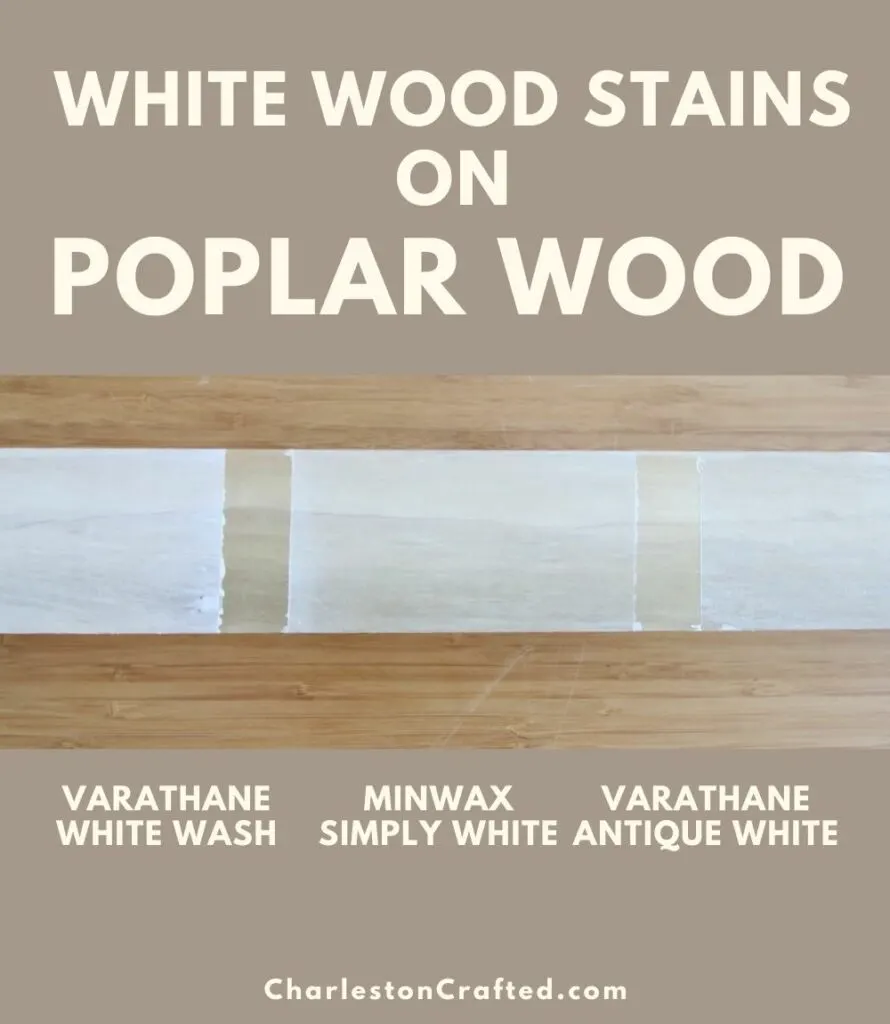 Poplar has natural green undertones. Applying Antique White stain definitely neutralizes those undertones and gives poplar a slightly brighter, more neutral tone.
It doesn't really read as white but more of a light beige.
How does Varathane Antique White look on white wood?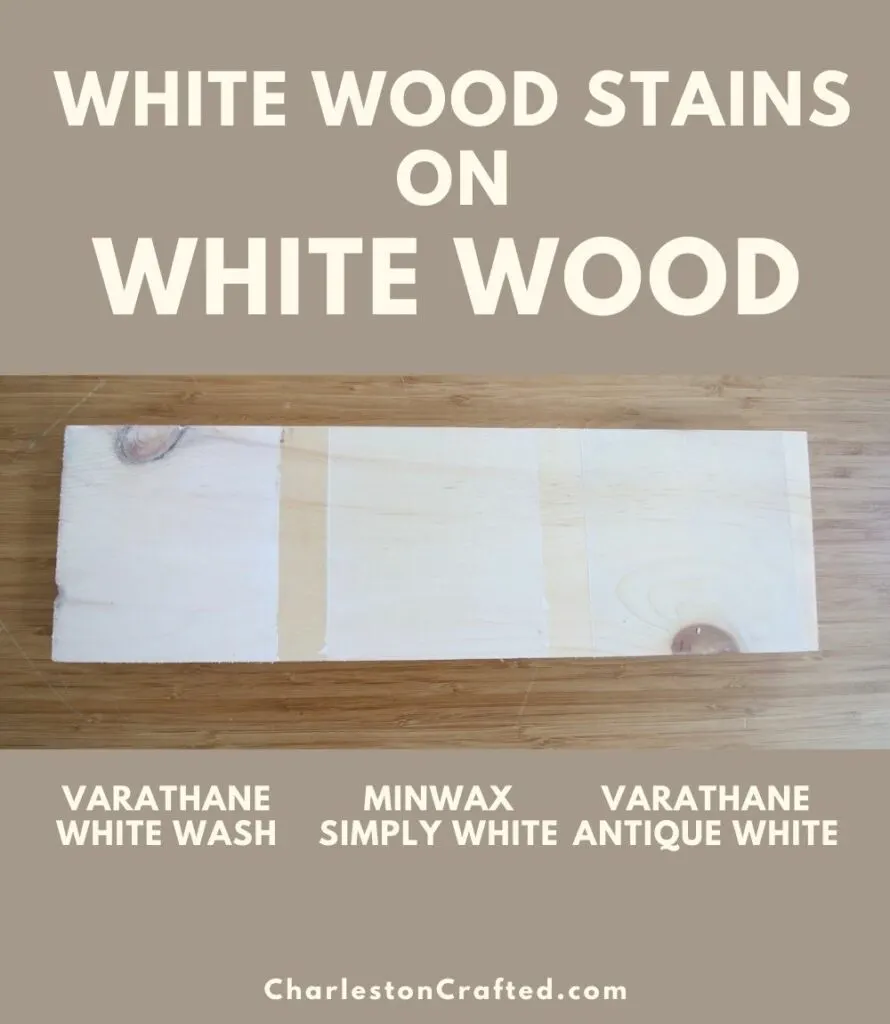 White wood is a generic wood sold by hardware stores. It usually has a lot of dark knots.
This wood is so light that Antique White doesn't really show up on it.
I found that this stain also had little coverage on the knots in the wood.
It's probably not worth your time to put Antique White stain on white wood!
How does Varathane Antique White look on birch plywood?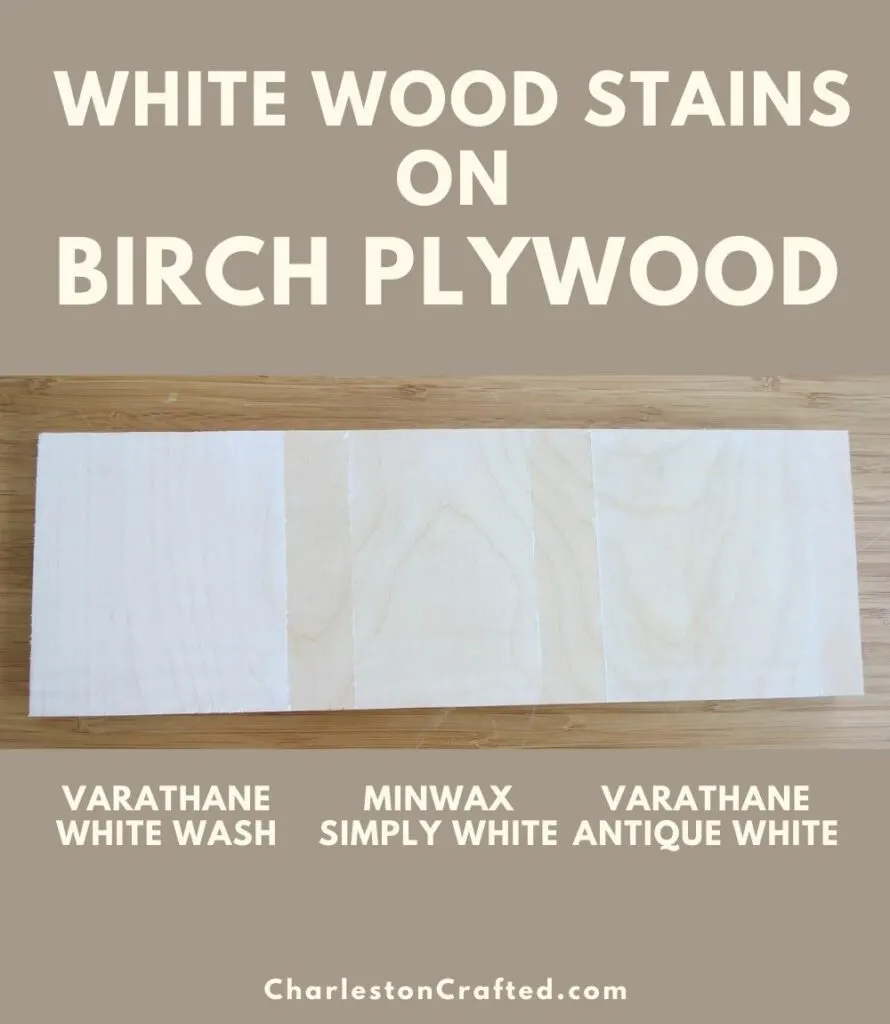 Birch plywood is another very light wood type. However, it does have some darker graining that can look a bit yellowed or light tan.
Adding Antique White wood stain to birch adds a very faint white filter overtop. It's subtle but not a bad option if you just want a bleached look.
How does Varathane Antique White look on cypress?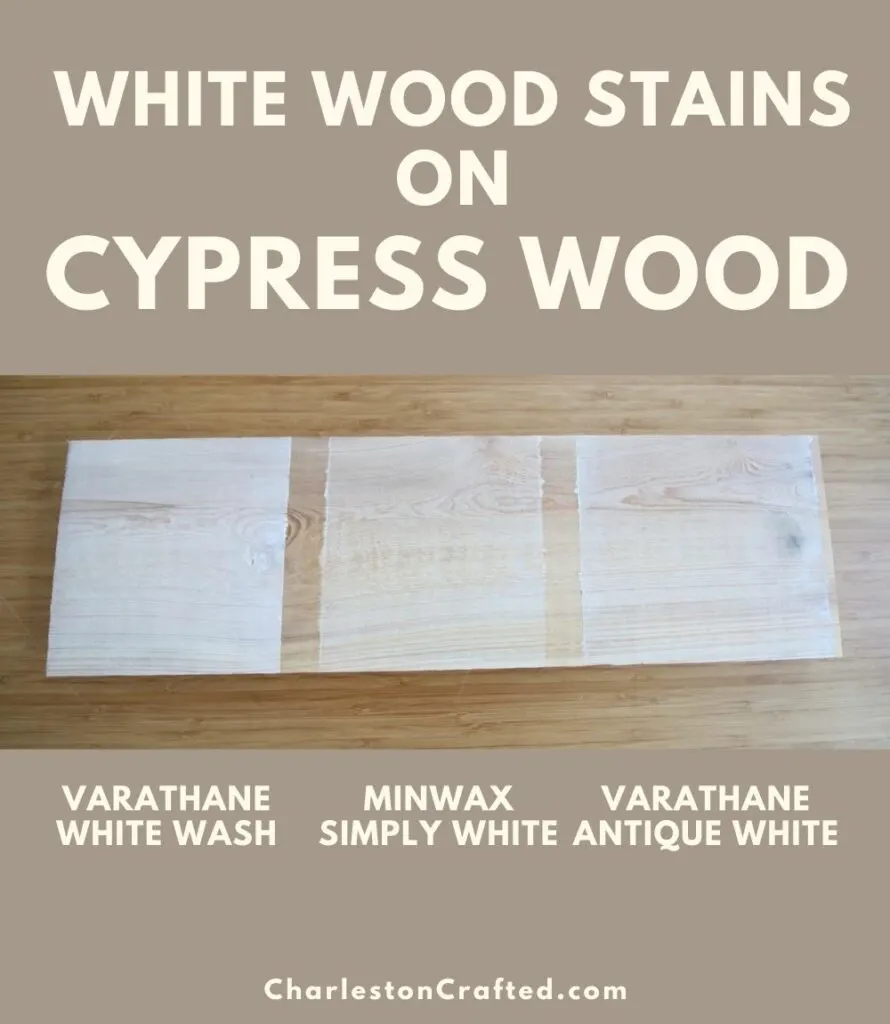 We love using cypress for outdoor builds since it is naturally moisture resistant.
Cypress has a red undertone to it. Adding Antique White, while light in color, has a big impact because of this darker natural color.
If you want to take advantage of the beneficial properties of cypress without having too red of wood, this could be a great option.
How does Varathane Antique White look on a 2×4?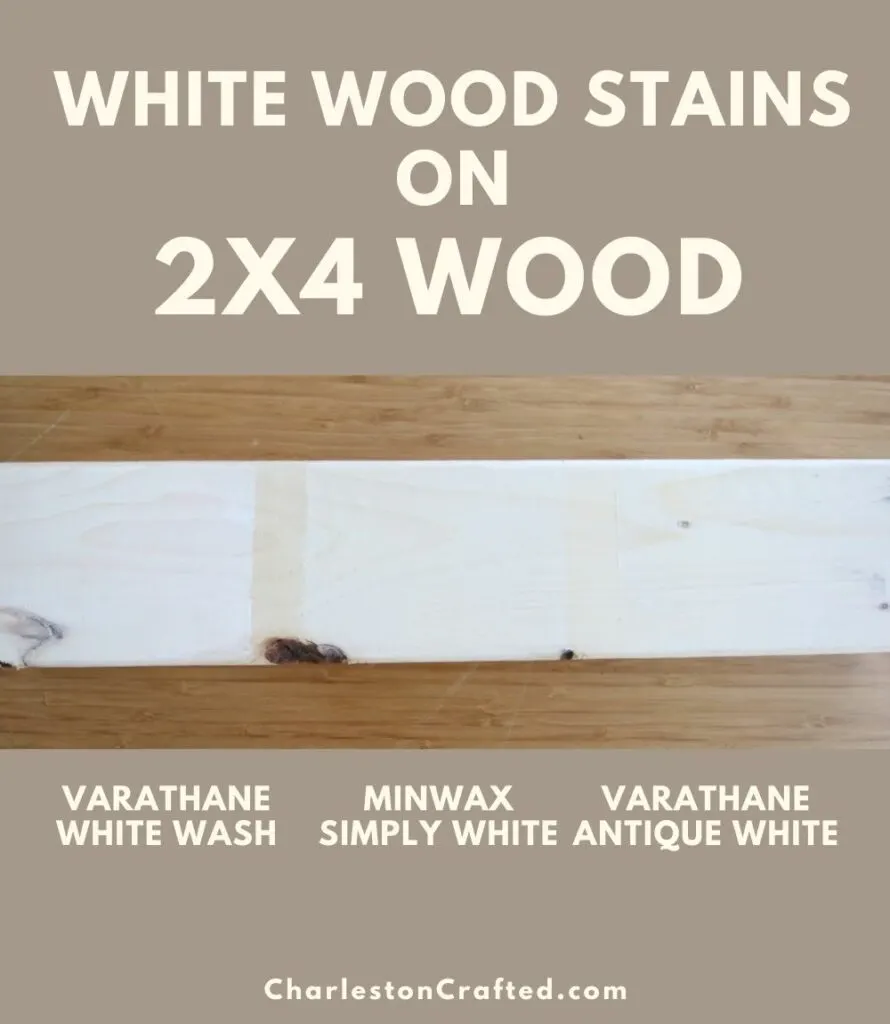 2x4s are usually very light wood with dark knots.
Antique white isn't going to show up much on the white part of the wood since it is so light and transparent.
It will show up a touch on dark knots but by no means covers them.
I wouldn't bother with this stain on a 2×4.