Considering staining a project with Dark Walnut wood stain? Did you know that Dark Walnut looks different on every wood species? That should be a big factor before you buy the stain or wood.
Here is everything you need to know about it, before making the purchase.
Dark Walnut by Minwax
Dark Walnut is a premium wood finish penetrating stain by Minwax. It is an oil based wood finish. You can use it on hardwood floors or wood furniture or DIY projects.
It is very dark brown in color with black undertones. It is really a classic wood color – if you think of dark, expensive wood surfaces, this is a color that might come to mind.
Dark Walnut goes onto projects VERY thick and dark. You definitely only need one coat. Let it set for just a few minutes before wiping it off.
Because this stain pigment is such a dark rich color, you might want to consider adding a pre stain wood conditioner. This will help the stain to absorb more evenly and reduce splotching.
You can find this stain on Amazon or at your local hardware store. A can of stain lasts a long time, so it can be used for several projects.
In general, it is always a good idea to do a test stain on a piece of wood to verify desired color.
We tested this stain on five types of wood to see how it looks – whitewood, poplar, plywood, pine, and oak.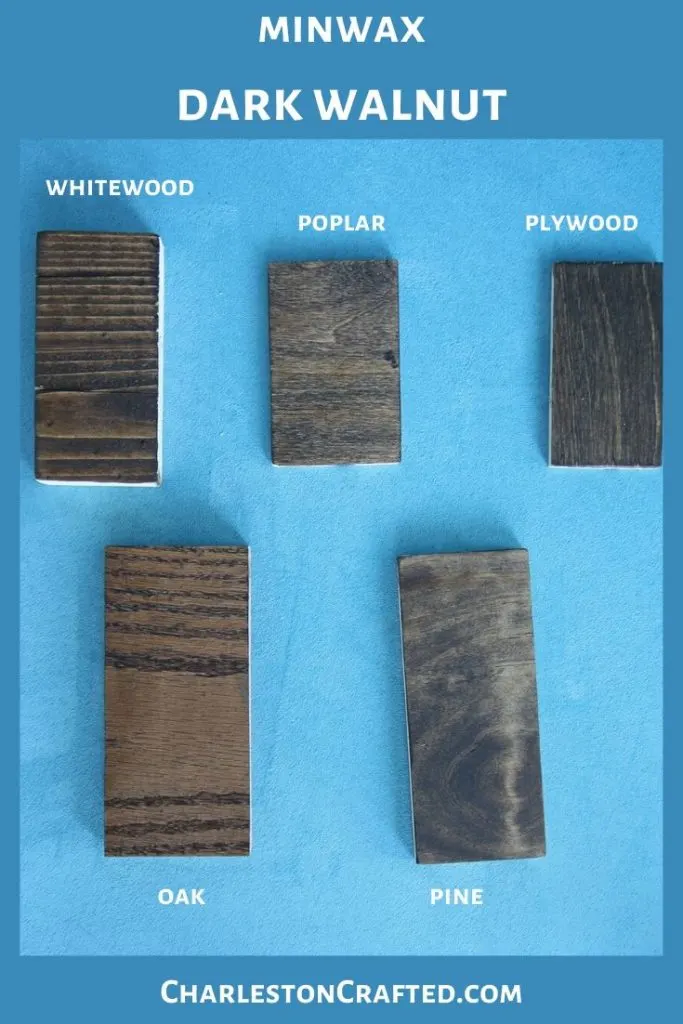 How does Dark Walnut look on pine?
Pine wood is known for absorbing stains unevenly. This is particularly true with dark and highly pigmented stains. So, keep that in mind and be very thorough in your staining and wiping of excess.
Dark Walnut is a really rich color that completely changes the look of pine. When we first started building and flipping furniture, we almost exclusively used Dark Walnut. It really transforms something cheap (like pine) and makes it look more expensive.
How does Dark Walnut look on plywood?
Plywood does not typically have a lot of wood grain to it, so dark walnut wood stain makes the whole piece look fairly evenly dark chocolate brown. This can be a good or bad thing, depending on the look you are going for.
Keep that in mind when selecting the area of the wood to work with – if you want more variation, pick an area with more wood grain.
How does Dark Walnut look on poplar?
Poplar has green undertones that can manage to pop through even the dark walnut stain. It's not my favorite combination. Definitely test it for yourself!
How does Dark Walnut look on whitewood?
White wood tends to be pretty striped in wood grain and the pigment of the dark walnut minwax stains really sinks into that natural grain. This could be good or could look like a zebra. It depends on the wood and piece you are working with!
How does Dark Walnut look on oak?
Oak is a gorgeous option of wood, especially for flooring. If you want dark hardwood floors, then Dark Walnut is a stunning option for you.
It takes Oak from a reddish natural wood to a deep rich traditional brown, while still highlighting the natural grain.
Projects using Dark Walnut
Want to see Dark Walnut in action? Here are some projects featuring this color:
We love how Dark Walnut stain looks and think that it is a great option if you are building furniture or DIY projects for your home. Try to pair this together with similar colors and tones in your home.
Click here to shop Dark Walnut wood stain on Amazon!
Want to check out more stain colors? We tested 10 types of stain on 5 types of wood – check out the whole project!