Every woodworker has lots of scrap wood leftover from each woodworking project and you don't know what to do with it! Here are some easy scrap wood projects that you can make quickly and easily and use up your pile!
There are two kinds of woodworkers- the kind who saves all of their scraps and the kind who lies about not doing it.
Everyone saves scrap wood because you think to yourself, "who knows, it could come in handy." That's not a bad idea, but you can end up letting your scrap wood collection get out of hand.
There are lots of things you can do with scrap wood, including saving yourself money or trips to the store on future projects and allowing you to work on your projects with wood you already have.
But there's also lots of scrap wood projects that sell really well if you're looking to make money.
Keep reading to find some great DIY scrap wood project ideas that you can make and use leftover wooden pieces you've been looking to clear out!
Looking for scrap wood projects that sell? Be sure to check out our list of the best woodworking projects to make and sell!
What to do with scrap wood
"What can I do with 2×4 scraps????"
There's tons of easy small wood projects that you can do with scrap wood of all sizes, ranging from specific builds to art projects.
We have built everything from DIY wooden toys to DIY outdoor planters using scrap wood. Heck, we've even made hanging wall planters that fit test tubes for plant propagation out of scrap plywood!
You can use scrap wood to find a piece you're missing, or build and entire project out of scrap wood or build things to sell online. There's lots of DIY wood projects that can be made from pieces of scrap, so let's take a look!
Make sure to build our rolling scrap wood organizer to help keep up with your scraps!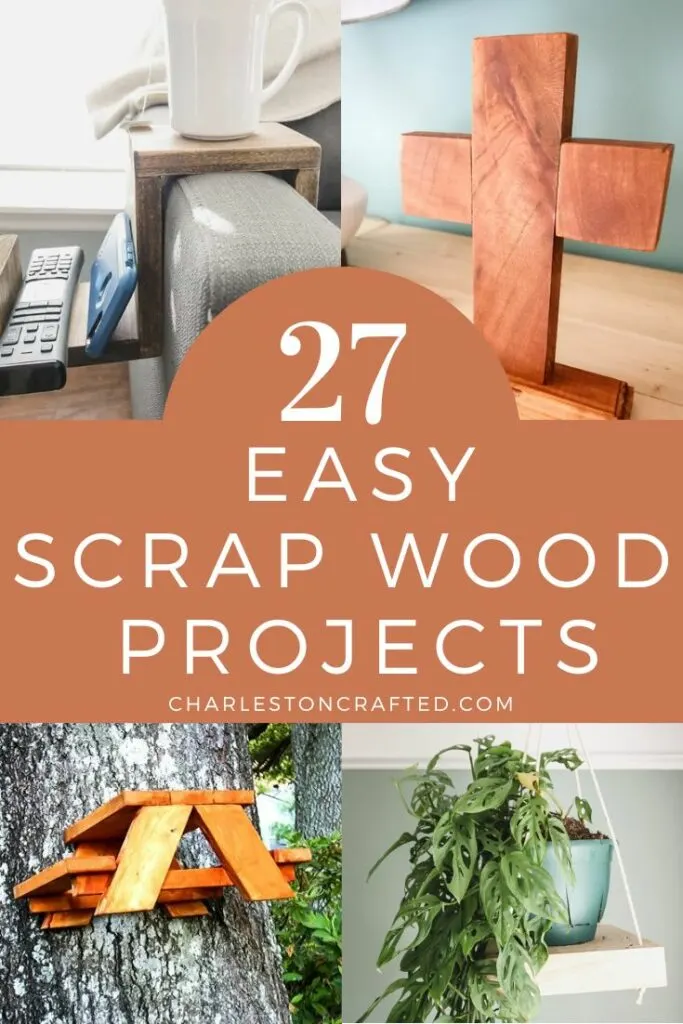 DIY scrap wood project ideas
Here's our list of some of the best DIY scrap wood projects that you can build when you're bored. These free scrap wood project ideas are perfect for using up your scrap wood pile and making cool things!
Many of these DIY projects use everything from small scraps to larger pieces and can be used in lots of ways.
Let's take a look at the list of our best easy DIY scrap wood projects ideas!
What can you do with leftover lumber?
If you've gone through your mountain of leftover lumber scraps, built all the scrap wood projects on this list, and you STILL have leftovers, there's a couple of things you can do with them.
You can always use scrap wood in a bonfire, as long as it isn't treated, painted or stained. Scraps burn just as good as any other wood!
We also use scrap wood as a way to prop up projects while staining or painting.
You can also make scrap wood art projects by cutting different scraps to different incremental lengths and gluing them to a board to create a cool 3D art piece. Add an hombre paint effect for a cool look!
And finally, if you still have leftover scrap wood, it is ok to throw it away. I know, that 1″ x 1/2″ x 3/4″ piece of poplar COULD come in handy one day, but it is alright to throw pieces away from time to time.
Basic woodworking information for every project
Here are some of our most popular woodworking articles!
Shopping for wood:
Woodworking project ideas
See all our printable PDF woodworking plans!
Our favorite tools + supplies
Remember to also always use safety equipment while woodworking and using tools. Make sure you have proper eye protection, ear protection and a good mask to keep yourself safe.