Want to build something from lumber without spending too much? Here are the cheapest wood options for your next woodworking project!
Woodworking is a fun and rewarding hobby. But, it can get expensive quickly.
You can accumulate cheap tools and sell woodworking projects for a profit, but wood prices will still get you every time.
It's important to understand the types of lumber available to know when to splurge and when to settle for cheap wood.
My biggest tip on getting cheap wood is to be flexible. If you are flexible on wood type or size, you can shop around and create a plan around whatever material is cheapest at the moment.
Click here to read on guide on how to get free lumber for woodworking projects!
All that being said, let's look at the types of wood that are typically going to be the cheapest for your next woodworking project!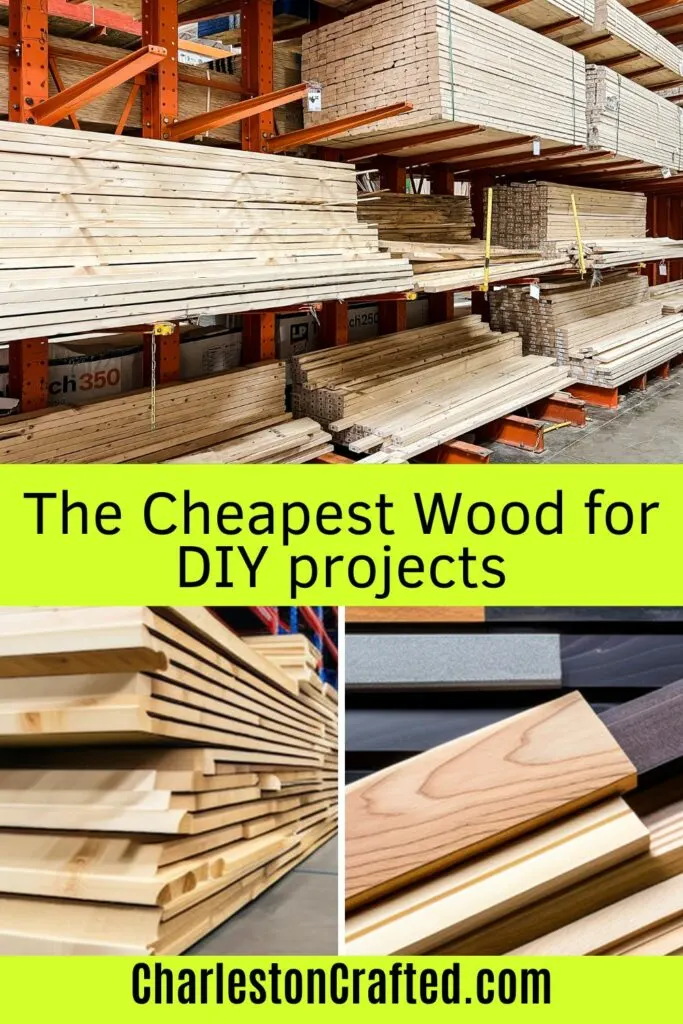 Basic woodworking information for every project
Here are some of our most popular woodworking articles!
Shopping for wood:
Woodworking project ideas
See all our printable PDF woodworking plans!
Our favorite tools + supplies
Remember to also always use safety equipment while woodworking and using tools. Make sure you have proper eye protection, ear protection and a good mask to keep yourself safe.
Why is certain wood cheaper than others?
In general, certain types of wood are cheaper than others because of their availability, both when being harvested and at the store. There are a few things that determine the price of different wood lumber.
Type of wood
When shopping for the cheapest lumber, remember that softwoods will almost always be cheaper than hardwoods. There are a few "cheaper" hardwoods, but they are usually pricier than the cheaper soft woods!
Wood quality
Rough cut wood will usually be cheaper compared to smooth cut wood. Rough cut wood will need more sanding work, so it depends on if you'd rather pay more or work more if it's worth it to you.
In general, at the big box stores, you'll see that cedar and cypress are sold "rough cut" and are cheaper than a lot of other wood for that reason, even though the wood is a little nicer.
Board size
Certain size boards are pricier than others. In general, smaller boards are cheaper than larger boards and boards get more expensive as they get wider. This makes sense, especially if you pay by the foot.
Remember that it will take more smaller boards to build the same project. If you have the means, buying a wider board and ripping it down will usually be more cost effective than buying multiple smaller boards.
It may be helpful to design your build using a smaller board or a larger board so you can compare total price. The savings may not translate once you account for having to buy more boards.
When should you splurge vs save on wood?
Regardless of your skill level, there are times to buy cheap wood and times to splash out.
I suggest buying cheap wood when your project:
will be painted
will be covered- i.e. upholstered or hidden with fabric
is a total experiment and you feel unconfident in trying a new skill
will be low-visibility such as shelves for your attic
is a short-term solution
you want to sell to a budget customer
We like to use nicer wood for projects that:
will be a showpiece in your home
you want to be super durable
will become family heirlooms
you want to sell for a high-end customer
Cheapest wood for DIY projects
The cheapest types of wood in general are:
white wood
pine
soft maple
poplar
cypress
MDF
plywood
reclaimed wood
White Wood
Whitewood is generally the cheapest lumber sold at stores like Home Depot or Lowes.
For better or worse, most hardware stores use "white wood" as a generic marketing term for their cheapest possible soft wood. This isn't tulip wood – it's just whatever they have in stock that week.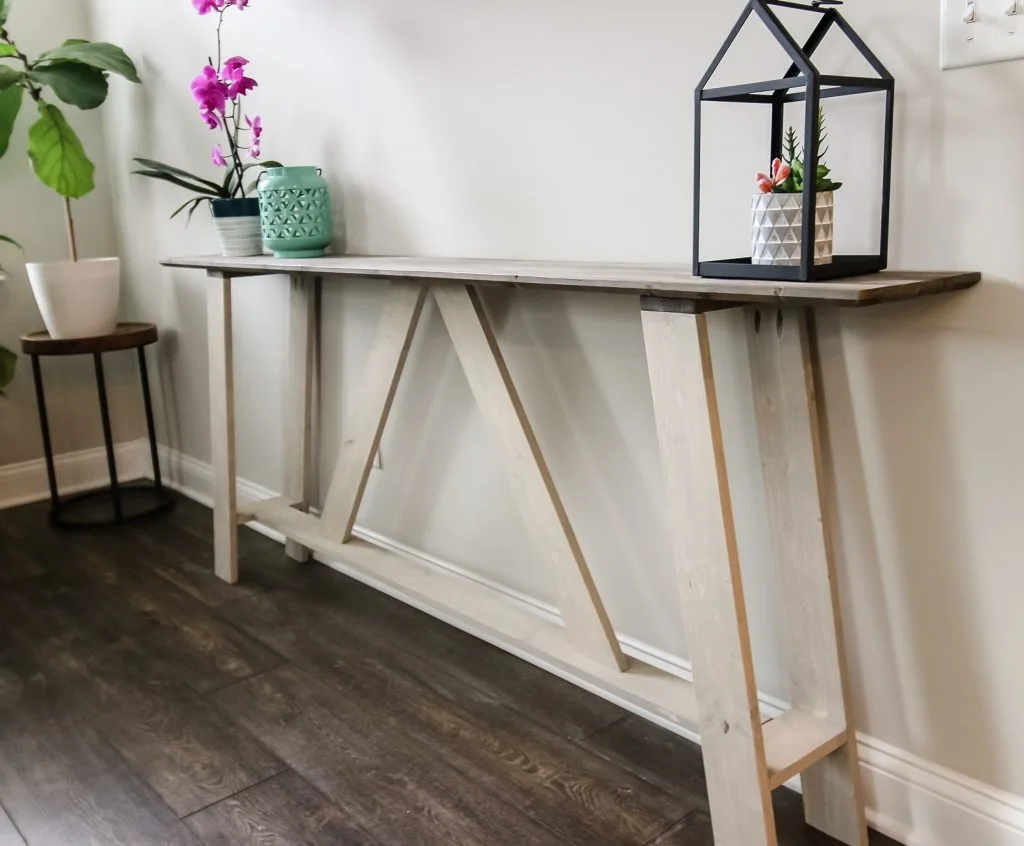 Read our complete guide to whitewood here!
White wood can vary – since it's not a specific type of wood – but is usually very white with dark knots and is pretty soft.
But, it's usually the cheapest wood to buy at hardware stores and works for certain projects.
Here's a couple projects we've made with white wood:
Pine
Pine is a super cheap wood that is actually quite strong for its price. Pine is very common for furniture building, and most of our early builds were made from pine.
We still use pine sometimes, especially if we plan to paint the project.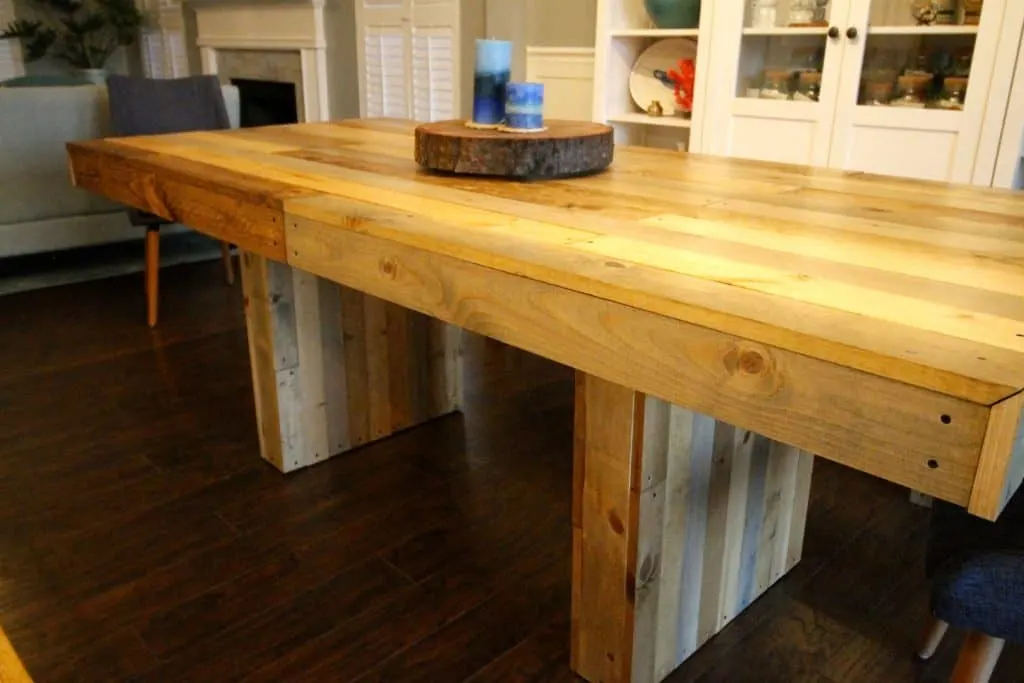 The things to remember about pine wood are that it's soft so it will ding/scratch easily, and there can be big, dark knots which aren't always super attractive.
Check out our pine guides:
And don't forget to see some examples of projects we've made with pine!
Soft maple
Maple might not be what you think of when you think of cheap wood boards, but it is one of the cheapest hardwoods. Maple is generally divided into "soft maple" and "hard maple" and soft maple is the cheaper option.
While maple is more expensive than pine, it's cheap for a hardwood and is usually more durable and attractive compared to pine or white wood.
Your biggest problem might be finding soft maple – it's not usually sold at hardware stores and you'll need to check a more specialty lumber store to find it.
Poplar
Poplar is our go-to cheap lumber when we want to work with a hardwood. It is readily available at places like Home Depot and is easy to work with.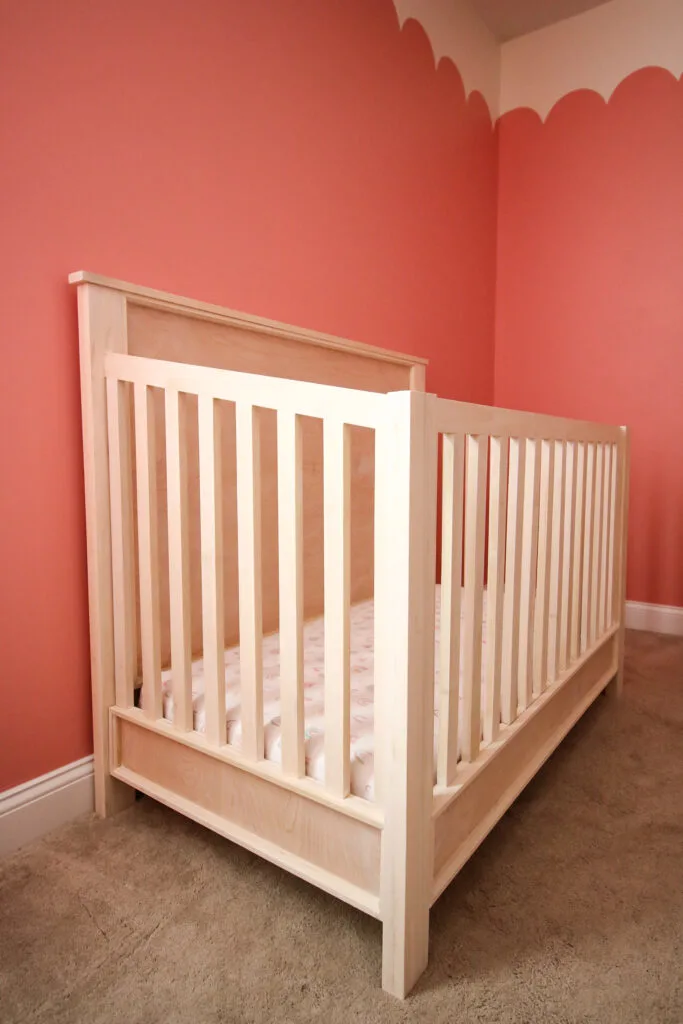 Some people dislike poplar because of the variance in coloration – it can run from green to even purple in spots. We suggest you examine boards carefully to be sure the pieces will match and work well together.
Poplar is harder than most softwoods, so it won't scratch or dent as much as pine, for example. But, it's still relatively inexpensive.
Here's some awesome projects we've made from poplar!
MDF
MDF stands for medium density fiberboard. It isn't made from solid wood but instead is made from compacted sawdust mixed with glue or resin.
MDF isn't a great option for your dining room table, because it looks like mushed up sawdust and not a wood board. But, if you are building something that will be covered – like a headboard that will be upholstered – it is the perfect budget-friendly solution.
Plywood
Buying plywood with a hardwood veneer can be significantly cheaper than buying individual hardwood boards. You will also get the benefit of being able to cut it to create boards of the exact dimensions needed for your project.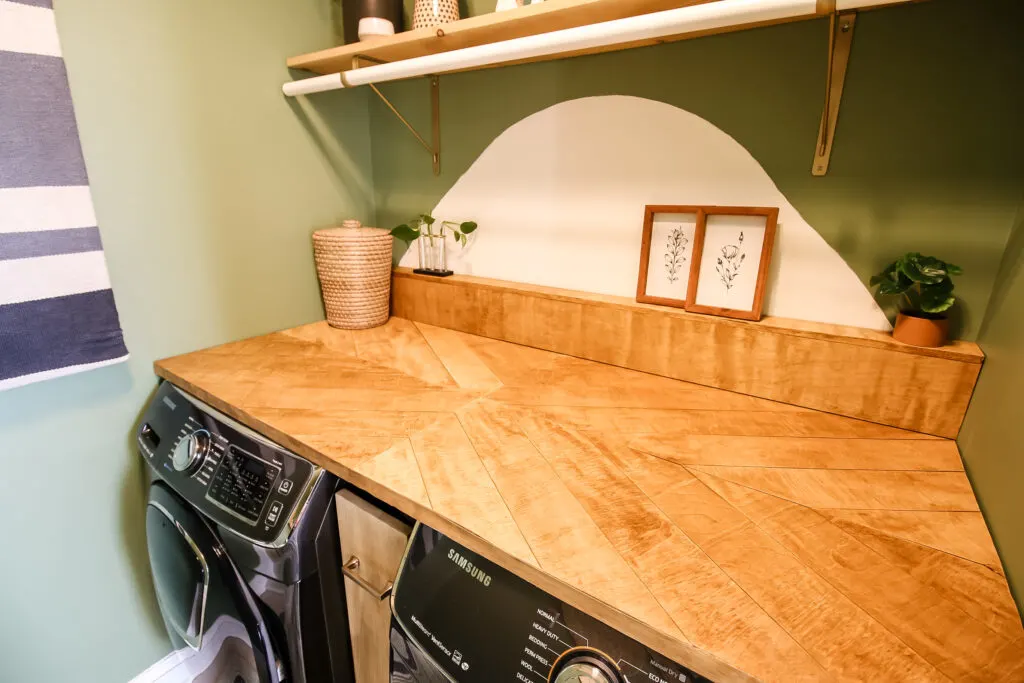 Plywood comes in a ton of different wood types and thicknesses, so there are different options depending on your specific use case.
Read our guide to getting the best plywood for your money here!
We've made dozens of projects with plywood!
Reclaimed wood
The cheapest lumber is free lumber! If you can break something down and re-use the boards, you'll save a lot. This could mean cutting up a palette, sanding down old fence posts, or disassembling old furniture.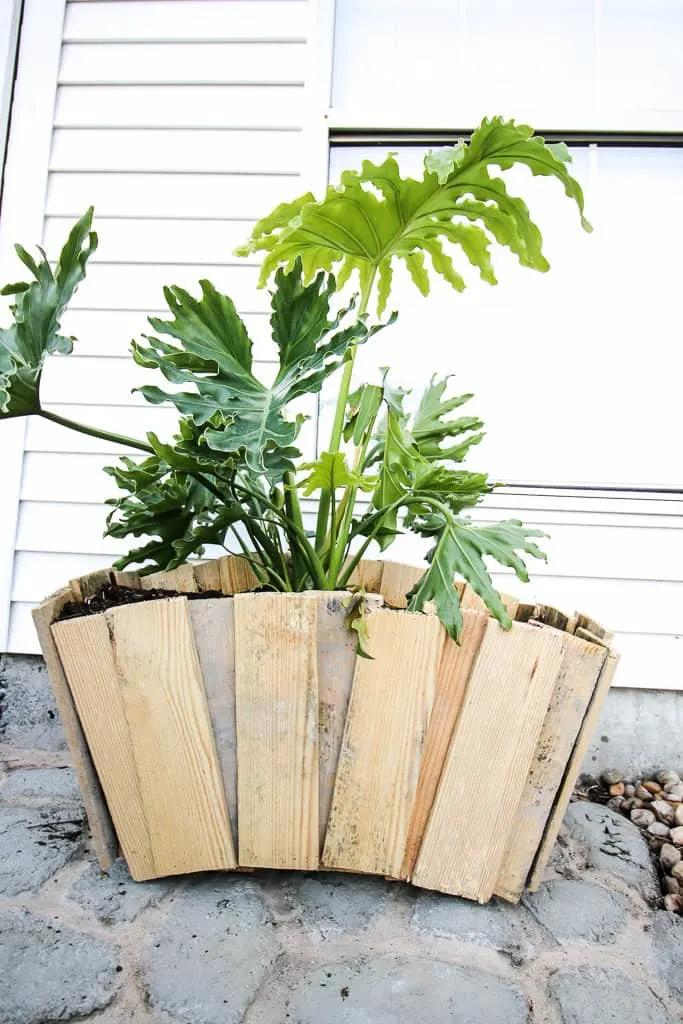 Think outside the box and look around your area for wood that might be repurposed for your next project.
Here's projects we made for free from pallets!
Cheapest wood products to consider
Within lumber, there are a few items that are cheaper than others. These include:
Furring strips
Framing lumber
Project boards
Furring strips
Furring strips are super rough cute pine boards, usually 1″x2″ or 2″x4″. They are very cheap, but often bent or twisted and can need a lot of sanding work.
They are usually fine for more crafty type projects. Just be sure to examine them well and pick the best boards on the rack! Here's our guide to shopping for lumber at the hardware store.
Framing lumber
Framing lumber is generic 2×4 lumber meant for framing walls. It's not pretty – it's designed to be covered up.
This can be used for furniture, but is often in rough shape. If you are going for a rustic look, or need framing for the inside of a furniture build, it's totally fine. Examine it well before buying!
Project Boards
Project boards look like tiny boards all put together to form one larger one. They are usually sold in the closet section of hardware stores and come in wide widths.
They can be pricy compared to smaller boards, but are a cheaper option than buying a whole sheet of plywood if you just need one wide board, such as for shelves.
These boards are great for shelves in a closet!
Where to buy cheap wood?
Some of our favorite cheapest places to buy wood are:
Facebook marketplace
Local buy nothing/Freecycle groups
Home Depot lumber sale rack
Ask to buy scrap wood from a cabinet maker (or similar pro wood shop)
Lumberyard bundles or sales
Check for damaged boards (if seller will discount)
Buy in bulk (for a bulk discount)
You can read all of our ideas for places to get cheap or free lumber here!
What is your best tip for getting lumber for cheap?