If you are looking for the perfect dark gray wood stain color for your DIY furniture project, here are the 6 biggest options on the market tested on 4 types of wood each!
When you think about wood stains, I bet that you imagine shades of brown.
Well, that's fine, but don't sleep on a gray wood stain.
And within gray wood stains, there are tons of shades of gray. Dark gray is my pick for a sleek, modern finish.
Today I am rounding up the 6 different dark gray stains in our arsenal so you can see how they each look on 4 species of wood!
How to Apply Gray Wood Stain Colors
Applying dark gray wood stain is similar to applying any other highly-pigmented stain color.
Preparation
To prep your wood for staining, make sure to sand it with a high grit sandpaper – I like 220 grit.
This opens up the "pores" of the wood and makes it more absorbent. Some woods straight from the store have a bit of a coating on them, so sanding helps them absorb stain more evenly.
Then, wipe the wood clean.
If you are using a light wood and a dark stain, I always suggest using a wood conditioner. I used wood conditioner on all of my wood samples to ensure a more even stain.
Then, you are ready to stain!
Application Techniques
You can apply your gray wood stain with a foam brush or a lint-free cloth.
Always apply wood stain in the direction of the wood grain. Let dry according to the directions on the can (15-30 minutes) before wiping off any excess or pooling stain.
Maintenance
Once your wood is stained and sealed, it should not need much maintenance.
My biggest tip is to try to wipe up spills – even just plain water – as quickly as possible to avoid staining.
See our favorite natural sealants here!
Factors to Consider when Choosing Gray Wood Stain Colors
Here are some of the things to keep in mind when selecting a wood stain color.
Type of Wood
As you will see in the below images, different wood species absorb stain at different amounts. Typically, lighter, softer woods are more absorbent than darker or hardwoods.
This means that it will take a much darker stain to show up on hardwoods, while lighter stains might be enough for light woods.
Desired Shade of Gray
Of course, decide what shade of gray you are going for – light gray, charcoal, or mid-toned. Different colors will come in different shades.
Natural Light Exposure
The more light that a piece gets, the lighter the color will look. A color that looks charcoal on the can might read as more medium gray on your wood in a very bright room.
Interior or Exterior Use
Some stains are interior and others are formulated for exterior use. This is important for the maintenance of the wood.
All of the samples that I used are interior wood stain, though the brands might also use those colors in exterior formulas.
Cost
Different wood stains might have higher or lower costs compared to others. I always suggest shopping in-store for wood stain as they definitely jack the prices up online!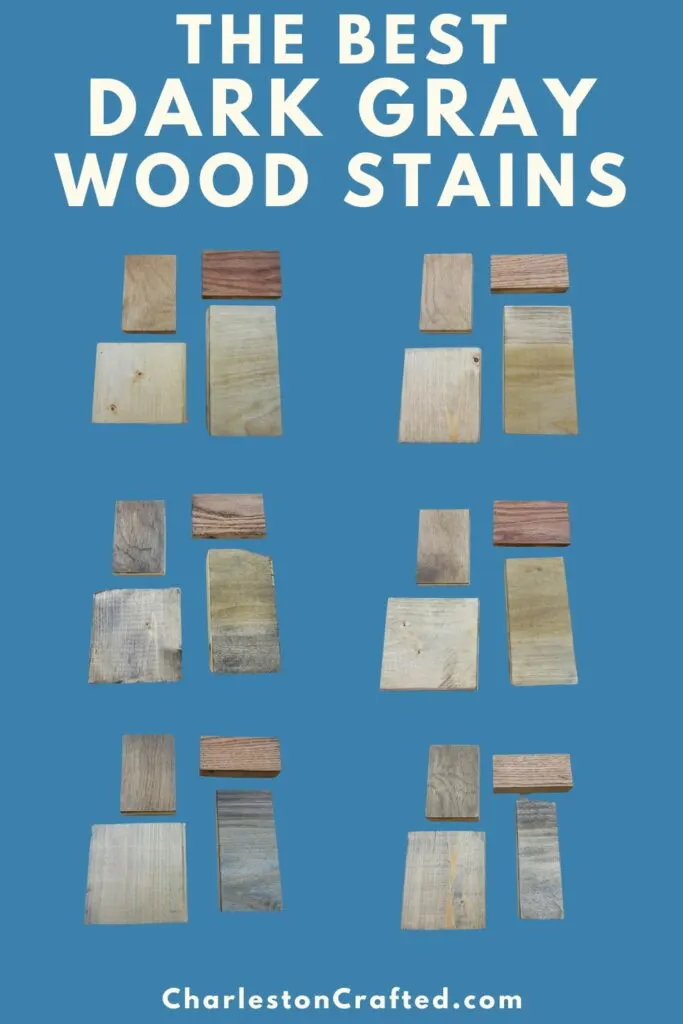 The best dark gray wood stains
The 6 dark gray wood stains that we are sharing are:
Varathane Gray Stone
Minwax Slate
Minwax Phantom Gray
Varathane Carbon Gray
Minwax Classic Gray
Varathane Smoke Gray
We are sharing these because they are all slightly different and all great in their own ways.
Plus, they are easy to find. Varathane is carried at Home Depot and Minwax is at Lowes. So, if you have those two stores, these are basically all of your wood stain options.
We tested each of these wood stains on 4 different types of woods so you can see how it might look on your project:
Click here to read about how we tested ten different wood stains on 5 species of wood each!
Varathane Gray Stone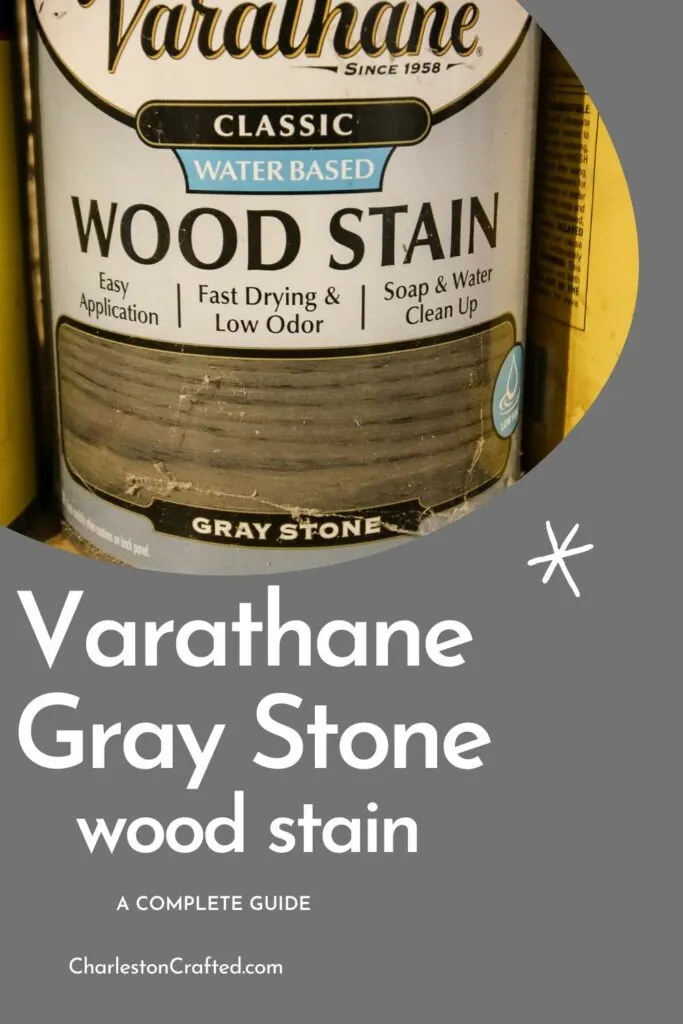 Gray Stone is a charcoal gray color. It settles into an almost black color in the grain of the wood, and more of a medium-dark gray on the rest of the face of the board.
This is a nice option if you want a dark gray stain color. It suits most types of wood.
Click here for our complete Gray Stone review.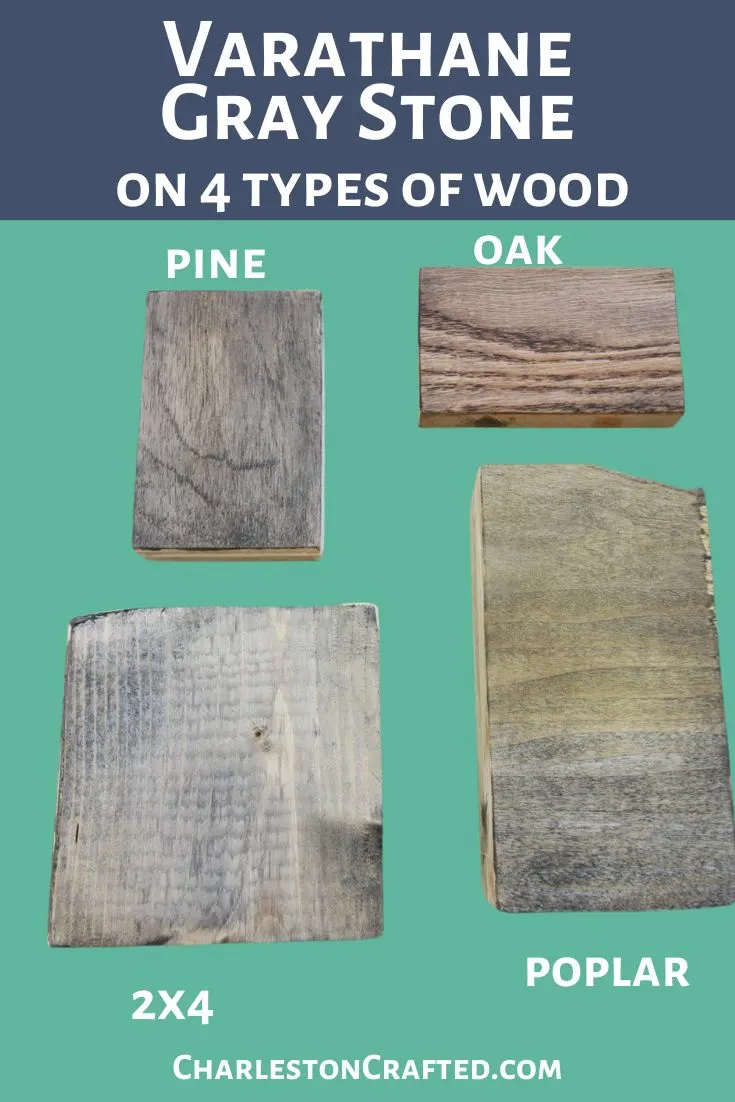 Minwax Slate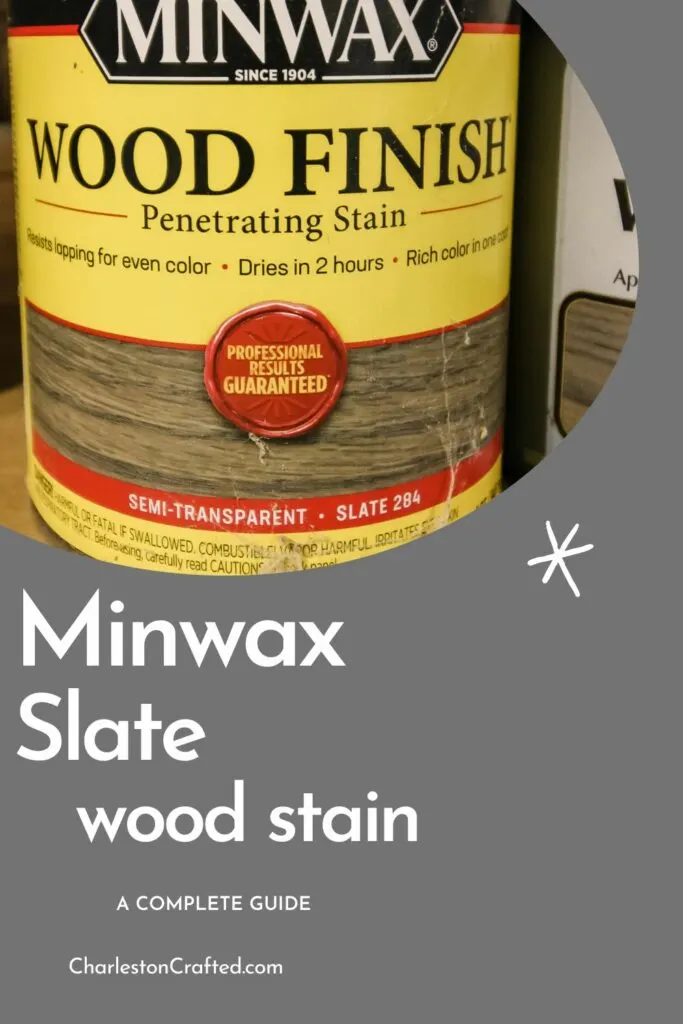 "Slate" sounds like a dark, stone gray color. However, in my experience, this is actually more of a light to mid-toned shade of gray.
It does a nice job of cooling down warm undertones in the wood, but it's not a great option if you want a charcoal or dark gray color.
Click here for my complete Minwax Slate color review.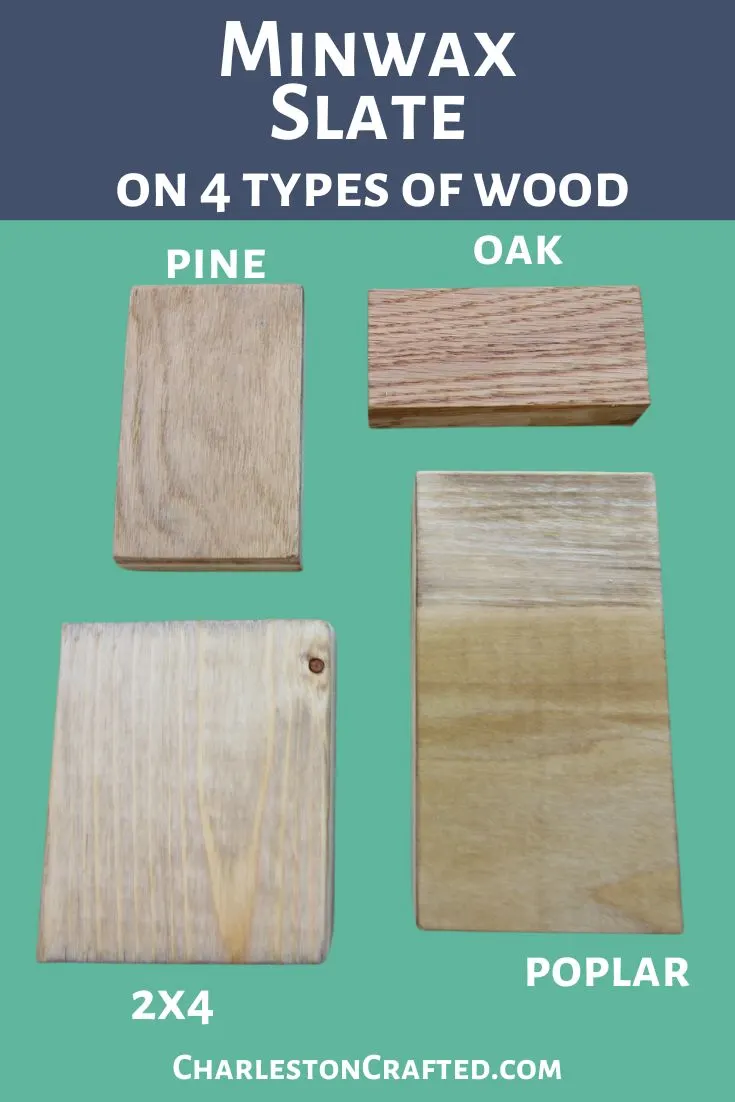 Minwax Phantom Gray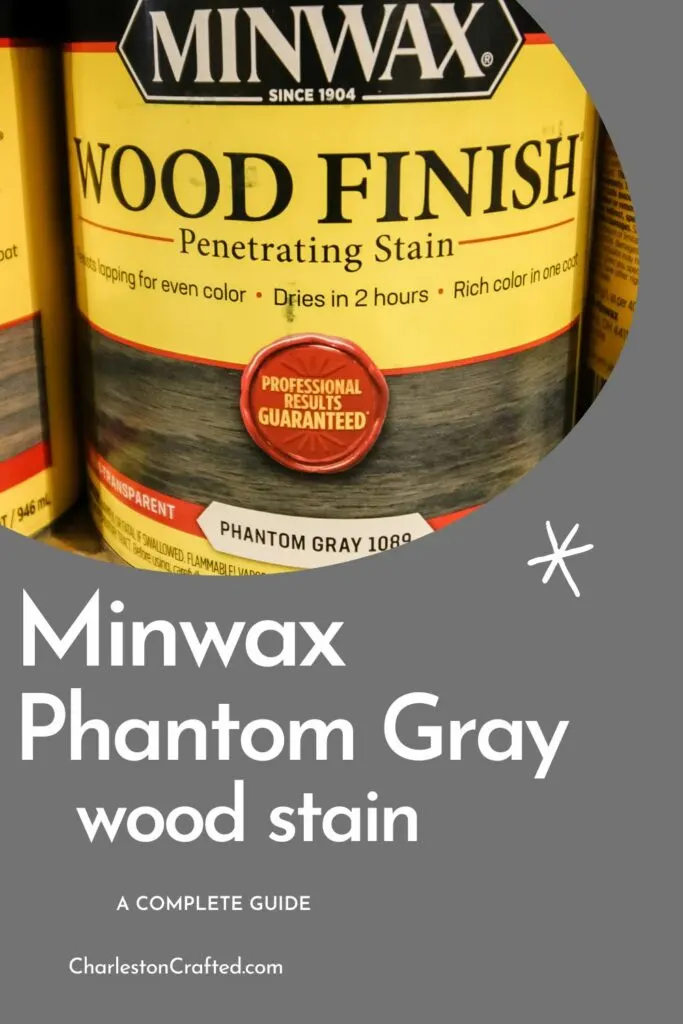 Phantom Gray is one of my favorite gray wood stain colors! It is a mid to dark toned gray with really nice cooler undertones.
I love how this shade settles into the wood grain and adds interest and dimension.
With it being cool toned, it does a nice job of aging the wood or giving it more of a weathered gray look.
Click here for my complete Phantom Gray color review.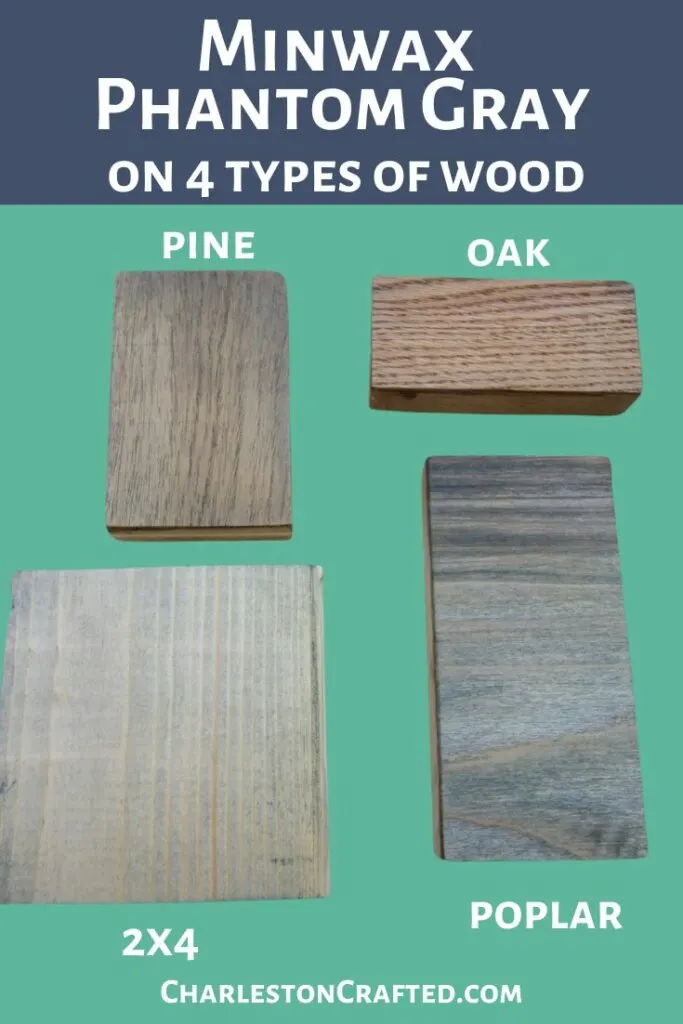 Varathane Carbon Gray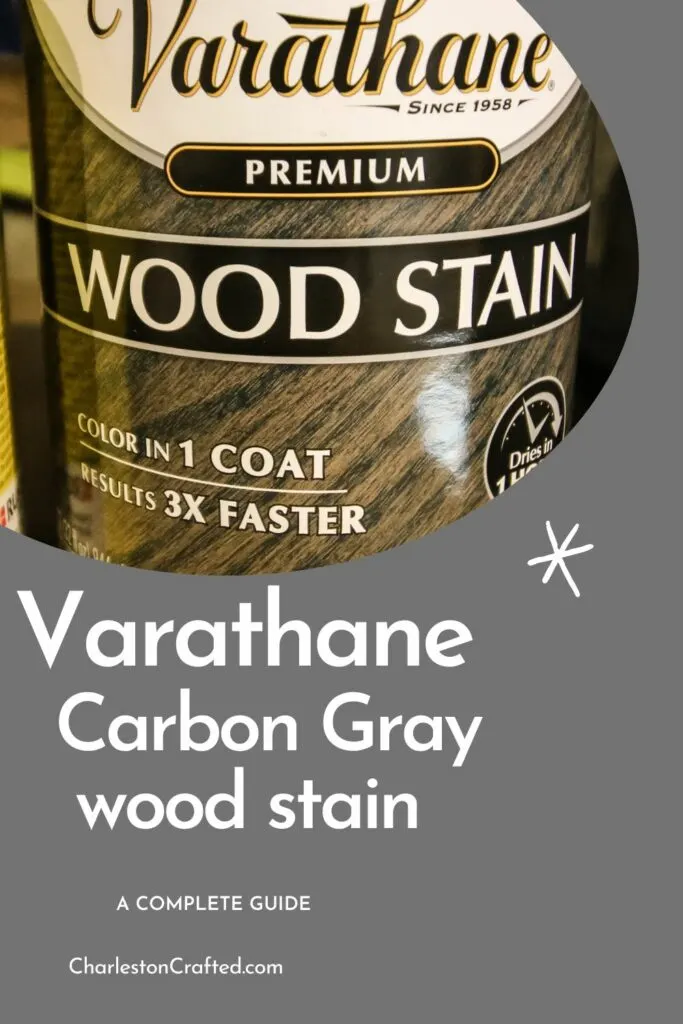 Carbon Gray is a mid-toned gray wood stain. It is definitely NOT as dark as it looks on the can!
On white woods – like poplar and 2×4 – it absorbs pretty significantly and reads as a cooler toned charcoal gray.
On warmer toned woods – like this yellow pine and red oak – it feels like a slightly warmer, to more neutral toned gray.
So, definitely swatch the stain on your actual wood that you are working with, since the final results can really vary!
Check out our complete Carbon Gray color review!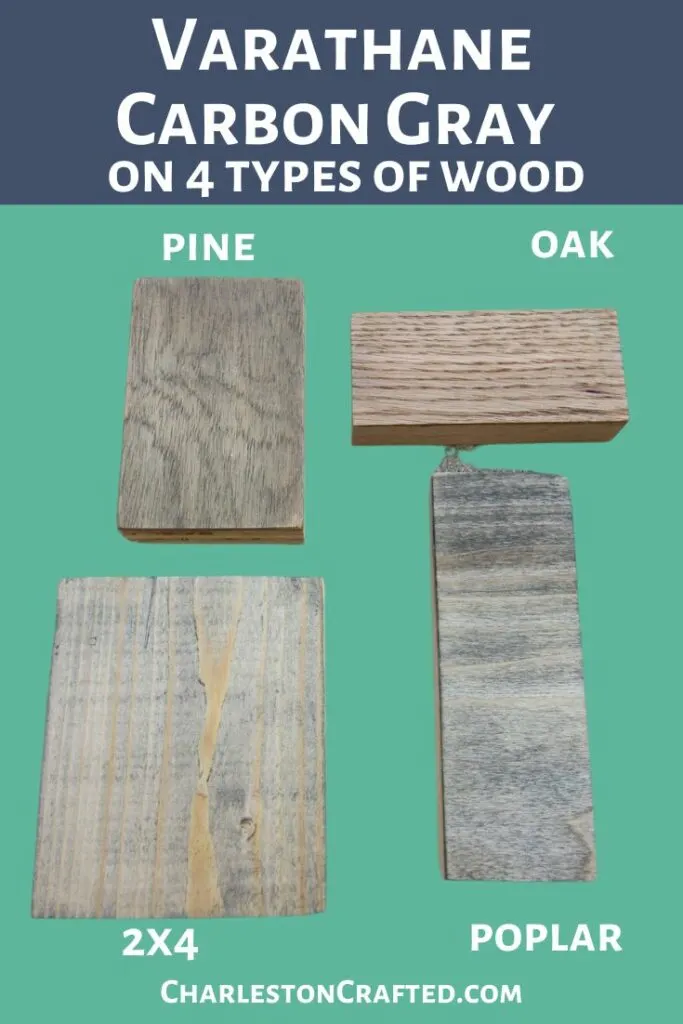 Minwax Classic Gray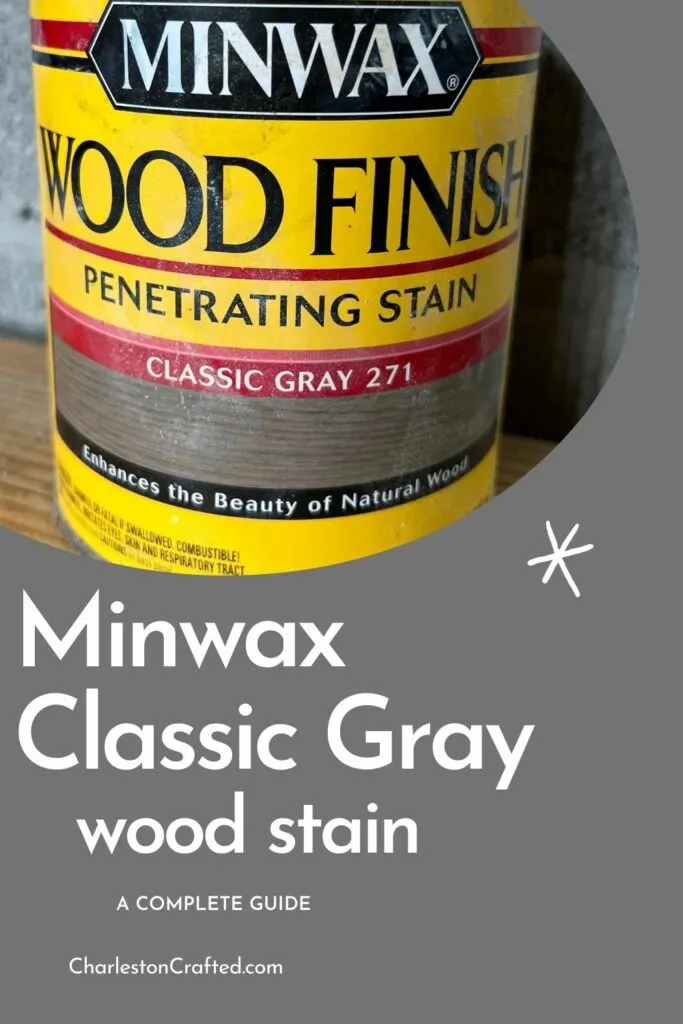 Classic Gray is another gray wood stain that looks dark on the can, but reads as much lighter on actual wood.
It is gray in color with cool undertones.
This stain color can read a bit silver or almost blue in certain lights. It is a light gray color.
Click here for my complete Classic Gray review.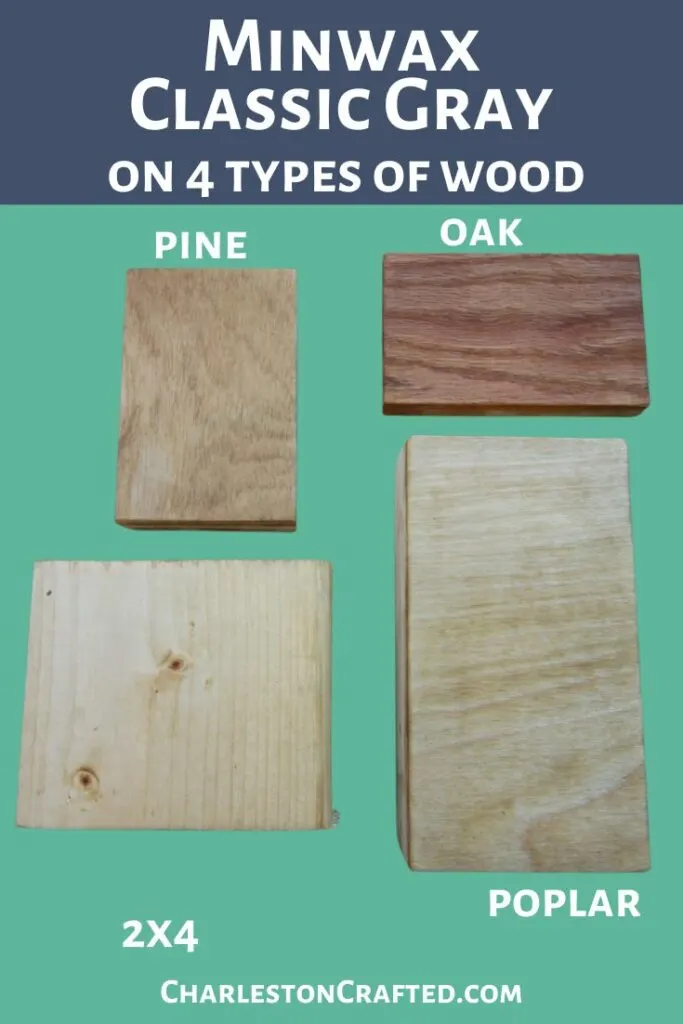 Varathane Smoke Gray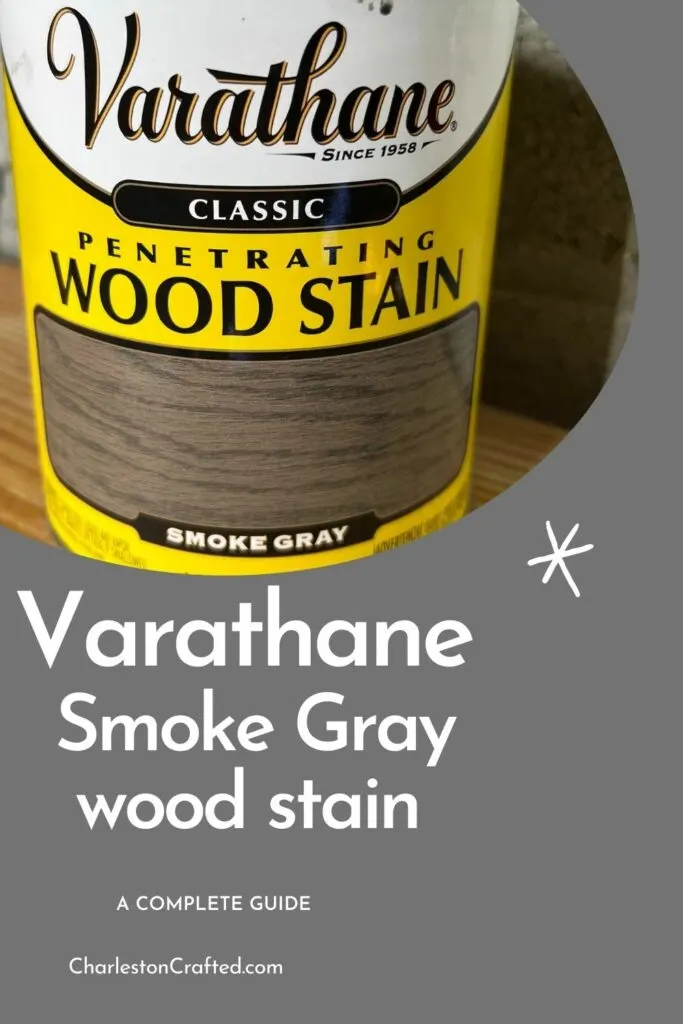 Smoke Gray is a warm toned gray wood stain. That means it has brown undertones instead of blue.
I think that the warm undertones make this stain much easier to work with than it's cool toned friends!
Click here for my complete Smoke Gray review.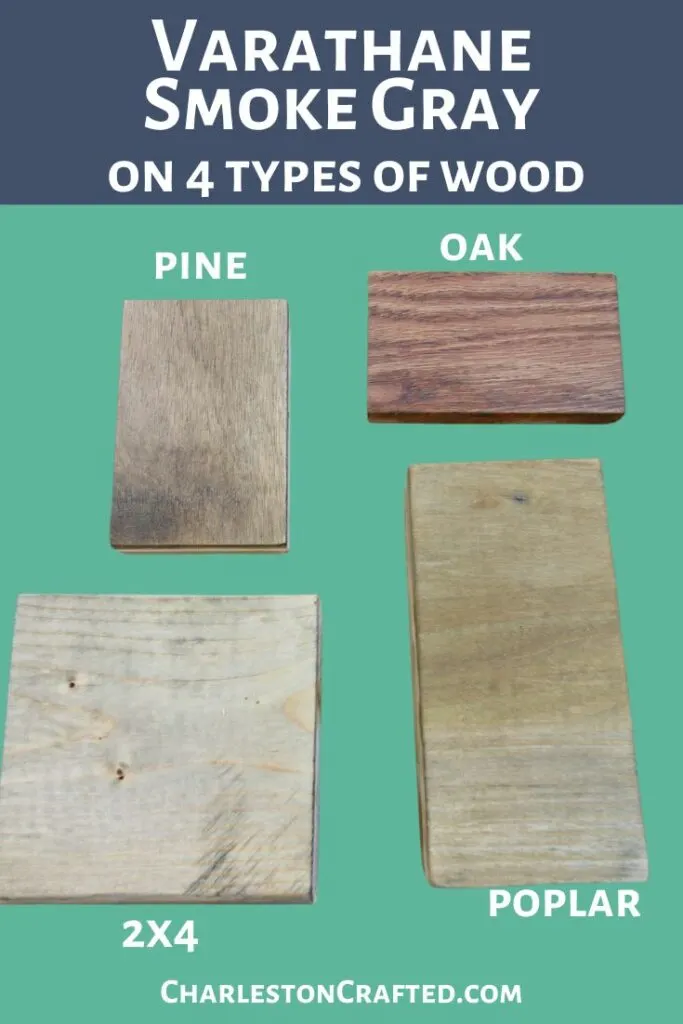 Dark Gray Stains on each type of wood
Here's a snap of these dark gray wood stains on each type of wood.
These are unedited photos taken in indirect natural light.
Poplar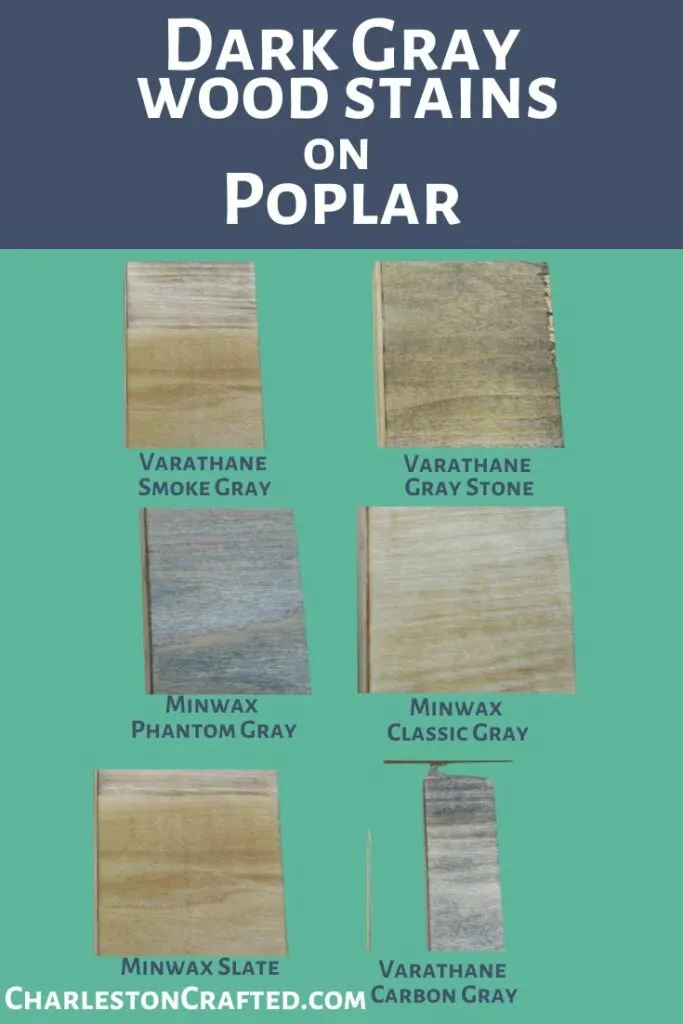 Poplar has naturally green undertones.
So, any stain with too warm of tones can actually clash and look a bit weird on poplar.
For that reason I love Carbon Gray and Phantom Gray – the cooler toned dark gray options!
Oak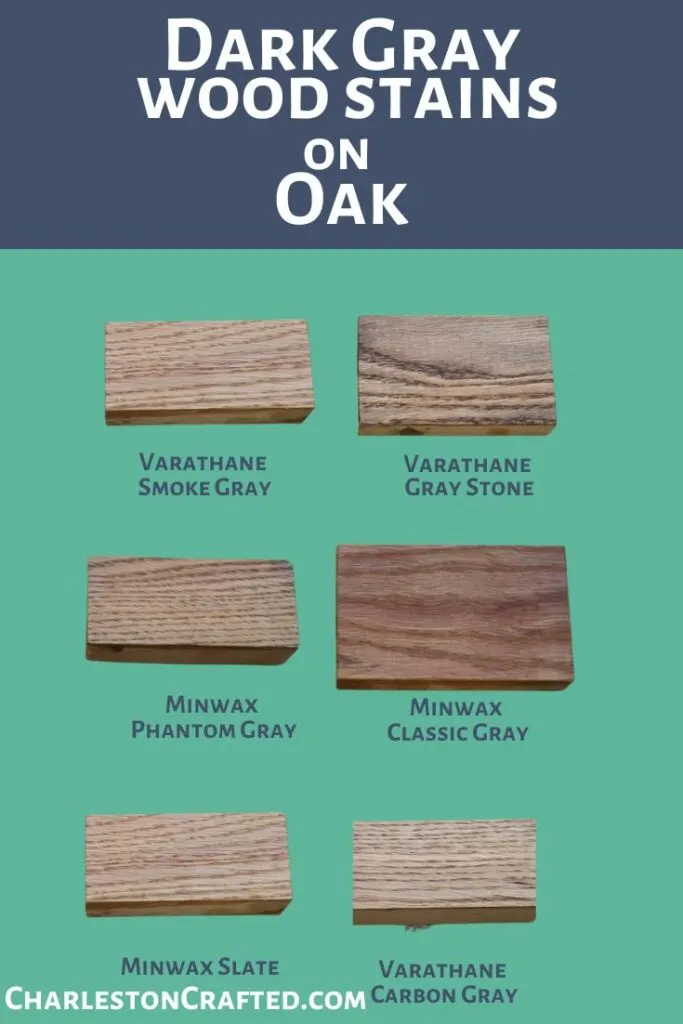 Red oak is a slightly darker wood with natural red undertones.
This pick 100% depends on the look you are going for. If you want a darker contrast in the grain, go Gray Stone or Classic Gray.
For a lighter gray "wash", I like Slate or Carbon Gray.
Be sure to check out all of the best wood stains on oak!
Pine (plywood)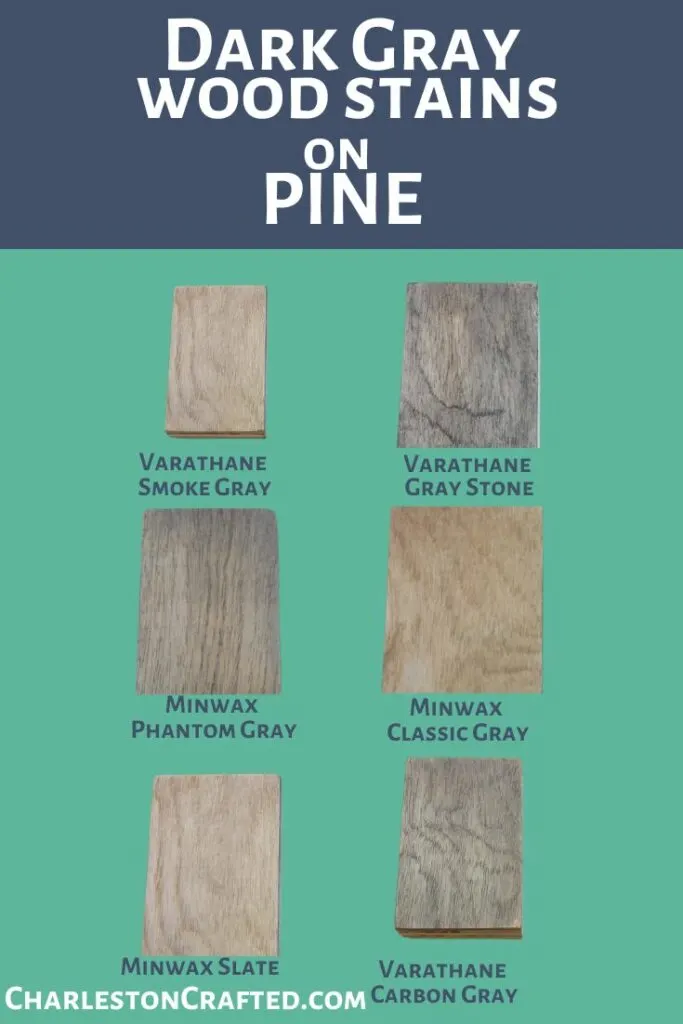 Pine is another light yellow wood but with golden grain lines.
It also absorbs stain pretty heavily, so make your pick depending on how light or dark you want the gray to look!
Standard 2×4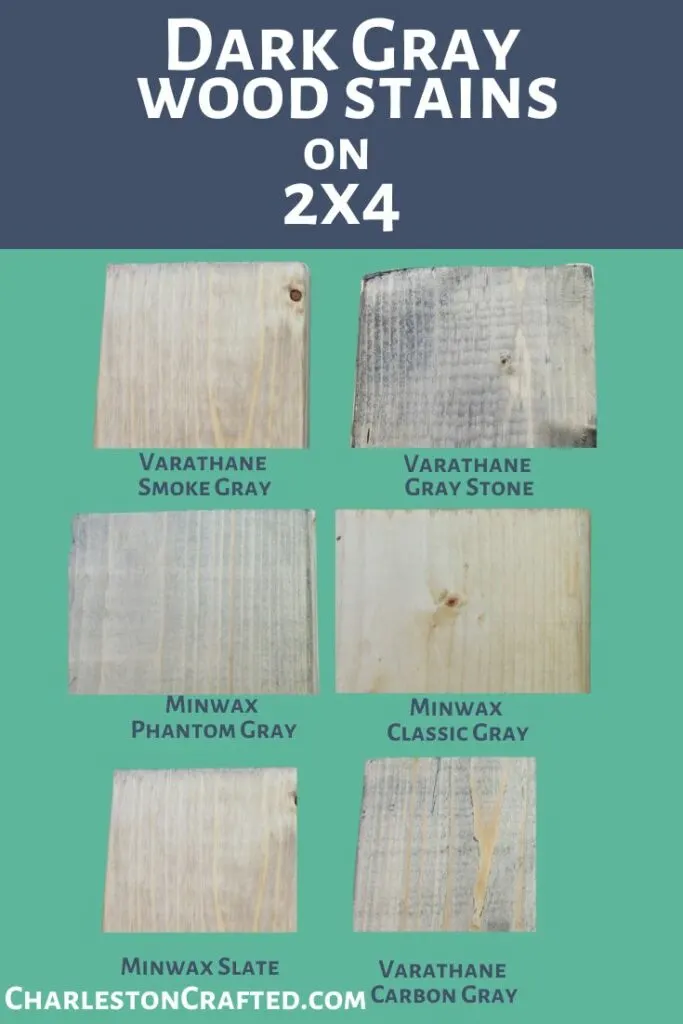 A 2×4 is usually light wood with dark knots.
Usually when I stain a 2×4 I am trying to disguise it, so my pick here would be the darker Phantom Gray or Carbon Gray!
Dark Gray stain vs. Dark Gray paint
What is the difference between gray stain and gray paint?
Gray paint is totally opaque and covers the wood underneath completely.
Gray stain will be transparent enough to let the wood grain show through. How transparent it is depends on the stain that you choose and how much stain you apply.
How do you stain wood Gray?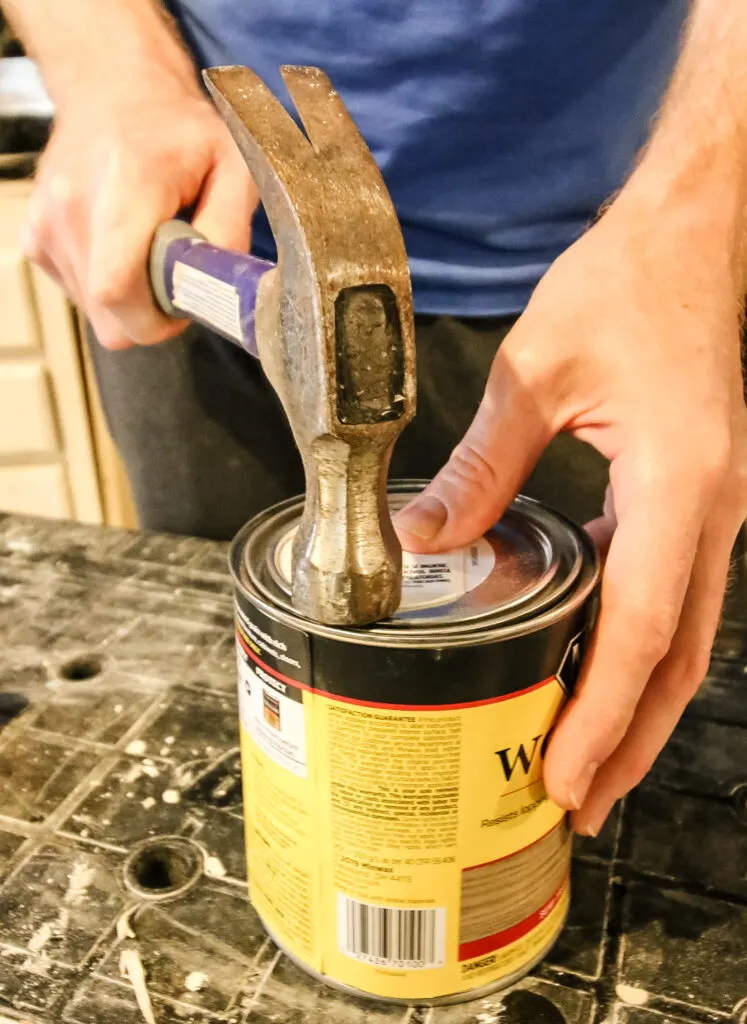 Gray wood stain is really easy to apply!
It's important to start with clean, sanded wood. Wood straight from the store can have a slight coating on it, so be sure to lightly sand to expose the fresh wood underneath.
You may then apply a wood conditioner if you want to help the stain absorb more evenly.
Wood conditioner is less important with white wood stains compared to dark wood stains, which look splotchy more easily.
Then, apply the stain. I like to use a lint-free cloth and apply in the direction of the woodgrain.
Let sit for five minutes or more and then use a clean cloth to wipe off any excess. Don't forget to check the sides for drips!