Looking for the perfect natural sealant for your next woodworking project? We tested 6 popular eco friendly wood sealers – here are the results!
Whether you are building a woodworking project or purchasing unfinished wood furniture, it's important to apply a wood sealer. Sealing your wood will help prevent stains, warping, and rot in your wood.
We personally love a coat of polyurethane on our woodworking projects. But, I understand that many people might prefer a non-toxic clear coat for wood.
Traditional wood sealants can have harmful fumes, VOCs, and off-gassing.
Sealants should protect the wood from basic stains, water damage, and light wear and tear. We wanted to see how these eco-friendly wood sealants would actually work when in use.
So, we decided to put 6 non-toxic waterproof sealants to the test to see which might be the best for your next wood project!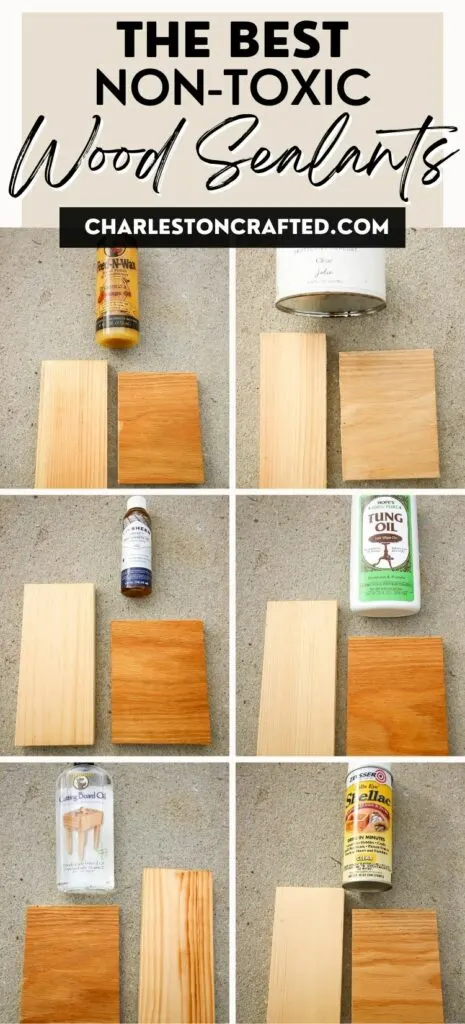 Do I have to seal wood?
You do not have to seal wood. But, sealing wood extends its life.
Unsealed wood is unprotected and will absorb moistures, stains, and smells. This can lead to swelling, warps, and cracks as well as stains in the wood.
It is almost always worth the hassle to seal your wood project to keep it in the best possible condition!
What does waterproofing wood do?
Applying a wood sealant to wood prevents:
warping
cracking
stains
splitting
discoloration
mold
pest infestation
UV/light damage and fading
general wear and tear
How do you prepare wood for sealing?
The general steps to prep wood for sealing include:
Make sure the wood is dry and acclimated to the space
Fill any cracks or holes with wood filler and sand smooth
Sand the wood surface with 220 grit sandpaper. This will remove any coating on the wood and make sure it is as absorbent as possible while giving it a smooth finish.
Wipe the wood clean of dust or debris before applying a sealant.
If you plan to paint or stain, complete that process before applying the sealant.
Be sure to check out my other DIY wood stain ideas!
Natural Sealant Ideas
We put 6 natural wood sealants to the test to compare their look and feel and their level of success waterproofing wood.
These had varying success across time and different types of wood and it's great to have all of this information.
Natural wood sealants
The sealants that we tested are:
Methodology
We applied 2 coats of each non-toxic wood sealer to two types of wood: pine board and oak plywood.
Each sealant dried according to the can's instructions and then we wiped off any excess.
To test the protection against water damage that each natural finish offers, we dropped both water and coffee onto each wood.
The first time, we let the liquid sit for about 60 seconds before wiping.
The second time, we let the liquid sit for one hour before wiping.
Here are the results!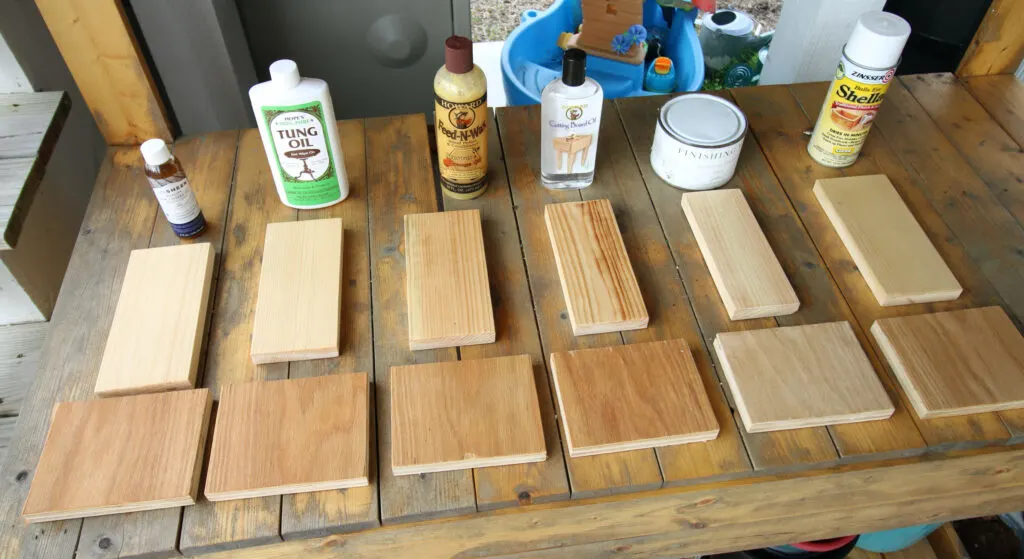 Visual results of each non toxic wood sealant
| | | | | |
| --- | --- | --- | --- | --- |
| Wood finish | Application | Texture | Color | Sheen |
| Shellac | Spray | None | Medium | Slight gloss |
| Finishing Wax | Brush | Waxy | Lightens | Very matte |
| Mineral Oil | Wipe on | None | Darkest | Matte |
| Feed n Wax | Wipe on | None | Dark | Slight sheen |
| Tung Oil | Wipe on | None | Medium | Matte |
| Linseed Oil | Wipe on | None | Light | Matte |
Summary by Sealant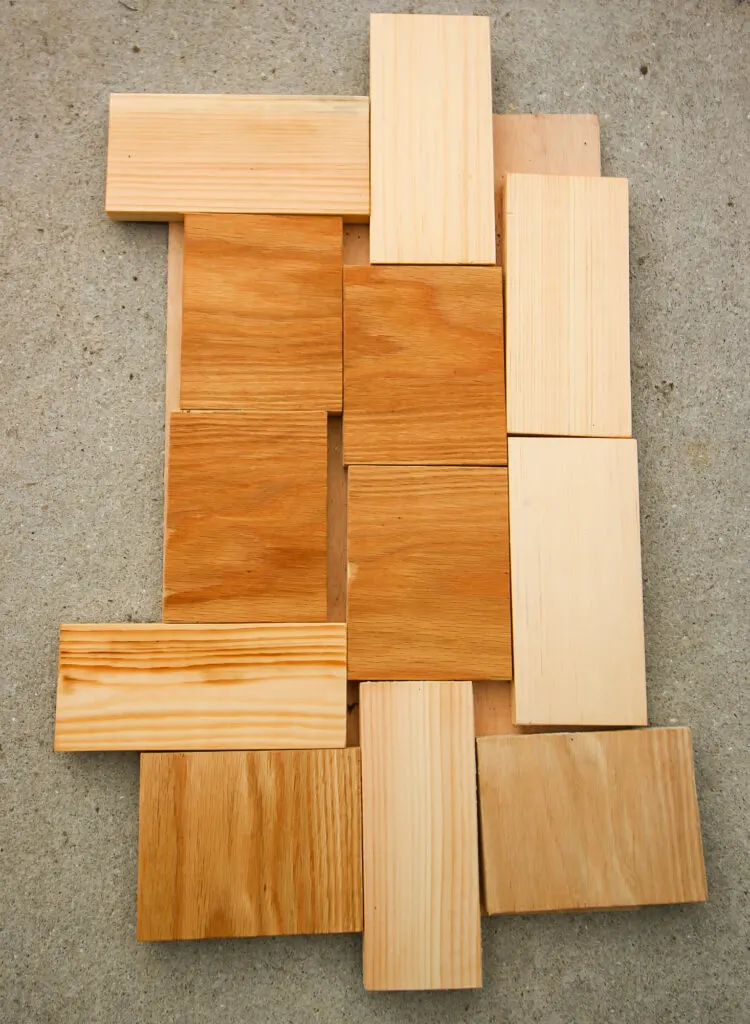 Shellac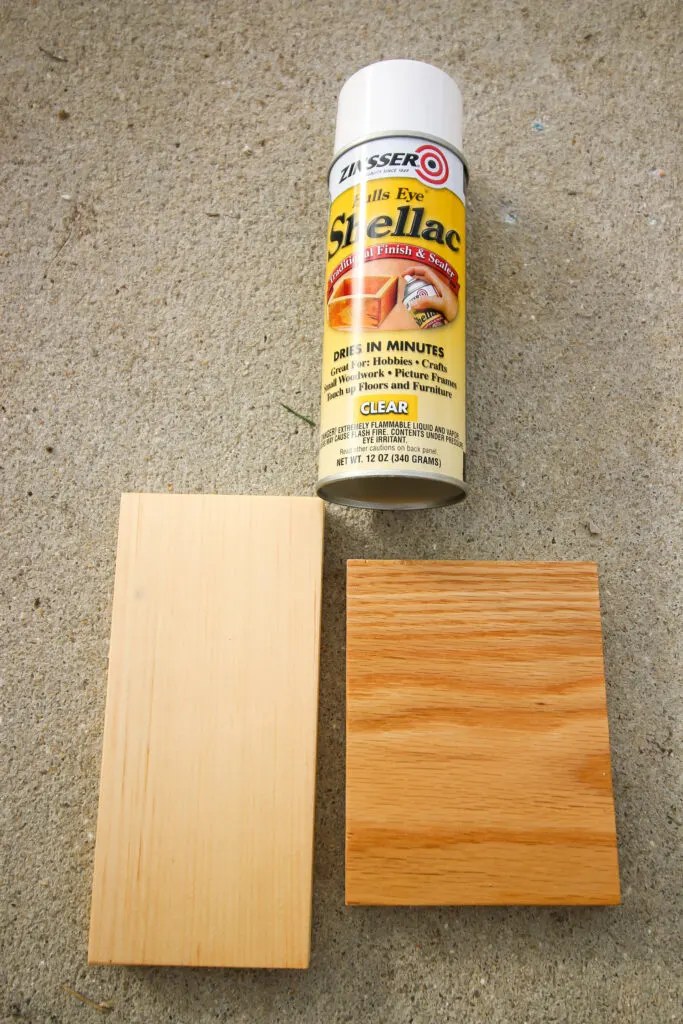 Spray on Shellac is a good option for sealing wood. You can buy a few types of shellac but I like this spray can.
I love the spray application, especially if your project has intricate edges that could be hard to get into with a cloth or brush.
Shellac darkens the wood a medium amount and leaves a slight sheen on the wood.
Shellac did an excellent job of protecting the wood and there were no stains or rings left once it dried!
Finishing Wax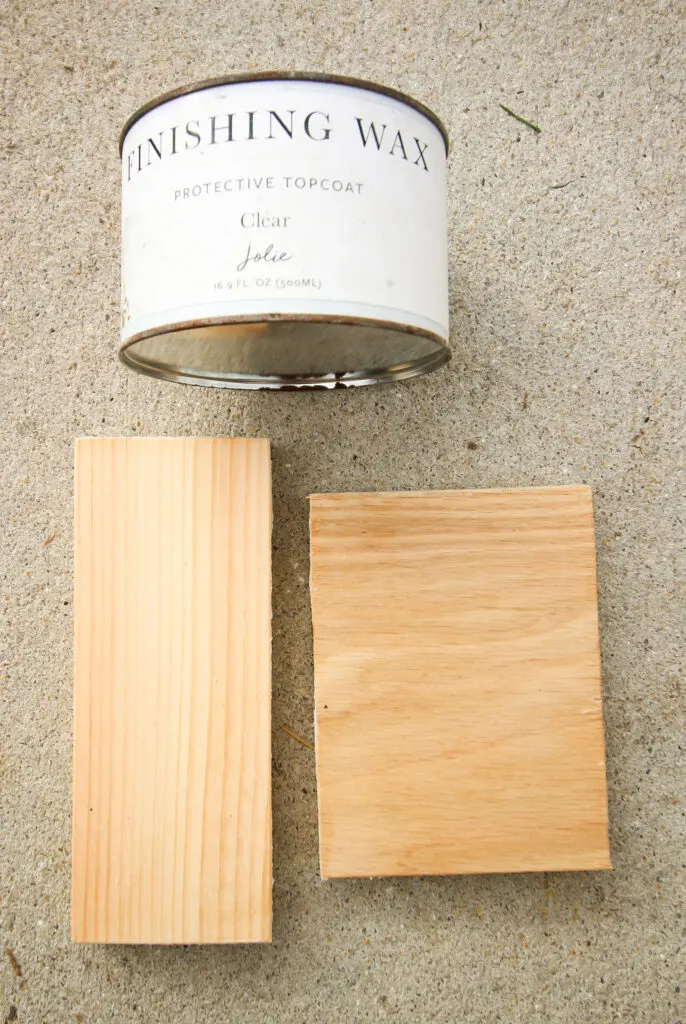 Jolie Finishing Wax is a topcoat typically paired with chalk paint. I had a half a can of it on hand so I wanted to test it alongside the other sealants.
This wax is applied using a paintbrush. It definitely leaves a waxy feeling residue on the wood. The wax – even in a clear color – lightens the wood color and has a very matte finish.
The finishing wax did not do a great job of protecting the wood from water damage. Surprisingly, the coffee didn't really stain it, but both liquids left a white water ring.
However, this was one of the better sealants at seeing the water truly bead up on the surface.
Mineral Oil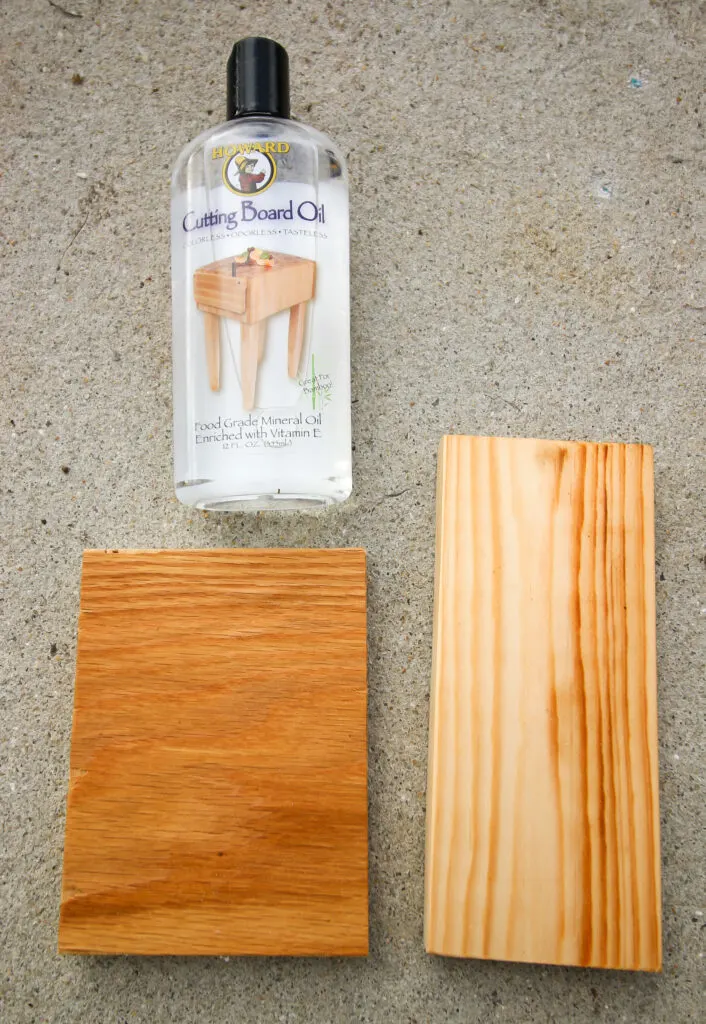 Mineral Oil is a cutting board oil and goes on like water, with a cloth. It darkens the wood significantly and has no sheen.
One thing that I wanted to note about mineral oil is that it really raised the grain, especially on the pine. This means that some of the stripes of grain swelled and got raised, giving it a bit of a texture. This was a negative for me.
The mineral oil did the worst job of all of the sealants of protecting the wood from water and coffee. Especially in the 1 hour test, the liquids really soaked into and stained the wood.
We've always used this oil or a similar cutting board oil on our butcherblock (like in our mudroom), and this experiment has me rethinking that choice!
Feed n Wax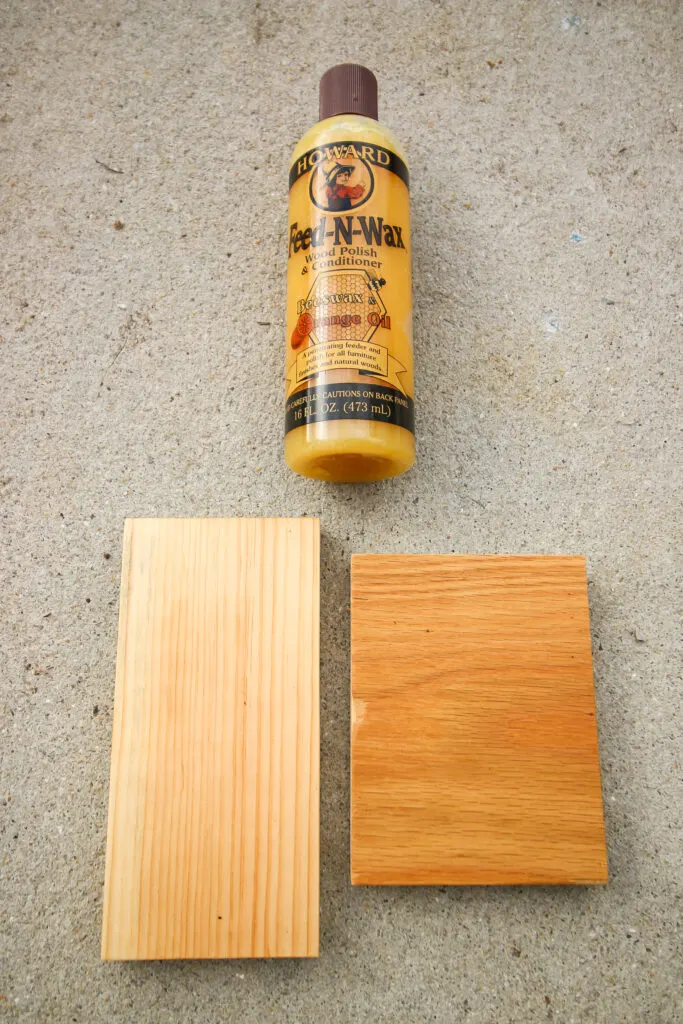 Feed n Wax has a gel texture and is applied with a cloth. It darkens the wood pretty significantly and leaves a slight sheen on the wood.
Feed n Wax did a fairly good job of protecting the wood. The white wood has a slight dark ring from where the coffee sat, but it is not super obvious if you aren't working for it. It's definitely stained – but very lightly.
The water did not leave a ring or mark at all, once it was fully dried. This one also had good beading of the water.
Tung Oil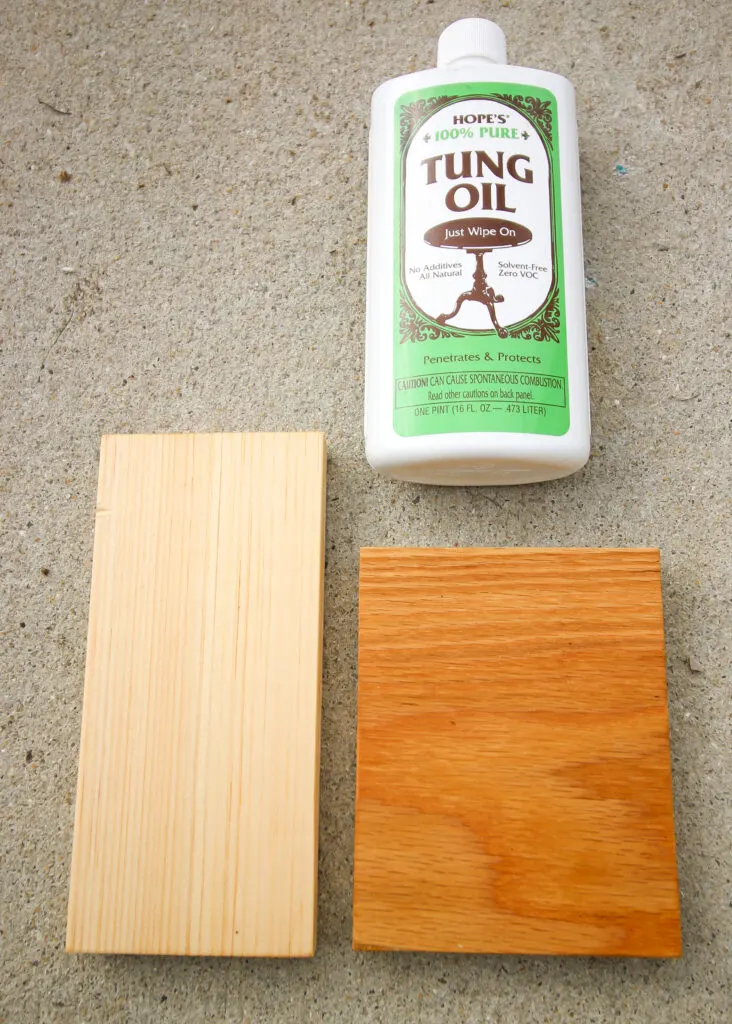 Tung oil has a watery texture and wipes onto the wood with a cloth. It darkens hardwoods a medium amount and has a completely matte finish.
Read our complete guide to using tung oil!
I was impressed by the water repellant nature of the tung oil. Once we let it completely dry, there was no trace of water or coffee stain on either wood type.
Linseed Oil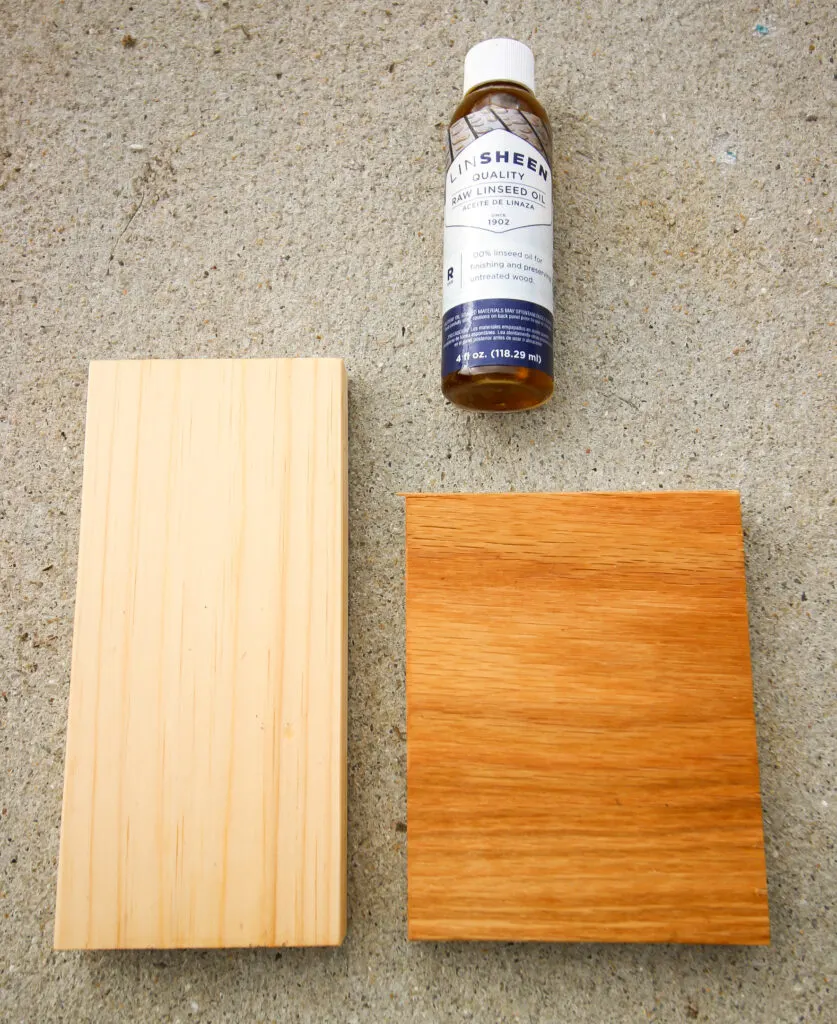 Linseed oil has an oily texture and wipes on to the wood with a cloth. Once applied, it only darkens the wood a slight amount and has a matte finish.
Read my complete review of linseed oil here!
I was not super impressed with the water resistance of Linseed Oil. The water ring dried up OK but the coffee stained the lighter wood severely.
What is the best natural wood finish?
Shellac, Feed n Wax, and Tung Oil did the best job of protecting the wood from water stains. You can't go wrong with any of these finishes!
Shellac is the easiest to apply if you can take the item outside to do a spray application. Otherwise, I recommend Tung Oil for a completely matte finish and a nice wipe on application!
Video demonstration
Watch the sealant test below or click to watch it on YouTube!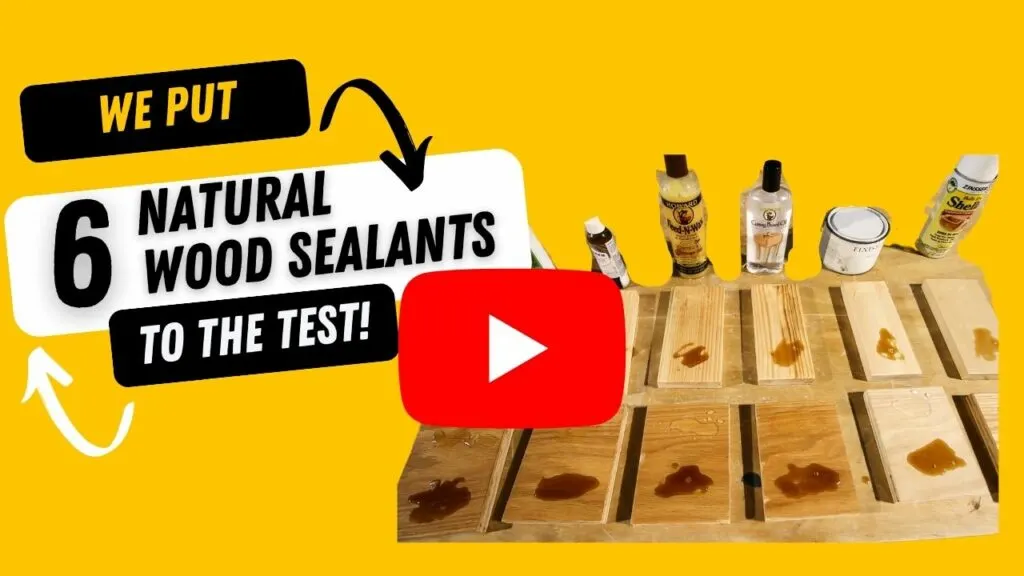 Any questions about how to seal wood naturally?