Considering adding a gray wood stain to your wood project? Check out Varathane Smoke Gray – our full review & how it looks on 6 types of wood!
Gray wood stain is a cool option for your DIY woodworking projects.
Gray wood can look beachy, rustic, or modern. It's a fun color to play around with.
I was really excited to test out my favorite 8 gray wood stain colors on 6 types of wood so you can see exactly how they each look!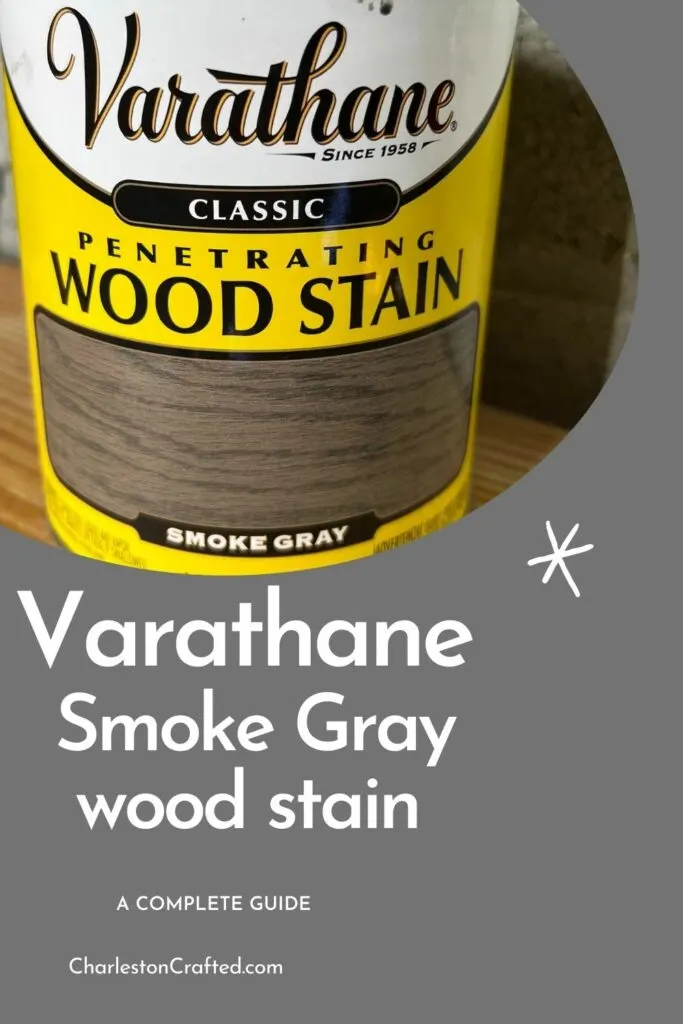 Varathane Smoke Gray
Varathane is a brand commonly carried at the Home Depot. Click here to buy Varathane Smoke Gray at Home Depot.
Smoke Gray is a warm toned gray wood stain. That means it has brown undertones instead of blue. I think that the warm undertones make this stain much easier to work with than it's cool toned friends!
It is of a medium darkness – not too light, not too dark.
It settles into the grain of the wood, but still gives great coverage over the entire piece of wood.
This is a fantastic gray stain option and one of my favorites for a mid-toned gray!
Here is how Smoke Gray looked on each of six wood types!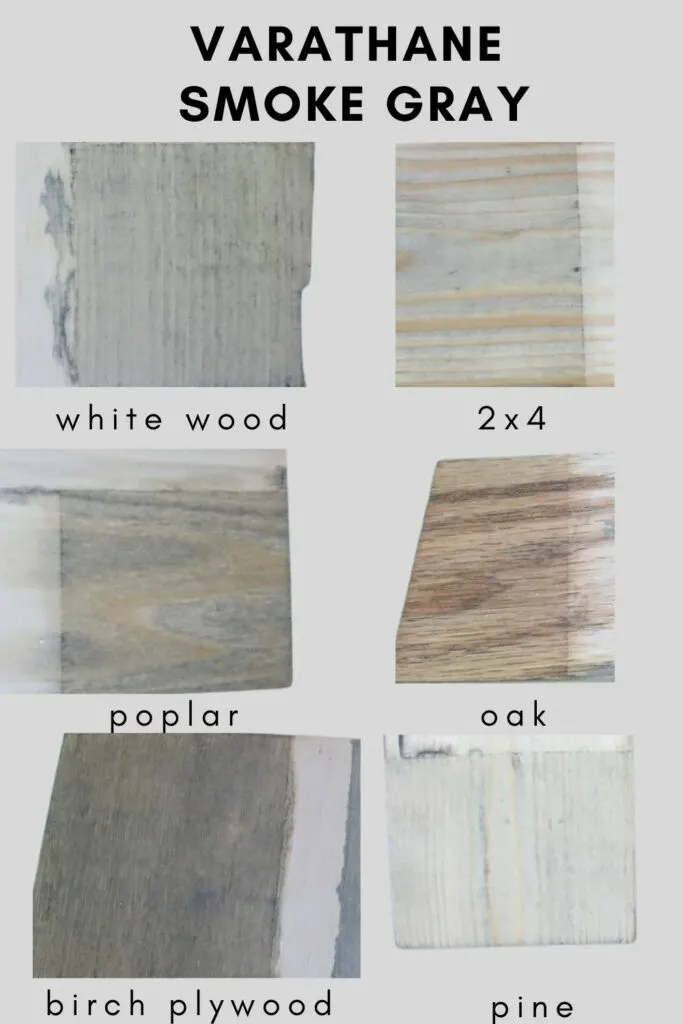 How does Varathane Smoke Gray stain look on oak?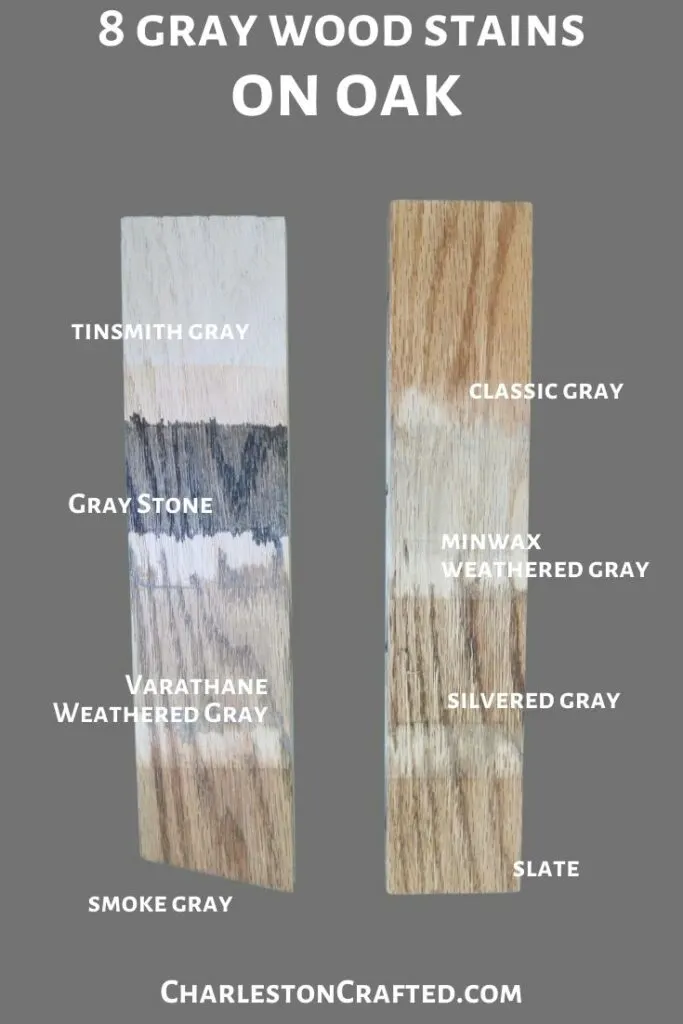 Oak is a really beautiful wood with natural red undertones.
Smoke Gray plays really well with those warm tones. It brings out the warm brown of the oak while playing down it's red undertones.
This is ALL of the heart eyes from me!
How does Varathane Smoke Gray stain look on pine?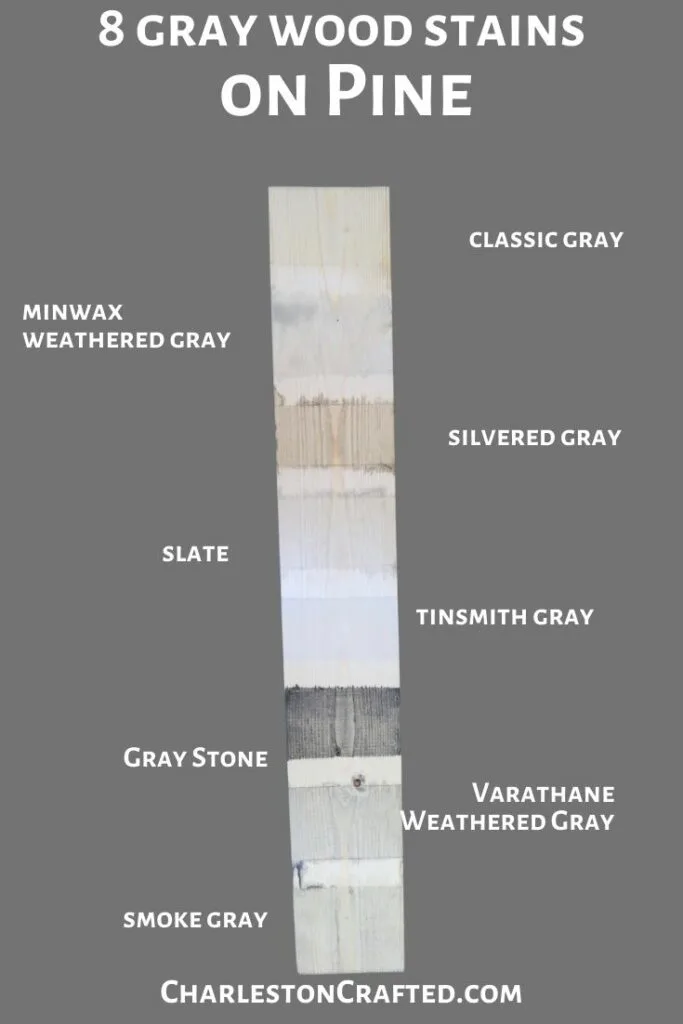 Pine wood has natural yellow tones with some slightly darker graining. Pine is a softer white wood that can often be very absorbent.
You can see Smoke gray at the bottom above. It settles into the grain and drew attention to the lines of the grain – which may or may not be a plus for you.
It definitely adds gray color and warms up the pine. Beware, if your pine has a lot of yellow to it, this combo can start looking very gold.
How does Varathane Smoke Gray stain look on poplar?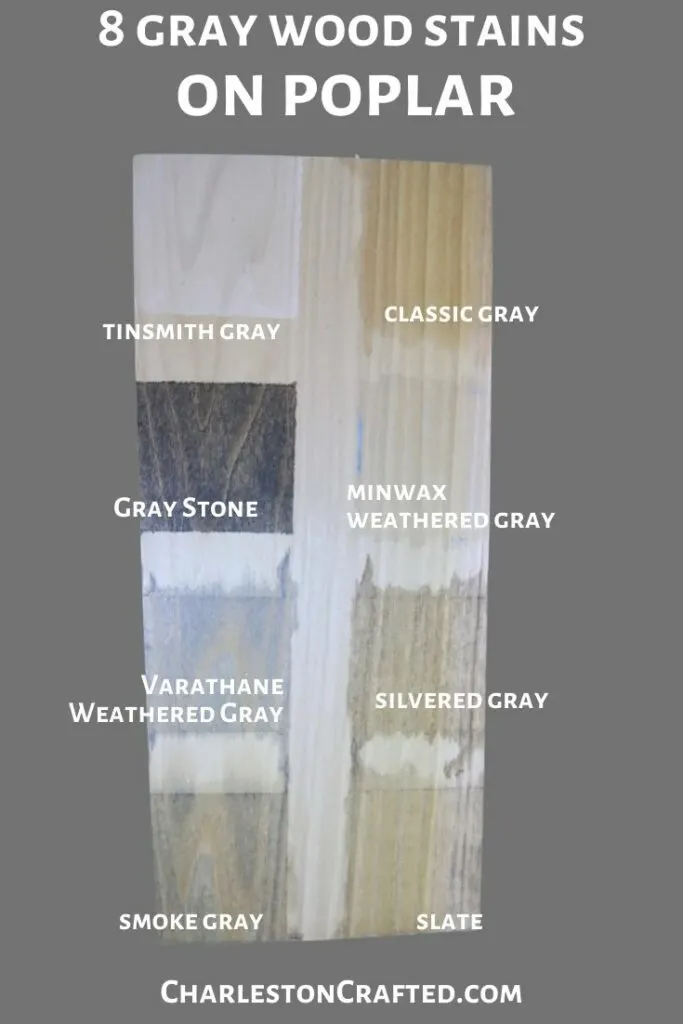 Poplar has natural green and some purple undertones.
Poplar has little almost dashes it it's wood grain which gives it the look of a lot of texture. This stain really highlights that!
You can see how part of the grain looks more dark gray and others more golden. Thats the warm tones in the stain combining with more warm or brown parts of the wood.
Pay attention to your piece of wood and the markings and colors of it! When in doubt, test a spot!
How does Varathane Smoke Gray stain look on plywood?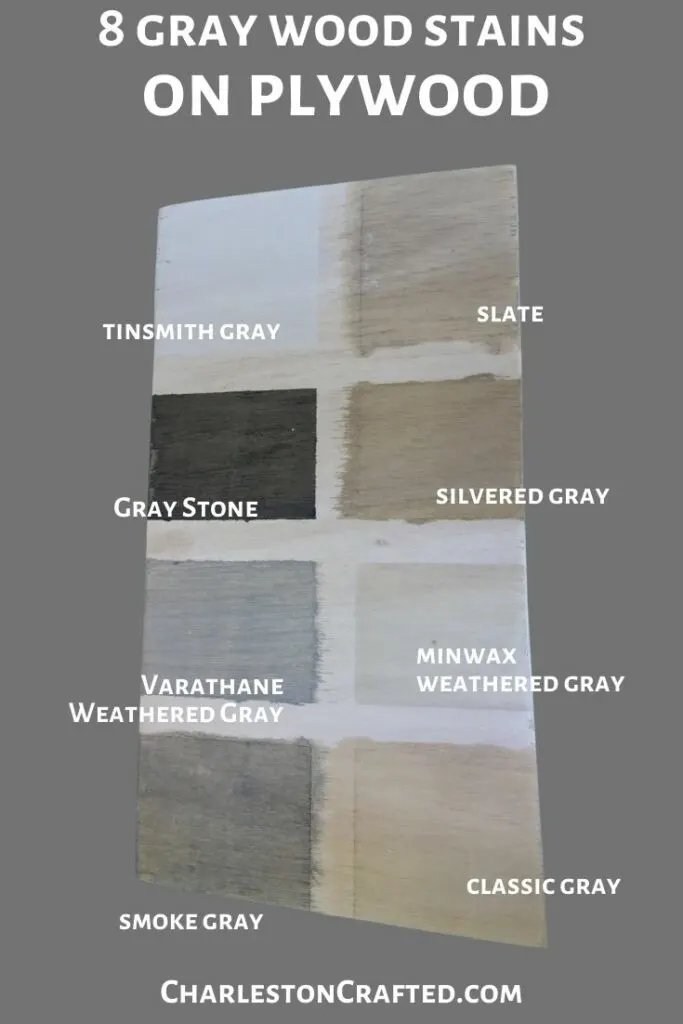 Birch plywood is very light, almost white, with very light tan grain lines. It has beautiful flowing grain lines.
Smoke gray went VERY dark on plywood. Like, I had to double check that I had the right stain!
It has those warm tones that make it feel very earthy still, but it definitely transformed from a mid-tone to a dark gray.
This is why it's so important to test stains on different types of wood! How it looks on a different wood is not how it will look on your project!
How does Varathane Smoke Gray stain look on a 2×4?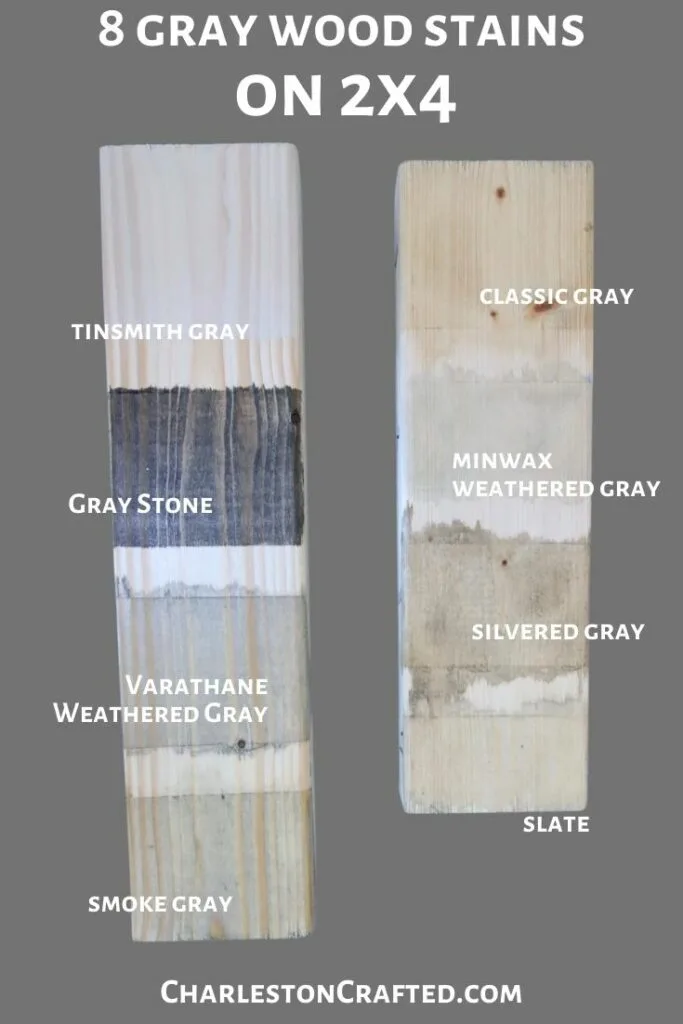 2x4s are usually very light wood with darker knots and holes. You probably aren't building furniture from 2×4 but if you do need to stain it, here it is!
This 2×4 has a lot of yellow to it and you can see how the Smoke Gray (warm tones again!) really played that up! The contrast between the gray and the gold on the grain is not my favorite honestly.
How does Varathane Smoke Gray stain look on white wood?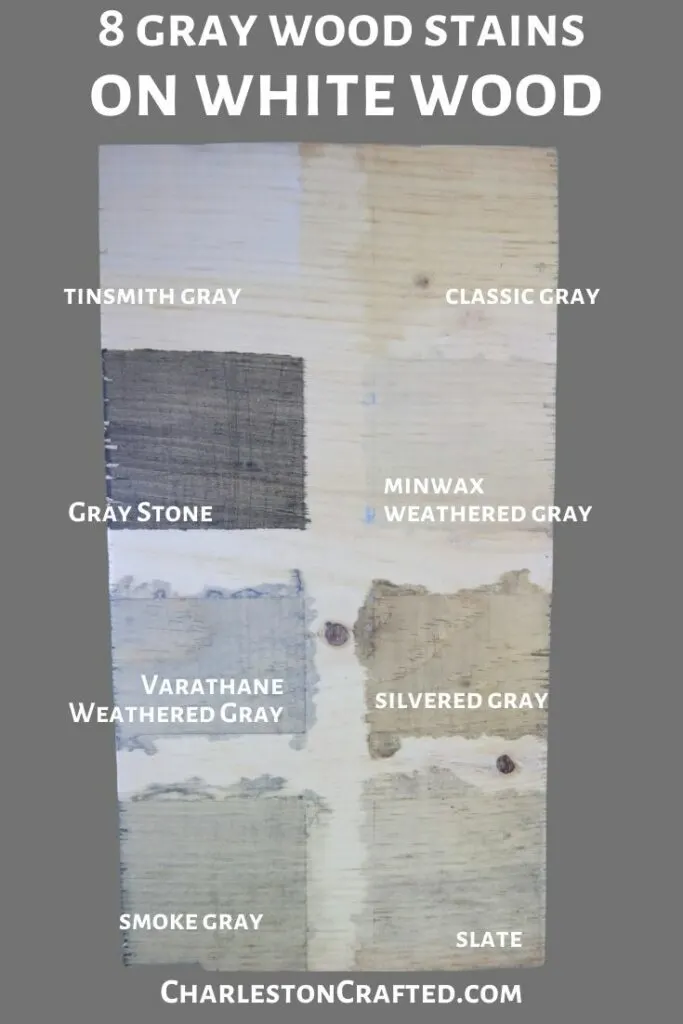 Pine is a light wood that tends to take stain pretty splotchy.
TBH I'd only use this wood if I was painting it, but it is what we used when we were first getting into DIY.
Smoke Gray looks dark on white wood, too. Which makes sense – it's pretty similar to pine. It definitely makes the wood look more medium toned gray – it just looks a bit blah.