Trying to get – and keep – your home in shape? Ongoing maintenance is key! Here is the home maintenance checklist for February to keep your house in great condition!
Owning a home can be really exciting – but it also can be really boring, too.
A lot of those boring tasks can slip through the cracks and could even lead to larger damage and costly repairs down the road.
Keeping up with your home's maintenance schedule is the easiest way to avoid all of that mess.
I am excited to be bringing you monthly checklists for home maintenance to help keep your home in top shape.
February is such a weird month. Winter seems like it has been going on forever – it has to be almost Spring.
Depending on where you live, the weather might be warming up or you might be facing many more weeks of dreariness.
As one of the last months of Winter, February home projects are perfect for getting your home ready for sunnier days ahead.
I hope that these February home owner tips help you get on top of your home's maintenance schedule once and for all!
Click here to see our Winter seasonal home maintenance checklist!
Free printable checklist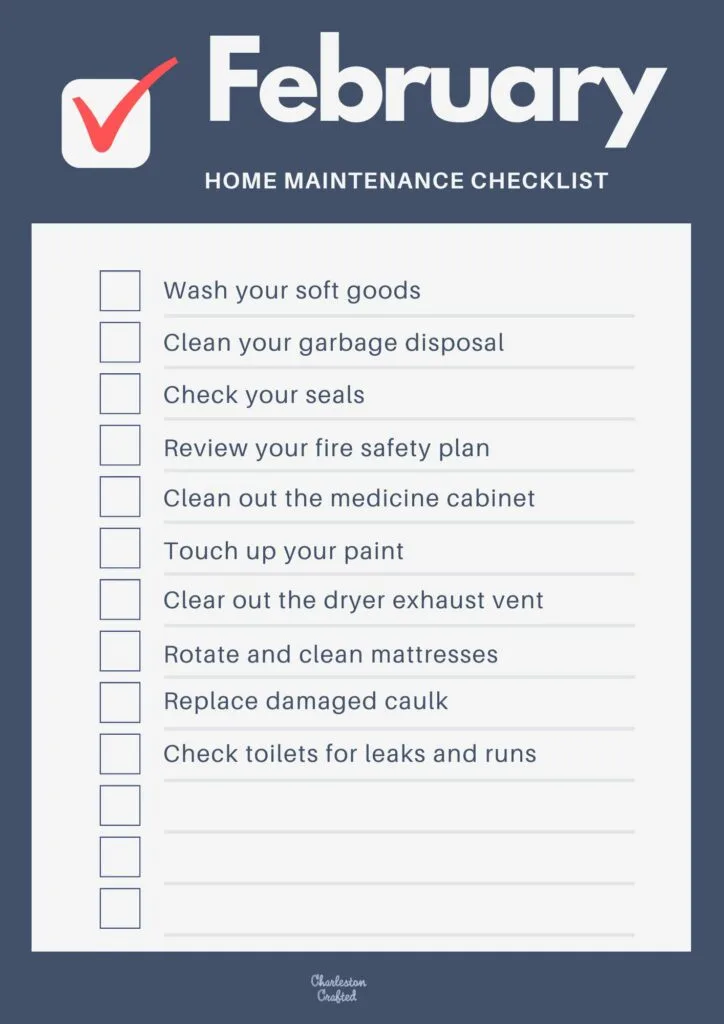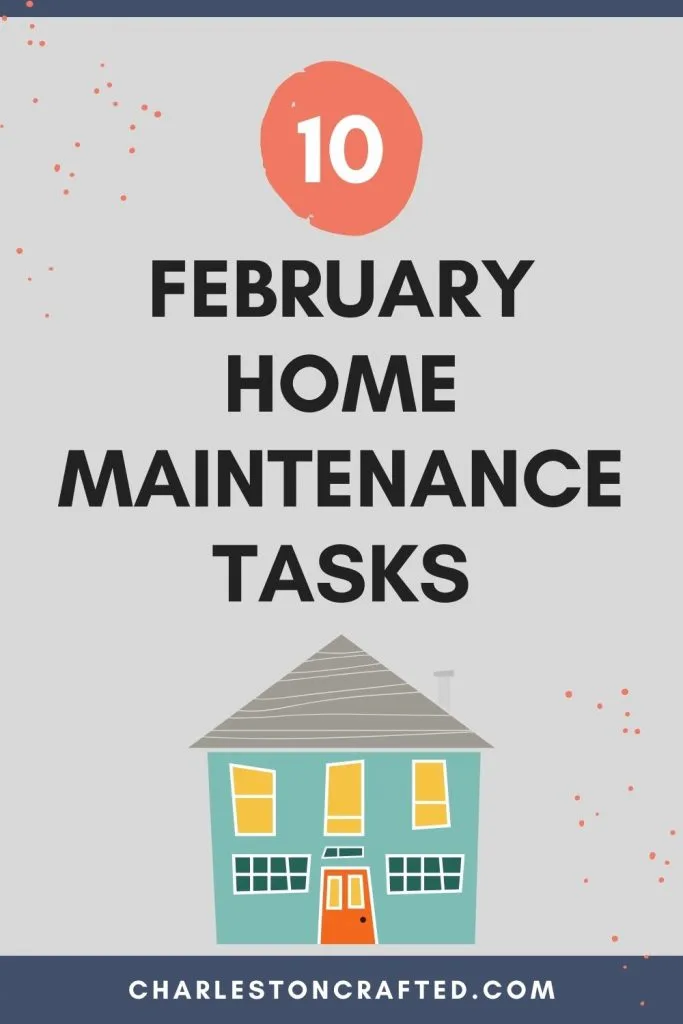 February Home Maintenance Checklist
Click here to get the printable checklist straight to your inbox!
Wash your soft goods
Winter can get dusty and musty, so this is a great time to wash your soft goods.
This can include:
Bedding & linens
Curtains
Slipcover or pillow covers
Washable rugs including bath mats
Be sure to check the tags on each and wash according to the manufacturer's instructions.
Clean your garbage disposal
Garbage disposals mush up food. That mushed up food then just sits there until it is washed away. No longer they are stinky!
There are a few ways to clean a garbage disposal:
Run with ice to sharpen the blades.
Pull out the rubber flap on top and clean it with a sponge. Also clean the area where it snaps in place before putting it back.
Add 1/2 cup each of white vinegar and baking soda to help clean and deodorize.
Run half a lemon through the disposal for a fresh scent.
Be sure that the disposal is in the OFF position before sticking your hand anywhere near it!
Check your seals
You probably have rubber seals around all of your doors, across windows, and even on your garage door. With cold air outside, this is the perfect time to check them!
Simply walk by and hold out your hand. You will feel where cold air is getting through.
We actually discovered a lot of cold air getting through in our new home this way!
You can replace weather stripping if it is rotten or missing. Small gaps might just need a little caulk!
Revisit your fire safety plan
It is incredibly important that you have a fire safety plan for your home. Everyone in your household should be familiar with the plan.
Here is our advice for how to make a fire safety plan.
Be sure to have two planned exits for every room and a set meeting place away from the house in case of emergency.
While you are at it, check your fire extinguishers. Be sure that they aren't expired and that you have enough. We have one on each floor of our home and in the garage.
Think of areas where a fire might be more likely to occur and place fire extinguishers nearby.
Clean out the medicine cabinet
Spring cleaning might be around the corner, but take this moment to clear out your medicine cabinet. This might be a literal cabinet or under your bathroom sink, or even in a linen closet.
Pull any expired medication and dispose of it properly.
Check your first aid kit for anything damaged, expired, or missing, and replace it.
Label and organize everything in bags, boxes, or bins before replacing.
Touch up your paint
Life happens, and "life" usually means you're scuffing or dinging up your walls.
Take a minute and walk your home and note any areas where there are scuffs or scratches on any painted surfaces.
I like to use tiny tears of painter's tape to mark each ding or scratch.
Then, re-paint!
If a wall or room is totally covered with marks, it might be easier to re-paint. Or, paint an accent wall if one wall in particular is beyond saving!
Here are my favorite blue gray paint colors.
Clear out your dryer vent
Dryer exhaust vents run from your clothes dryer to the outside of your home. I never knew this was a thing until we bought our first house.
They can get filled with lint (if clogged) and lint is very flamable.
You should clean your dryer exhaust vent at least once a year.
We are talking about hte big silver crinkly tube at the back of your dryer.
Unplug your dryer and then remove the vent from the back. Stick a vacuum extension in there and vacuum out any excess lint.
Then, go outside and identify the vent. Unscrew the cover and use a gloved hand to clear out any lint build up.
Rotate and clean mattresses
Mattresses left alone can wear unevenly. It's a good idea to periodically rotate or flip them to avoid one side getting saggier over time.
While you're at it, sprinkle the top of the mattress with baking soda and then vacuum it off. This will help with any lingering odors.
Replace damaged caulk
As temperatures change, there can be slight shifts in your home. Caulk is a flexible material that is meant to ebb and flow with those changes, but it can crack over time.
Here is our guide to re-caulking a tub. Check the caulk around bathtubs, showers and toilets.
This might seem like a big project but it is really easy and really inexpensive to update and can instantly make your bathroom feel fresh and new again.
Check toilets for leaks or running water
While you're in the bathroom, examine your toilets. Give each a look over to be sure nothing looks amiss.
Examine the pipes in the back and make sure that no water is leaking, even a few drips.
Finally, flush the toilet and listen. Be sure it is not running or making any funny noises.
Here's our guide to replacing a toilet pump and replacing a toilet seat.
This especially applies if you have a guest toilet or one that is rarely use. Examining it regularly can keep a big problem from sneaking up on you and causing costly damage.
What else is on your February to do list?
Facebook | Instagram | Pinterest | Twitter | YouTube