Here are the essential home maintenance tasks that homeowners should do each November – and a free printable checklist!
November is here and for many people that means a full lean into holiday planning.
You might be decorating or shopping or cooking. Honestly, home maintenance is probably far off your mind!
But, with the weather getting cold and more people staying home to stay cozy, it's still as important as ever.
I hope that this November home checklist helps you get ready to get some of those tasks taken care of!
Here are the essential tasks to tackle this November!
Click here for my Fall seasonal home maintenance checklist!
Printable Checklist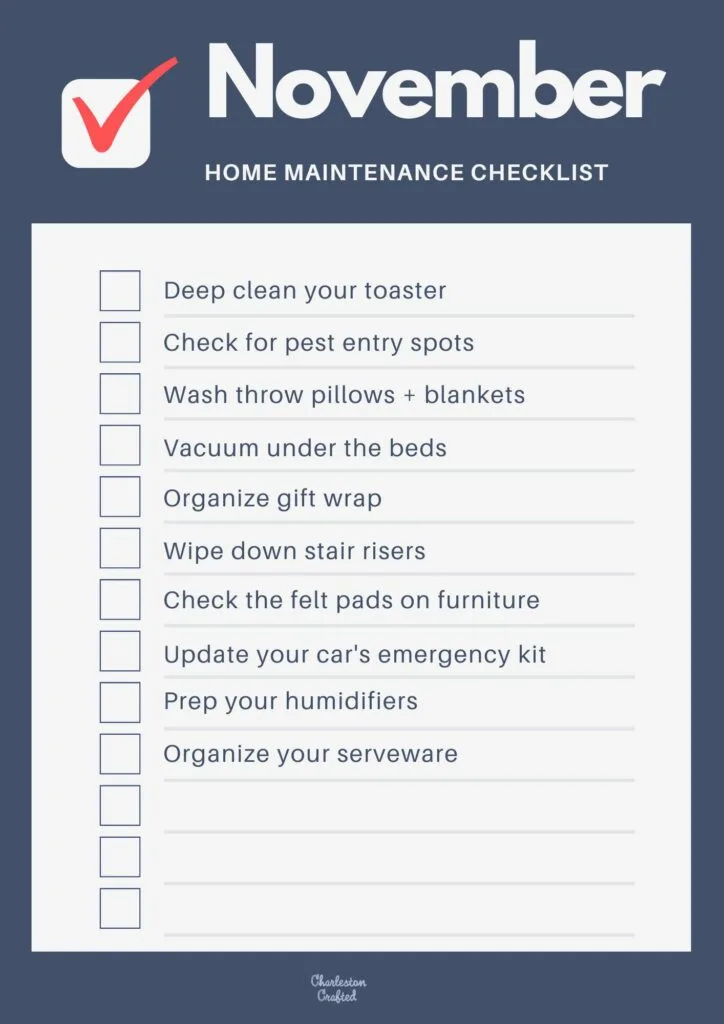 Click here to get the printable PDF November home maintenance checklist directly in your email inbox!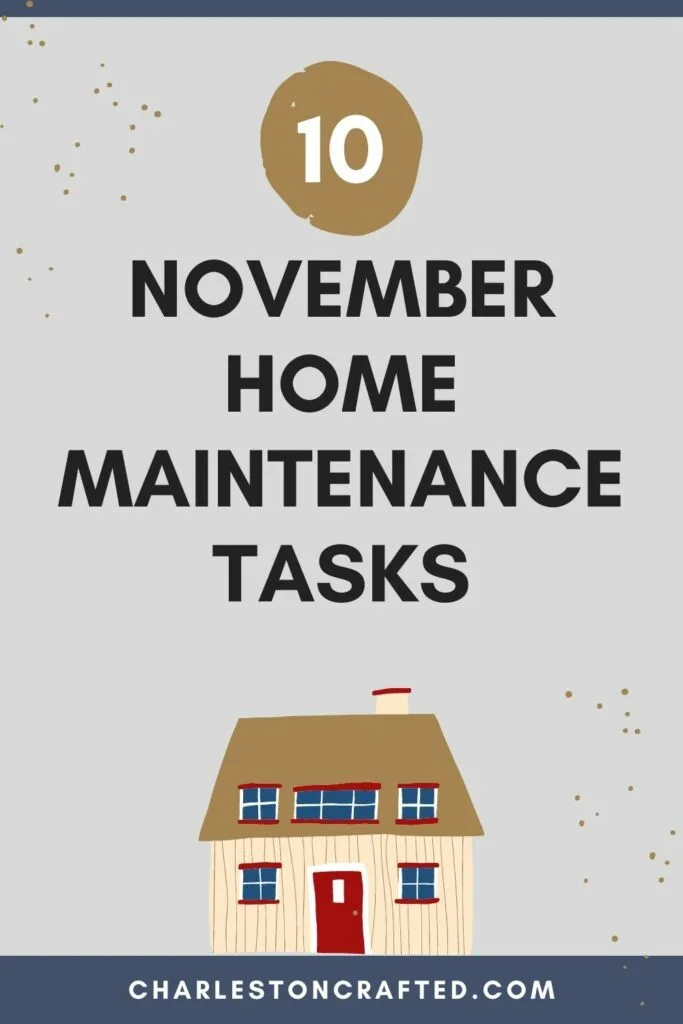 November Home Maintenance Tasks
Deep clean your toaster or toaster oven
This time of year a lot of cooking is happening. All of your appliances will be working overtime, but let's give some love to the toasters.
Most toasters have a crumb tray that is removable. Pull it out and don't just dump it – wipe it clean in the sink.
Then, use a soapy rag to wipe down the whole outside of the toaster to give it a fresh start headed into this busy season.
Secure your home from pests
As the weather gets colder, pests are looking for somewhere warm to stay. Don't let it be your house!
Check places like the attic or crawl space for gaps. You might see light or feel cold air coming through.
If you have a history of pest invasions, it might be worth your while to have a pest control company do a preventative check looking for potential entry spots and repairing them before it becomes a more expensive issue.
Wash your throw pillows and blankets
I don't know about you, but we really never wash the throw pillows or blankets on our couch. That we use every day. Yikes!
Since visitors will be coming soon, but even if you aren't hosting this season, it's not a bad idea to throw them in the washing machine!
Vacuum under the beds
Another often neglected spot in the home is under the bed. I know that we NEVER clean under ours.
Well, now is as good a time as any! Pull out anything under there, go ahead and get rid of stuff you no longer need, and vacuum before putting everything back.
Organize your gift wrap
It's about to be gift wrapping season. Take a minute now to organize your stash and make a list of anything you might need for the upcoming holidays.
Throw away or recycle any tiny scraps or sad torn bags.
Organize the items that you have by type and put them all away neatly to get ready for wrapping.
Wipe down your stair risers
Here's another thing that you don't realize is gross until you get down there. Whether your home has indoor or outdoor stairs, I can almost promise you that they are gross.
Use a damp cloth to wipe down wooden stair risers. Sweep well.
Vacuum carpeted stairs, including the riser, using the brush attachment on a vacuum hose.
Check the felt pads on the bottom of furniture
Another random but good idea to get ready for holiday hosting – check the little pads on the bottom of furniture legs. They might be felt or rubbery.
Over time, they tend to slide off the bottom of the feet and then they aren't doing their job. Replace them if you need to.
Ours also get gross with pet hair. Take two minutes to clean them off!
Update or create your car's emergency kit
Cold weather can mean more chances of car accidents or being stranded in icy weather.
If your car doesn't have an emergency kit, this is a great time to create one. If it does, open it up and check to see if anything needs to be refilled.
Clean and prep your humidifiers
Cold weather brings dry air. If you run a humidifier, this is the time to prep them.
They might need to be descaled or cleaned with white vinegar. Get them ready now so you are good to go when you need them!
Organize and declutter your serve ware
This is also a great time to go through any platters or serveware that you own. That could even mean paper plates and napkins if that's what you use!
If there are pieces that you don't like or use, it's time to get rid of them. If you are selling or donating, you will have a lot better luck getting rid of holiday serveware in November than in January!
Did I miss any November home maintenance tasks?!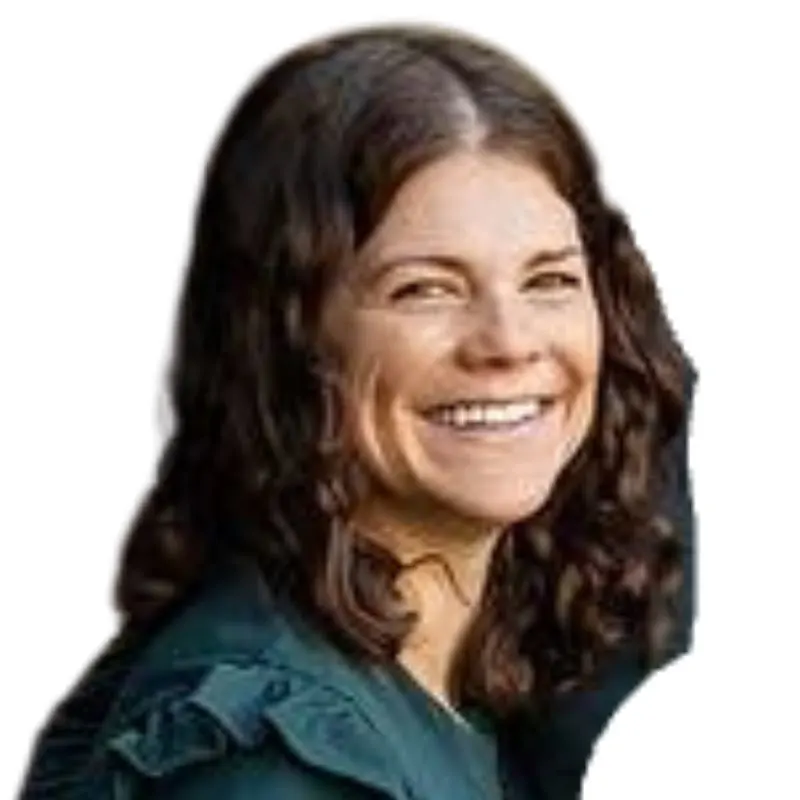 Hello, I'm Morgan, half of the creative force behind CharlestonCrafted.com! With a passion for DIY that dates back to 2012, I've transformed three homes and now I'm dedicated to helping others craft their dream spaces. Let's turn your house into a home together!