Wondering what tasks you need to perform on and around your home this May? Here is a complete checklist – with a free printable PDF, too!
May is here and with that comes spring flowers! The weather is warming up and we are all headed outside to work and play in the yard.
May is a great time to take on home improvement projects. Often, it's not too hot and not cold – the perfect temperature for gettin your hands a little dirty.
While it's great to give your home a bit of a spring cleaning, let's go beyond that by getting your whole home in tip top shape. No need to hire a professional – these are all tasks that you can do yourself to save money on the short term and avoid long term costly repairs!
Click here to see my Spring home maintenance checklist!
Free printable May home maintenance checklist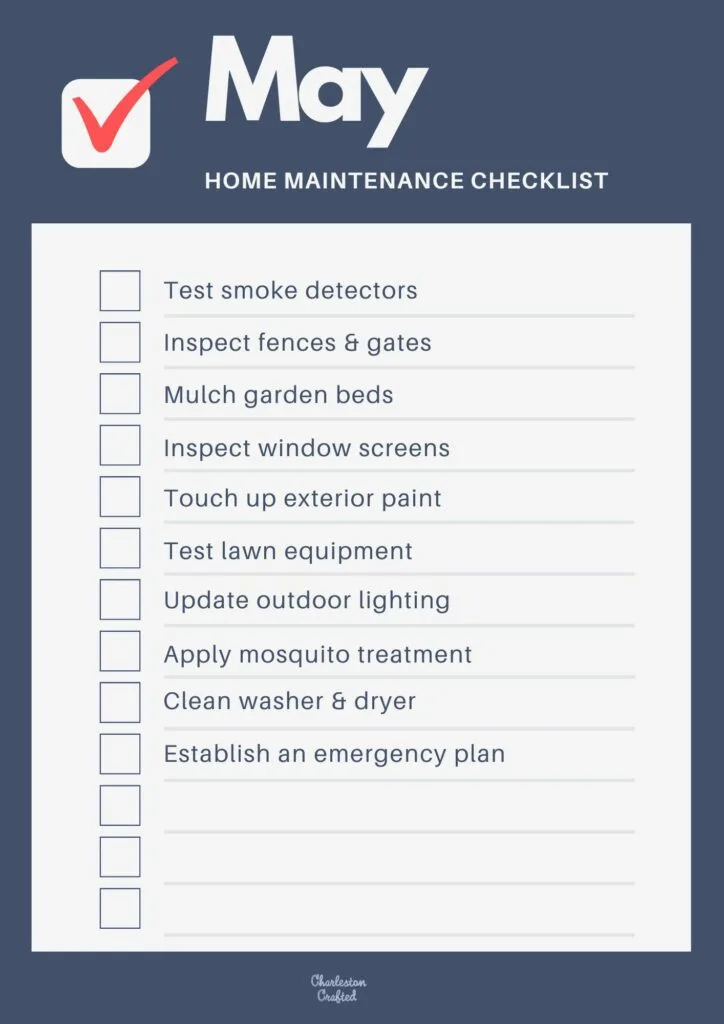 Be sure to get my free printable PDF checklist of essential home maintenance tasks for May!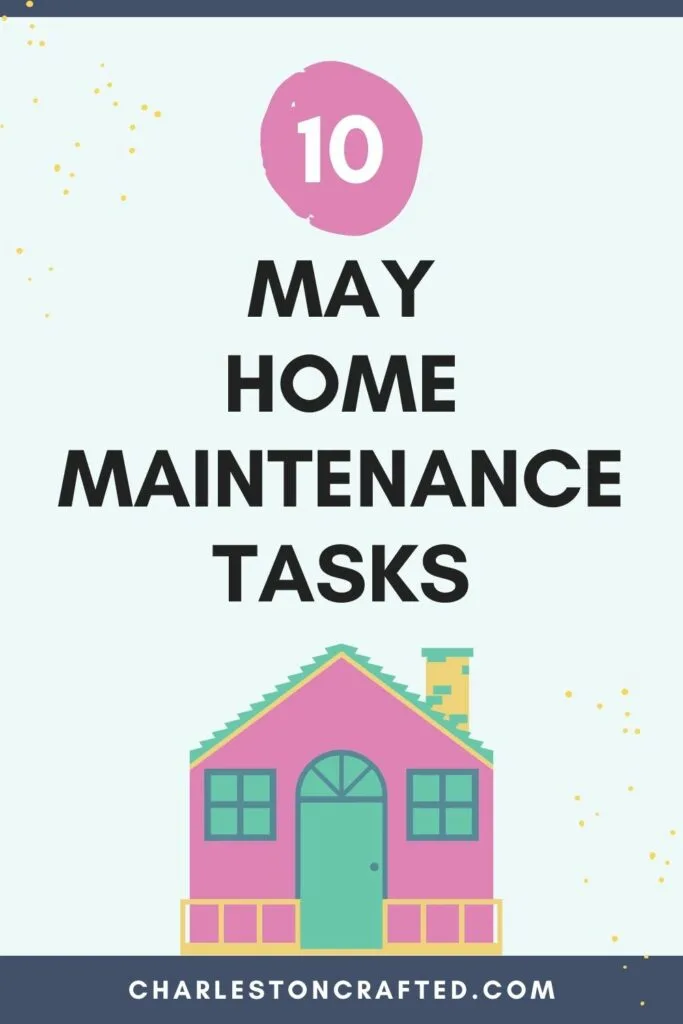 10 May home maintenance tasks
Tackle these ten tasks to get your home's maintenance on track this May!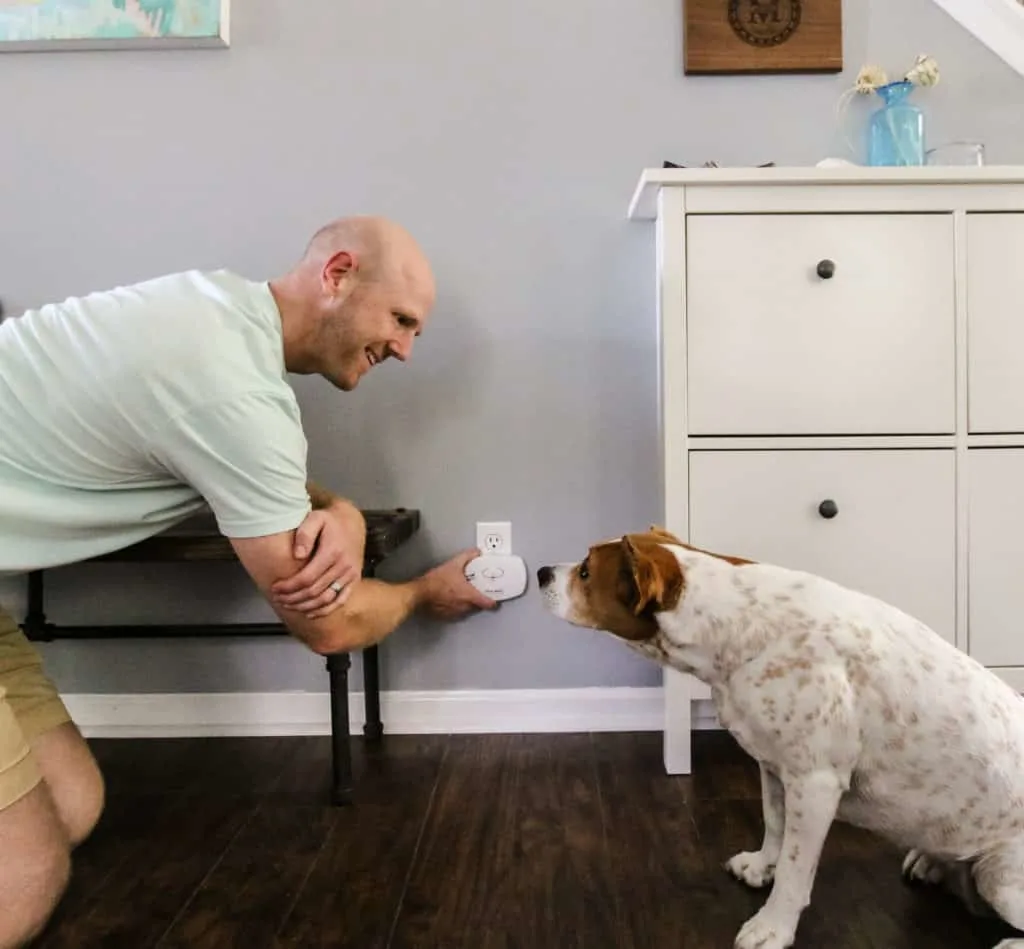 Check your smoke and carbon monoxide detectors
Check your safety detectors to be sure they are working. They usually have a TEST button that you can press.
Hot tip – if you replace the battery in one smoke alarm, go ahead and replace them all – or at least buy enough batteries for all of them! Ours seem to always die in quick succession.
Inspect your fences and gates
In many parts of the country, April is very rainy. All of that rain and the weather starting to warm up mean that fences can start to reveal damage.
Walk your entire fence line and wiggle the various beams and parts. I discovered several rotten wooden posts by walking by and smacking each one!
Your fences might need paint or stain, boards replaced, or even whole sections replaced. Fix them now before it gets too hot out!
Also check your gates. Hinges sag over time, which can make the latch hard to shut. Tighten the screws on the hinges to give them an instant lift!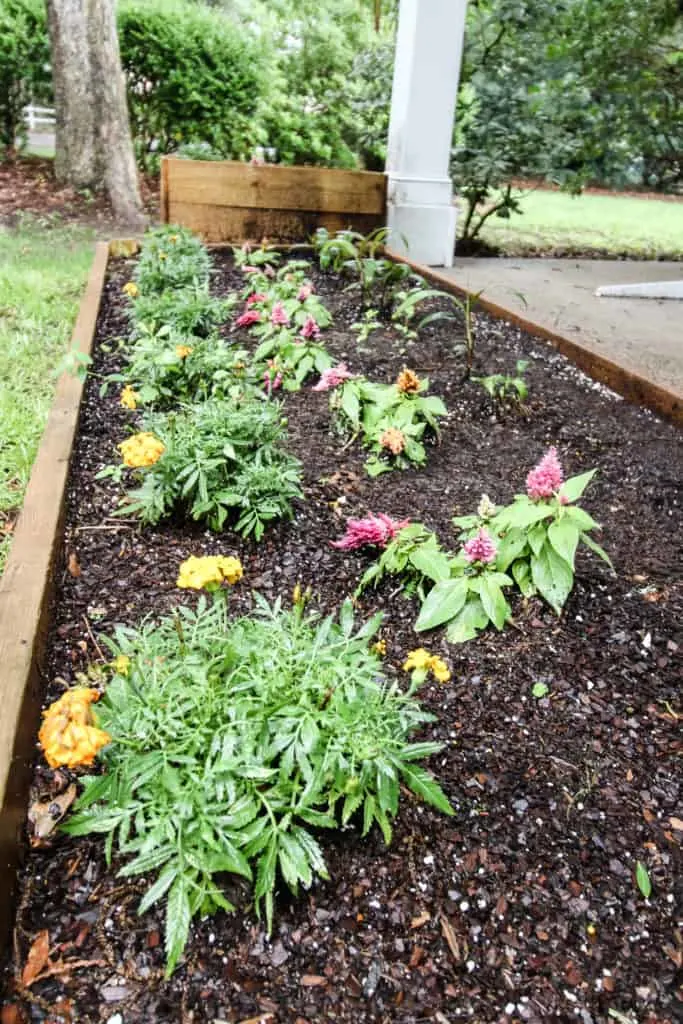 Mulch your garden beds
Time to get your garden beds ready! Mulch helps plants retain moisture and helps to keep weeds at bay.
Aim to apply 2-3 inches of mulch over your beds, around all of your plants.
You can get mulch delivered by the truckload, but if you need a small amount, wait for the hardware store to have a $2 a bag sale. This is about 1/2 price, both Lowes and Home Depot do it and probably other stores, too!
Inspect your window screens
It's time to leave the windows open – but keep the bugs out!
Check your window or door screens for holes. Replace or repair as needed.
Here is our guide to patching a ripped screen.
Touch up the paint on your exterior
This is a great time to touch up the paint on the exterior of your home.
Paint, trim, or deck paint can get worn over time.
Gently sanding and re-priming and painting damaged spots can help your paint job last longer! Getting the entire exterior of your home painted is pricey so anything to put it off is great!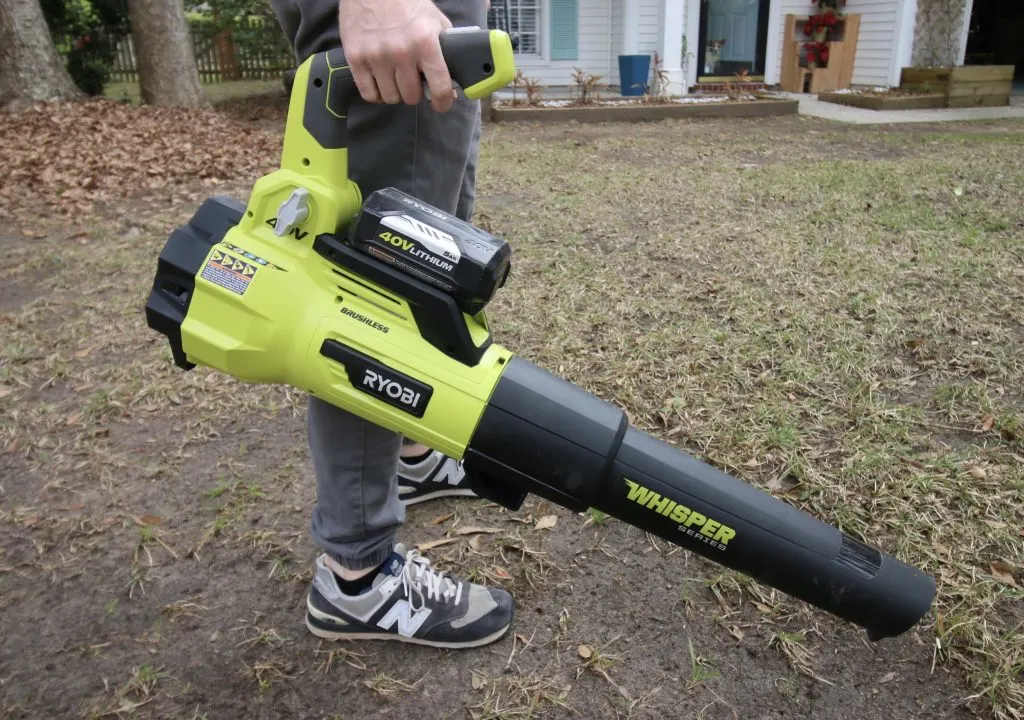 Test your lawn equipment
It's time to start mowing the lawn (we mow our lawn every week because we keep it long to encourage grass growth).
Take some time to examine your lawn tools. This could be a mower, trimmer, edger, pole saw, even your garden shears.
Test them now so that when you need them you know where they are and they are in good working order!
Update your outdoor lighting
Check your outdoor lighting and be sure all the bulbs are working properly. Check each spotlight, sconce, and overhead light.
Use a damp rag to wipe off the fixtures and replace bubls as needed.
Consider switching to smart bulbs if you want your lights to come on on a timer or to be able to adjust the colors of the bulbs!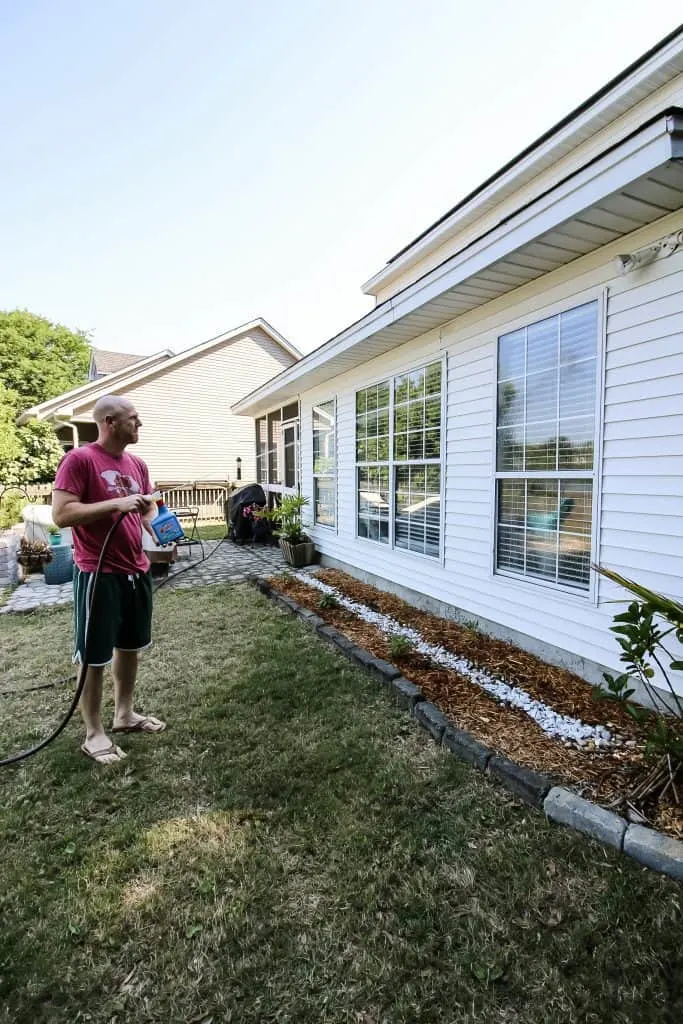 Apply a mosquito treatment
If you live somewhere buggy, let's start to try to plan for that! You can hire a professional service or get an at home mosquito spray to attach to your hose.
If chemicals aren't your thing, consider planting citronella or rosemary plants to deter insects!
Finally, clean up any areas where water might pool and give plastic outdoor toys or furniiture a good scrub to cut down on insect egg-laying spots.
Clean your washer and dryer
Time to clean up inside, too! Run your washer on a clean cycle or with white vinegar to remove scum build up.
Use a cloth to wipe out the inside of both the washer and dryer. Don't miss any lips or edges hidden behind rubber.
Wipe down the outside of the machines, too!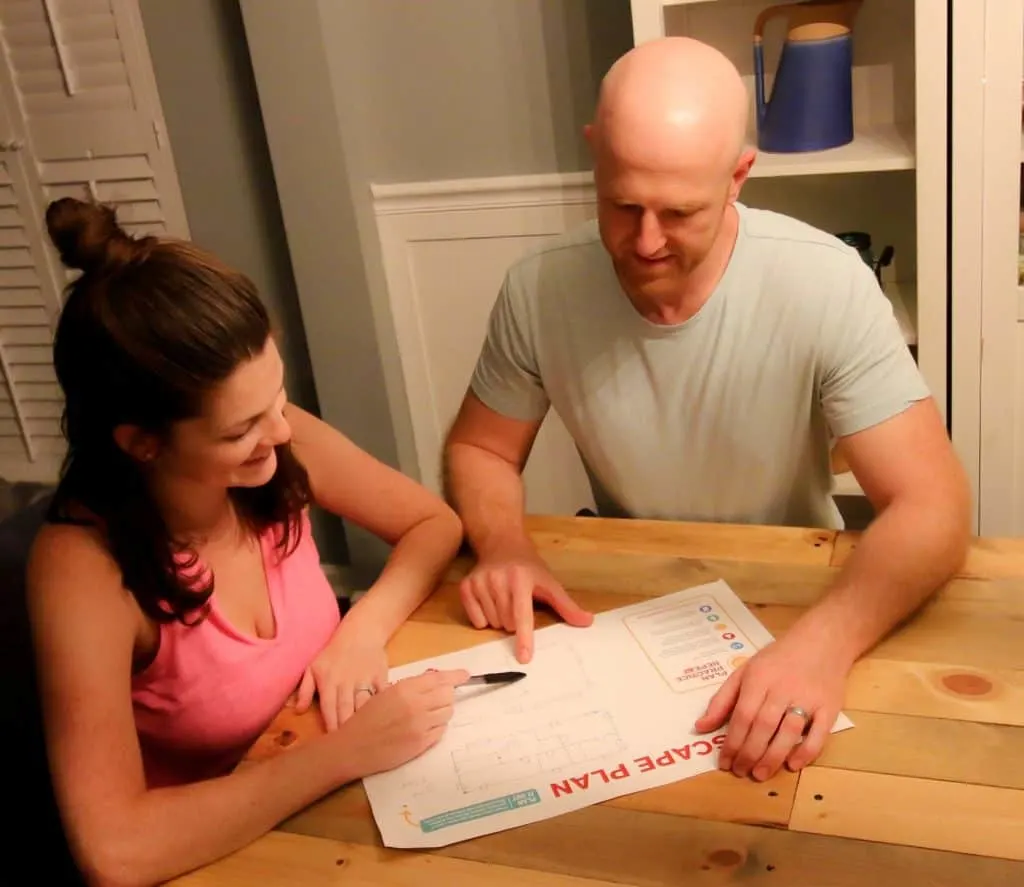 Establish or revisit your family emergency plan
Do you have an emergency plan for your family? Time to sit down and make one!
Here is our guide to creating an emergency plan, but focus on multiple safe exit points from your home and a meeting spot such as the mailbox.
Take the time to be sure you have fire extinguishers around the house and that everyone knows how to use them!