Here are the essential home maintenance tasks that homeowners should do each September – and a free printable checklist!
September is here and that marks the official start of fall. If the weather is cooling down where you live, I am jealous because it's still as hot as August here in Charleston!
Regardless of the temperature, September marks the end of summer and the beginning of gearing up for fall and winter.
Just like every other month, there are essential home improvement tasks that you can tackle this time of year to make sure your home is in the best possible shape heading into winter, when cold weather can damage your home.
I hope that this September home checklist helps you get ready to get some of those tasks taken care of!
Here are the essential tasks to tackle this September!
Click here for my Fall seasonal home maintenance checklist!
Printable Checklist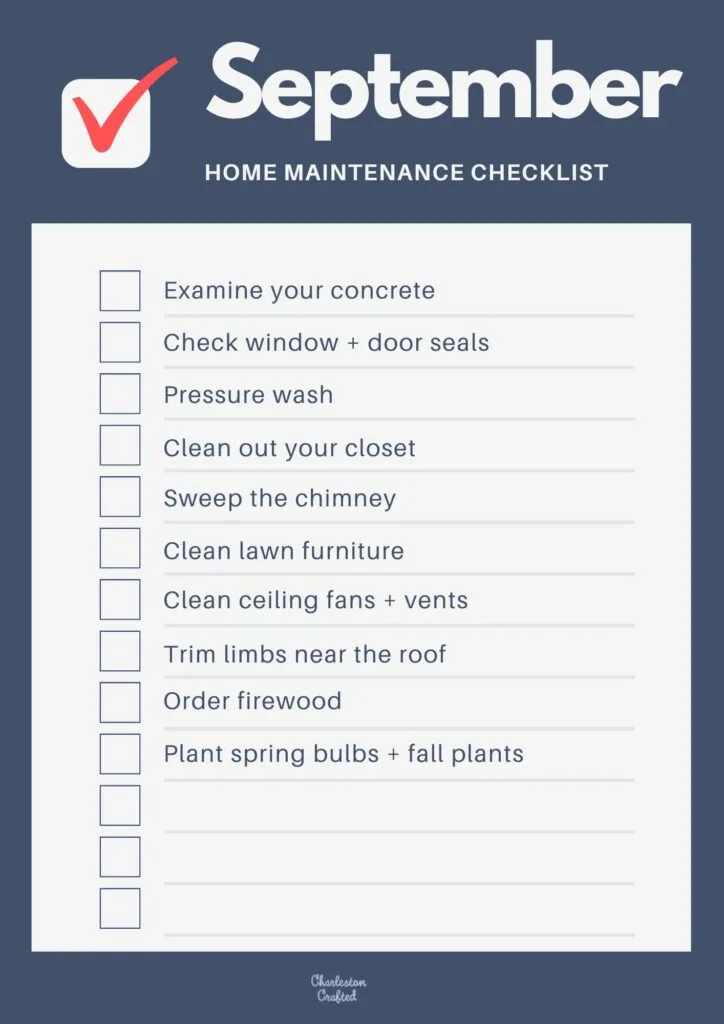 Click here if you prefer to get the printable PDF September home maintenance checklist directly in your email inbox!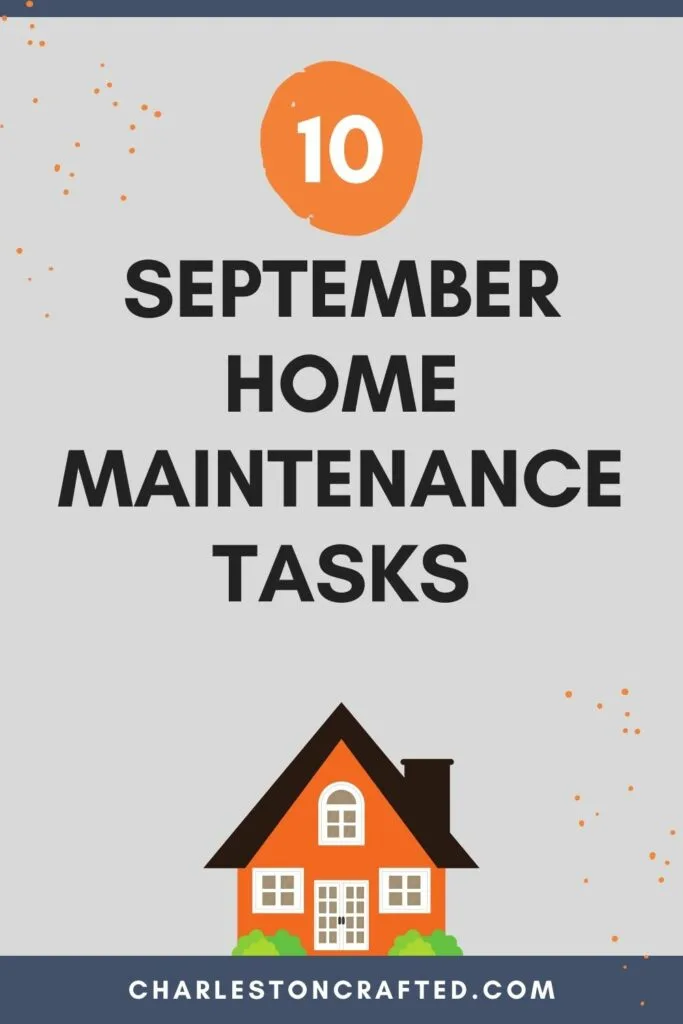 September Home Maintenance Tasks
Examine your concrete
Cold weather impacts the expansion and contraction of concrete. So, if you have a driveway, sidewalks, or a patio, inspect it not to get it shored up before the cold weather sets in.
you may be able to use a driveway patch or crack repair kit from a hardware store, or you may need to call a concrete company to fix bigger problems!
Check window + door seals
As the weather gets cooler, you will really start noticing drafts in your house. Last year, we discovered tiny gaps in our stairs letting in cold air from underneath.
Check all of the seals around your windows and doors. It's easy and cheap to replace them yourself!
Pressure wash your siding
The end of summer is a great time to pressure or power wash the sides of your house to wash up a season's worth of build up.
Clean out your closet
The change of season is the perfect time to clean out your closet. Take a minute to pull anything that is summery that you didn't wear all summer. Time to donate or pack it away!
Then, pull out anything for the new cooler weather. If any of your sweaters or warm clothes are too small, or no longer your style, don't hang them back up! This is the best time to donate or consign fall clothing.
Sweep the chimney
If you have a lot of fires, you need to be sure that your fireplace and chimney are clean and clear, for safety. I'd hire this one out to a chimney sweep unless you really know what you are doing!
Clean or put away patio furniture
Outdoor furniture can be used year round – it just depends on your situation. If you like to go out and sit around a fire in the cool weather, don't put it away!
But, use this as a chance to clean it up, wash your pillows, blow off the seats, wipe down the arm rests.
Store away any "summery" decor that you don't want out in the fall.
If you don't plan to use your furniture in the winter, consider storing or covering it. This will protect the furniture and help extend its life!
Clean ceiling fans and vents
Your HVAC system and fans get a big workout all summer long. Now that the heat is winding down, take a minute to clean your fans and vents.
You can use a wash cloth or rag to wipe down the outside of metal vents. It just takes two seconds.
I use an extendable duster to clean our fans, and it makes it a super easy task!
Trim tree limbs near your roof
Once it starts getting cold, there is a chance that ice or wind could take down branches on your trees.
The best way to protect your home from damage is to trim back any trees that have branches hanging over your roof or brushing against your house.
This may be something that you can DIY, or you may need to hire an arborist or at least a handyman to help.
Order firewood
If you have wood fires all winter long, now is the time to order a delivery of fire wood. If you wait until it's too cold out, you might have a longer wait! This is a great time to jump on that.
Plant spring bulbs or fall vegetables
It might seem wild to be planting plants in the fall – but here we are!
If you like to plant bulbs that bloom in the spring, they often need to be planted the fall before. The ideal time to plant them is when overnight temperatures are around 50 degrees. If this is you in the fall, it's time to plant!
Or, you may prefer a fall garden. Plants such as brussel sprouts, kale, beans, collards, and green onions can do well when planted this time of year. Check with your local garden center to see what does best in your growing zone.
What home maintenance tasks are you doing this month?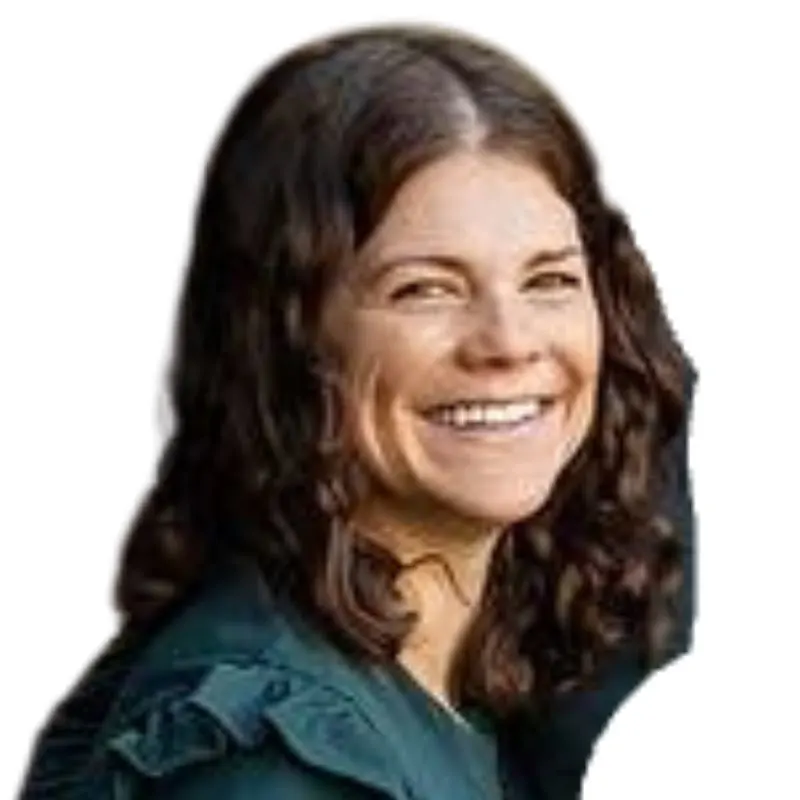 Hello, I'm Morgan, half of the creative force behind CharlestonCrafted.com! With a passion for DIY that dates back to 2012, I've transformed three homes and now I'm dedicated to helping others craft their dream spaces. Let's turn your house into a home together!