Here are the essential home maintenance tasks that homeowners should do each December – and a free printable checklist!
December is here and for many people that means all of your energy is going into holiday planning.
You might be decorating or shopping or cooking. Honestly, home maintenance is probably far off your mind!
But, with the weather getting cold and more people staying home to stay cozy, it's still as important as ever.
I hope that this December home checklist helps you get ready to get some of those tasks taken care of!
Click here to see our Winter seasonal home maintenance checklist!
Printable Checklist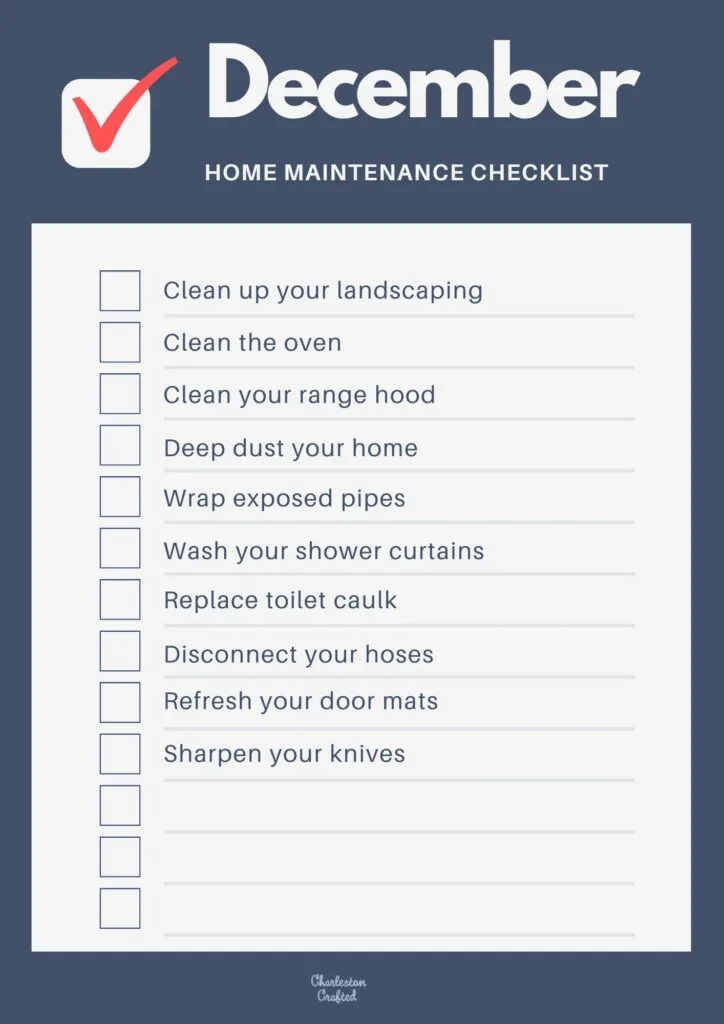 Click here to get the printable PDF December home maintenance checklist directly in your email inbox!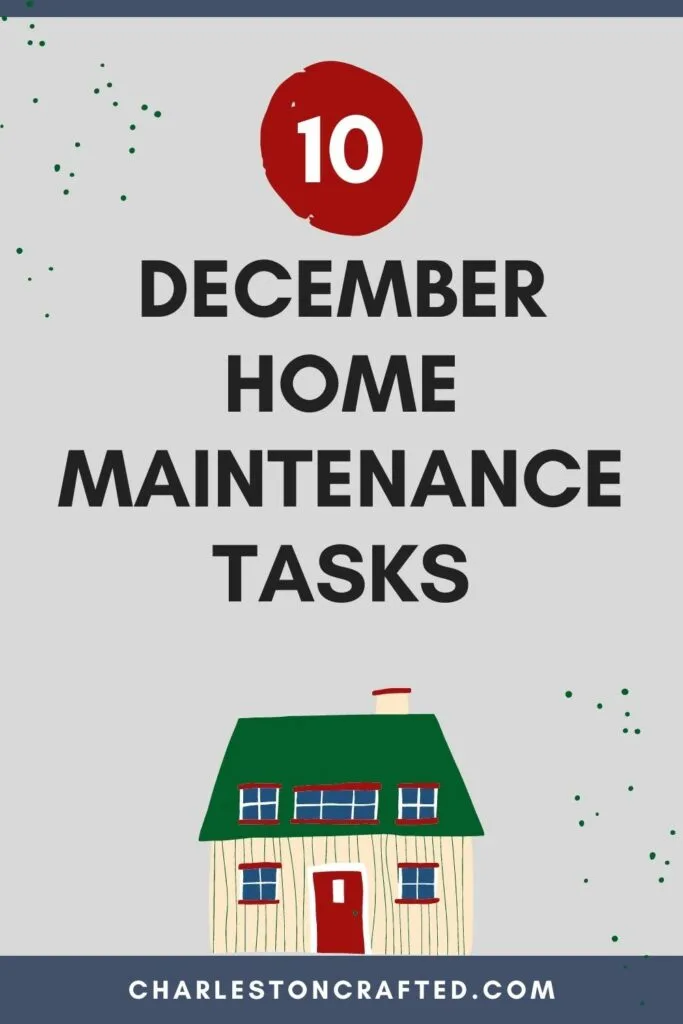 Here you can get a FREE PRINTABLE PDF December home maintenance list!
December Home Maintenance Tasks
Here are the home tasks to tackle this December!
Clean up your landscaping
Plan to hang outdoor holiday decorations? Lights will highlight your yard – make that a good thing. Take a moment to clean up any outdoor landscaping.
This might mean one last pass of the weed wacker or cutting any bush branches that are out of control before putting lights on them.
Check and clean your oven
The holiday season often means that you will be cooking. Let's get your oven ready for it's busy season!
Run a cleaning cycle on your oven and sweep or wipe out any debris.
Check the seals of the door for cracks or damage. Be sure the heating element is working properly!
Finally, wipe down the inside and outside of the oven door window (obviously, when it's not on) for a clean look.
Clean your range hood
All of this seasonal cooking can lead to a build up of grease on and around your stovetop. Clean the stove top and the range hood!
Wipe down the outside and front of your range hood, too. Don't forget the backsplash over the stove!
You can use dawn dish soap on a wet rag to get off grease easily!
Sharpen your knives
All that cooking can be made a lot easier and safer with sharp knives. You can sharpen them at home or take them to a store to have them sharpened.
My neighborhood actually has a mobile knife sharpening truck that will come to you!
Taking the hour to have your knives sharp will make the holiday season – and the next year – cooking easier!
Deep dust your home
It's kind of a cliche to tell you to clean your baseboards before you have holiday guests, but that's what I'm about to do!
You might do some dusting through out the year, but now's the time to get everything you usually miss.
Think about any molding on your walls, the top of your door frames, framed art on the wall, even light switches.
If you don't clean it at least once in a while, it gets really really gross!
Wrap exposed pipes with insulation
Depending on where you live, frozen and burst pipes might be a winter issue. Check any exposed pipes (any you can see basically) and be sure they are wrapped to provide insulation and decrease the chance of freezing!
Clean your shower curtains
Shower curtains are another place that get dirty out of nowhere if you don't clean them. Luckily, they can be run through your washing machine!
Take them down and give them a wash. Rehang them and enjoy the crisp clean new view from the bath!
Replace caulk between toilets + the floor
Speaking of the bathroom, check the caulk around the base of your toilet. It gets cracked and flakes off over time.
You can simply score the caulk with a knife to remove it and then apply new caulk for a fresh look for pennies!
Disconnect your hoses
Have outdoor hoses? They can freeze – and burst – in winter months.
Disconnect the hoses and run them dry. Coil them up and store them indoors (in a garage or shed) for the winter season!
Replace or refresh your door mats
Winter weather means bringing a lot of moisture and dirt in on your boots. Take a minute to examine your door mats. Are they still working?
If they are OK – wash them anyways. Soft mats can go in the washing machine. Non-washable mats can be sprayed down with a hose or power washer in the driveway!
Did I miss any December home maintenance tasks?!