Looking for the home improvement tasks to tackle in March? Here's my checklist of things to do to get your home ready for Spring!
Home maintenance is honestly really boring.
There's no glamorous before-and-after photos. You won't find an HGTV show called Remember To Change The Filters.
But, home maintenance is essential for any home owner.
Keeping up with preventative maintenance will help you to save money long term by avoiding costly repairs when damage grows over time.
March is when Spring begins. We all know about Spring cleaning, but there are a lot of things to get your home ready for Spring and then Summer.
Here are the ten tasks that you should tackle each March.
Click here to see my Spring home maintenance checklist!
March Maintenance Checklist – free printable!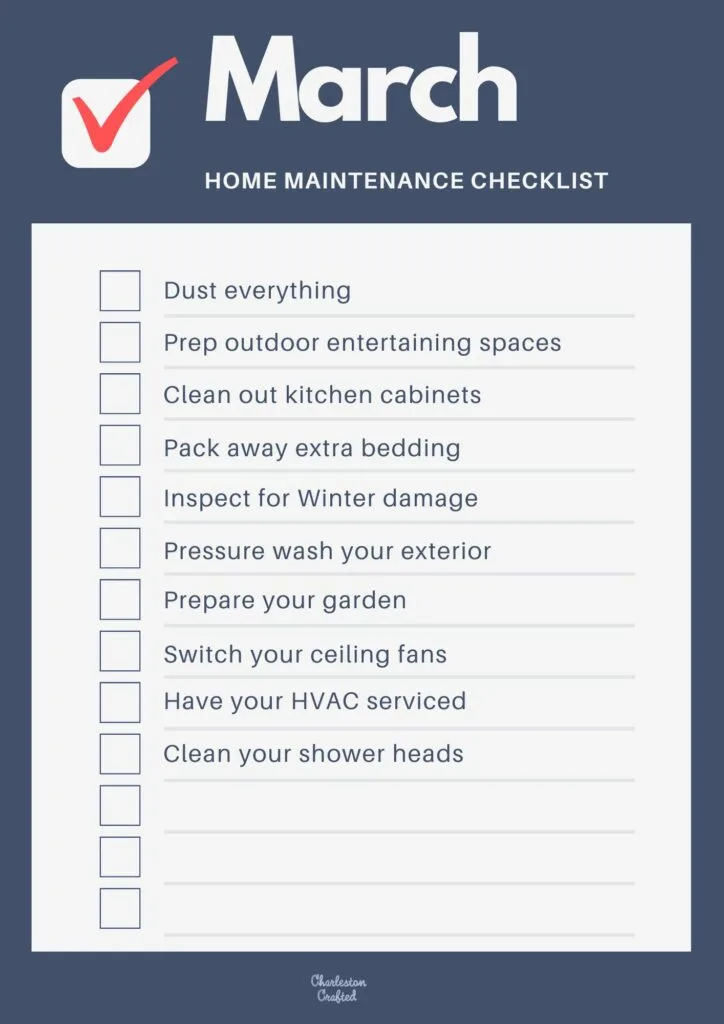 Click here to get the printable checklist in your email!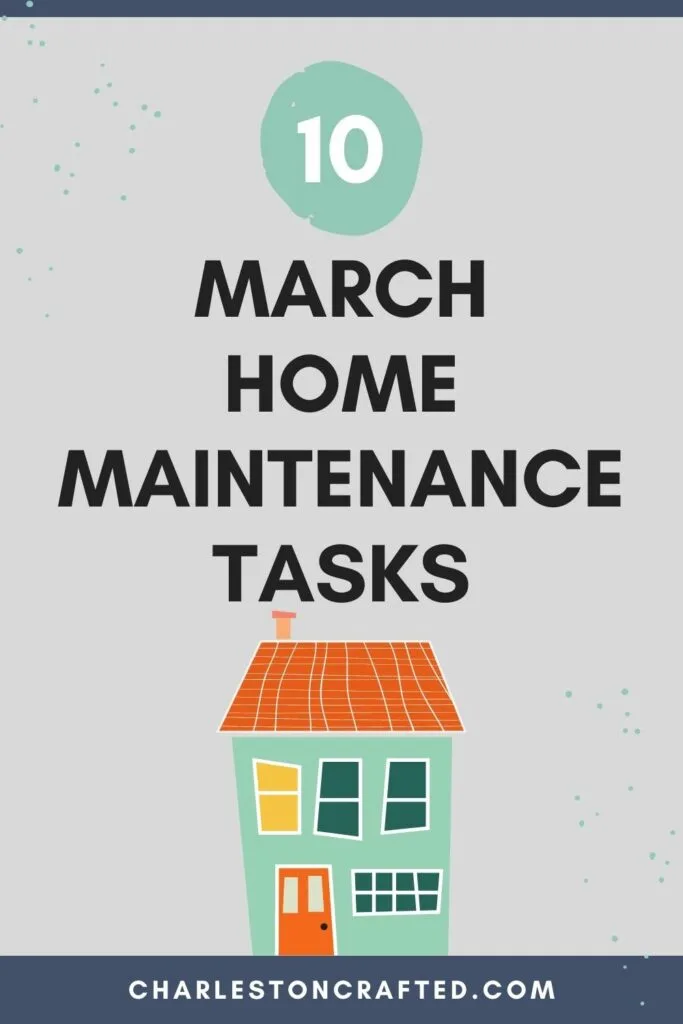 10 March Home Maintenance Tasks
Want these March home owner tips in a convenient printable PDF? Click here to get it straight to your inbox!
Dust everything
I don't know what it is about Winter that can make everything feel dark and dusty. As you are shedding that Wintery blah feeling, this is the perfect time to dust it all off.
Dust all surfaces of your home. This includes ceiling fans and light fixtures, crown molding and base molding, and the tops of window and door frames.
Then, be sure to vacuum well to get up any of the dusty mess.
Prep outdoor furniture or patios
Spring time means that outdoor entertaining is right around the corner. Get your porch or patio ready to host guests.
Take some time to use your garden hose to spray any Winter gunk off your patio.
Inspect your furniture and decide if it needs any repairs, a fresh coat of paint, or new cushions.
If you have a fire pit that hasn't been used in a while, clear it out and stock up on wood so you are ready for barbecues and outdoor parties.
Clean out kitchen cabinets
I save the major Spring home cleaning for April, but March is still a good time to start getting organized.
A great place to start is your kitchen cabinets and pantry. Go shelf by shelf or cabinet by cabinet and take everything out.
Wipe down the shelf and apply a liner or contact paper if it is needed.
Throw away anything damaged or expired. Donate anything that is still good but you won't use. Organize the rest and put it back neatly.
When things have a specific place, you are more likely to put them back where they belong!
Pack away extra bedding
The weather report may vary where you live, but for me, March is the ideal time to get rid of extra blankets and thicker bedding that we pull out for Winter.
Wash it, fold it neatly, and pack it away in your attic, garage, basement, or even under your bed.
Putting away extra blankets will leave room in your linen closet for Spring and Summer linens like pool towels and picnic blankets.
Inspect for Winter damage
Walk around the outside of your home and inspect the roof, siding and foundation for Winter damage.
If you live in an area that gets a lot of snow and ice, they can create ice dams or icicles that can really cause problems long term.
Inspect for any cracks, loose shingles, or other damage that might let the Spring rains leak into your home.
Always consult an expert if you are uncomfortable doing these types of repairs yourself.
Pressure wash your exterior
Dark, wet winters can lead to mold and mildew growth on your house. If you notice a lot of gunk when you examine your exterior, it's time for a power wash.
You can purchase or rent a pressure washer or hire this task out.
If you do decide to hire someone, chat with your neighbors first. You can often negotiate a discount if you have a lot of houses for the pressure washer to do all at once!
Prepare your yard or garden
Time to plan your yard for Spring! If you plan to plant flowers, vegetables, or even trees, now is the time to make a plan.
I like to sketch my yard in a notebook to get a visual representation of where I want things to go.
Then, make a list of any plants or supplies you need to purchase.
If you like to shop around, you can check the nursery sale racks at multiple stores over a few weeks to help piece together your dream garden on a budget!
Switch your ceiling fan rotation
Did you know that you need to change the direction that your fans spin twice a year?
For Spring and Summer, change the fans to spin counterclockwise. This pushes air down and gives you a cool breeze.
Spinning clockwise pushes air upwards, to help distribute heat from your HVAC more evenly.
Have your HVAC system inspected
Speaking of HVAC, time for an inspection! You can visually inspect it yourself, but if your unit is older or you don't know what you are looking at, it can be worth it to hire a professional.
Air conditioning repair companies will usually clean your coils, top off your freon, and empty your drip pan if necessary.
It's a lot easier – and cheaper – to pay for an inspection and check up now than a big repair on the 4th of July weekend.
Clean your shower heads
This is a random task but an important one. Shower heads are supposed to get you clean but they get really nasty from staying wet.
Unscrew your shower head and scrub it with a brush or sponge.
This will remove sediment build up and mildew.
Totally gross but super satisfying!
I hope that these March home projects help you to get ready for Spring!
Any other favorite March home maintenance tips?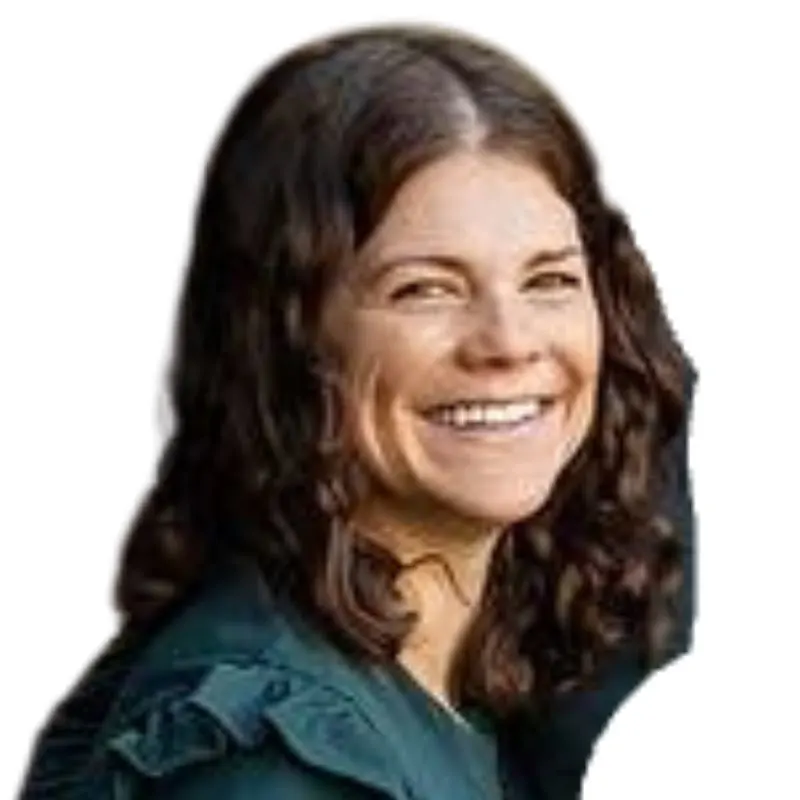 Hello, I'm Morgan, half of the creative force behind CharlestonCrafted.com! With a passion for DIY that dates back to 2012, I've transformed three homes and now I'm dedicated to helping others craft their dream spaces. Let's turn your house into a home together!