Want to keep your home in top shape? Here is a winter home maintenance checklist with a PDF printable to help you get organized!
Home maintenance is an essential (but boring) part of home ownership.
Winter weather can be particularly cruel, making it especially important to prepare your home and do small home improvement tasks. These small tasks can save you money by preventing major problems down the line.
Let's chat about some of the top winter home tasks!
Winter home maintenance checklist printable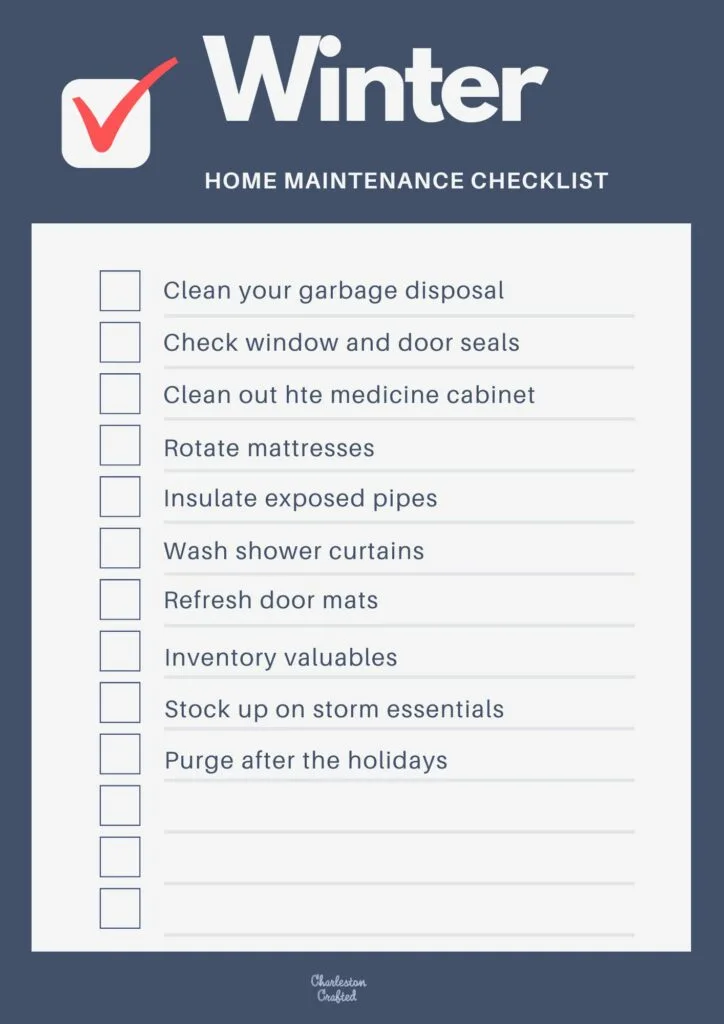 Click here to get our free winter home maintenance checklist PDF straight to your email inbox!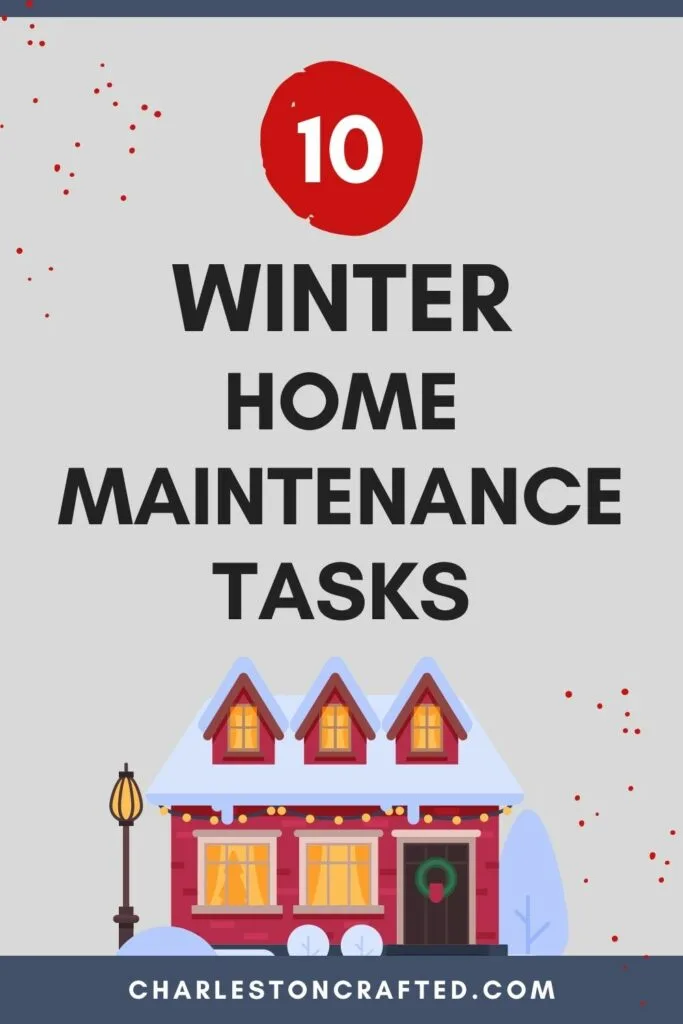 Click here to get this list in a free printable PDF!
Winter Home Maintenance Tasks
These are some essential tasks to tackle each winter season!
Clean your garbage disposal
The garbage disposal really gets nasty. Carefully wipe it down with white vinegar on a cloth.
Then, run either ice cubes, white vinegar cubes, or half a lemon through to help to deodorize the actual disposal!
While you are at it, wipe down your faucets and the caulk around your sink really well. Much better!
Check your window and door seals
The seals around windows and doors can grow brittle and break down over time. This is a great time to replace them, especially if you feel a draft.
Here's our guide on how to replace weather stripping! It's way easier and cheaper to DIY than you might think.
Clean out the medicine cabinet
This is a great time to clean out your medicine cabinet or drawer. Dispose of anything expired, broken, or unwanted.
Use a cloth to clean out the cabinet before returning your items. Consider adding bins or other storage to help the space stay more organized!
Rotate mattresses
Your mattresses will get more worn out in the spots where you lay every night. Rotating them once or twice a year can help to extend their life and keep them in better shape!
You can also clean your mattresses by applying baking soda, letting it sit for an hour, and then vacuuming it off!
Insulate exposed pipes
Exposed pipes can be a freezing risk. Make sure that they are insulated properly. Check outdoor hoses and spickets, too!
Go ahead and make a plan for what to do if your home becomes at risk for pipes freezing and explain the plan to everyone in your household so it actually happens.
Clean your shower curtains
Shower curtains are another thing that get gross over time. Take them down and run them through the washing machine for a quick refresh!
I don't machine dry plastic curtains but instead just let them hang dry in place.
Replace or refresh door mats
Your doormats will really get gross over time. Let's freshen them up!
Indoor mats can usually be placed in the washer. Outdoor mats might be able to be hosed down, or they might just need to be replaced.
I like to rotate my nicest front door mat to the back door once it starts looking ratty!
Inventory valuables
If you are stuck indoors, that's a great time to document valuables for insurance purposes. Consider doing a video of your home and photograph anything valuable.
Place the photos and videos on a hard drive of flash drive and store them somewhere safe such as a fire proof safe.
Stock up on storm essentials
Winter storms are prevalent in many areas. If you get a lot of cold weather, prepare for it. Check your first aid kits and emergency supplies. Get rid of anything expired and replace anything that you might need.
Be sure to have water on hand in case of frozen pipes.
Clean and purge after the holidays
The holiday season usually means an influx of stuff. I use the time when we are un-decorating from Christmas to clean and purge in general.
Here is a great guide on deciding what to donate vs trash or recycle.
Also go through your winter gear and get rid of any coats or accessories that don't fit. If they are in good shape, this is the best time of year to re-sell or donate winter clothes!
Also check out my winter monthly home maintenance tasks:
What other tasks are on your winter checklist for your home!?