Home maintenance is an essential task for any homeowner. Keeping a checklist will help you keep on track and avoid costly maintenance down the line. Here is your home maintenance checklist for April!
April showers bring May flowers. With that, April brings warm, wet weather and the ushering in of spring.
All that sunshine and moisture (and pollen!) means that there is a lot to do to keep your home in top shape.
Luckily, April usually means really nice temperatures for working both indoors and out.
Here are the ten tasks that I suggest you take on each April to keep your home in working order!
Click here to see my Spring home maintenance checklist!
Free printable checklist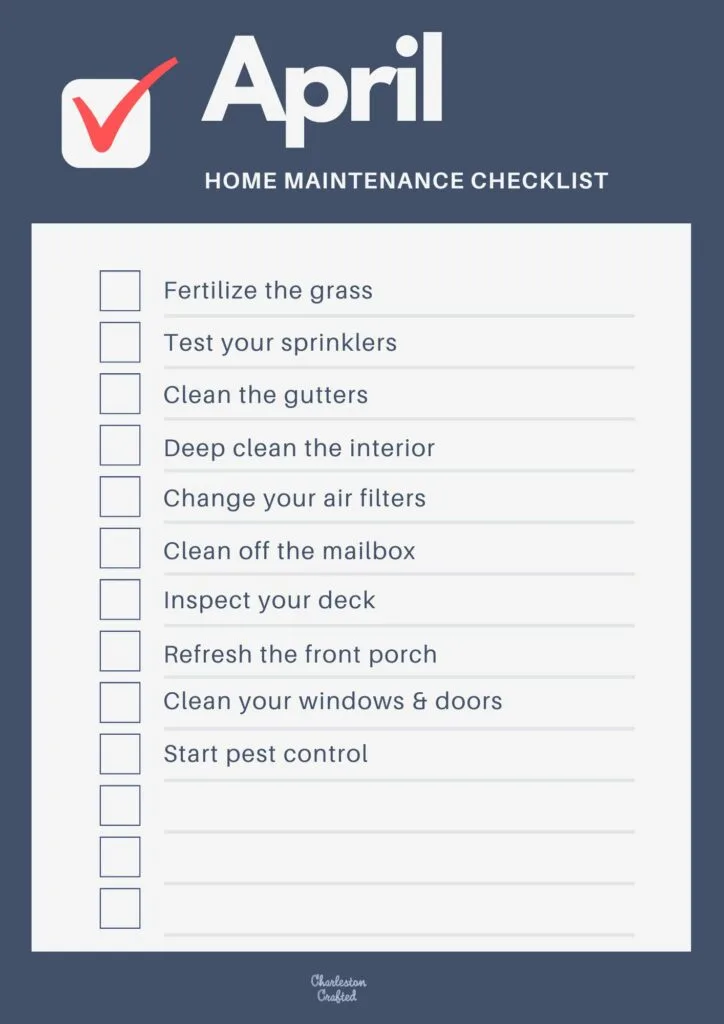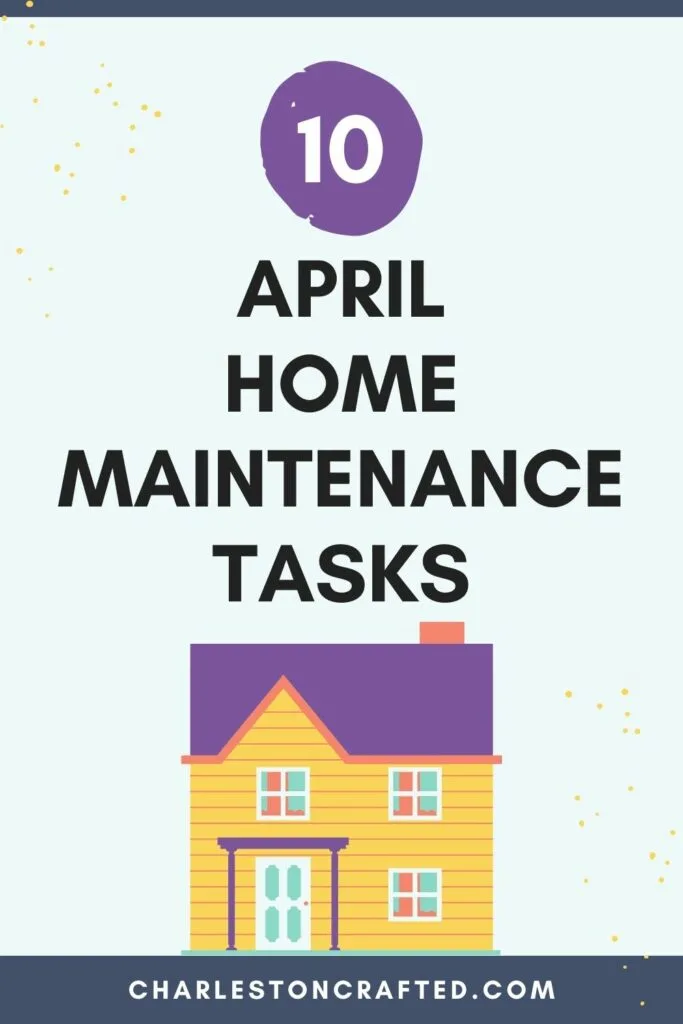 10 April Home Maintenance Tasks
Want these April home owner tips in a convenient printable PDF? Click here to get the April home checklist straight to your inbox!
Fertilize your grass
Most fertilizers recommend application after your third time mowing the lawn for the season. So, April is often the perfect time!
Select a fertilizer that is compatible with your grass type.
Most fertilizers are granules that can be applied using a hand spreader or rolling spreader.
Be sure to wear gloves and let fertilizer fully dry after watering it in before letting pets or kids outside.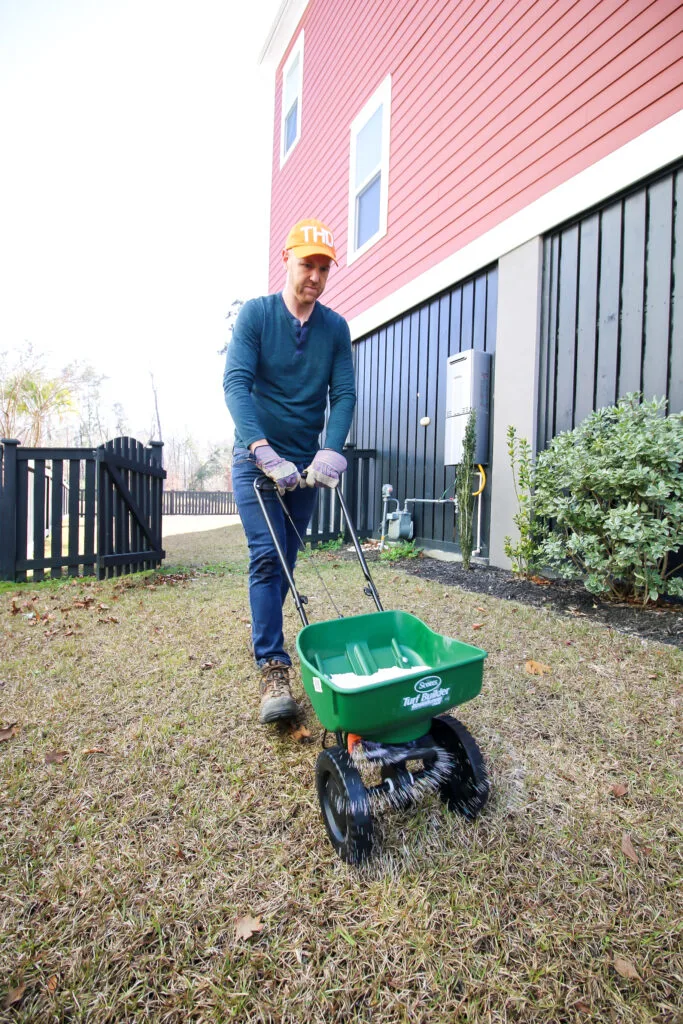 Test your sprinklers or irrigation system
Speaking of watering, it's about time to start watering your yard regularly.
If you have an irrigation system, give it a test run to be sure it's working before you get to busy season for the repair companies.
If you use an old fashioned sprinkler, get it out and examine it, making sure it's not broken or rusty.
Either way, check your hoses for leaks and repair or replace as needed.
Here's our guide to getting stuck hose off the spigot!
Clean your gutters and downspouts
After a long fall and winter, your gutters might be clogged or damaged.
April rains make clogged gutters a breeding ground for mosquitoes and clogs can lead to water damage down the road.
Hop up on a ladder to give them a quick clean out. Or, hire a handyman to do the same.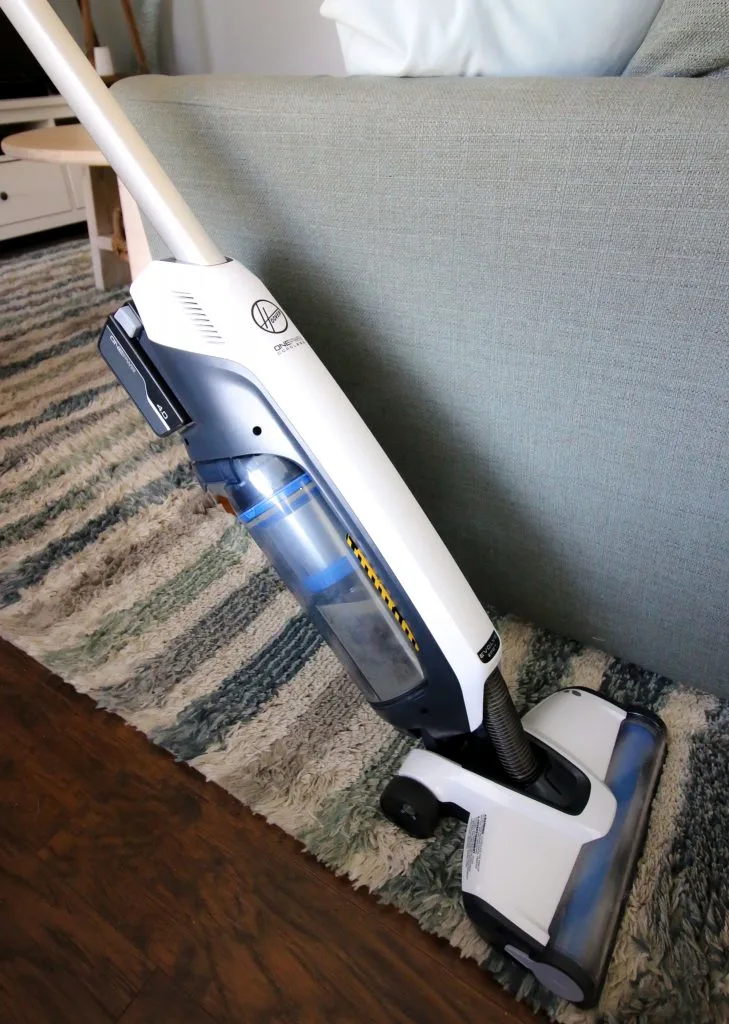 Deep clean inside
Spring cleaning time! Make a checklist of the big cleaning tasks you put off – dusting, mopping, or vacuming under furniture are big ones.
Check each item off your list and reward yourself when you are done!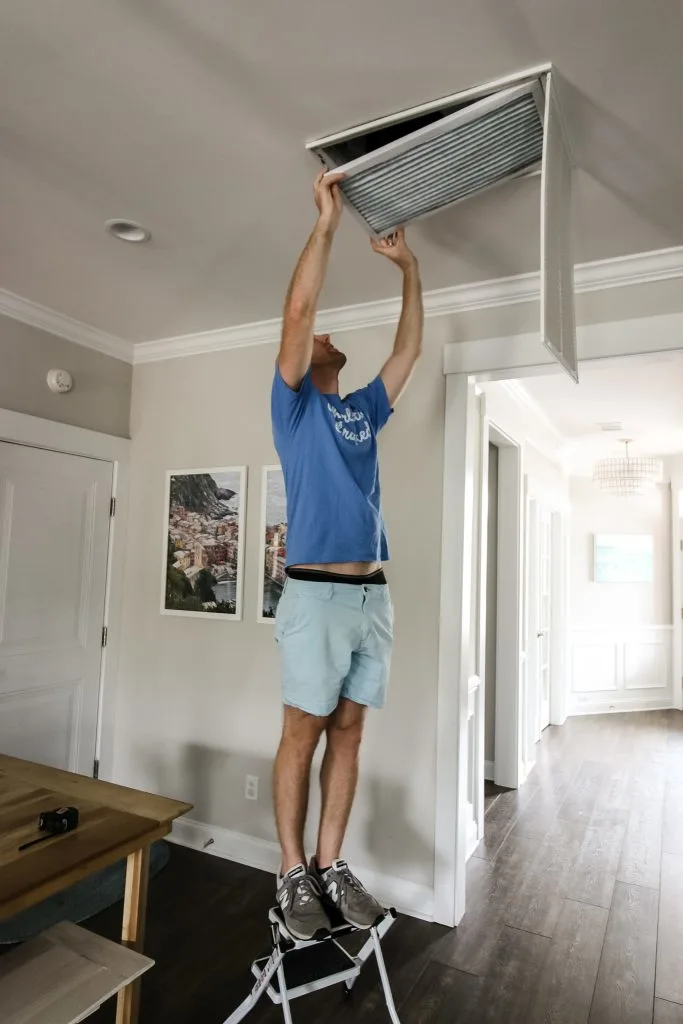 Clean your vents & change your air filters
Spring and Summer mean that your air conditioner is going to start working hard.
In the warmer weather, you will want to check and change your air filters more frequently. This will improve air quality and help extend the life of your HVAC system.
Here is our guide to changing air filters!
Clean off your mailbox
Mailboxes get shockingly dirty, rusty, and overall damaged.
Take a minute to hose yours off and tighten it to the stand, if needed.
If you have plants around your mailbox, clean up the garden bed and add new plants or mulch to make it look fresh.
Here's our guide to replacing an old mailbox.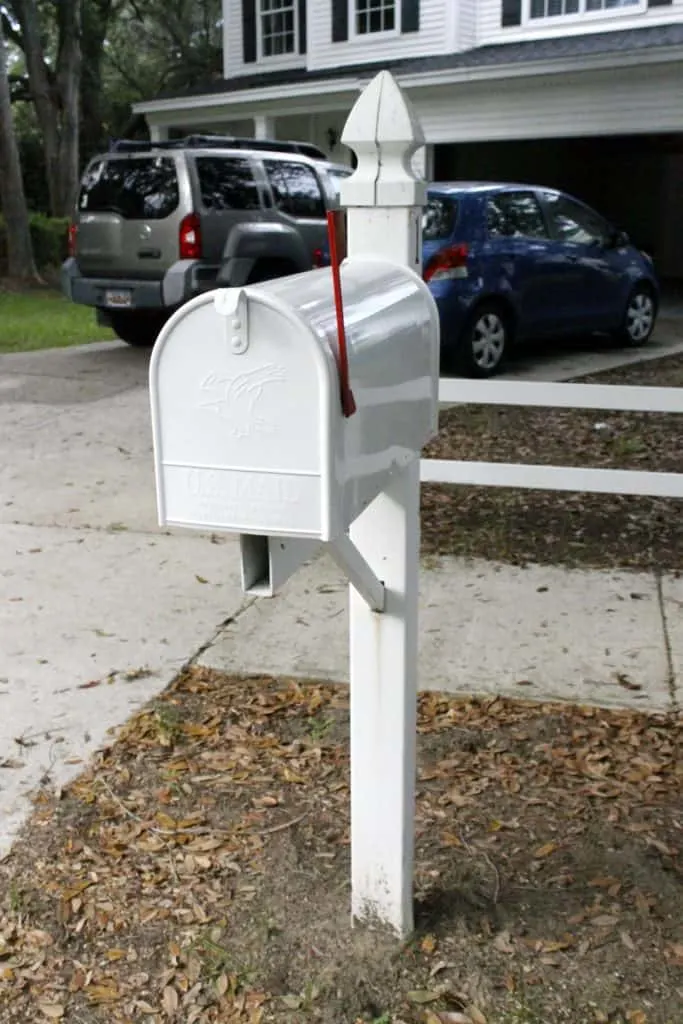 Check your deck for damage
Springtime means deck season is here! Let's make sure your deck is safe before your friends and family head out there.
Inspect any footings or support for cracks, rot, or damage.
Check the decking boards for splinters or cracks. Make sure they are cleaned and repaired properly.
It might be time to re-stain and seal your deck. Here's a guide to how we stained our deck with a paint sprayer!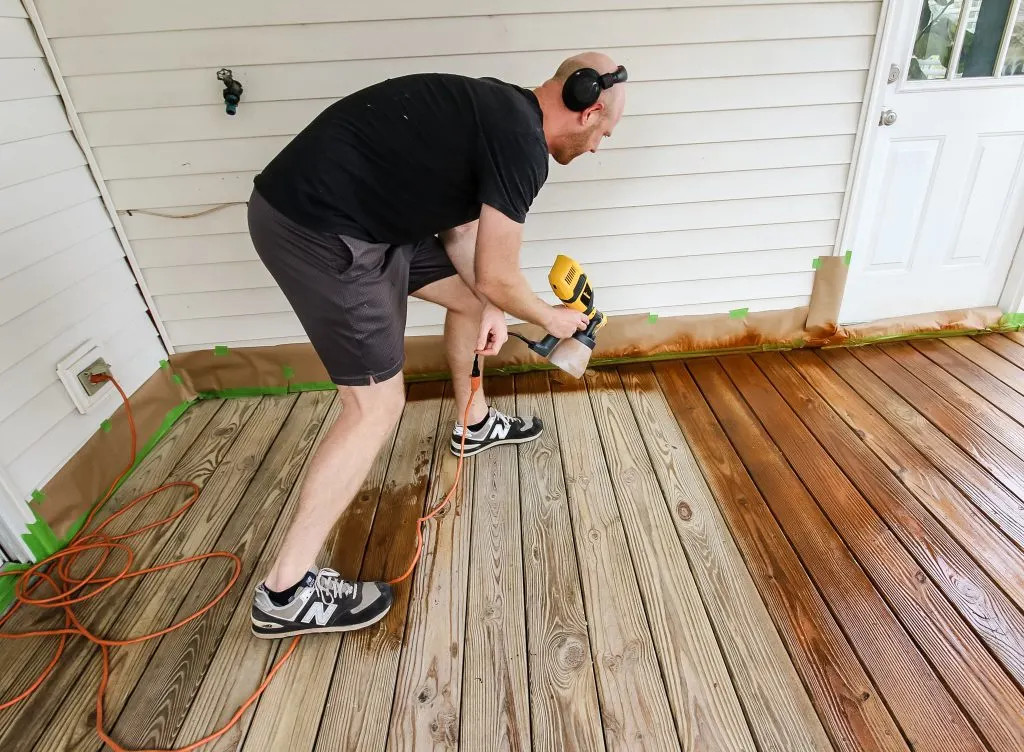 Refresh your front porch
Time to refresh your curb appeal by cleaning off your front porch.
Start by power washing or sweeping off the porch.
Throw your welcome mat in the washing machine if possible or replace it with a Spring-ier version.
Pull out a couple of pots or planters and add fresh Spring florals.
Hang a spring wreath and get ready to invite guests over!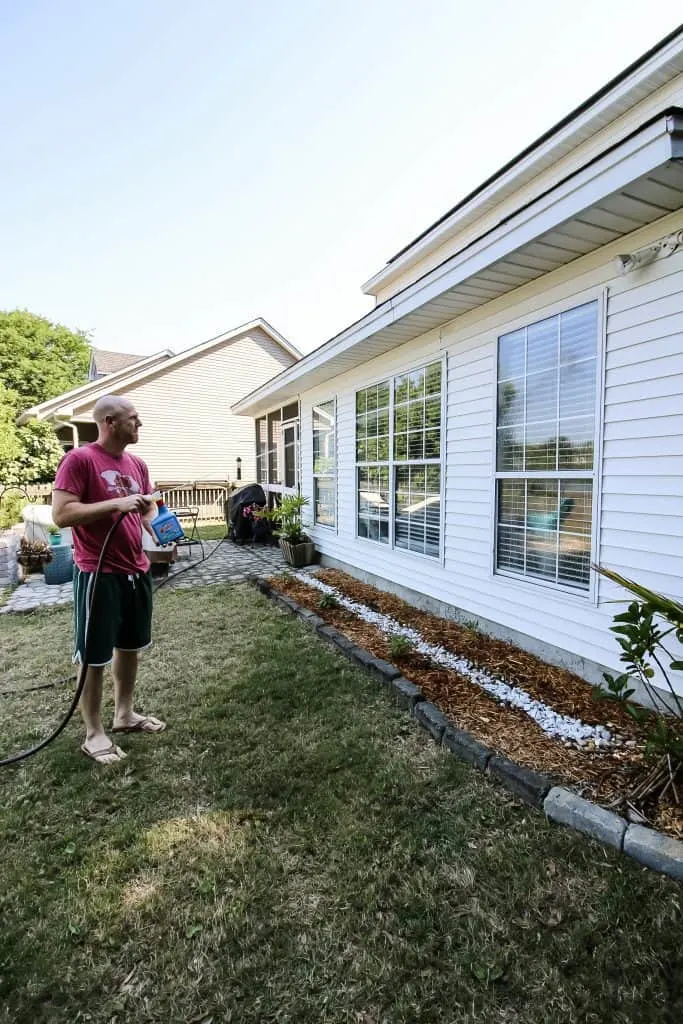 Clean your windows and doors
Clean your windows and doors with a warm soapy rag.
Our front door gets really nasty, and you don't even notice it when you see it every day. Wiping off the exterior of your doors can make a big difference!
Use windex or a similar window cleaner on the inside of windows to get rid of smudges and fingerprints.
Here's how we spray cleaned our exterior windows with our hose!
While you are at it, take down any window treatments and throw them in the wash. It just takes a few minutes but really makes a space feel clean!
Do some pest control
Spring means bug season around here. Time to get your pest control under control!
This could mean treating for ants, putting out traps, or calling a service.
Check all around your house to see if you have pests inside or out and treat them accordingly.
These Spring home maintenance tasks will get you ready to have a great time enjoying the season!
What are your favorite April home tasks?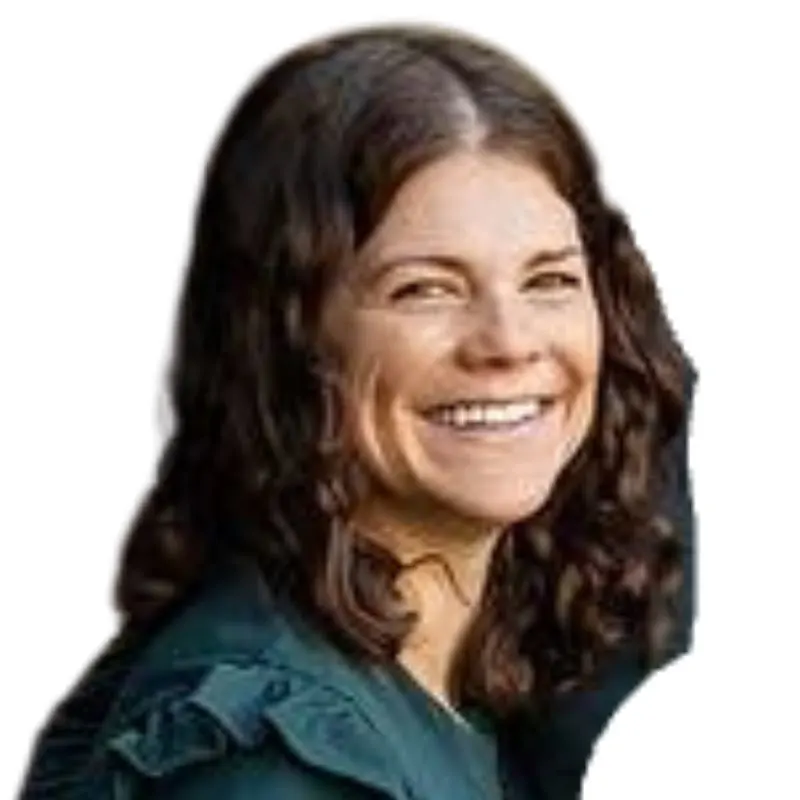 Hello, I'm Morgan, half of the creative force behind CharlestonCrafted.com! With a passion for DIY that dates back to 2012, I've transformed three homes and now I'm dedicated to helping others craft their dream spaces. Let's turn your house into a home together!