Here are the essential home maintenance tasks that homeowners should do each August – and a free printable checklist!
August is the heart of the summer and honestly you probably don't feel like doing much home maintenance right about now.
But, home maintenance is essential – staying on top of these small tasks can help you prevent the need for bigger costly repairs in the future.
So, let's focus on some simple tasks that can have a big impact getting your home ready to head into fall and into the cooler months.
Here are the essential tasks to tackle this August!
Click here to see my Summer home maintenance checklist!
Printable Checklist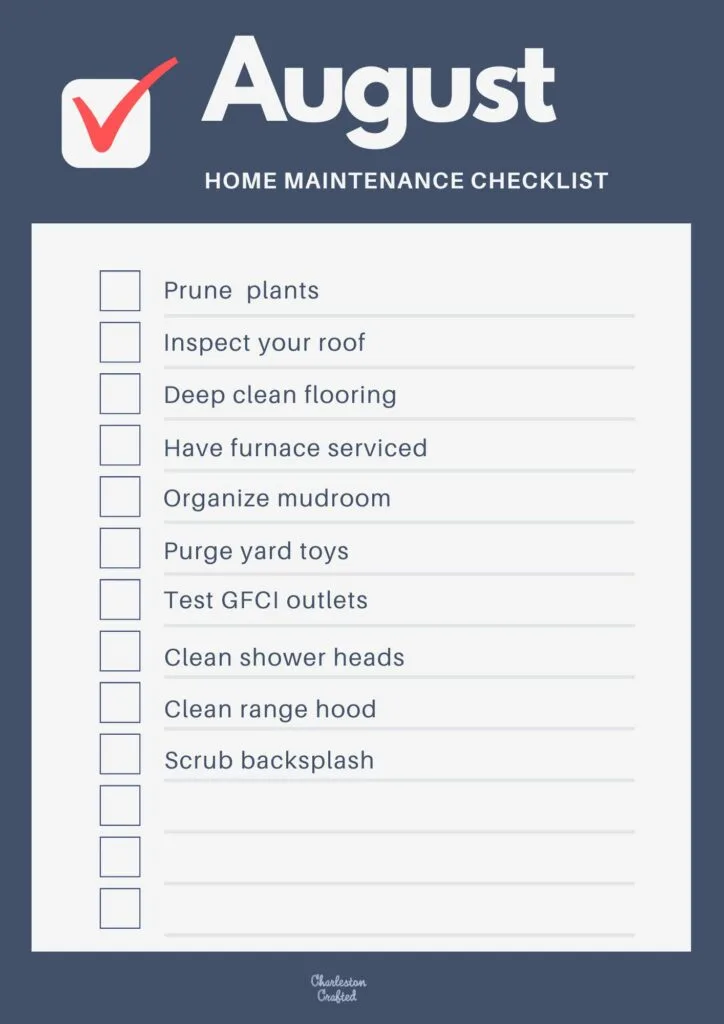 Click here to get the printable PDF August home maintenance checklist directly in your email inbox!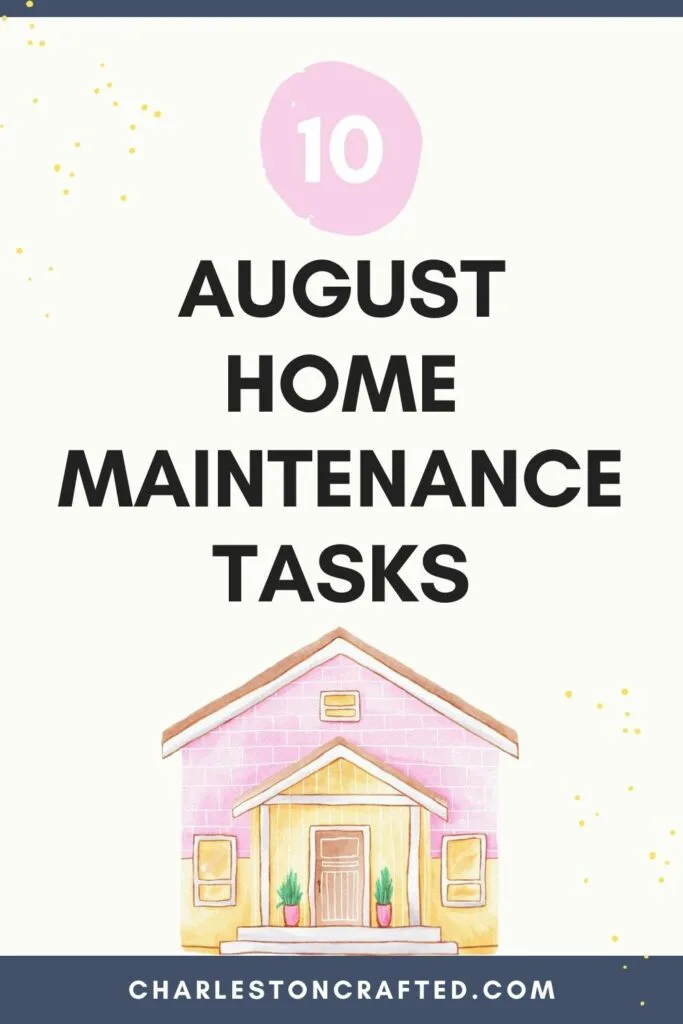 August Home Maintenance Tasks
Prune your plants
Many of your plants have probably finished blooming for the year. Cut back any dead branches or stems.
If you have specific plants, like hydrangeas or hibiscus bushes, that you want to come back and bloom again next year, search YouTube for specific tutorials to prune them properly. It makes a difference!
Inspect your roof
Summer is often full of thunderstorms. Going into September, at least here in the South East, we are headed into hurricane season. Get ready by inspecting your roof.
Check for loose or damaged shingles or any spots that look damaged. You can patch yourself or consult with a roofing professional. It's better to make small repairs than get a leak that turns into a big problem!
Deep clean your flooring
Summer often means tracking in dirt, mud, and a mess. Time to deep clean your floors.
Mop hardwoods or tiles and vacuum carpets. You can apply special powders to carpets before vacuuming to help make them extra fresh or rent a carpet steamer for an extra clean finish.
Have your furnace or heat serviced
Believe it or not, soon it will be time to cut on the heat! Have your furnace or heating system serviced to be sure it's in good shape. It's much easier to get an appointment before it gets cold!
Organize your mudroom or entryway
August often means getting ready for back to school. Whether you have a mudroom, an entryway, or a coat closet, go through the space and clean it up.
Wipe down all the surfaces and recycle or donate anything that no longer fits or is useful. Get ready for a new school year!
Purge yard and pool toys
Time to go through all of your outdoor toys and equipment. Get rid of anything broken or damaged. If you didn't use it this whole year, think hard about whether you really want to keep it.
Recycle or donate whenever possible.
Test and reset your GFCI outlets
GFCI outlets are usually located on outlets near water – kitchen, bathrooms, and outdoors. They are designed so they shut themselves off if they get wet.
We have an outdoor outlet that gets wet whenever we have a big storm, and when it shuts off, it shuts off several other outdoor outlets, too.
Take a moment to be sure all your outlets are in working order!
Take something simple around like a night light and test that they are all working. If any don't work – try pressing the reset button to reset them!
Clean your shower heads
Shower heads can get gross over time. You can actually unscrew them from the pipe (with the water off of course) and clean them easily!
Some people like to soak them in a mixture of white vinegar and water. I can usually scrub them clean with a sponge or brush!
Clean range hood filter
Did you know there's a filter in the exhaust fan under your range hood? There should be a clip to open it on a hinge.
Clean that area out – it tends to get really greasy!
Deep clean kitchen backsplash
While you're at it, deep clean your backsplash. Grout lines can get really gunky over time.
We wipe ours clean when there are spills, but that's nothing like a deep clean! Scrub with your tile cleaner of choice for a shiny new look.
What home maintenance tasks are you doing this month?