Considering adding a gray stain to your wood project? Check out Varathane Weathered Gray – our full review & how it looks on 6 types of wood!
Gray wood stain is a cool option for your DIY woodworking projects.
Gray wood can look beachy, rustic, or modern. It's a fun color to play around with.
I was really excited to test out my favorite 8 gray wood stain colors on 6 types of wood so you can see exactly how they each look!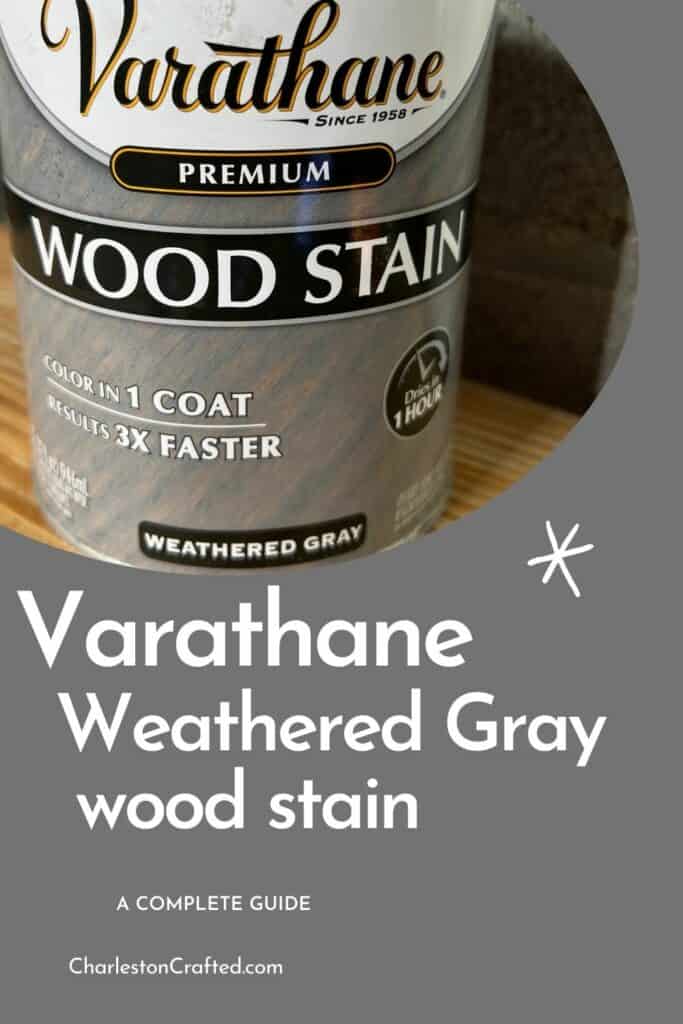 Varathane Weathered Gray
Varathane is a brand commonly carried at the Home Depot. Click here to buy Varathane Weathered Gray at Home Depot.
Weathered Gray is a cool toned gray color. That means that it has blue undertones. When the blue undertones mix with warm tones in certain woods, it can read a little purple. Read my guide to color undertones here.
This is a mid-toned gray, meaning it's not super light or super dark. It's, for lack of a better term, medium!
Here is how Varathane Weathered Gray looked on each of six wood types!
How does Varathane Weathered Gray stain look on oak?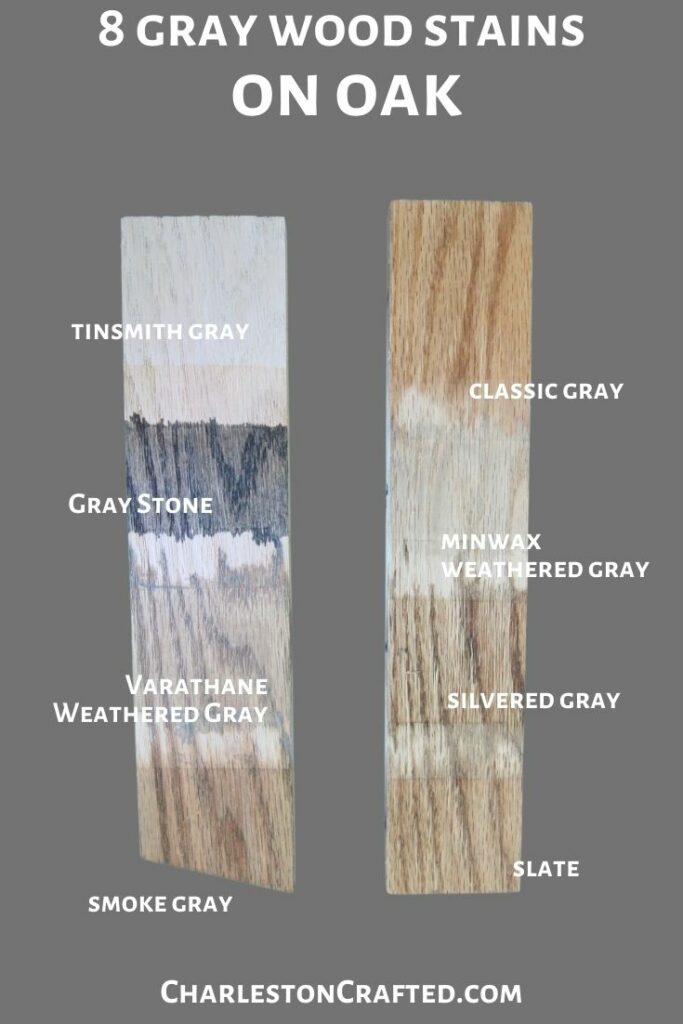 Oak is a really beautiful wood with natural red undertones.
Weathered Gray really gives oak a gray tone. However, the combo of the blue tones and the red tones in the oak can read quite a bit purple.
I personally would not use this combo on a project!
How does Varathane Weathered Gray stain look on pine?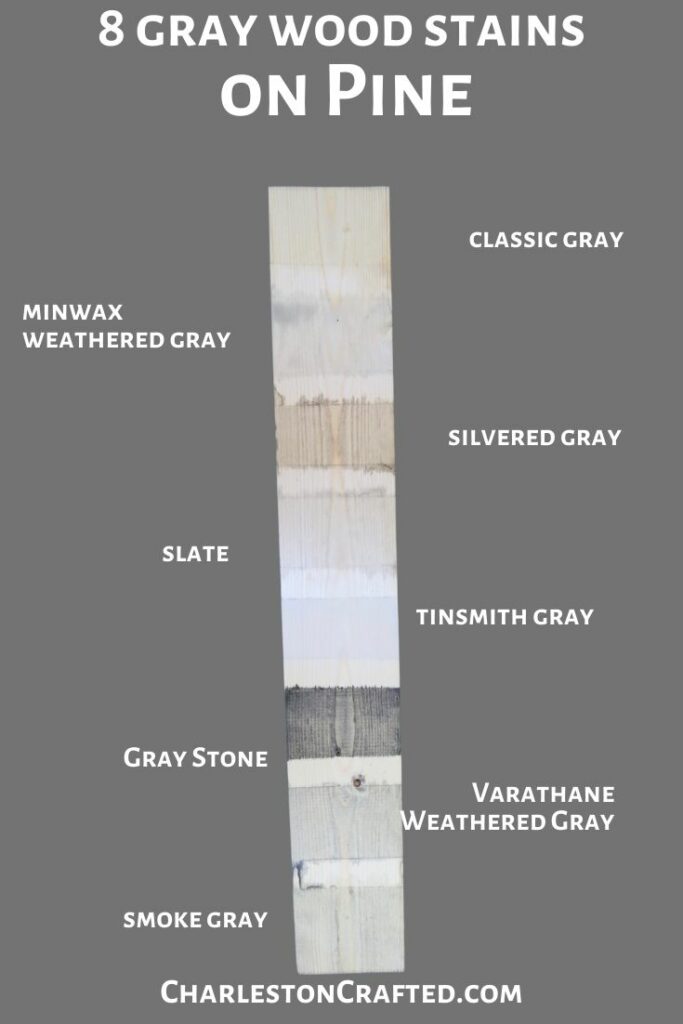 Pine wood has natural yellow tones with some slightly darker graining.
Weathered gray gives pine good coverage and takes it to a nice medium gray color. It won't cover knots or any major variations in the grain of the wood.
However, this is a good way to get a gray color onto pine wood!
How does Varathane Weathered Gray stain look on poplar?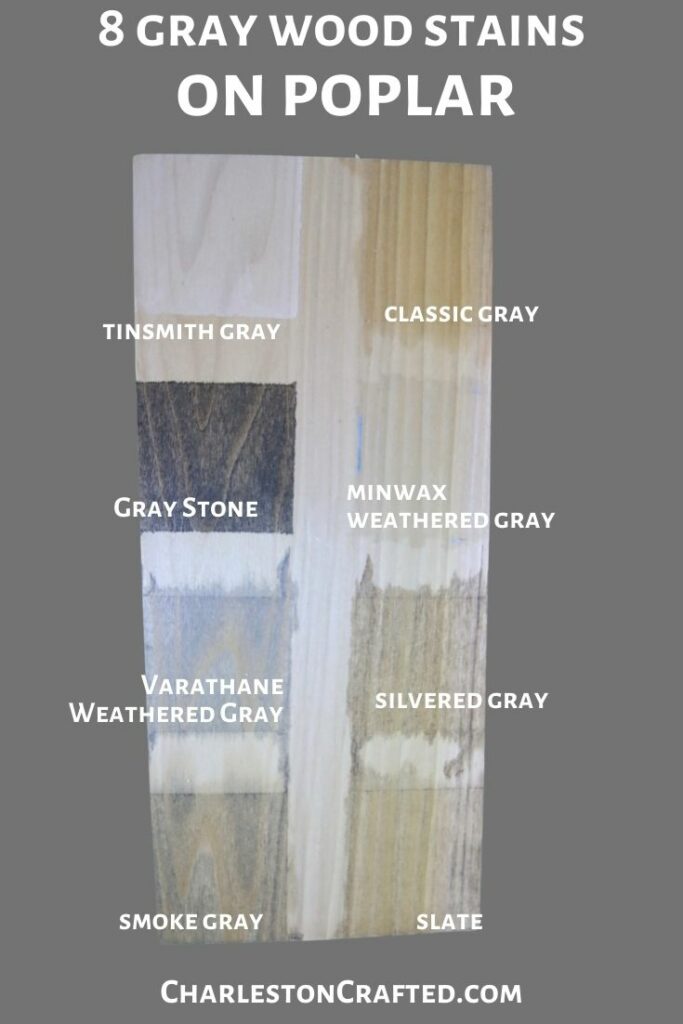 Poplar has natural green and some purple undertones.
Poplar has little almost dashes it it's wood grain which gives it the look of a lot of texture.
In my opinion, weathered gray goes REALLY purple on poplar and is not a hit.
How does Varathane Weathered Gray stain look on plywood?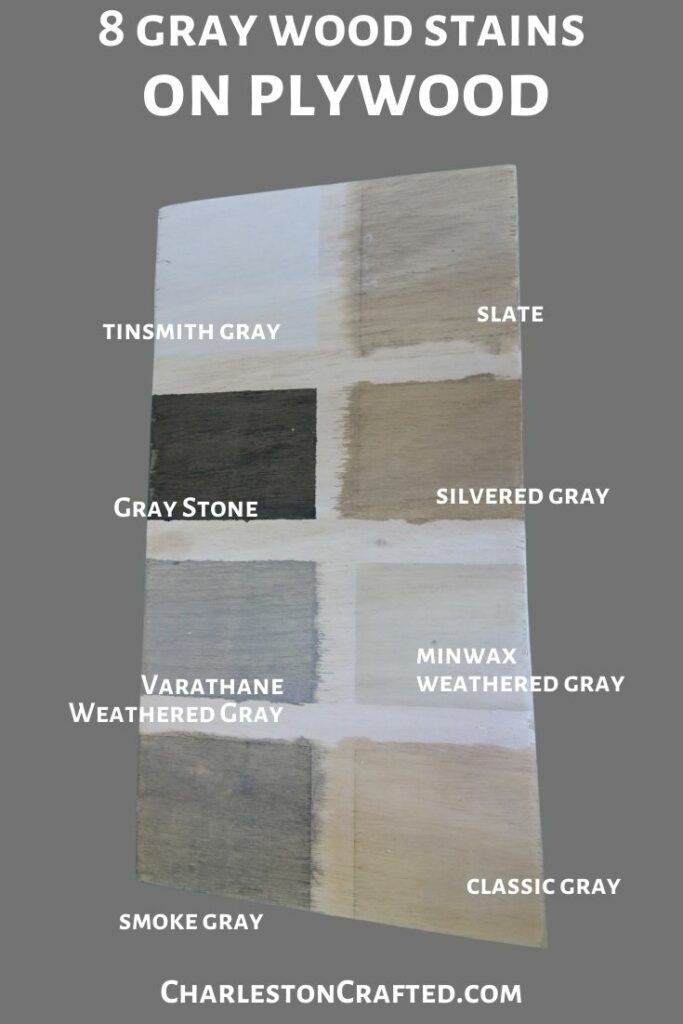 Birch plywood is very light, almost white, with very light tan grain lines. It has beautiful flowing grain lines.
Weathered Gray really absorbs into plywood and looks darker than on other woods.
It gives really good almost stone-colored coloring. I love this combo!
How does Varathane Weathered Gray stain look on a 2×4?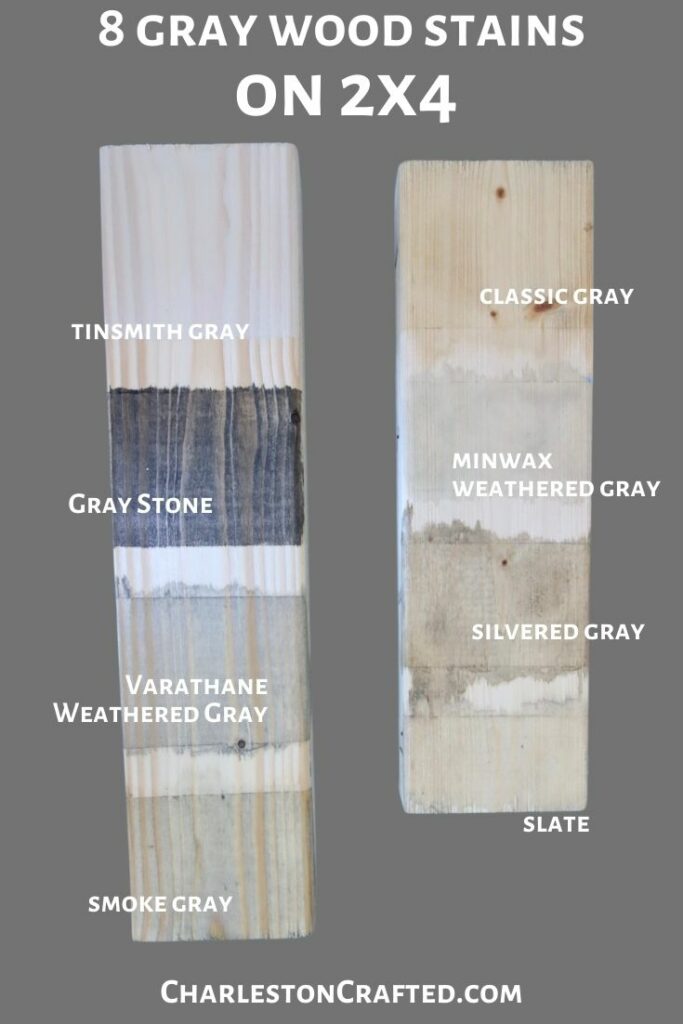 2x4s are usually very light wood with darker knots and holes.
You can see above how the color looks grayer on some parts of the wood and more golden along the grain. This is not my favorite look, so for that reason I don't love this combo. It could be OK if your particular board has less variation in the coloring.
How does Varathane Weathered Gray stain look on white wood?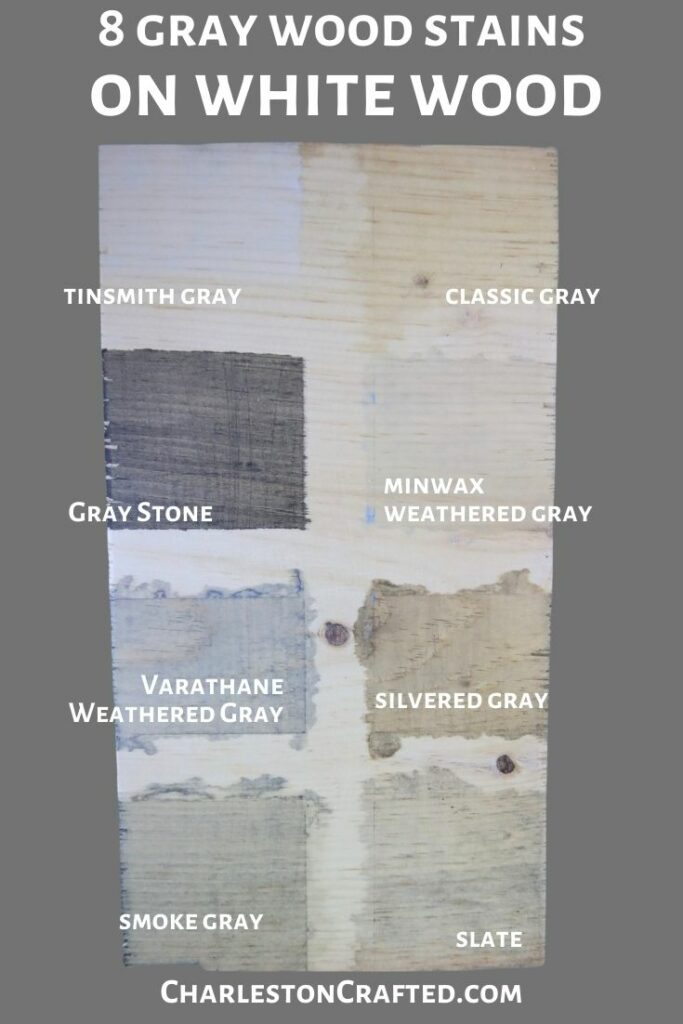 White wood is a generic name for a soft, white wood with lots of dark knots.
This wood absorbs a lot of the stain so it looks darker than on some of the harder woods.
It also looks a bit purple here due to the natural undertones in the wood! Just something to look out for!
Be sure to check out my other DIY wood stain ideas!
Facebook | Instagram | Pinterest | Twitter | YouTube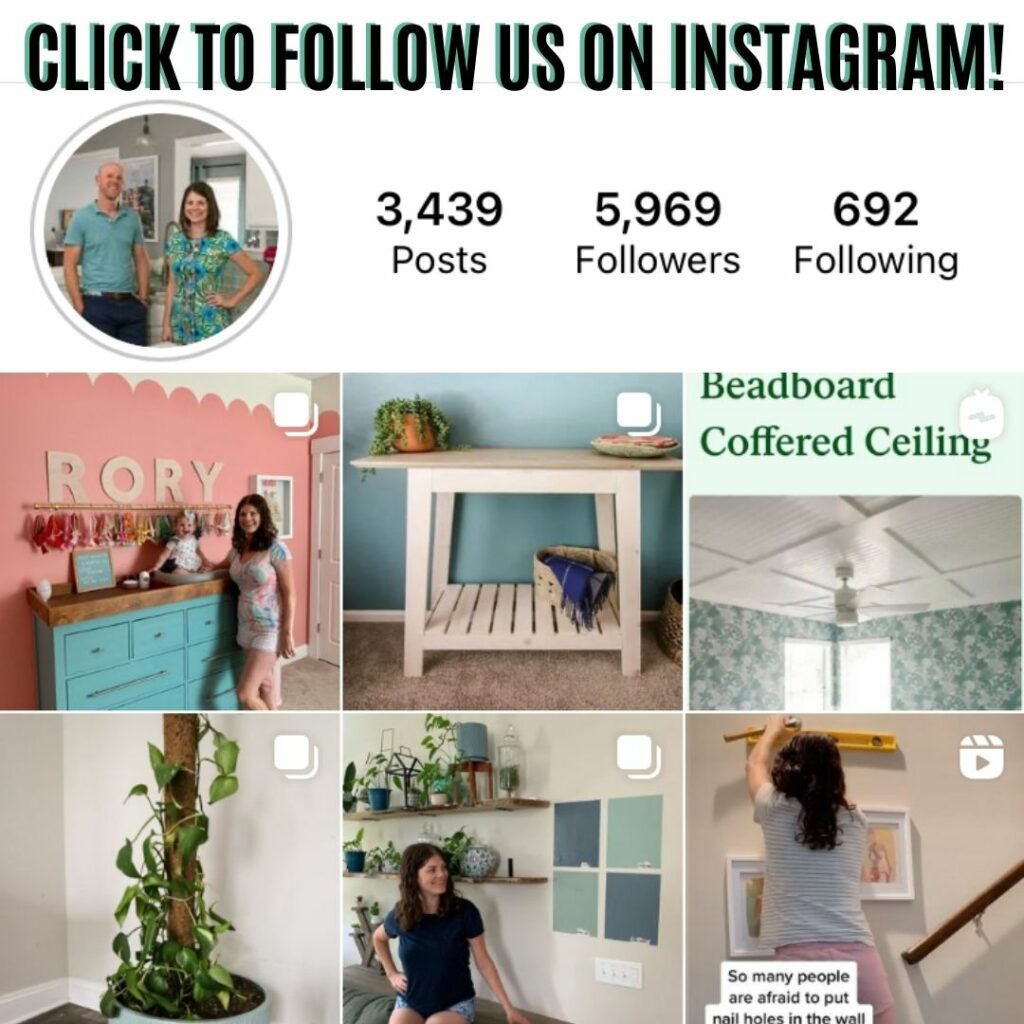 ---
Can we send you our newsletter?
Another great way to keep up with out latest projects is by joining our weekly newsletter! Get alerts of our latest projects and special peeks behind the scenes!
Follow along on Instagram
Join our online community where we share real time behind the scenes looks at our DIY projects and peeks inside our home + family!
---