Want to make your linen closet more beautiful AND functional? Here's a step by step tutorial on how to build linen closet shelves – the easy way!
This post was sponsored by National Hardware, but all opinions are true and our own. Thanks for supporting the brands that make Charleston Crafted possible!
As we continue our mission to replace every builder-grade wire shelf in America, we're here to break down the full process on how to build linen closet shelves.
We're kidding, but only sort of. In the past, we've eliminated the cheap wire shelving in our pantry, our children's closets, our old bedroom closet and so many more.
When closets have minimal, and poorly spaced, wire shelving, they aren't nearly as useful as they could be. One of the main places in a home that storage is critical is in the linen closet.
So, today we're going to show you all about how to build linen closet shelves to maximize your space.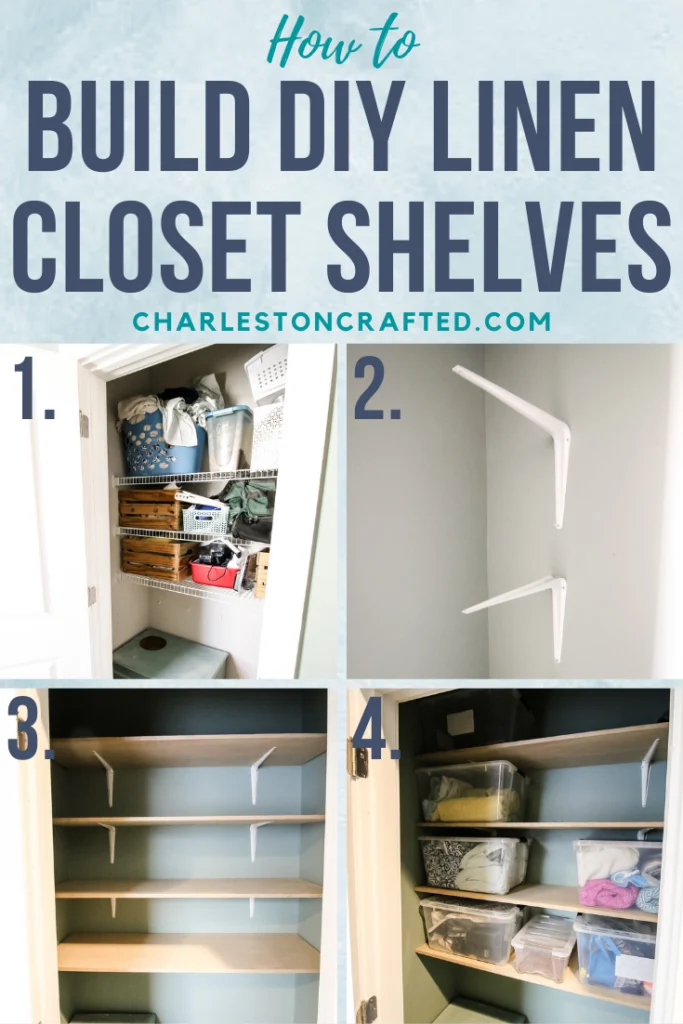 How to plan your linen closet shelving
Planning is the most critical part of any project to ensure you know what you're getting into and how you're going to attack it.
Planning your linen closet shelving is the same. There are lots of elements to think about to make sure you get the most functional storage space possible.
How do you turn a closet into a linen closet?
Any closet can be a linen closet, just add linens! Seriously, though, there is nothing special about a linen closet. The main thing that it needs is shelves and an organization system to hold your sheets and towels!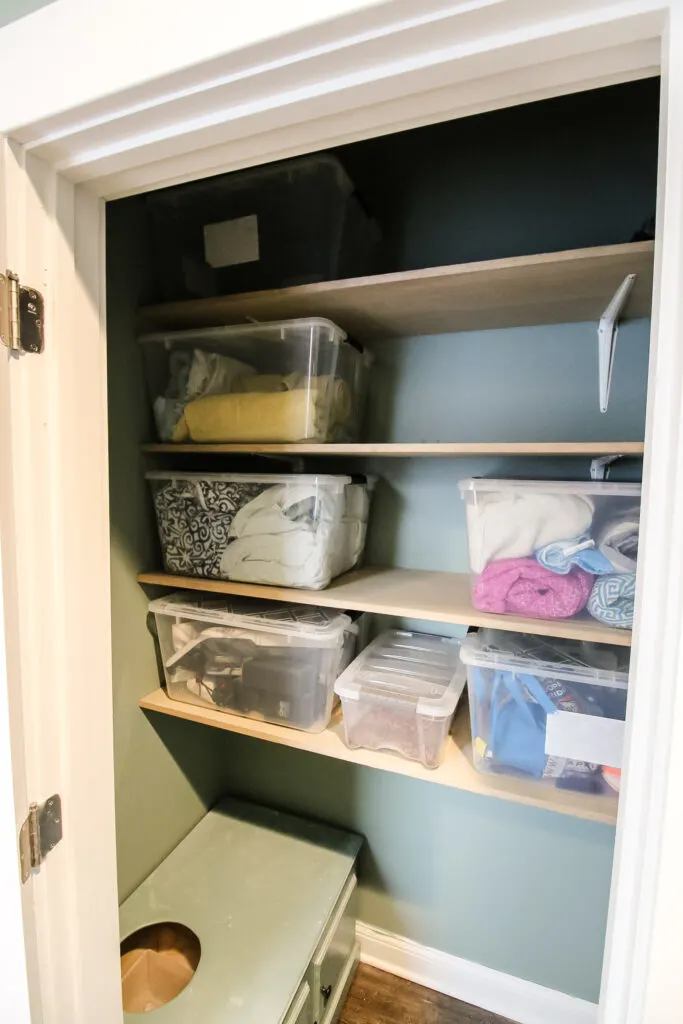 How do you maximize linen closet space?
The best way to make the most of a linen closet is by working vertically. Take advantage of all of the wall space that you have – even beside the doorframe and up super high!
How high should the top shelf be in a closet?
This is a controversial *hot take* but I like to put a top shelf WAY HIGH in a closet. This is basically free storage space that would otherwise be unused and empty!
Obviously don't put your most used items, but it's perfect for things you only use once or twice a year, even if you need a stool to reach them.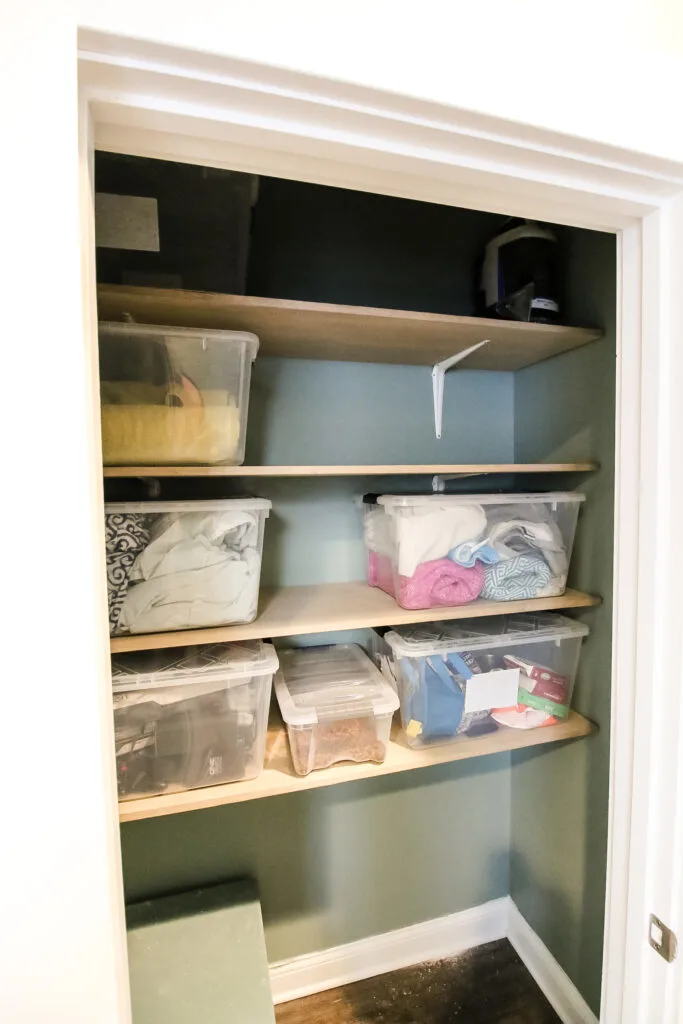 In our pantry, we did a half shelf that was 8 feet high! The half depth is because it's above the door frame, so if it was as deep as the lower shelves, it would be hard to get things in and out.
How do you organize a narrow deep linen closet?
If your closet is very deep, consider allowing for a bit more space between the shelves. This allows you to use risers for items in the back or just more easily see deeper into the back of each shelf.
How to choose wood for linen closet shelves
Choosing wood for linen closet shelves is very important because this is where all of your items will be stored. The wood you choose can determine what types of storage options you have.
So, how do you make a simple closet shelf? The easiest way to make shelves is to get boards the width you want, cut them to the length of your space, and hang them using brackets. Let's get into the details!
How far apart should shelves be in a linen closet?
The height of your shelves will be dependent on the size of the bins, baskets, or items you want to put on the shelves. However, 12 inches apart is a good place to start.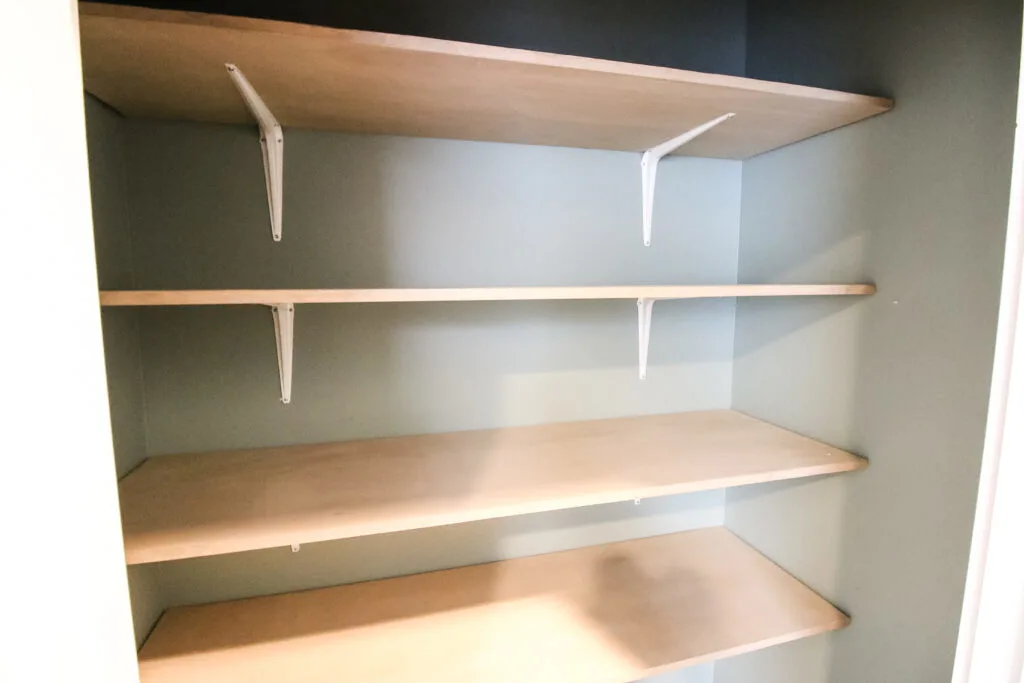 Remember to include the thickness of your shelves when planning out your shelf heights – if you use a 3/4″ shelf board and want 12″ of space, you need shelves every 12 3/4″.
How deep should linen shelves be?
There are a few factors that determine the depth of your closet shelves:
The depth of your closet itself

The size of the items you plan to store

The size of wood readily available to you
Look at those 3 sizes and determine what makes the most sense.
Obviously a shelf can't be deeper than the actual closet or it won't fit. Additionally, any shelves too deep near the top of your doorframe wouldn't be able to be accessed.
Keep in mind the things you want and need to store – if they won't fit, the shelves aren't very useful.
Finally, think about wood. It's easiest to use boards in sizes like 1×6, 1×8, 1×10, or 1×12 inches. However, if you need something deeper or more custom, you can always cut plywood to size.
How thick should wood be for shelves?
The thickness of wood needed for closet shelves will depend on the size of the closet. Longer spans (or heavier items) typically need thicker wood and more support braces.
Usually, 3/4″ of thickness is enough! If you buy pre-fabricated melamine shelves at the store, this is how thick they are.
What is the cheapest wood for shelves?
With lumber prices being at an all-time high, building shelves is a little trickier. Previously, it was easy to buy a 1×12 pine board for a standard shelf depth.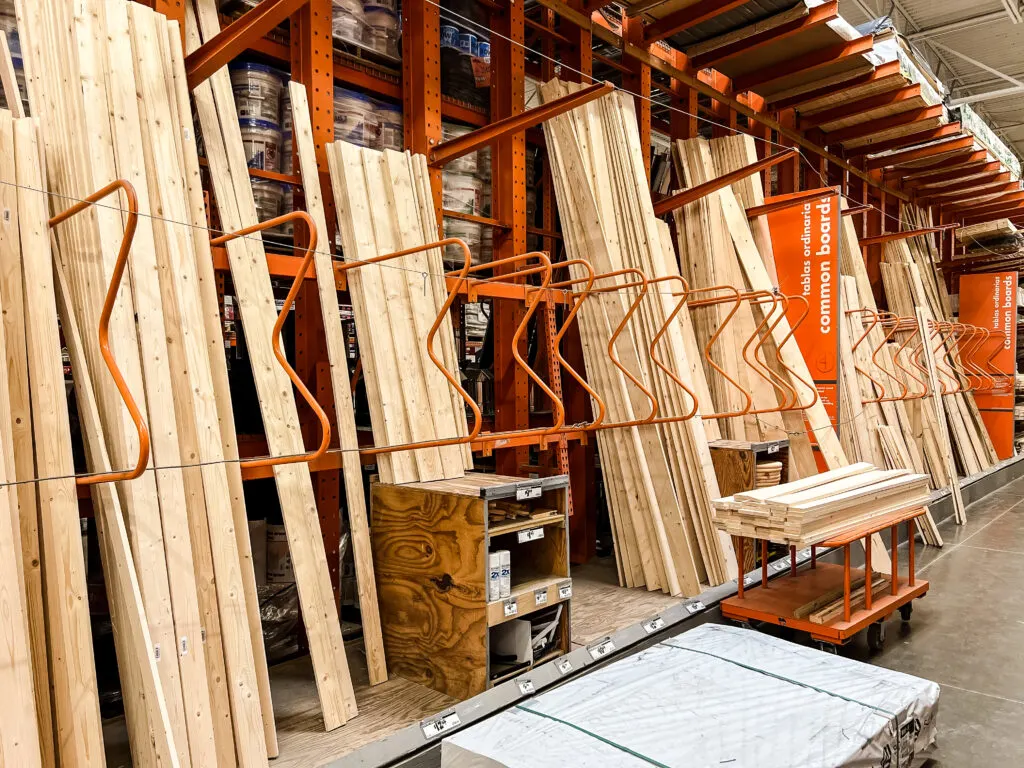 However, those boards are now costing almost $30 apiece, so if you need a lot of shelves, that's not feasible.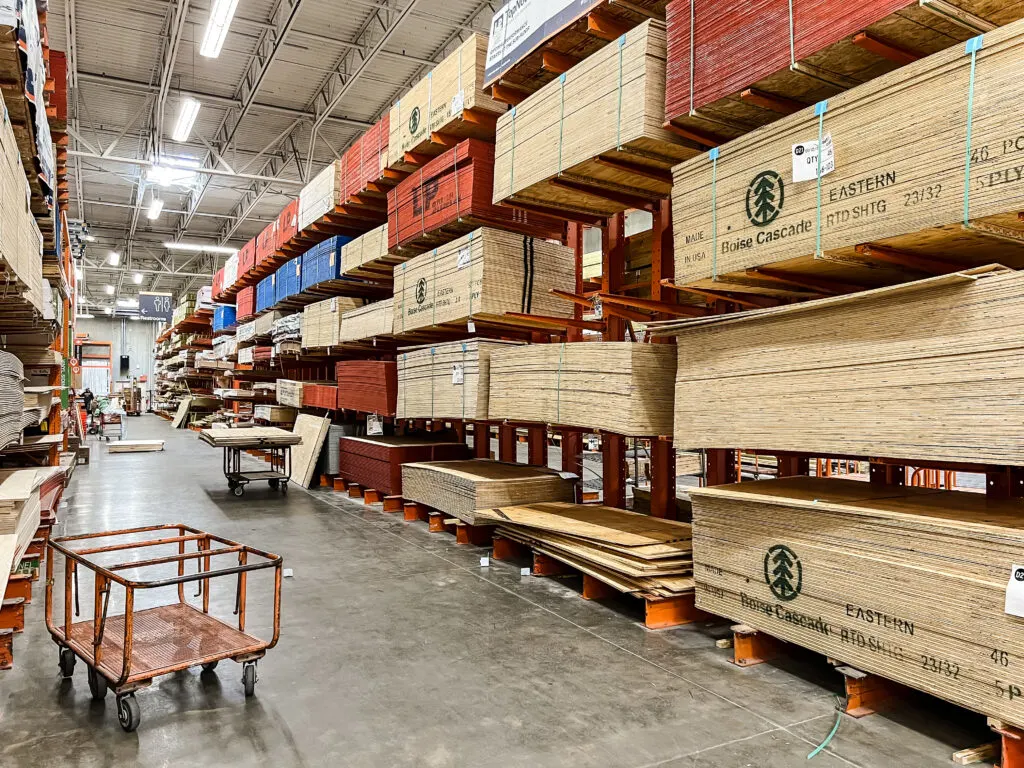 The most cost-effective material to make lots of shelves is by buying plywood and cutting it down, or having it cut down in store.
Click here to learn more about buying lumber for DIY projects!
There are also pre-fabricated boards made from melamine or edge glued boards, but those have gone up in price as well. They do save the hassle of ripping down a big sheet of plywood, so if you don't have those tools, these are good options.
Is it cheaper to build your own shelves?
It is cheaper to make your own shelves from plywood versus buying pre-sized boards. As described above, lumber prices are very high and the easiest way to get past that is by buying larger plywood sheets and cutting them down.
However, if you're only doing one or two shelves, and especially if you don't have a lot of woodworking tools and experience, it's probably cheaper to just buy a board or two.
How do you attach shelves to a linen closet?
The best way to attach shelves to a linen closet is by getting simple shelf brackets. For this, we turned to National Hardware.
National Hardware has lots of different shelving bracket options, whether for light use or heavy duty use. They even have shelf brackets that include a rod holder, like we used in our boho laundry room makeover!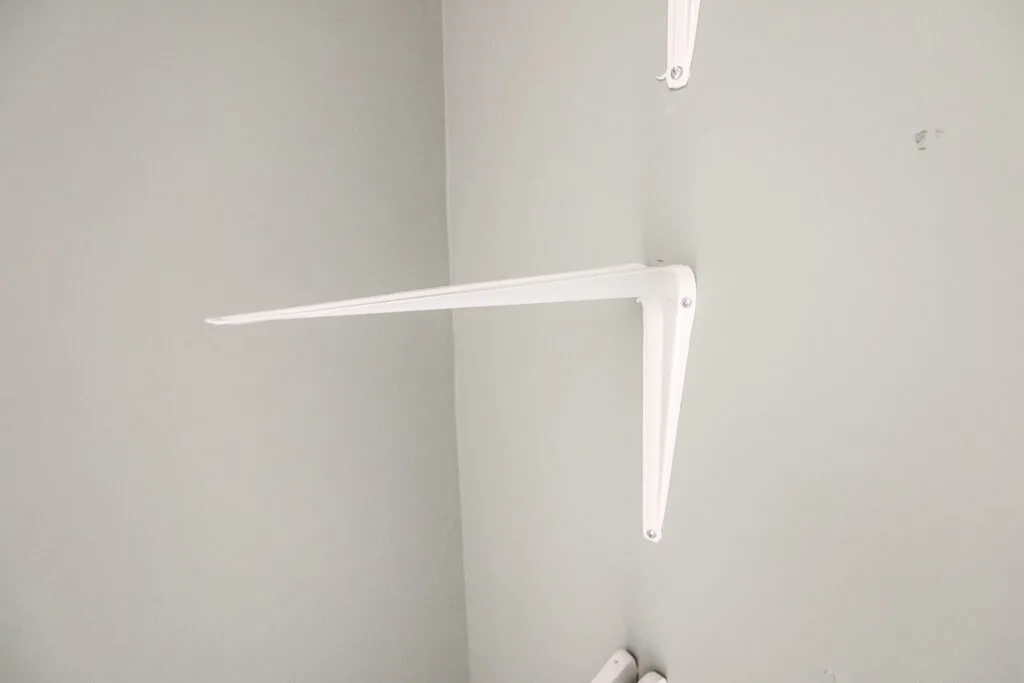 If you're installing shelves in a linen closet where you will be storing sheets and towels, you probably only need to use standard use utility brackets.
These are simple L-shaped brackets that attach to the wall and the underside of your shelf. They are simple to install and work great on lightweight storage.
The sturdiest way to add shelves to a linen closet is using heavy duty brackets. Heavy duty brackets include a 45 degree angle brace between the L-shape that is on a standard bracket, meaning it will hold the most weight and can be positioned strategically for shelves that hold a lot of weight.
Whether you're looking for lightweight, heavy duty or decorative brackets, you can find it all at National Hardware.
Do shelves need to go into studs?
Yes, shelves have to either go into studs in your wall or drywall anchors. Heavy shelves will otherwise rip drywall and fall off the wall.
It's important to try to have at least one point where your shelves are secured in a stud at a minimum.
What screws to use for closet shelves?
When attaching closet shelves to the wall, you'll want to use screws that fit into corresponding drywall anchors.
Self-drilling drywall anchors are easy to use and generally provide a lot of support.
Then, use the short screws provided with the brackets you bought to secure the shelf into the bracket.
How to build plywood shelves in a closet
Time To Complete DIY Closet Shelf Installation
This is a project that can easily be done in a weekend. Plan for the demo and painting to take two to three hours, the cutting of shelves to take one to two hours, and the installation to take one to two hours.
The time to install shelves is all determined by your previous level of skill and how organized you are when starting the project.
How To Measure Your Closet For DIY Closet Shelves
Measuring for closet shelves is easy to do. The important thing to remember is that your closet probably isn't completely square, so make sure to measure all the way at the back wall.
Measure between the two sides of the closet and measure how far out the shelves will come. Then measure the overall space you have and determine how many shelves you want to fit into that space, assuming the 12″ gap between them.
How to build linen closet shelves
Here's how to build DIY linen closet shelves to create functional storage in your home.
Materials For DIY Linen Closet Shelves
Wood for shelves
Screws
Spackle and paint if removing old shelving
Tools For DIY Linen Closet Shelves
Steps to build linen closet shelves
STEP 1: Demo existing closet
If you have existing wire shelves or any kind of shelving, you will need to remove it.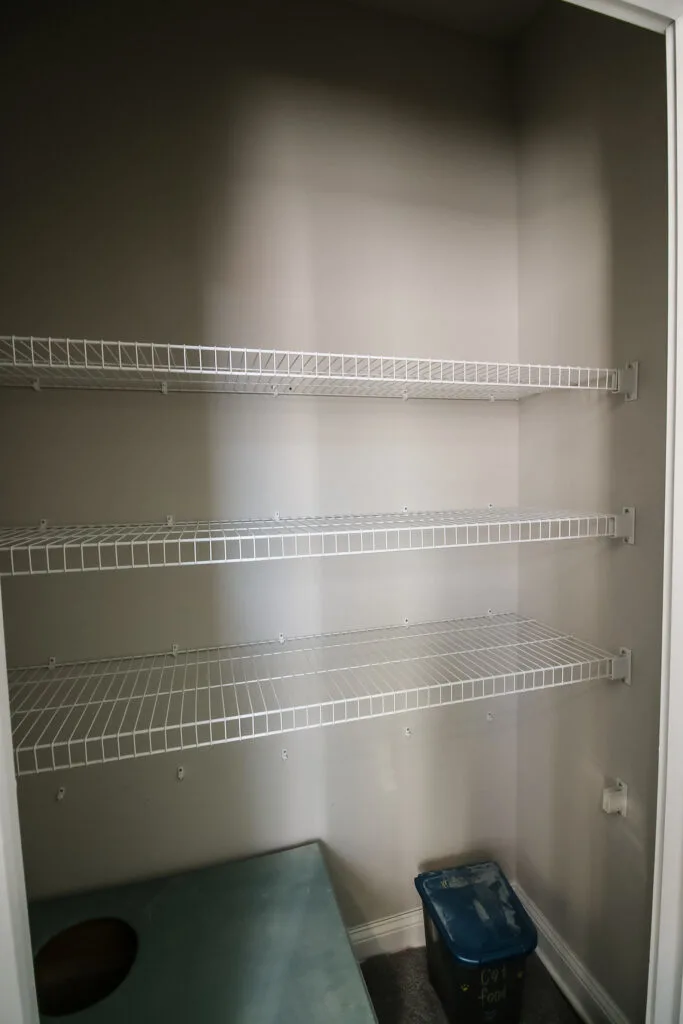 Once it is out, patch the holes with spackle, allow to dry, and sand smooth.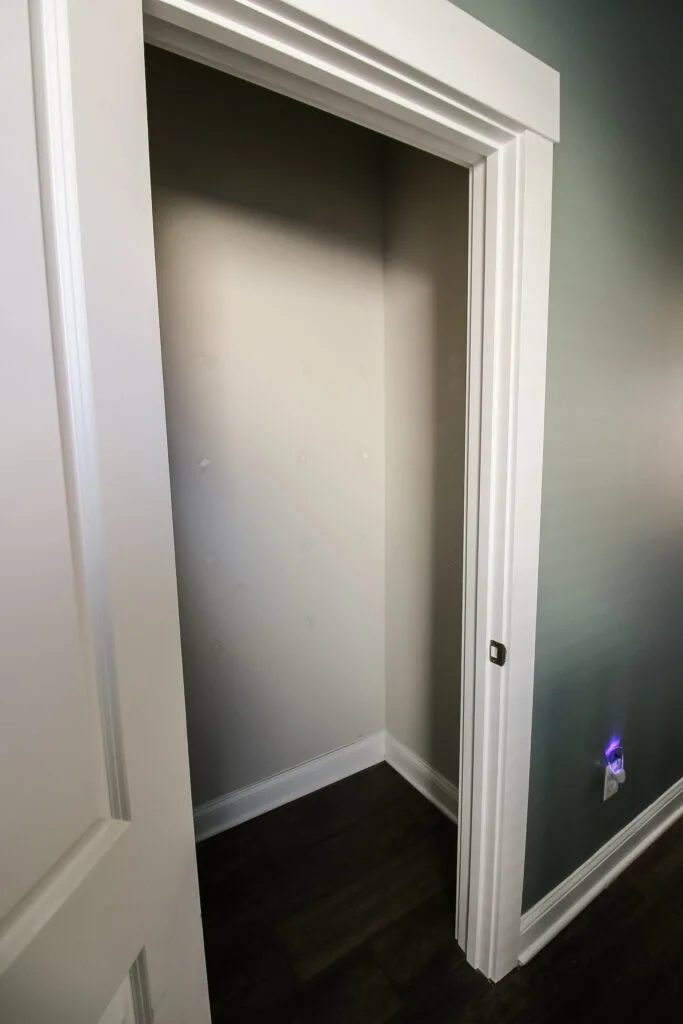 STEP 2: Paint
Paint the walls of the closet. We like to use a color that is the same as the hallway or room the closet is off of for easy flow.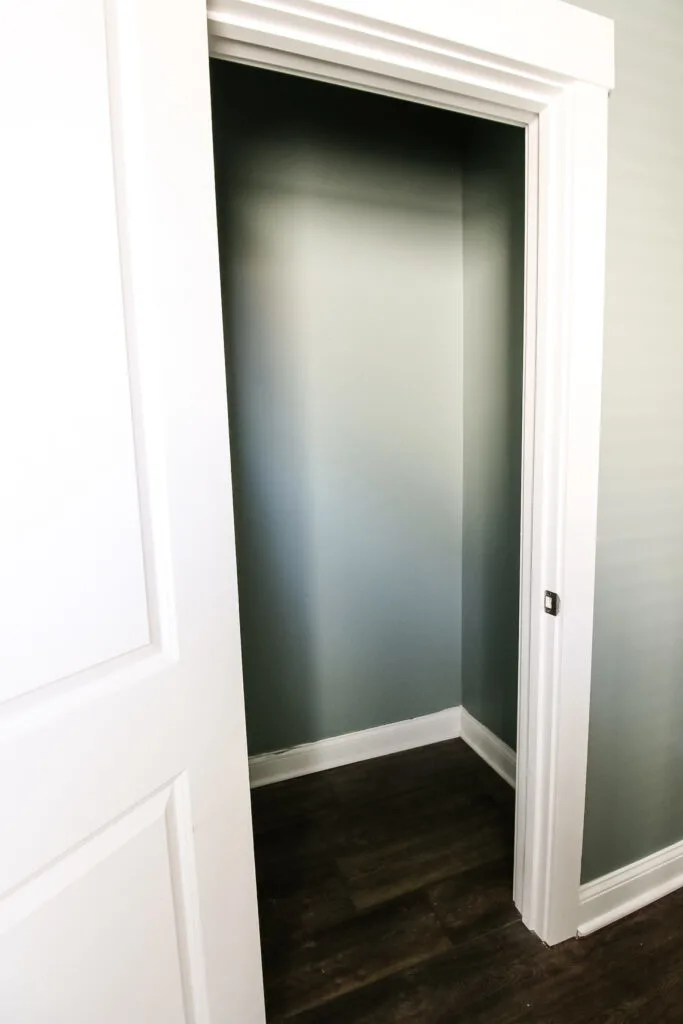 STEP 3: Measure
Once the closet is clear and empty, measure the width, depth, and height for shelves as described above. Remember to measure in each space that a shelf will go because the walls might not be completely square.
STEP 4: Plan your shelving
Think about what you need to store and determine the height and number of shelves you need. Draw it on paper or use a pencil or tape to mark it out on the closet wall.
STEP 5: Cut your boards
Cut your boards to size using your pre-determined measurements. Once they are cut, sand them smooth.
If using plywood, you might want to consider adding edge banding to the front edge to give it the appearance of a solid board. You'll need an iron for this, but it's really simple.
Check out how we added edge banding to this simple dowel rod shelf!
STEP 6: Stain or paint boards
Stain or paint as you'd like. You may also want to use a protective coat of polyurethane if you plan to store anything that might stain or damage the wood.
STEP 7: Install brackets
Install shelf brackets starting with the lowest shelf. Use a level to be sure brackets are level. Use a pencil to mark where the holes in the brackets line into the wall.
Remember that if you're installing shelves in a linen closet where you will only be storing sheets and towels, you probably only need to use standard use utility brackets from National Hardware. But if you're storing something heavier, but sure you're using heavy duty brackets.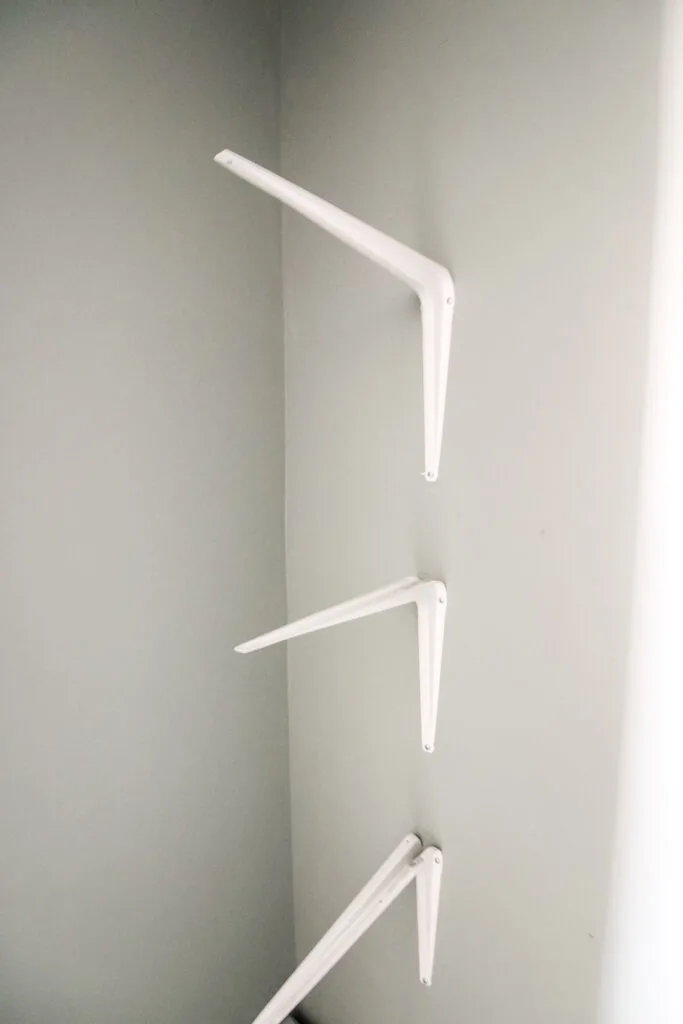 Pre-drill a hole in each of the places where the bracket has them. There are usually at least three points to secure a shelf bracket to the wall. If there is no stud, add drywall anchors, but try to find a stud for at least one screw if possible.
Screw the brackets into place, ensuring that each bracket is level with the others in the row and in the column above it.
STEP 8: Install shelf boards
Start with the bottom shelf. Place the board on top of the shelf brackets, ensuring it is level.
From the underside of the board, secure the shelf bracket into the bottom of the board using short screws.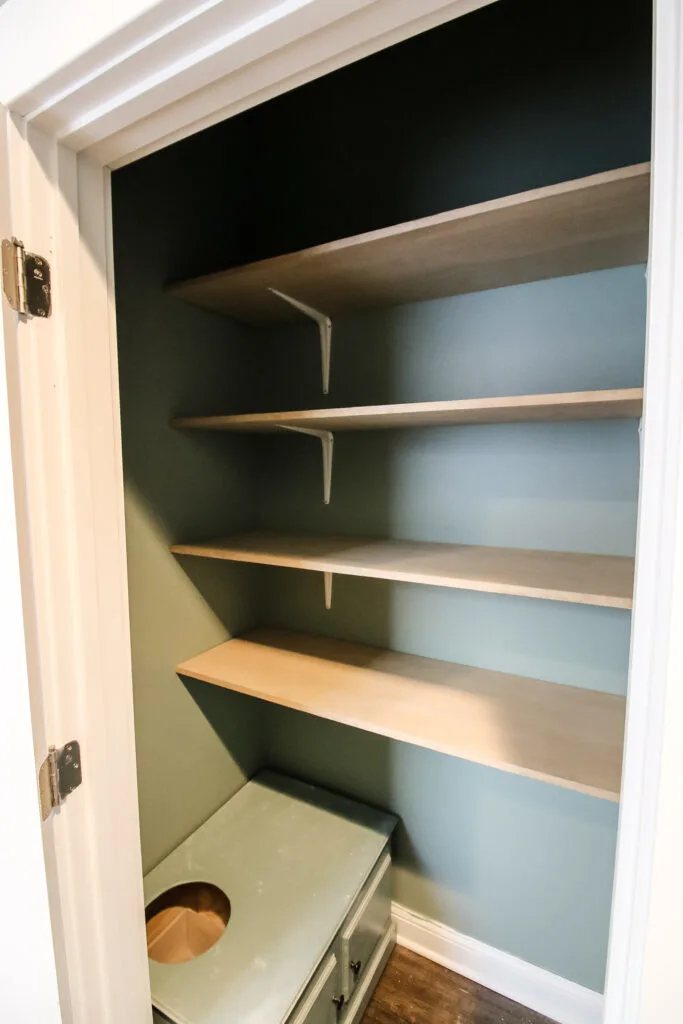 Continue this up the wall until all shelf boards are in place.
STEP 9: Put stuff back in the closet
Place your items back in bins, baskets, or other organization systems!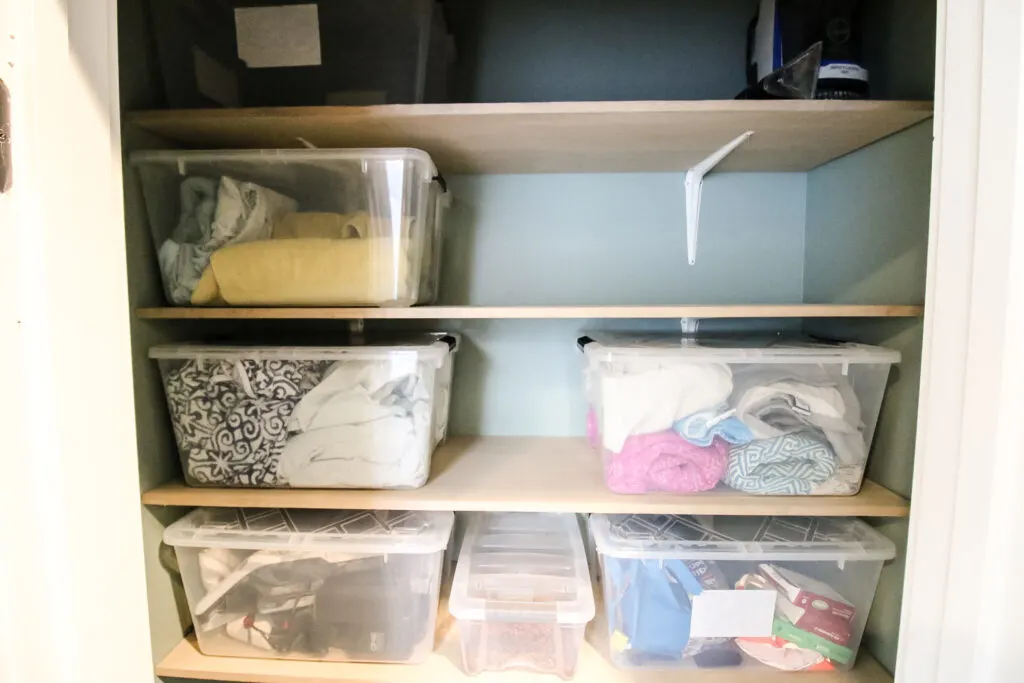 Adding DIY shelves to your linen closet will provide you with so much more storage than you had before and can help you keep things more organized!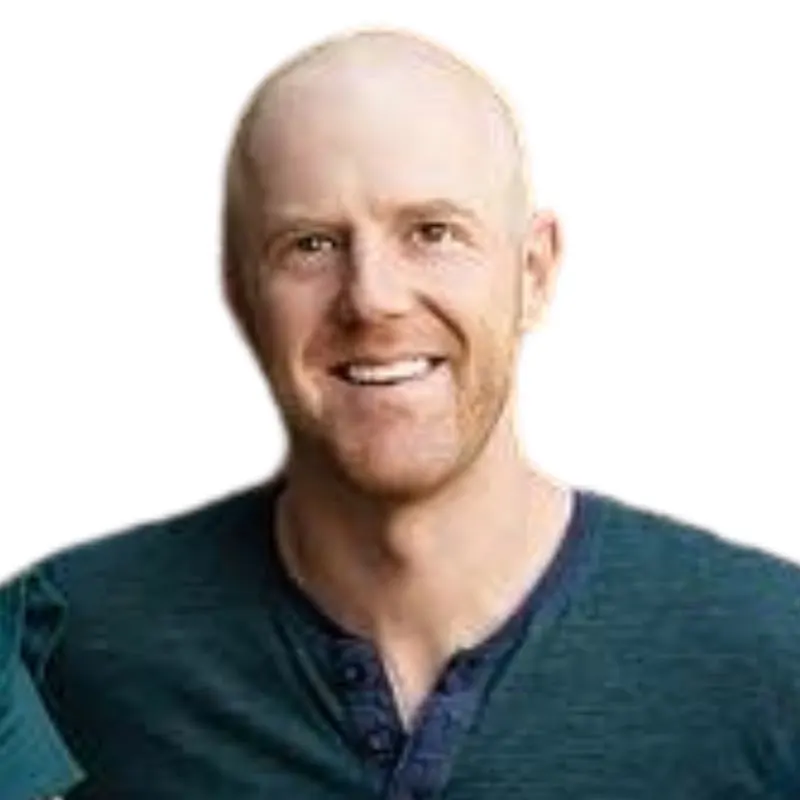 Hey there, I'm Sean, the woodworking enthusiast and builder behind CharlestonCrafted.com! Since 2012, I've been sharing the magic of turning raw materials into beautiful creations. I love teaching others the art and satisfaction of woodworking and DIY. I try to inspire fellow crafters to make something extraordinary out of nothing at all.