Happy holidays! I'm excited to give you a tour of our holiday Christmas home decor this year.
This year we really built on the decor we have established in this home. We had a lot of fun building and making a few new pieces as well as filling out some areas that have been dark or boring in the past!
Be sure to check out our decor from years past:
Indoor Christmas decor
Here's a look at all of our DIY Christmas decor inside our home this year!
Christmas tree
We always love to get a live Christmas tree for our living room. As I have done the last few years, I let the kids fully decorate this one. Well, I did help to move a few of the ornaments up higher 🙂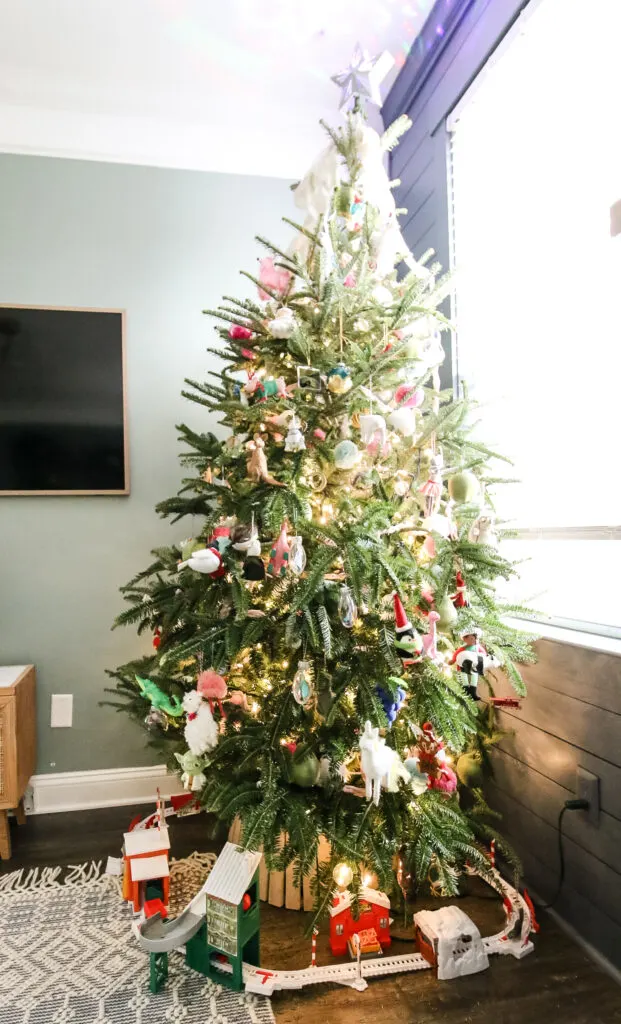 The ornaments are primarily animals and other fun, whimsical guys. They are mostly from Target or World Market in previous years. The kids each got to pick 2 new ornaments at Target this year!
We also have a few sentimental ornaments as well as my annual photo ornaments on this tree!
Bedroom Christmas tree
This year we also added a Christmas tree to our guest bedroom. The purpose of this was that I wanted a tree in our front window that would be viewable through the window from the street.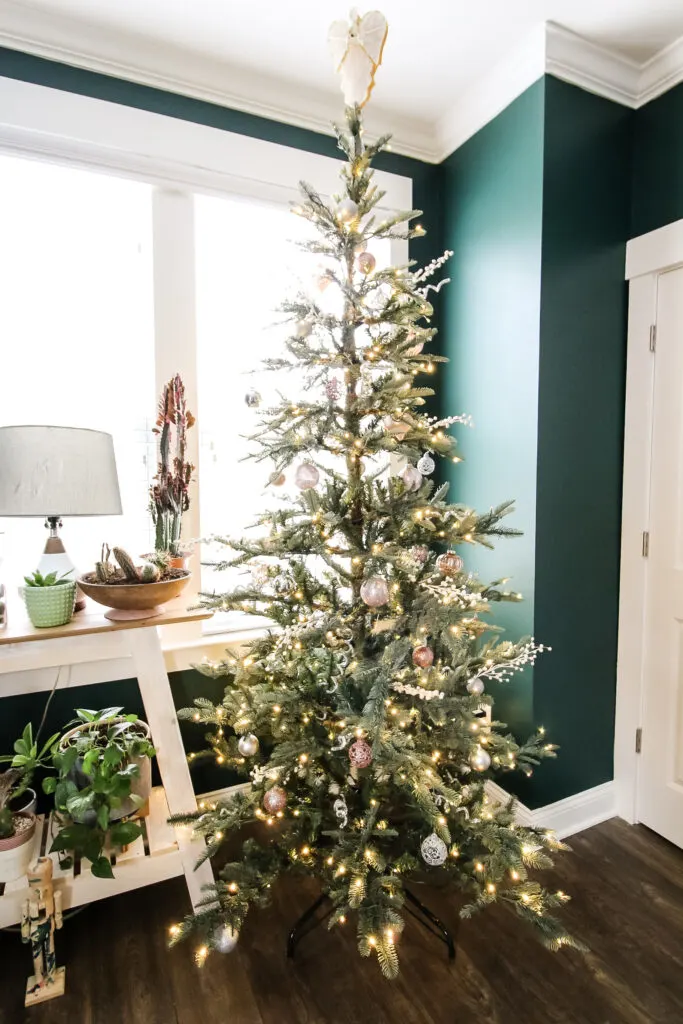 The tree itself is the 8 foot Noble King Fir from King of Christmas. It's meant to have a bit of a more sparse look – which a lot of designers have been using and I wanted to try out!
I decorated it with rose gold and silver ornaments, as well as pearl and silver metallic picks. The topper is this capiz angel tree topper, which I adore the mother of pearl-esque gleam of.
Our Christmas Mantel
Our mantel features a wooden Christmas village that I made years and years ago from wooden birdhouses. The wreath is something that I made at the same time.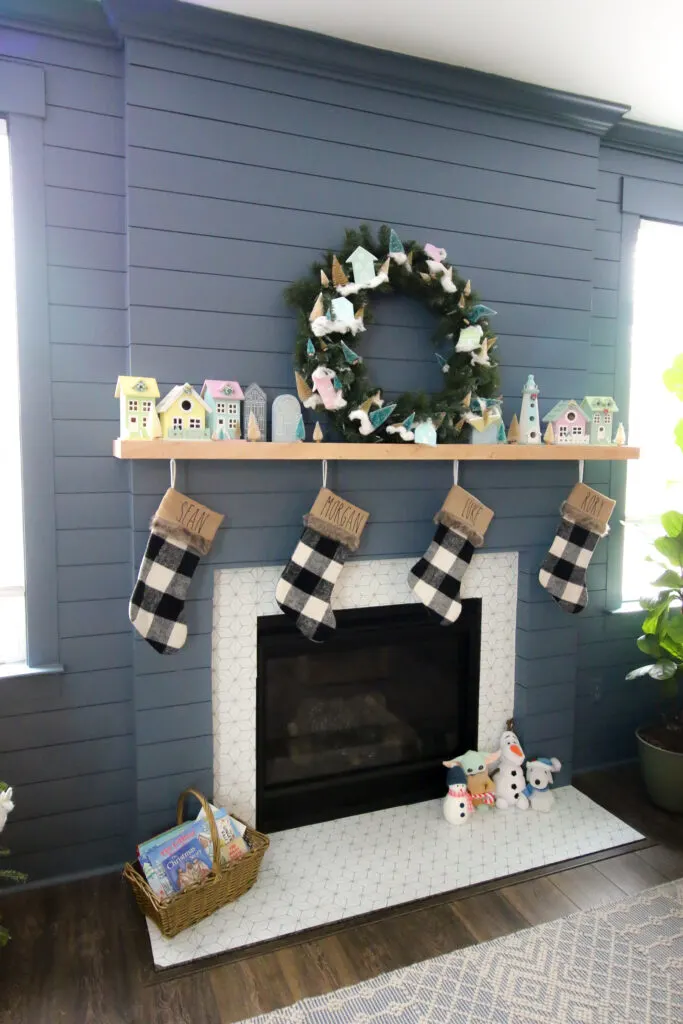 We have these stockings hung with command hooks.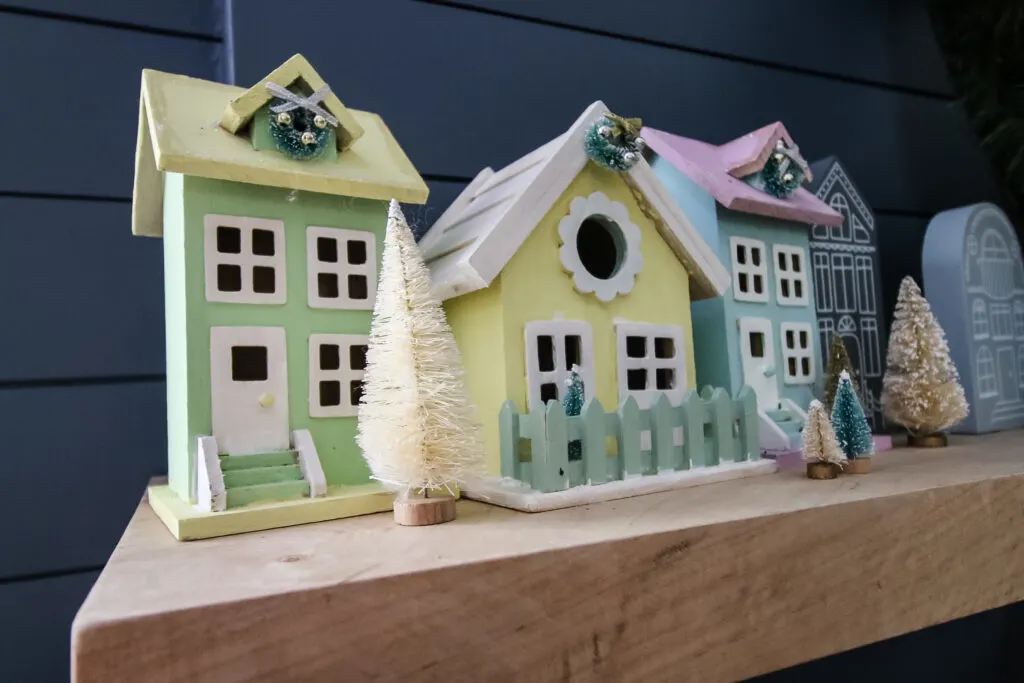 We're still apprehensive to actually put a nail in our shiplap fireplace we installed last year to actually hang the wreath so it's just leaning there.
Shelves behind the couch
I decorated the shelves above our couch simply with a merry Christmas banner and some strings of green and red wooden beads.
On the sofa table, there are some cuttings from our Christmas tree along with these DIYs:
Dining room shelves
On the shelves in our dining area, I displayed our gold Christmas decor. This is all centered around this nativity set that my grandmother made in 1972. It's all paper mache and apparently she made it from a kit, it's incredibly intricate!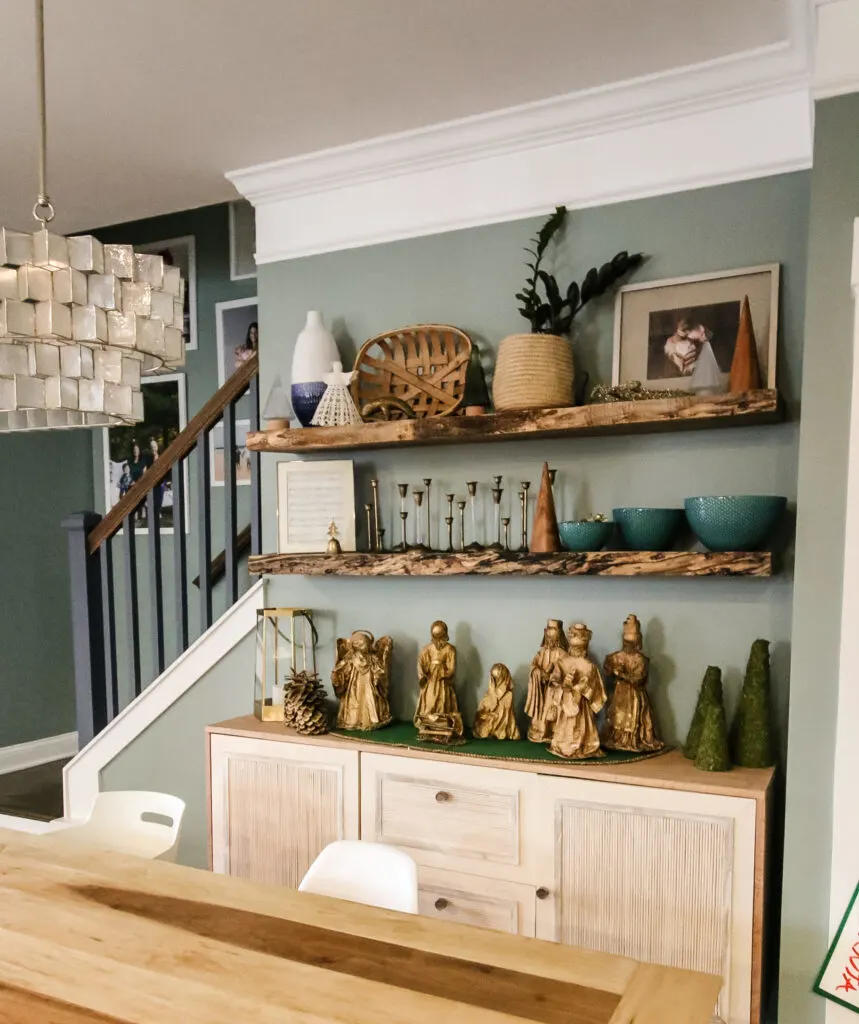 Bedroom wall trees
Don't forget the light up trees made of Christmas lights in our bedroom!
Outdoor Decor
Here's a look at the DIY and inflatable decor we put in our front yard!
Porch Trees
This year we have 2 outdoor artificial trees, one on each porch.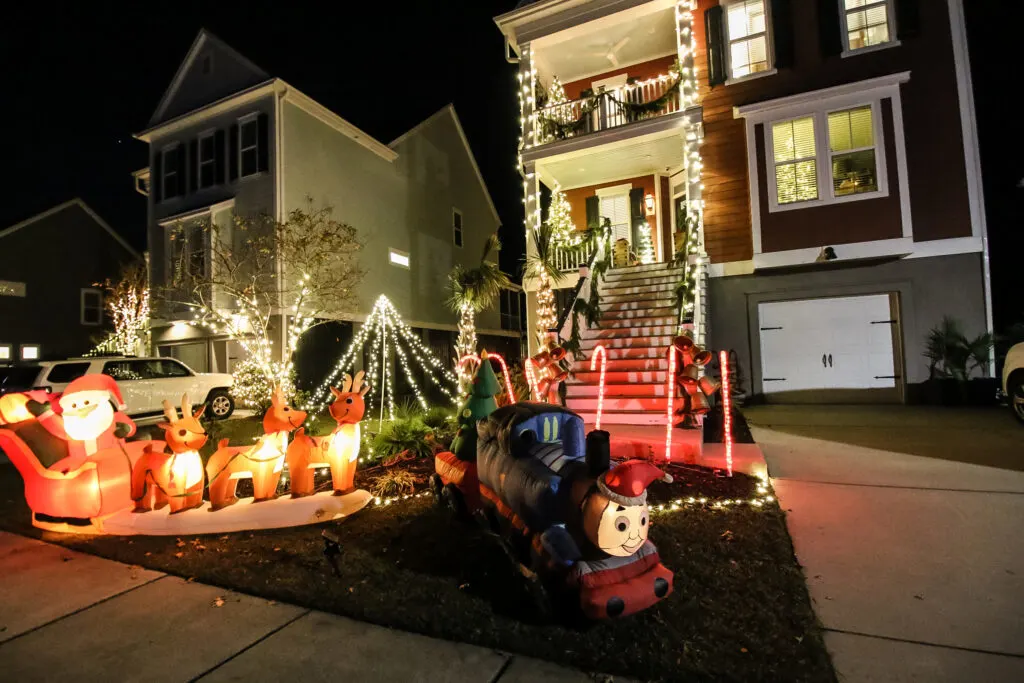 Truthfully, the bottom 1/3 of each one is burned out, which is why they were relegated to outdoor trees. But you can hardly tell through the railings and I love the look of the two trees!
Tree of lights
We created a PVC pole tree of lights in our front/side yard and it was an easy way to add height and lights to the space.
Lit up trees
Additionally, we wrapped string lights on our palm trees and crepe myrtle to further light up the front yard space. Still waiting on those palm trees to open…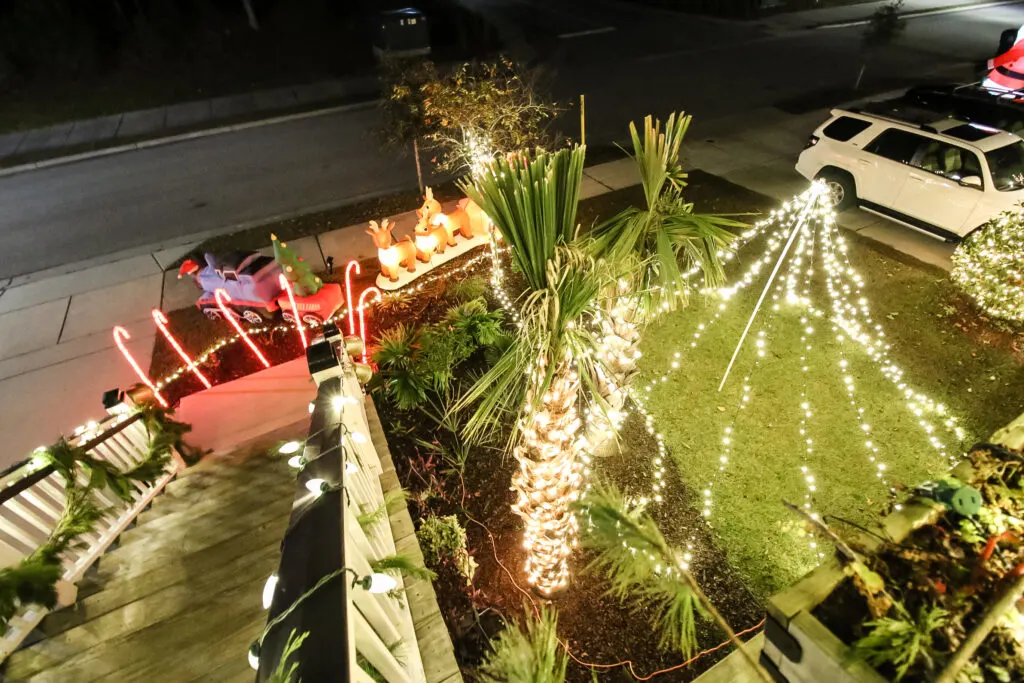 Inflatables
We have 2 inflatables for Christmas – a santa sled we've had for a few years and this year we added a Thomas the Tank Engine!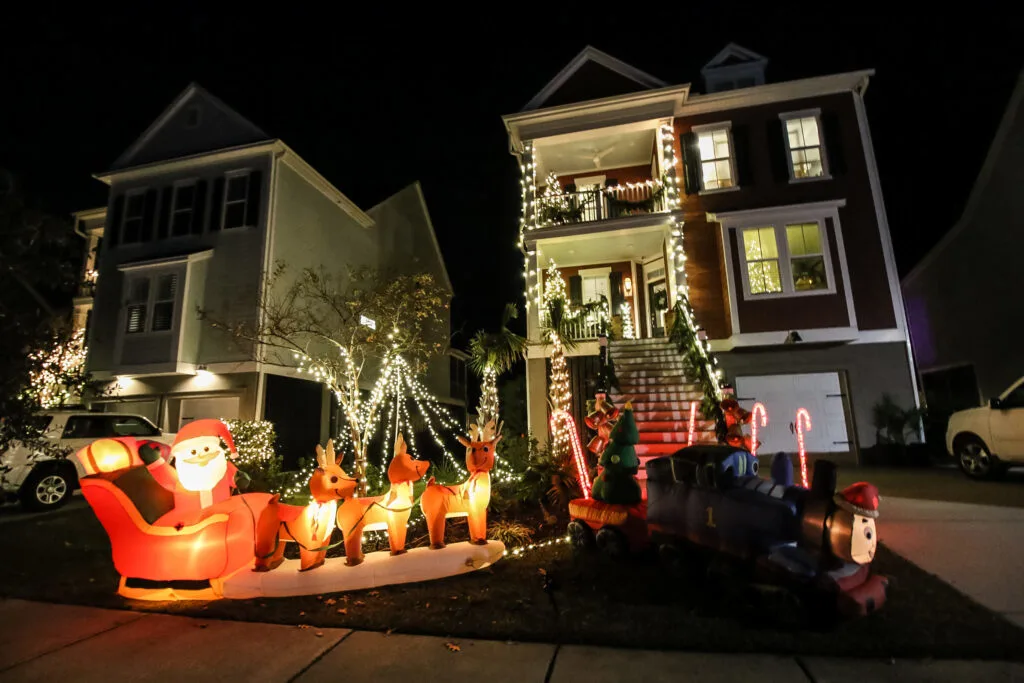 I bought this on ebay over the summer – if you want a discontinued inflatable, definitely shop in the summer when prices are way lower!
We don't really have a great space for inflatables like this, as we have a very narrow strip of grass, but the kids love them.
Oversized Jingle bells
We used plastic flower pots to create oversized jingle bells that hang at the foot of our steps. This is a perfect project to do with kids!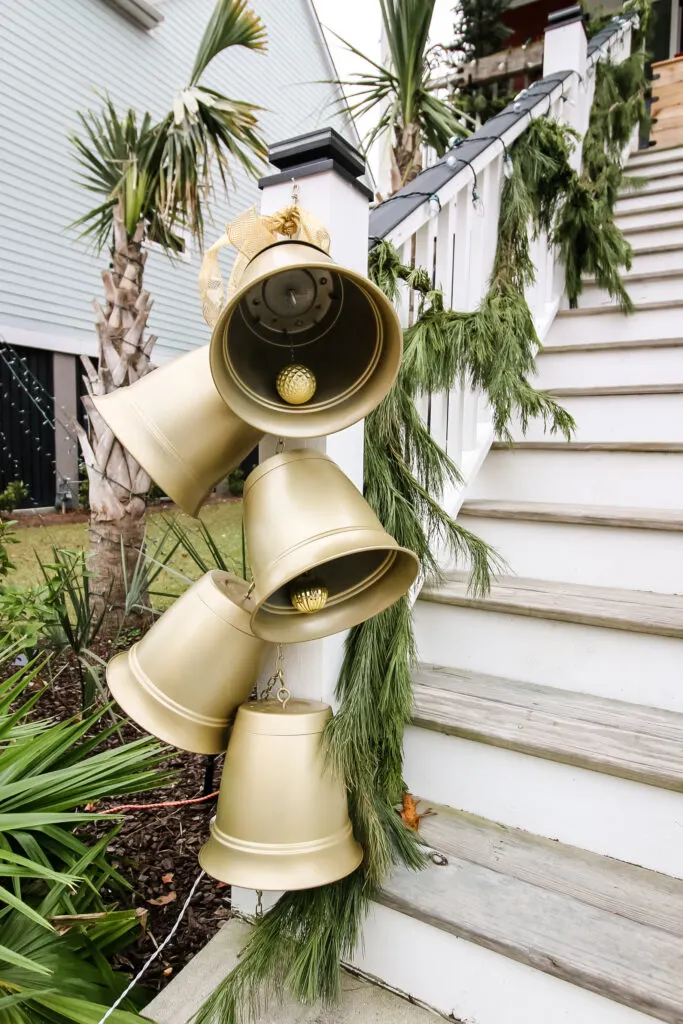 Garland
We string garland across all of our railings on our front porches and steps. This is live garland from Costco and I love the fresh smell and how it hangs.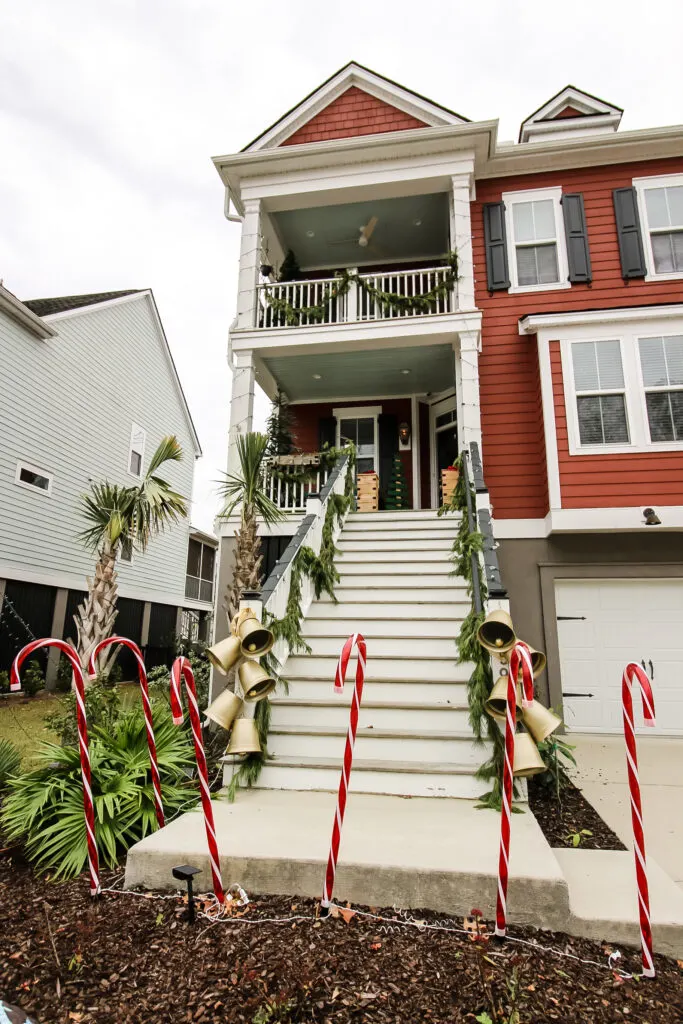 Plus, it's nice to not have to store that much garland in the off season!
Happy holidays! See you in 2023!