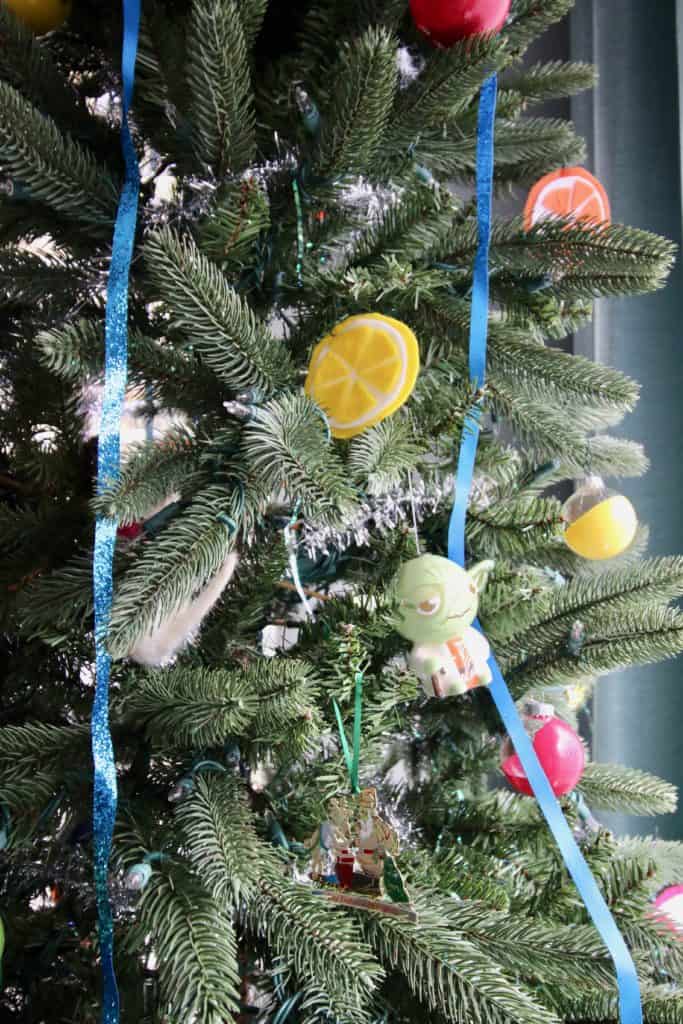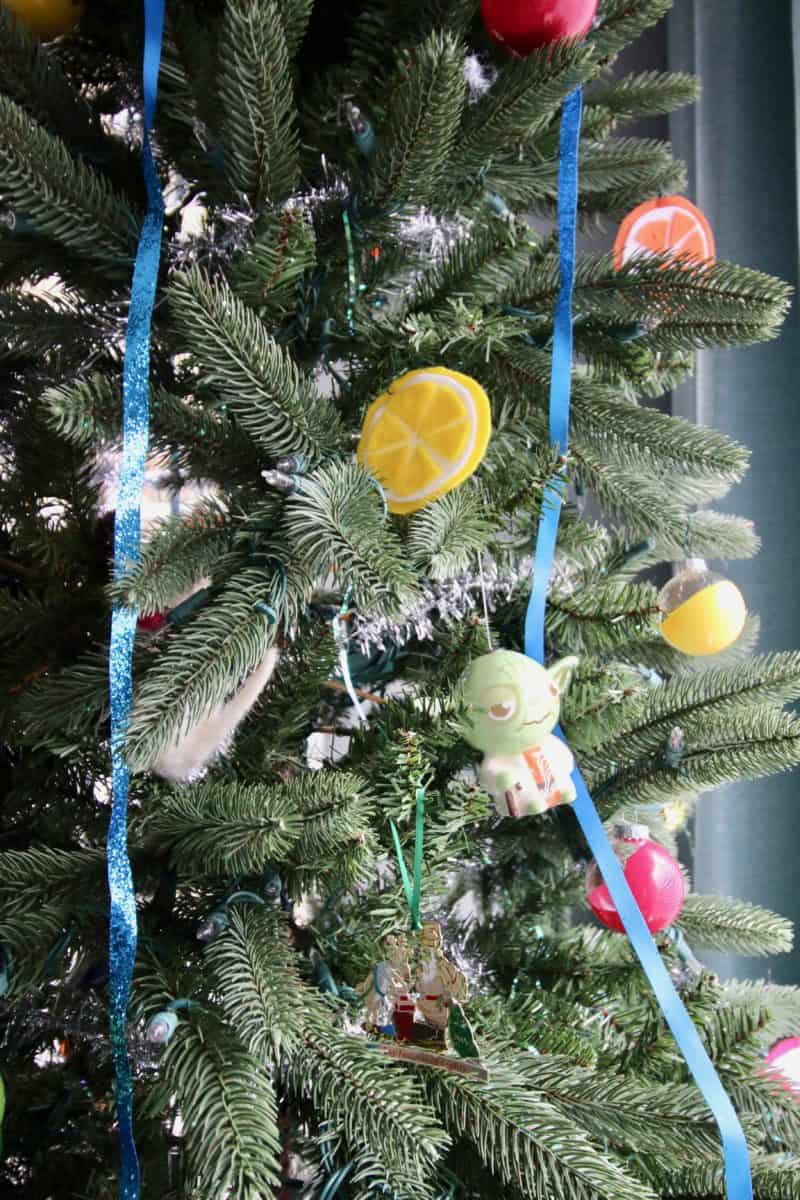 I am so excited to share our Christmas trees with you today. Our set up overall is very similar to last year in that we have 2 trees! I know, it's over the top and very extra, but it makes sense for us. I already own this faux tree – and have had it for 6 years! Sean's set on a real tree, but I see no need not to put up both since we already own the fake one. So, we have 2 trees.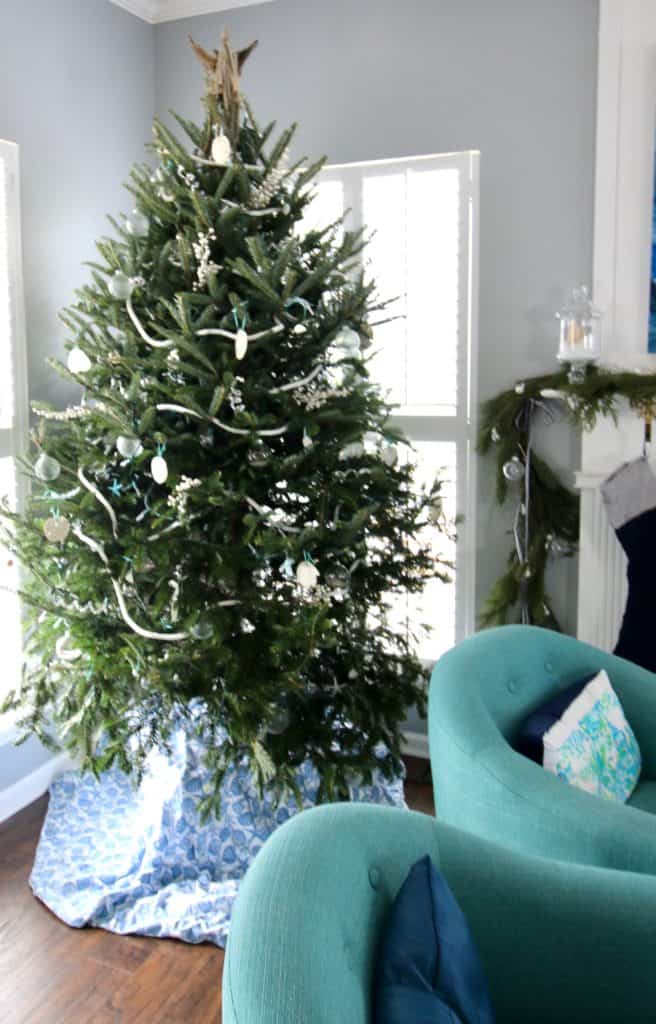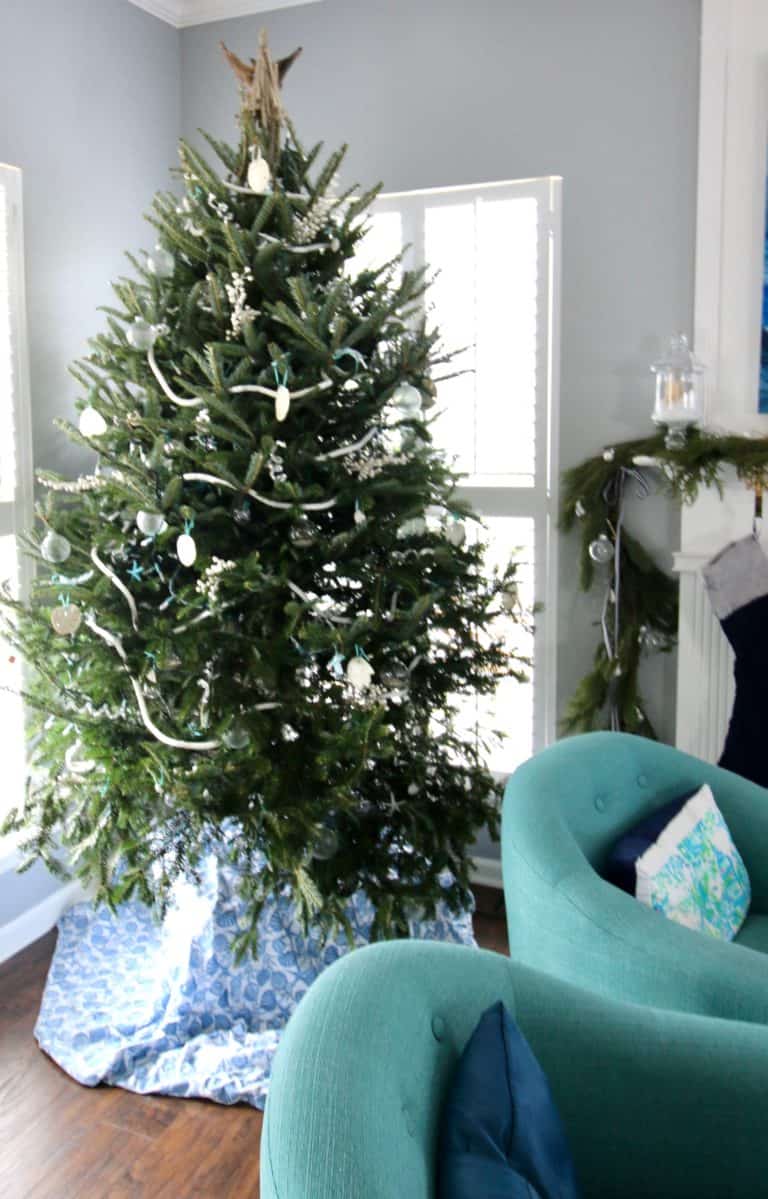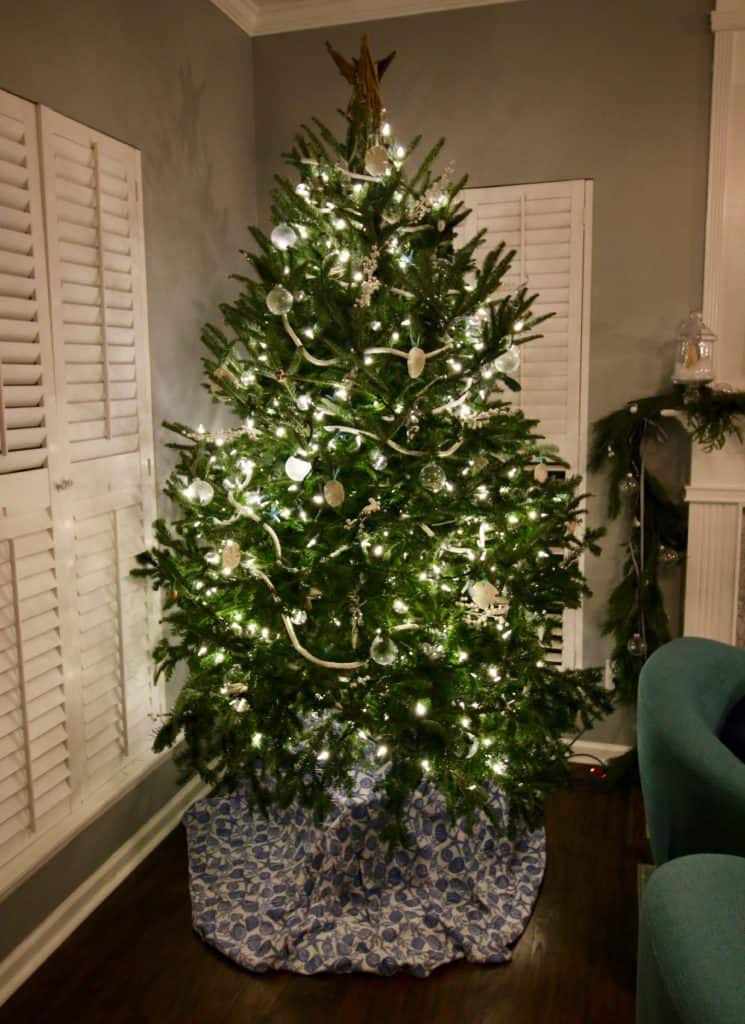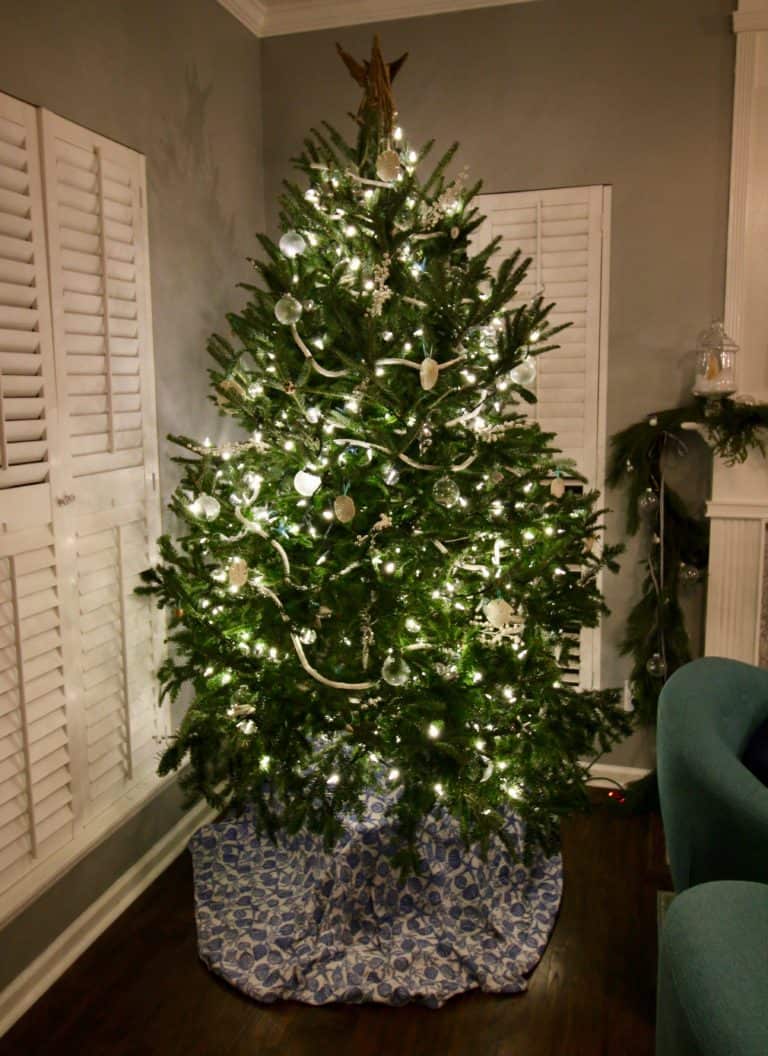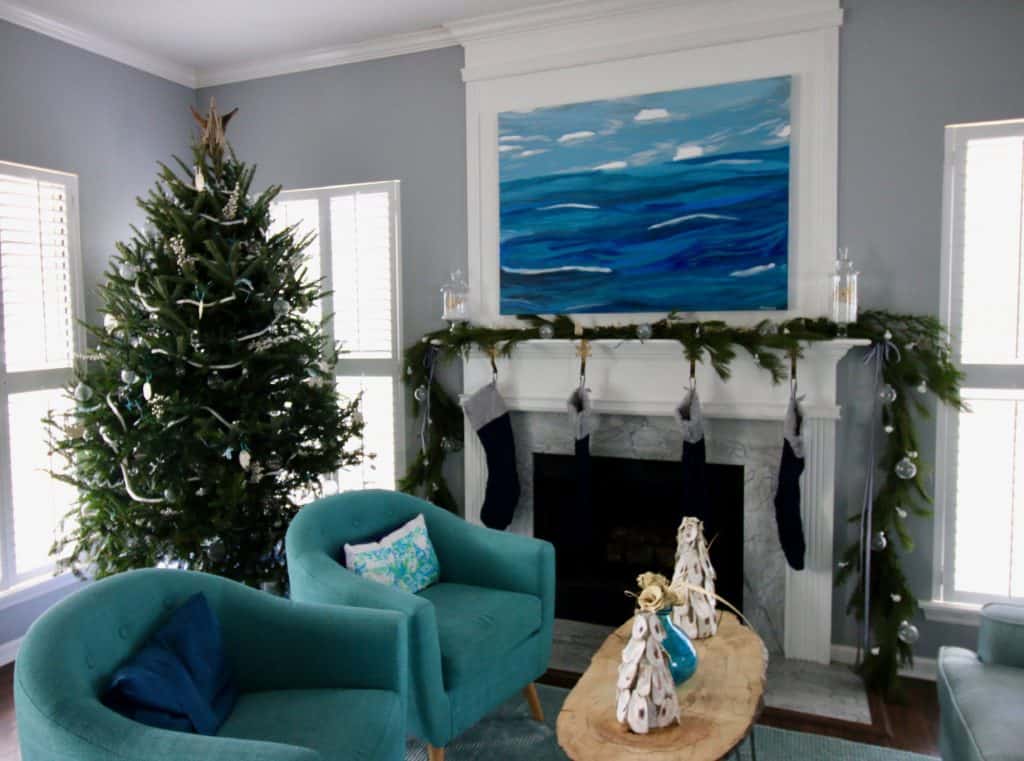 Our real Christmas tree is in our front room which has a coastal theme. It really blends in with the decor up there and is a lot of white, silver, and blue. We used our same sand and sea glass ball ornaments, and white rope garland. This year we added a lot of sand dollars (found this summer on the beach & dipped in polycrylic to keep them from breaking!) and also some little faux starfish that I painted blue and silver metallic. We also used our DIY drift wood angel tree topper which I love.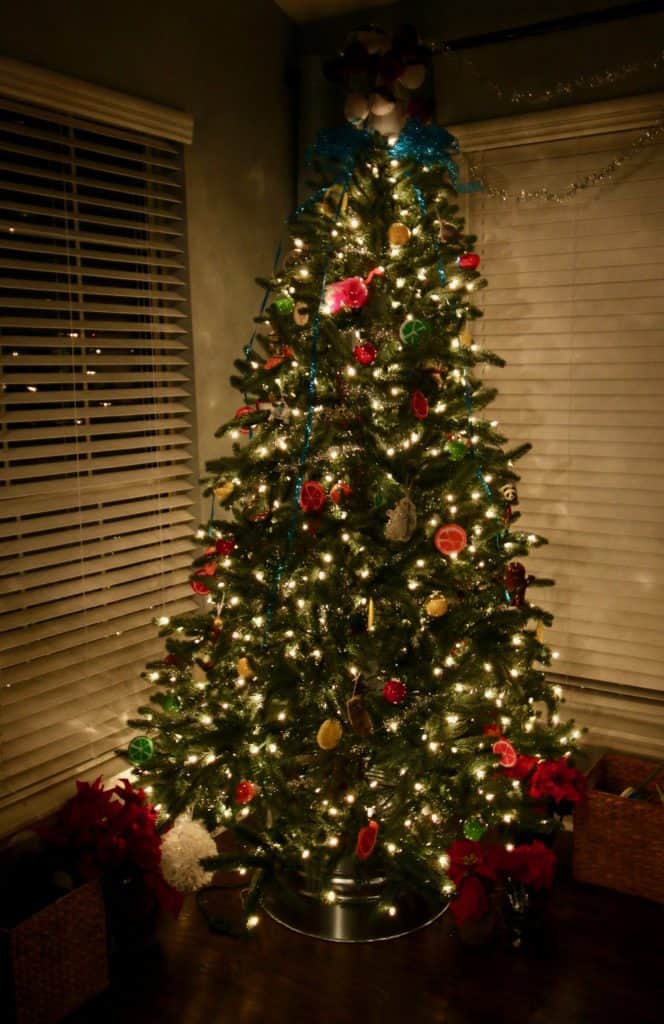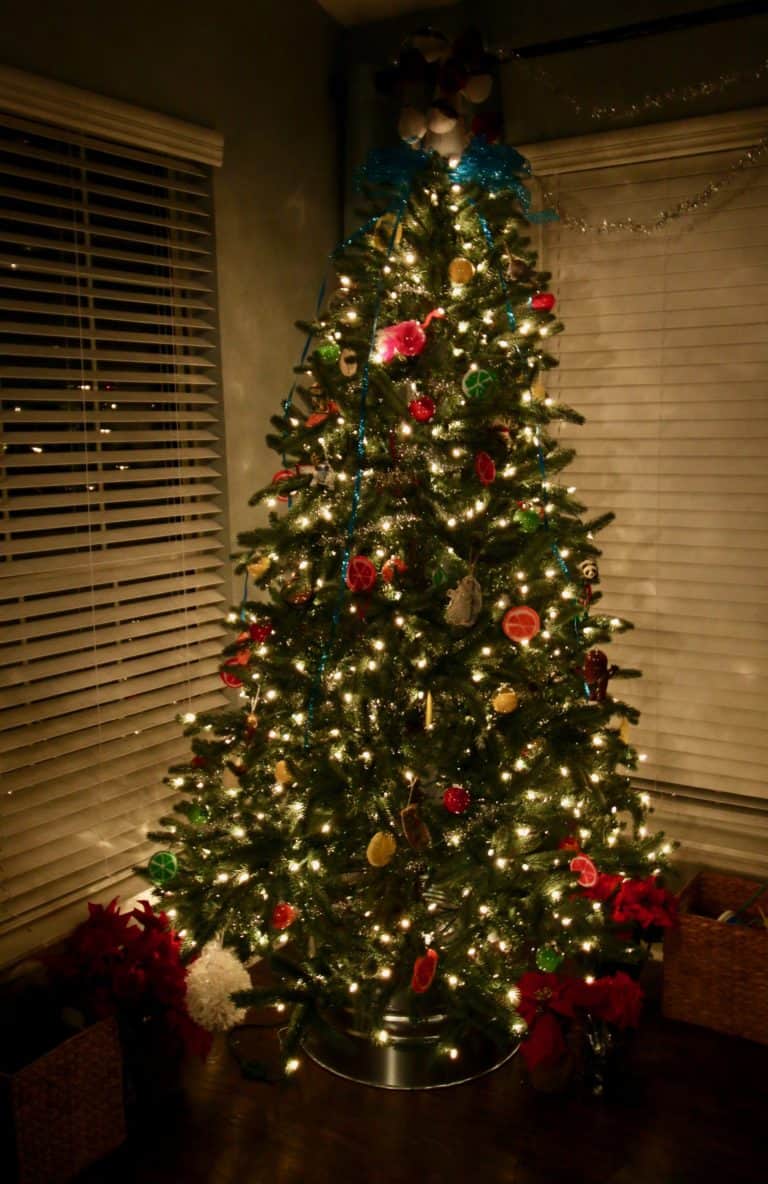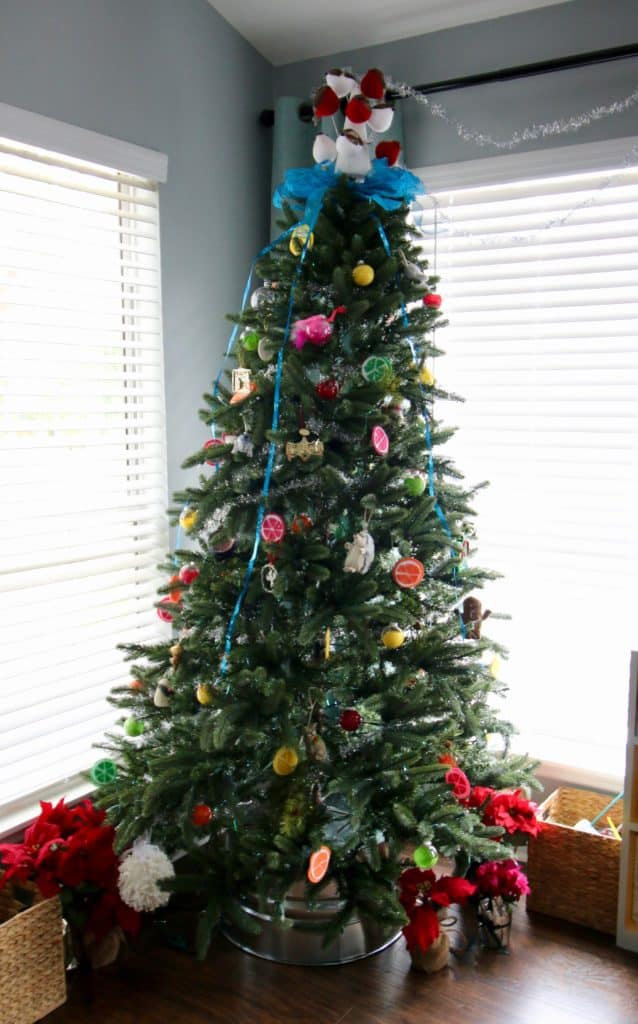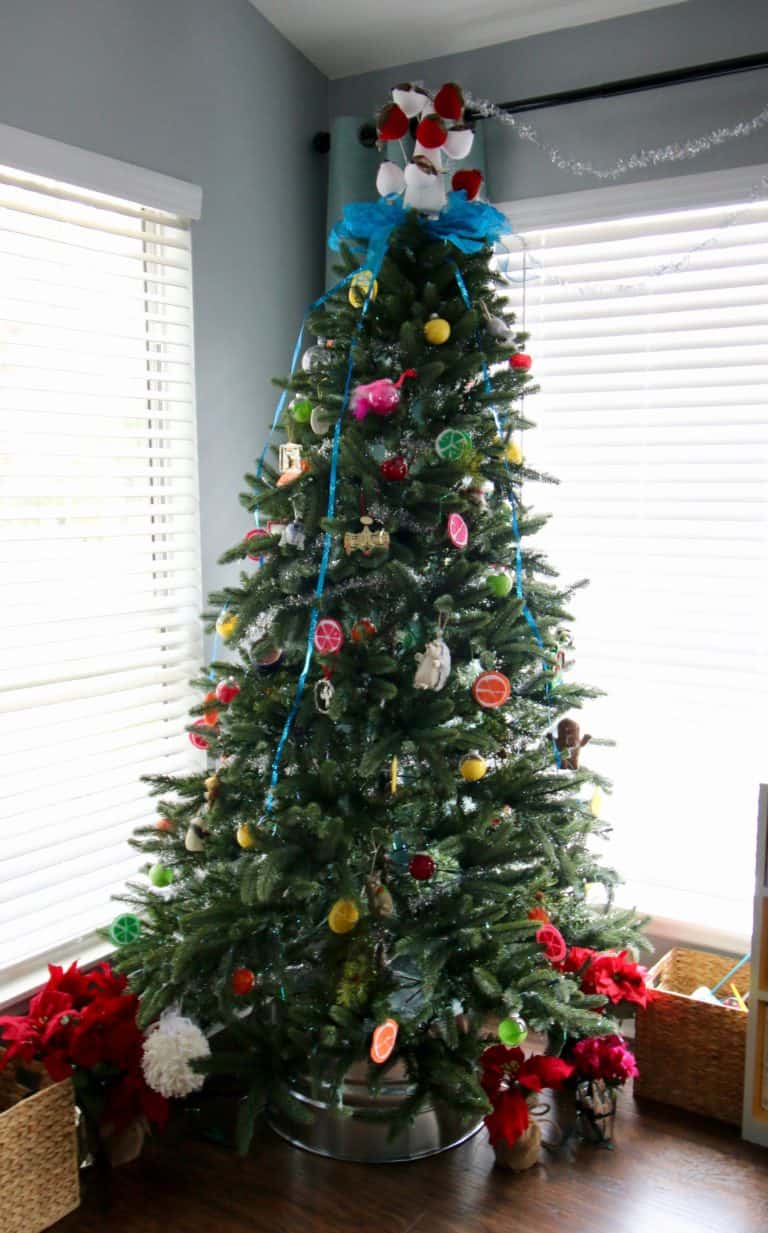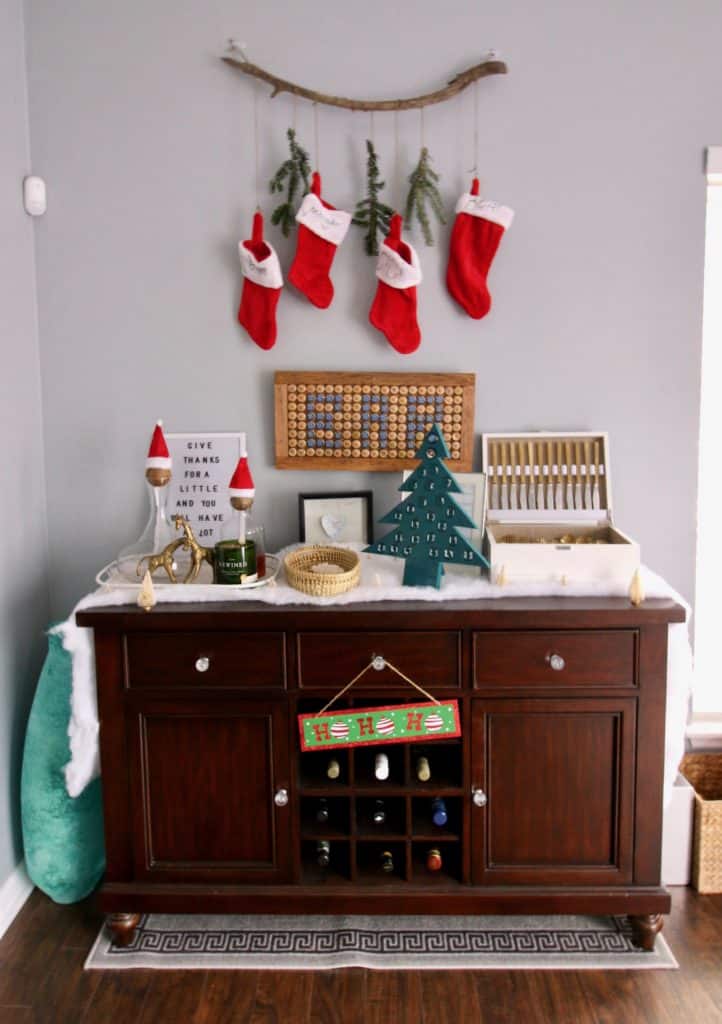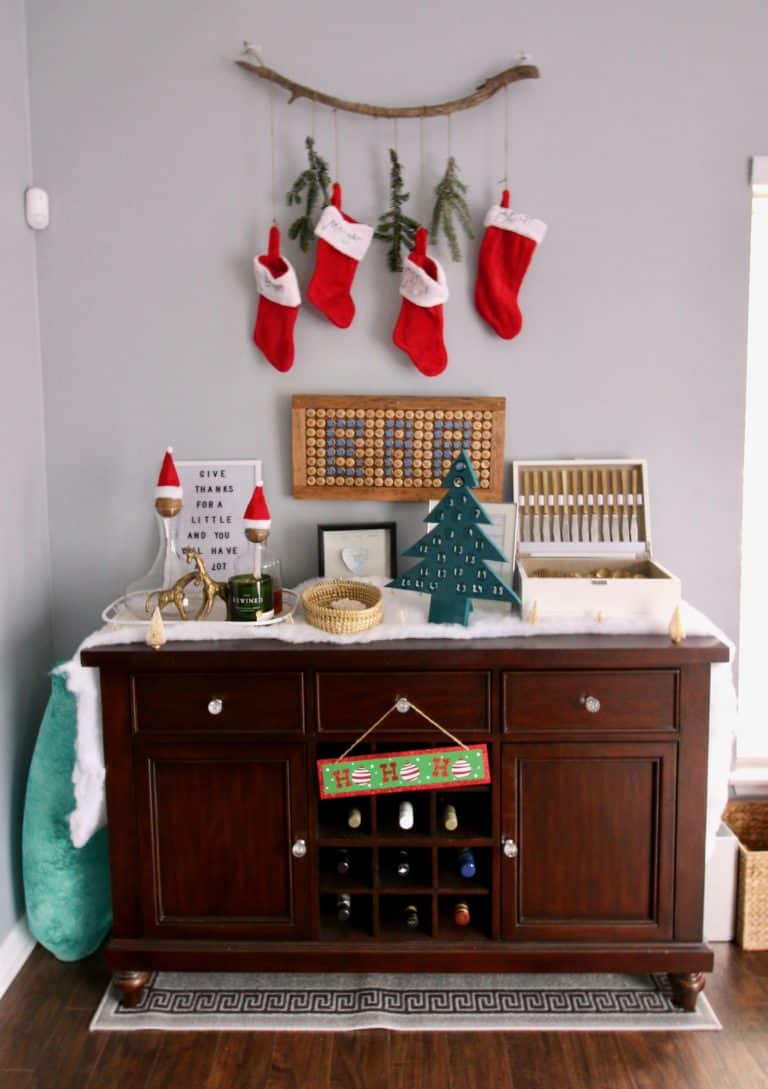 Our second tree, the faux tree, is in the sunroom. To be honest, at six years old (plus some, since I bought it second hand, who knows how old it is) it is looking a little worse for the wear. But dang are pre-lit trees easy! We deem this our colorful tree and decorate it with lots of kind of random ornaments. The felt citrus and colored balls I made in 2011 (pre-blog but I retroactively posted about them). The rest of the ornaments are sort of eclectic and many of them gifts, but some of my favorites are the felt animals which have been collected from West Elm mostly. The topper on this tree is a big blue bow + the bird tree topper that Sean made for us last year!
2 trees seems over the top, but it really makes our home feel festive AF. We are loving it! Check back in later this week for how we DIYed the colorful tree's tree collar and for details on our holiday mantel!
Welcome To Our First Annual Christmas Tree Decor Blog Hop!!
We have 52 talented bloggers joining up to share their decorated Christmas Trees with you! So grab a cup of your favorite beverage, settle in and get comfortable because you are going to love the beautiful Christmas Tree Decor shared today!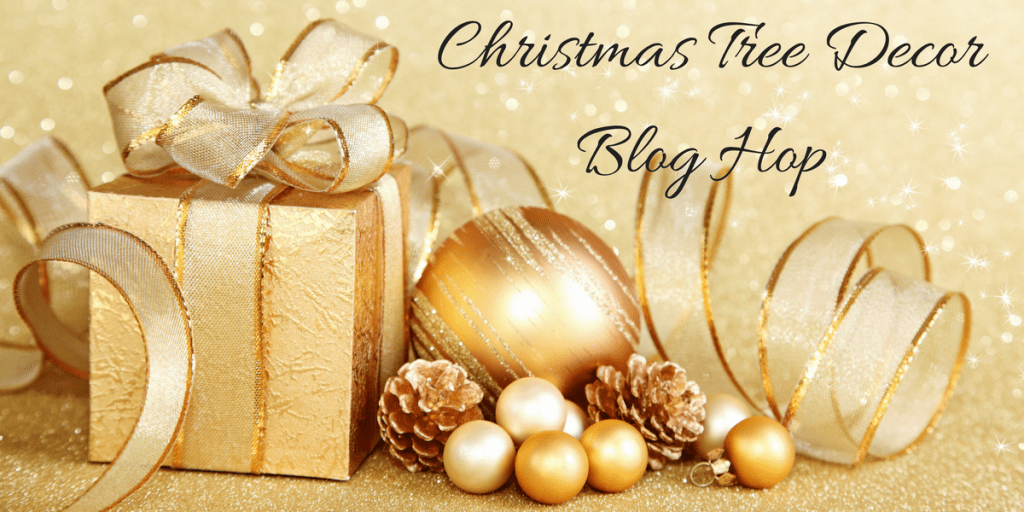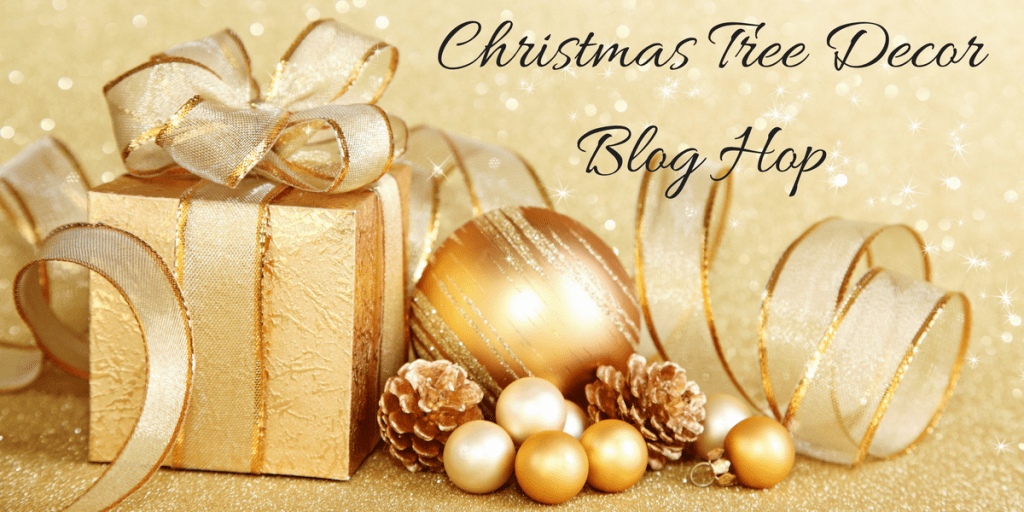 Let's Meet The Hosts!
Michelle | Our Crafty Mom | Allison | Upright and Caffeinated
Angela | Simply Beautiful By Angela
Angie | Knick of Time | Annie | All Things Big and Small
Brittany | Our Home Made Easy | Chloe | Celebrate and Decorate
Cindy | County Road 407 | Colleen | Life on Kaydeross Creek
Denise | My Thrifty House | Eileen | Sand Dollar Lane
Erlene | My Pinterventures | Iris | Iris Nacole
Jaclyn | The Dotted Nest | Jeannee | Centsably Creative
Vicki | 2 Bees In A Pod |Jennifer | Oh Fiddle Dee Dee
Jessica | Designers Sweet Spot | Jolene | Create Pray Love
Kelly | North Country Nest | Kim | Day to Day Adventures
Kim | Made In A Day | Kristie | Teadoddles
Leanna | Faeries and Fauna | Lorelai | Life With Lorelai
Lynn | Lynn's Everyday Ideas | Maria | Simple Nature Decor
Marie | The Inspiration Vault | Mary | The Boondocks Blog
Meegan | What Meegan Makes | Meg | Green With Decor
Melissa | Welcome To The Woods | Donna | Modern On Monticello
Morgan | Charleston Crafted | Nancy | Slightly Coastal
Nicole | Madness and Method | Pam | P.S. I Love You Crafts
Sam | Raggedy Bits | Sharon | Little Bits Of Everything
Shirley | Intelligent Domestications | Stephanie | Abbotts At Home
Stephanie | Crafty Ladybug Creations | Sue | A Purdy Little House
Tara | Lehman Lane | Wanda | From House To Home
Yami | The Latina Next Door | Jenn | Loveland Lodge
Christene | Keys To Inspiration | Libbie | A Life Unfolding
Jaclyn | One Thousand Oaks | Jennifer | 2 Bees In A Pod | Sarah | The Project Pile
Now let's check out the rest of the beautiful Christmas Trees!