We love to go big with our homemade Christmas decor every year. Each year, we incorporate projects we've done in the past and add new ones to the mix. We have had a ton of different Christmas tree themes over the years and try to coordinate our decor around that. This year, we went with a pastel theme for our tree and worked things around that. Check out our decor for the year and see if anything inspires you!
Indoor Christmas Decor
Our indoor Christmas decor is a good mix of new and old this year. Starting with the tree, we went with a pastel theme with white accents. We used pastel ball garland and put in our Christmas snowball ornaments. The tree itself is inside our box stand that elevates the tree by a foot.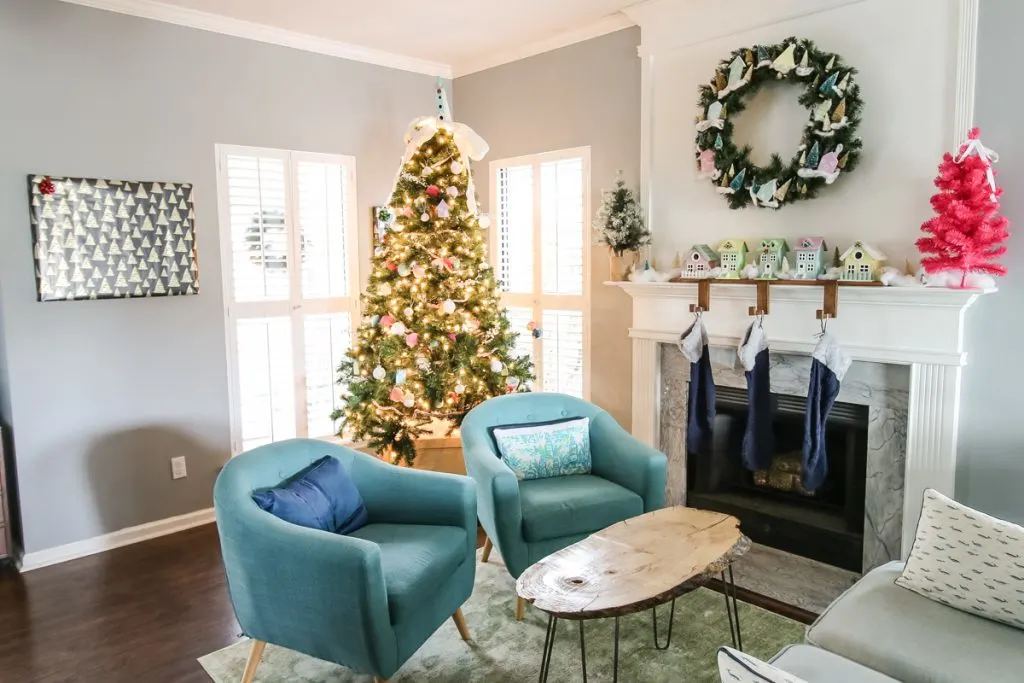 We have two types of snowball ornaments, including plastic balls that we painted with DecoArt's snow paint and fur snowballs (coming on Thursday!) we made by hand.
The snow paint was easy to dab on. We also added glitter to give it a shiny snow look. The fur balls were easy to make with some fabric and stuffing and a few stitches.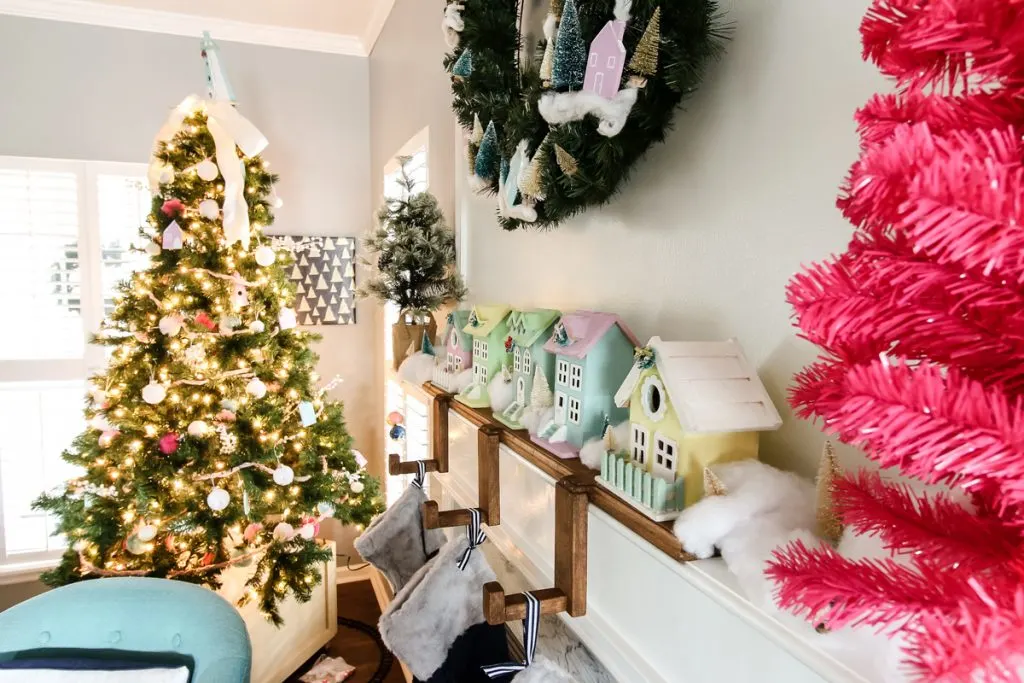 On our mantel, we started with our new stockings holder that we just made. It's perfect for displaying our little snow-covered houses.
These houses were pre-made birdhouses from Michael's that we painted and added adornments to. We love how the whole thing comes together.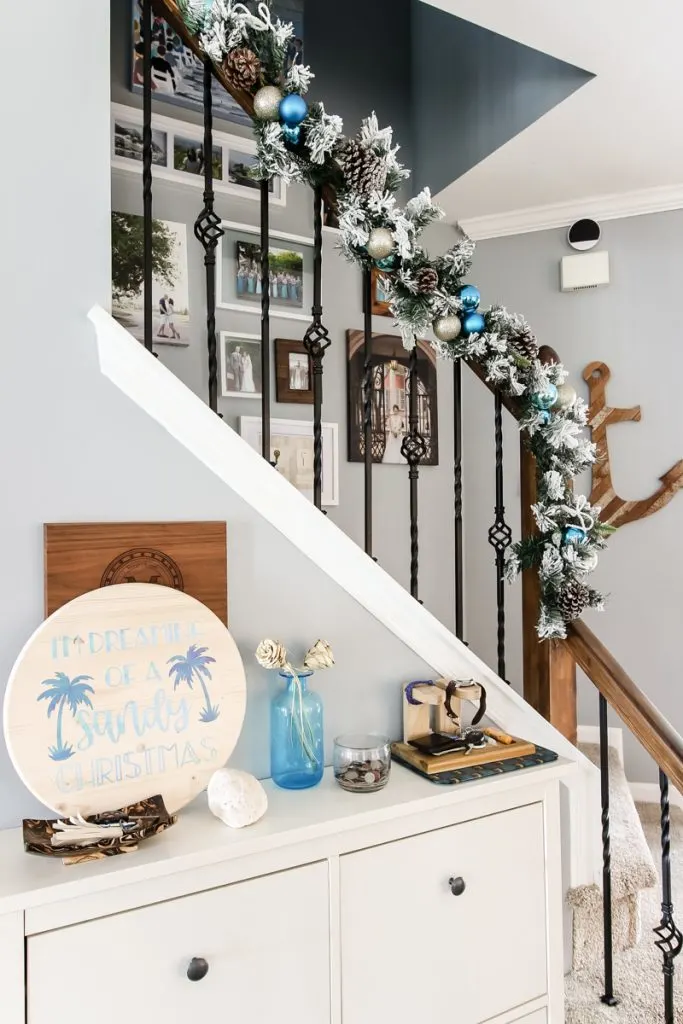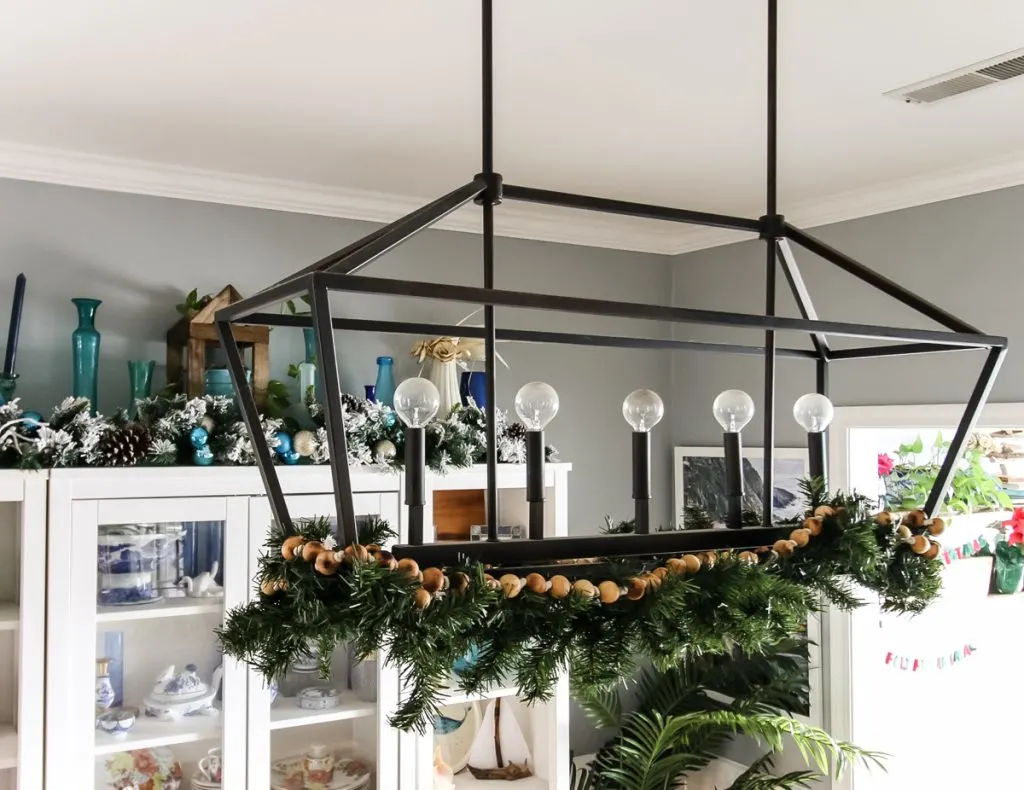 Over our dining room table, we hung faux garland around the light fixture and then strung up our wood bead garland for a layered look.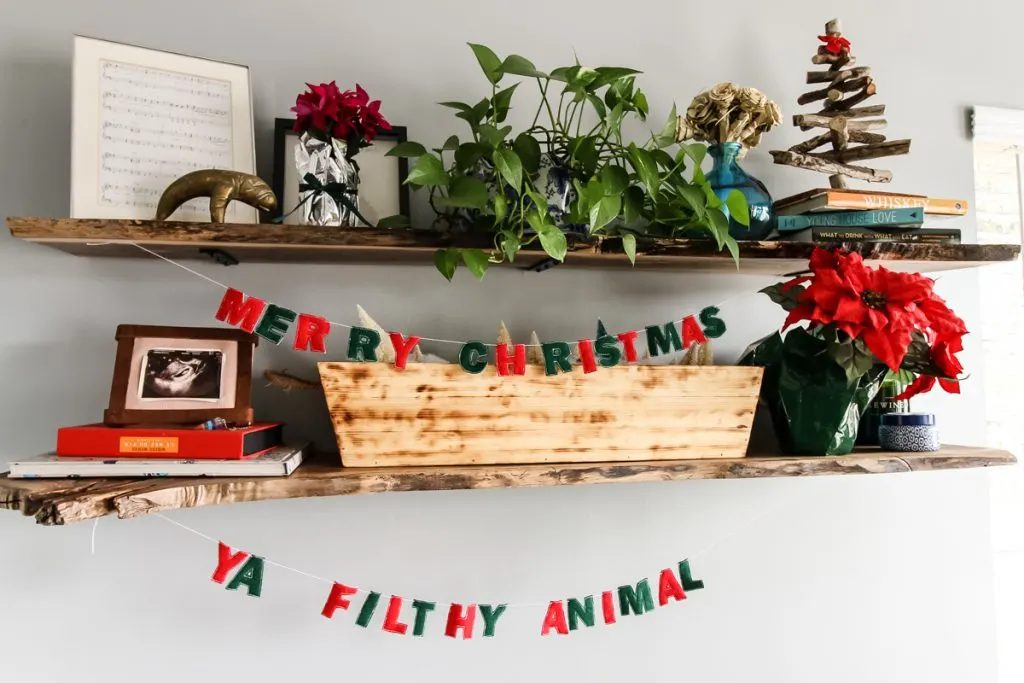 In our sunroom, we did everything on our live edge shelves. We hung our felt letter garland and put up our wooden trough centerpiece and driftwood Christmas tree.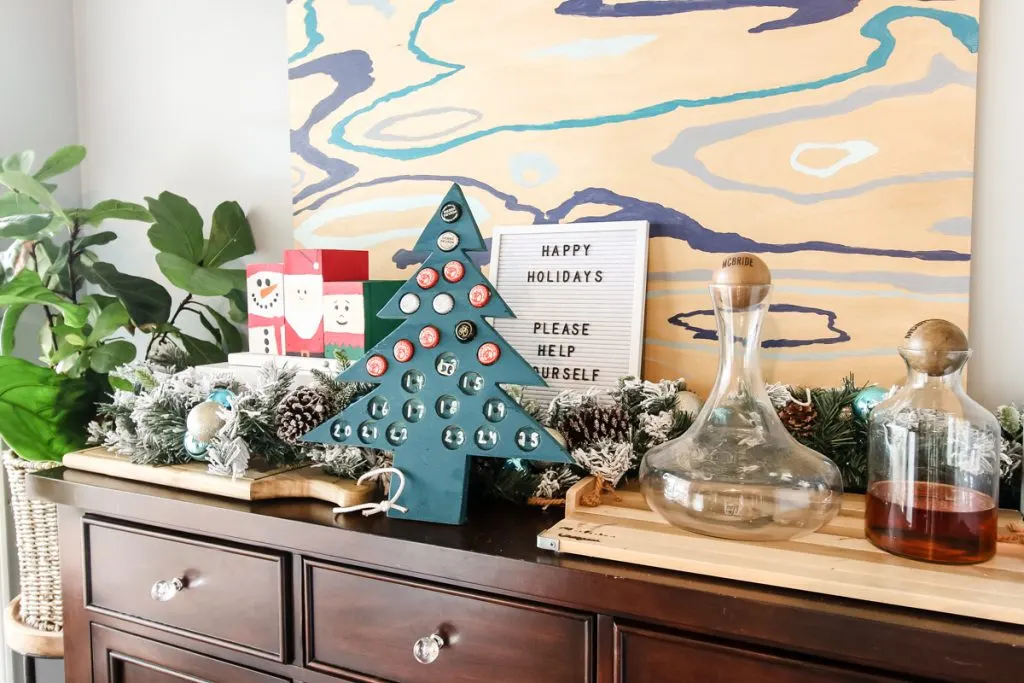 Finally, over on the bar, we laid out some garland as the backdrop for a couple of our handmade pieces. We have our Christmas painted silverware caddy and our bottle cap advent calendar. Both of those were extremely quick projects that you can make with very few tools and a little paint!
Overall, we LOVE our indoor decor. We spend each day feeling very much in the holiday spirit.
Outdoor Christmas Decor
Our outdoor decor is a lot like it was last year. We hung up our wreath from Home Depot that was part of our overall outdoor last year and used the garland inside.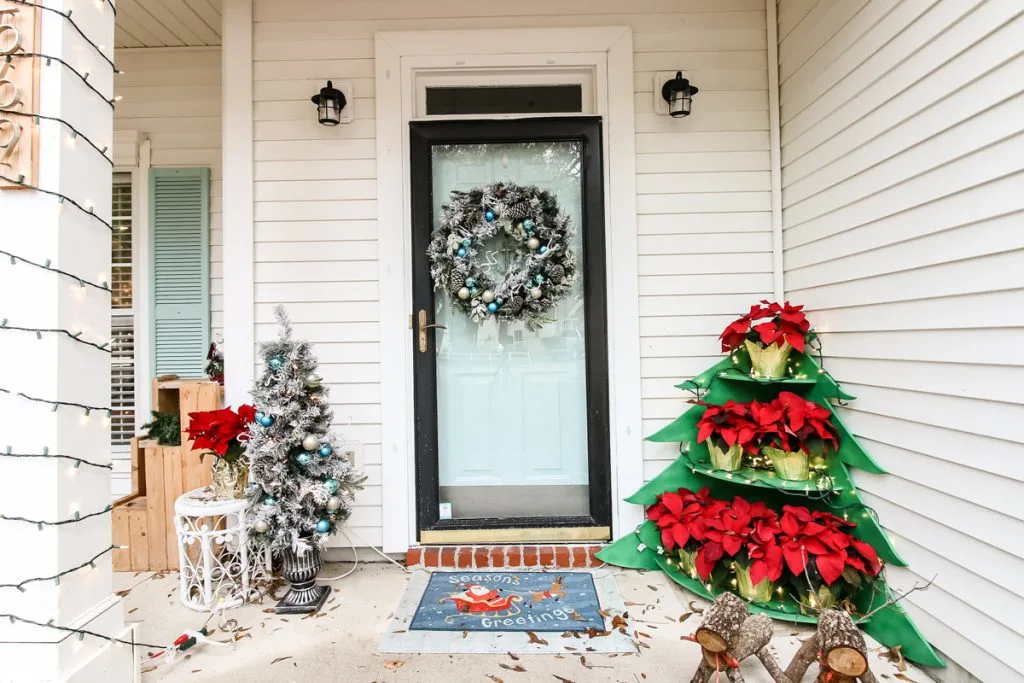 Also on our porch is our new Christmas tree poinsettia stand. We LOVE how this turned out and it works so well for adding lighting and color to our porch.
The last DIY on our porch is our wood slice reindeer. These two little friends were super easy to make with some spare firewood.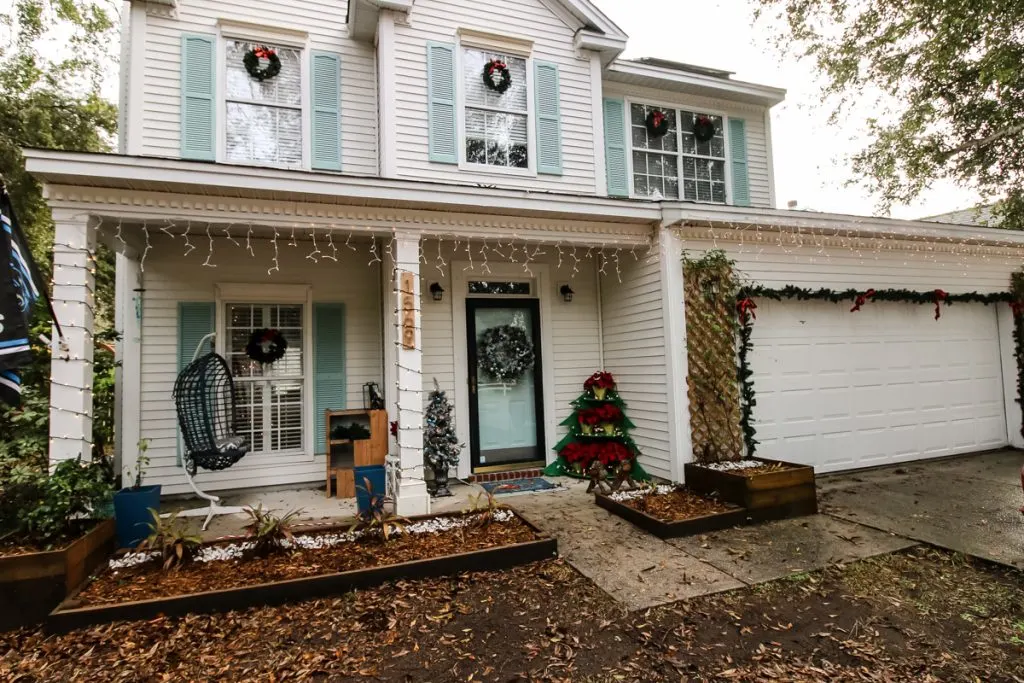 The rest of our house is just garland, wreaths on the windows and lights. We like having the wreaths and garlands with the poinsettia stand to look good during the day, then the lights take over at night.
We hope our decor helps put you in the holiday spirit! We're excited to host family next week!