Come on in and tour our Christmas indoor holiday decor for 2016!
One thing that we seriously talked about when house hunting was where the Christmas tree would go. I mean, it wasn't make or break it, but picking a good Christmas tree spot while doing a walk through instantly made a place feel like a home.
Well, this year we went a little crazy and got two Christmas trees, and interspersed our other decor around the first floor.
Coastal Tree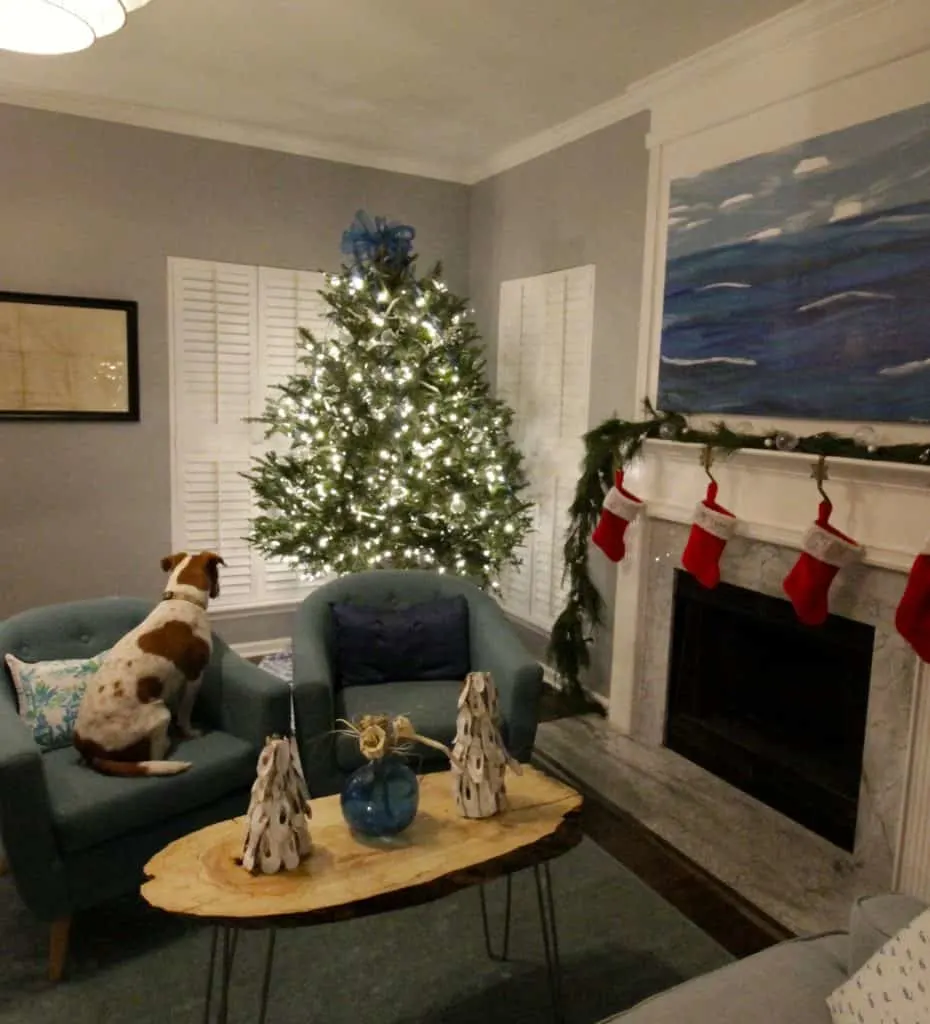 I decided to surprise no one and bring back my coastal chic blue and white tree. Sean calls it "Classy Christmas" but I really just love the beachy vibe.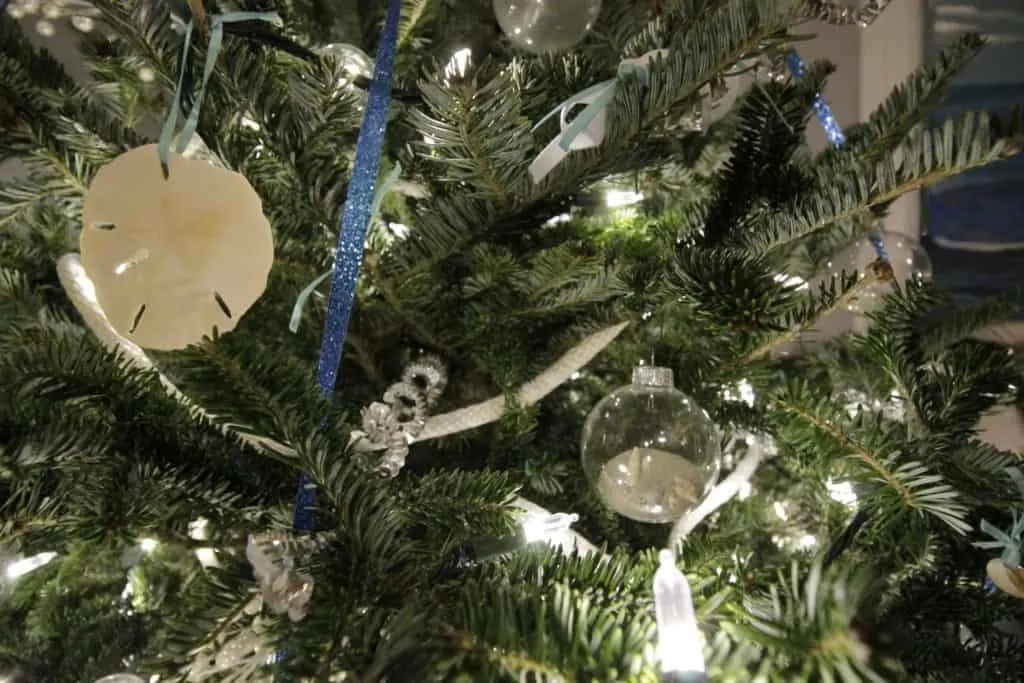 It fits in perfectly in our blue formal living room. The tree itself was a 7-8 foot tree from Costco for $32.99. Costco keeps their trees wrapped up so you don't see them until you get home, but this one was very full.
However, it has been dropping a lot of needles so we will see how well it lasts.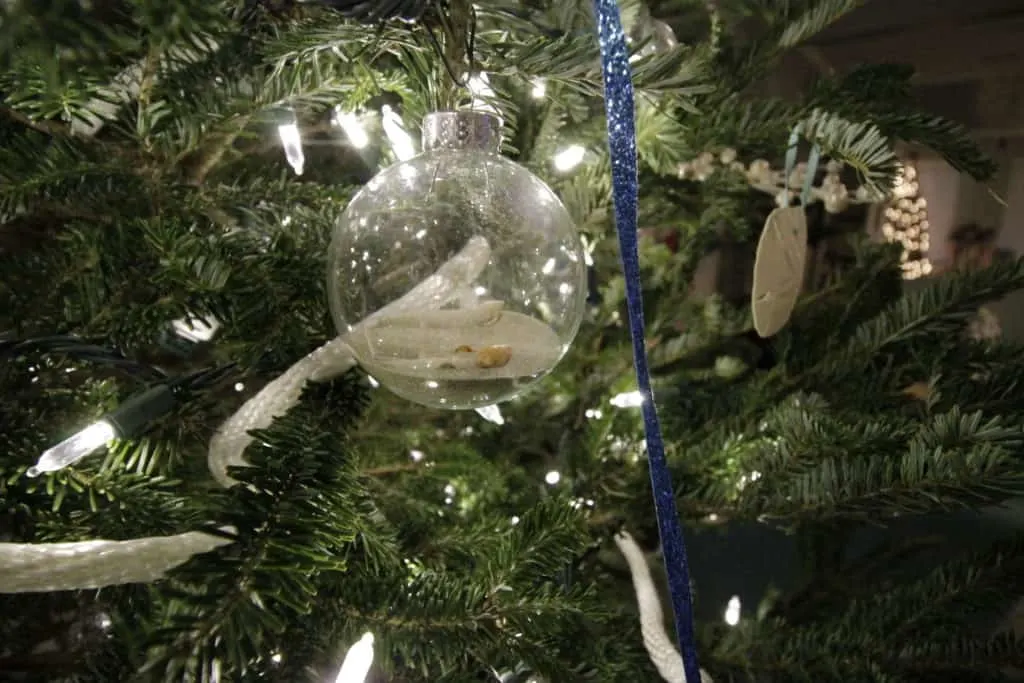 I decorated it with small lights (4 strands) and globe lights (2 strands), sand and shell ornaments, faux seaglass ornaments, rope for a garland, and pearl and silver picks.
I used a big blue bow on the top and a tablecloth for a tree skirt, since we had to put it on a box to make it look taller.
Mantle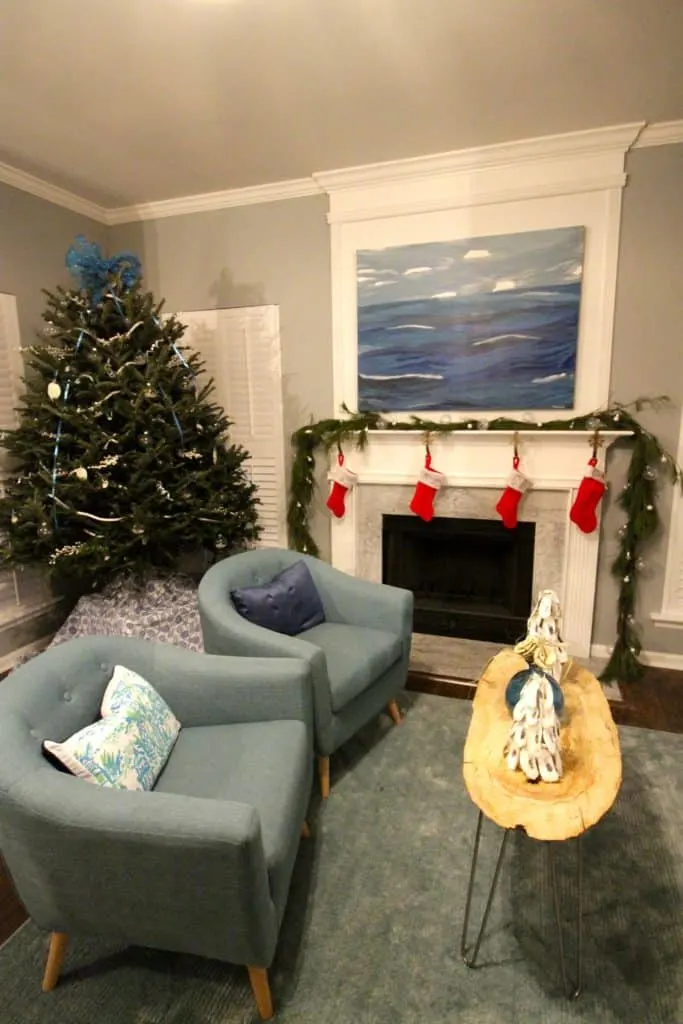 My big excitement for decorating was actually to have live garland on the mantle. We got this long strand at Costco for only $15 and split it between the mantle and staircase.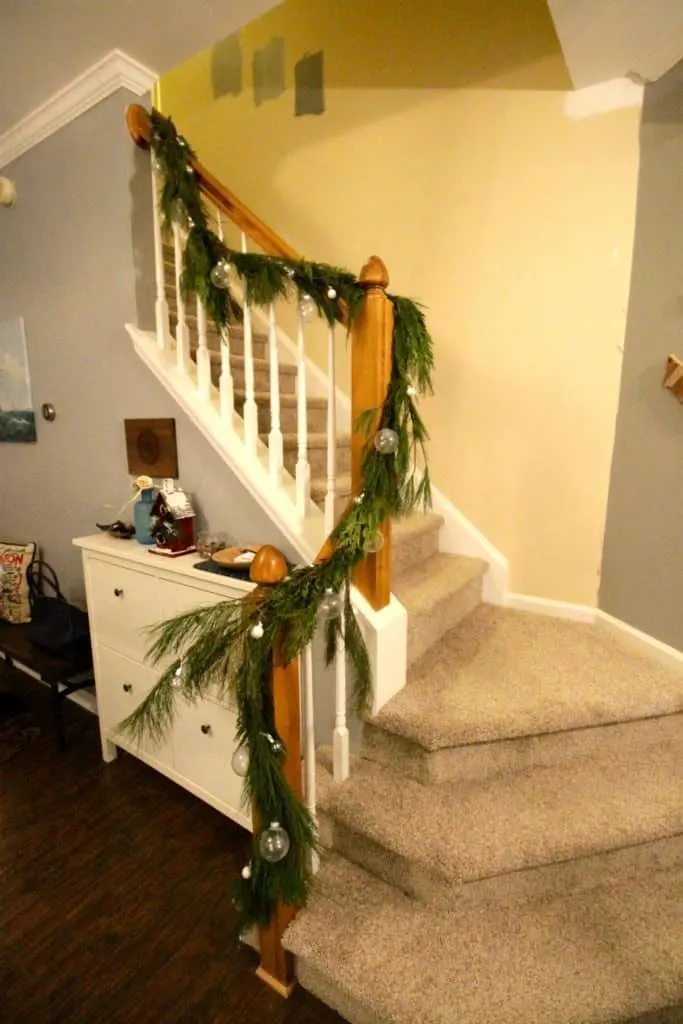 You can see our best tips for keeping live garland fresh here!
I actually cut the mantle piece in half and wired it together in the middle so that both sides would be pointing down and fall nicely.
I moved all of our sea glass vases (I was worried about the cat pulling the garland) and added 2 sizes of plastic shatterproof ornaments to the garland. I really, really love this look!
Staircase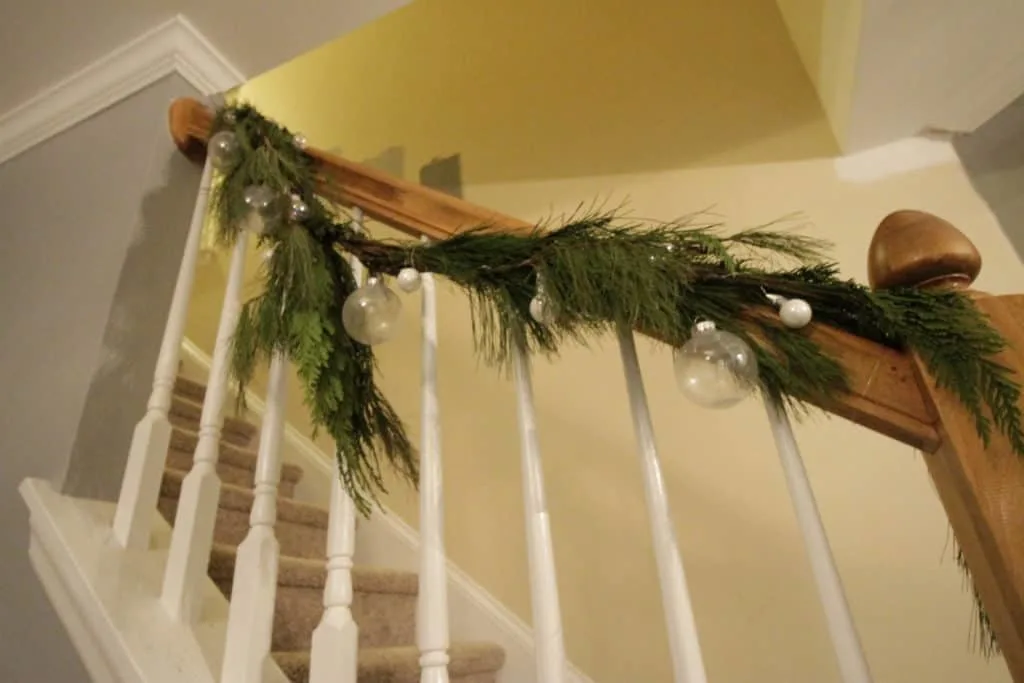 I ran that same garland on the stair case, using thin floral wire to attach it. It didn't look good twisted along the handrail so we just let it swoop. The small plastic cat-proof balls are the perfect touch!
Dining Room "Mantle"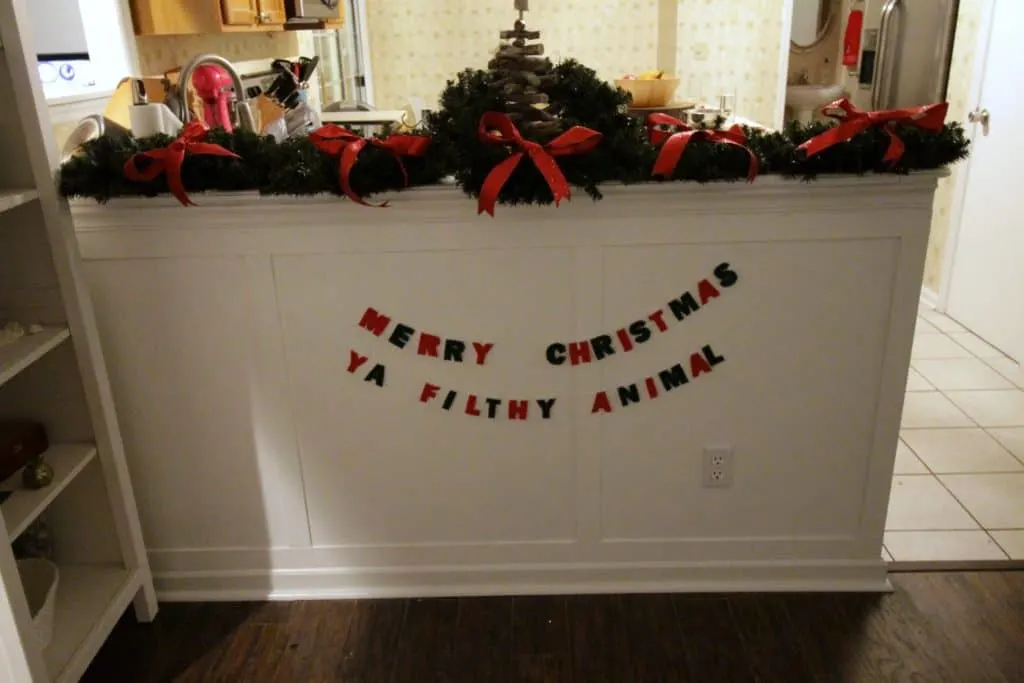 We don't have a dining room table to decorate (yet! Coming very soon!) so instead I decorated the kitchen bar.
Just a few little holiday nick nacks to festive it up, as well as my Merry Christmas Ya Filthy Animal DIY Felt Garland. Ho ho ho.
Colorful Tree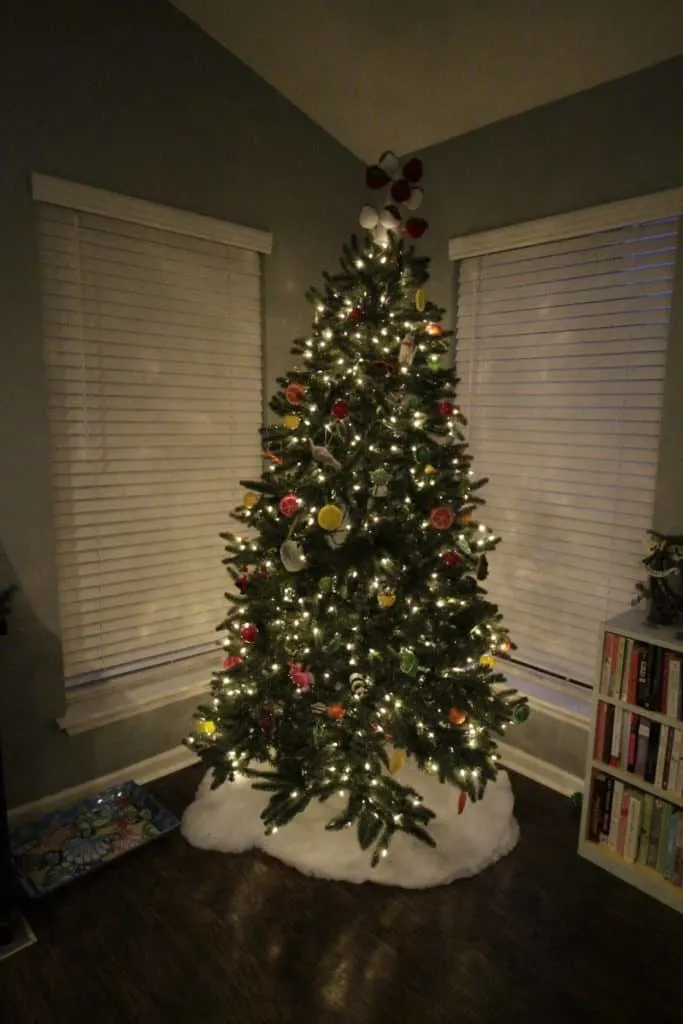 Our second tree is the faux tree that I've had for years and bought one July at a thrift shop for $20! I'm truly a faux tree girl (so much easier, I think they look better, and much more cost effective) but Sean was crazy for a real tree.
I made us move this one and store it so it just made sense to put it up, too.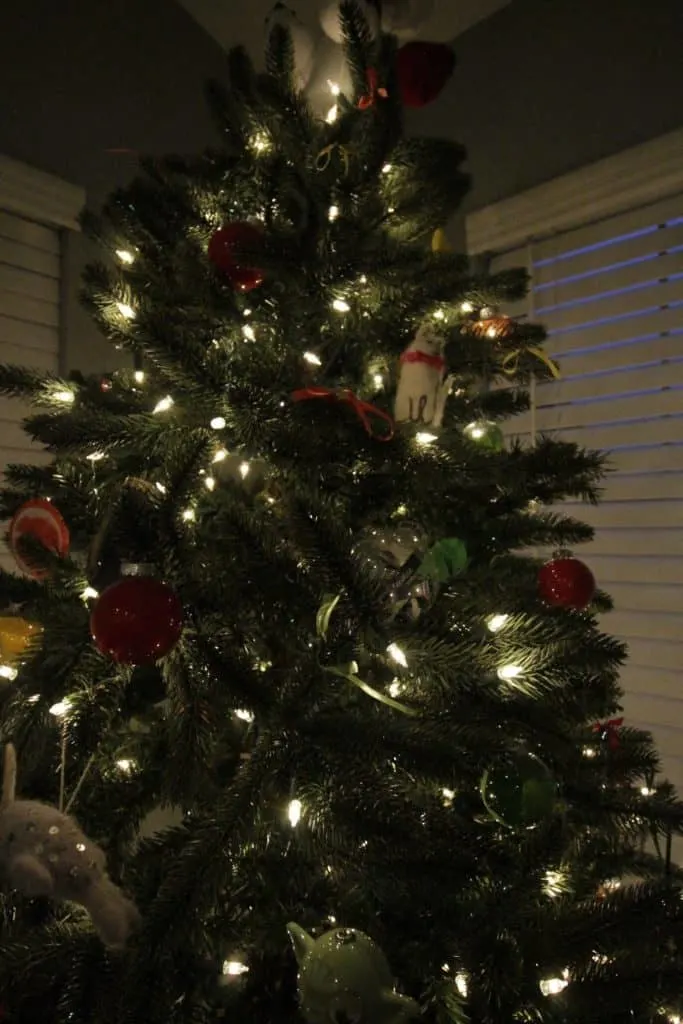 We actually covered this with all of our non-blue and white coastal decor, which means a lot of felt or stuffed animals and the delicate gold ornaments that Sean has taken to picking up on vacations.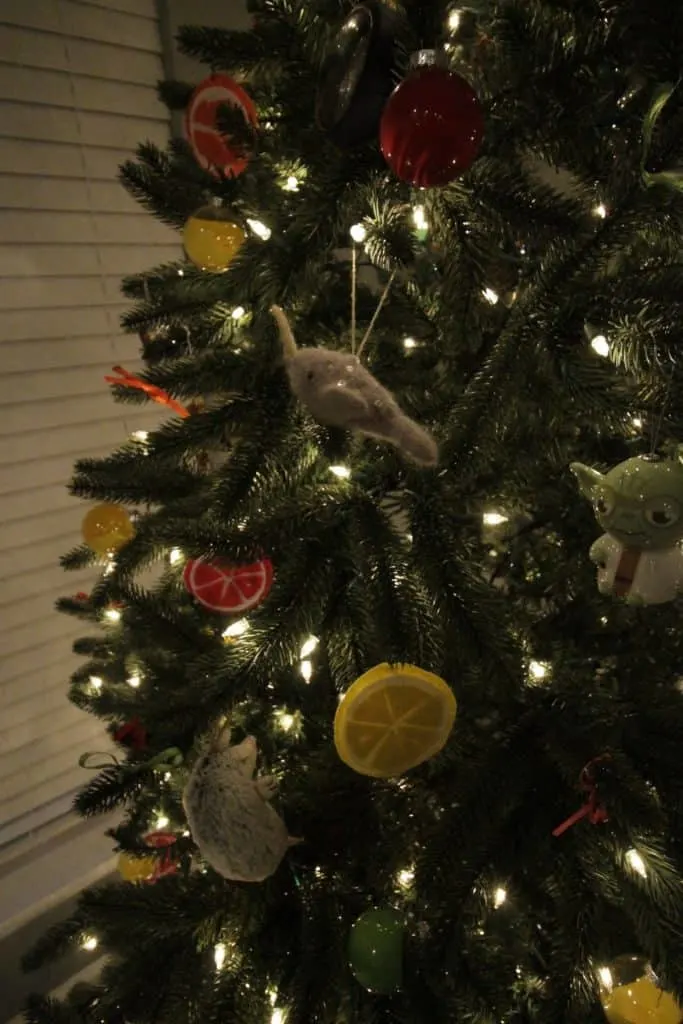 Plus, the felt citrus and painted balls that I made way back in 2012! As much as I get heart eyes for a themed tree, this fun and playful one is making me very happy.
Sunroom Decor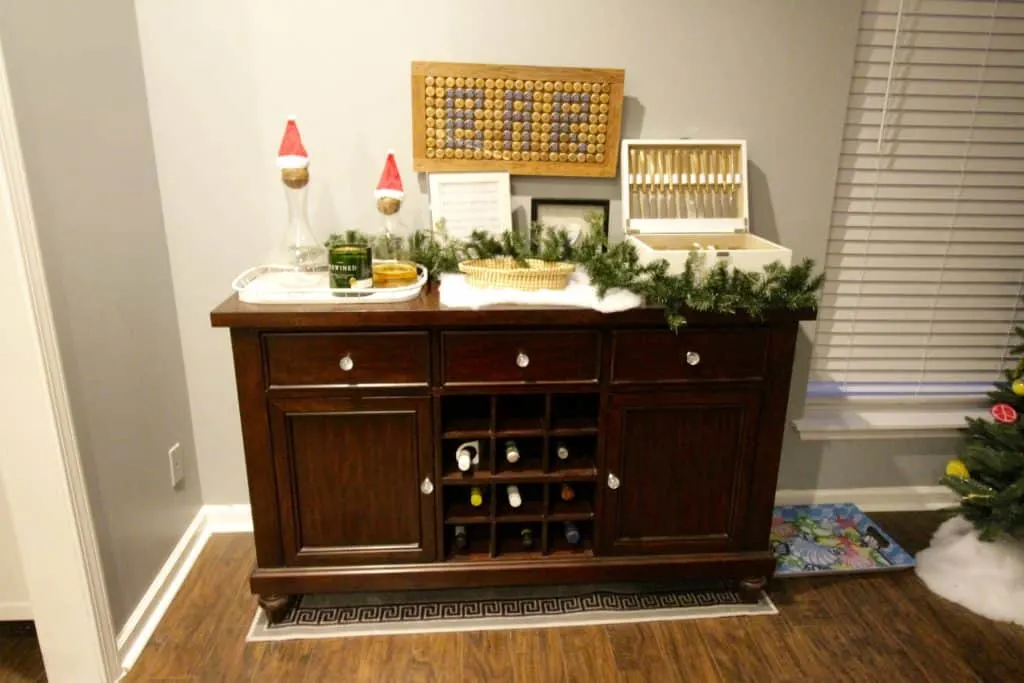 I did a little more than just the tree to decorate the sunroom. I had 2 extra pieces of faux garland (one lights up that we had in the condo last year and one was trimmed from the pieces we used around the garage) and I decided to place them on the TV stand and bar.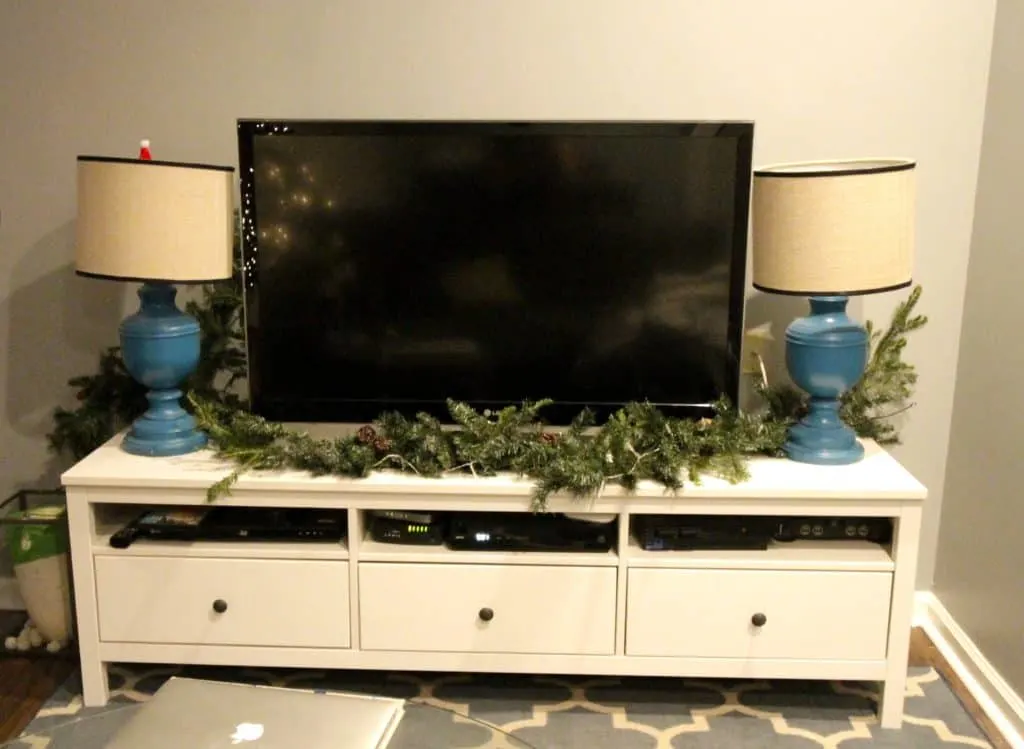 I just wove them around our existing decor, nothing fancy, but it does make it feel more festive in here.
Guest Bath
I dressed up our half bath a little just by adding pops of red. I never ever use red in my decor, so it really gives spaces a holiday feel.
Red and green candles, a red tissue box (saved from last Christmas!), a holiday hand towel (it was a Christmas gift years ago), and a little Santa hat on Dusty the Bear made for a five minute makeover, zero cost to me, and a cute impact since this is the bathroom most guests use.
So, that's our inside decorations this year. I don't plan on buying too many more little nick nack-y Christmas things, but I am sure that we will accumulate them! Share your decorations in the comments below.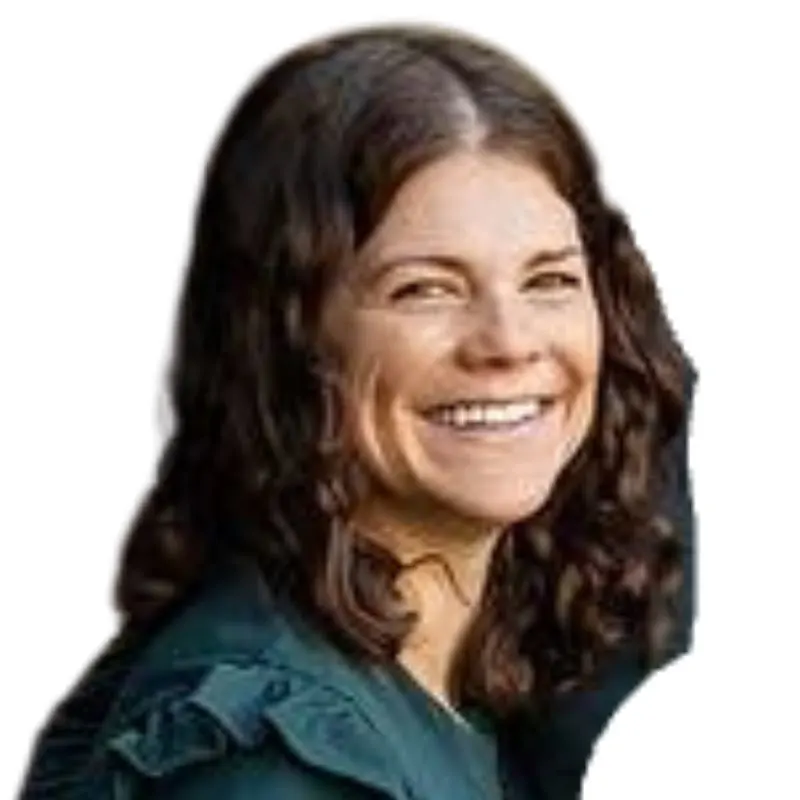 Hello, I'm Morgan, half of the creative force behind CharlestonCrafted.com! With a passion for DIY that dates back to 2012, I've transformed three homes and now I'm dedicated to helping others craft their dream spaces. Let's turn your house into a home together!