This tutorial will show you how to make DIY oversized jingle bells out of plastic pots. These large holiday bells are perfect for hanging outdoors during the Christmas season!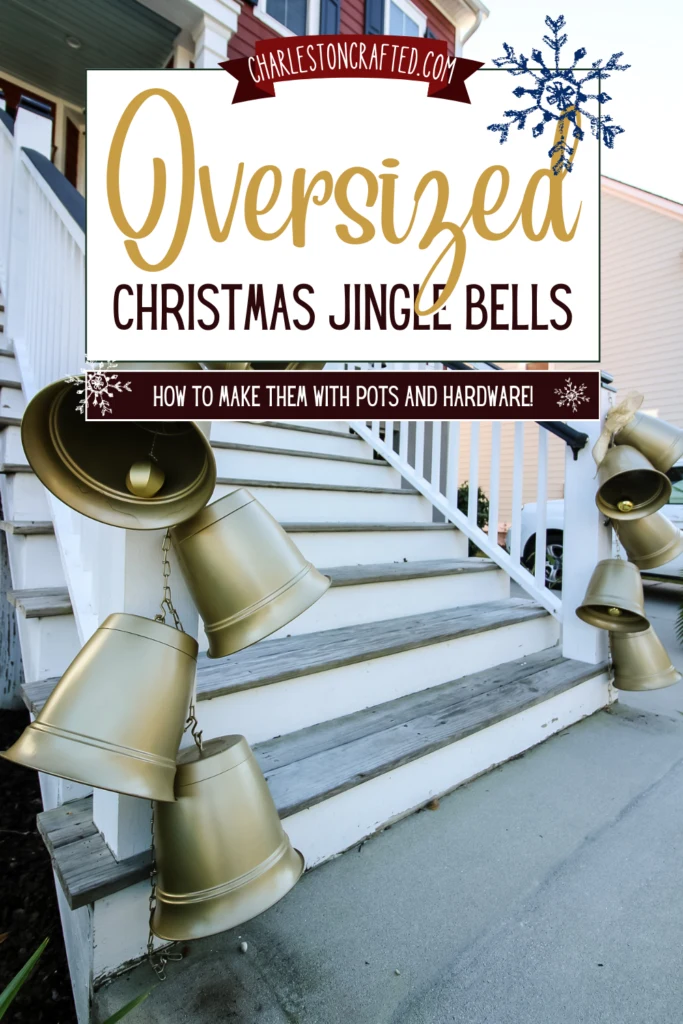 As a kid, my father always led off any holiday greeting with a sarcastic "Merry Christmas, jingle bells." It has long been a phrase stuck in my brain.
Well, today, we're bringing you some extra large Merry Christmas jingle bells with some oversized bells made from pots!
We created some DIY large jingle bells made from just a few inexpensive supplies at Home Depot that now grace the entrance to our front steps. These bells are super cute and a great decor piece for the holidays!
Read on to learn how you can make these jingle bells in just a few short steps. Bonus- this project is great to do with kids! The steps are simple and there are no dangerous tools required!
How to make oversized jingle bells
This Christmas tutorial will show you how to make our DIY giant jingle bells and they are the perfect holiday home decor project you need!
DIY Christmas decorations are always so much fun because you know that you made them and the effort that went into them. Luckily, these aren't that much effort at all!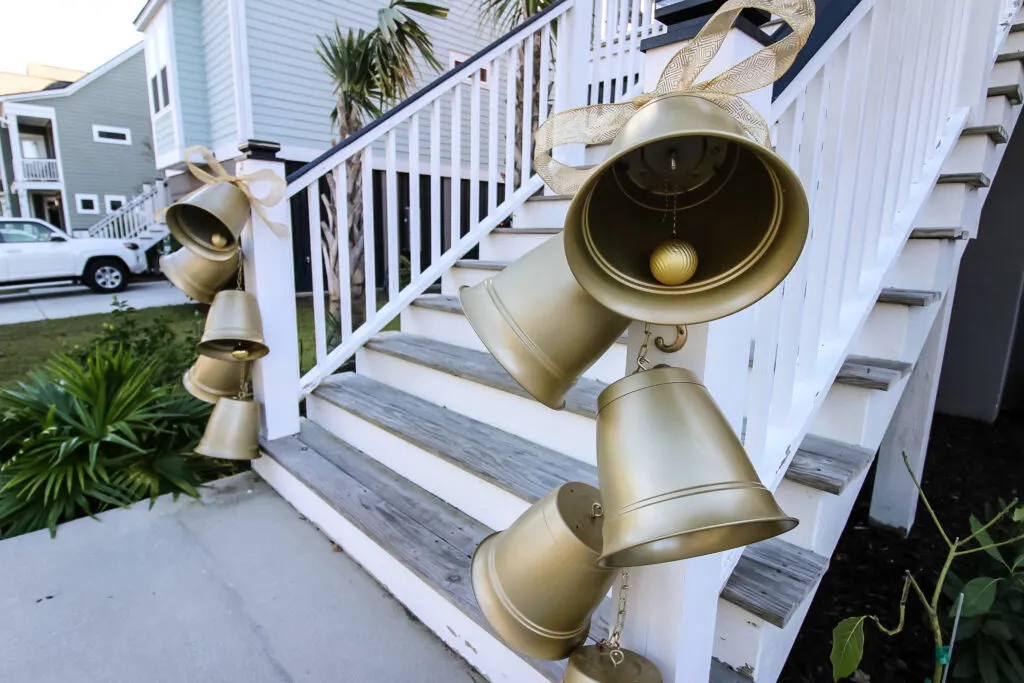 Here's what you need and how to make your very own DIY large jingle bells.
Materials needed to make DIY large Christmas bells:
Roll of thin twine
Ribbon
How to make jingle bells out of pots
Here's how to put together all those supplies to make oversized holiday bells out of plastic pots.
Step one: drill holes in pots
Start by drilling a 5/16″ hole in the center of the bottom of every pot. This hole will be slightly bigger than the eye hook, making it slide in nicely.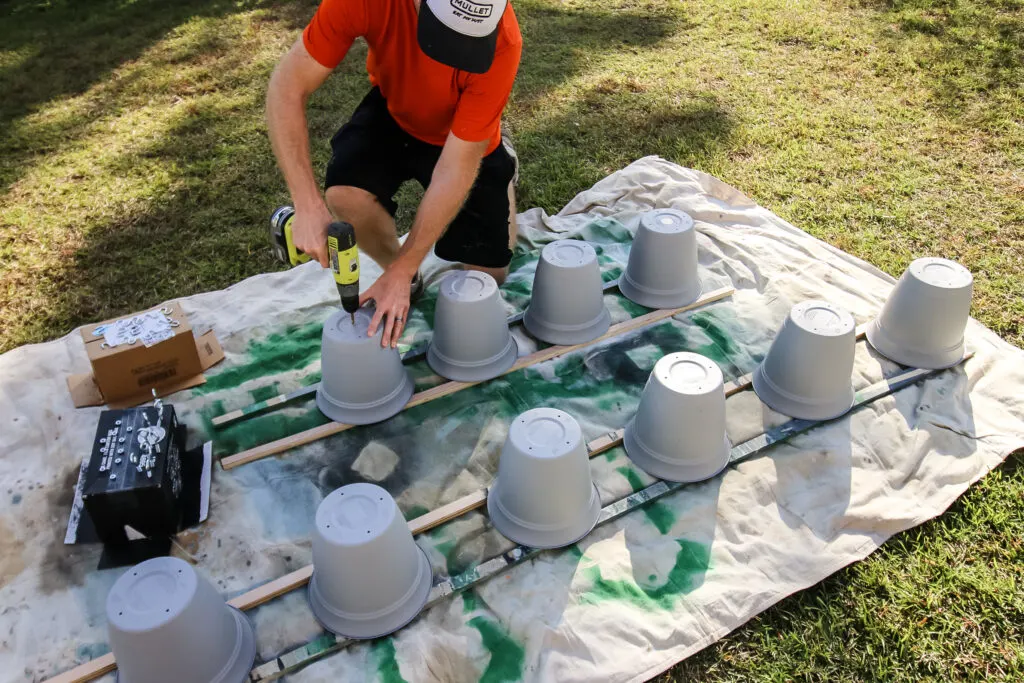 If you're using different hooks than us, just make sure you use a drill bit size just above the diameter of the hook. Also, be careful you don't blow through the plastic by drilling slow and steady.
Step two: spray paint
In an open space, lay out all of your pots and metal pieces. Make sure everything is spaced out evenly.
Apply spray paint to each piece. Move the spray paint back and forth slowly to fully coat each piece.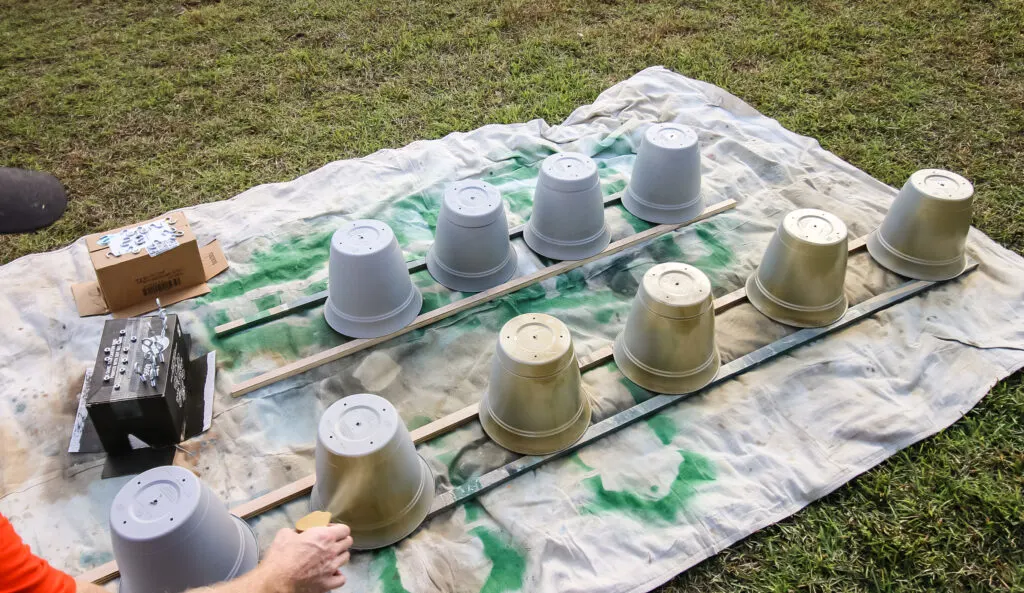 After the outside of the pots are dry, flip them over and spray paint at least a few inches up into the inside of the pots. Also flip each metal piece and spray the other side of that as well.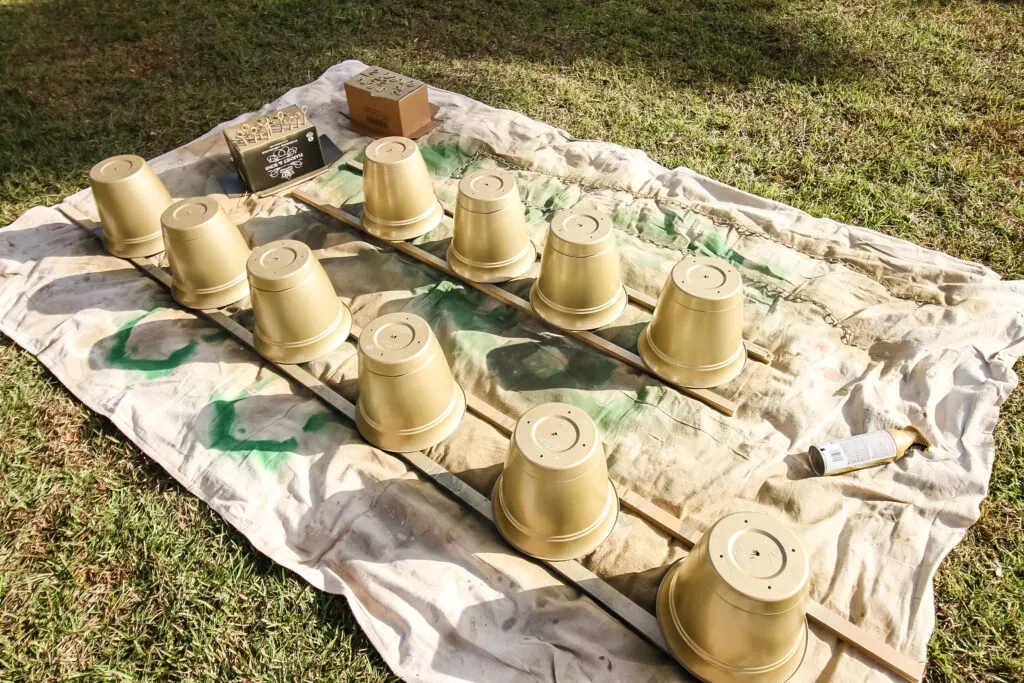 Step three: bolt pots
Grab Santa's helper and have them slide the eye hook through the outside of the pot and twist the nut on on the inside.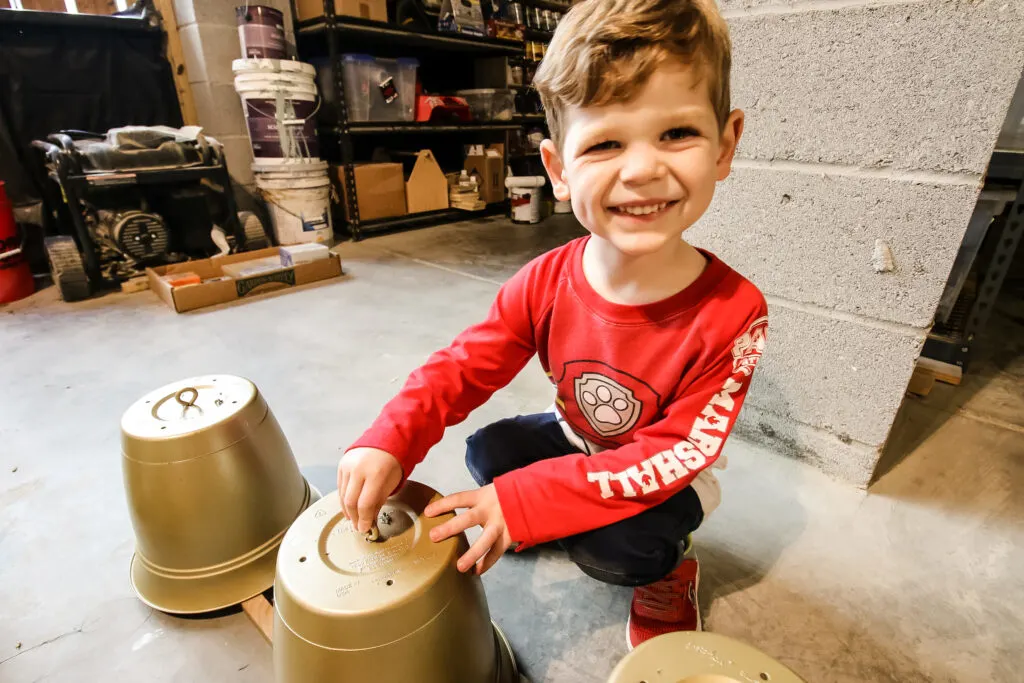 Leave a little bit of wiggle room for the eye hook to be able to move, but tighten most of the way.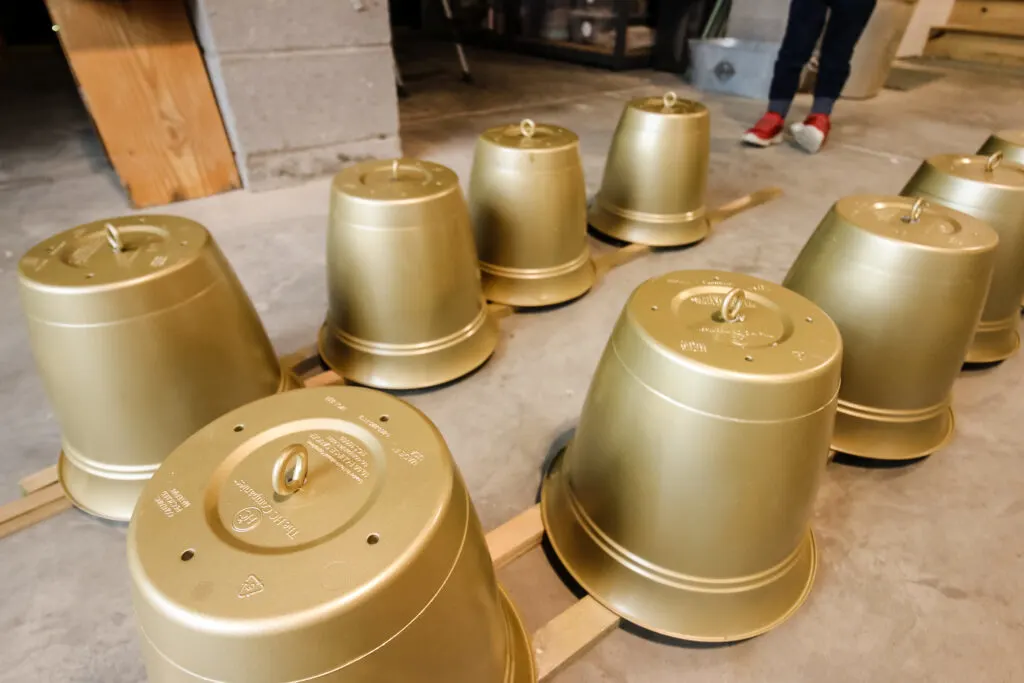 Step four: tie bells
Using thin twine, tie a loop around the nut on the inside of the bell, then cut it off the length of the bell.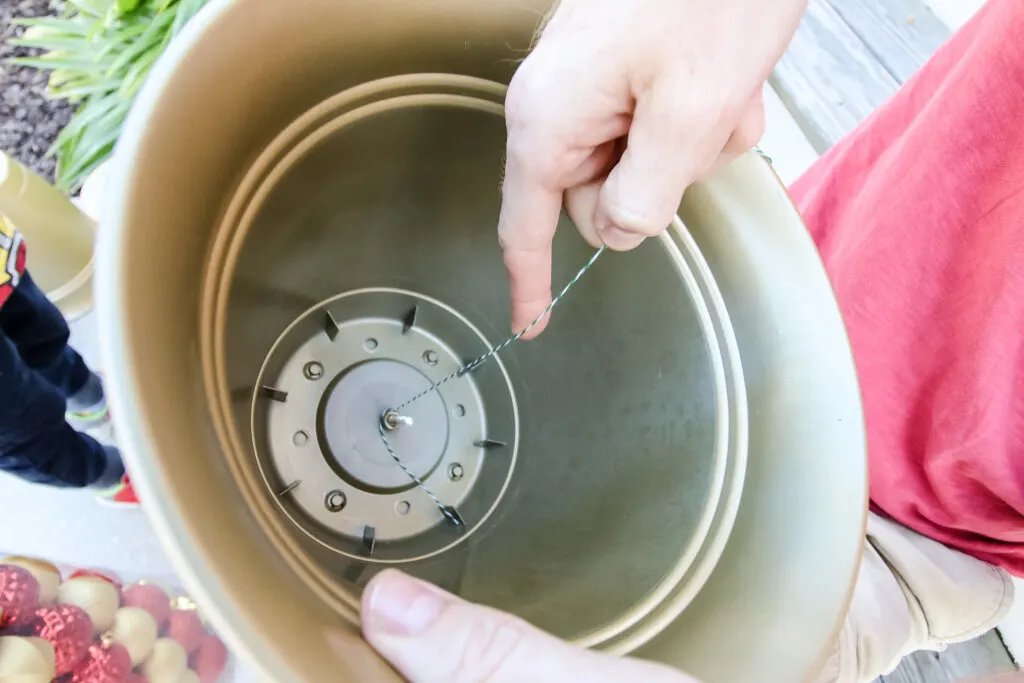 Slide the other end of the twine into the loop on the end of an ornament and tie it so that it sits a couple of inches inside the edge of the pot.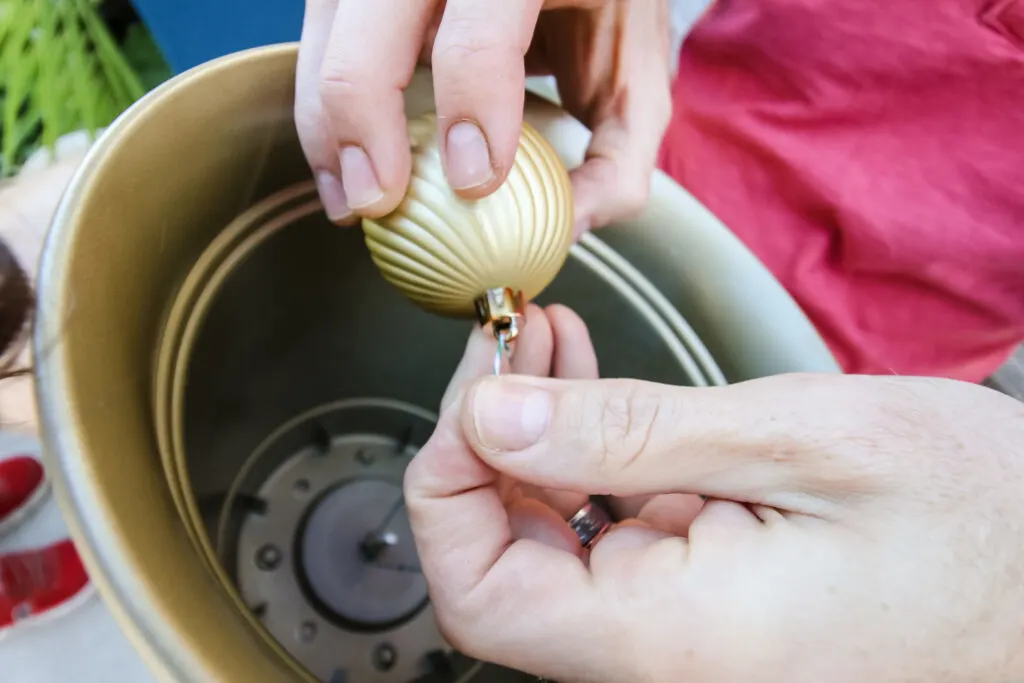 Step five: hang bells on chain
Tap a nail into where you want to hang the bells. We cut our chain into two 5′ pieces and tapped a nail into both columns on the bottom of our stairs.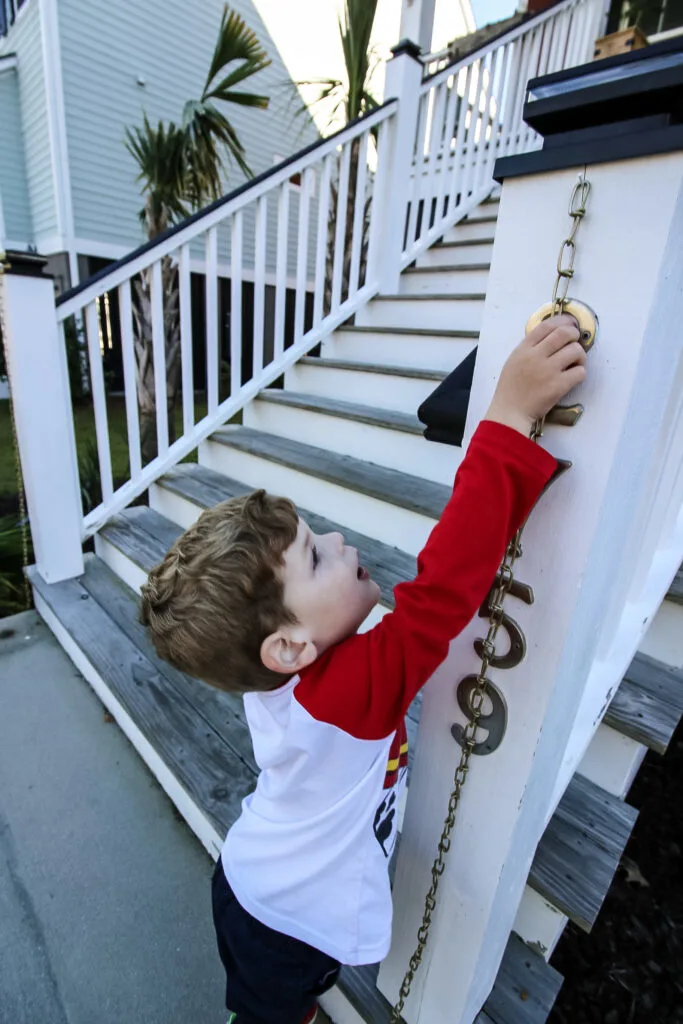 Hang the end of the chain on the nail, then thread an S-hook through the eye hook on the first pot. Hook the other end of the S-hook near the top of the chain.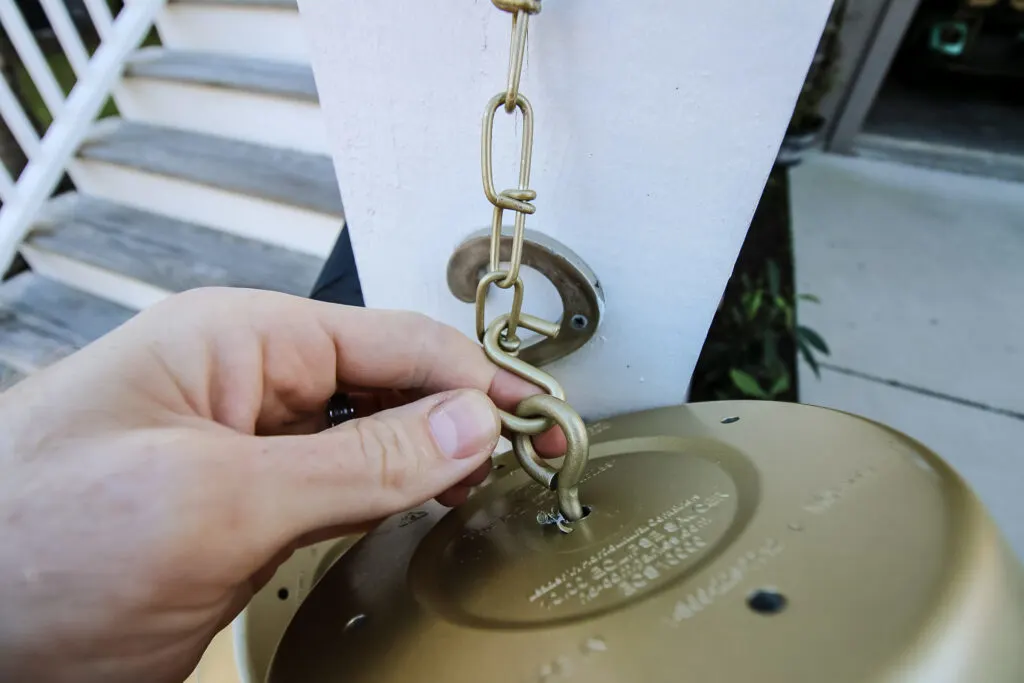 Continue to work your way down hanging five pots on each chain and alternating sides.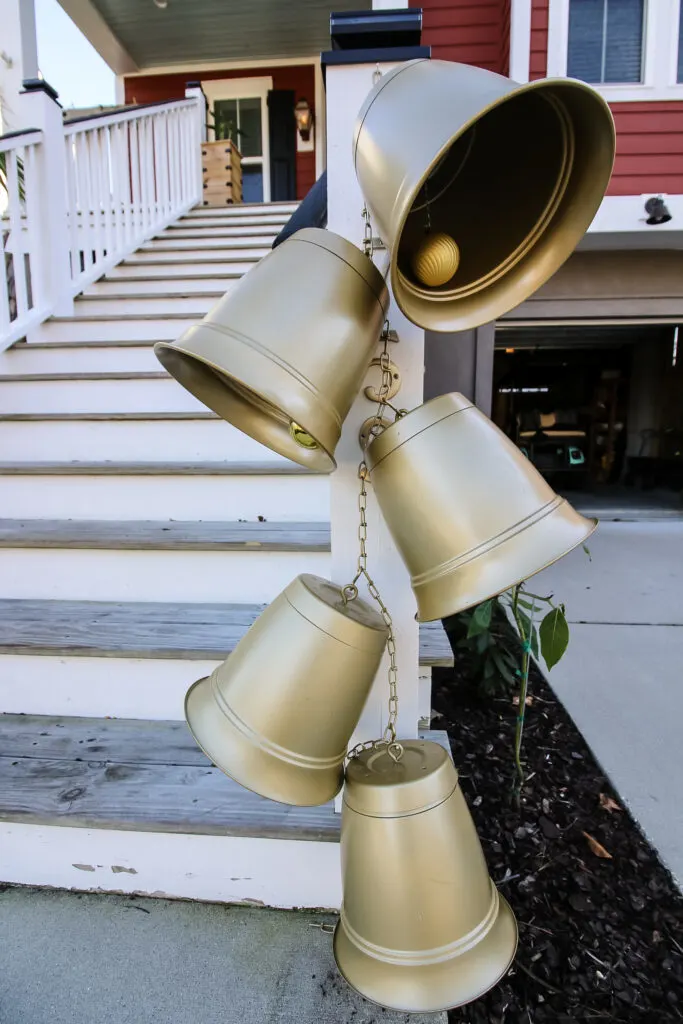 When you're finished with the bells, add a ribbon to the top of the chain or above each pot to finish off the look!
DIY giant holiday bells
We love how these DIY large jingle bells turned out! They are so much fun and so festive!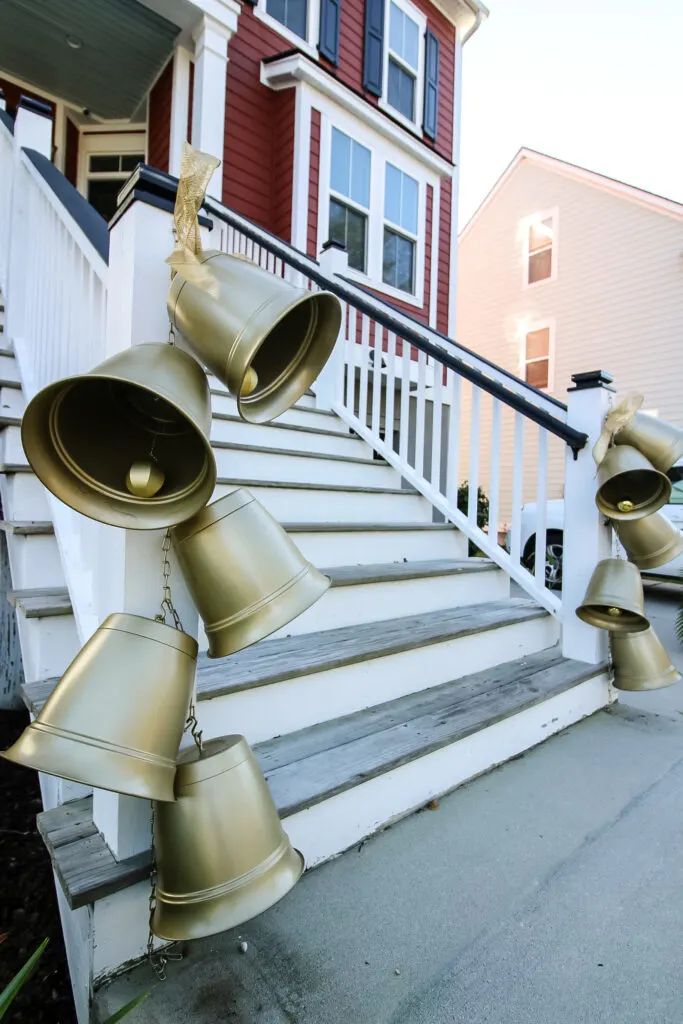 The gold color pops, but of course you could also go with silver bells (it is a song after all).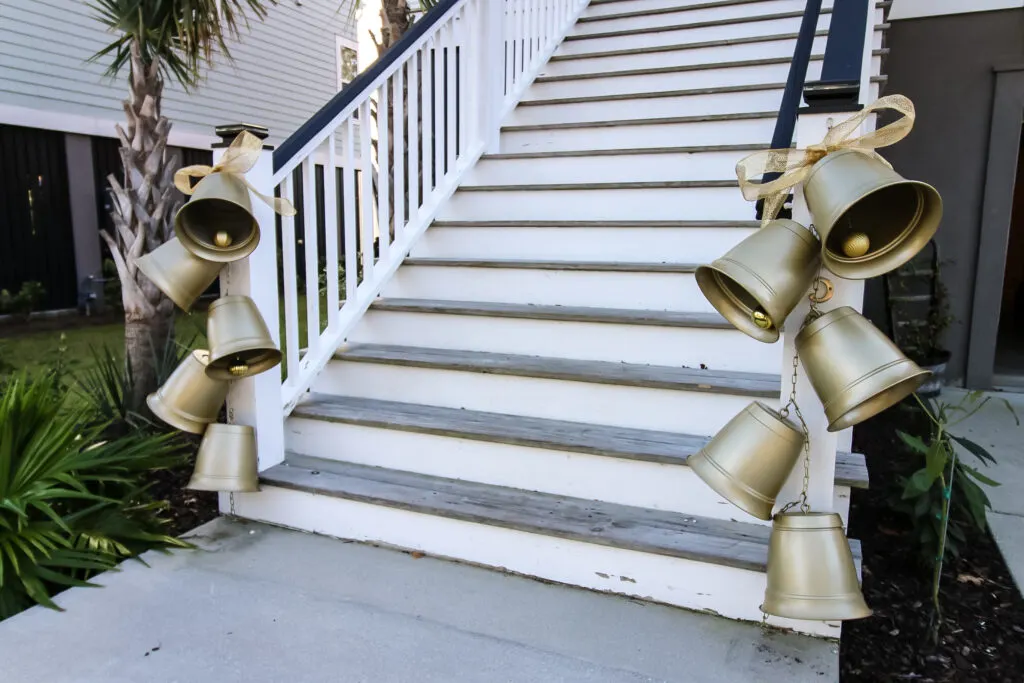 We love that these lead the way up our stairs and welcome all our guests this year during holiday hosting.
Make sure you make these giant outdoor jingle bells today and use them year after year!
Other options for how to make large bells for Christmas
Aside from using plastic pots, you could also use clay pots or any type of pot you want to make giant Christmas bells.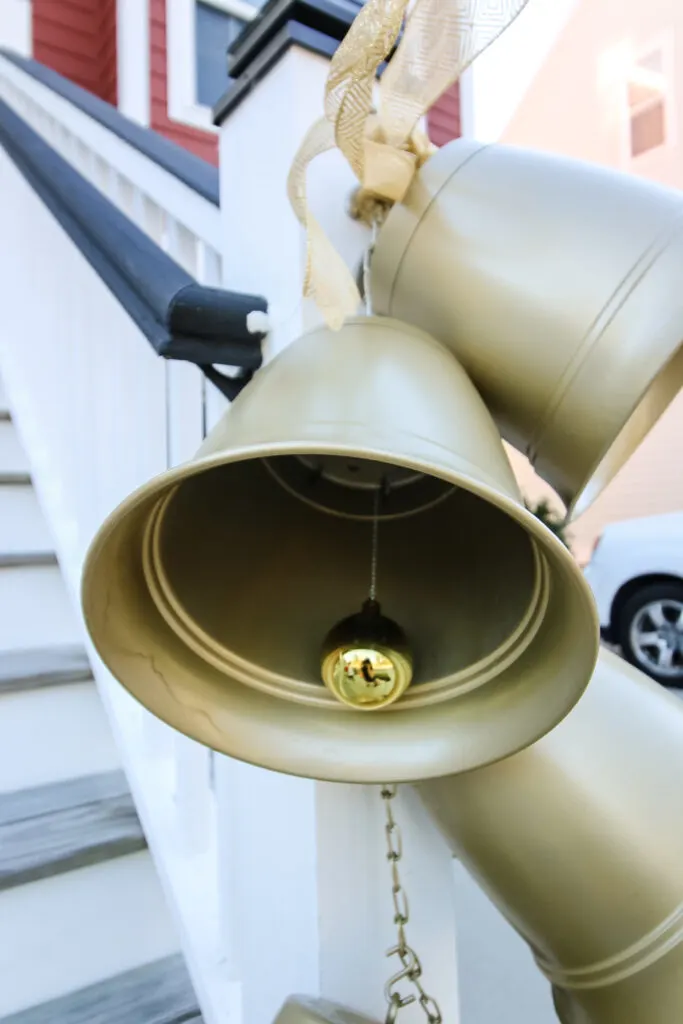 Many people use silver mixing bowls glued together on the rims for large bells. They won't store as well, but they could make a more round look.