Happy holidays! I'm excited to give you a tour of our holiday Christmas home decor this year.
This year I feel like we kept things simple, but we really did decorate a few areas of our home! I also realized we have accumulated quite a few Christmas trees – of the tabletop variety, that is!
Be sure to check out our decor from year's past:
2021 Christmas tree
Growing up, my mom always decorated our Christmas tree with a theme. It's something that I always loved and hope to continue with my kids!
This year, I decided to do an animal tree! Both of our kids really love animals, and we already had a lot of animal ornaments.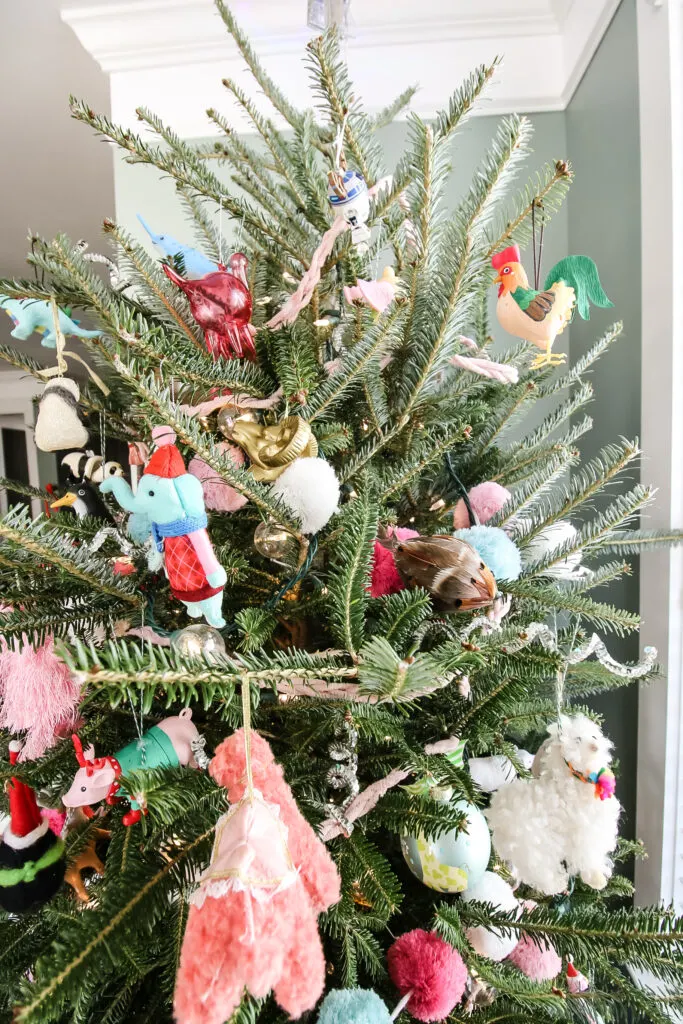 I did let Luke & Rory pick a few new ornaments. They have a ton of stuffed animal ornaments at Target that were $2-3 each, and I let them each pick a few!
I also let the kids pick a new tree topper this year. I had my eye on this capiz angel but they instead chose this star topper. It has a projector that shines rainbow lights on the ceiling. When Rory saw it on display she yelled WOAH WOAH WOAH and pointed and clapped, so I couldn't say no!
I strung the lights vertically on our tree, which made it super fast to do. This is our DIY tree stand!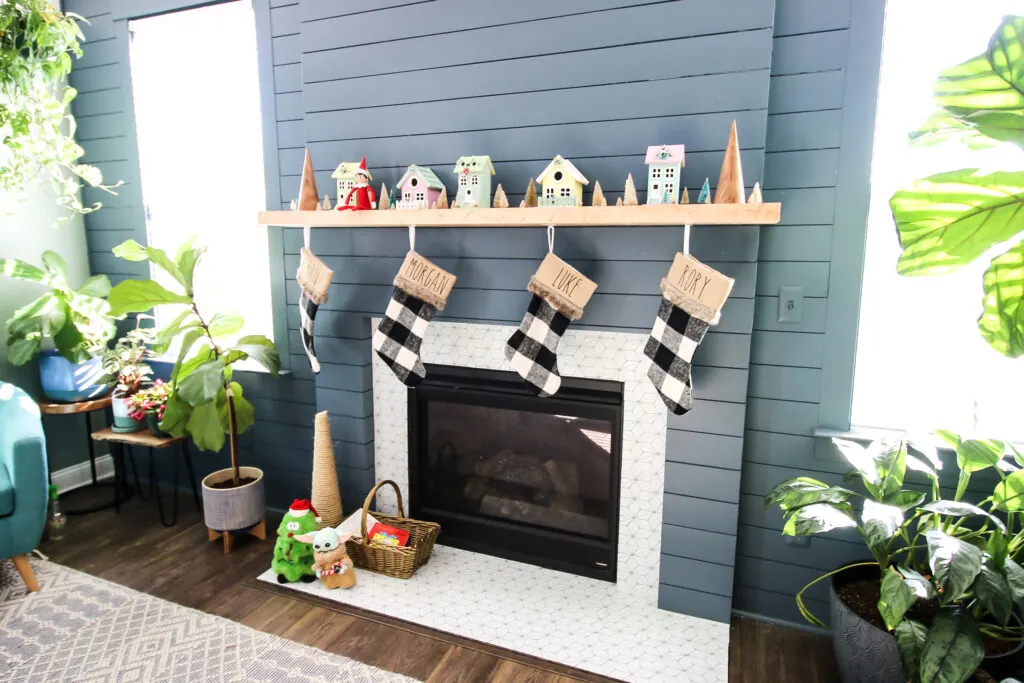 Our Christmas mantel
We kept our brand new mantel super simple this year, with my wooden painted village, some small bottle brush trees, 2 wooden cone trees, and our stockings.
In January, I plan to decide on our long term art/wall hanging for over the new fireplace and at that point I'll put a screw in it to hold the art. Then I can hang stuff! For now, I didn't want to put a random nail in to hold a Christmas wreath.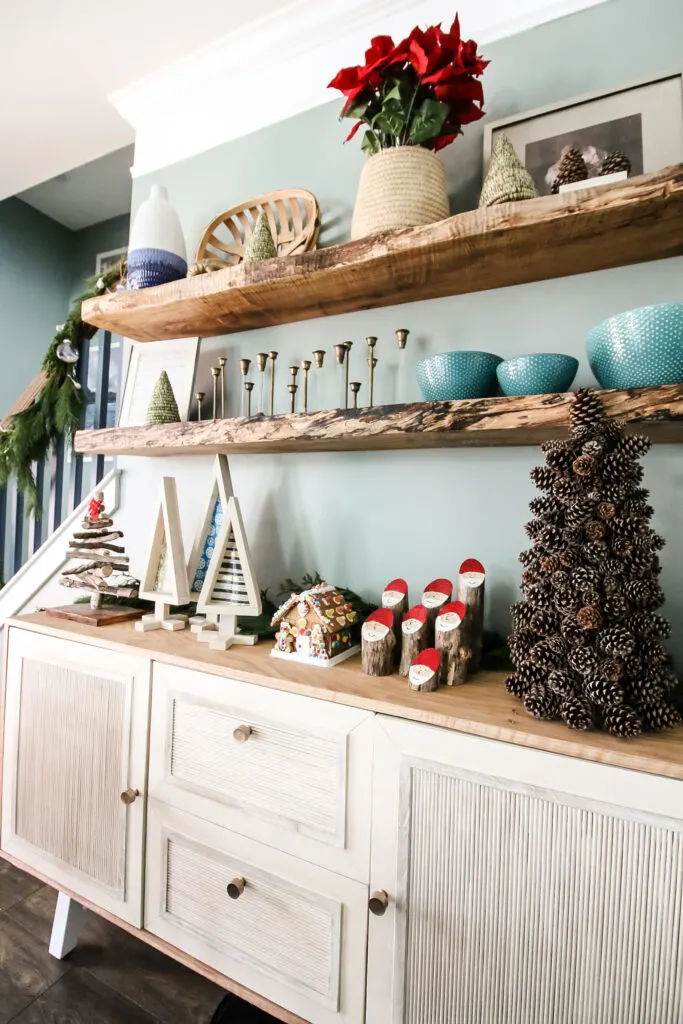 Dining room shelves
One reason I wanted to put up shelves in our dining nook was to decorate them seasonally! I had a lot of fun decorating these shelves and the top of the buffet table with small decor.
Some of the DIY projects on display include:
Loft Decor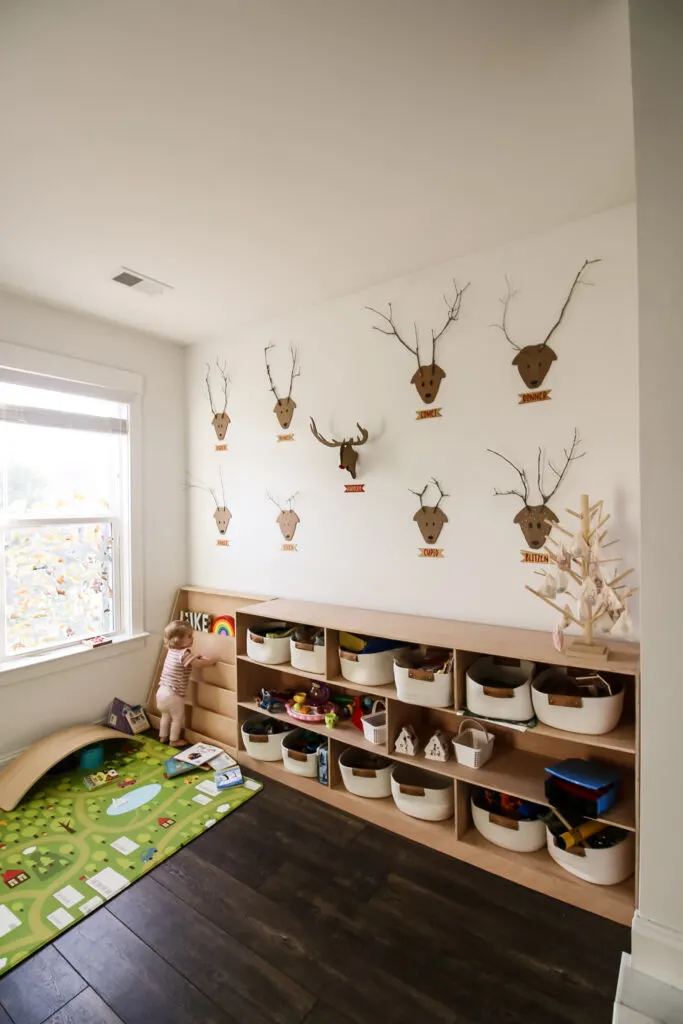 We also decorated the kid's loft play area upstairs! I cut cardboard reindeer with stick antlers and stuck them to the wall with command strips!
I also got a small 4 foot tree for the kids to decorate. They love coloring these wood ornaments (they come in multi-packs for $1-5 at Michaels, Joanns, etc craft stores). We buy them all year long and I saved them this year to put on the tree!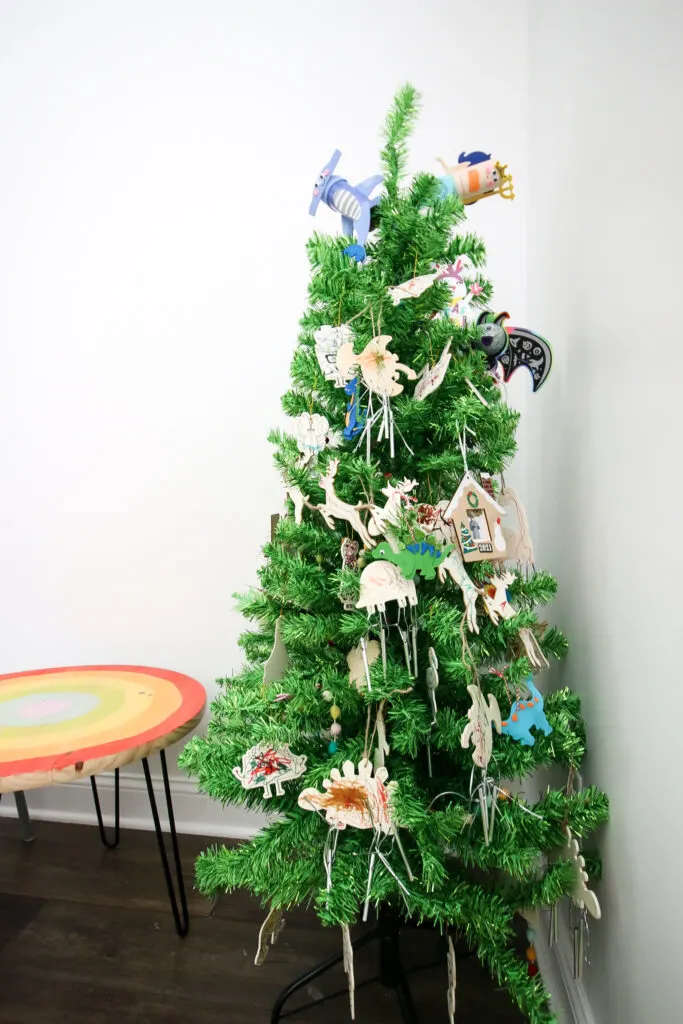 Rory's Christmas tree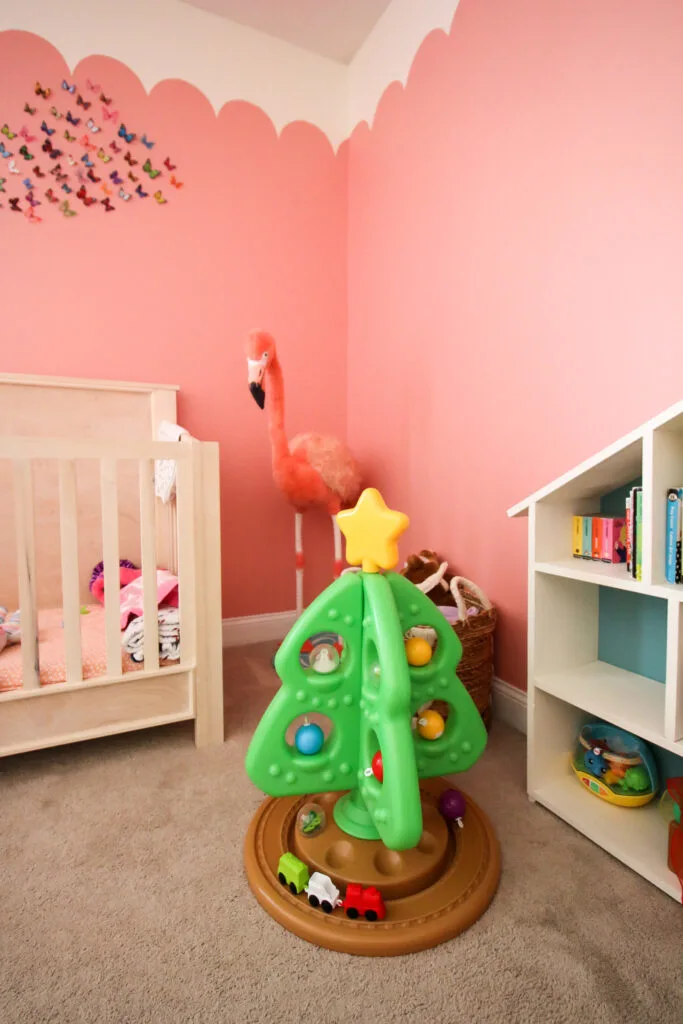 We set up our Step 2 Christmas tree toy in Rory's room this year! This is the 4th Christmas that we've had this tree, so it was definitely worth it to buy so many years ago!
I actually forgot that the tree had a little train around it, which has been a huge hit. Rory loves putting the ornaments up and throwing them across her room, too!
Luke's Thomas the Tank Engine tree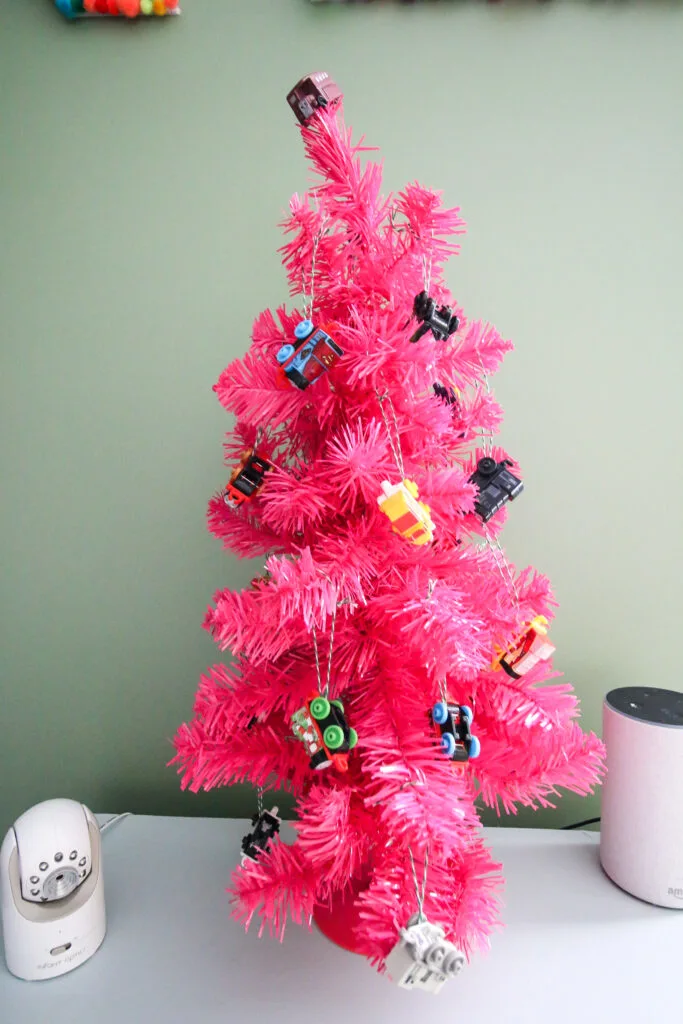 Luke wanted a tree in his room, too. I dug this 18 inch tree out of the attic (hot pink, haha) and decided to let him decorate it with Thomas the Train!
He has a large collection of mini-trains (gifted from a neighbor who's sons aged out of Thomas). We tied a loop around the wheels and hung them on the branches. He LOVES it and is so proud!
Outdoor decor
We also decorated outside, of course!
We go for a pretty classic look with white lights on the railings and live garlands (from Costco, here are my live garland tips!).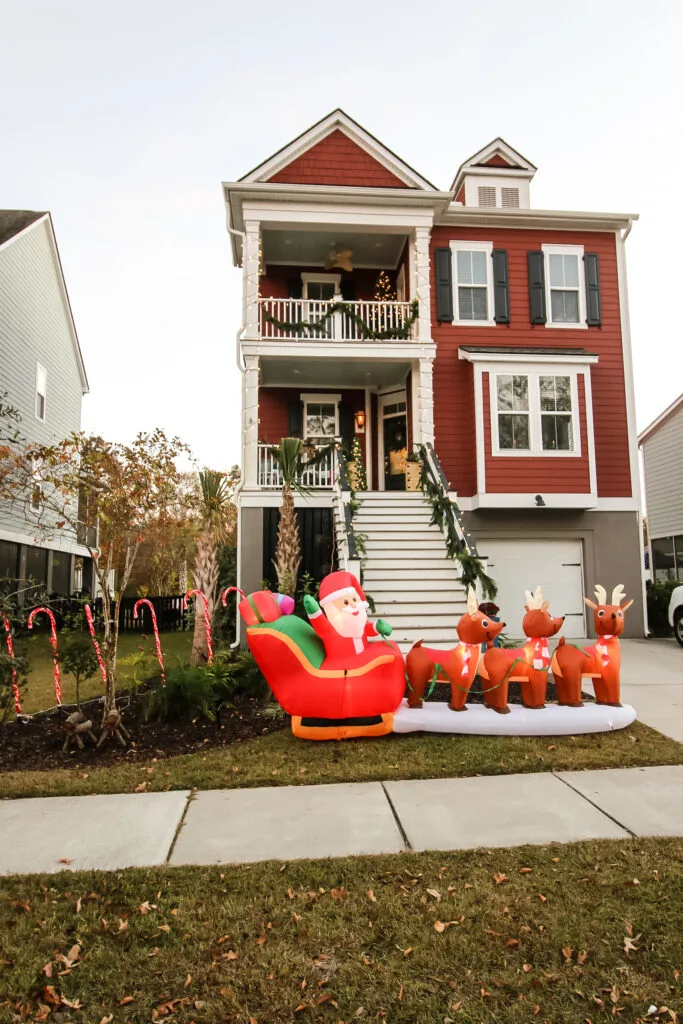 This year we added a big inflatable Santa's sleigh (Luke's choice, of course) and 6 giant light up candy canes.
Next year, we hope to figure out a way to light up the other side of the house. We don't have much grass over there (maybe 1-2 feet between our driveway and the neighbor's yard). Maybe one of those projectors? I'd love the do lights on the roofline, but that's 4 stories up!!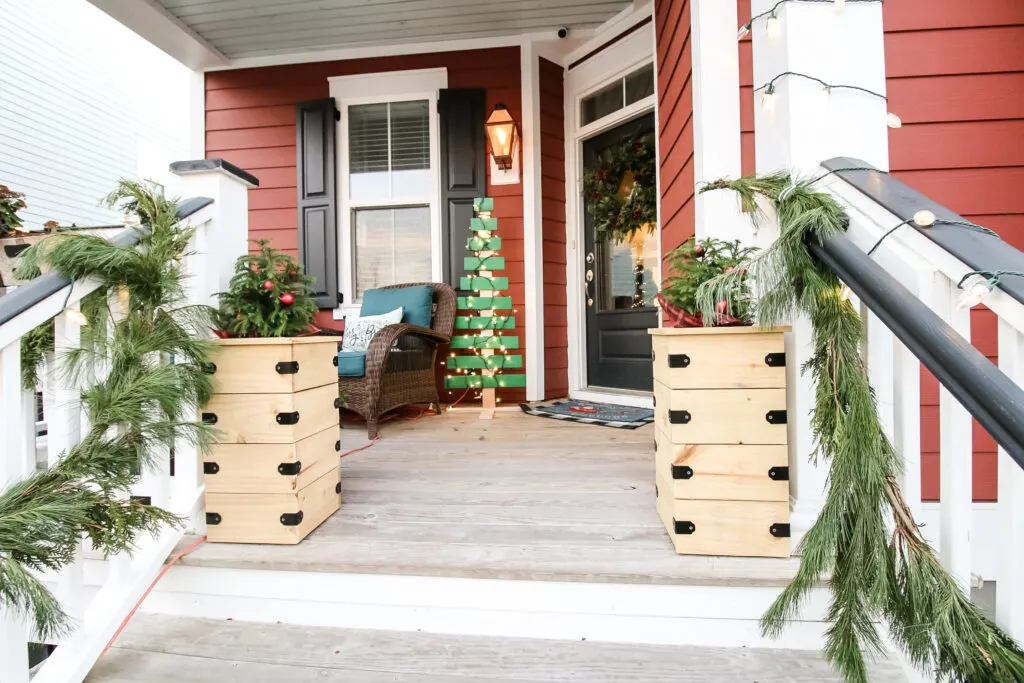 Our front porch is complete with out new wooden Christmas tree and norfolk island pine trees in DIY planters!
Happy holidays! See you in 2022!