Want to add a wall hanging Christmas tree to your space? Here is how to hang a Christmas tree on the wall with lights!
This post was sponsored by The Home Depot. All opinions are our own and our opinion is that we love The Home Depot. Thank you for supporting the brands that make Charleston Crafted possible!
Christmas decorations are such a fun way to make your home feel festive for the holiday season.
If you celebrate Christmas, a tree is a must. But, they can be expensive and take up a lot of space. So, a DIY wall Christmas tree might be a better bet if you don't have the space or budget for a standard tree.
You can hang a lot of things on the wall to stand in as a Christmas tree – but today we are going to share how to hang a Christmas tree made out of lights on the wall!
Be sure to check out all of our wall hanging DIY Christmas tree ideas!
How to decide where to hang Christmas tree lights on the wall
When choosing where you hang your Christmas lights tree on the wall, there are a few things to keep in mind.
First, is the purpose. If this is your main tree, you might want to hang it in the living room or wherever your family gathers.
If you want to use it as more of an extra decoration, consider where you have a big open wall. We hung our trees in an empty corner in our bedroom. It would be beautiful in an entryway, hallway, or dining room as well.
Finally, consider where your outlets are. The magical look of these wall mounted Christmas trees could easily be foiled by lots of long extension cords. Having them near an outlet is best.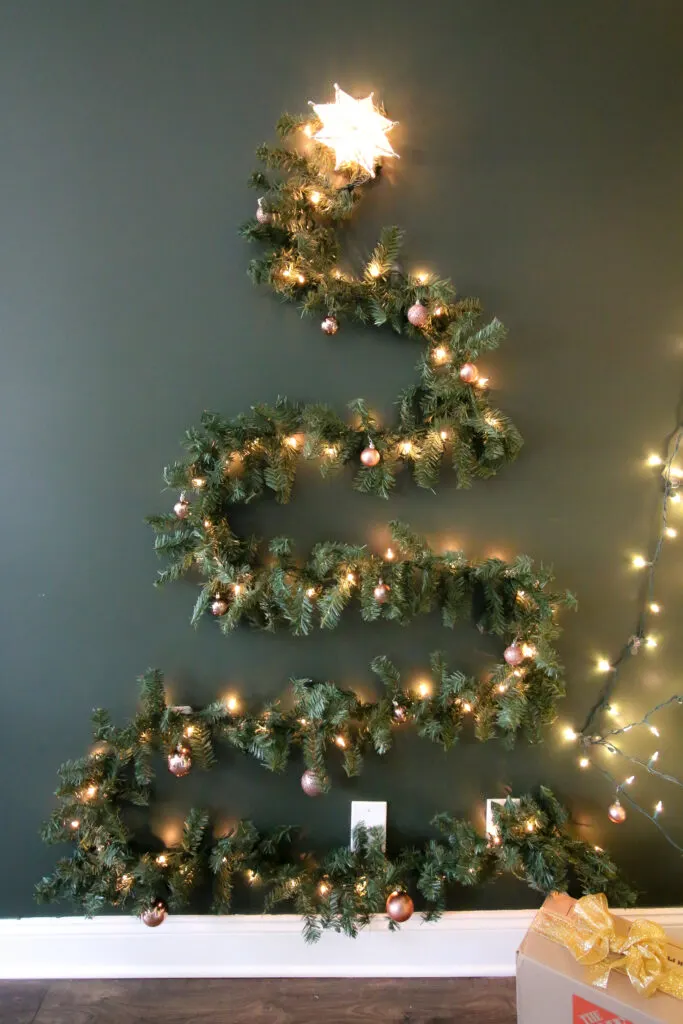 Alternative Christmas tree ideas
You can make these wall trees using lights or a pre-lit garland. The garland is a bit heavier – and does better with heavier duty clips – but gives you more of a lush, tree look.
We also did one of our three trees in the corner of the room. Zig-zagging the lights across the corner gave it a 3D look that is especially cool.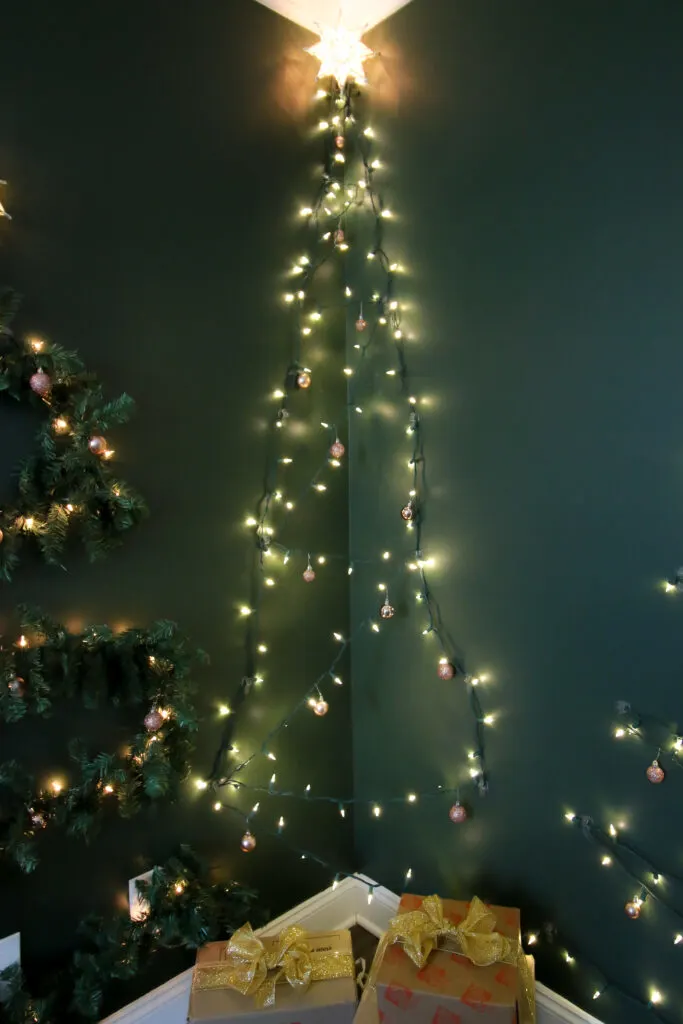 You can decorate the tree to match your style. We used ball style Christmas ornaments. But, you could also use small clips to hang Christmas cards from the string lights or garland!
How to make a wall Christmas tree with lights
It's a really easy DIY project to hang a DIY Christmas tree on the wall with lights!
Supplies needed:
Tape measure and/or ruler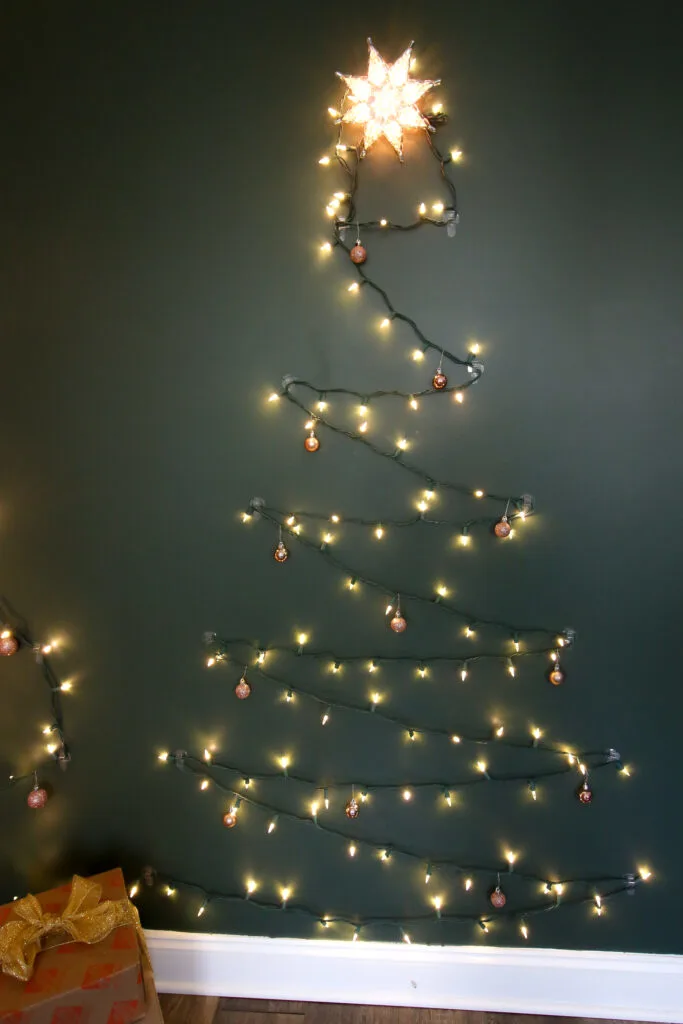 Steps to hang:
STEP 1: Measure and plan
Decide where you will put your Christmas tree or trees. Determine the finished height and width. Draw your design on paper and determine how many hooks you will need and where they will go.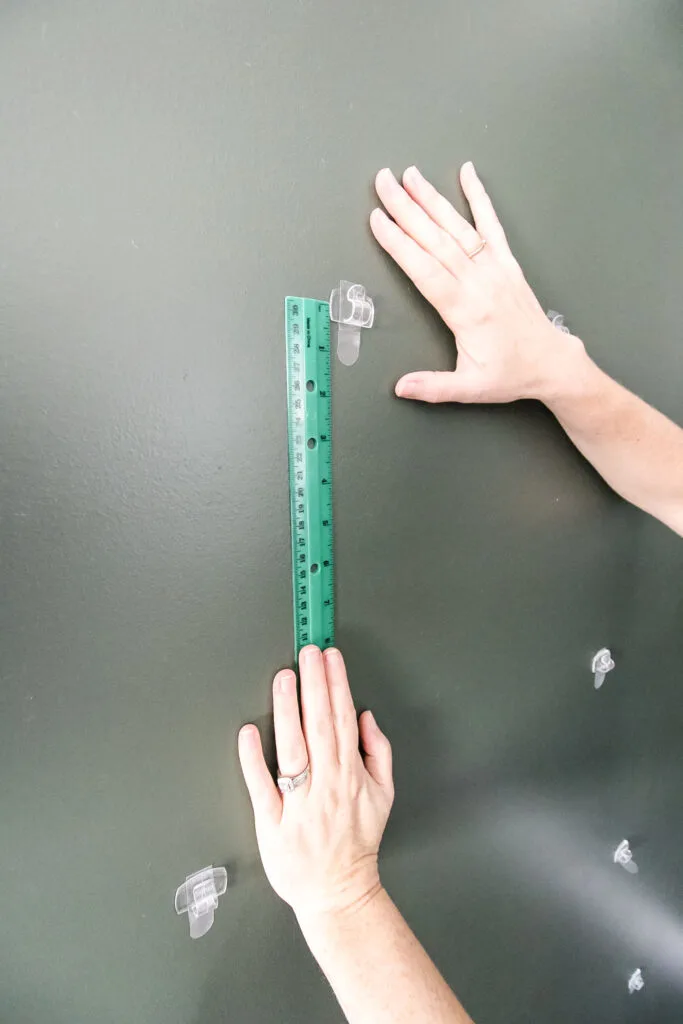 STEP 2: Place the hooks
Measure your wall and attach command hooks according to your design.
You will want to start with the top, center hook at the mark for the center of the tree. Then, measure down and out and place hooks as you go.
Our tree is 6 feet tall and 36 inches wide and ends 1 foot above the ground. There are 6 rows of hooks (plus the top, center hook). Each row is 10″ apart and the hooks move out 3 inches each row.
Let the hooks set overnight.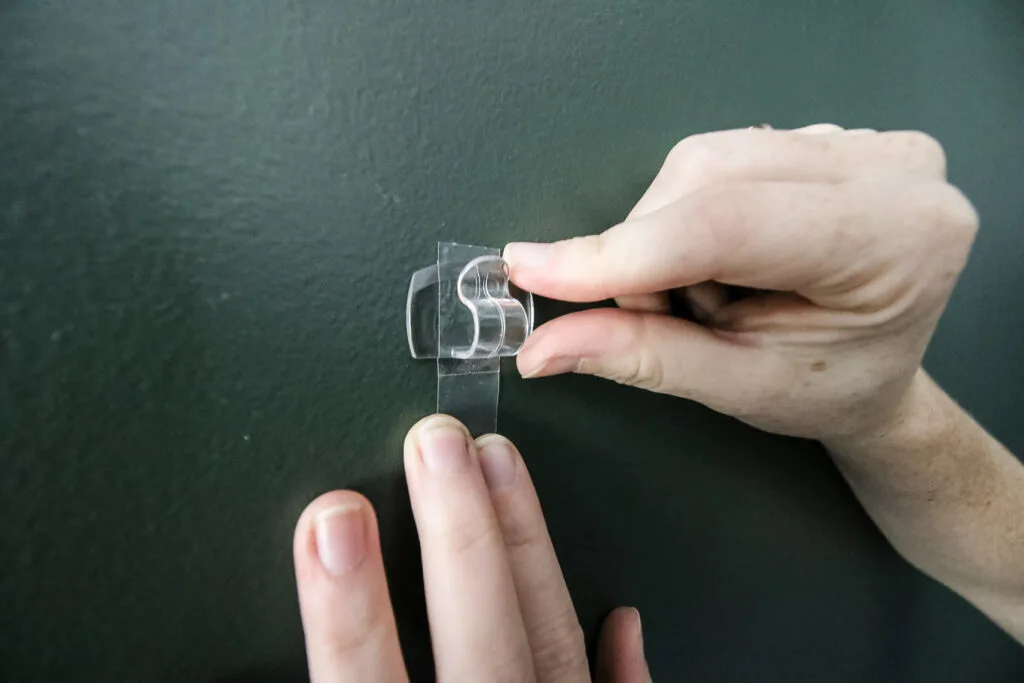 STEP 3: Add lights or garland
Start with the female end of the light strand at the top of the tree. Carefully clip it into place. I find it easiest to use one hand to firmly hold the base of the hook to the wall while using the other hand to slide the cord of the string lights into the hook.
Repeat and weave your way down. You can adjust the tightness of the strand and the exact back-and-forth layout to properly accomodate your strand of lights.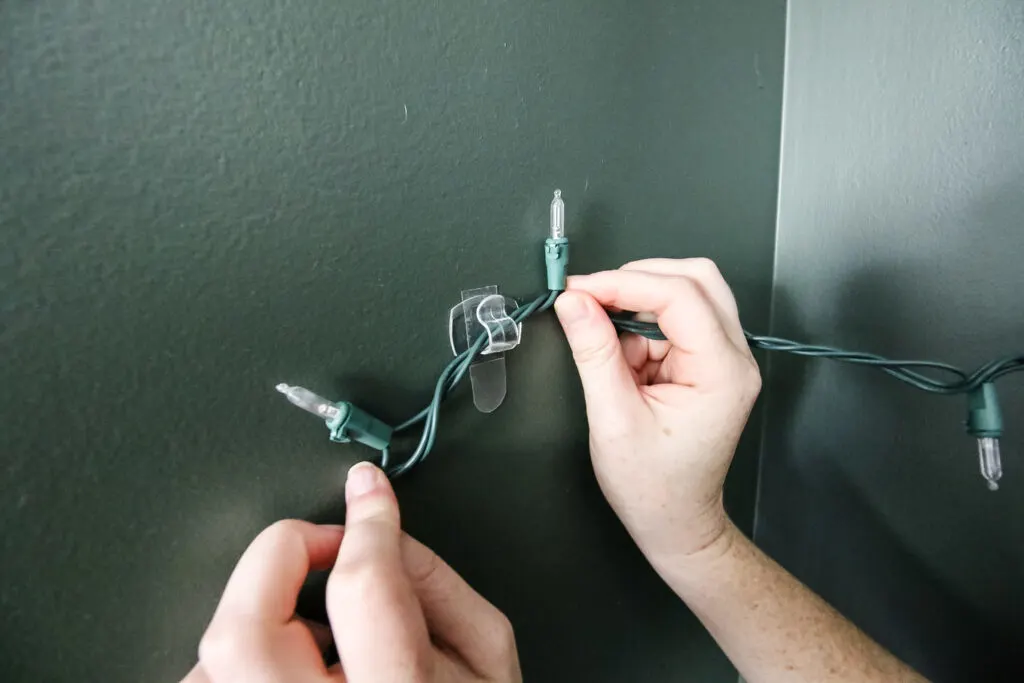 STEP 4: Add a tree topper
Plug a tree topper into the top of the lights. Hang it from the top hook. Be sure that any excess wire is bundled with a twist tie.
You can add a small loop of string, wire, or even twist tie to the top or back of the topper to hang it from, if needed.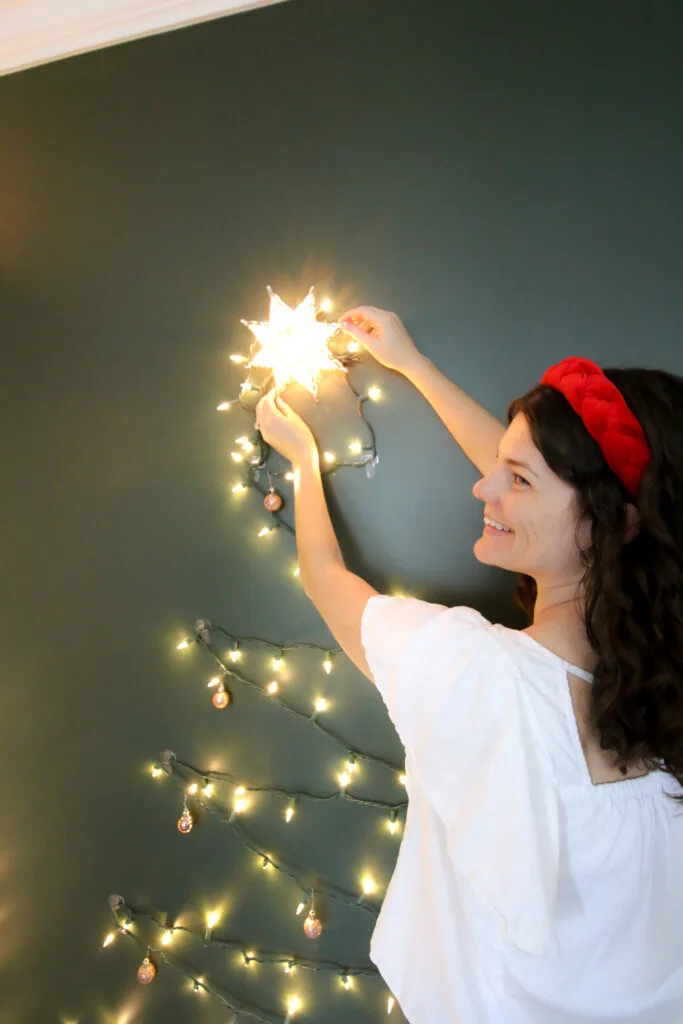 STEP 5: Add ornaments
Decorate with ornaments as desired. I suggest smaller, light weight ornaments. You can also use clips to hang Christmas cards on the wires.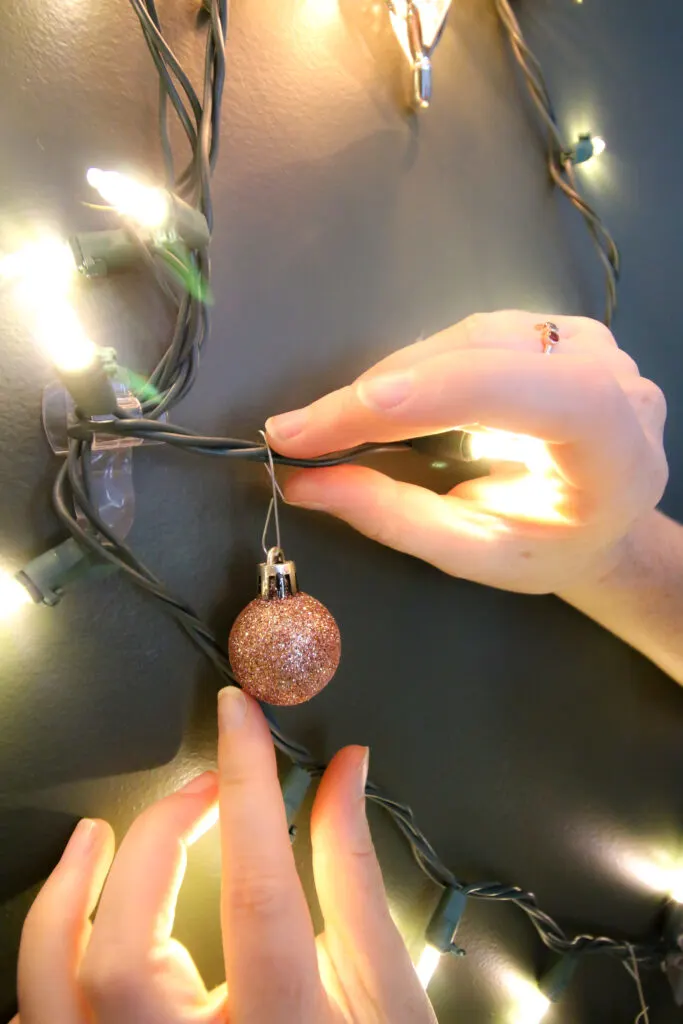 See the full details on this project on the Home Depot Blog today!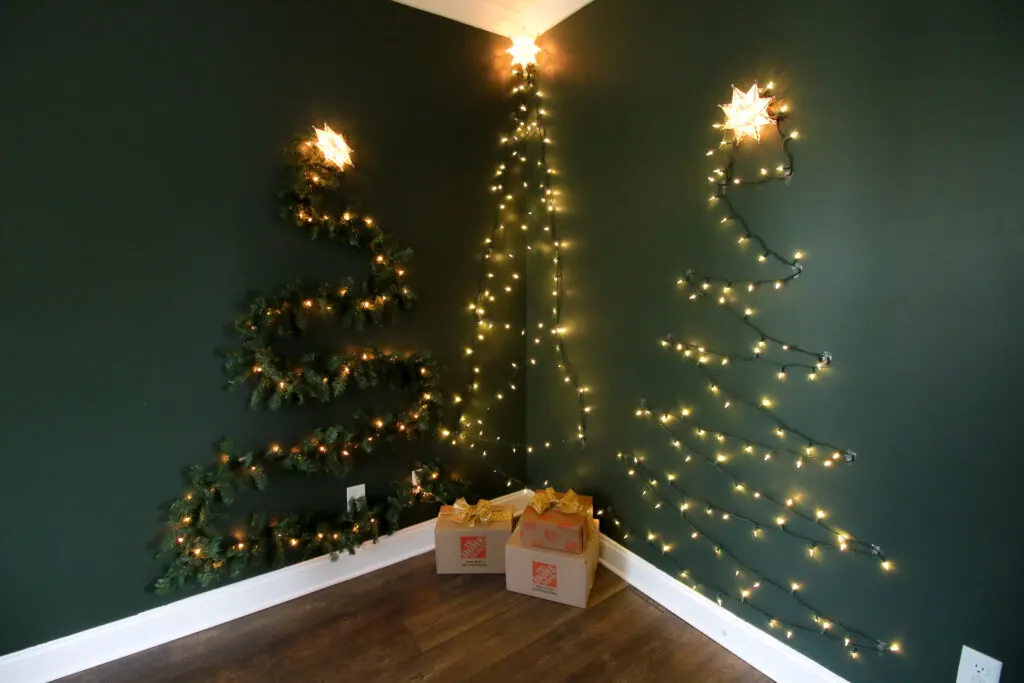 Be sure to hop over to the Home Depot blog to see all the details on this project and get the supplies you need to do it yourself!
Any questions about how to make a Christmas tree out of lights?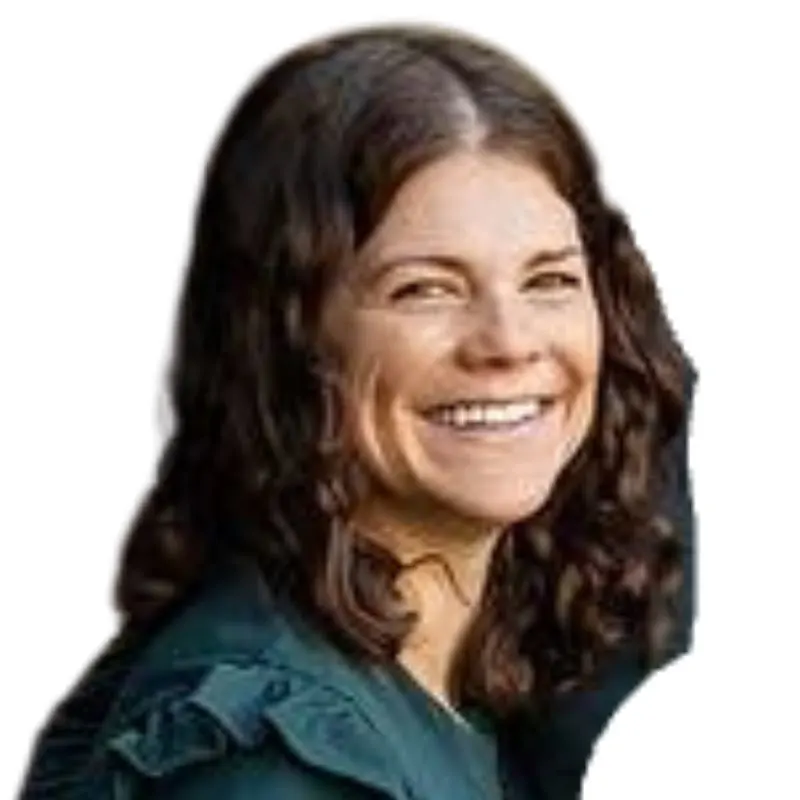 Hello, I'm Morgan, half of the creative force behind CharlestonCrafted.com! With a passion for DIY that dates back to 2012, I've transformed three homes and now I'm dedicated to helping others craft their dream spaces. Let's turn your house into a home together!