Working on a project made from oak? Here is how to stain oak wood so you get the perfect finish the first time!
Oak is a popular and timeless wood choice. This hard wood is durable, strong, and beautiful.
But, you might not love the exact color that your oak wood is naturally.
Have no fear – applying a wood stain is a great way to highlight the natural beauty of the oak wood while tweaking it to better match your personal style.
Read our tips for getting good prices on lumber here!
Let's talk about how to stain oak wood so you can do it right the first time!
Is oak wood easy to stain?
Oak is one of the easier woods to stain. It tends to absorb stain evenly and lightly, just enough to highlight the beautiful natural grain. This is because oak wood has large pores that soak the stain up just the right amount.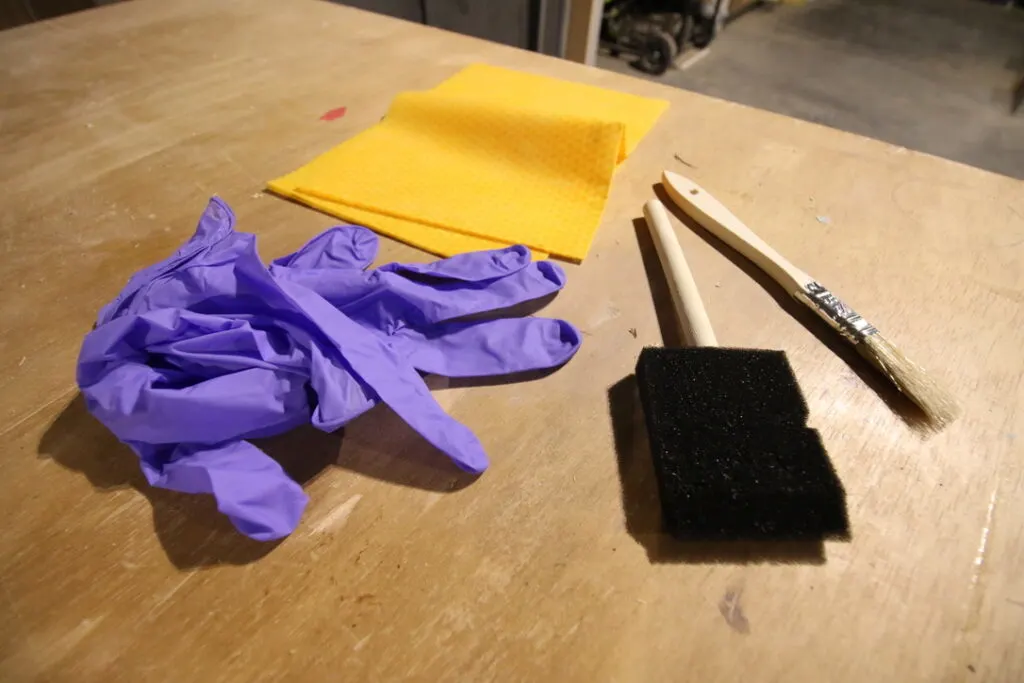 What kind of stain do you use on oak?
You can use any kind of stain on oak – water-based, oil-based, gel stain, or even a DIY natural wood stain.
Click here to see how you can stain wood with coffee!
When choosing a color, consider the natural color of the oak. There is white oak and red oak, which will take the same stain color differently! Always swatch and test on your actual wood before committing.
How do you darken oak naturally?
You can use household items to naturally stain oak wood! We have tested a bunch of methods:
Is gel stain good for oak?
Gel stains are thicker than more watery stains. Gel stains tend to take more evenly on soft wood, and make less of a difference on hard woods like oak!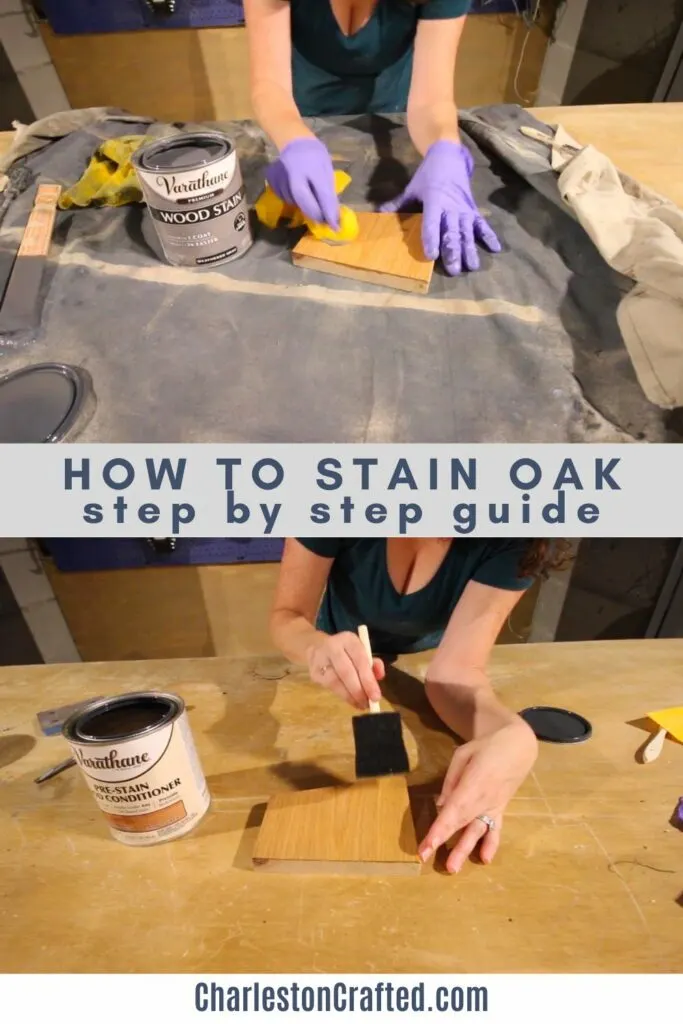 How do you prepare oak wood for staining?
You will want to sand your wood well before staining it. Most wood has a slight coating on it straight from the store or is uneven, which can make it hard to absorb stain evenly.
Then, wipe your wood clean of any dust or debris.
If you plant to have exposed end grain (the cut ends of the wood), sand them with a higher grit sandpaper than the rest of the project. Get them as smooth as possible to have the stain take the same as it does on the other faces of the board.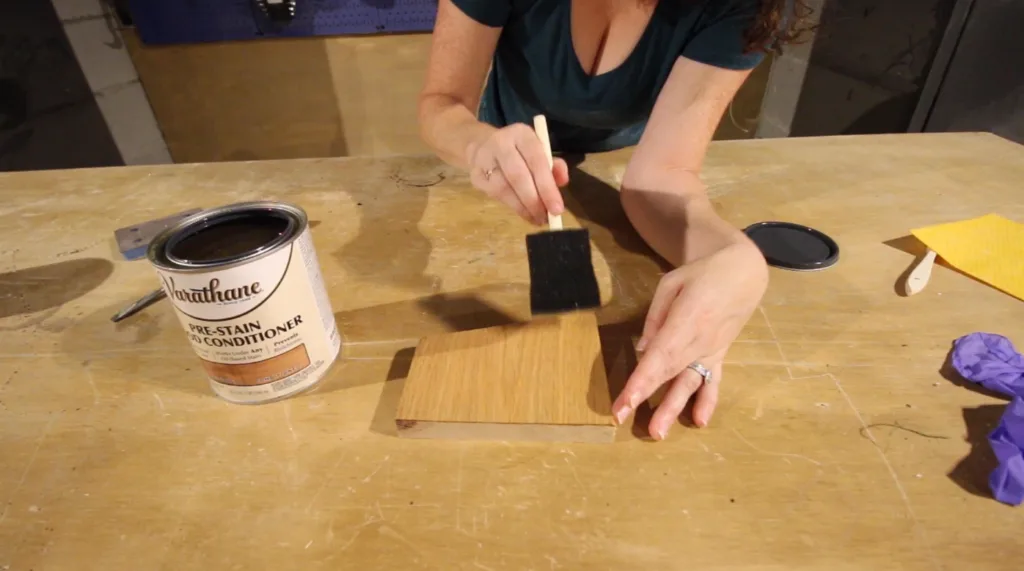 Do you need to treat oak before staining?
You can 100% stain the bare wood of a oak board as-is. Most oak and other hard woods absorb stain pretty evenly. If your wood is older or more dried out, a wood conditioner can help ensure an even finish.
Applying a pre-stain wood conditioner can help to even out the absorption of the wood stain.
Think of it like your skin – if you've ever gotten a spray tan (haha), you will know that the fake tan absorbs darker into areas of dry skin – like knees and elbows.
That makes those areas splotchy looking.
If you apply a lotion first, it will even out the base skin (AKA unfinished wood) layer. Then, there aren't dry spots to absorb more color, and you get a more even finish!
Read our complete guide to wood conditioner here!
What is the best wood stain for oak?
The best wood stain colors to use really depends on your style and the look you are going for. In general, I prefer something with more coverage – more opaque – on pine.
We have tested TONS of wood stains and laid them out for you to decide what you prefer.
In general, I have found that stains that have "oak" in their name usually look great on oak, go figure!
Check out the best wood stain colors on oak wood!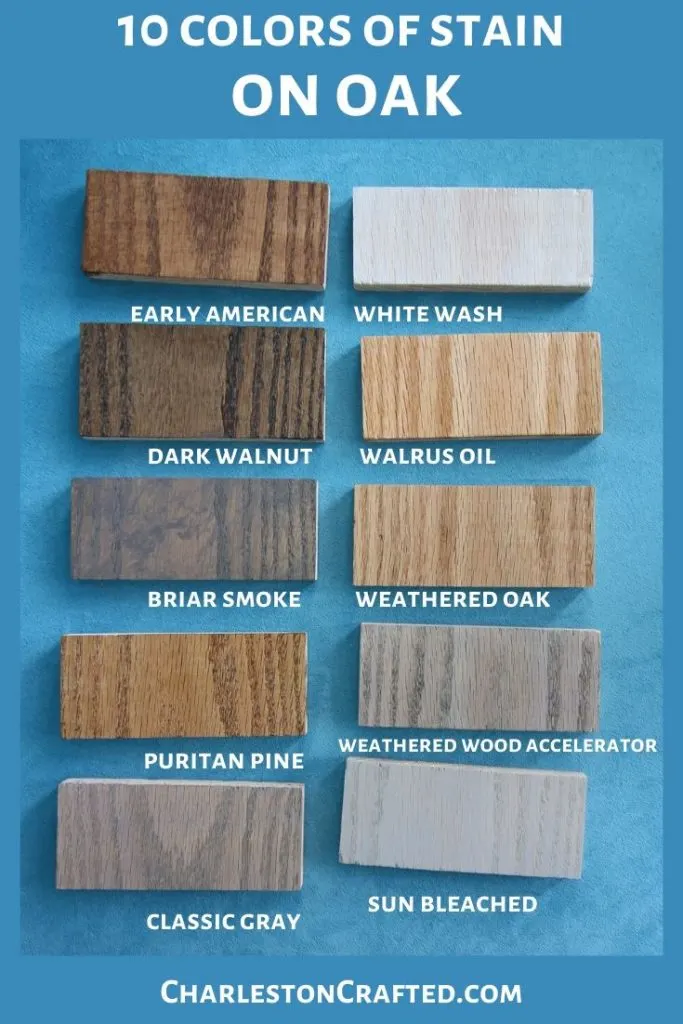 How to stain oak wood
Sand wood with fine grit sandpaper until smooth
Wipe clean with a tack cloth or other clean cloth
Let sit for 30 minutes
Wipe off any excess conditioner
Stir your stain to be sure the pigment is evenly mixed in.
Apply stain directly on top of the conditioner
Wipe off excess (wiping sooner will result in less color coverage versus letting it sit for longer)
Let dry
How do I stain oak a consistent color?
If you are having trouble with your oak wood coming out splotchy, you most likely have an uneven wood. Sand it well, with a fine grit sandpaper, then apply a wood conditioner. Follow the directions on the can and follow up with the stain of your choice.
If the stain still looks splotchy, choose something a bit more opaque with fuller coverage rather than something more transparent. This usually helps!
How many coats of stain is necessary?
I usually only do one coat of stain on my wood projects. However, you can easily do two coats if you prefer a darker color or more coverage.
How do you make oak look modern?
Oak floors or cabinets can look dated. Usually this is the "honey oak" yellow look. Stain it instead to reflect your personal style. If you decorate with cool colors, choose a white wash or a gray stain. If you decorate with warm tones, choose a chocolate brown or a light brown that is a bit more beige than golden.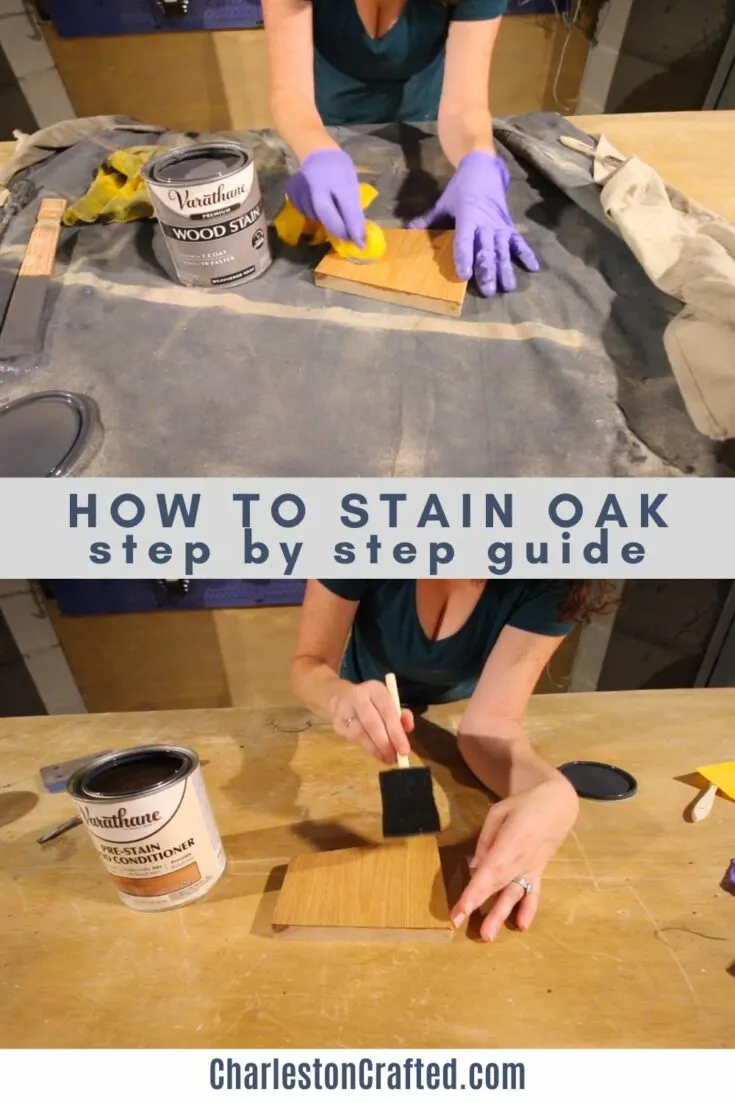 Yield:

1 piece of stained oak
How to stain oak
Here is a step by step guide showing exactly how to stain oak wood correctly the first time!
Recommended Products
As an Amazon Associate and member of other affiliate programs, I earn from qualifying purchases.
Video demonstration
Check out our video showing step-by-step how to stain oak wood!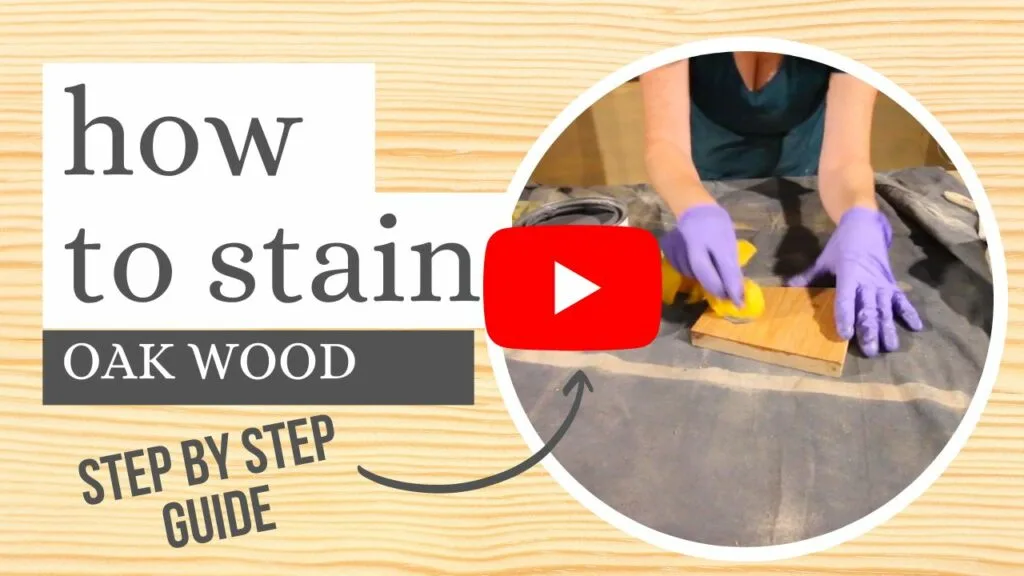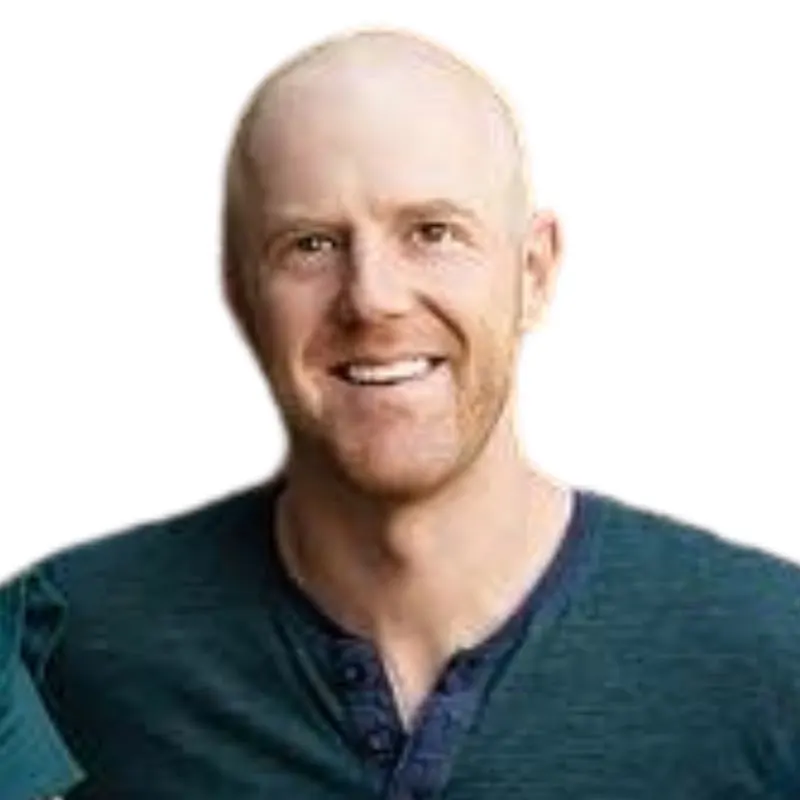 Hey there, I'm Sean, the woodworking enthusiast and builder behind CharlestonCrafted.com! Since 2012, I've been sharing the magic of turning raw materials into beautiful creations. I love teaching others the art and satisfaction of woodworking and DIY. I try to inspire fellow crafters to make something extraordinary out of nothing at all.