Do you have a huge pile of kid's books that need help getting organized? Here are some of my favorite DIY kid's DIY bookshelf ideas!
Reading is a wonderful hobby for your kids to have. So much better than screen time, and it's peaceful and quiet and educational.
The only problem? When books start taking over your house!
I am a big proponent of going to the library, but even with weekly trips, kids seem to accumulate a lot of books.
Whether it's through gifts, book of the month clubs, or hand-me-downs, it's hard to say no to free books – until you find yourself swimming in them.
The solution is a good bookshelf!
Book storage is a key aspect of any playroom or home with children in it. Regardless of the amount of books that you have, adding some kids book organization to your home will likely help it feel less cluttered.
Enter, the playroom bookshelf.
Don't have room for a bookshelf?
If you are running short on storage space, and don't have too many children's books, a book bin in your living room might be all you need!
Wooden crates are another option to store and display books so they are easily accessible.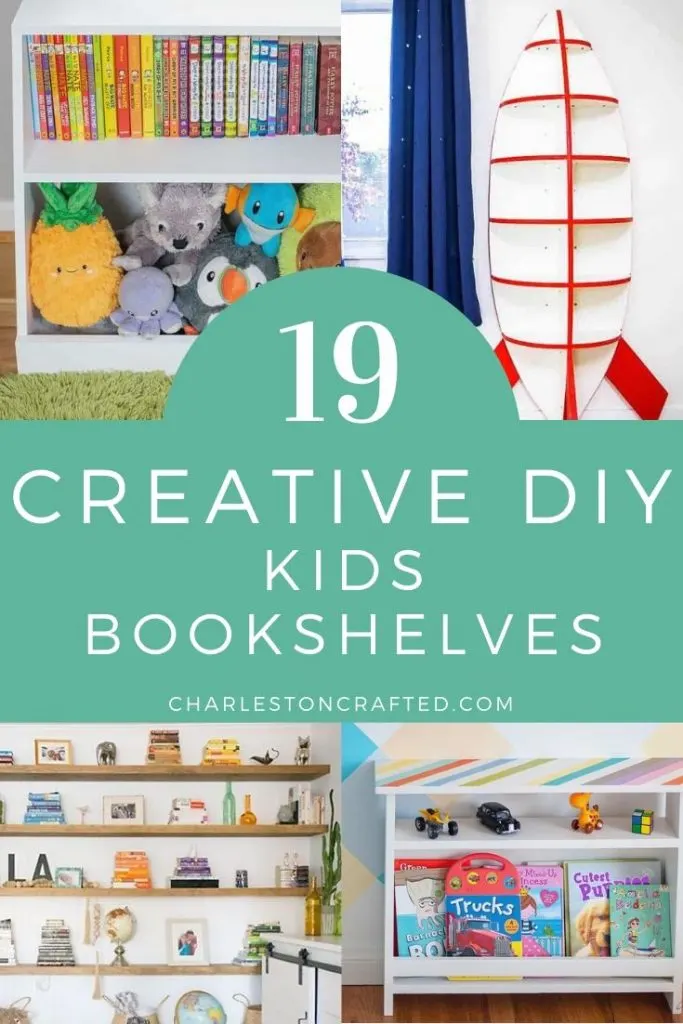 Ready for a DIY project?
Today I have rounded up a TON of DIY kids bookshelf ideas for you. I hope that you find the perfect solution for your home!
Each of these projects was made by a different DIY blogger. Simply click the project to hop over to their website for full step-by-step tutorials on how you can make your own version for your home!
Kids DIY Bookshelf Ideas
Want to organize your kid's books? Here are some awesome DIY kids bookshelf ideas!
Need to get your playroom organized?
I get it – it is SO HARD to keep play spaces clean and tidy! In my FREE 6 Day Playroom Organization Challenge, I walk you through exactly how to purge and clean up your playroom!
Just want to buy a bookshelf?
Here are some of my favorite bookshelves for kids' playrooms!
[show_shopthepost_widget id="4009503″]