We reconfigured and redecorated our small screened porch for a fresh new look with more functionality. Check out our screened porch makeover reveal!
We decided to spend our spring and summer DIY project energy and budget working on our backyard and outdoor areas.
That has meant a lot of plants and planting, but we also spent a good chunk of time on our outdoor living area – the screened in porch.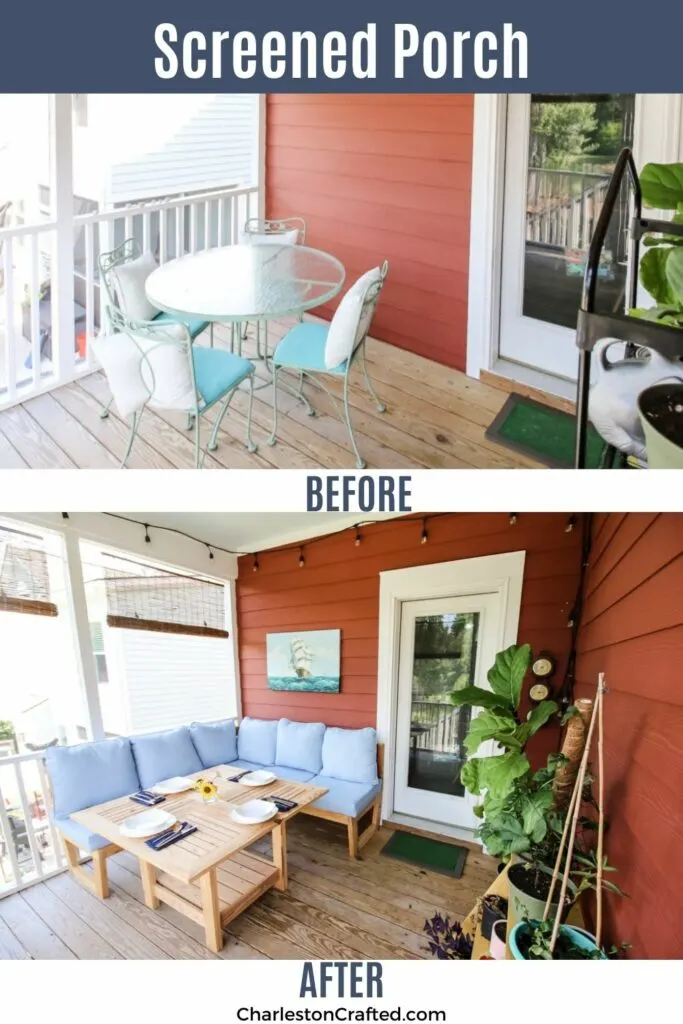 Our Screened In Porch Before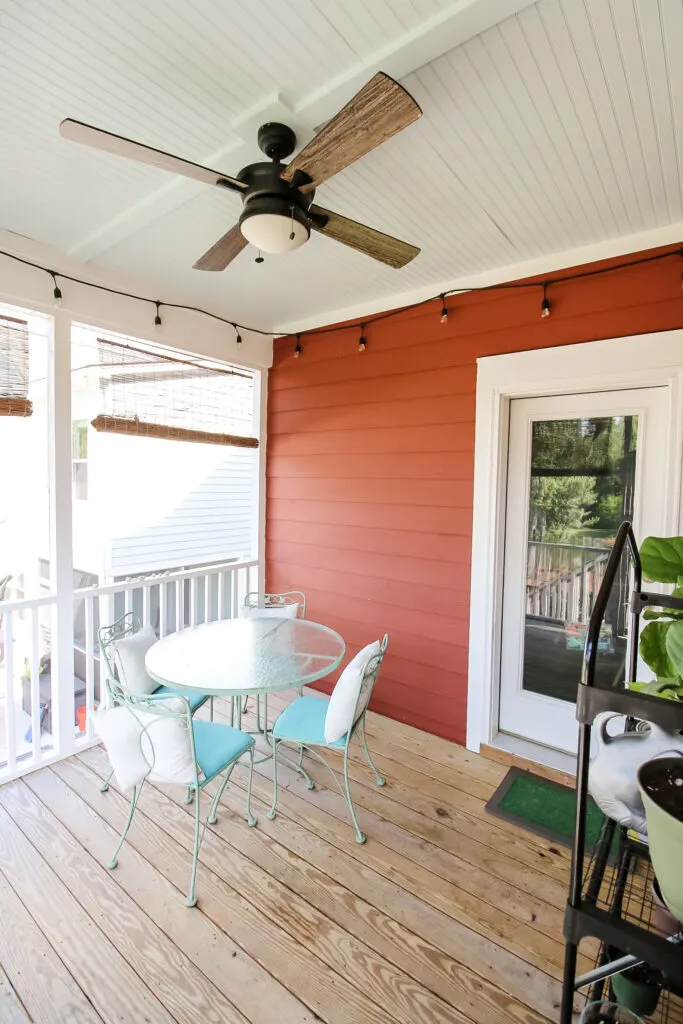 The screened porch isn't huge – it's about 10 feet wide and 12 feet deep, with 2 doorways that make a big strip of it a walkaway to the back steps.
Previously, we just put our outdoor furniture from our old house into this space.
It was fine, but not the best use of the space.
While I liked the circular table because it was compact, it wasn't particularly cozy. I wanted a spot where we could sit in the evening and chat or bring our laptops during the day to work.
So, cozier seating was a must.
Additionally, I wanted to clean up the plants and have a more streamlined shelf. We put our greenhouse here in the winter, but we don't need all that in the summer!
We already had installed a ceiling fan when we first moved in (a must in the south!) and hung string lights for nighttime ambiance.
Our Screened In Porch Projects
We actually only added a few things to the porch, but we really replaced everything that was there. I think it's important to remember in small spaces that less really is more, and to focus on functionality and not excess!
The plant stand
The first build for this space was actually a new rolling plant stand. We wanted something with a lower profile that would still have plenty of space for potted plants.
Plus, this was built on wheels so it can be rolled out to the landing during the rain!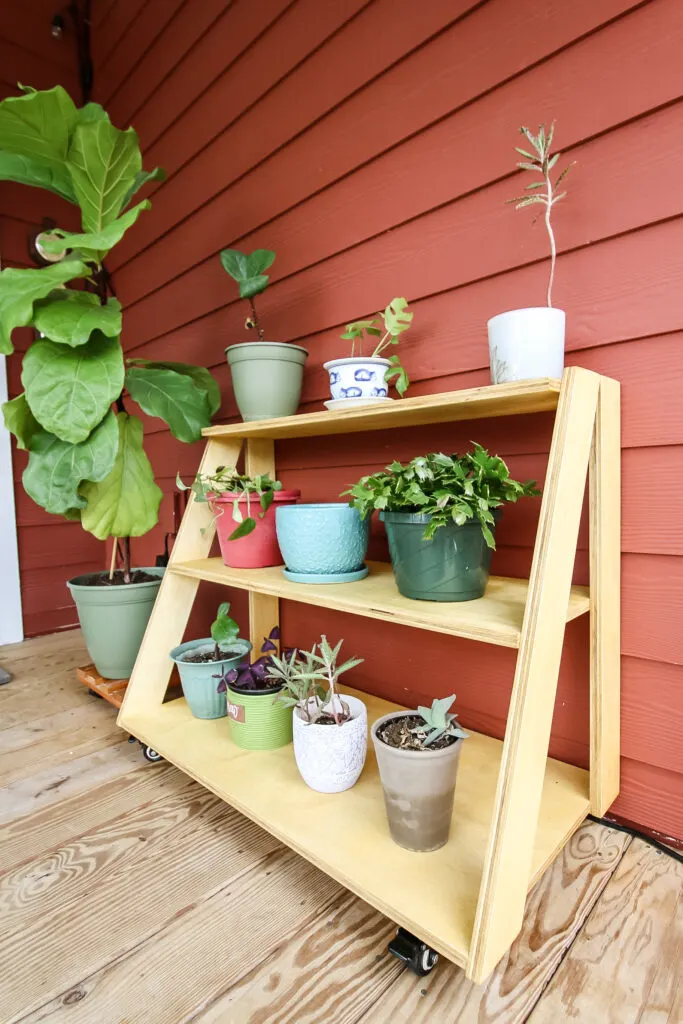 Click here for the rolling plant stand tutorial.
The sectional
Next up was an outdoor sectional couch. This doubles as a booth to sit and eat at and a place to cozily lounge or work.
It was very tight to squeeze a sectional in between the door frame and the wall of the porch. Like, to the inch. For that reason, the couch has a straight back and not a leaning angled back.
We thought this might be uncomfortable or weird but in actuality it's perfect for eating and working and the use of the back pillow makes it very easy to lean back and sort of angle yourself on the actual pillow, if needed.
Anyways, we really love this piece and love that several of you have built your own version already!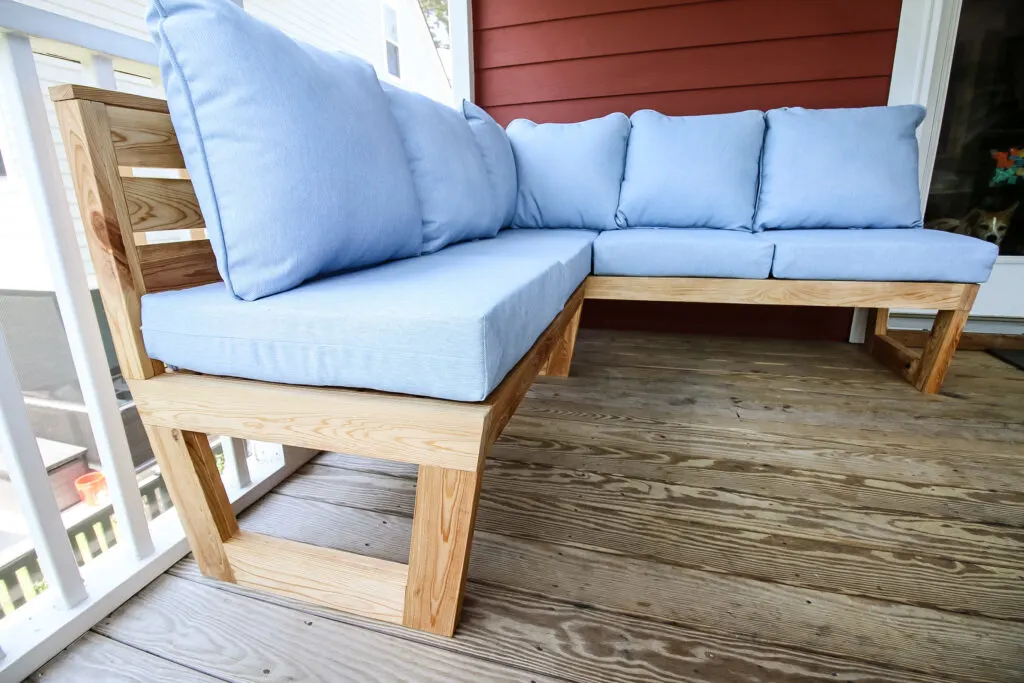 Click here for the outdoor sectional tutorial.
The dining table
The final piece to the puzzle was the new dining table. We struggled with this because our top priority was being able to eat out here, but it was also important that the space work for lounging, too.
We toyed with the idea – and started designing – of a dining table that raised and lowered to be a coffee table.
But, it was actually a Memorial Day party at a neighbor's house that showed us that an outdoor sectional + dining table was totally fine and comfortable for lounging as well as eating.
The table was designed to fit the sectional exactly. I love the addition of the smaller, lower shelf – it's the perfect spot to rest your feet when lounging and really makes the piece in my mind!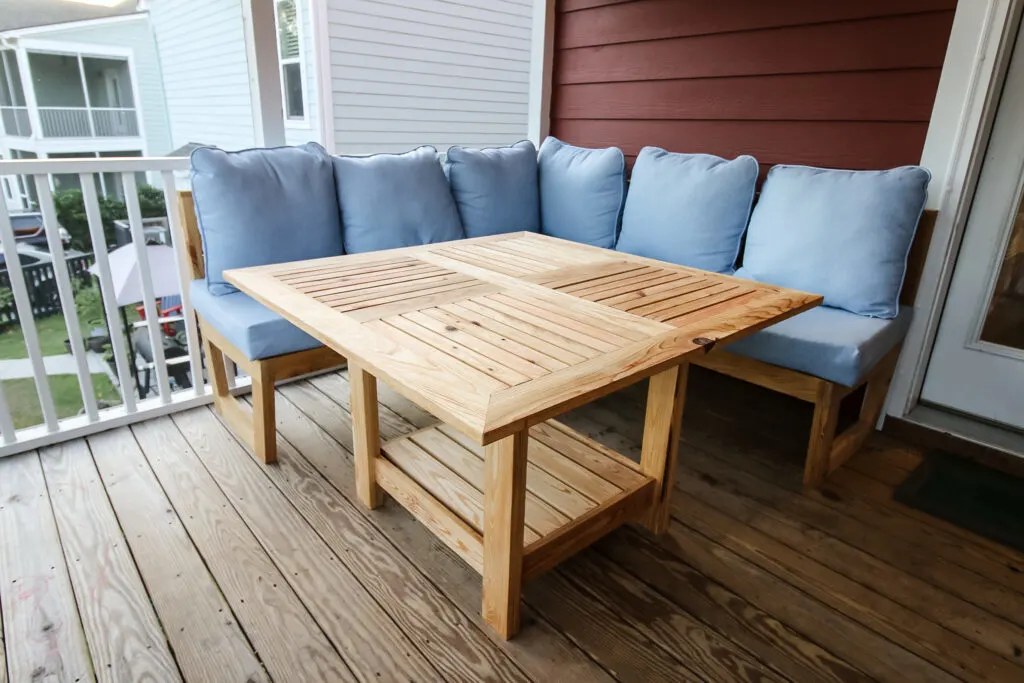 Click here for the outdoor dining table tutorial.
Accessories
We kept the accessories out here minimal. The potted plants on the plant stand cover most of the decor, though I added one tall fiddle leaf fig (from indoors, I actually don't have a sunny spot for it inside so who knows what will happen in winter).
I also added a potted palm next to the sectional when we decided not to add the breakfast bar. It just visually fills some space while still leaving the floor space for the kids to play!
We did hang 1 piece of art on the wall. This is an old thrifted canvas that we've had for a decade, and I thought the ocean vibe played nicely with the couch cushions and the outdoor feel.
The art is just hung on 2 slim nails directly into the siding.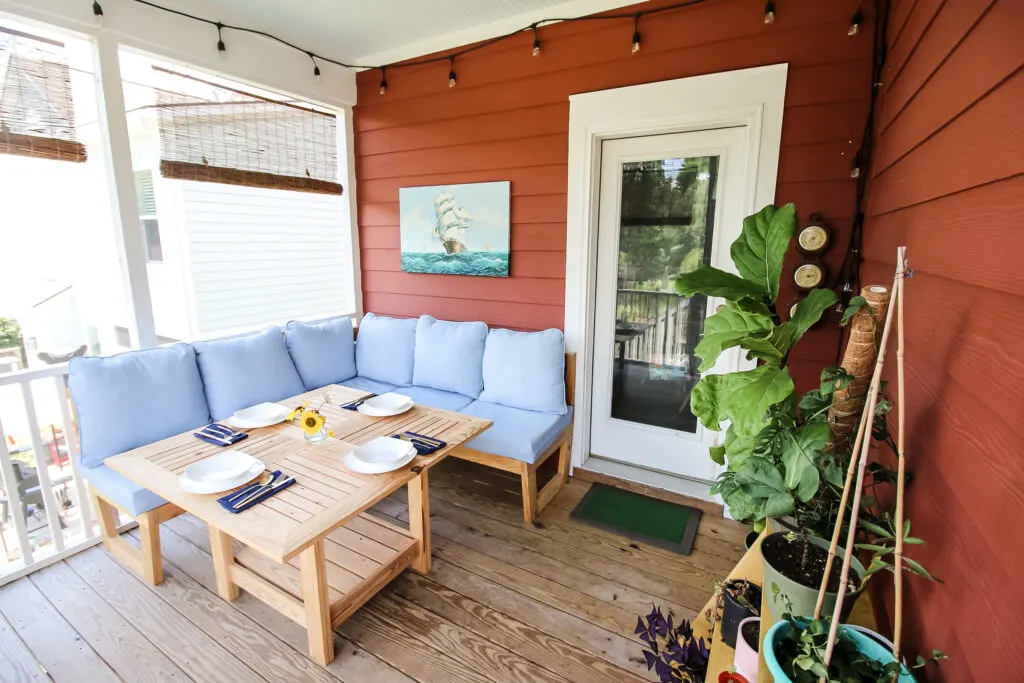 My initial plan was to mount a TV over the plant stand. We actually have an extra TV just chilling in our attic. However, Sean convinced me that we don't need an outdoor TV.
We don't watch much TV at all – I just thought it would be kind of cool to have an outdoor TV and we already have the TV so… 🙂 Overruled!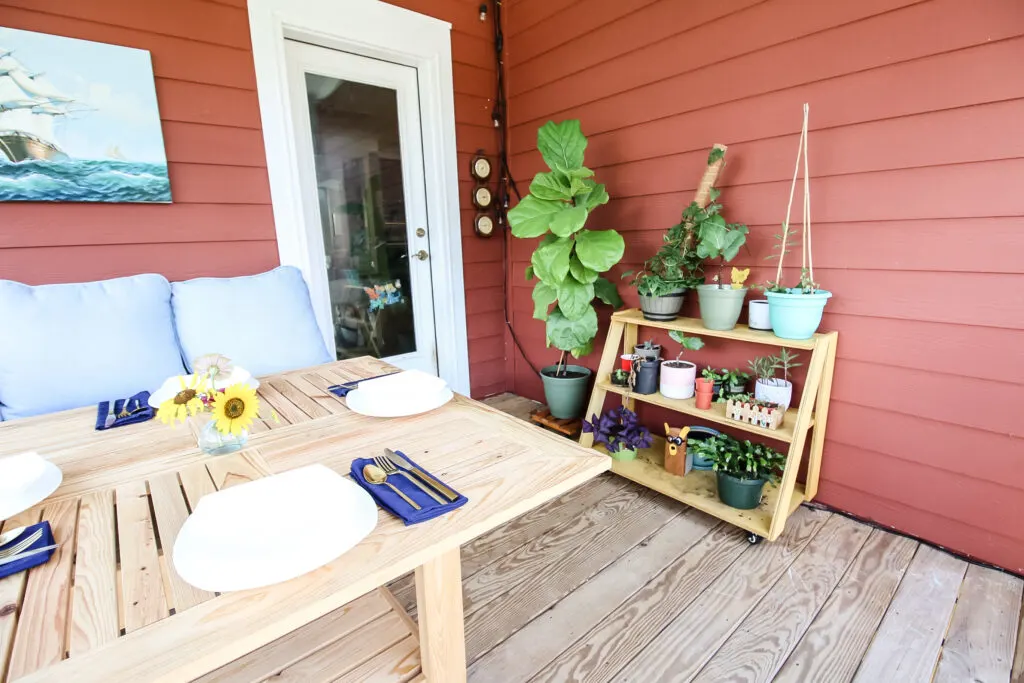 What's next for the screened porch?
We are calling this project done for the year, but we do still have a couple of projects up our sleeves for the future.
Once Rory is confidently able to sit in a chair instead of a high chair (maybe next summer?!) we hope to add a breakfast bar to the wall of the porch overlooking the pond.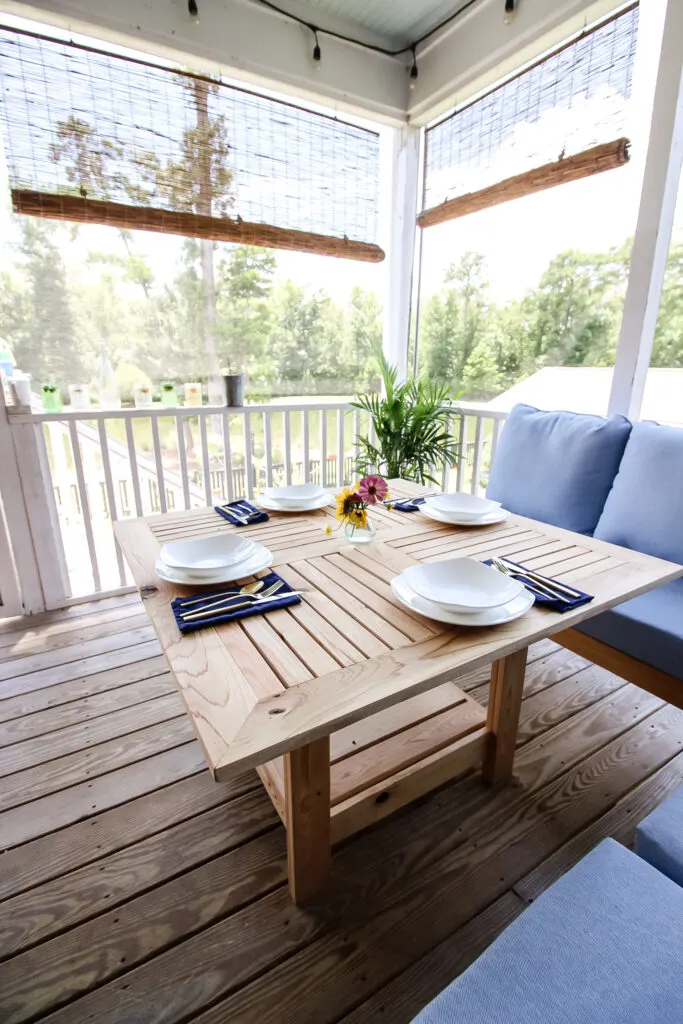 This paired with barstools will be another eating area and a casual place to hang and appreciate the view.
The bar was actually on this year's project list, but once we got the sectional in place, we decided that it was better to leave that space open for now since the kids have been doing chalk and playing in that area.
We will assess again next year to determine if we still like the breakfast bar idea or if it's better as an open area!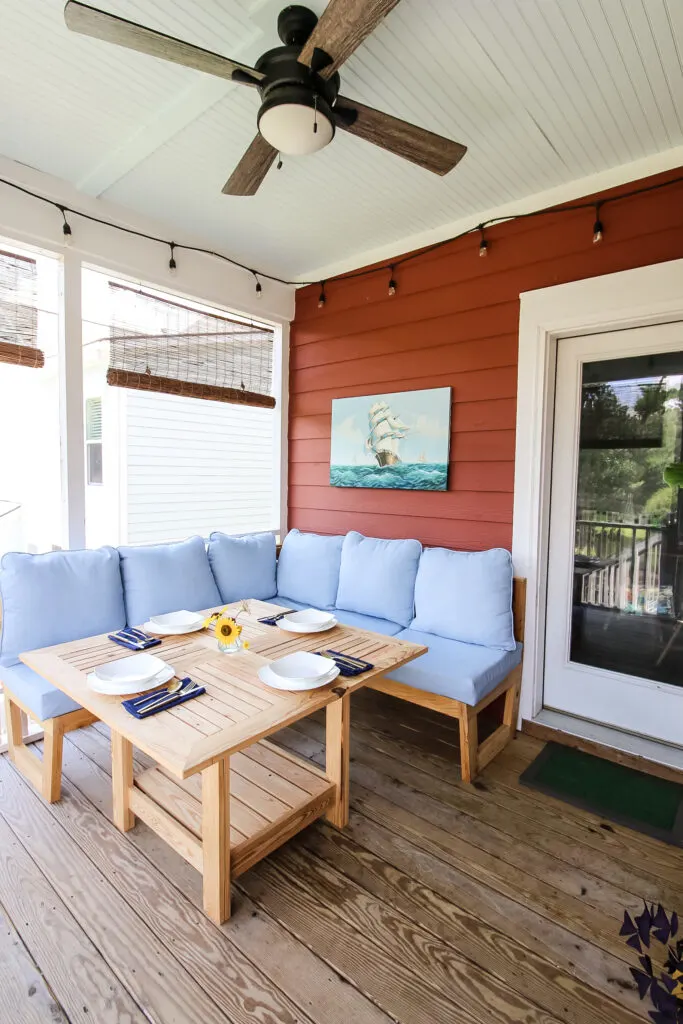 What other outdoor projects would you like to see us tackle?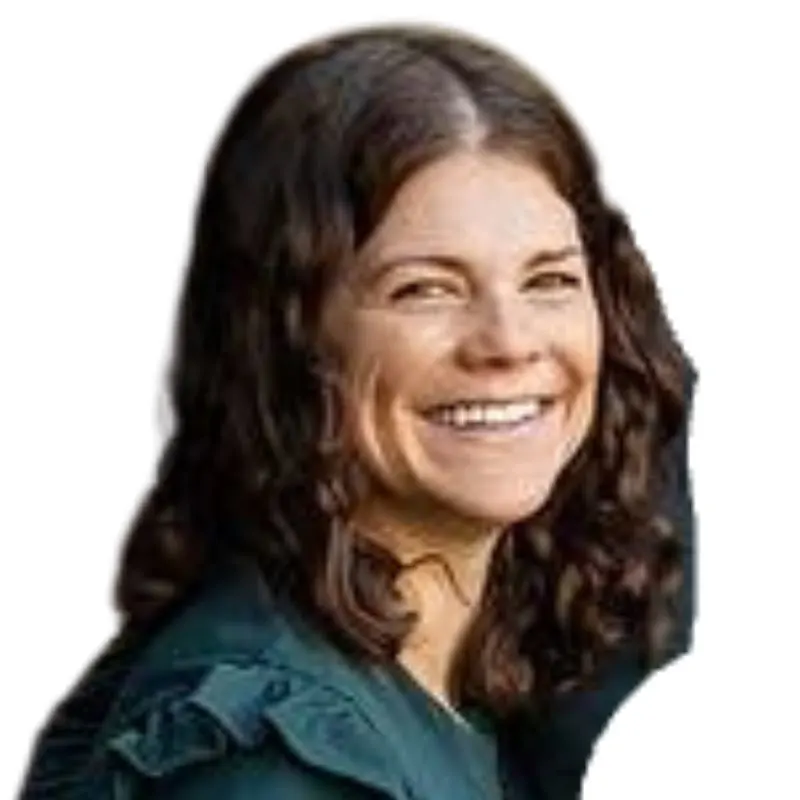 Hello, I'm Morgan, half of the creative force behind CharlestonCrafted.com! With a passion for DIY that dates back to 2012, I've transformed three homes and now I'm dedicated to helping others craft their dream spaces. Let's turn your house into a home together!