Get – and keep – your home in tip top shape with these essential Spring home maintenance tasks. Get the free printable PDF spring home maintenance checklist!
Home maintenance can be a real drag. However, it is essential to stay on top of these boring tasks. Keeping up with the maintenance of your home can help to prevent or decrease the severity of major home improvement problems down the line.
Spring is a good time to do a lot of home maintenance tasks. You might be in the spring cleaning mood, which makes it easier to tackle some of these monotonous tasks.
If you live in a colder area, snow will be melting and problems might be emerging as a result.
Either way, it's a great time to exit the cozy cocoon of your home and get to work on your spring property maintenance!
You will notice that most of these tasks on on the exterior of your home and in the yard. That's on purpose – I tried to stack your interior tasks into the winter and summer months, with the more temperate spring and fall perfect for outdoor tasks!
Here are my top suggestions for home maintenance tasks for spring!
Spring home maintenance checklist printable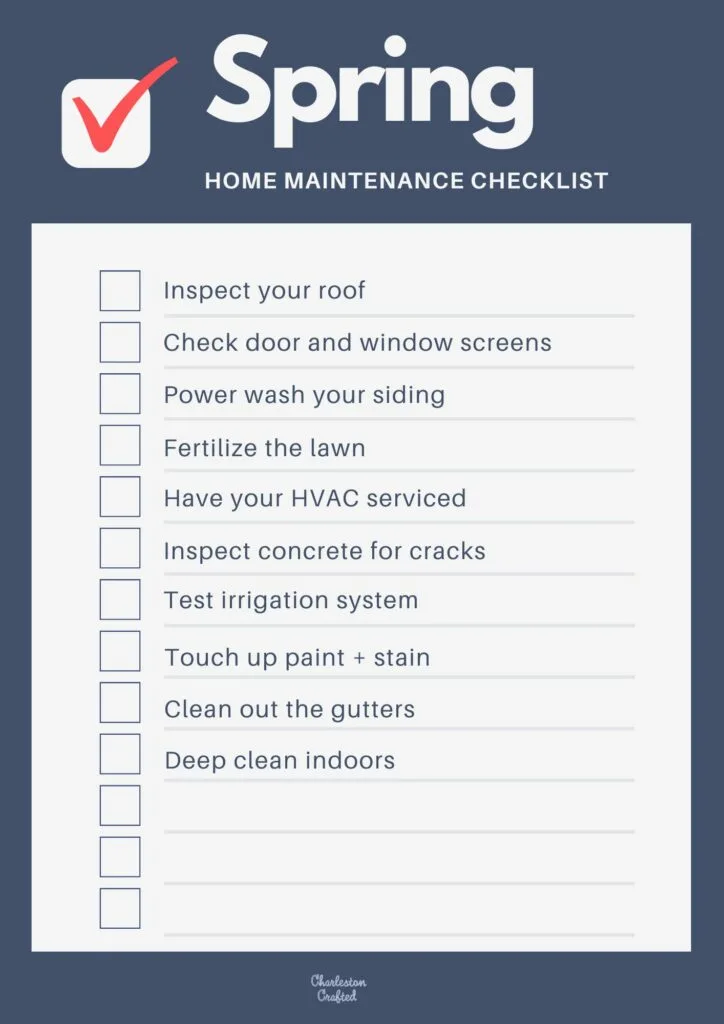 Click here to get our free spring home maintenance checklist PDF straight to your email inbox!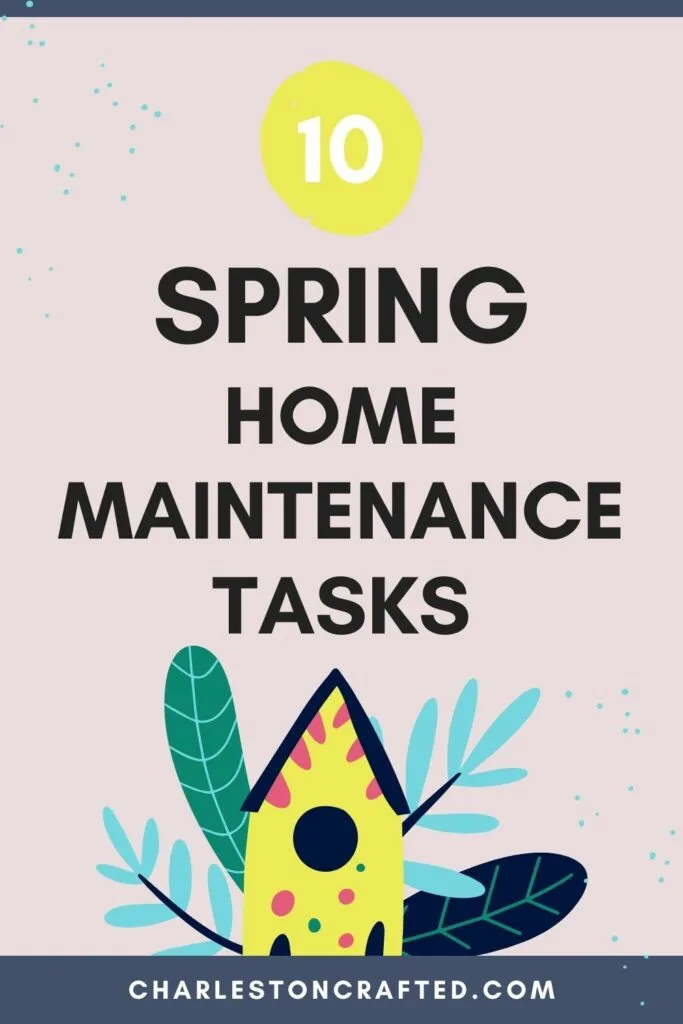 Click here to get this list in a free printable PDF!
Spring home maintenance tasks
Inspect your roof
Ice, snow, and other inclement weather can cause damage to your roof. Check for loose shingles or holes.
Also check inside your attic space for signs of water damage, which could be indicative of a problem. If you see something, it might be best to call a professional to take a deeper look.
Check and clean door and window screens
As spring weather rolls in, you will want to have the windows and doors open to let the sun shine inside. Check each of your screens for holes or damage.
Some screen holes can be patched. Large holes you might just need to replace the screen.
Power wash your home's siding
The outside of your home can get really gunky over the winter. Power wash your siding for a fresh start.
If you live in an area with a lot of pollen, you might want until after that drops to have the house washed or DIY it. Either way, clean off the mildew and gunk for a clean look.
Fertilize your lawn
Most grass does well being fertilized in the spring. You should read the fertilizer bag for it's suggestion on precisely when to treat your lawn – usually after a certain number of mows. This is the process that we use to fertilize our grass.
Have your HVAC system serviced
As the weather warms up, your air conditioning system is going to be put to work. This is a great time to have an annual service done. This will make sure that your air conditioning unit it working and as efficient as possible.
Inspect any concrete for cracks
Concrete can really be effected by shifts in the ground. The ground tends to shift a bit when it freezes or changes temperature in the winter. As the weather warms up – hello spring – it can settle again, which might lead to cracks in your concrete.
Check your driveway, sidewalk, patio, and any other concrete pads for cracks. Minor cracks can be patched but larger cracks might be a safety issue if not addressed.
Test your sprinklers or irrigation system
It's about time to put your sprinklers to work. Test them and make sure they are clean. If you have an irrigation system, test that as well and check each sprinkler head to be sure it is in working order.
Touch up damaged paint + wood stain
One thing that can really make the exterior of your home look shabby is peeling paint. Take a moment to do a home inspection and identify any areas that could use a refresh.
Also check your wood stain on your decking. It can wear off over time. It's important to have a protective coat on wood to help to prevent rot. So, you might need to give yours an update!
Clean out your gutters
Gutters and downspouts can get clogged up with leaves and other debris. Once, when I was a kid, our gutter got so clogged that a three foot tall tree grew in it! Wild.
Don't be like that. Clean your gutters!
Deep clean inside your home
Finally lean into the urge to spring clean. Deep clean areas that you normally don't – such as floor boards, moldings, the tops of door frames and cabinets, and any tiny nook that's hard to dust. Move furniture and clean underneath it. Just clean everything very well!
Also check out my spring monthly home maintenance tasks:
What other tasks are on your Spring checklist for your home!?