If you're trying to remove your hose from the spigot and it just won't come off, we'll show you how to remove a stuck hose from an outdoor spigot!
Are you finding this because you need to know how to remove a stuck hose from an outdoor spigot? Are you here because you were just outside trying to get the hose off and it was so stuck you resorted to Google?
No worries, we've got you covered.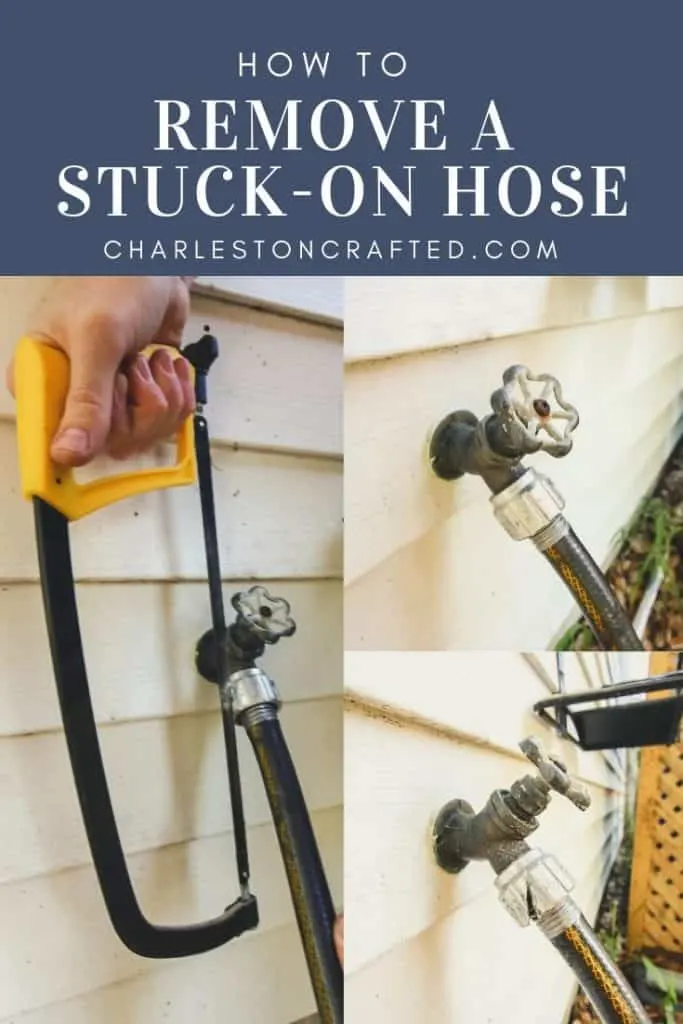 There's no worse feeling than trying to perform a simple home maintenance task and it turns into a spiraling, increasingly difficult time suck.
Like, for example, maybe you go to move the hose and realize that, twist all you might, it is simply not coming off the spigot. There's a lot of reasons that this could happen, but it doesn't mean it can't be fixed.
Now, don't let this ruin your Saturday morning. It's actually pretty easy to get your hose off! 😉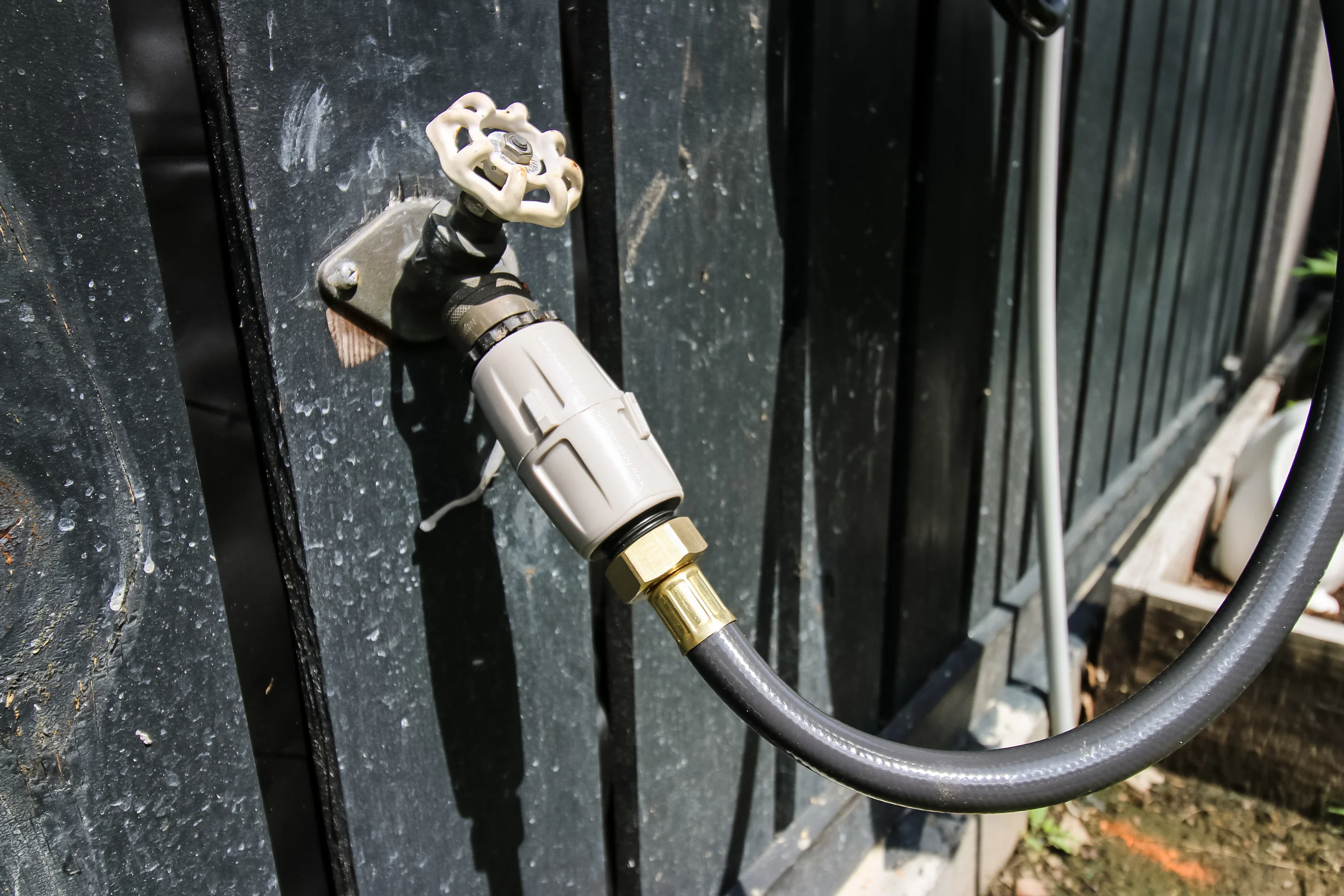 How to get a stuck hose off an outdoor spigot
Our hose recently busted and got a hole. Whomp whomp.
We tried duct tape first, but water was still leaking, so we decided to get a new hose.
When we went to remove the old hose, it was stuck on the spigot. It had been screwed on for almost three years, so it had some buildup.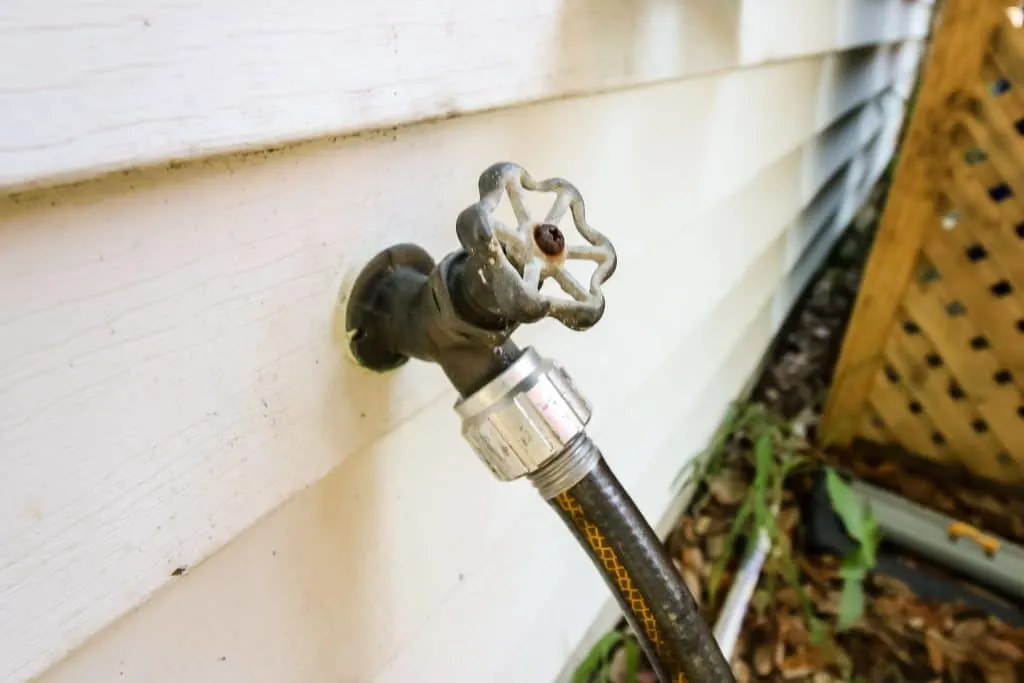 This is called being "calcified" in place and is usually caused from having an aluminum hose and brass spigot. Over time, white calcium will form and almost glue the hose to the spigot.
It's fine for daily use, but when it comes time to remove the hose, you're going to have to get creative.
This is obviously not an ideal situation, but it serves as a learning experience. In the future, make sure you know what type of spigot you have and get a hose that will match!
Nozzle stuck, too? Here's our guide on how to get a stuck nozzle off a hose – 4 ways!
What you'll need:
Can't wait for delivery? We recommend grabbing this hacksaw at your local Home Depot!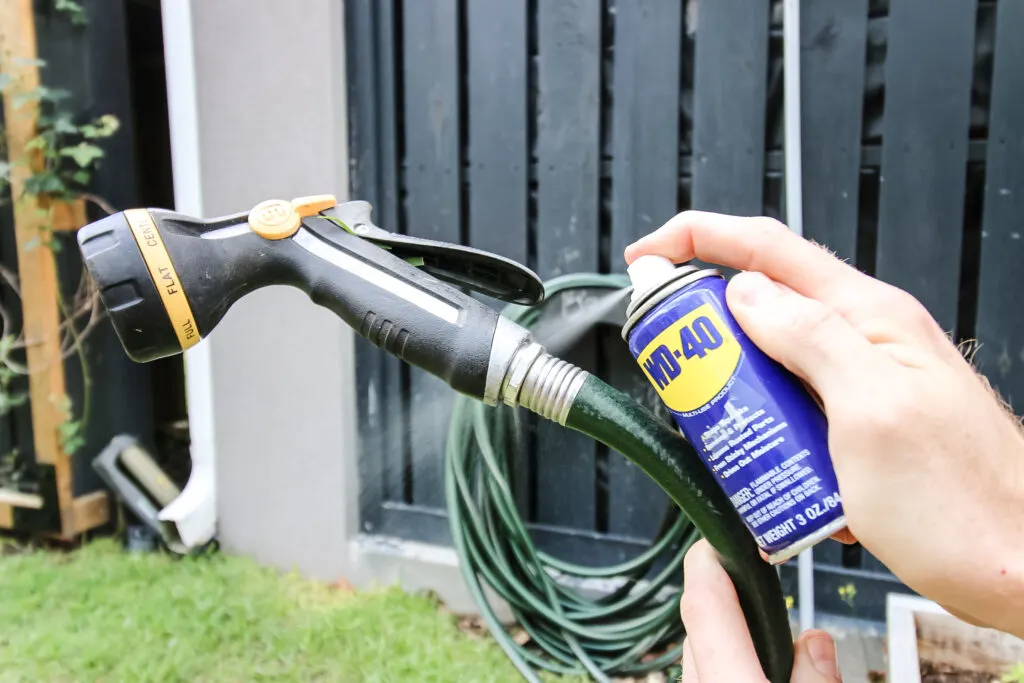 First try a wrench or pliers
The first thing to do if your hose is stuck to the spigot is try using a wrench or pliers. First, spray some WD-40 or other lubricant into the threads and let it sit.
WD-40 works to get in between the threads and will hopefully break down the calcification and loosen up the threads enough that you can get the hose off the spigot.
Then, use the wrench or pliers to try to loosen the hose. If your hose is not too calcified, you should be able to muscle it apart. The wrench gives you just a bit of extra leverage.
If that doesn't work, don't fear.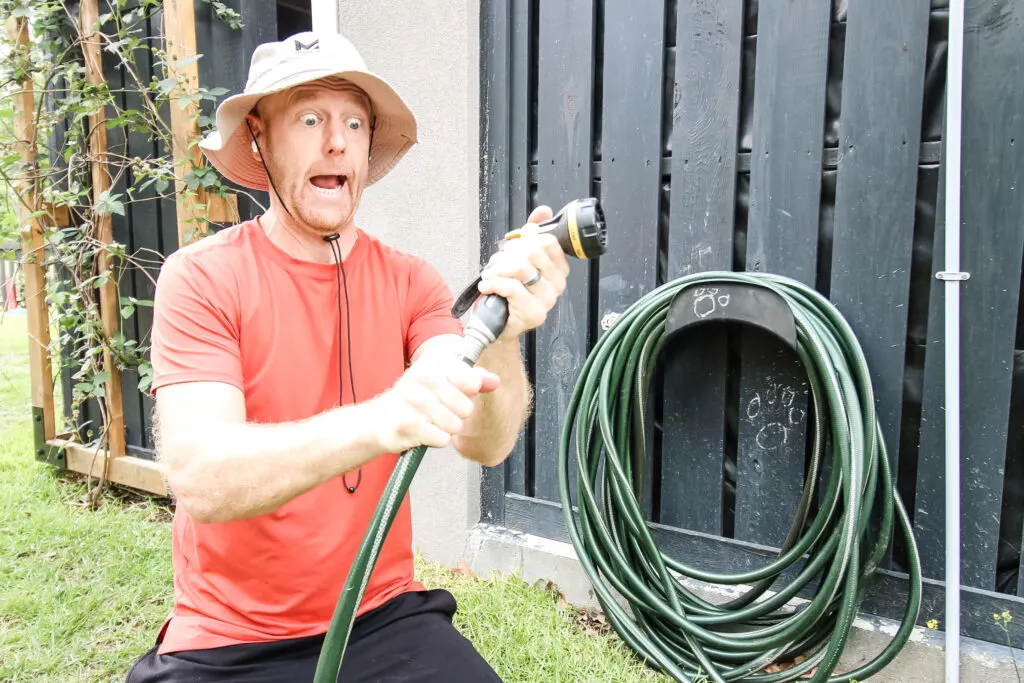 How to use a hacksaw to remove a stuck hose on a spigot
We had to use a hacksaw to remove our stuck hose from the outdoor spigot. The way to do this is to saw vertically, perpendicular to the threads.
Sawing vertically will allow you to break through the coupling that is holding the hose to the spigot. If you saw horizontally, you'll just end up with getting the hose off, but the coupling will still be stuck.
Slowly work the hacksaw through the hose's coupling, but be really careful not to saw through the spigot itself.
Just go bit by bit, checking to see if it's cut yet.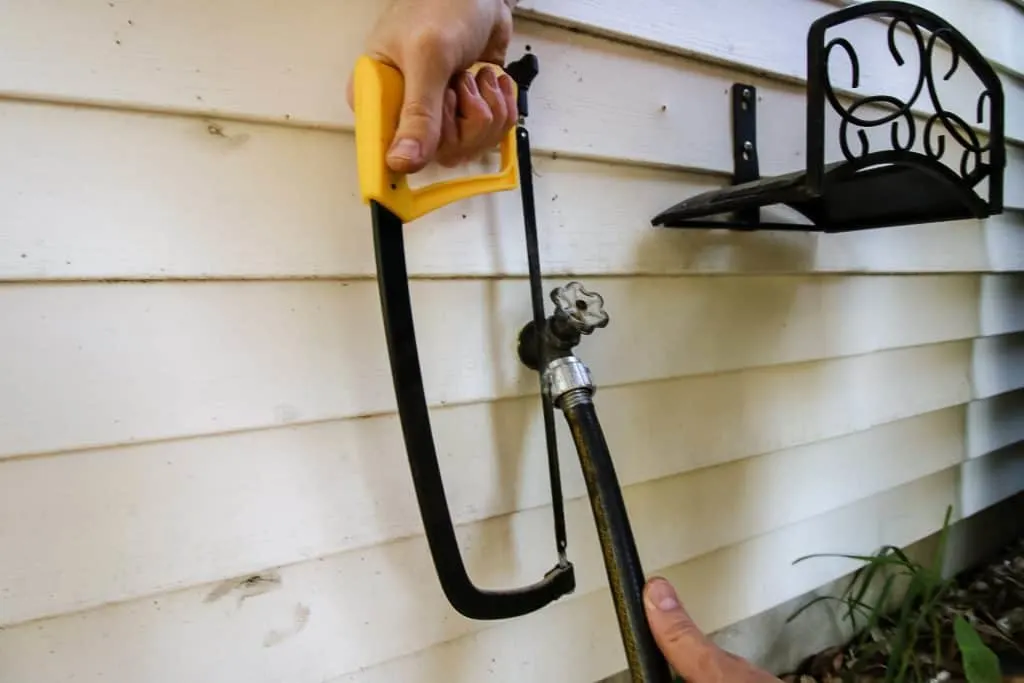 Once you've got some clearance, use something like a flat head screwdriver or small pry bar to work the cut.
Use leverage to twist the bar inside the cut to try to snap the coupling. Yes, you will be breaking the hose. But, if the hose won't come off otherwise, this is the next best option to burning the whole thing down and it's much easier to replace the hose than the whole spigot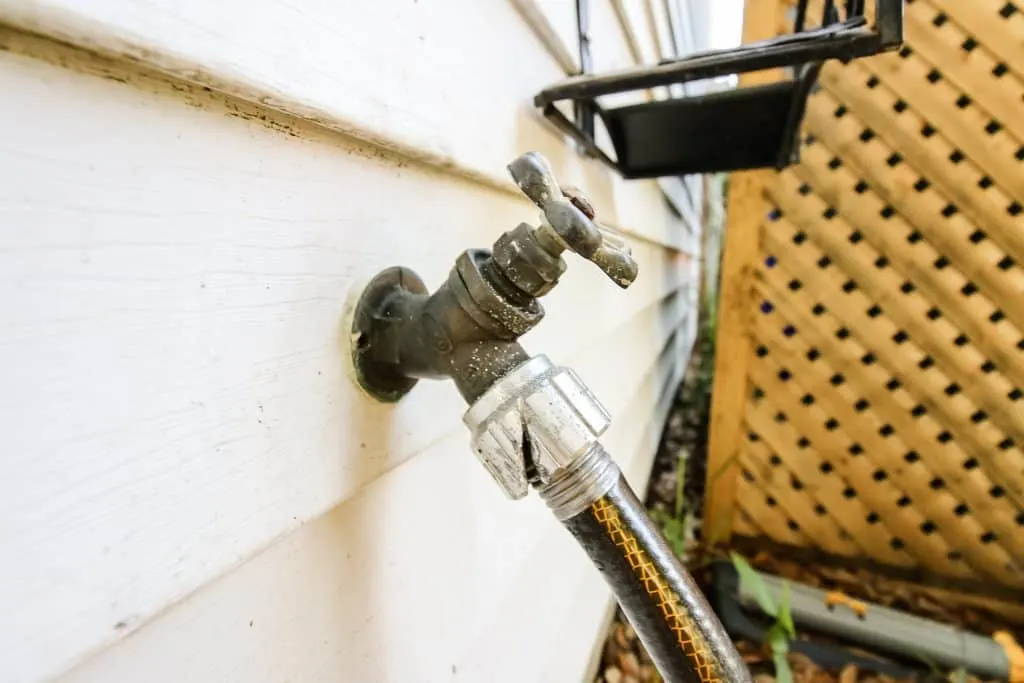 It may take a few tries.
Use the hacksaw some more and then try twisting your pry bar again. The coupling should snap eventually.
Once it snaps, you should now be easily able to twist off the hose.
Now that it's loose, it will come off easily. Check out how much calcification was in the hose coupling!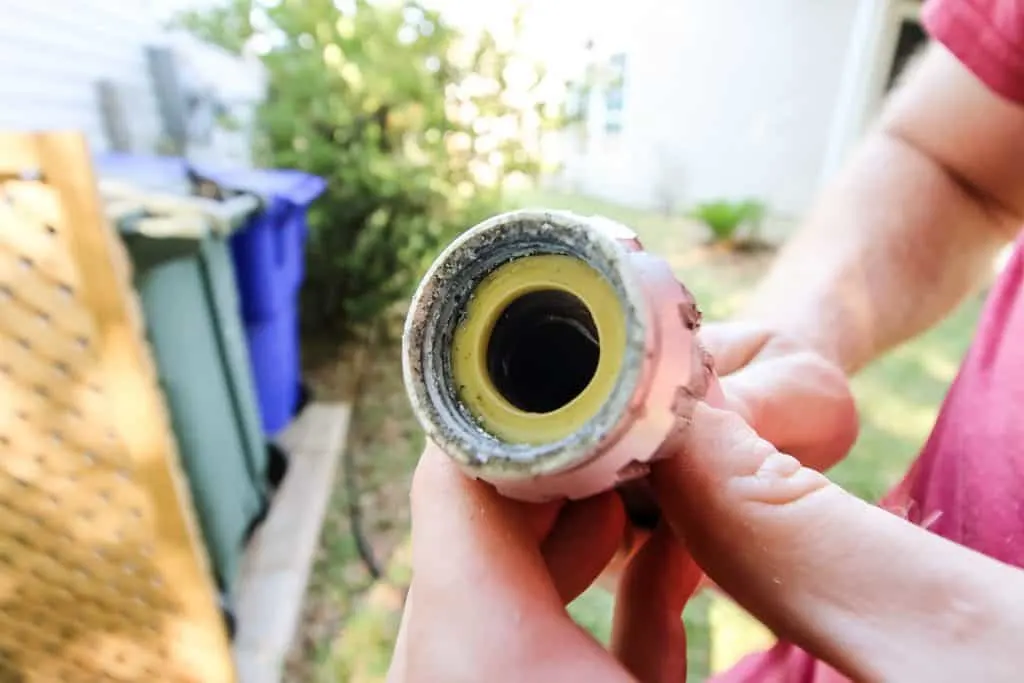 Tips to prevent hose from getting stuck to spigot
Once this has happened, you don't want it to happen again.
Here are some tips to help prevent your hose from getting stuck to the spigot:
In the future, make sure to fully unscrew the hose from the spigot every month or so.
If you see any corrosion, make sure you clean it off.
Your water hose may get stuck on the spigot if you have an aluminum hose end and brass spigot, due to excess corrosion.
Consider adding a quick connect in brass or plastic to avoid this happening again.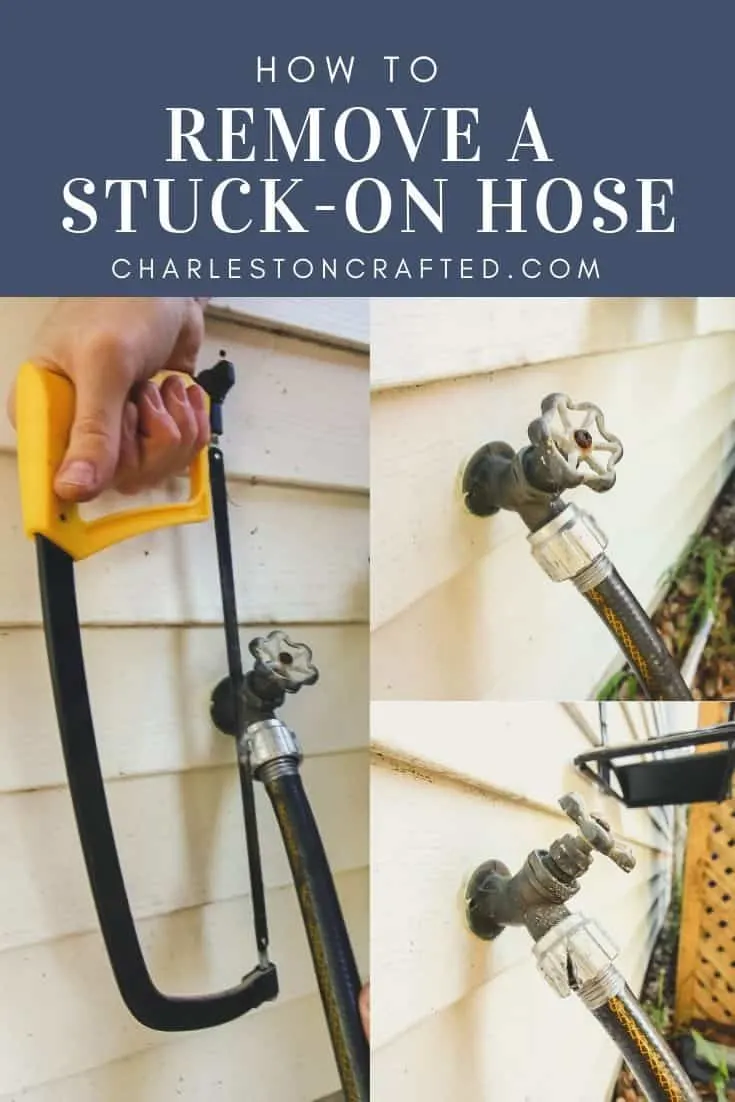 How to remove a stuck hose from an outdoor spigot
Our old hose sprung a leak, but we were unable to get it off of the spigot. Here is how to get a stuck hose off of your outdoor spigot if it is stuck on.
Instructions
Use a hack saw to saw vertically, against the threading of the metal where it connects to the hose.
Saw until you get a solid crack, without cutting the spigot.
It took a solid 10 minutes of sawing for us.
Use a flat head screwdriver or pry bar in the crack you have just sawed open to crack the cap in half. You might have to go back and forth between sawing and prying.
Pop off the cap and remove the hose.
Put on your new hose.
Recommended Products
As an Amazon Associate and member of other affiliate programs, I earn from qualifying purchases.
This post contains affiliate links, meaning if you click through and make a purchase, we get a teeny tiny percent. Thanks for supporting the brands that make Charleston Crafted possible!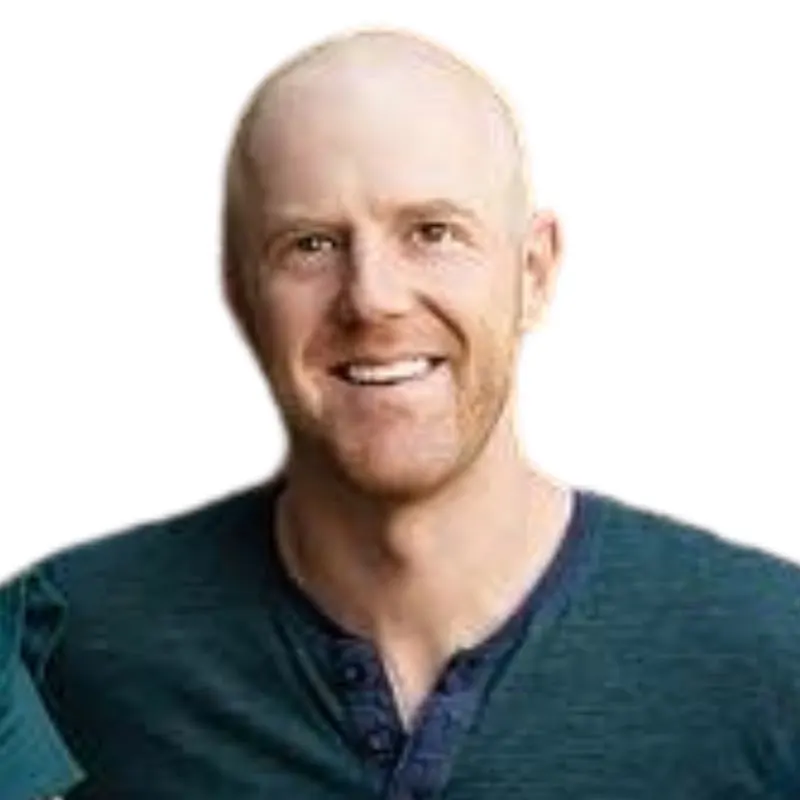 Hey there, I'm Sean, the woodworking enthusiast and builder behind CharlestonCrafted.com! Since 2012, I've been sharing the magic of turning raw materials into beautiful creations. I love teaching others the art and satisfaction of woodworking and DIY. I try to inspire fellow crafters to make something extraordinary out of nothing at all.