Spring cleaning is a huge deal, but I really try to clean and purge once a season.
The end of a season is a great time to acknowledge whether you used something in the last 6 months and get a clean fresh start for the upcoming season.
A lot of people hate to purge, but not us! (The only person who likes to purge more than me is Sean!)
A big excuse that I hear is that you paid perfectly good money for something, so you don't want to give it away.
Another thing that I see is people who just give everything to Goodwill. Even trash or unsellable items.
While donating is great, you have to be practical about what you give.
So, I am going to help you know if you can sell something, should donate it, or if it is really trash.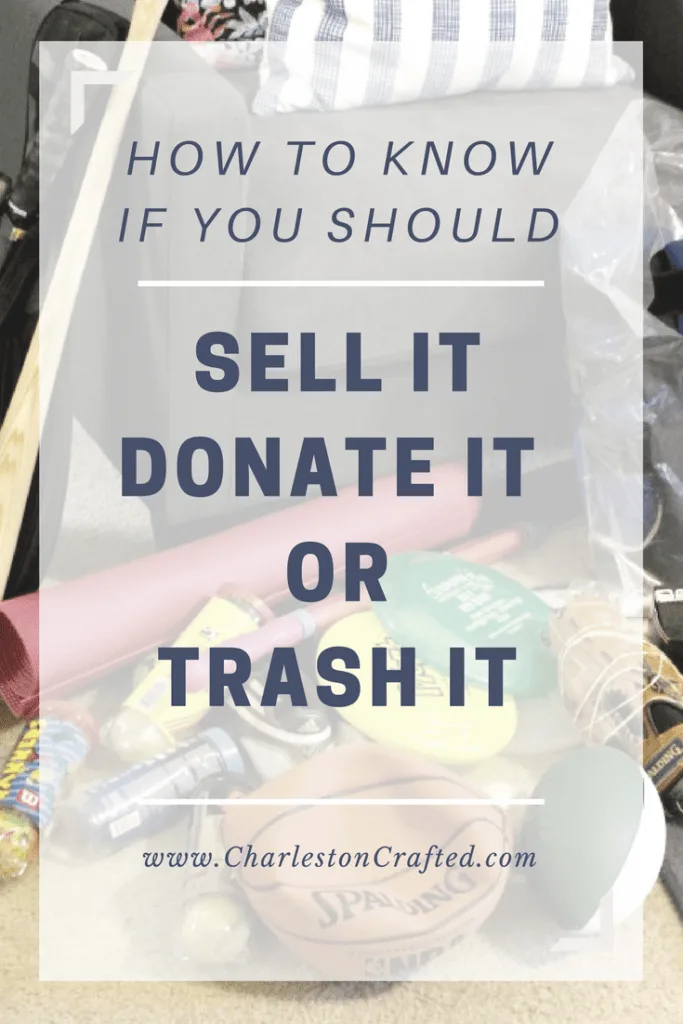 I'm not going to go into when to purge something in this post, because you probably already know – if you don't use it or love it, don't waste space in your house on it. It's that simple!
How Do You Know If You Should Sell It, Donate It, or Trash It
Sell It
If it is valuable – remember that value is subjective. Something used is, 99% of the time, worth NO MORE than 1/2 what you paid for it, and that's only in fantastic condition. Used clothing or furniture is often worth less than 20% of the original value. You might think that it's still worth nearly it's full value, but people aren't going to buy something used if they can spend just a little bit more money and get the same thing new.
Is it worth your time? Selling something might require that you clean it, photograph it, post it, respond to inquiries, meet with potential buyers, drag it around with you – this will depend on your financial situation, honestly, because to some people $10 is worth that hassle but to others $50 wouldn't be worth their time. Assess based on your personal situation.
When do you give up? Set a specific time that you will keep it listed for IE 30 days, 90 days, etc. If it doesn't sell, have a plan for what you will do with it.
Pricing – pricing is really hard. My biggest suggestion is that if you are just trying to purge, price low. Wherever you are selling, search for similar items and price accordingly. Just know that a lot of people sort potential items lowest to highest price, so if you want to be competitive, you need to come in low.
Beware of shipping costs – if you are selling online, be aware that you are going to have to ship your items, and shipping is expensive, y'all! No one wants to pay $20 shipping on a $10 item, so keep that in mind when deciding when and where to sell things. USPS lets you estimate shipping costs online.
How do you sell it?

Facebook marketplace
Specialized Facebook groups (for specific brands or groups)
Craigslist (please be careful)
eBay
Sell at a consignment store
Hold a yardsale
Clothing sites: Poshmark, Mercari, etc.
Donate It
The most important thing to remember is that donation centers' resources are limited. Donations take resources. They have to pay someone or use valuable volunteer hours to sort through donations, organize them, clean them if applicable, and then use limited space to store and display them. Don't donate something that isn't going to sell. If it won't sell for $1 at a yard sale, it's probably not worth donating.
Is it damaged? You might think that pilled, ripped, or stained clothes are better than nothing to someone who is "desperate," but usually, charity shops aren't desperate. They get tons of donations. Donating damaged items just wastes their time, and they put it all in the trash, which goes to the landfill and rots.
Give them the in betweens. If you deem that something is not worth your time to sell, but still really have a lot of life left in them, and you don't want to keep it, the best thing to do is donate it. These are the items that they want.
Take the time to donate it. I hate it when we walk the dog and we see people's stuff just sitting on the side of the road. People are lazy and instead of selling or donating, they just throw it by the side of the road. This is so sad and is clogging up our landfills. It's often great stuff in great condition that people just didn't want to deal with. Take the extra time and drive it to Goodwill.
Trash It
And please know – by trash it, 99% of the time I mean recycle it!
Torn, very worn, or damaged clothing, linens, and towels – drop in a fabric recycling bin
Severely broken home decor items or furniture – burn or recycle
Old papers and documents – shred & recycle
Outdated electronics – often not accepted by the trash! Research your local recycling facility because the trash collectors will often just leave it and it will sit there for weeks.
One exception to my "trash it" rule is old towels and blankets! Here's how I donate damaged linens!
How do you decide to sell, donate, or trash something?