Want to incorporate fresh holiday greenery into your Christmas decor? Here are my best tips for how to use fresh garland and keep it fresh all season long!
One of the best things that I have done for my holiday decor in the past few years is start decorating with live Christmas garlands and wreaths.
It feels a bit decadent and super fancy, but more importantly – it makes it feel like Christmas.
Why I love fresh garland
We live in coastal South Carolina where it is often 80 degrees on Christmas. There is never snow. Honestly, it doesn't always feel Christmas-y.
You know what DOES feel Christmasy? Live garlands and wreaths and Christmas trees.
I love the smells, the look, and just the instant burst of holiday cheer that they bring to our home.
Live garlands also have the benefit of being completely biodegradable (they are in fact natural plants) and you don't have to store them in the off season. Win-win!
Where to buy fresh garlands
My favorite place to buy fresh Christmas greenery is Costco!
They usually put their live garlands and wreaths out right around Thanksgiving.
Act quickly because they are not available for long! Once the Costco fresh garland are gone, they are gone!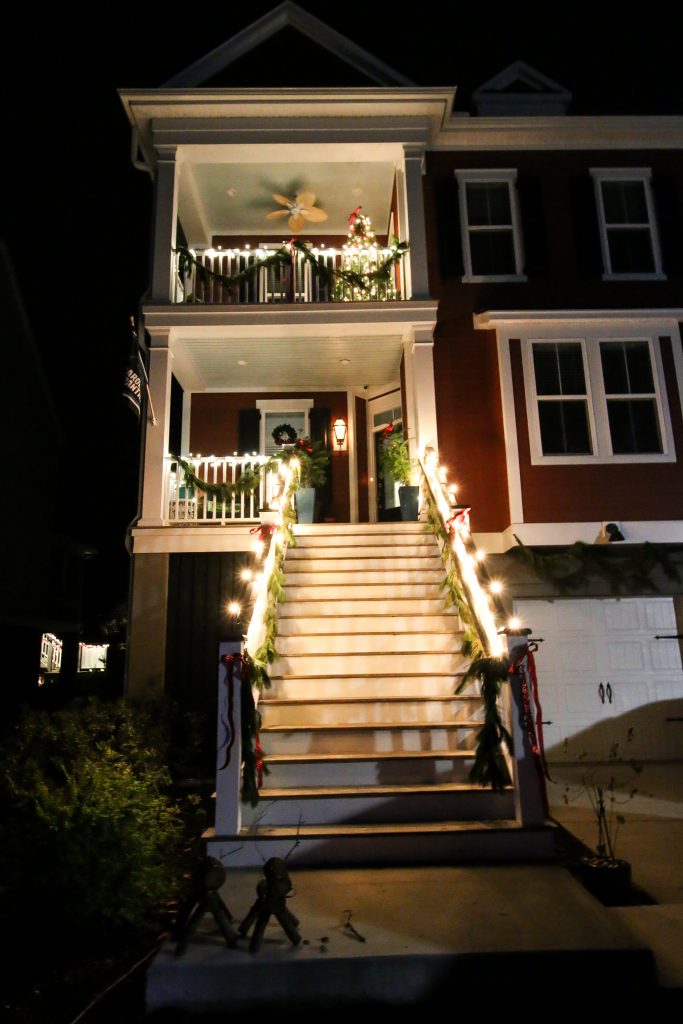 How to decorate with fresh garland
I have used fresh garland a lot in holiday decor. My favorite place to use it are:
On the stair banister
Across the mantel
As a table runner/centerpiece
On top of kitchen cabinets
Along floating shelves
In front of the TV on the top of the TV stand
Twist tied to our chandelier
On our front porch railings
Around the front door (on the outside)
Place any small "scrap" pieces in a vase or canister!
How long does fresh garland last?
I have found that indoors, my garland looks best for 2-3 weeks. We leave ours up from Thanksgiving to Christmas – it just starts to get slightly browned by then.
Outside, our garland gets crispy and brown pretty quickly, in a week or so. If you live in a cold or snowy climate, however, it will likely last LONGER outdoors than indoors! We just live in the south and often wear shorts on Christmas!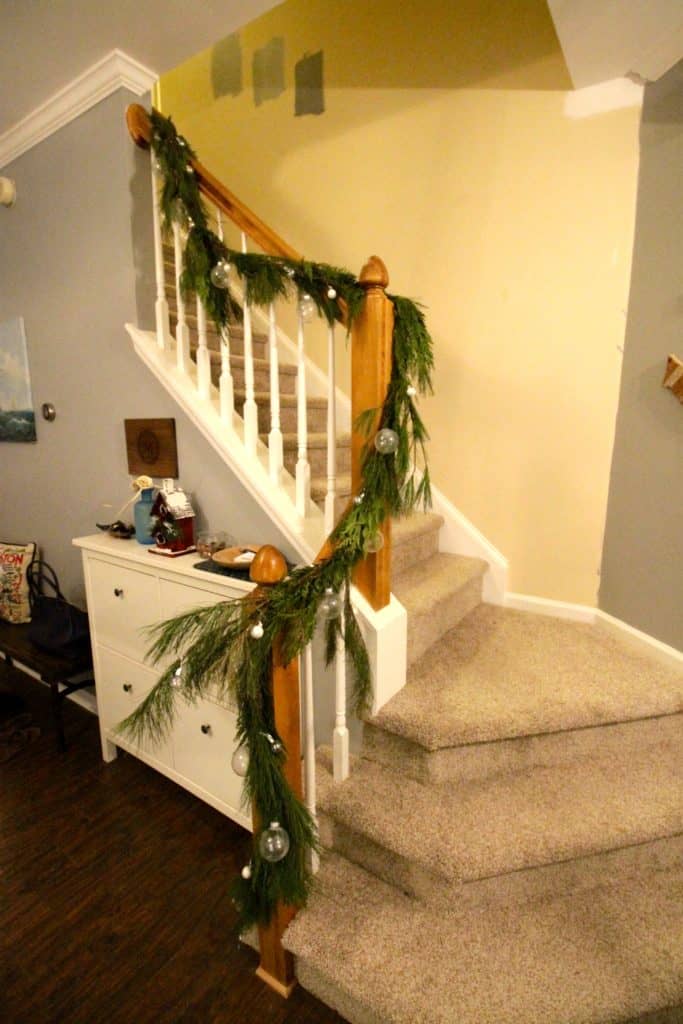 How do you keep garland from drying out?
The best way to keep garland from drying out is to prepare it properly before putting it up on display.
How to make real garland last
Here are my very best tips on how to keep garland fresh indoors and out!
Buy the right garland
Examine your garland when you buy it. Pick through the stack! Buy the freshest, greenest, softest one you can.
If it's already started to get brown, dry, or crispy, pass on it.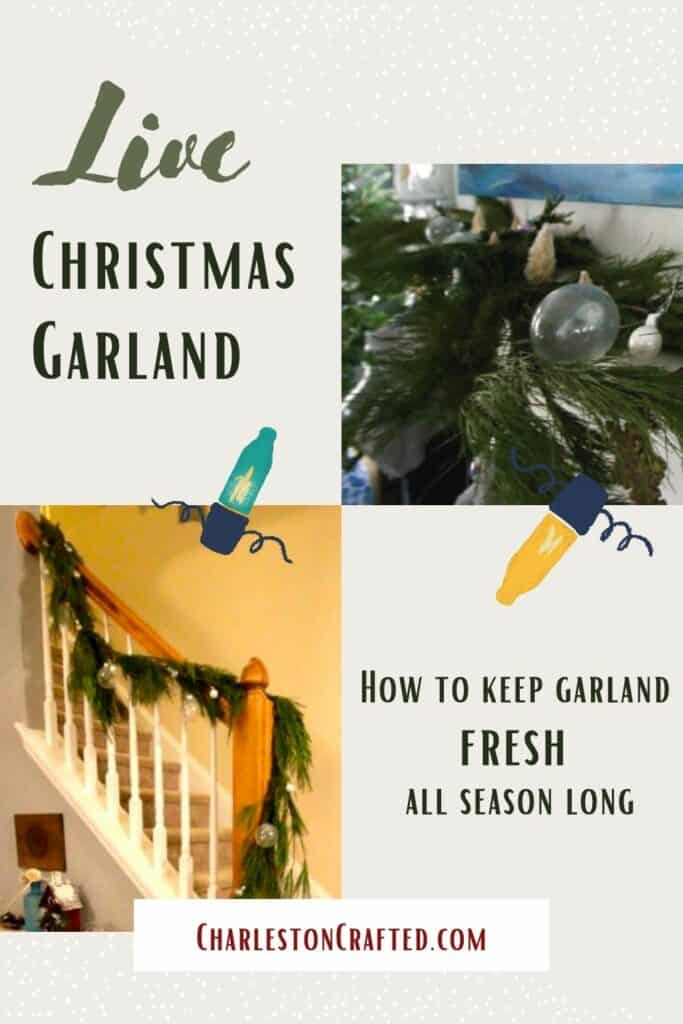 Soak it ASAP
As soon as you get it home, soak it. I put mine in the bathtub and submerge it completely for 24 hours.
This is good for a few things.
First of all, a lot of dirt and grease and gunk comes off – gross!
Secondly, it will allow the greenery and the stem to absorb as much water as possible!
Once you are done soaking the garland, drain the tub and let it air dry.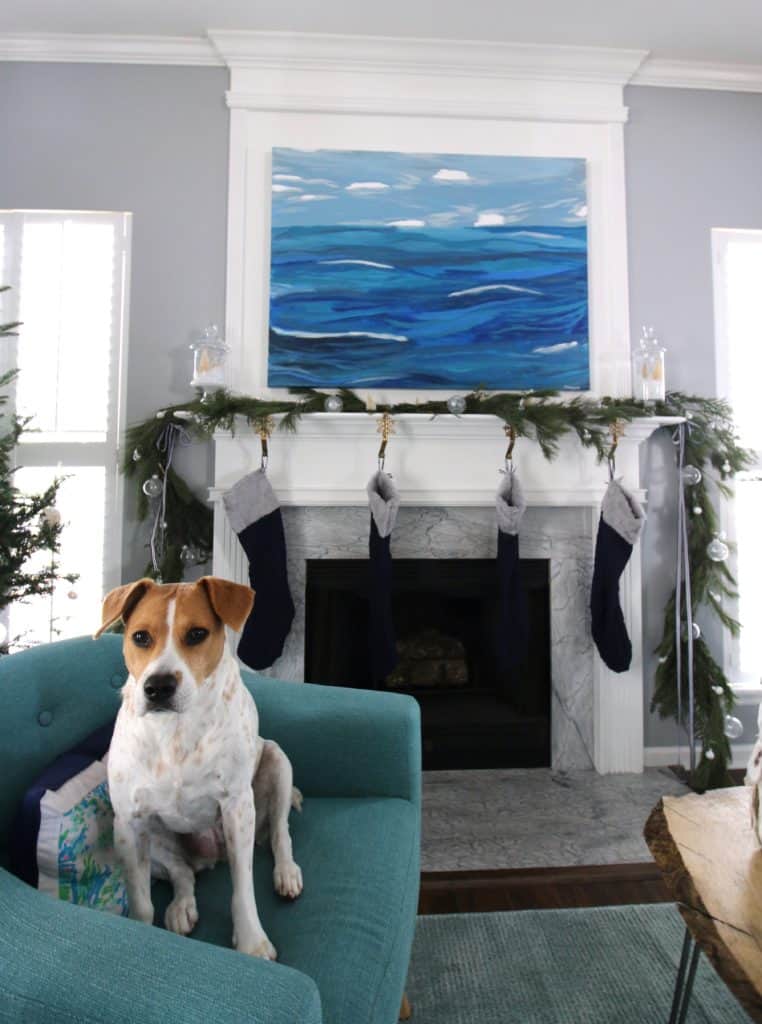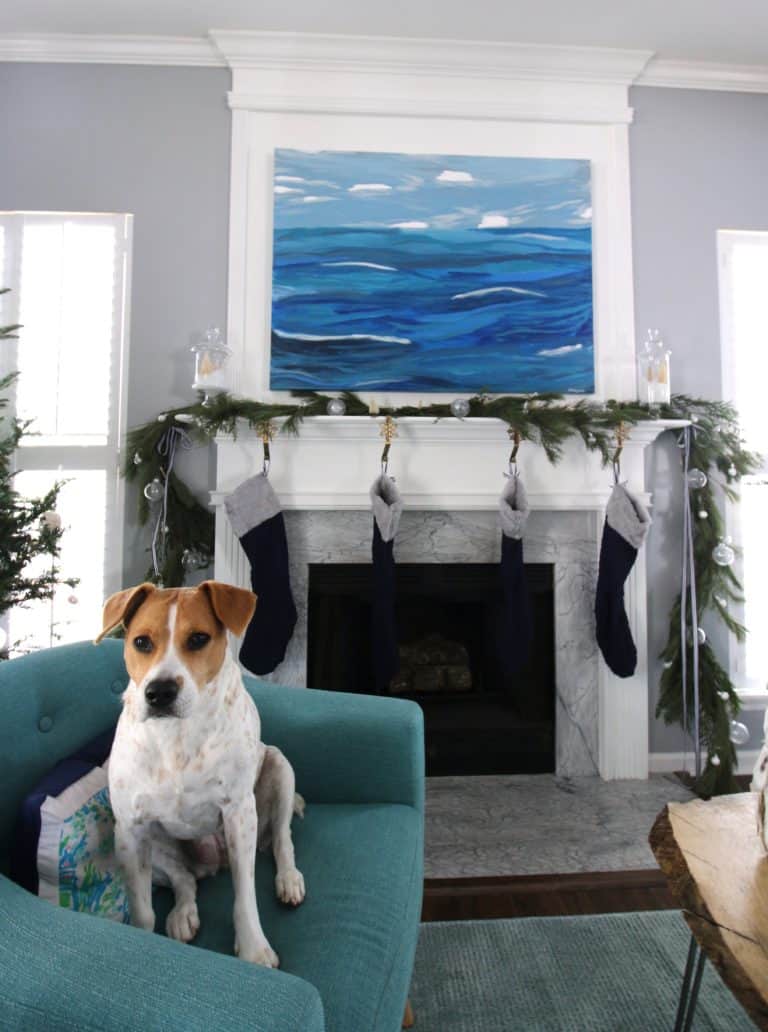 Spray it, too!
Once the garland is dry to the touch, spray it with an anti-desiccant spray. I like to use Wilt Stop.
Follow the directions on the spray bottle to thoroughly spray the garland. Let it dry before handling it.
Keep it away from the sun
Choose a place to put the garland away from the sun.
Like I mentioned, the garland on our porch always gets dry and crispy. This is especially true in the parts that are in direct sun. Keep garlands out of the sun to extend their life.
Display them away from windows + vents
For indoor garlands, keep them away from sun and heat like heat vents and sunny windows. These will further dry them out.
Spritz the stems
Garlands like to be misted with water. Use a spray bottle and don't forget to spray on the stem, which is where they often absorb water.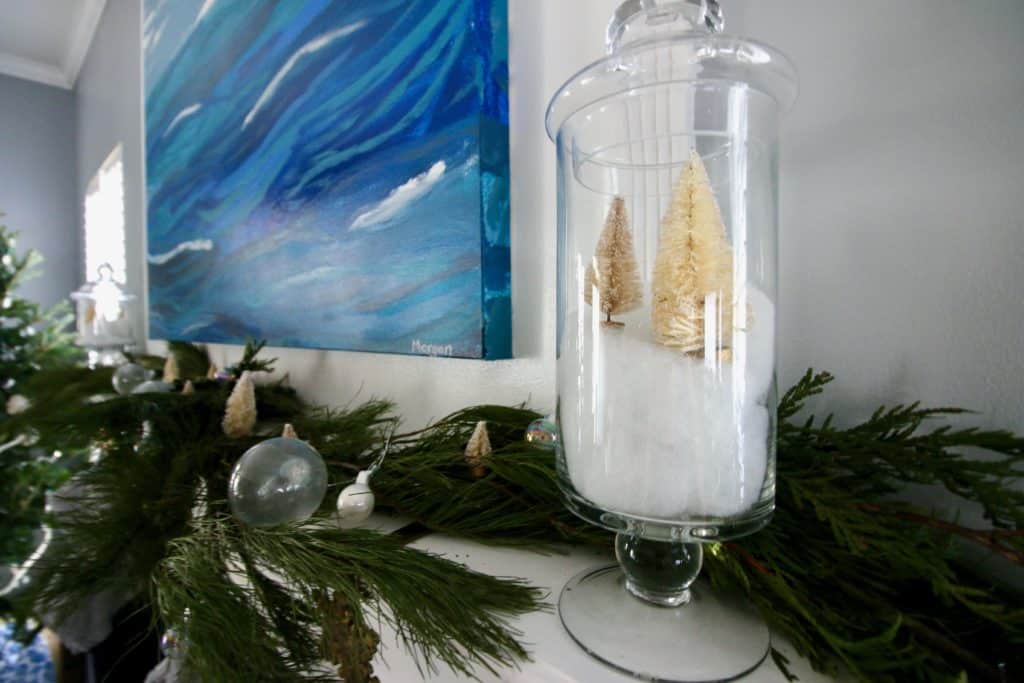 Only pair with LED lights
Don't use traditional Christmas lights with garland. LED lights let out a lot less heat and therefore are less likely to dry out live garlands.
Mix faux + live garlands
Mix live and faux branches and wreaths for a layered look. Start with a faux garland or wreath and then add sprigs or cuttings of live garland to add texture.
Or, get special picks from the craft store and add those to a live wreath or garland for a textured look!
Any more questions about real garland care?
Love Christmas? Click here to get FREE printable funny gift tags sent to your inbox!
Facebook | Instagram | Pinterest | Twitter | YouTube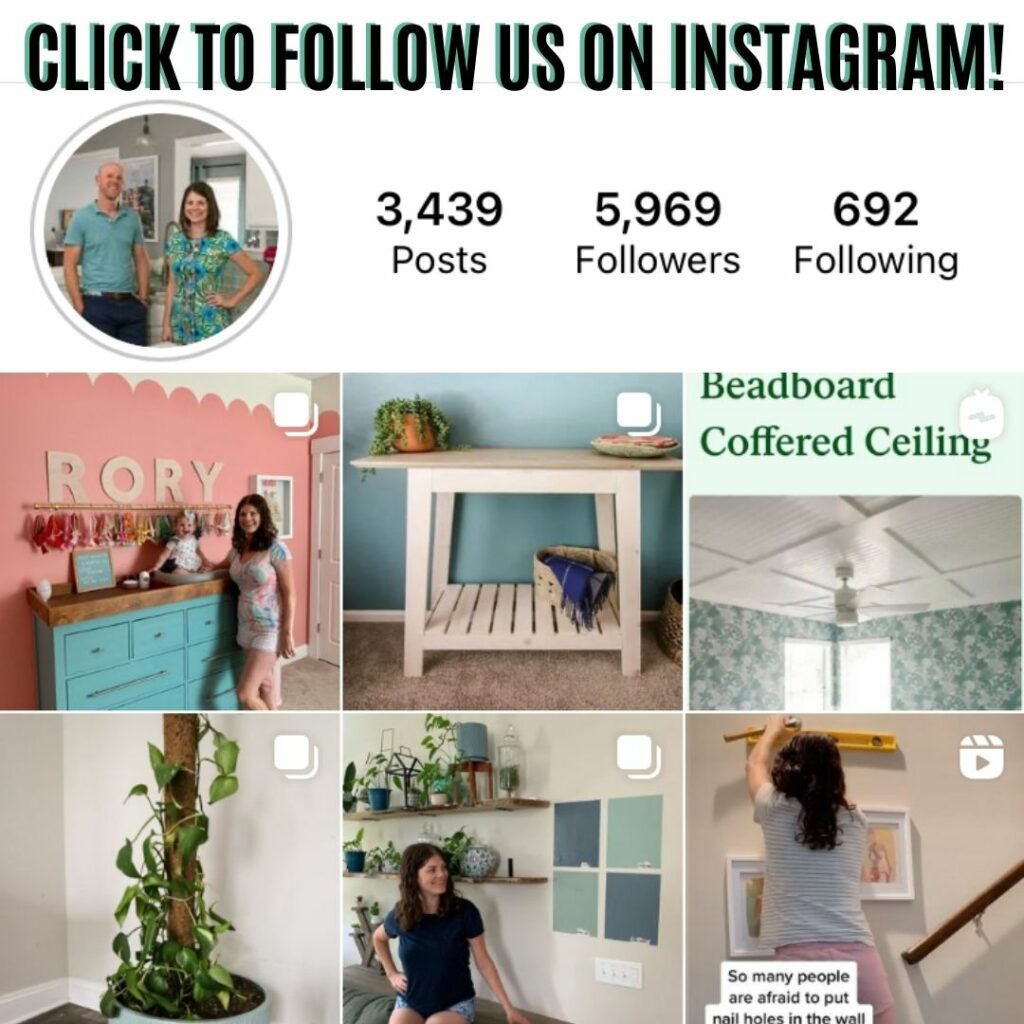 ---
Can we send you our newsletter?
Another great way to keep up with out latest projects is by joining our weekly newsletter! Get alerts of our latest projects and special peeks behind the scenes!
Follow along on Instagram
Join our online community where we share real time behind the scenes looks at our DIY projects and peeks inside our home + family!
---