Wondering what the difference is between the Kreg Micro Jig, a standard Kreg Jig and a Kreg XL? Let's break it down!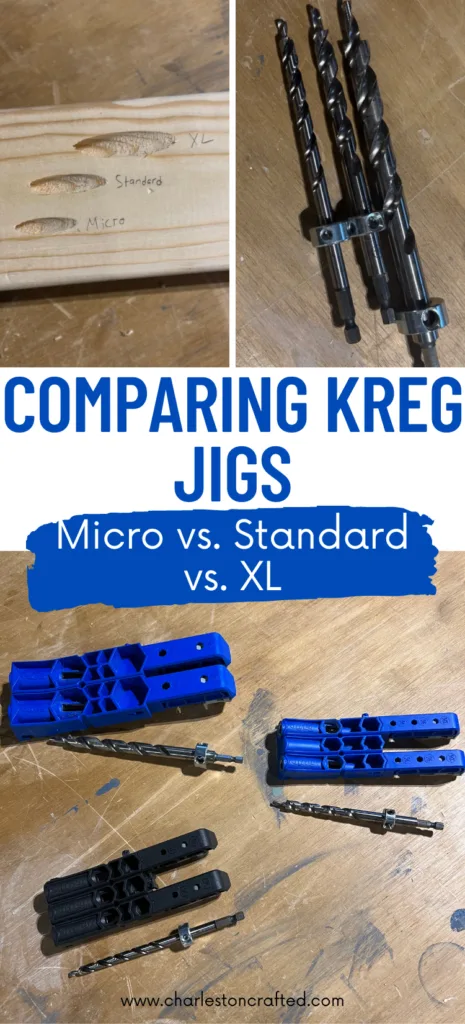 Not all pocket holes (or pocket hole jigs) are created equal!
Kreg Tool has long had different lines of pocket jigs that are great for different types of projects. However, until recently, there has only been one standard size pocket hole.
The Kreg 720 Pocket Hole Jig and 520 Pocket Hole Jig are the standard jigs that we use. But they also have the Kreg 320 Pocket Hole Jig which is different in that it is clamped onto your wood material instead of putting the material into the jig.
Last year, Kreg came out with the Kreg XL jig, which is a larger jig that is specifically designed to be used on 2x4s and 4x4s.
Now, they've expanded the line down, creating the Kreg Pocket Hole Jig Micro.
Each of these jigs looks very similar, except for their size and the pocket hole size that they drill. We're going to compare all the differences between a Kreg Micro, standard and XL and teach you when the best time is to use each one.
Are there different size pocket hole jigs?
There are quite a few different size pocket hole jigs, and not all jigs create the same size hole or work on the same size wood.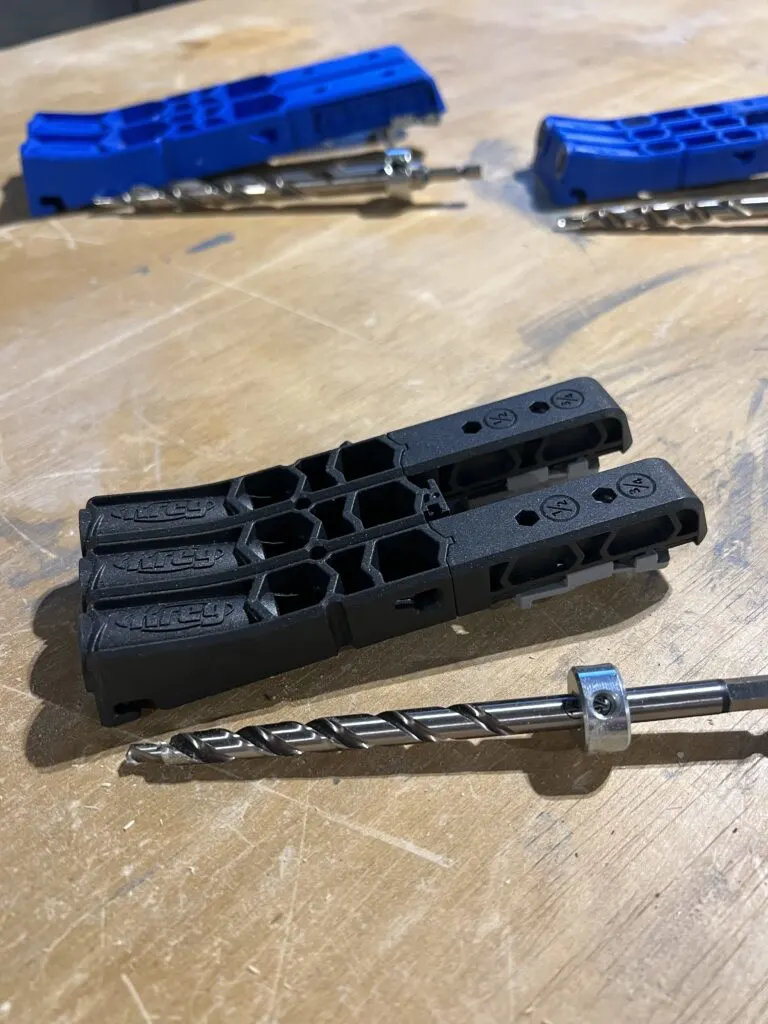 The Kreg Micro is a smaller jig that creates smaller holes than the others. The Kreg 320, 520, and 720 are all different sizes but create the same standard size hole. The Kreg XL is the same body design as, but larger than, the Kreg Micro and 320 and creates a bigger hole.
Here are the thicknesses of wood that each Kreg pocket hole jig works on:
| | | | |
| --- | --- | --- | --- |
| | Micro jig | Standard jigs | XL jig |
| 1/2″ | Yes | Yes | No |
| 3/4″ | Yes | Yes | No |
| 1 1/2″ | No | Yes | Yes |
| 3 1/2″ | No | No | Yes |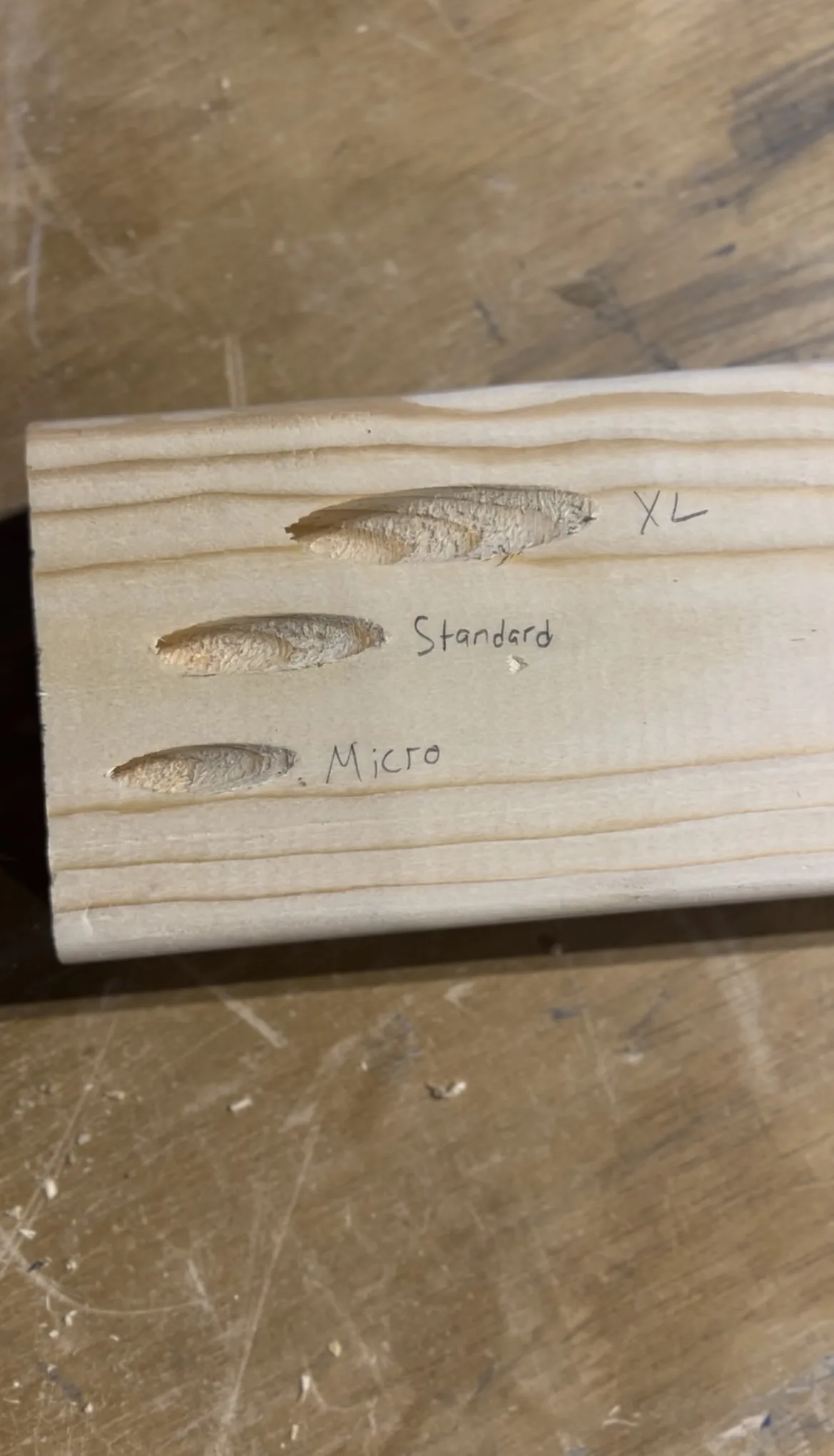 Comparing pocket hole jigs
There are three main pocket hole jigs that drill standard size pocket holes- the Kreg 320, 520 and 720.
We've written extensive reviews of the Kreg 520 and the Kreg 720. For the purposes of this post, we're going to use the Kreg 320 as the comparison model to the Kreg Pocket Hole Jig Micro and the Kreg Pocket Hole Jig XL.
We'll compare them below how they are similar to each other and how they are different and unique.
How are Kreg Micro, standard and XL the same?
The Kreg 320, Micro and XL are all the same design, featuring a jig that is clamped onto a piece of wood with an additional face clamp.
Each jig can be twisted apart to change the spacing between the holes you're drilling or to drill a single hole.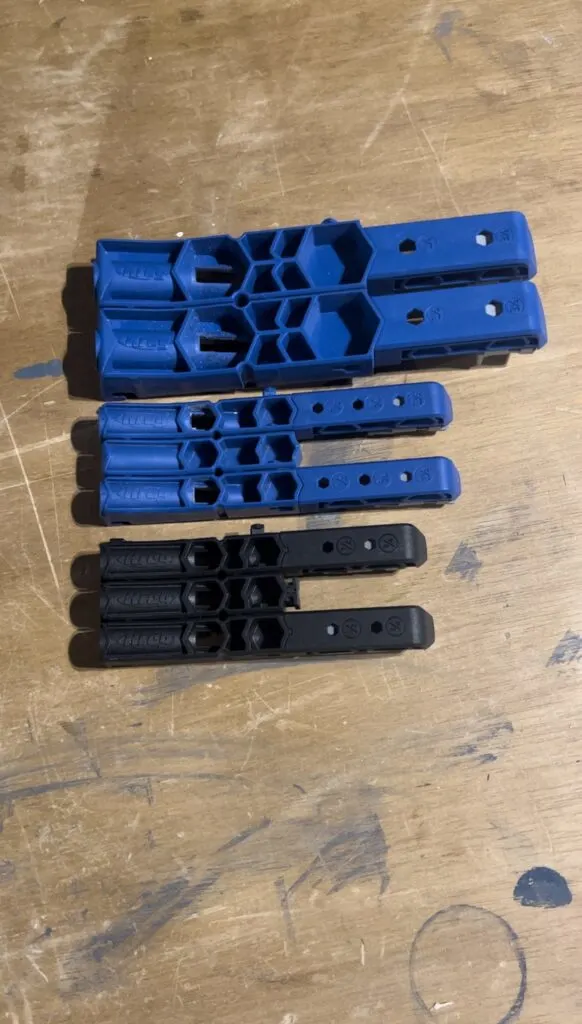 They each also feature Kreg's GripMaxx anti-slip surface that helps to hold the jig in place against the wood.
Each of these are portable jigs that attach directly to the wood surface with a face clamp and all use the same screw driver bit.
Kreg Micro compared to standard pocket hole jig
The Kreg Pocket Hole Jig Micro features a smaller design for the jig itself. The entire body is smaller, but the same shape.
However, it's the first Kreg jig that doesn't feature their signature blue color and is instead black. I was told that the reason is so that it is easy to grab on your shelf and recognize that it is different from the others.
The Kreg Micro has an adjustable slider for 1/2″ thick and 3/4″ thick materials. That means that it's best for the thinnest material that Kreg works for, which is 1/2″ plywood.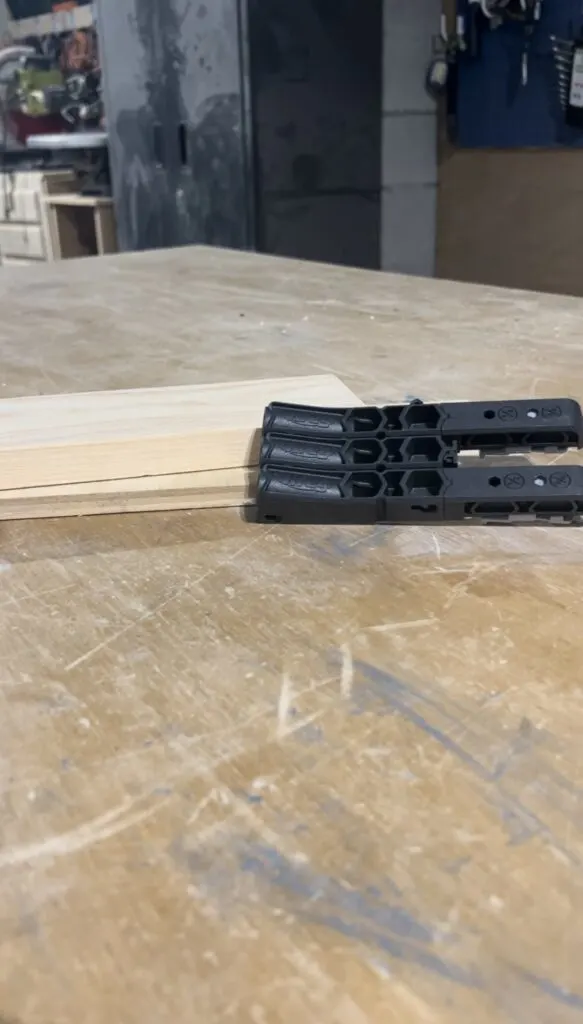 Even when using the 1/2″ wood setting on a standard Kreg jig, you can sometimes get blowout when drilling the screw into the hole because it was simply just a little too big if you weren't careful.
The Kreg Micro drills a 33% smaller hole than the standard jig, making it better for 1/2″ wood. This is great when putting together smaller projects or drawer boxes.
The Kreg Micro uses a smaller drill bit and stop collar to drill these holes, with a noticeable difference in the size compared to the standard drill bit and XL drill bit.
The Kreg Micro and Kreg 320 use the same size pocket hole screws to create strong joints in your wood project.
Kreg XL compared to standard pocket hole jig
The Kreg Pocket Hole Jig XL features a much larger body than the Kreg Micro and Kreg 320. It's the same shape, but much bigger.
The Kreg XL is only for working with 1 1/2″ thick and 3 1/2″ thick material and therefore can't work with any material smaller than 1 1/2″ thick. It's best for working with 2x4s and 4x4s.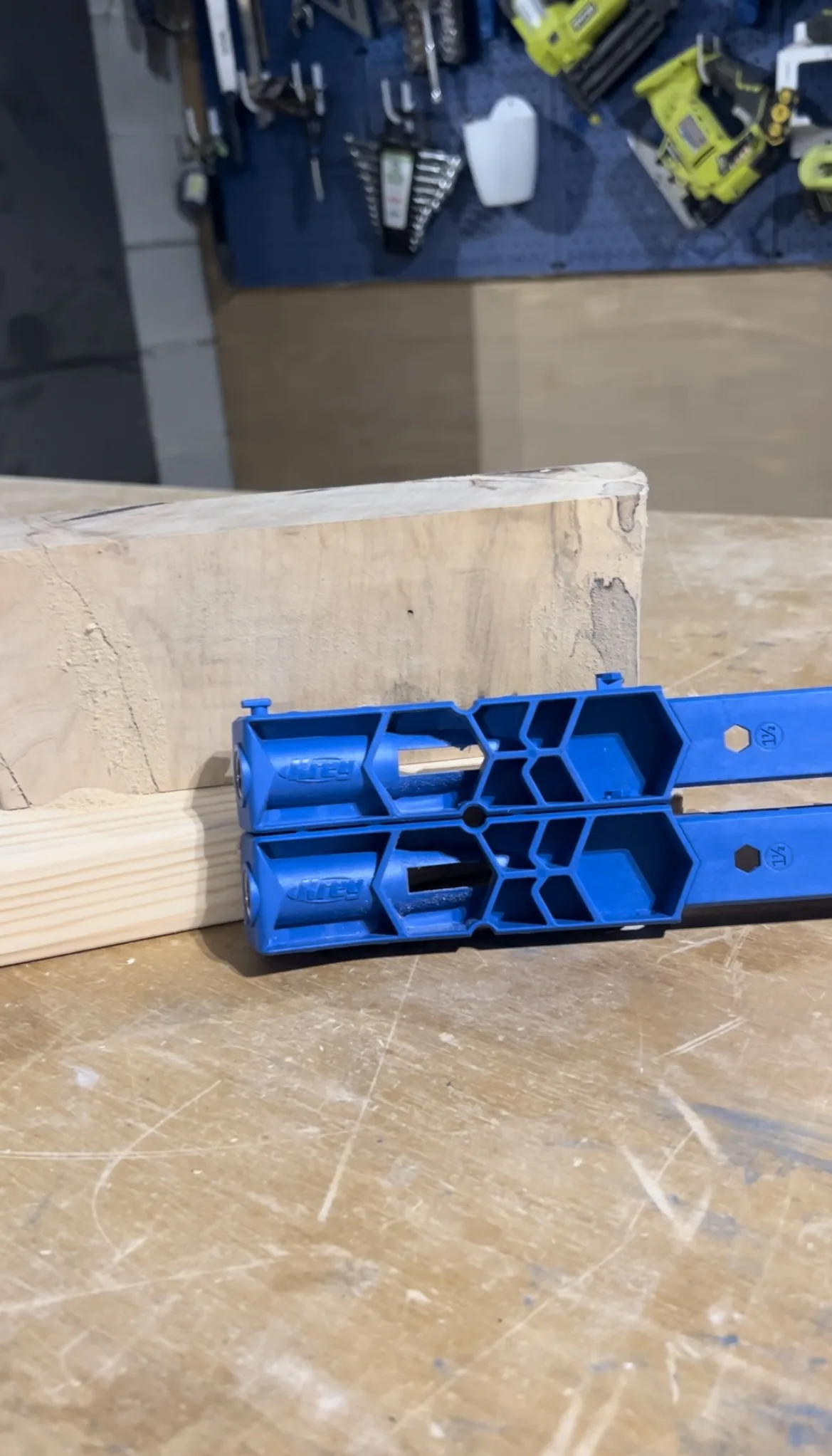 We used the Kreg XL to build this DIY outdoor balance beam!
The Kreg XL drills a bigger hole than the Kreg Micro and Kreg 320 and uses a physically larger drill bit with stop collar to do so.
With the bigger pocket holes, the Kreg XL uses their XL screws as well. These are longer and bigger than standard screws and help provide a better and more secure pocket hole joint than the standard screws.
Are Kreg jigs worth the money?
We've written an entire post about if Kreg jigs are worth the money, but in this case, it's important to know where you should spend your money.
If you are doing standard DIY projects for your home, you will probably want to invest in a standard jig, whether it's a Kreg 320, 520 or 720.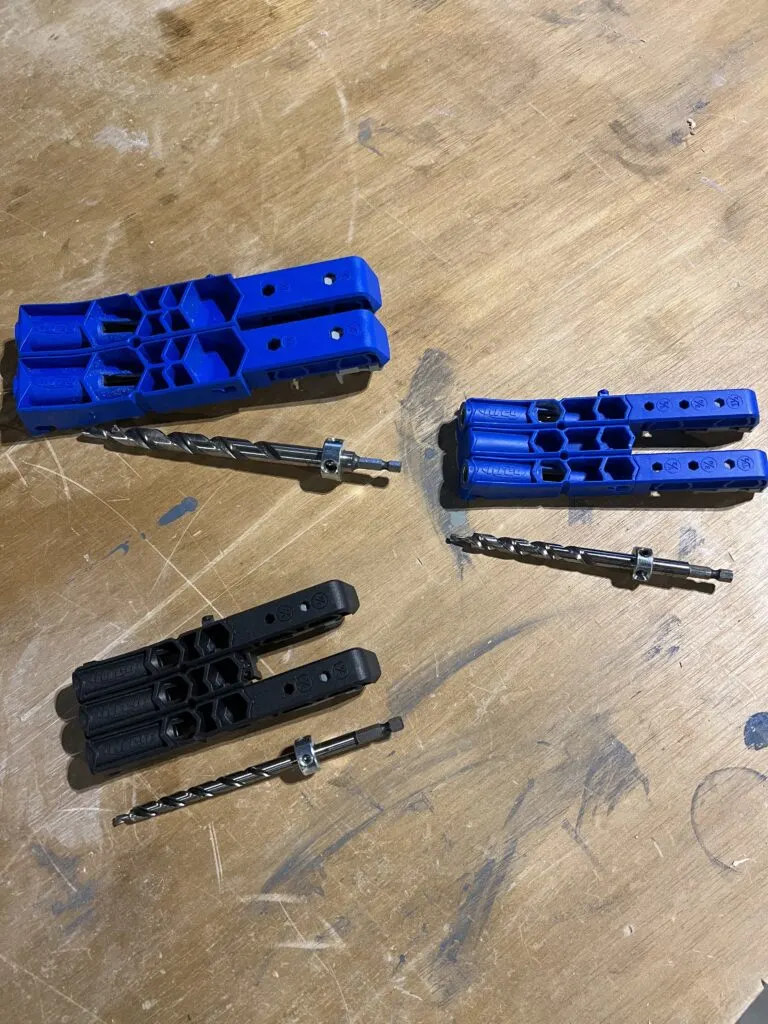 If you often work with 1/2″ plywood and are making a lot of drawer boxes, the Kreg Micro is going to come in hand a lot.
But, if you do a lot of outdoor projects that work with larger lumber, the Kreg XL might be worth the investment.
Overall, Kreg jigs are definitely worth the money and will make your life a lot easier, it's just a matter of picking which jig, or jigs, is right for you.
How do you use a Kreg Micro jig?
Using a Kreg Micro jig is the same as using any of their other clamp-on jigs, like the 320 or XL.
Start by adjusting the slider to the thickness of your material and adjusting the stop collar to the same thickness on the drill bit.
Place the Kreg Micro on the wood surface where you want to drill pocket holes with the slider against the edge, then clamp it in place.
Use a drill to drill out the holes on the Kreg Micro, then unclamp and sand your holes.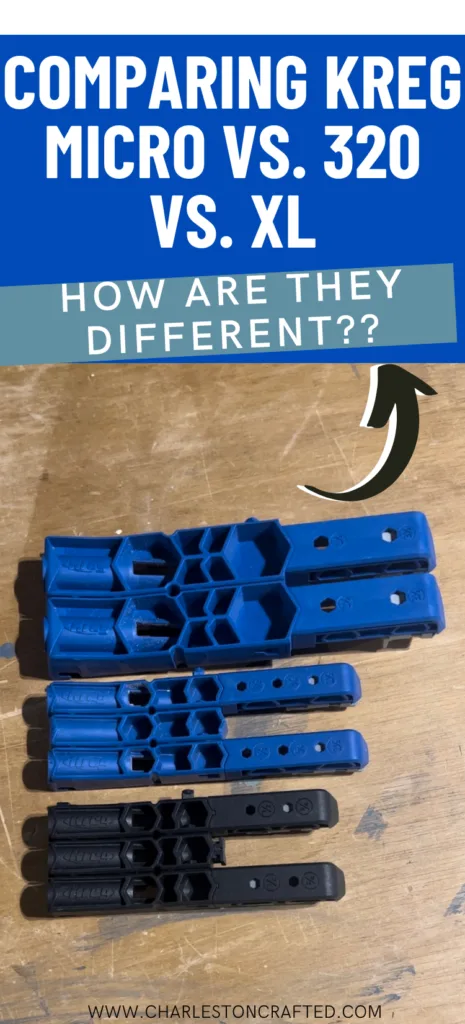 Basic woodworking information for every project
Here are some of our most popular woodworking articles!
Shopping for wood:
Woodworking project ideas
See all our printable PDF woodworking plans!
Our favorite tools + supplies
Remember to also always use safety equipment while woodworking and using tools. Make sure you have proper eye protection, ear protection and a good mask to keep yourself safe.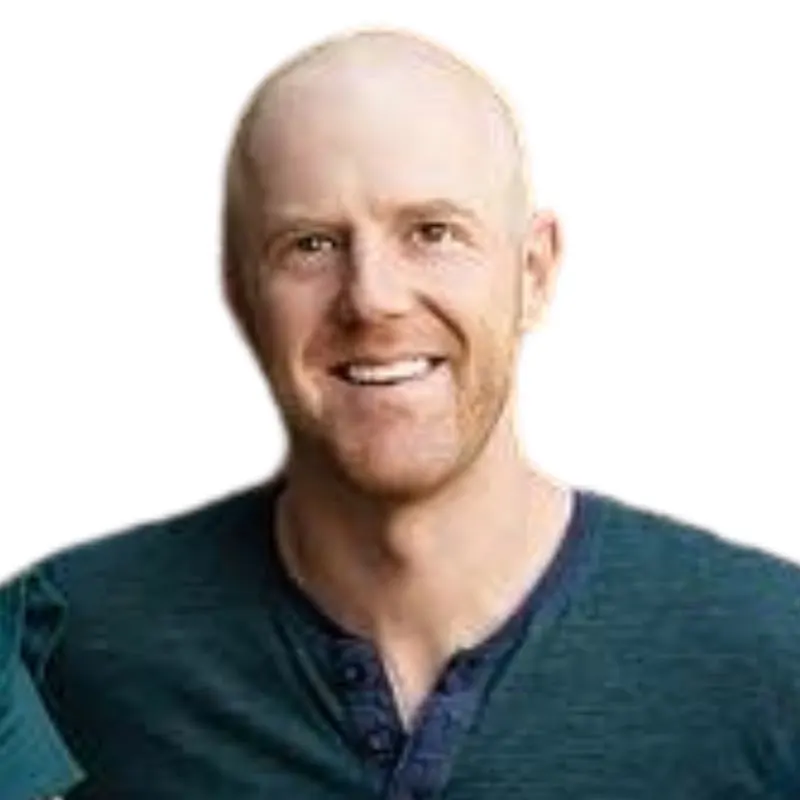 Hey there, I'm Sean, the woodworking enthusiast and builder behind CharlestonCrafted.com! Since 2012, I've been sharing the magic of turning raw materials into beautiful creations. I love teaching others the art and satisfaction of woodworking and DIY. I try to inspire fellow crafters to make something extraordinary out of nothing at all.