Have you been trying to decide if a Kreg Jig is worth the money? There are a lot of reasons why a Kreg jig is worth the money, but also some things to consider based on your plans. Here's the breakdown.
We have been using different Kreg Tool pocket hole jigs for many years for our DIY woodworking projects. After all this time, to us, a Kreg jig is a must have and we use them all the time.
However, you might be new to woodworking and DIY project and aren't sure if a Kreg jig is worth the money.
There are a lot of things to consider when buying any new tool, especially one that costs a decent amount of money.
In our overall opinion, a Kreg jig is absolutely worth the money if you plan on doing any real amount of woodworking or DIY projects. If you're thinking about just building one thing, you might be better off going with a different way to join boards. But I can tell you, building is addictive!
Let's break down why a Kreg jig might be worth it for you and why you might consider passing.
Make sure to click over and get our full post on how to use different Kreg jigs!
Do you really need a pocket hole jig?
If you are considering doing basic woodworking projects, a Kreg jig is absolutely worth the price. The value you will get with the ease that a Kreg jig creates will make it more than worth it.
Sure, a Kreg jig, no matter which one you get, will cost you some decent money up front. However, it will make your life so much easier, especially if you are new to woodworking or doing do it that often.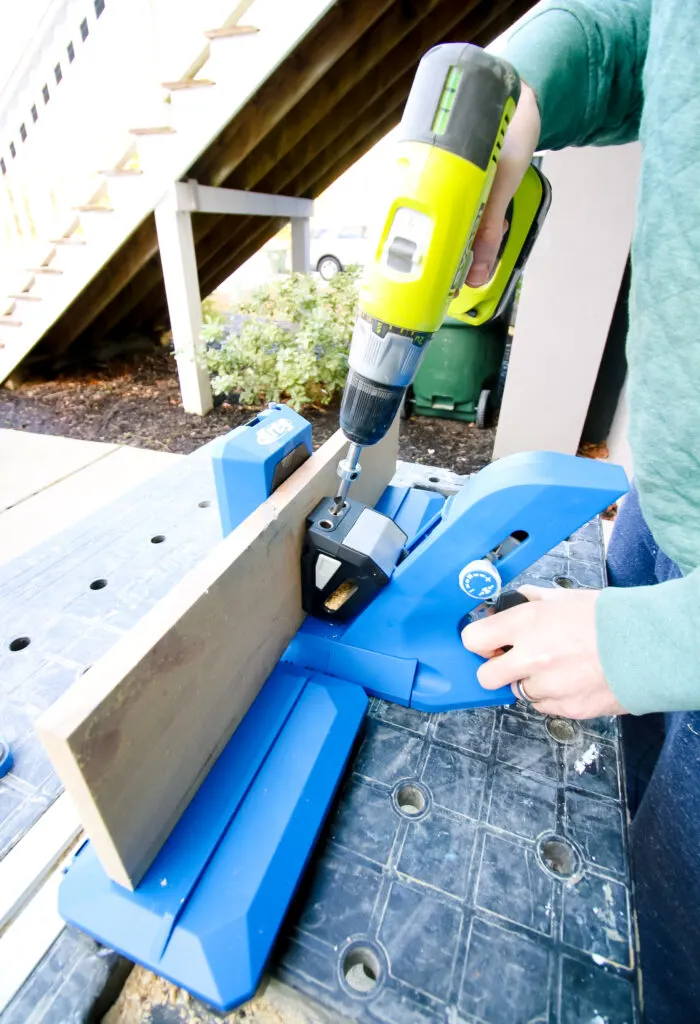 Be sure to check out our full reviews on the Kreg 720 and the Kreg 520 to decide which is best for you!
Pocket hole joinery is one of the easiest types of joinery in woodworking, requiring the least amount of tools and skills compared to more "professional" joinery.
In our opinion, you need a pocket hole jig if you want to have success in taking up woodworking and a Kreg pocket hole jig is going to be best best quality option.
Check out these simple woodworking projects, all made with a Kreg jig!
How does a pocket hole jig work?
A pocket hole jig works by clamping a piece of wood into place for you to drill angled holes into the side of a board. These holes are drilled with a special drill be that won't allow the blades to go all the way through the wood.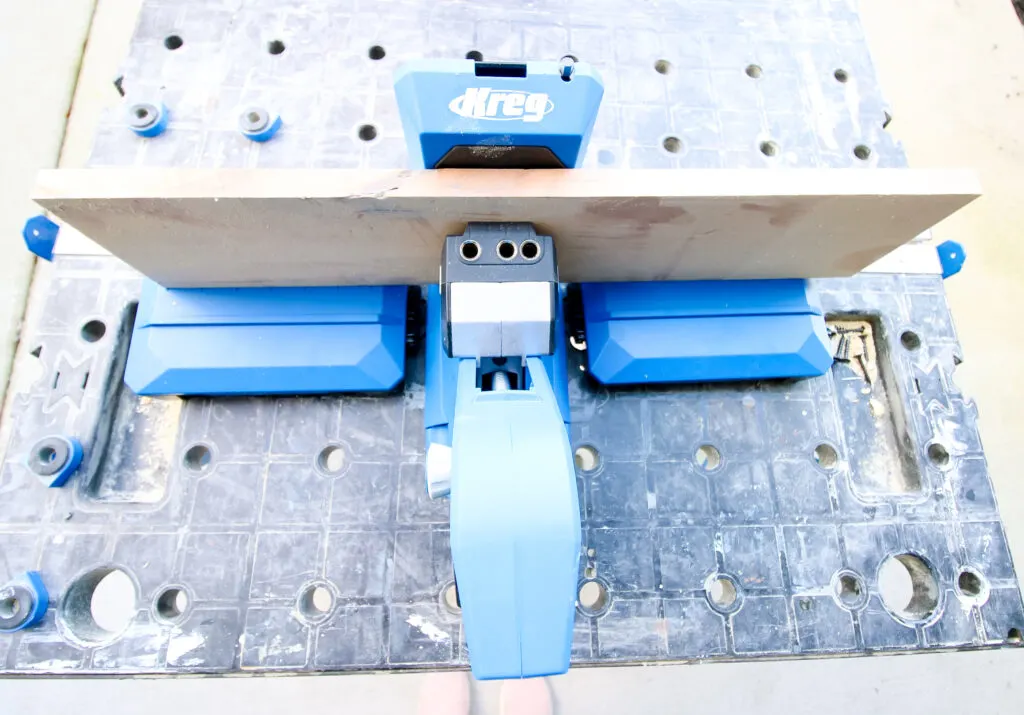 Then, you use special pocket hole screws and a square driver bit to drive a screw into the hole, pulling two boards together.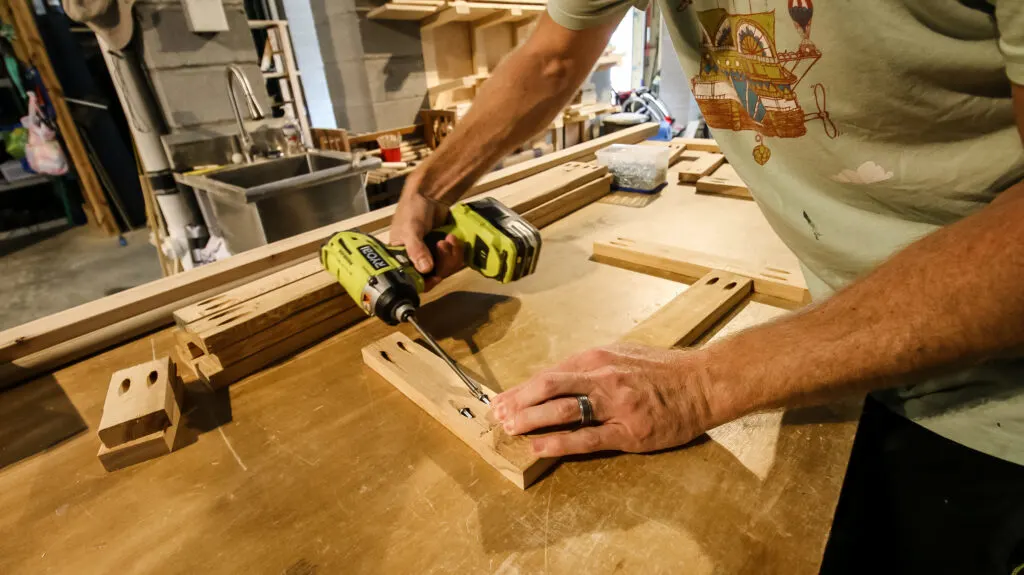 Pocket hole joinery works by allowing you to create concealed joints between wood with holes that can be strategically positioned to be out of sight. The joints are strong and secure, especially when paired with wood glue between the boards.
Reasons to use a pocket hole jig
There are lots of reasons to use a pocket hole jig in your woodworking projects. Here's a few of the most common reasons to use a pocket hole jig.
Reason 1 – Pocket hole jigs are easy to learn and use
Pocket hole jigs are, like all the Kreg models, are easy to learn and use, even if you have never done woodworking before. I can't tell you how many DIY bloggers we know (ourselves included!) who started with pocket hole joinery for their projects and still use it today!
Over the years, Kreg jigs have updated and adapted and are easier than ever. Depending on whatever use you want, they have a jig for you.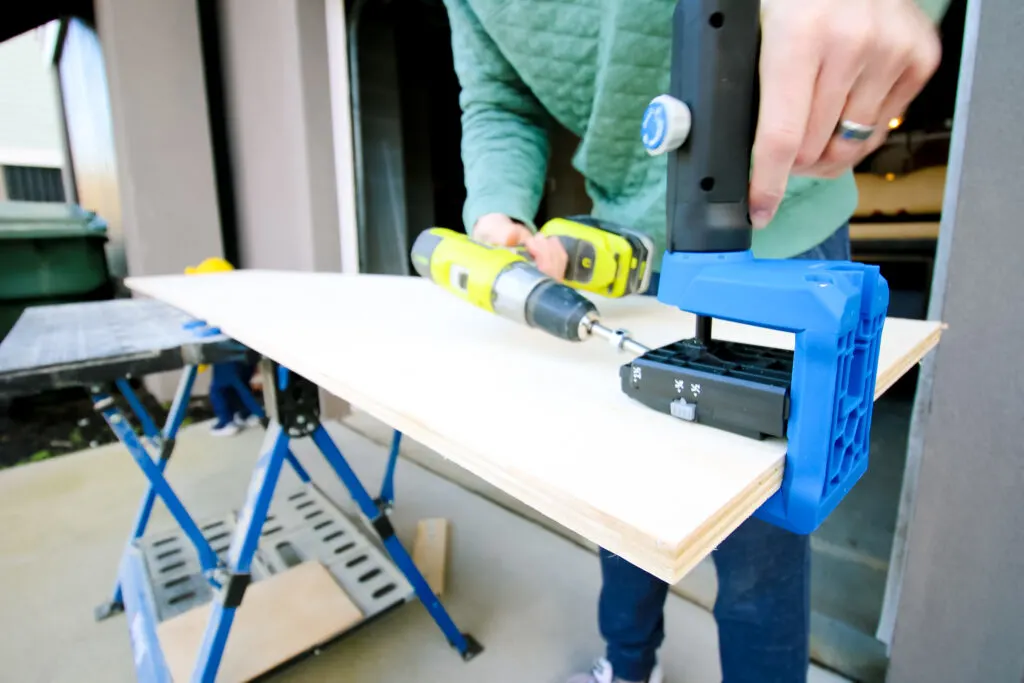 For instance, the main jig nowadays is the Kreg 720, which has a system to automatically adjust to the thickness of the wood you put in the jig, making it virtually impossible to mess up. They also have the 520 jig, which clamps directly onto your board and is very small and convenient.
The instructions come with the jigs (and we have a post on how to use them as well) and they are easy to work with if you have a drill.
Reason 2- Pocket hole jigs are accessible and low barrier to entry
Unlike many tool brands that are only available at one big box home improvement store or another, Kreg tools are everywhere. Kreg is in Home Depot and Lowe's, as well as smaller hardware stores and local chains. This means you can get what you need no matter where you are.
Kreg products also have a fairly low barrier to entry when it comes to price point. You can get the biggest, best jig for under $200 and you can get additional tools and accessories for less than that.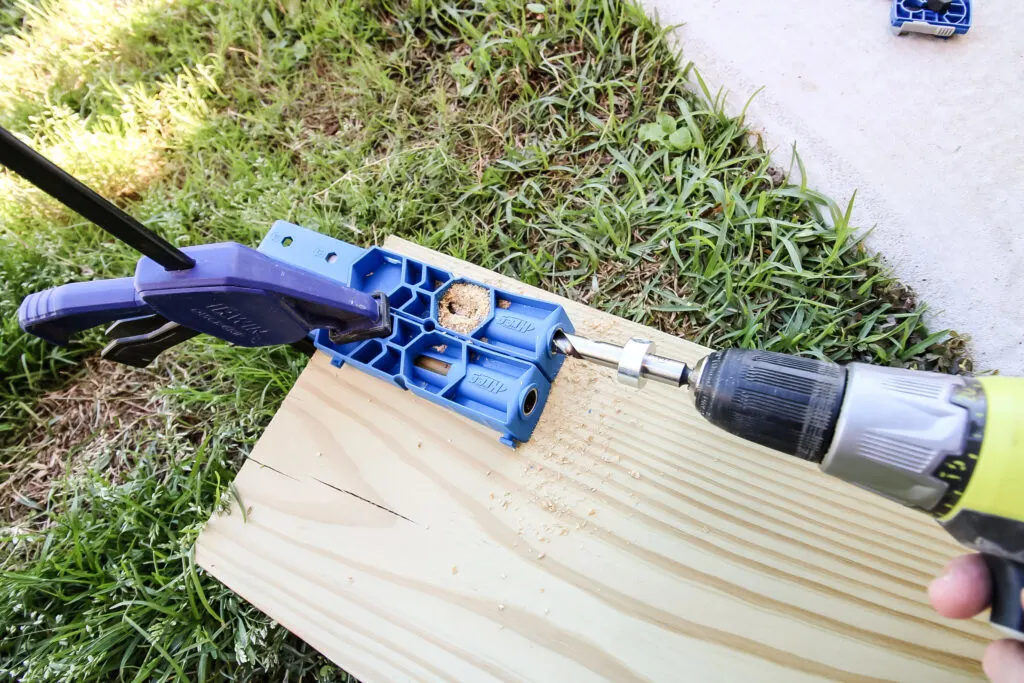 Sure, that's not nothing. However, if you are going to be building your own furniture or are thinking about doing something for your home, the value of the ease the jig will make for you is worth every penny.
Reason 3- Pocket hole jigs create strong, easy to conceal joints
Another reason to use a pocket hole jig is because they create very strong joints between boards and they do it quickly. It is very fast to drill pocket holes and connect two boards together.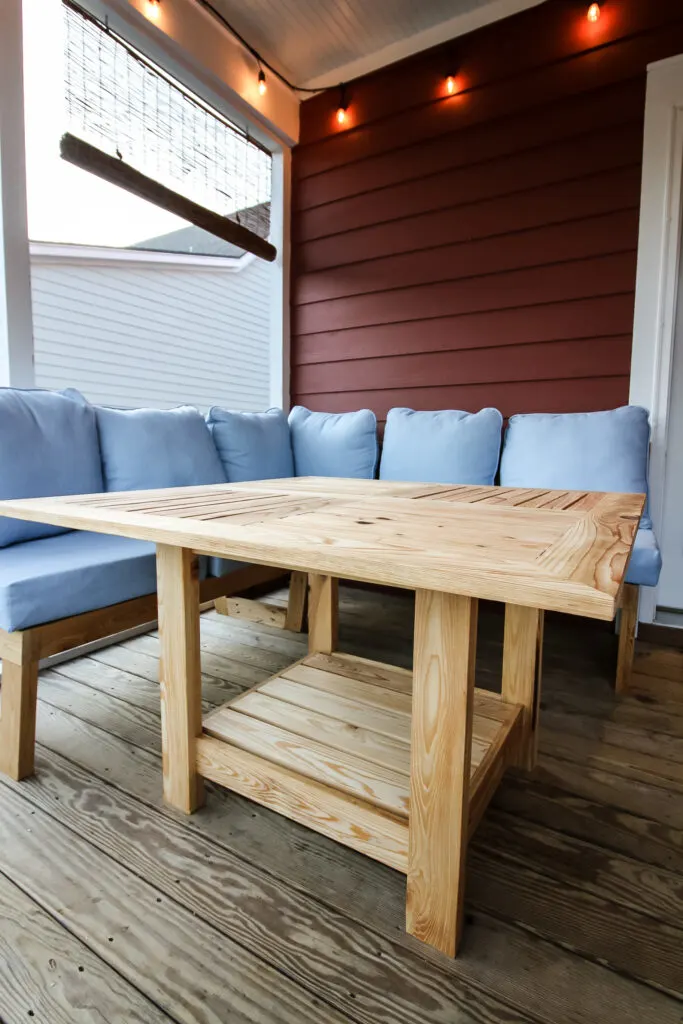 Plus, pocket holes are easily concealable, which is great when you're building a statement piece of furniture for your home. No one wants to see the screws popping out!
Cons of a pocket hole jig
There aren't many things that I would consider a negative about buying a Kreg pocket hole jig. Overall, they are great, but here are a couple of things to consider.
Cost of a Kreg jig
Depending on your financial situation, you could consider a Kreg jig to be expensive. And if that is your situation, you aren't wrong.
However, if you are planning to build your own furniture, you are looking for ways to save money compared to buying something from a store. While the jig might be an upfront cost, it will allow you to build more of those types of projects and save money down the line.
For instance, check out these dining tables you can build with a Kreg jig!
Need for other equipment
If you want to use a Kreg jig, you will need other tools, but that's really implied. Not many tools can work entirely on their own.
To operate a Kreg jig, you'll need a cordless drill for drilling and driving, a sander for sanding the holes smooth, and a vacuum to clean up the wood chips created by the drilling process.
Is Kreg Jig worth the money?
Kreg jigs are definitely worth the money if you plan to do more than one woodworking project. If you're only going to do one thing, you can probably figure out a way to get done what you need.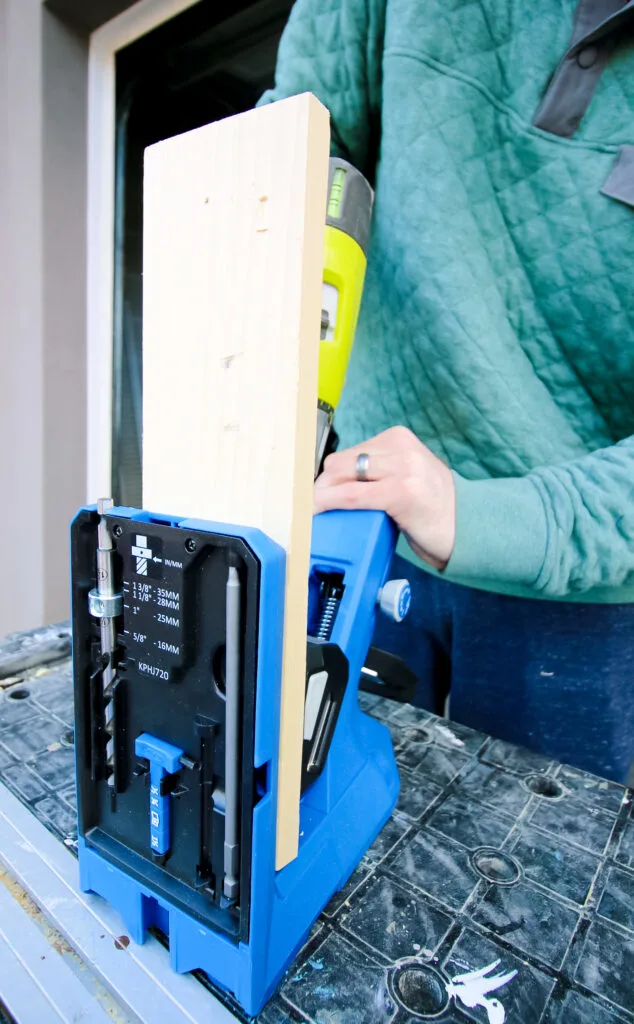 But if you are interested in beginning to do woodworking projects and building your own furniture, a Kreg jig and pocket hole joinery are the best way to get started!
Comparing different Kreg jigs
Here's a quick look at the different Kreg jigs, but make sure to click the link on each to check out our full review of the product!
Kreg 720 Pocket Hole Jig

The Kreg 720 pocket hole jig is the best jig on the market today. It has the easiest clamping system, most solid base, and best overall performance for drilling pocket holes.
Kreg 520 Pocket Hole Jig

The Kreg 520 pocket hole jig is great for on the go joinery or for large pieces of plywood or long boards. The 520 clamps directly onto the board, making it great for those applications!
Kreg 320 Pocket Hole Jig

Similar to the 520, the Kreg 320 pocket hole jig has to be clamped onto a board directly. You need an additional clamp for this, but it is also great if you're working with tight spaces, as you can drill just one hole at a time.
Kreg K4 and K5 pocket hole jigs

The Kreg K4 and K5 pocket hole jigs are no longer sold on the market, as they have been replaced with the 520 and 720. However, they are still for sale on the secondary marketplace for a much cheaper price. These are still great jigs and could be a great option for you if you are debating whether a Kreg jig is worth it to you!
Basic woodworking information for every project
Here are some of our most popular woodworking articles!
Shopping for wood:
Woodworking project ideas
See all our printable PDF woodworking plans!
Our favorite tools + supplies
Remember to also always use safety equipment while woodworking and using tools. Make sure you have proper eye protection, ear protection and a good mask to keep yourself safe.