Want to make your own wood stain from scratch? Here are some methods that we have used to make DIY wood stain!
If you build furniture or any wooden projects, staining the wood is an important step that can completely transform the look of your project.
We love trying different wood stains – check out how we tested a TON of wood stains on different species of wood – but I've also been enjoying making wood stains from scratch lately!
Whether you want to save money, avoid chemicals, or just get crafty, homemade wood stain is a fun project for any woodworker.
Why would you make homemade wood stain?
There are a few reasons to make DIY wood stain!
Save money
First of all, you might want to save money. Particularly if you make very small wood projects that only need small amounts of stain, and you want a lot of different stain colors, you can save a lot of money by going the DIY route.
If you already have the common household items on hand, homemade wood stain can be absolutely free to make!
Get crafty
If you like to make things, you might just enjoy the challenge of making your own stain. You can experiment to create rich colors to exactly match your vision!
I like experimenting, so it brings me joy to try a ton of different methods to see which I prefer. So, it's fun for me!
Avoiding chemicals
The problem with most stains for sale on the market is that they contain chemicals. If you strive to live in a chemical-free or low chemical way, then natural stain alternatives might be best for you.

What ingredients are in wood stain?
Wood stains are usually considered toxic while wet. They contain harmful chemicals and can release lots of VOCs.
So, it's understandable if you want to avoid them.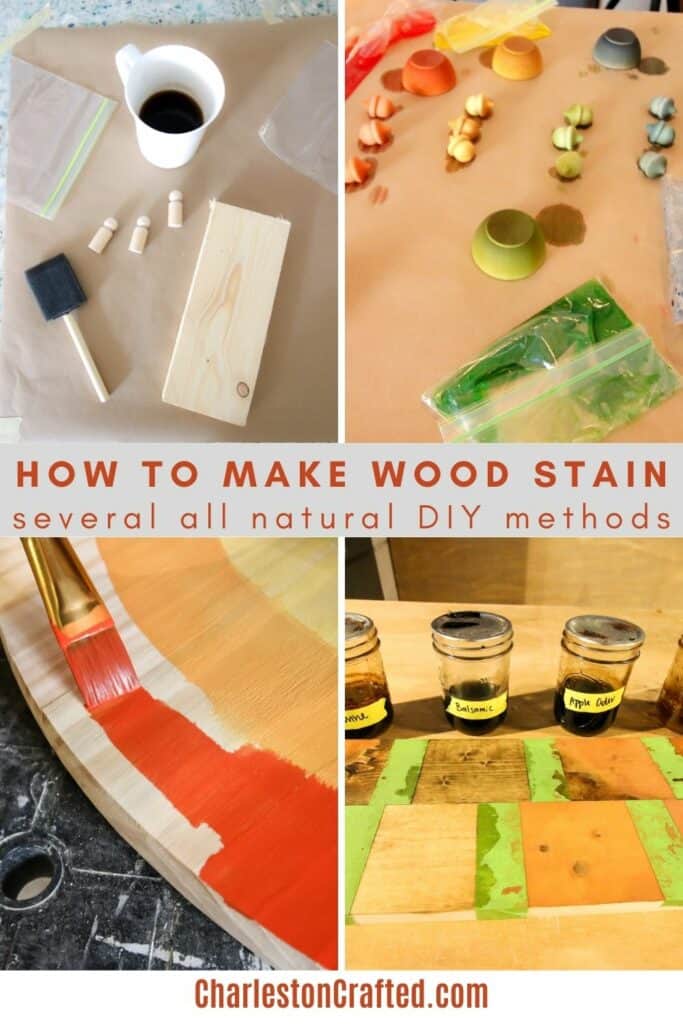 How do you make homemade wood stain?
It's easy to make homemade wood stain using household items! Basically, you need a dye or pigment and then a liquid to make it runny enough to paint onto wood.
What household items can I use to stain wood?
I have stained wood with:
How to stain wood with vinegar
You need to mix vinegar with metal to get the chemical reaction that darkens wood. Steel wool pads are a cheap and easily available metal that gives great results. Some people use rusty nails!
I tested staining wood with white vinegar, apple cider vinegar, balsamic vinegar, and red wine vinegar.
You might be surprised at which turned out the darkest!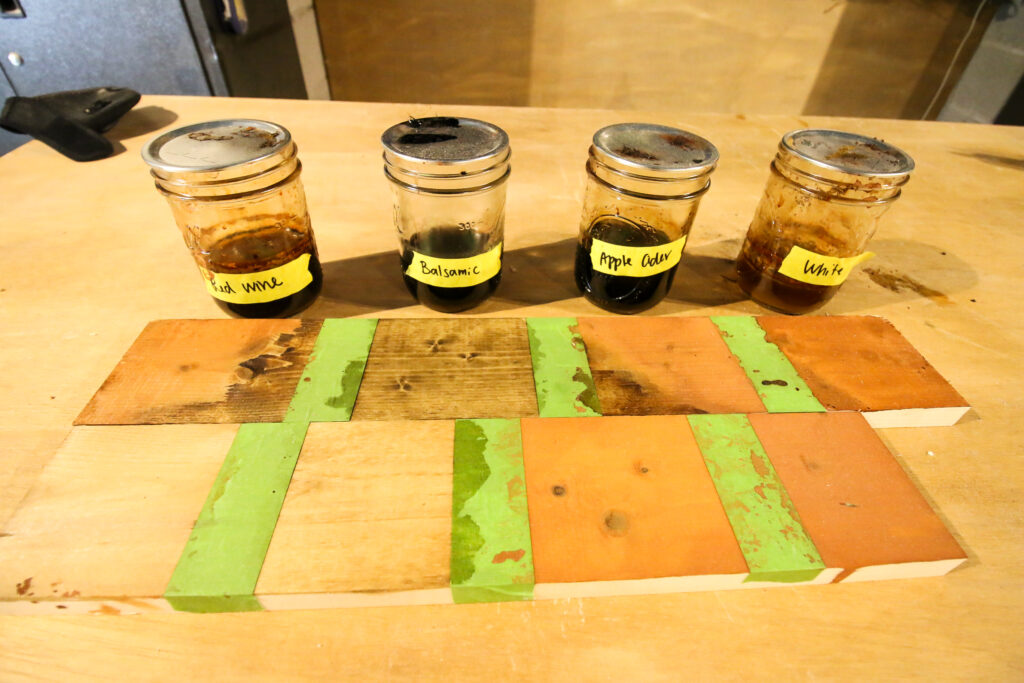 Can I use coffee to stain wood?
Yes, you can stain wood with coffee! It's actually super easy to do – no special tools needed. It's all about darkening the tannins in your wood!
Here's how to stain wood with coffee stain!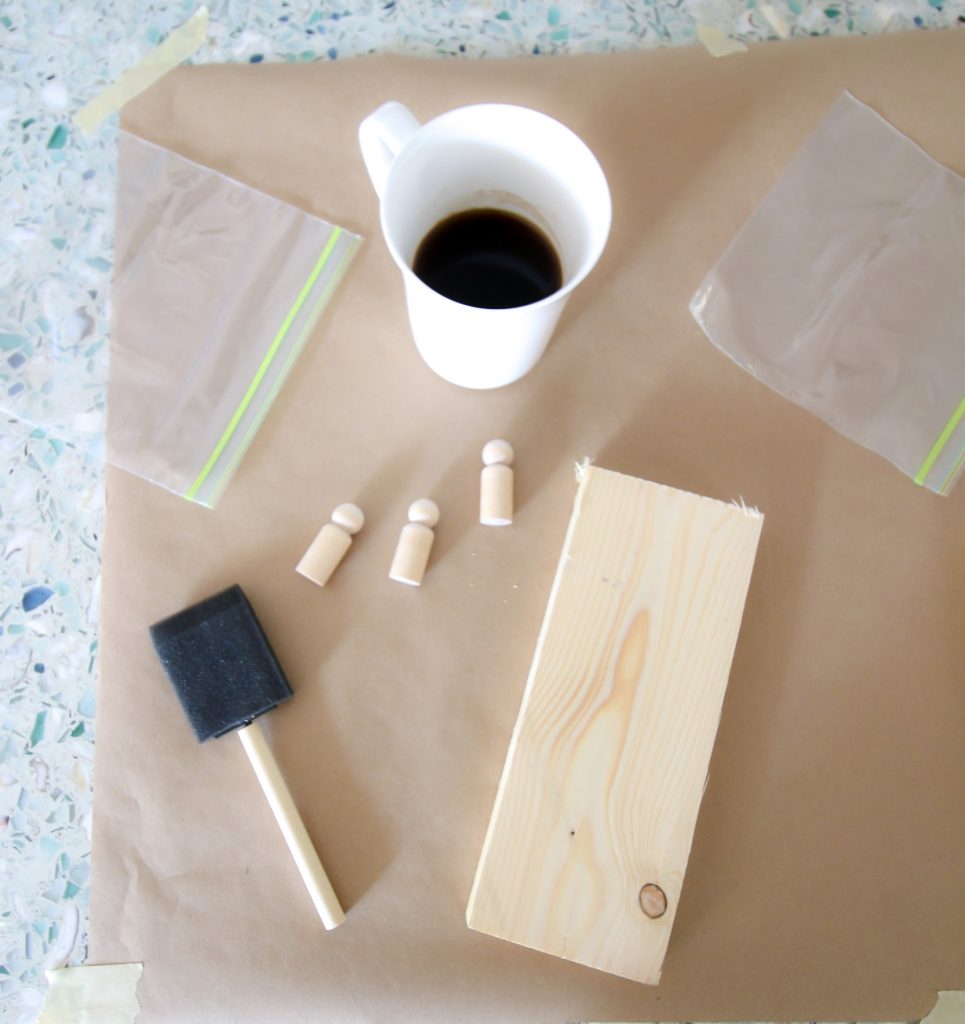 Can I use tea to stain wood?
Yes, you can stain wood with tea bags! I used black tea to stain wood. It's not a huge effect – but it does darken the wood naturally and bring out the natural woodgrain.
If you think the color is too light after the first coat, apply a second coat for a darker color. This makes it easy to control the color of your finished project!
Here's how to stain wood with tea stain!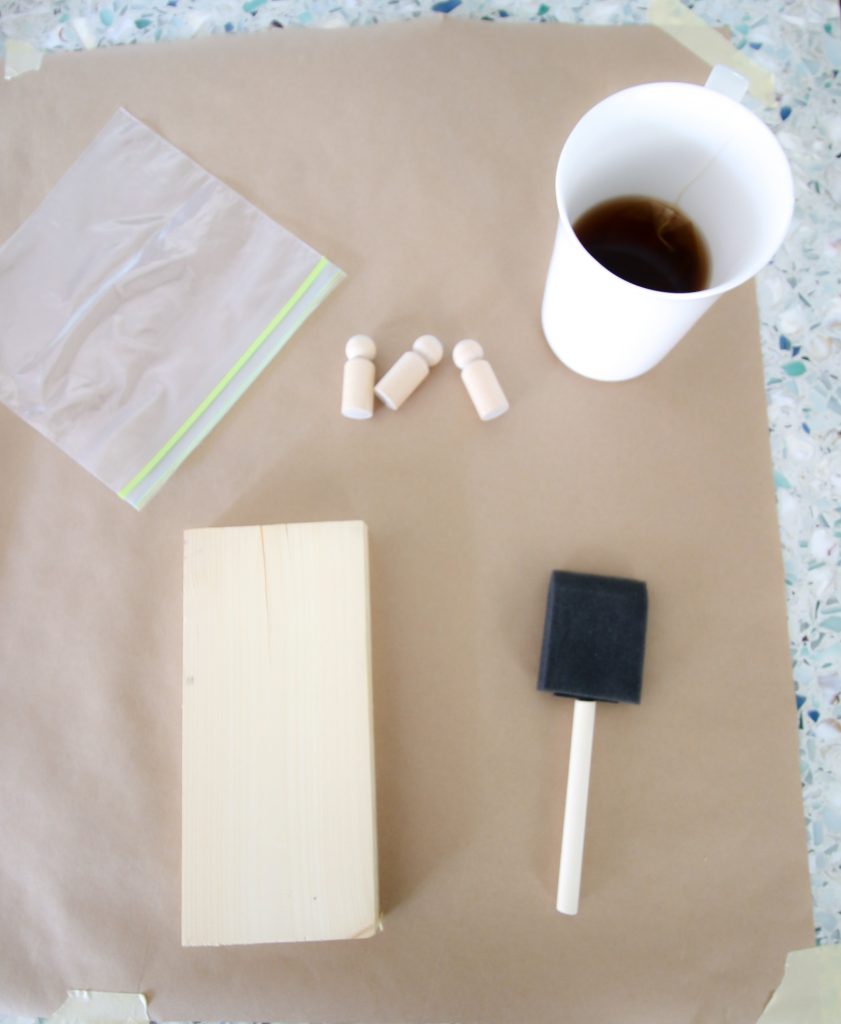 Can I make wood stain from acrylic paint?
Yes, you can use watered down paint as a DIY wood stain. I love this method for creating bright colored wood stains from scratch!
Here's how to stain wood with watered down paint!
Do I need to use stain wood conditioner?
Wood conditioner is an optional step. It evens out the dryness level of a wood surface. If a wood has extra dry spots, they will absorb more stain and look darker. This leads to splotchy results. If your wood is older or very dry, definitely consider using conditioner before staining!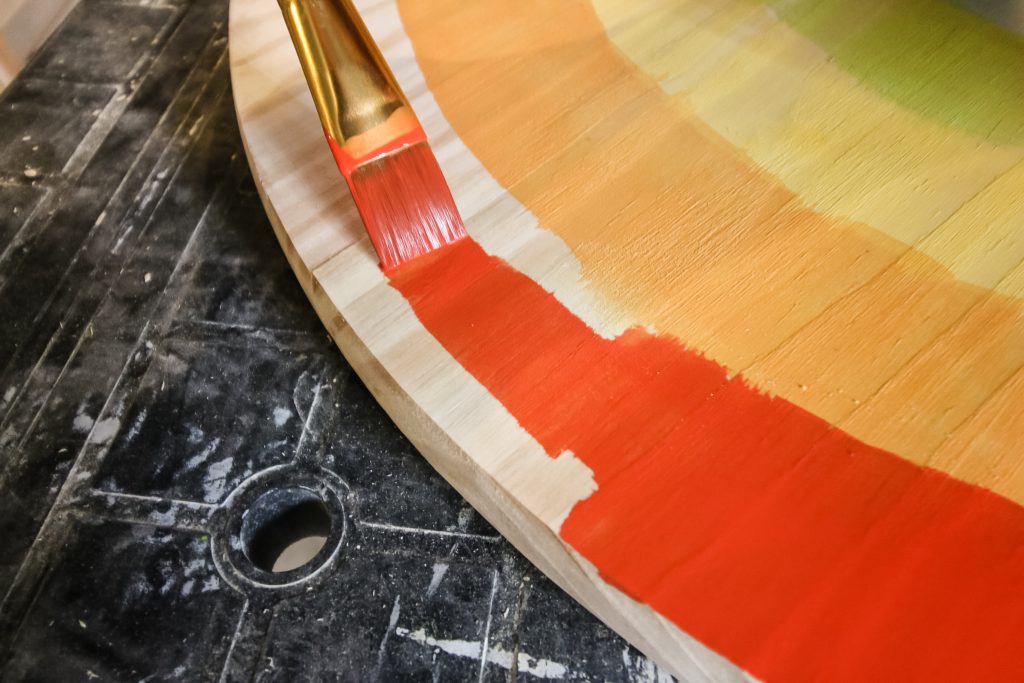 Can I dye wood with food coloring?
Yes, you can stain wood with food coloring. This is a great food-safe option and results in beautiful vibrant colors.
Here's how to stain wood with food coloring!
What can I use instead of wood stain?
If you just want to let your beautiful wood grain shine, we suggest oiling it with Walrus Oil or a similar cutting board grade oil.
If you want to add color to your wood, try making your own wood stain!
Consider the Age and Type of Wood
Remember that all wood absorbs stain differently and those differences mean that they will look different when treated with even the same wood stain colors.
Soft wood like pine absorbs more compared to hard woods. So, it will get darker from stains, usually.
Older wood is dryer than new wood and so it absorbs more stain, so it can get darker, too.
Just keep these things in mind when sampling your stains – no 2 boards take stain the exact same way!
For best results, always wipe up excess stain after it has sat for 30 minutes or so. Pooling will lead to unevenness in the finish!
It's super important to test all stains – but especially homemade stains – on a piece of scrap wood or inconspicuous part of your build first to be sure you love the color.
How can I naturally stain wood darker?
My best suggestion for a natural timber stain in a darker color is to use vinegar. Check out my complete guide to get an idea of what color might be best for your project.
If you want to stain your wood a bright color, I suggest watered down acrylic paint – you really can't mess it up! Just test it on a scrap piece of wood until you get the level of transparency that you are going for.
How to use natural wood stains
Natural wood stains can be brushed directly onto your wood, in the direction of the grain.
I like to use a foam paint brush on most of our wood projects and wood furniture.
Most natural wood stain colors develop slowly compared to store-bought wood stains, so you will need to let them sit – or do multiple coats.
However, don't let the stain pool on the wood. This can lead to splotchiness. If there are pools or puddles on the wood after 15 minutes of sitting, wipe them away with a lint-free cloth.
Be sure to give them some dry time – at least 24 hours. Some natural stains – like these vinegars – REALLY change color as they dry!
You can then finish your wood with the sealant or topcoat of your choice. Remember that most sealants slightly darken wood finish colors!
If your piece is going into direct sunlight, know that the color will fade over time without a protective top coat!
Video tutorial
Check out my videos showing the DIY wood stain colors in action!
Have you ever made DIY wood stain? How did you do it?!