If you're like us, when you started being crafty and building things, you didn't exactly know where to start when it came to how to buy wood. The easiest thing was to go to Lowe's or Home Depot and pick up some stuff off the shelf but, again, if you're like me, it turns out there was a lot more to it than just buying some wood. If you're trying to learn more about how to buy wood from the big box stores, hopefully we can shed some light on a few different things to look out for.
How to Buy Wood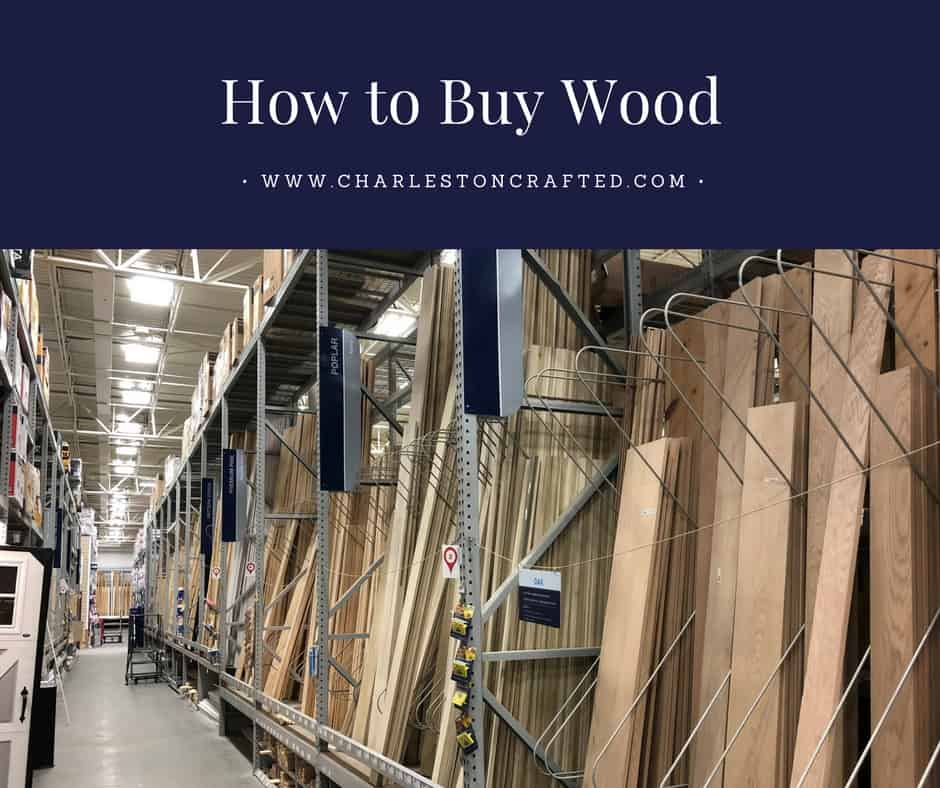 Decide on the type of wood– What type of wood are you looking for? Generally, if you're looking for wood for interior projects, your options at a home improvement store are going to be oak, poplar, pine and white wood. The price range goes down in that same order, with oak being the most expensive and white wood being basically free. There's a reason for that. The oak and poplar pieces are much nicer and are going to have better color and grain and are going to be better, straighter pieces of wood. The pine and white wood are going to be cheap, have a lot of issues, and not be that good. For a very long time, we went with the lesser quality boards and were able to have plenty of success. Shoot, I built an entire dining room table and benches out of pine boards and the look great. However, if I was to do that project today, I would definitely splurge a little for poplar.
Plywood vs. Particle board– another two types of wood for projects are plywood and particle board. We didn't realize the difference at first and thought that plywood was particle board and that it was crappy. I started getting more into building and was always hearing how people were building cool things out of plywood and I had no idea how. The I actually looked and realized that plywood is actually good sheets of sturdy wood that you can make a lot of things out of, including something as cool as this writing desk I made. It can be cut down into strips or kept in big sheets. Plywood is great for a lot of projects.
Know the ACTUAL size of wood– did you know that a 2×4 isn't two inches by four inches and that it's actually 1 1/2 inches by 3 1/2 inches? Or that a 1×3 is 3/4 of an inch by 2 1/2 inches? From what I understand, the advertised size is the size that the board is cut to initially, but then production of planing and squaring it up brings it down to an actual size. This really screwed us up a few times when we were first doing projects (and sometimes still does!!) when you draw a sketch and don't take into account the actual wood widths. Just make sure you look at the tag for the wood you're buying because it will give the dimensions and then the ACTUAL dimensions. MIStupid is a good resource for checking actual lumber dimensions when you're trying to learn.
Know your cut lengths beforehand– I can't tell you how many times we have gone to the store knowing that we needed a total of say 20 feet of wood. But the problem with those 20 feet was I needed say two 6 foot pieces, two 3 foot pieces and a 2 foot piece. That was 20 feet, but I can't get those cuts if I buy two 10 foot boards. You need to know where your cuts are going to be so you can buy the right amount of wood.
Things to look for in a piece of wood– there are a few little things to look for when you're selecting your boards in the lumber aisle. When you have the right species of wood and the right length, first sort through the boards available and make sure that none of them have any huge knots. Knots can be really cool in a piece, but sometimes they are actual holes in the wood and you probably don't want that. Also, make sure there isn't a knot where you're going to be making a cut, because that will increase the likelihood of it breaking apart. Then, pull your wood down and put one end on the ground and pull the other end up to eye level and look straight down. A lot of lumber is very wonky and has a bow or a curve in one direction or another. Put that piece back and pull down boards until you get a straight one.
Cut it at the store– don't ever be worried about a piece of wood being too big to bring home if it's the piece you need. If you don't own a car with a roof rack or a truck, you have two options. Home improvement stores have a cutting machine and they will cut wood for you. This is good for getting it down to a manageable size, but they aren't always 100% accurate. This service is good for rough cuts to make manageable pieces for you. Your other option is to bring your battery powered circular saw to the store with you and cut your wood in the parking lot. Cut your boards to your exact size needed or just cut it down to manageable pieces. It's a home improvement store; who cares what you're doing in the parking lot?
Knowing how to buy wood can be stressful if you don't have a lot of experience or are in a rush. It's important to remember these simple tips for how to buy wood the next time you go to a home improvement store in order to make your project the best it can be.
There are lots of other things to look for, so if you have other tips for our readers, please share them in the comments below!