Considering adding a black wood stain to your wood project? Check out Varathane Black stain – our full review & how it looks on 7 types of wood!
I've really been enjoying testing out different wood stains lately and I was interested to try and compare the two Varathane black stain colors.
This color is called Black by Varathane. The version that I picked up is a stain + polyurethane in one. I love these two-in-one products because they make finishing your projects so much quicker!
I was really excited to test out my favorite 3 black wood stain colors on seven types of wood so you can see exactly how they each look!
Varathane Black stain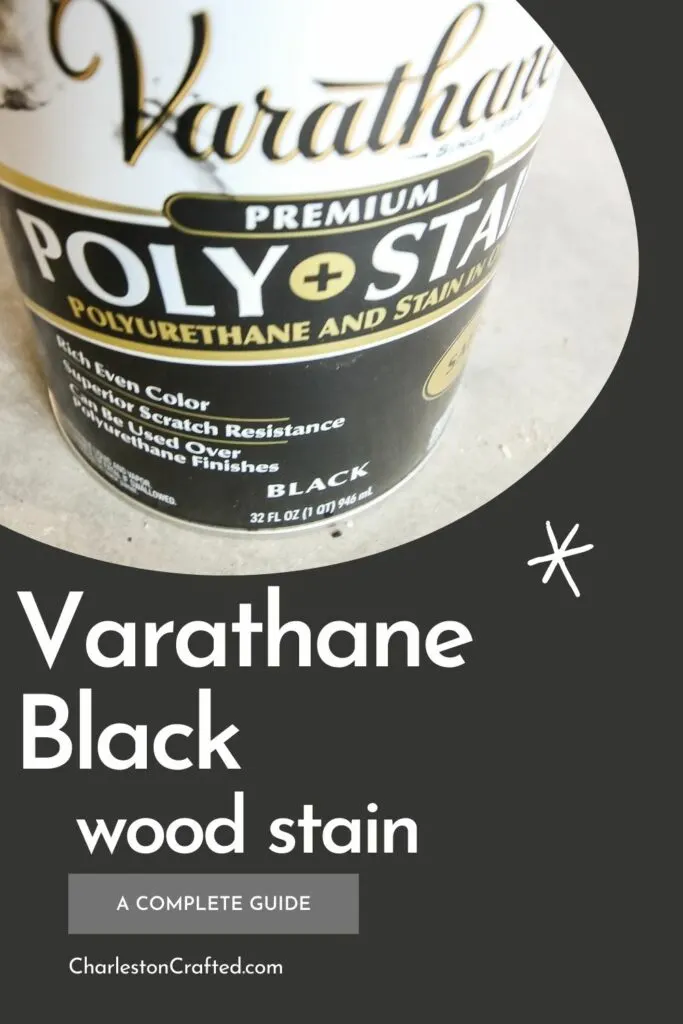 Varathane is a brand commonly carried at the Home Depot. So, if you shop there, this will be one of your black wood stain options (Varathane Classic Black is the other one!).
Click here to buy Black at Home Depot.
Of the three black wood stains that I tested, Black was by far the lightest with the lightest coverage.
It allowed a good amount of the natural brown/wood base color to shine through the black stain.
This could be good if you want more of a "white wash" look that highlights the natural grain without full covering it.
However, this color does have a tendency to get a bit splotchy on certain woods, and you will see that below. Adding a second coat will help to cover the blotchiness, as will using a pre-wood conditioner prior to staining.
Here is how Varathane Black looked on each of seven wood types!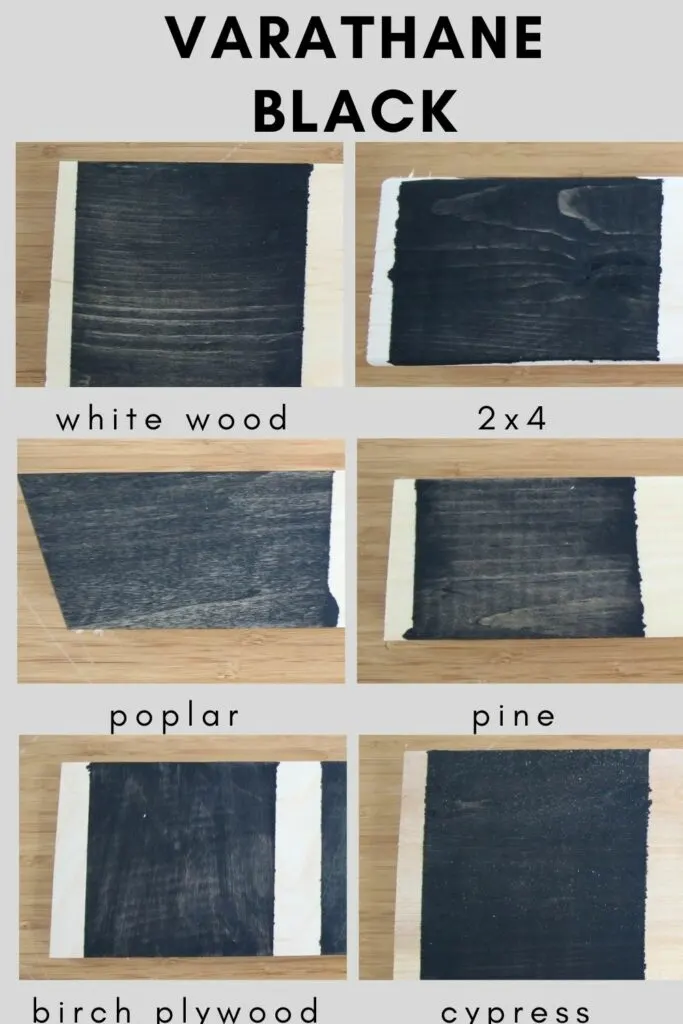 How does Varathane Black stain look on oak?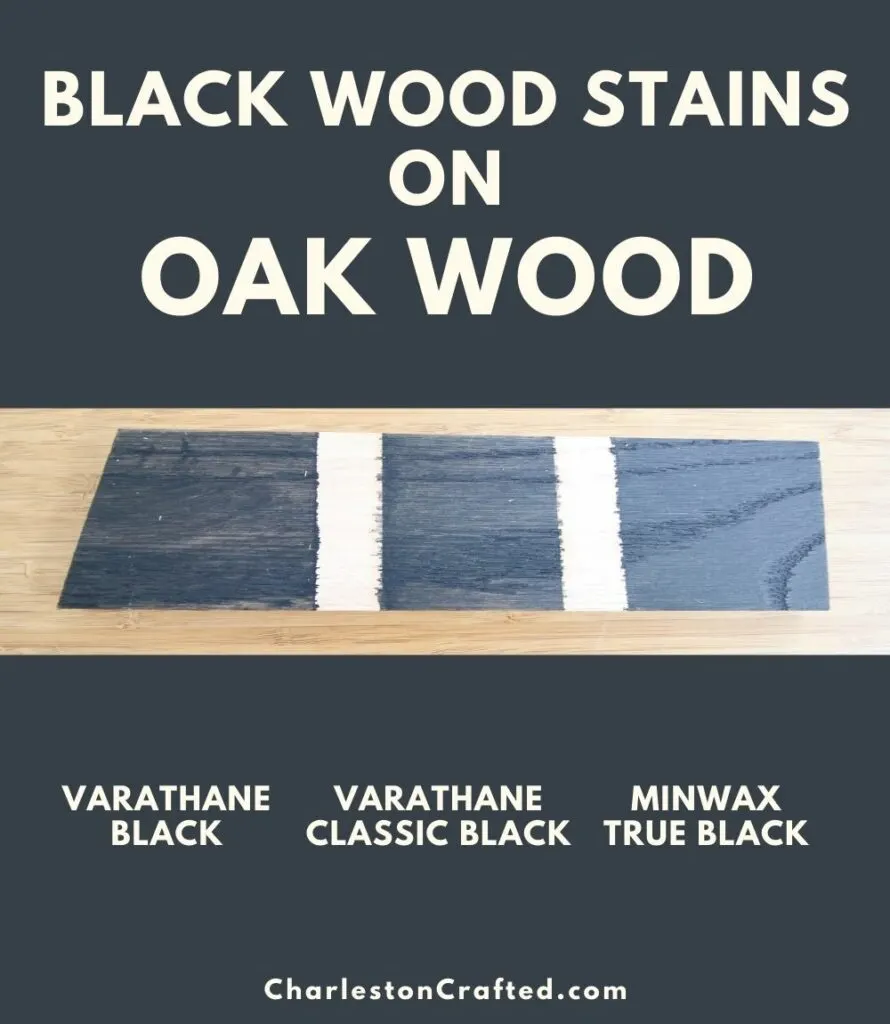 Oak is a really beautiful natural wood with reddish undertones.
I personally would never stain it black – it's much too expensive and beautiful to color over!
Of all three of the black stains that I tested on oak, Black was the worst. It took very splotchy and looks uneven on the grain. I don't recommend it.
How does Varathane Black stain look on pine?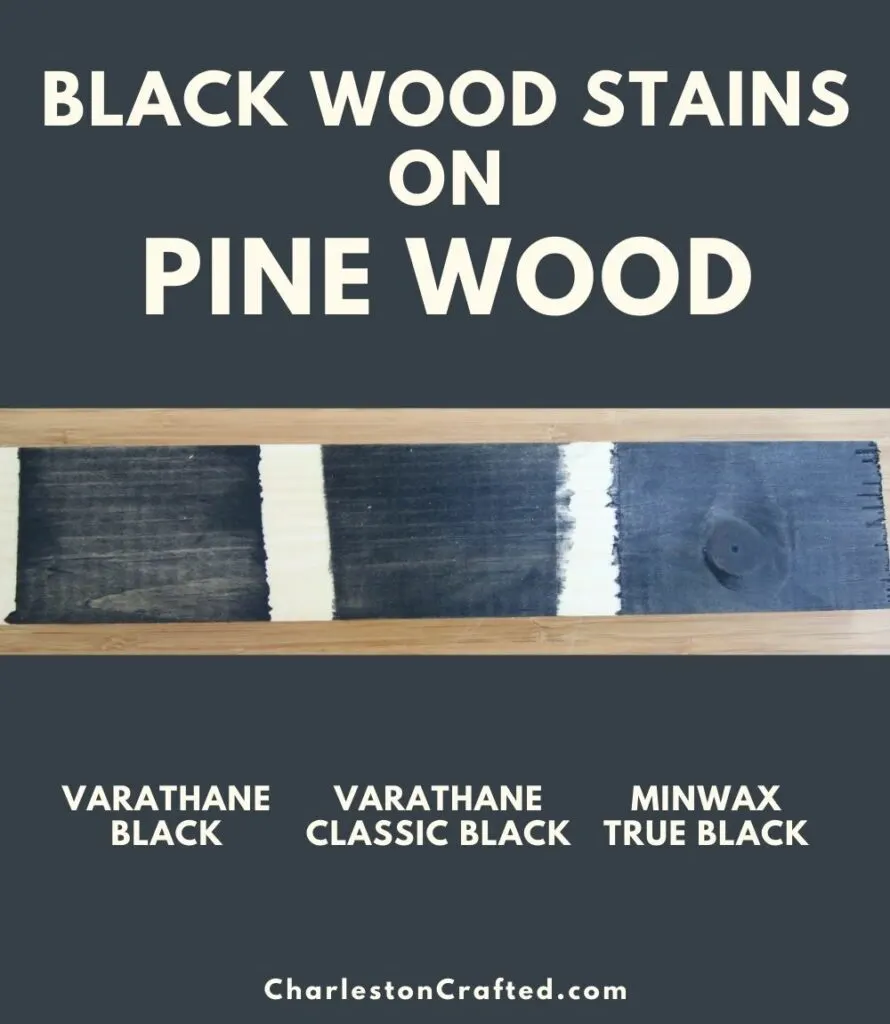 Pine wood has natural yellow tones with some slightly darker graining and medium dark knots.
Black stain allowed a lot of the underlying yellow and tan colors to shine through. It could be a good option if you want a transparent black layer.
It can get a little splotchy, but it is controllable, especially with a pre-stain and by carefully wiping up any excess.
How does Varathane Black stain look on poplar?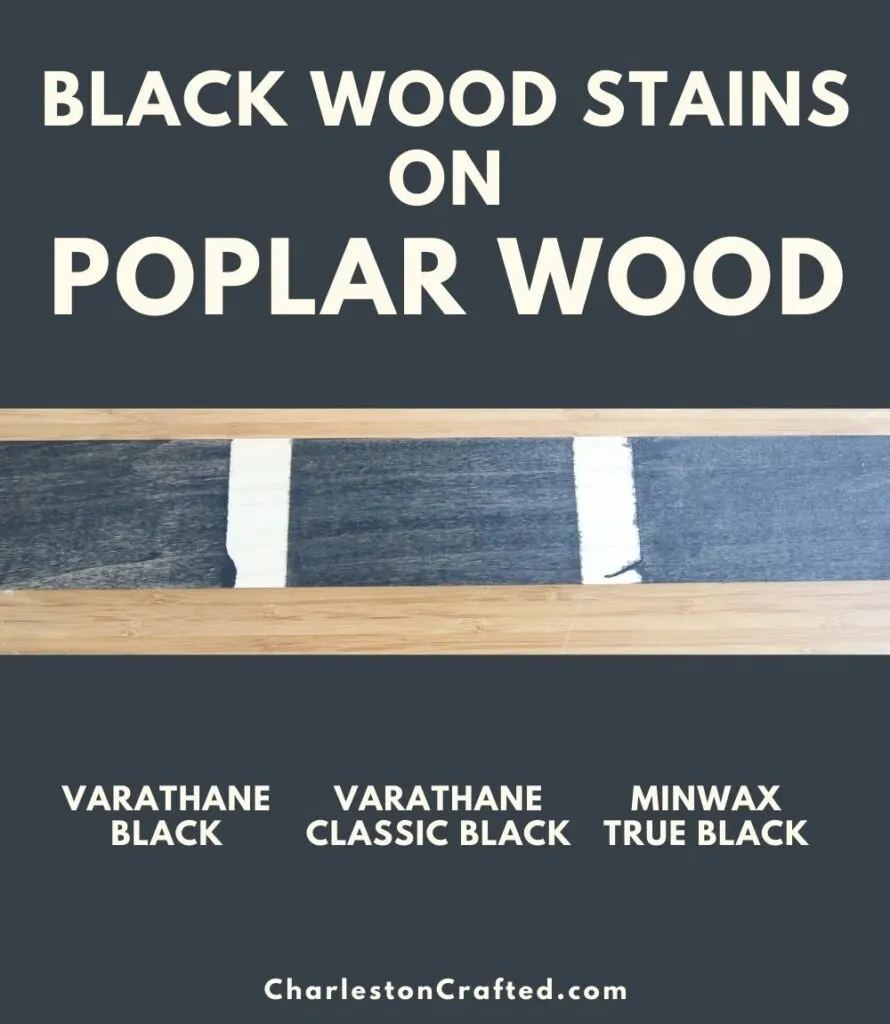 Black stain had really nice coverage on poplar.
Poplar naturally has green undertones and this stain totally took those away. It gave good coverage while still allowing for some natural lightness to show through, especially along the grain lines.
How does Varathane Black stain look on white wood?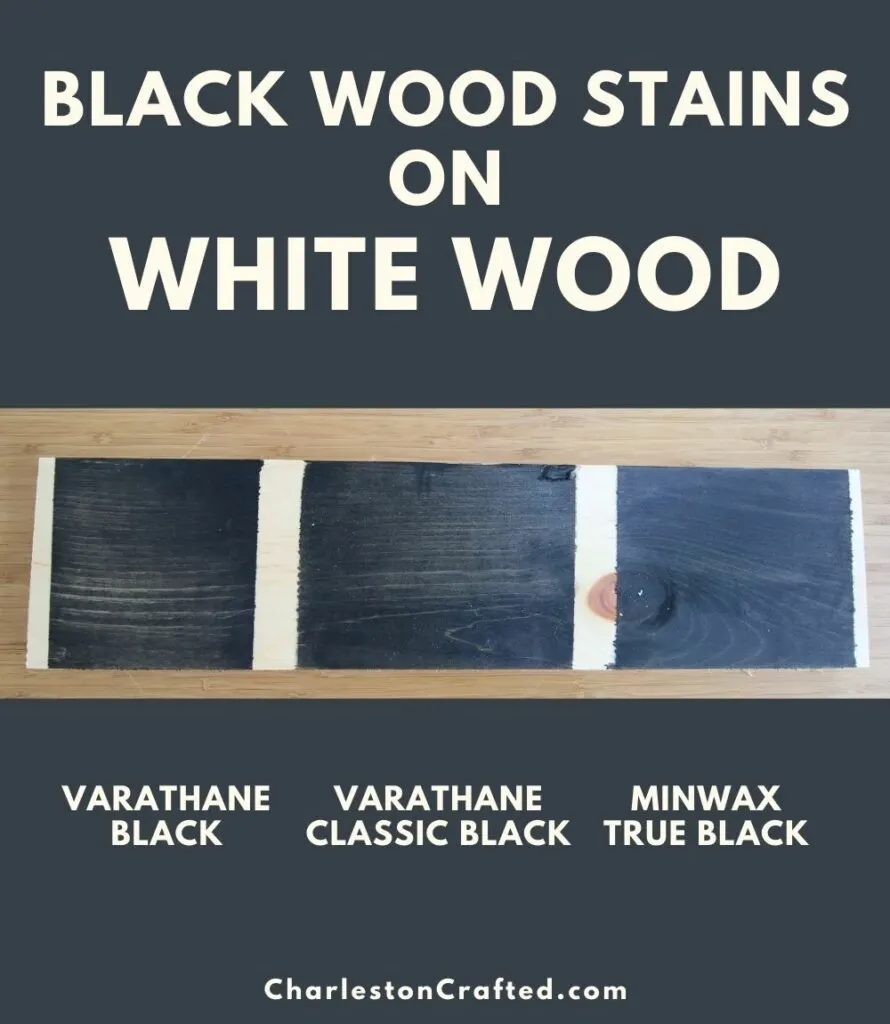 White wood is a very light yellowish tan with reddish brown knots.
If you want to stain your white wood black without covering it fully, Black is a good option. It gave good coverage but still let the lines of the grain show through.
How does Varathane Black stain look on birch plywood?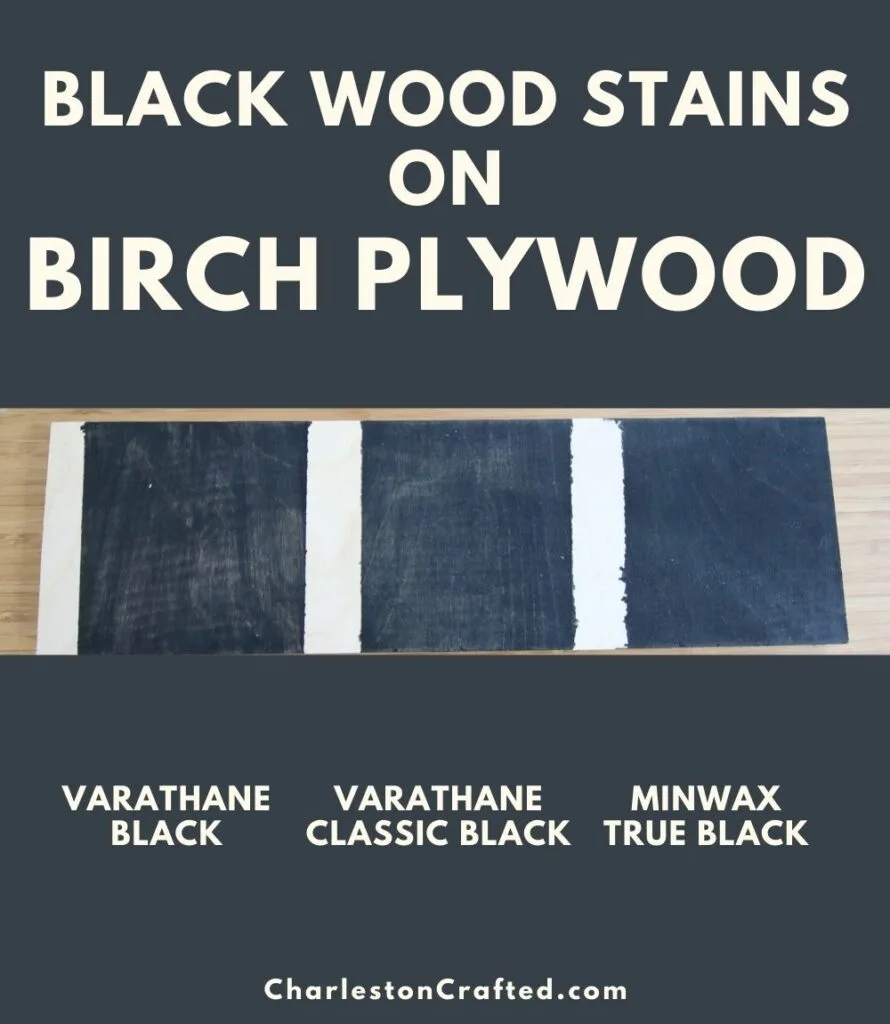 Birch plywood is almost white with beautiful light tan graining.
Varathane Black stain took much blotchier than the other two I tried, so I don'r really recommend it for use on birch.
How does Varathane Black stain look on cypress?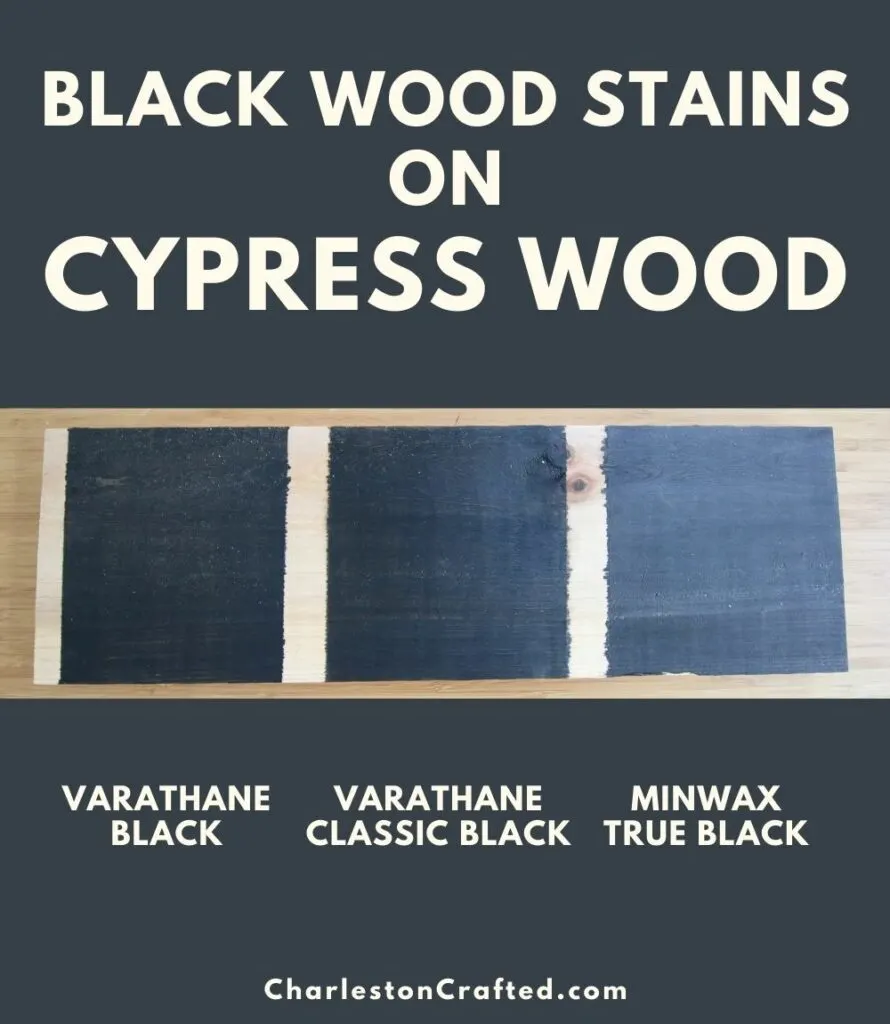 Cypress has naturally red undertones and chocolate brown knots.
I probably wouldn't stain cypress black in general because I love the natural look, but of the three stains I tried, Black was my favorite!
I love the level of coverage that it gives while still letting peeks of the reddish wood grain shine through. It's really very beautiful!
How does Varathane Black stain look on a 2×4?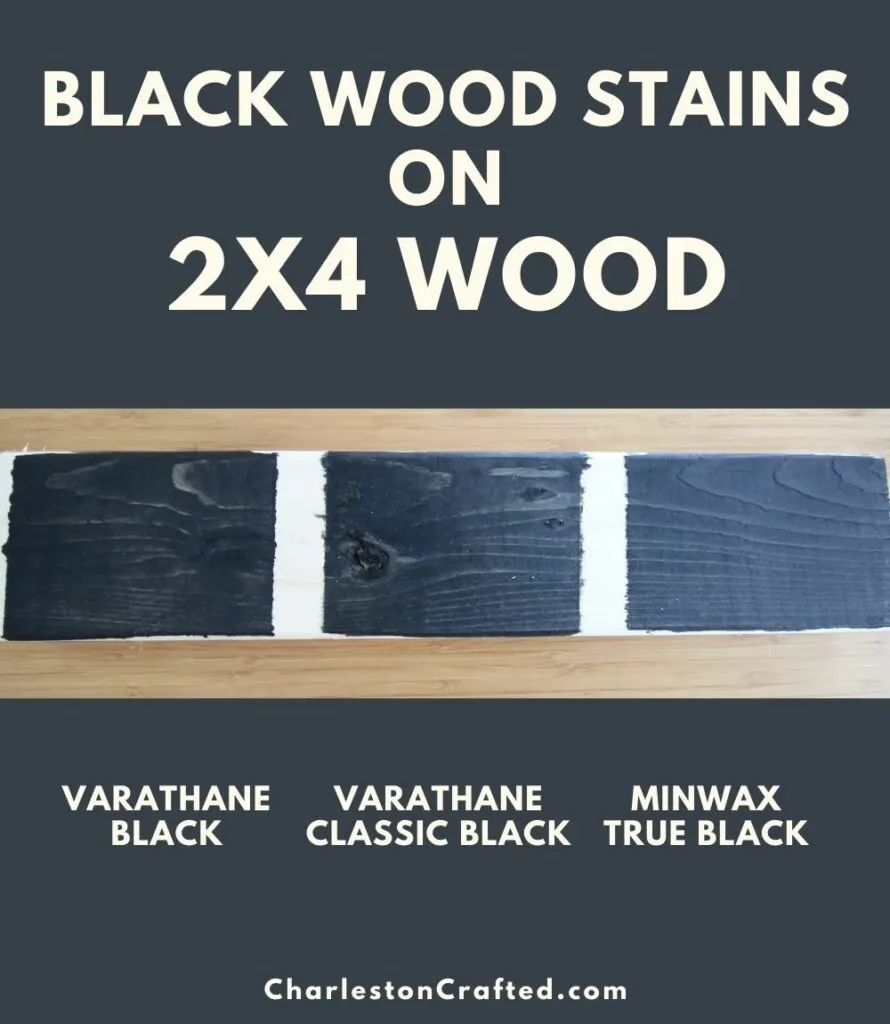 2x4s are cut from very light wood with big knots.
I was actually surprised that Black didn't look more splotchy on here, since it was another light wood.
But, it actually took very well. It has good black coverage with bits of lightness along the grain.
Really nice if you want a black look while still maintaining the look of real wood!