It's hard to believe it but we have been in our house for one year now! It feels like forever and yet it also feels like we just moved in.
We thought that it would be fun to round up our favorite projects that we have done this year.
As a reminder, we moved into this house in the middle of a pandemic and then had a baby one week later. Ha ha! It's been a wild year but one for the memory books, for sure.
The first projects in our new home
Luke's bedroom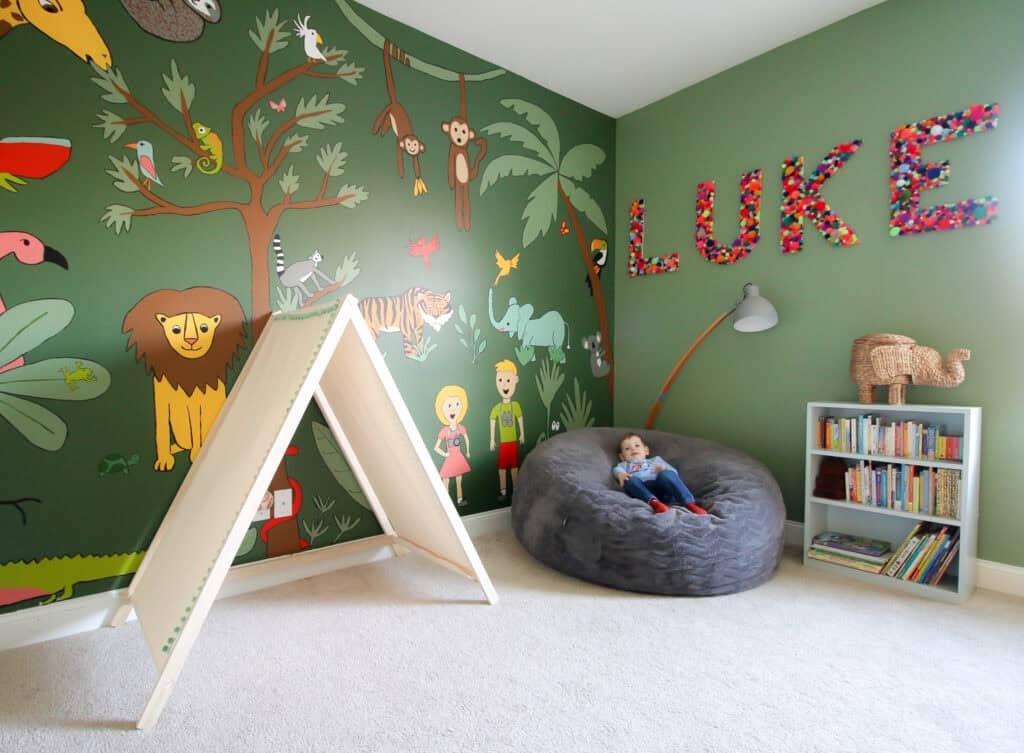 Luke's bedroom was our top priority when we moved. He was 1.5 years old, being moved houses, and having a sibling born all at once. It was important that we made him feel comfortable and at home.
So, we gave him a jungle animal themed room, complete with a big painted mural! We added a reading tent, a tree shaped bookshelf, and some other decor.
Check out the full room reveal!
The laundry room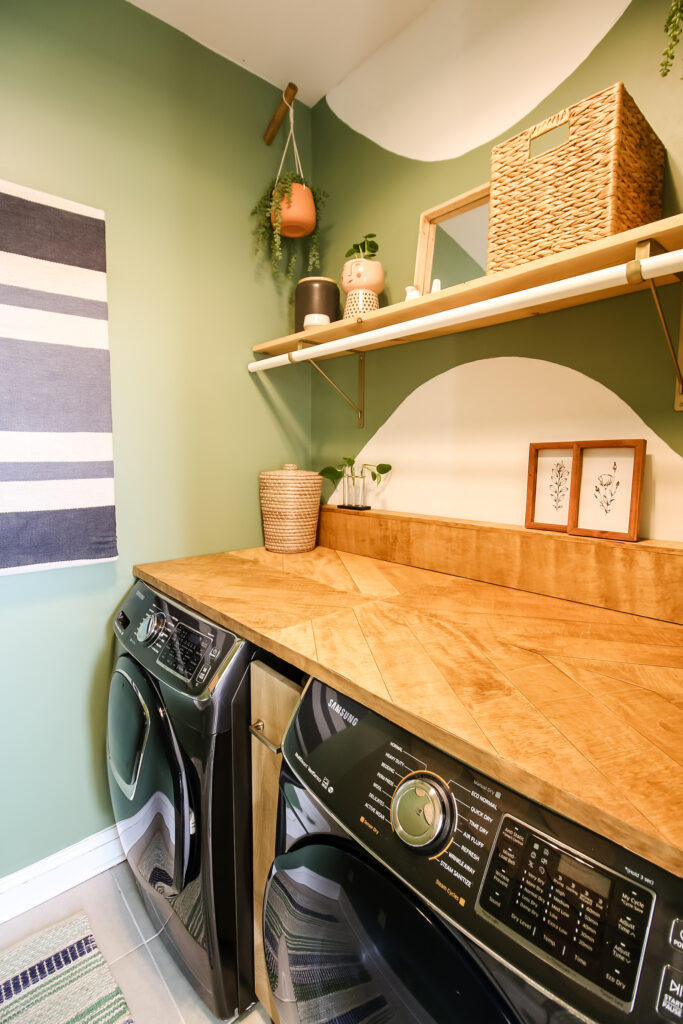 We didn't actually plan to makeover our laundry room so early in the process, but the lack of storage was rough, so we made it a quick priority!
This was actually a weekend makeover, but paint, a new DIY wooden countertop, shelving, and a rolling storage cart went a long way.
See the full laundry room reveal!
Rory's bedroom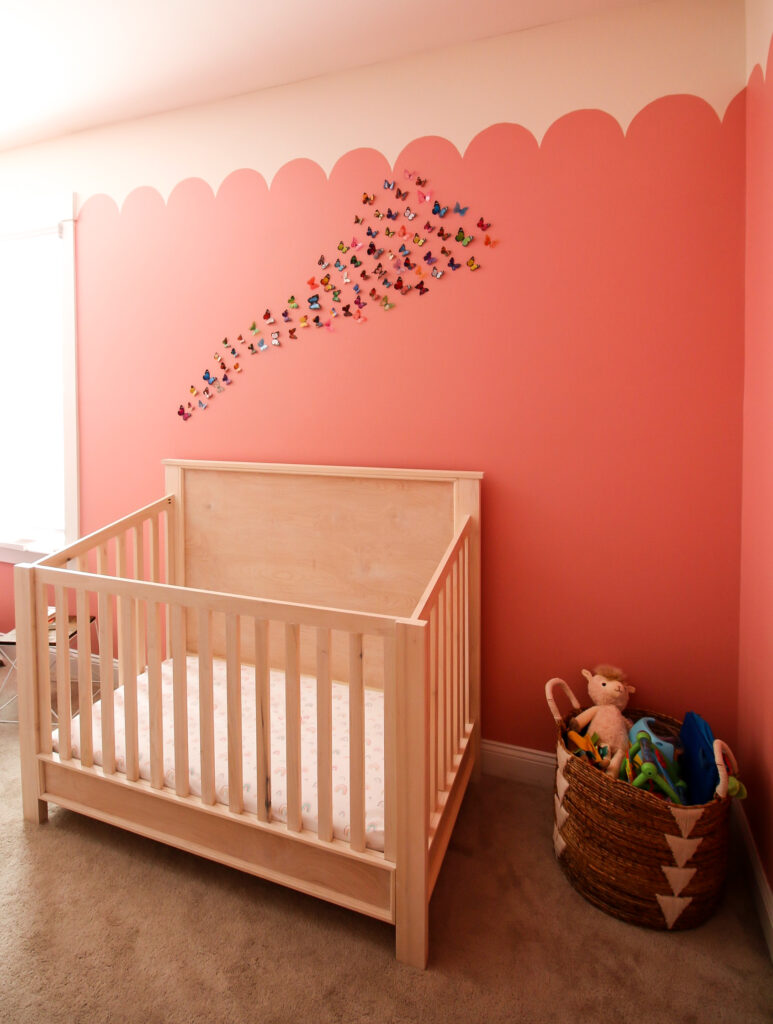 Rory's bedroom was a dream to design – I always wanted to do a pink girly room! We painted the walls a coral pink color with a scalloped trim.
Sean built the crib and a doll house bookshelf! You can see all of the other, smaller projects here!
The patio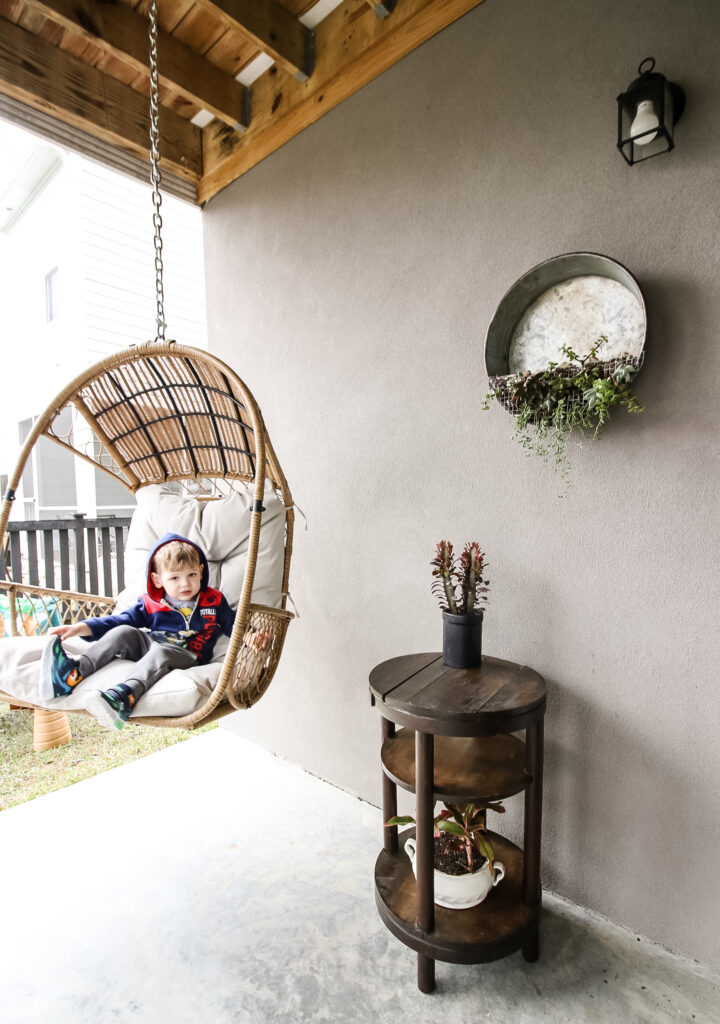 When we moved into this house, we didn't even really acknowledge the patio at all. It's a pretty small concrete pad under the screened in porch. The previous owner stored the trash cans there and… that's it.
We moved the trashcans and quickly realized that this small space was nice because it is the only shade in the whole backyard! It's therefore where we hang out during the day with our kiddos.
We added a rug, a hanging planter, a hanging swing, and the kids swing. We had the concrete pad extended to the stairs (I don't know why it wasn't like that to begin with!) and added a DIY potting bench. Much more usable!
The front yard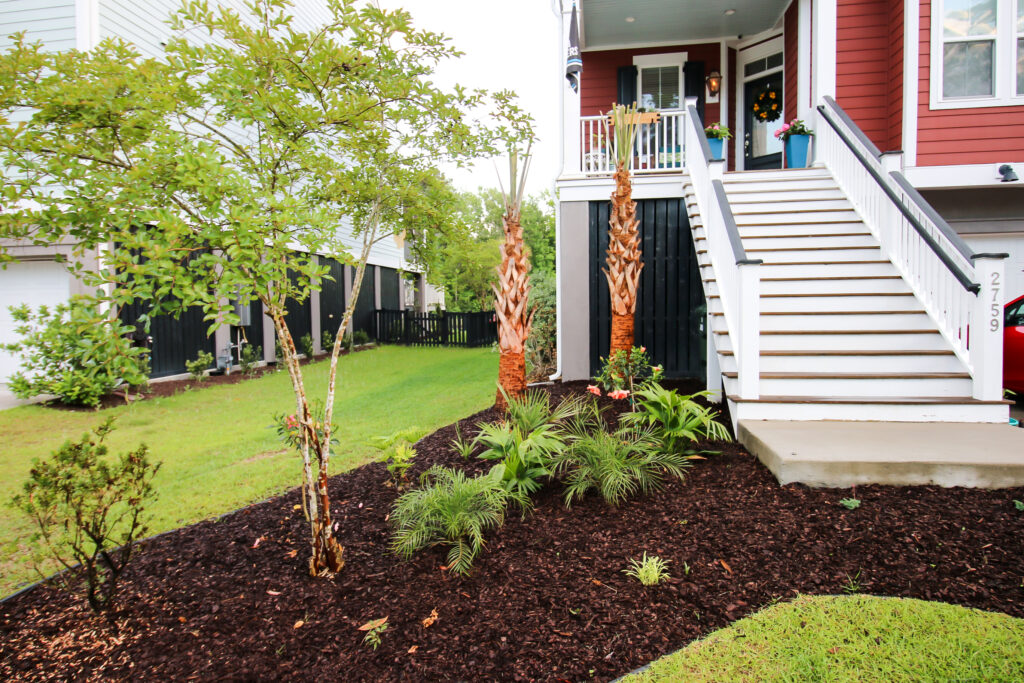 Our front yard was pretty shabby looking when we moved in. The renters before just hadn't done much to keep it up.
We removed almost all of the plants and replaced them with tropical plants, and had two palm trees installed. Now it's much more inviting! Here's the details on our front yard makeover.
Garage workshop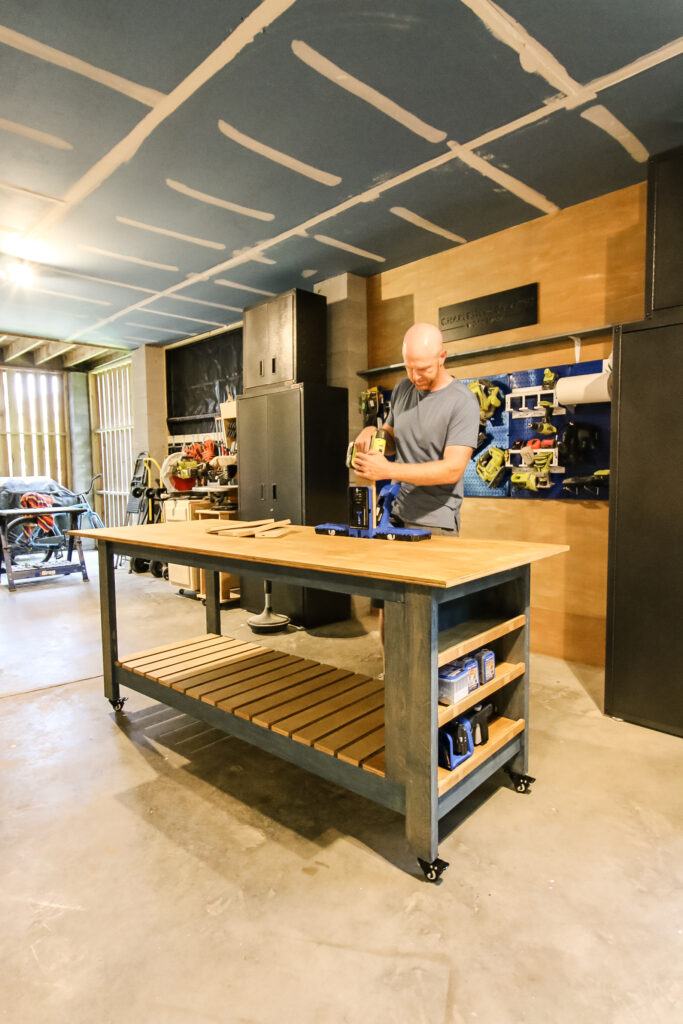 Finally, we set up a workshop space in the garage. This will be put to work with upcoming DIY and woodworking projects!
This included a DIY rolling workbench, pegboard, lighting, and metal shelving. Check out the full workshop reveal!
What's to come in the next year
So, what's up in year two?
The big project will be working on our downstairs. We've already started it but we will be painting all of the walls in our great room.
Then, we will be doing a fireplace makeover to create a focal point for that whole space.
We will also be doing some furniture builds and a lot of DIY decor for the space!
We might paint the kitchen cabinets – the verdict is still out. We will definitely be updating the backsplash.
In the new year, we are considering diving into our biggest project ever – converting our half bathroom into a full bathroom. This is something that we definitely want to do, we just have to decide on the timing of it. It will involve hiring contractors!
Next spring, we plan to focus on our back yard. Right now it is a rectangle of grass. We hope to add landscaping to make it more lush and visually interesting.
We also will probably need to do some work on our decks, stairs, and railings as a lot of the wood is rotten or at least the paint is badly damaged. We might replace it with PVC!
After that, I'd love to do a makeover in our owner's suite. Just some paint and building a little new furniture would go a long way in there. We will just have to see what we can squeeze into the year!
Thanks for reading!
Facebook | Instagram | Pinterest | Twitter | YouTube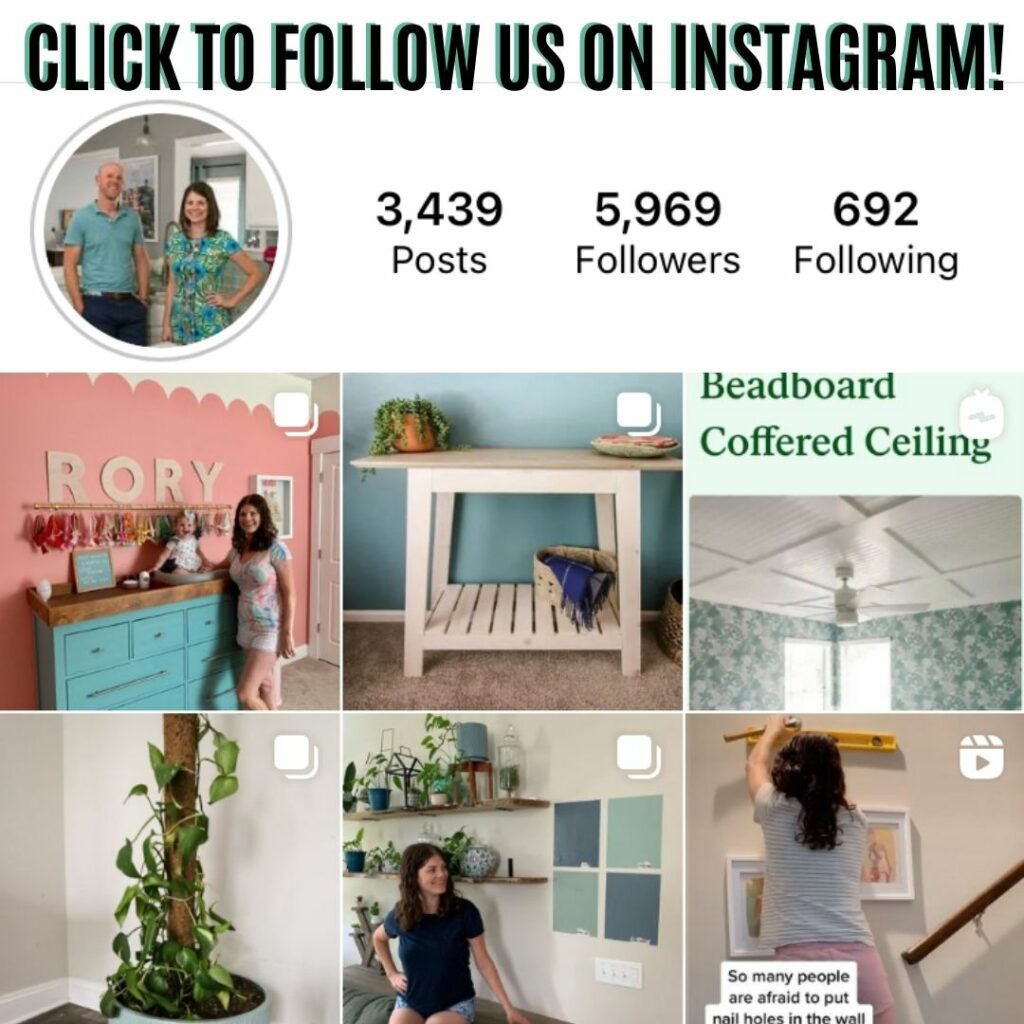 ---
Can we send you our newsletter?
Another great way to keep up with out latest projects is by joining our weekly newsletter! Get alerts of our latest projects and special peeks behind the scenes!
Follow along on Instagram
Join our online community where we share real time behind the scenes looks at our DIY projects and peeks inside our home + family!
---