We've been working hard to get all of our initial projects done in our new home for the first eight months.
Even with having a baby 10 days after moving in, we managed to do projects right from the beginning.
We targeted all of our initial projects that we needed for repairs and functionality, then moved on to our son's jungle themed toddler room and our daughter's pink nursery.
We felt it was important to tackle their rooms first so that they felt at home in our new home.
Throughout the winter, we've been dipping our toes into initial projects like the laundry room makeover and swapping out knobs and lighting, but now that the spring is here, we started working on the outdoors!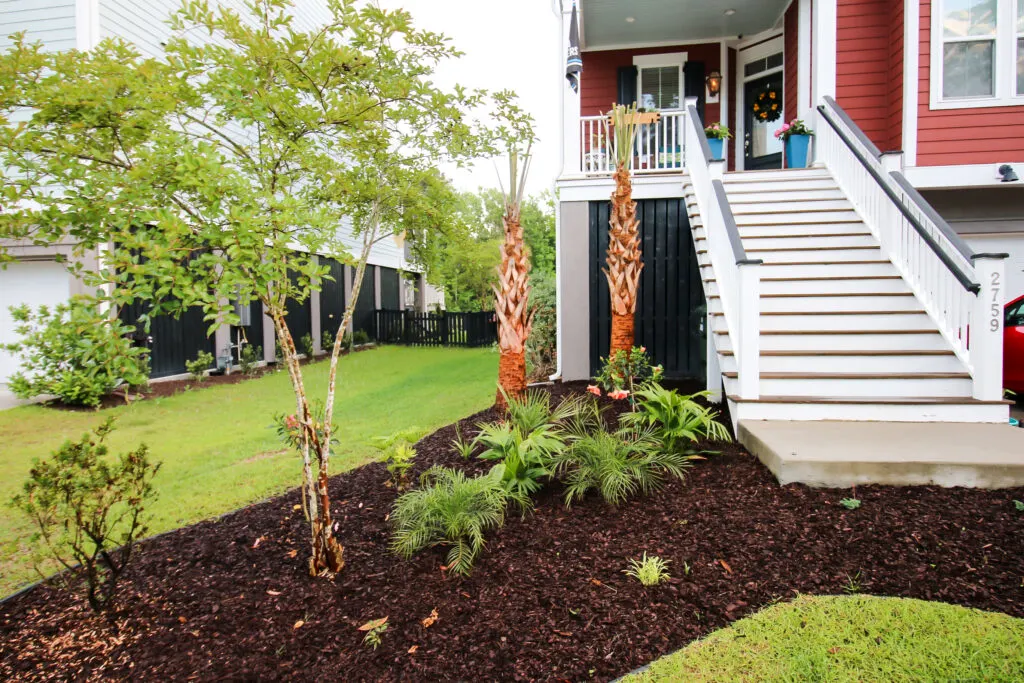 Transforming our yard from blah to tropical
So here's the quick backstory on our new front yard.
As a newer construction home, it doesn't have much of a front yard to begin with and it's mostly taken up by stairs coming down from our raised porch.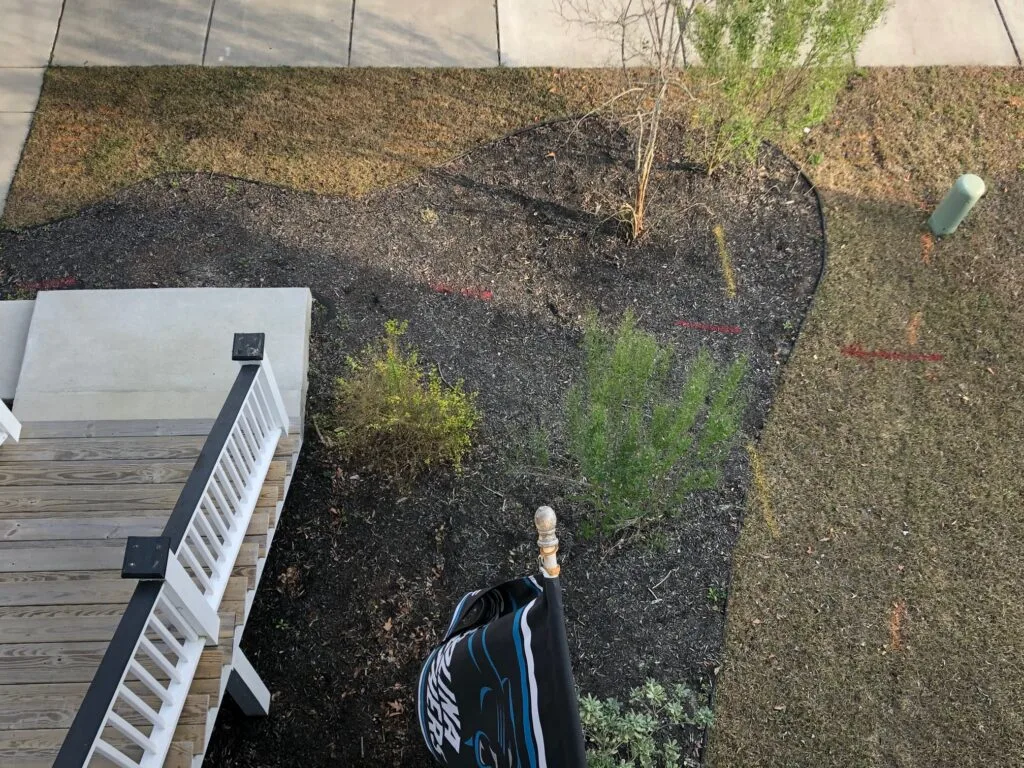 Apparently, the guy who first lived in this house destroyed a lot of the grass in the yard by over-fertilizing it and "burned away" the grass according to our neighbors.
Their solution to this was to mulch over almost the entirety of the front yard and have someone install bushy looking plants.
Here's how we added solar cap lights to our handrails!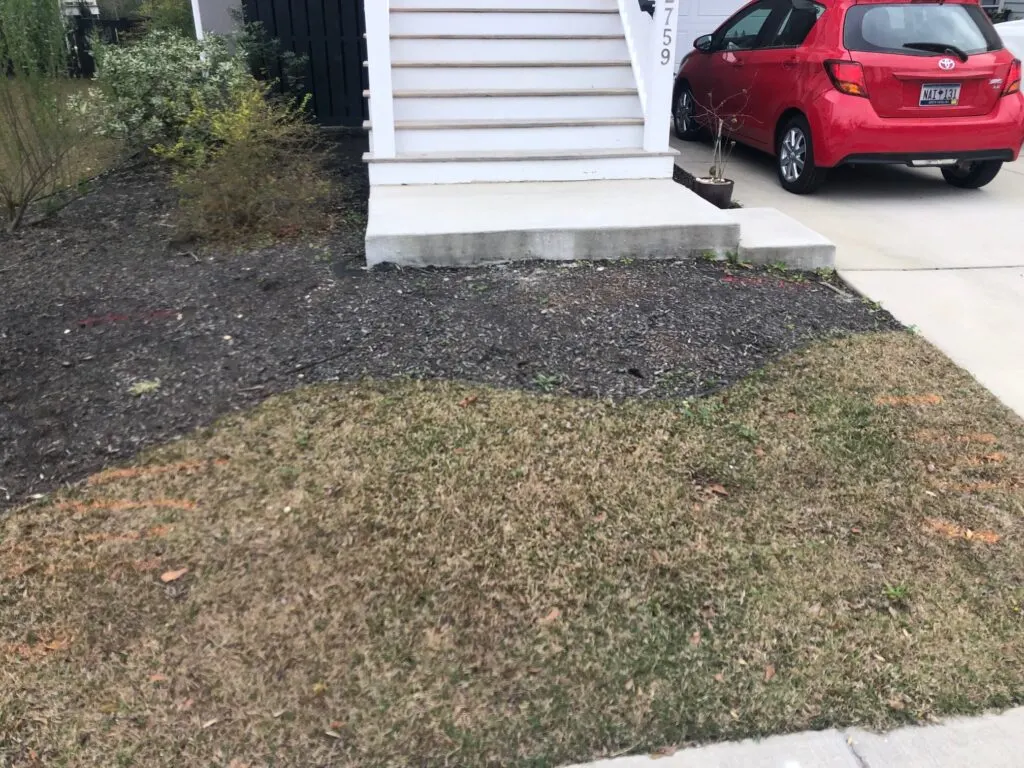 After a couple of years of renters doing nothing on the maintenance of the home, the bushes looked very ragged and the mulch was never replenished.
Living where we live, and having the style that we have, we wanted to transform this house into looking as much like a beach house on the outside as possible.
Call 811
The first thing we did when planning our tropical front yard was to call 811.
811 is the utility service that will come out and mark where all of your power, cable and gas lines are in your yard.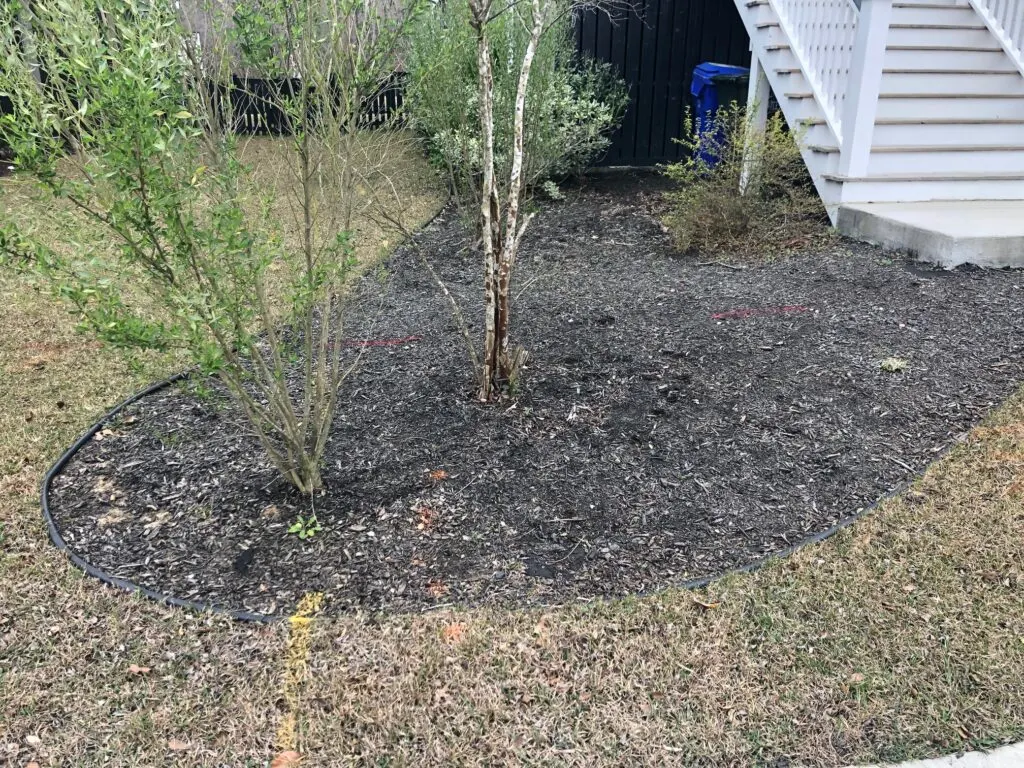 There is no charge for this and they have three business days to come out and do it.
It was very simple to call, give them our information and set it up. A couple different guys from the different utilities came out within a couple of days and marked everything off.
Knowing where the lines and pipes are keeps us from accidentally having a really bad day with a shovel.
Tearing out old plants
When doing a whole outdoor makeover, it is tempting to just rip everything out, not caring about how you do it.
We thought about just hacking everything down and then ripping out stumps after.
Instead, we took the extra time and dug out the old bushes, keeping them intact and saving as much of the root ball as possible.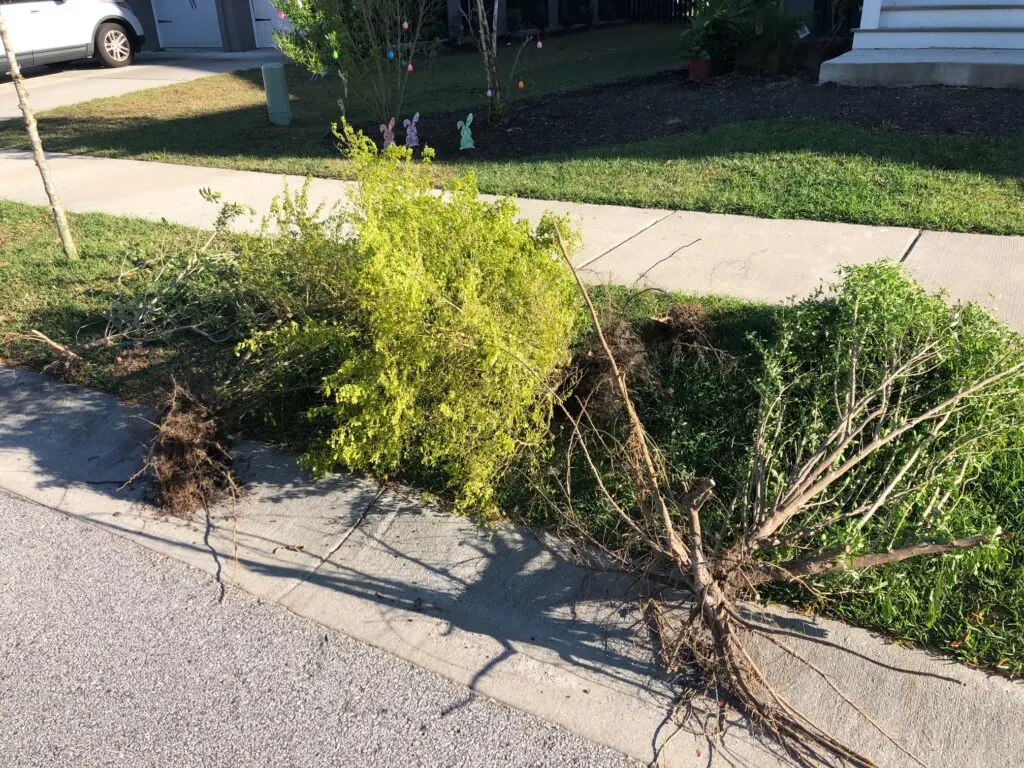 Then, we posted these pictures on our neighborhood Facebook page and within a couple hours, all of the plants were gone.
Get our tips for effective Facebook Marketplace listings here!
It felt much less wasteful and better for the planet to send them to another home.
Adding tropical plants
With the area cleared, we were able to start adding new plants. We went to a local pop up plant place that sets up in a parking lot near our house for about three months every year. They get tons of plants delivered each week.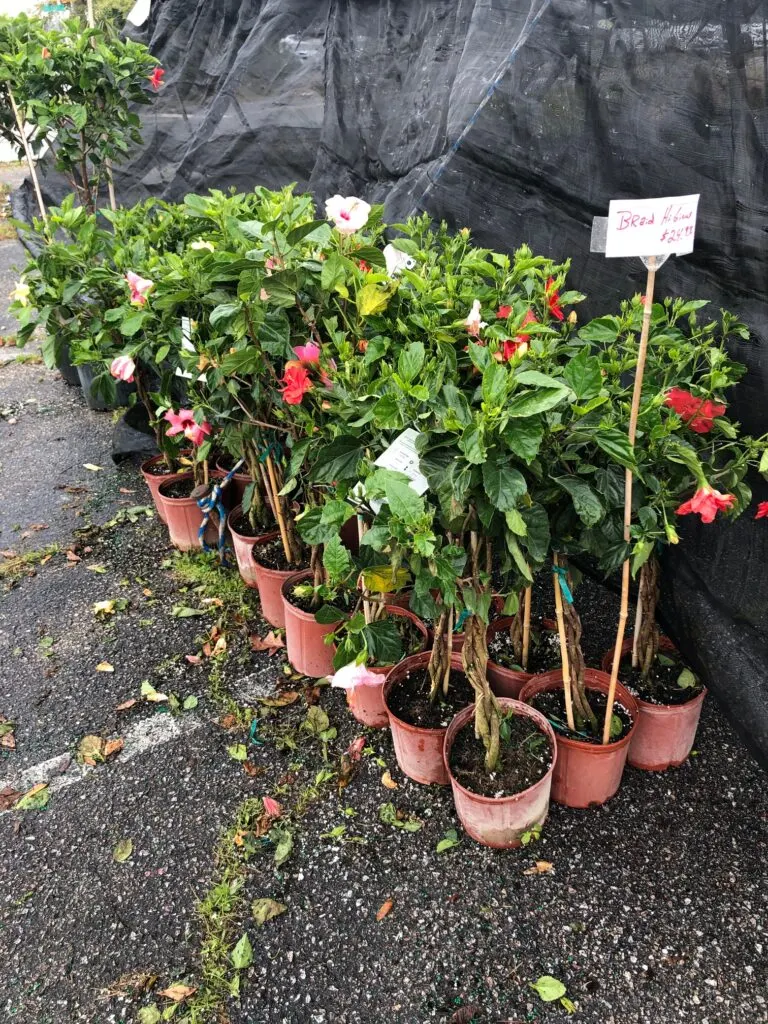 We combed through the availability that day and came away with a nice assortment of tropical plants, including:
Hibiscus
Double hibiscus
Fan palm
European fan palms
Chinese fan palms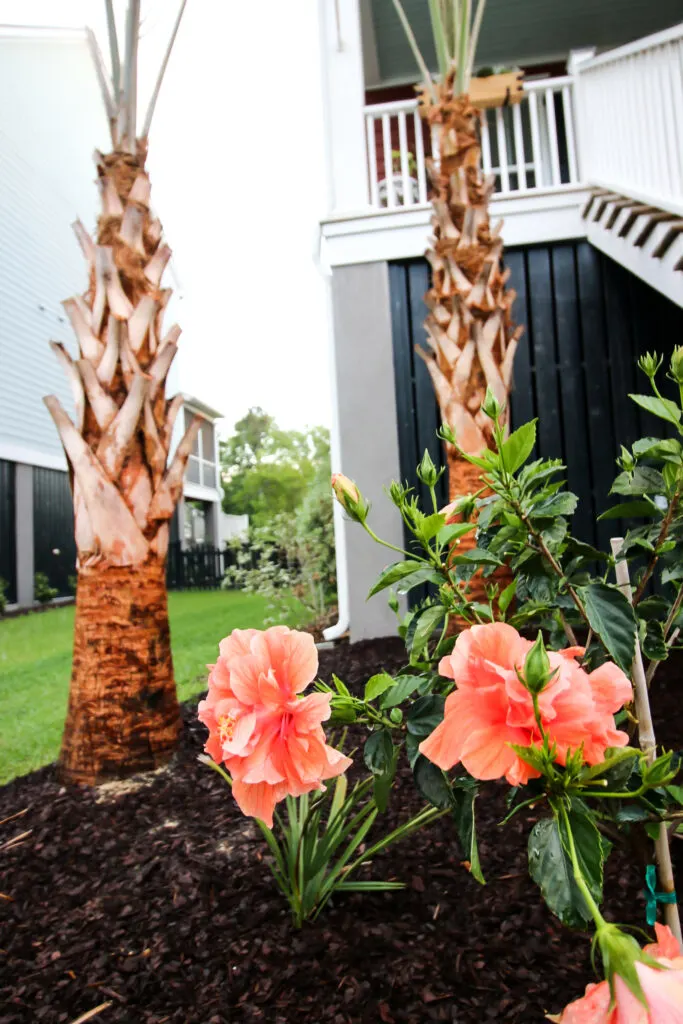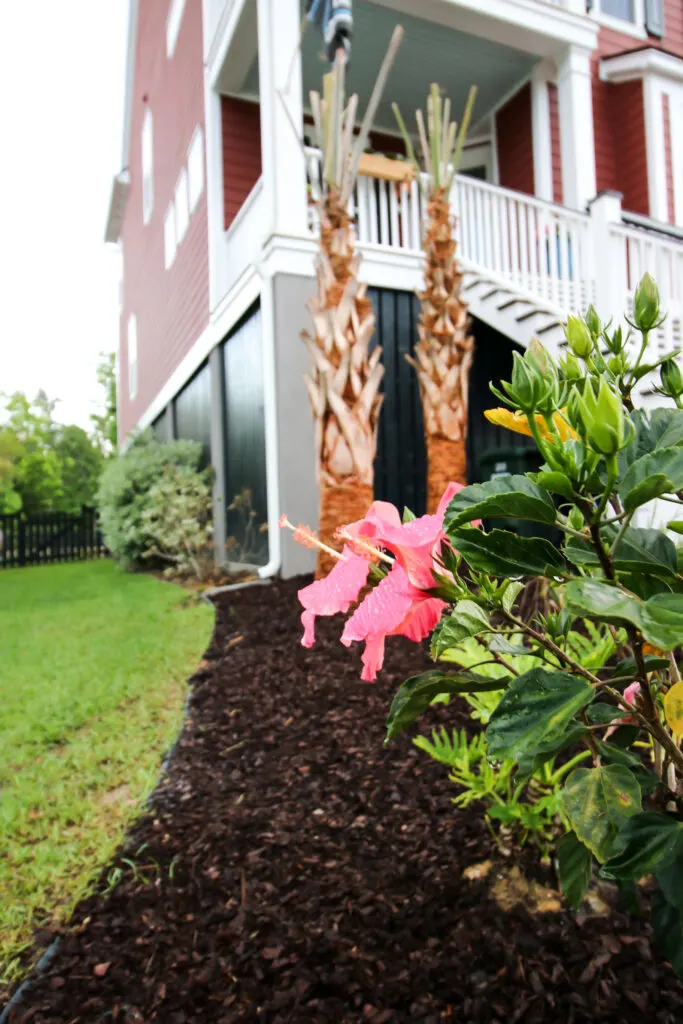 We also shaped a crape myrtle (that we didn't tear out) into a tree instead of a bush, added a bottlebrush bush from Home Depot, and planted bulbs from Costco of Bleeding Heart, Elephant Ears and Lily of the Valley.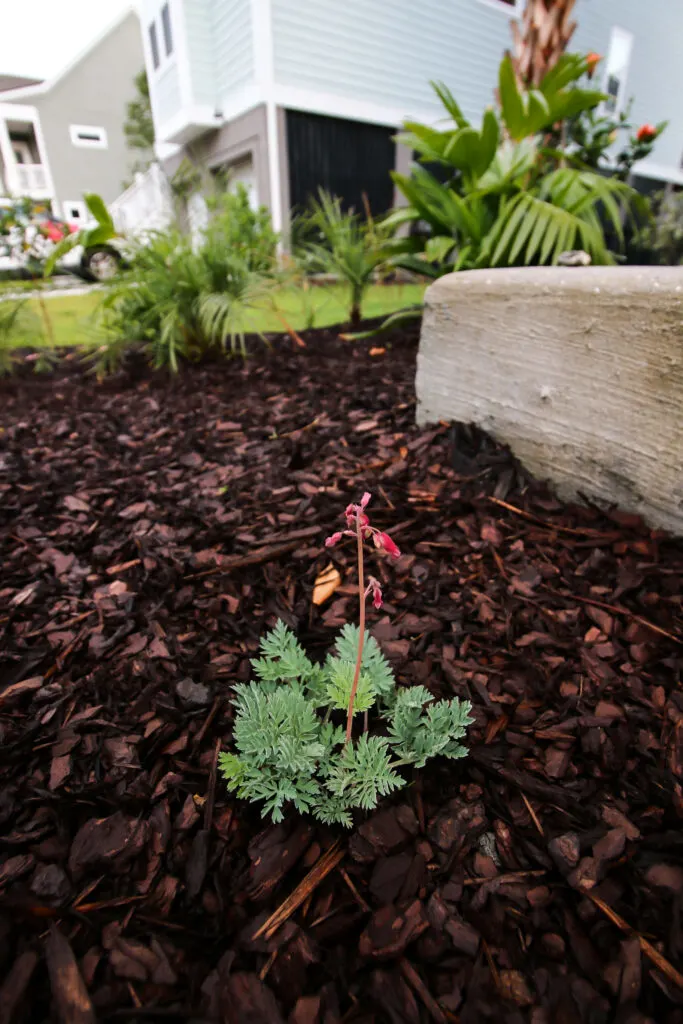 Adding palm trees
Where we really splurged on this tropical front yard makeover was on two palm trees.
However, it wasn't really a splurge. How much would you think the purchase, delivery and install of a palm tree would be?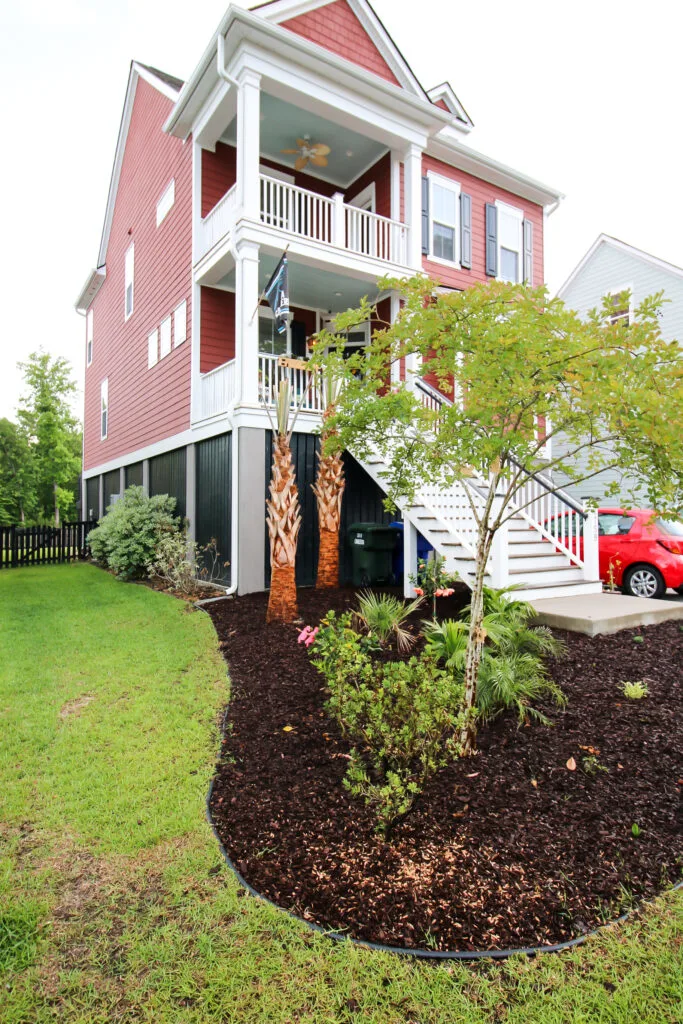 If you guessed more than $300, you'd be wrong.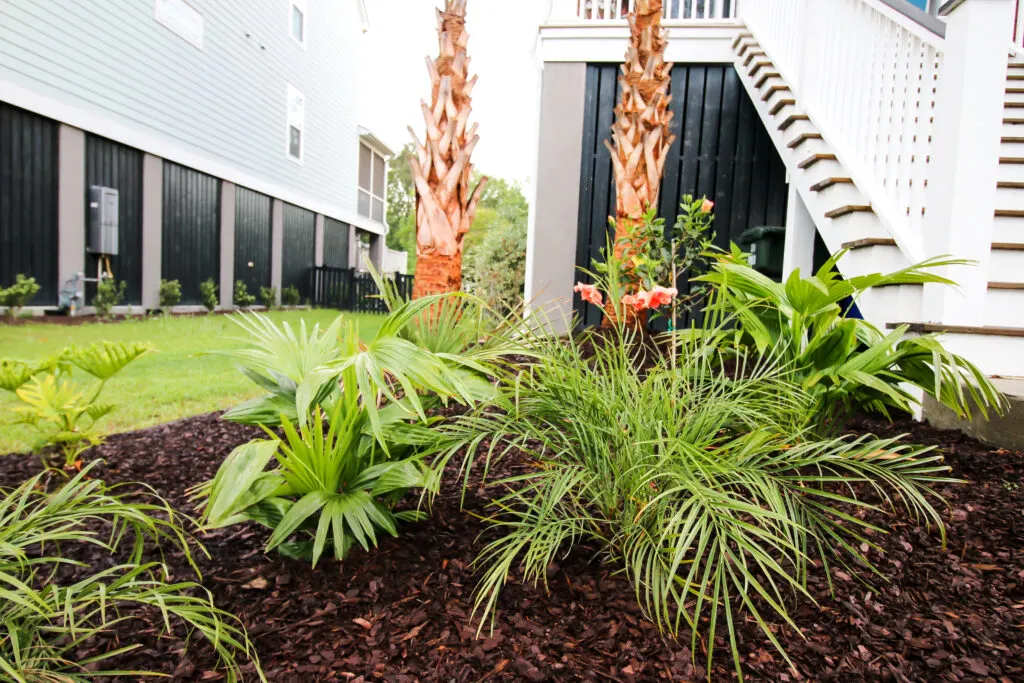 We found a local company that supplied the trees, delivered and installed for $300 each. We couldn't believe that deal. When you look at the cost of a 3-5 foot tall tree (shoot, the tiny fan palm at the roadside place was $65) at any store, being usually at least $75-100, the cost of the palm tree seemed shockingly slow.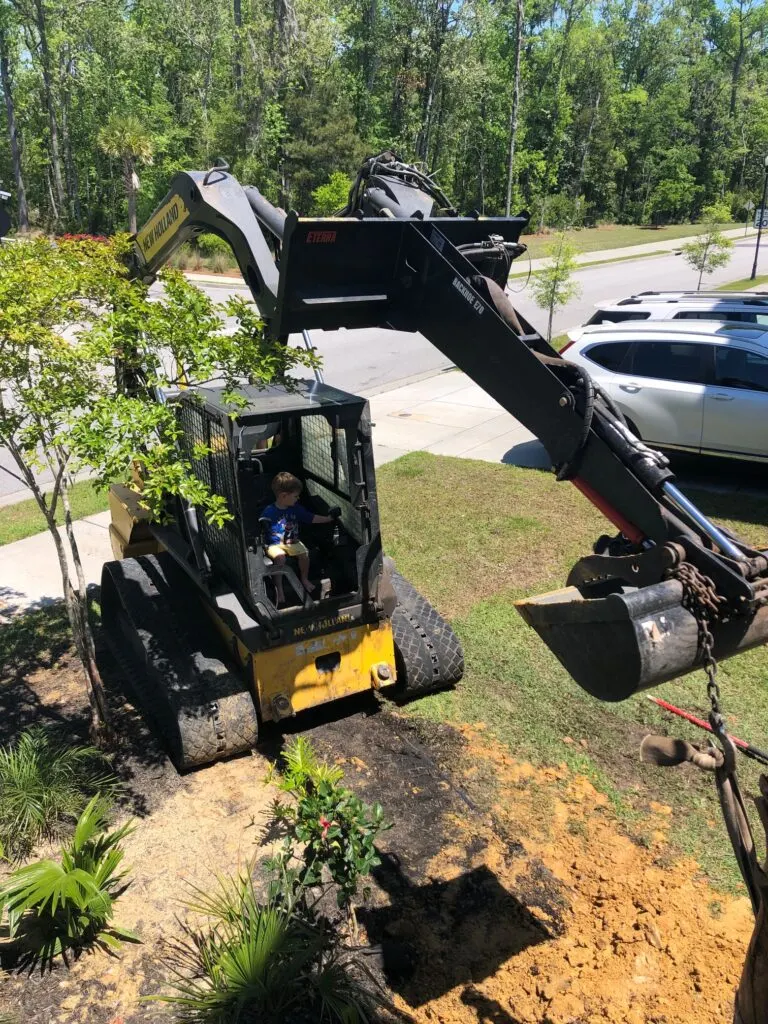 Plus we got the bonus that they let Luke sit in the front seat of the excavator and take some pictures! He loves construction truck books, so this was a real treat for him!
Finishing touches
After everything was in place, we grabbed 25 bags of mulch at the store for $2 apiece. They all fit in the back of the Honda Pilot and we got them all in place in less than an hour.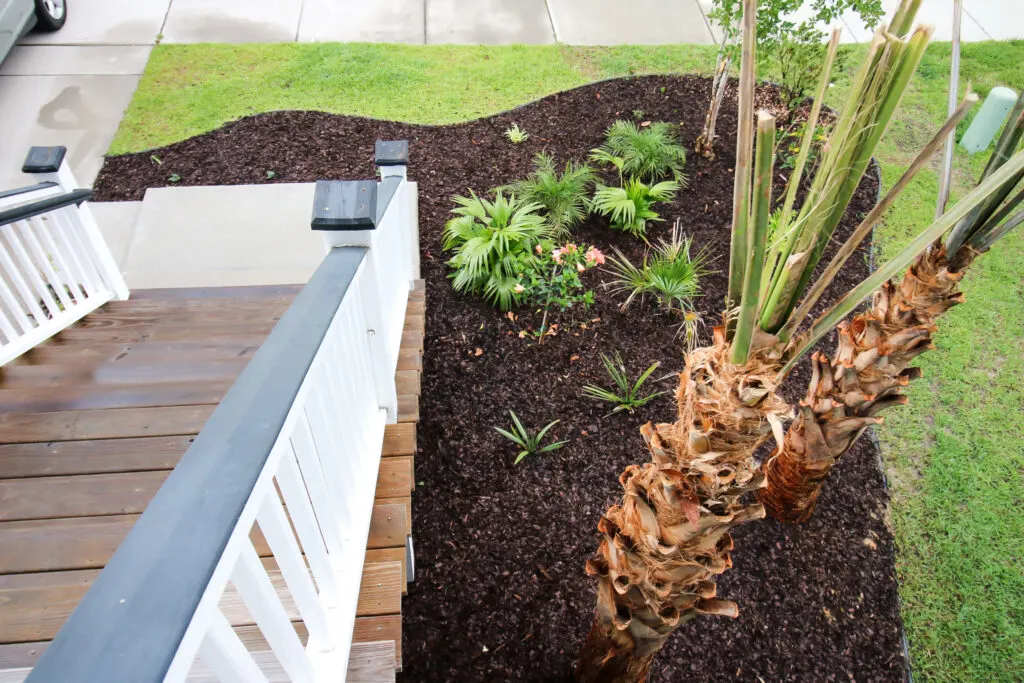 We absolutely love how this tropical front yard makeover turned out! It fits perfectly with the vibes of our raised, red house to give our home a beachy feel.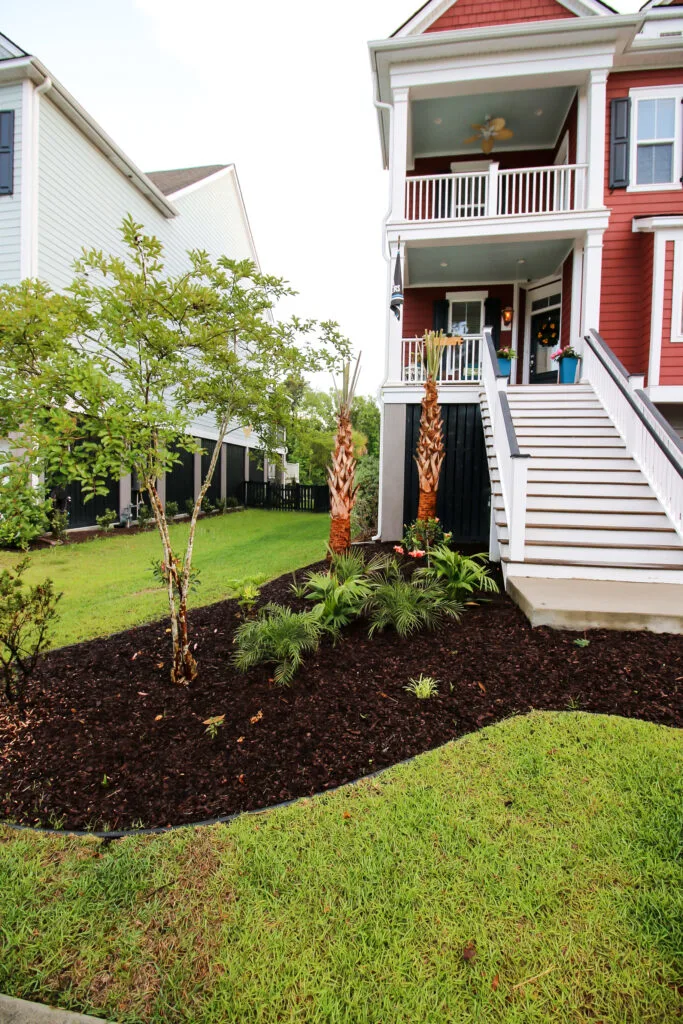 Now onto the BACK yard!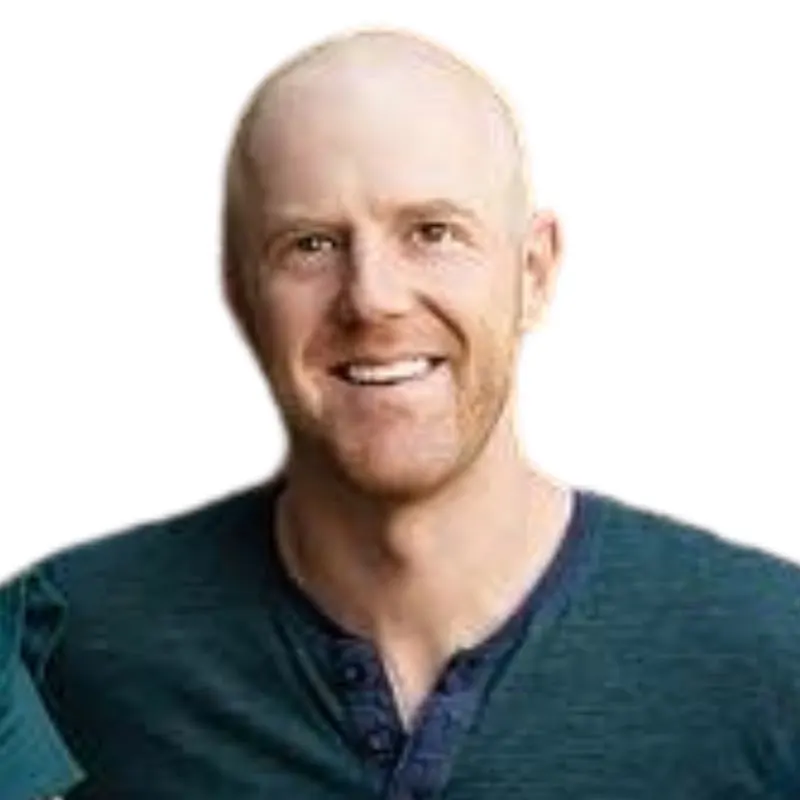 Hey there, I'm Sean, the woodworking enthusiast and builder behind CharlestonCrafted.com! Since 2012, I've been sharing the magic of turning raw materials into beautiful creations. I love teaching others the art and satisfaction of woodworking and DIY. I try to inspire fellow crafters to make something extraordinary out of nothing at all.