Looking for inspiration for a jungle themed kid's bedroom? Check out the toddler jungle bedroom that we DIY-ed for our animal-obsessed 2 year old!
When we moved into our new home, we knew it was going to be a while before we started doing room makeovers (I had a baby a week later, so yeah we were right about that!)
However, we also knew that we wanted to prioritize customizing Luke's room first.
We wanted him to feel settled and special amongst a lot of life changes.
I'm not normally into theme bedrooms, but I make an exception for kid's spaces.
So, we let him select his room theme. His nursery at our old house was jungle themed, and he very strongly asked for an animal themed room.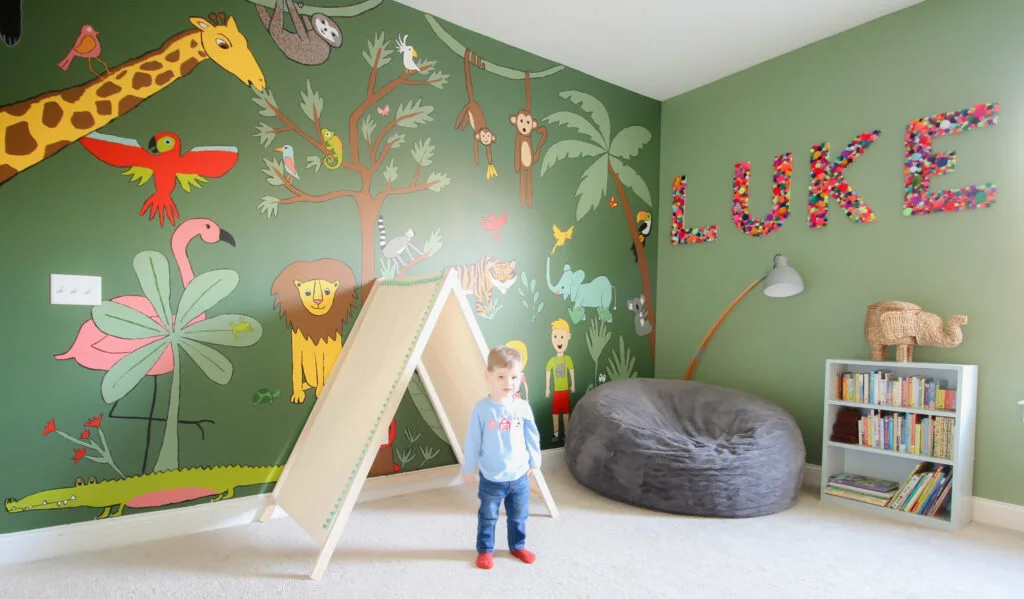 Here are all of the projects that we did in this room:
He really, really loves animals so it wasn't much of a surprise.
His nursery had tropical jungle wallpaper, so I wanted a different look in this space.
I have always wanted to paint a mural, so I took 2 months worth of Saturday mornings to paint this jungle wall mural using rainbow colors and all of his favorite animals.
Here are my best tips on how to paint a mural!
We painted all of the walls green for a jungle-y feel.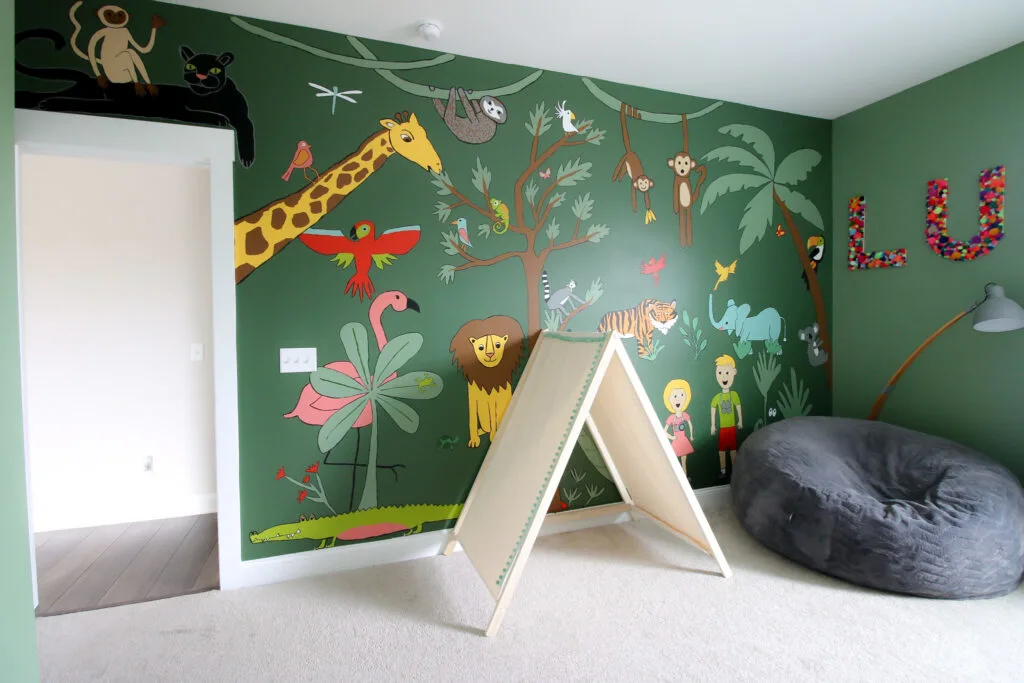 Paint colors:
The 3 main walls are Behr Laurel Tree
The background of the jungle mural is Behr Trailing Vine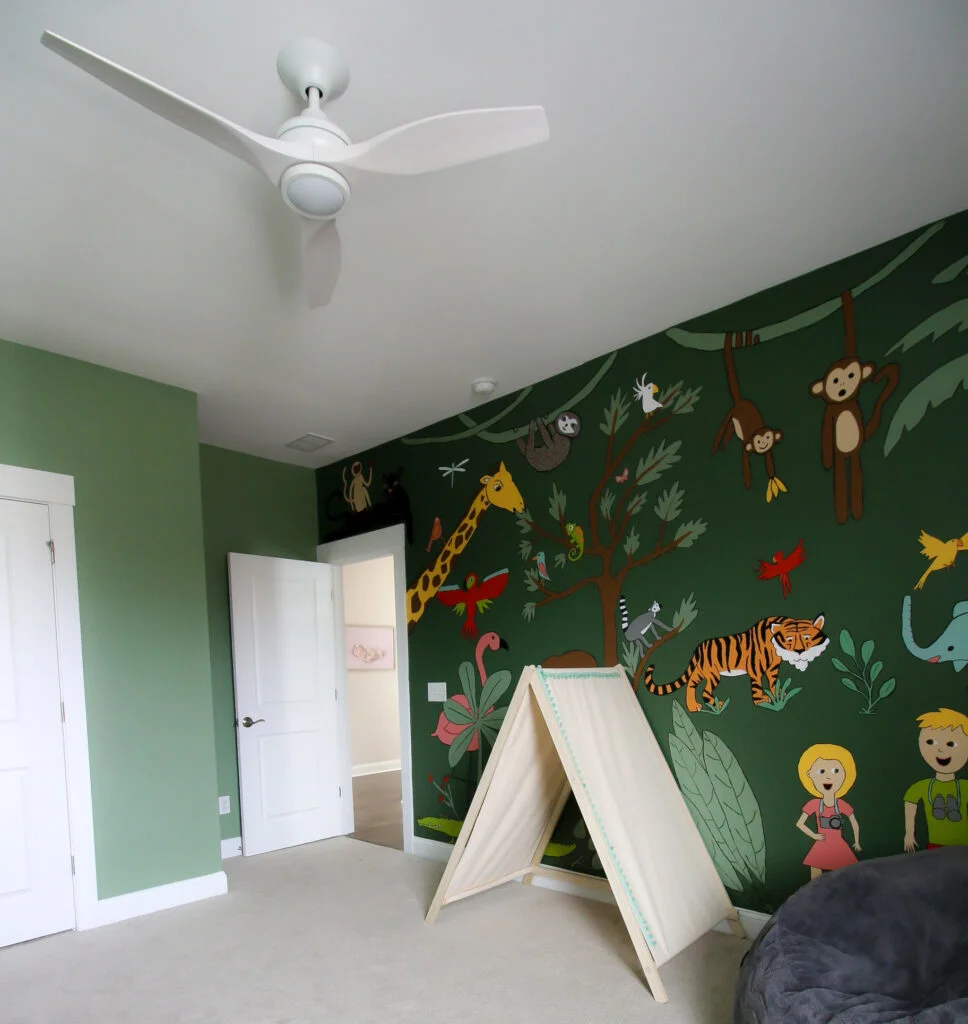 Lighting
His room had no overhead light whatsoever (though it did have a hookup, luckily).
So we added the Spitfire ceiling fan + light from Fanimation.
We also have this arc floor lamp hooked up to a smart plug so we can cut it on and off with voice activation.
Read about our smart nursery technology!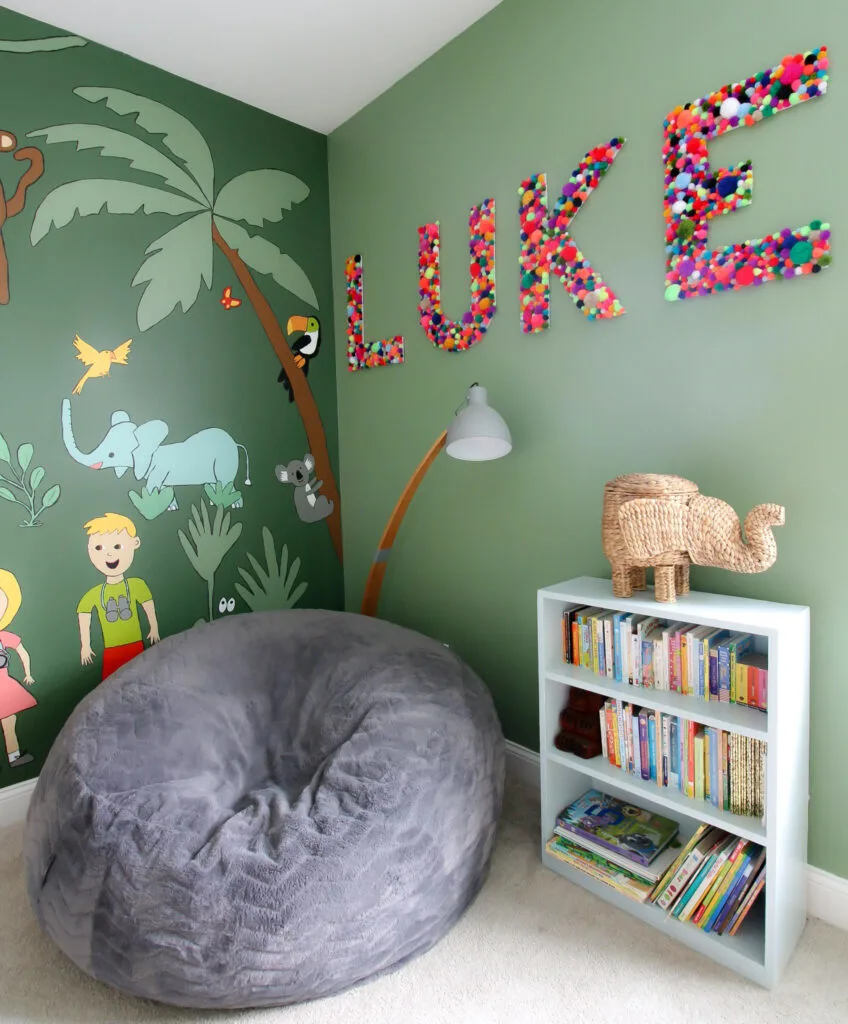 Furniture
We tried to leave as much open floor space in this room as possible. However, there are some big things in here!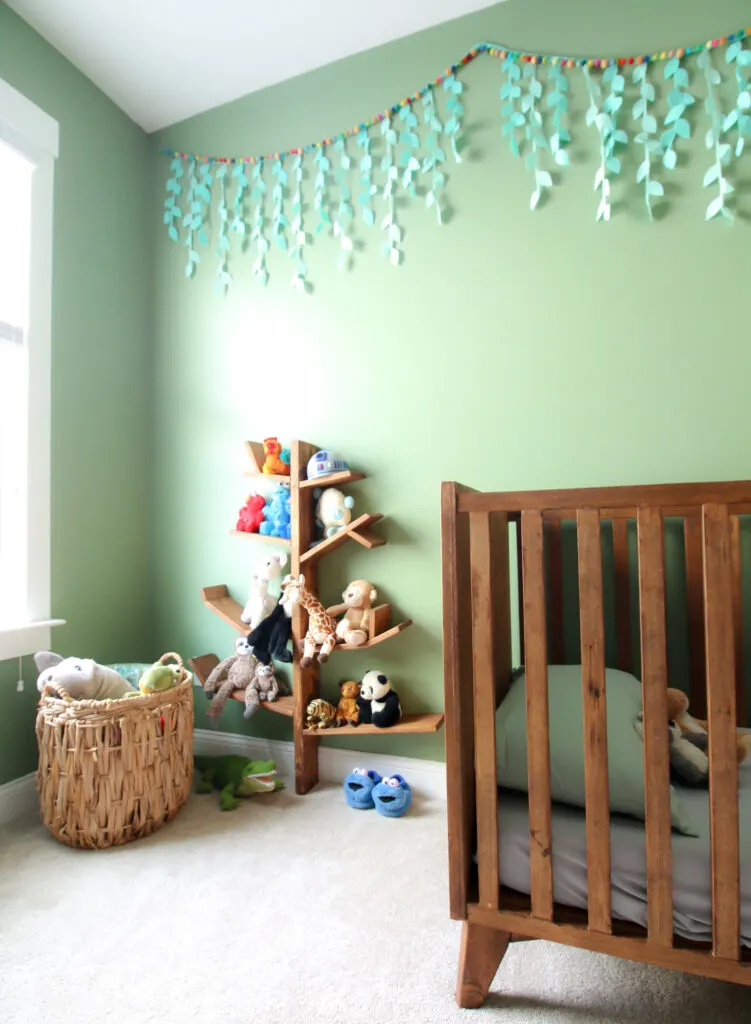 Crib
Luke is still sleeping in his crib. We tried a couple of months ago to take the long side off, add a rail, and make it into a "big boy bed."
We really wanted to build him a new bed so Rory could use this crib.
But, he just got out of bed and ran away. He refused to nap.
So, we kept the crib and will build Rory a new one, for now!
Get the plans to build this mid century inspired crib!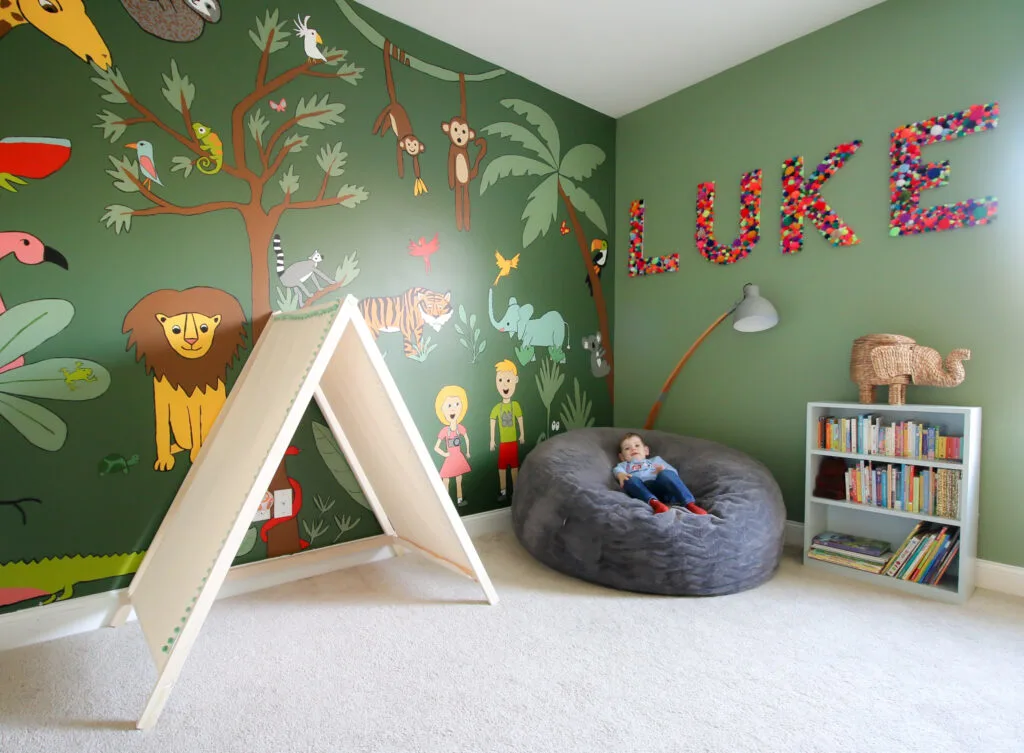 Bean bag
This bean bag was one of our best Costco finds ever. It's filled with memory foam and huge and cozy.
We read a LOT of books in this seat. Luke calls it his moon chair (he loves the moon and thought this was the moon when we brought it home haha).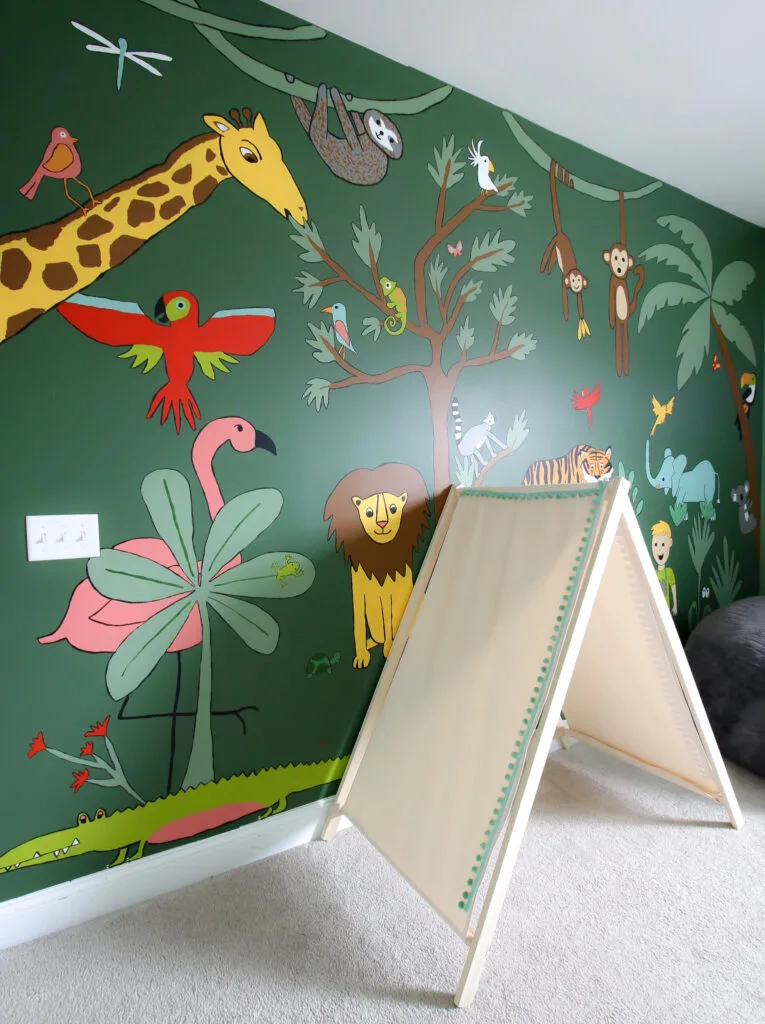 Tent
We built this wood and canvas reading tent as a cozy play space. I wanted Luke to like it but he is OBSESSED and loves dragging pillows, blankets, and his guys in there to read his battered and well-loved Highlights magazines.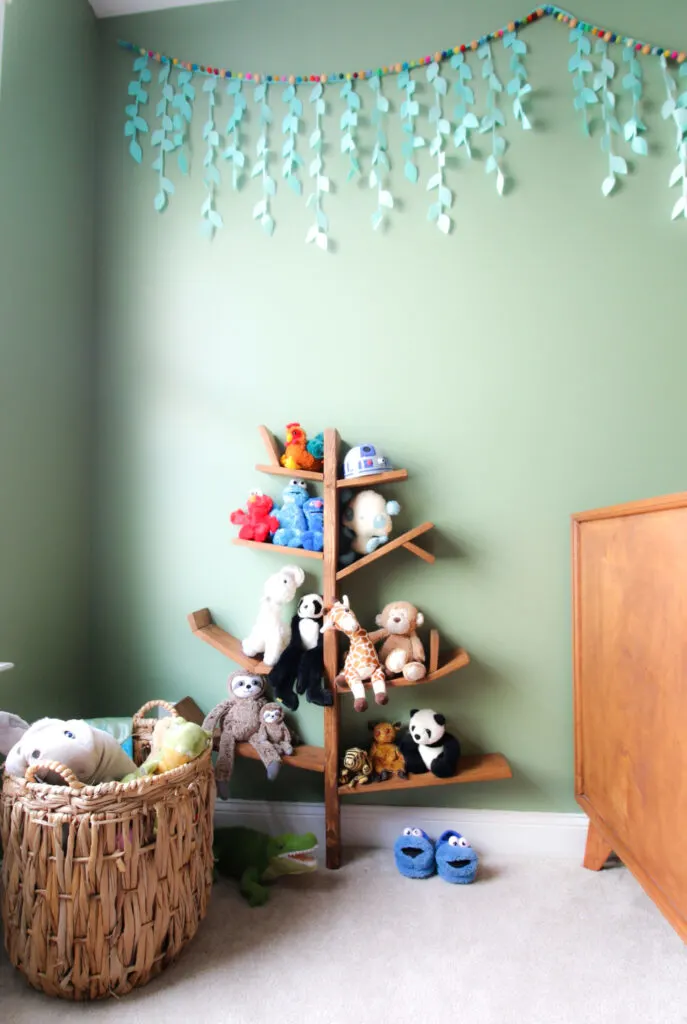 Tree shelf
We designed this tree shaped shelf to be a bookshelf, but joke's on us because he only wants to use it for his stuffed animals!
That's totally fine and it's so precious to watch him play with it. It just means that we left his old bookshelf in the space, too!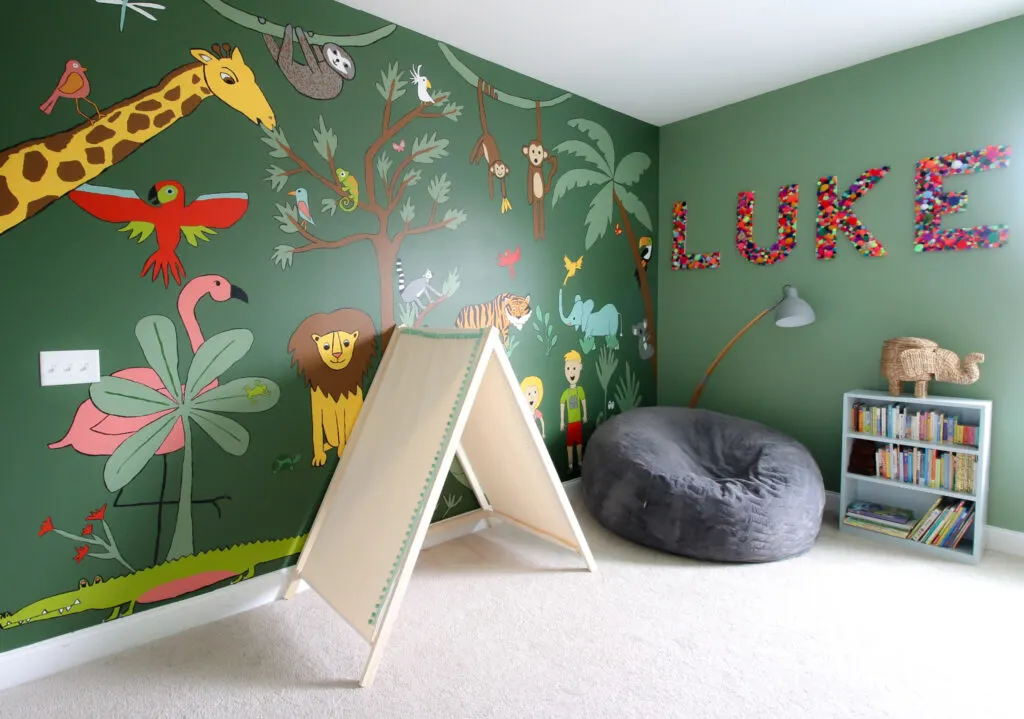 Other decor
We also added little touches with a pom pom garland, felt leaf garland, and pom pom letters spelling out LUKE!
These were ways to fill the wall space – he has high ceilings – and echo the colorfulness of the mural around the room.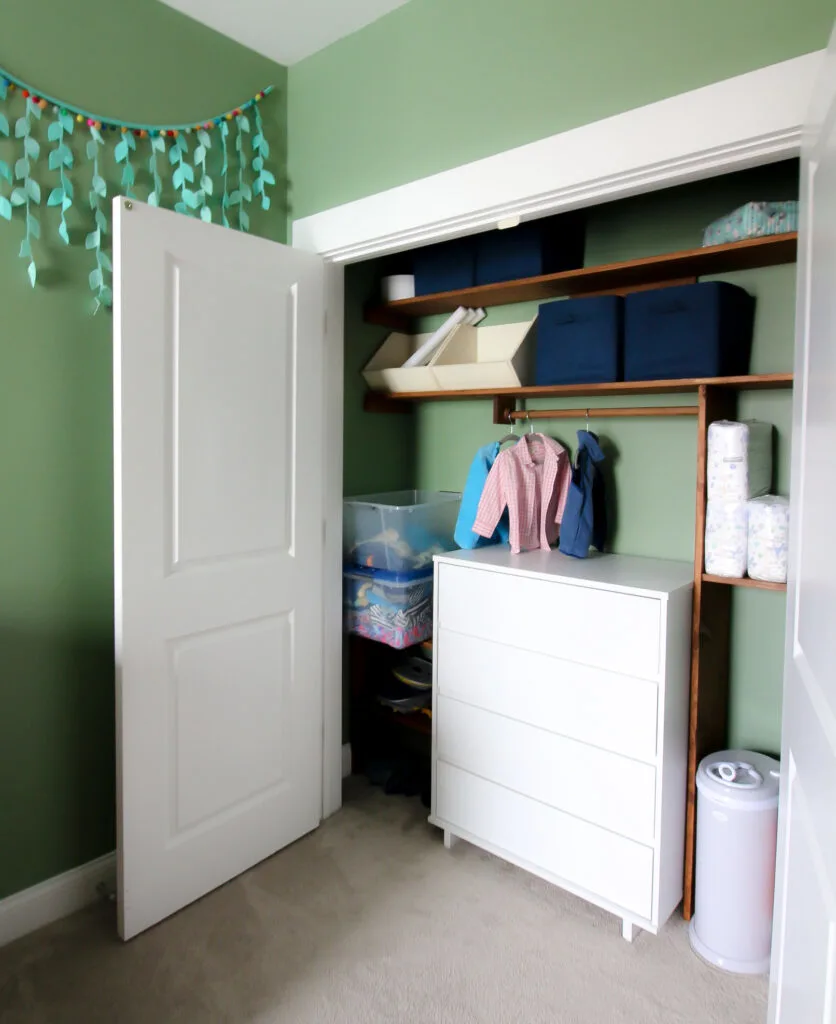 Closet makeover
Additionally, we removed the inefficient old wire shelf in Luke's closet and added a custom wooden closet system.
We designed the space around his dresser, which cleared up floor space for his tent and was the most logical thing since he has basically no hanging clothes!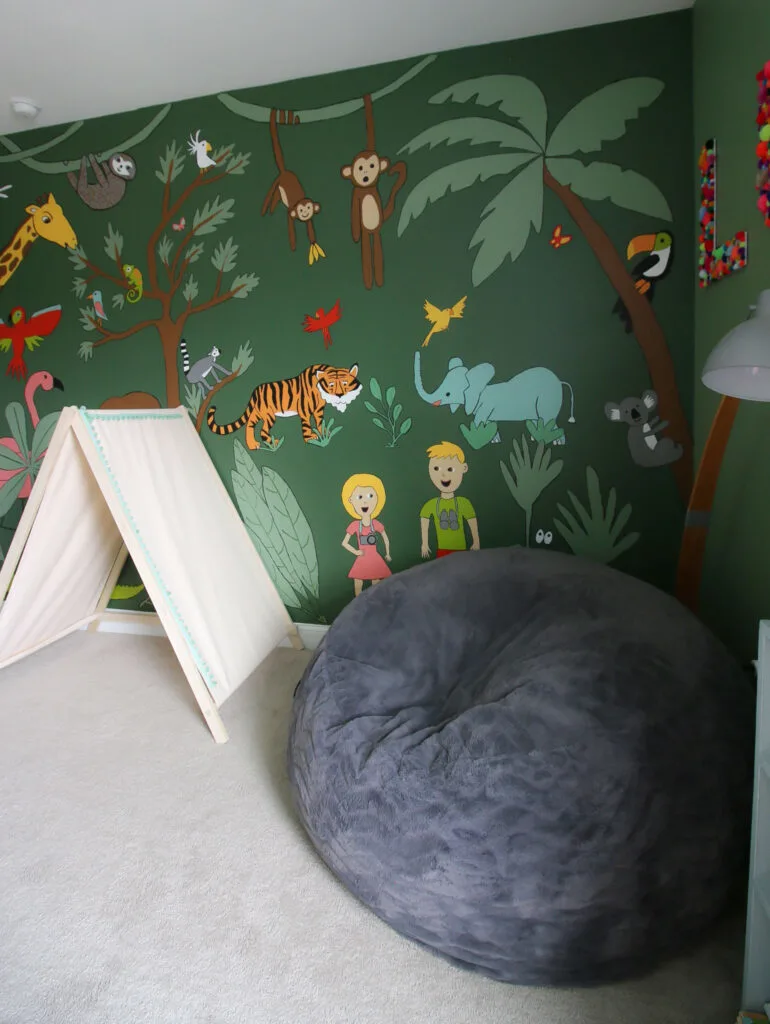 I am seriously in love with how this room turned out, and love that he loves it too!
Who knew a toddler jungle bedroom could be so fun? Duh, I guess!
Shop the rest of the room:
Video tour
Be sure to take the video tour of the room!
Any questions about Luke's jungle themed bedroom makeover?