We gave our laundry room a quick, budget friendly boho style makeover! Here's how we did our boho laundry room!
Thank you to National Hardware for sponsoring our post. All opinions are our own. Thanks for supporting the brands that make Charleston Crafted possible.
One thing that was on our must-have list when we were house hunting was a laundry room. A ROOM, not a closet.
I know, it seems like in a house our size (4 bedroom homes are what we were looking at) a laundry room would be a given. Surprisingly, a large number of homes, including a very popular floor plan in our dream neighborhood, had laundry closets instead of walk-in rooms.
So, while our new laundry room is small (smaller than our old laundry room, or at least lacking the storage of that one) we are very glad to have it!
However, this space lacked a lot of functionality.
For example, there was one wire shelf, but it was at a height and depth so that I couldn't reach it without a stool.
There were big gaps on top of and around the washer and dryer so that things fell behind. We found a lot of ~gross stuff~ back there when we moved the machines to paint (the old owners left behind a lot of dryer sheets).
Plus, the space was, like our entire house, builder beige and rather boring.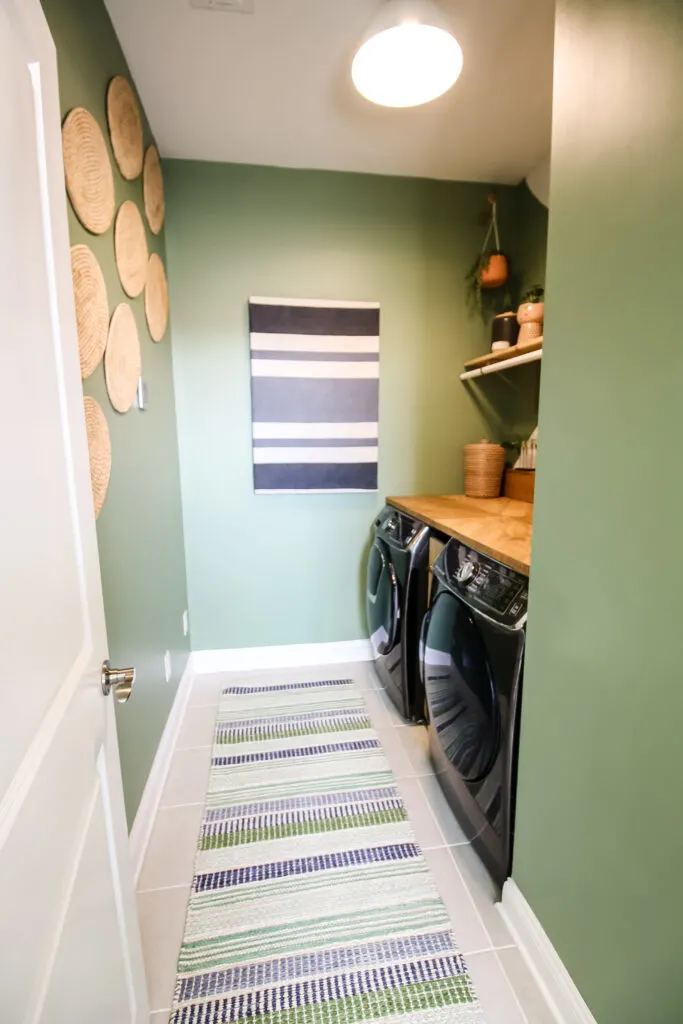 We are trying to decorate this home in a colorful, earthy style. So, we went with a bohemian style for our laundry room design.
Bohemian style is kind of like modern hippie style, with lots of earth tones and natural shades of wood.
Boho is very on-trend for home decor right now and I thought that it would be a fun trend to try out in this small space.
Our new boho style laundry room
We are so excited to unveil our new bohemian style laundry room today!
This was a quick makeover and really shows the impact that a few projects can have on your home.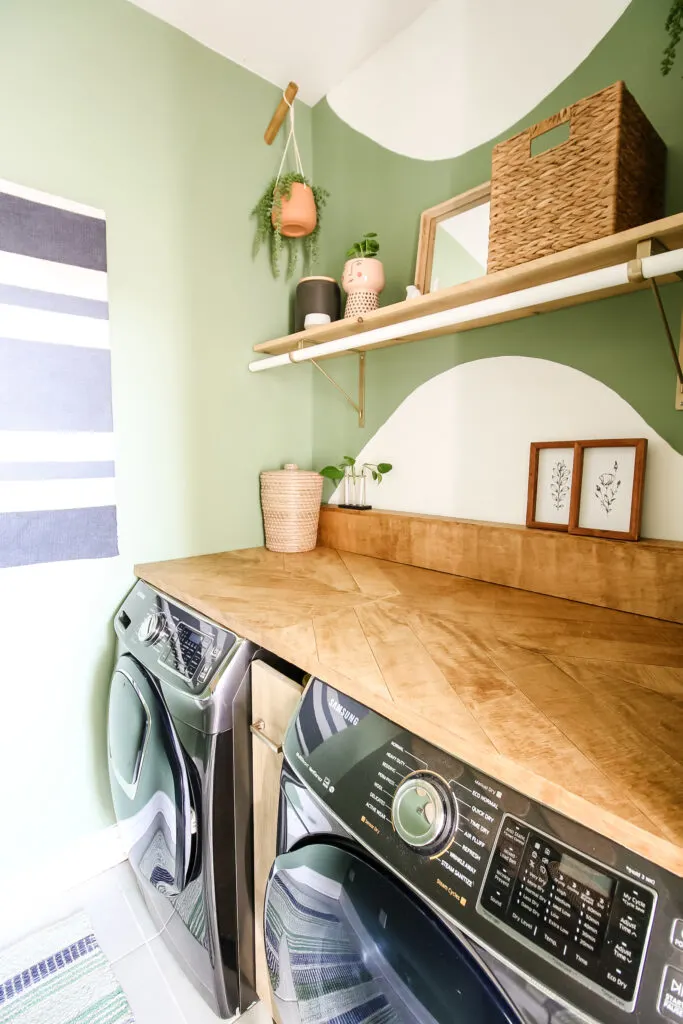 Laundry room before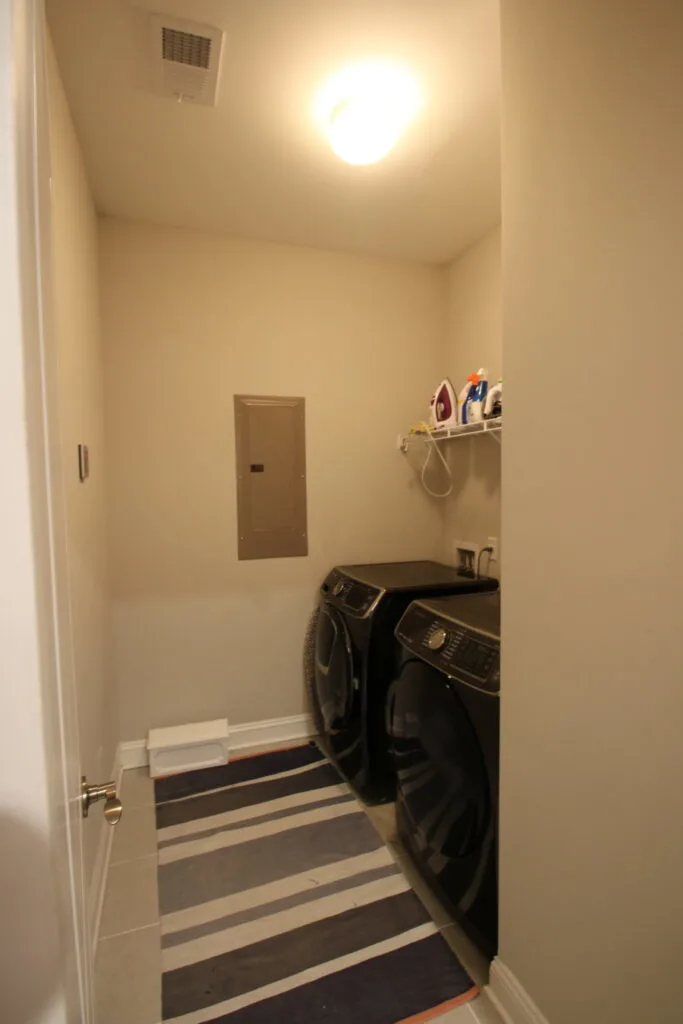 Before we dive into more of the particulars, take a look at a couple of photos of how it looked when we moved in.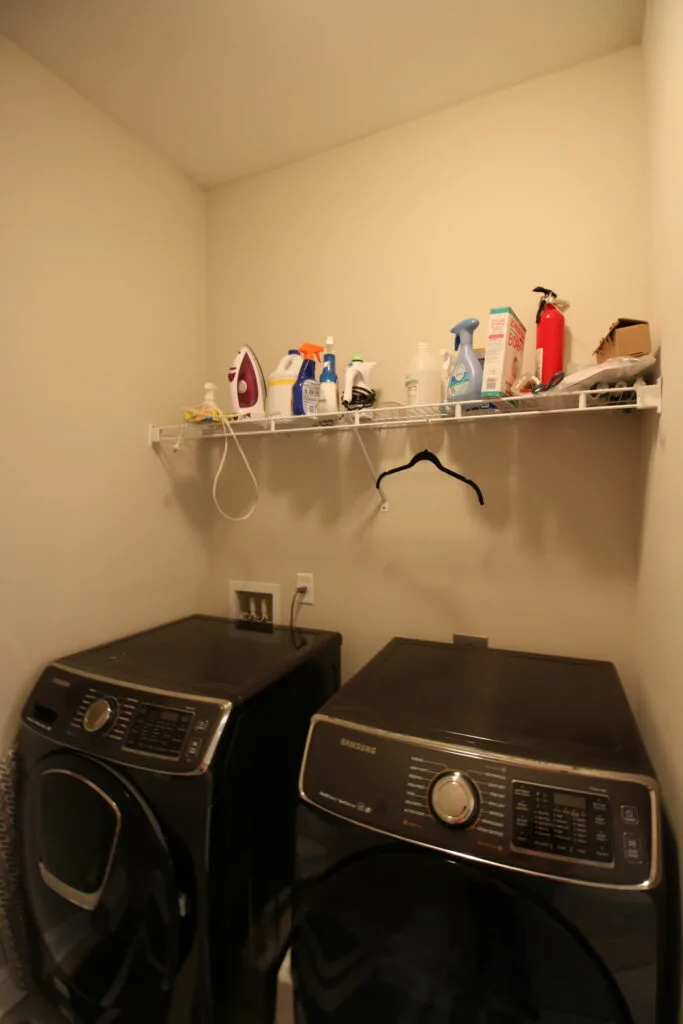 Are you looking at these pictures thinking "that's exactly what my laundry room looks like"? Then you need to keep scrolling and check out how you can make it look like we did.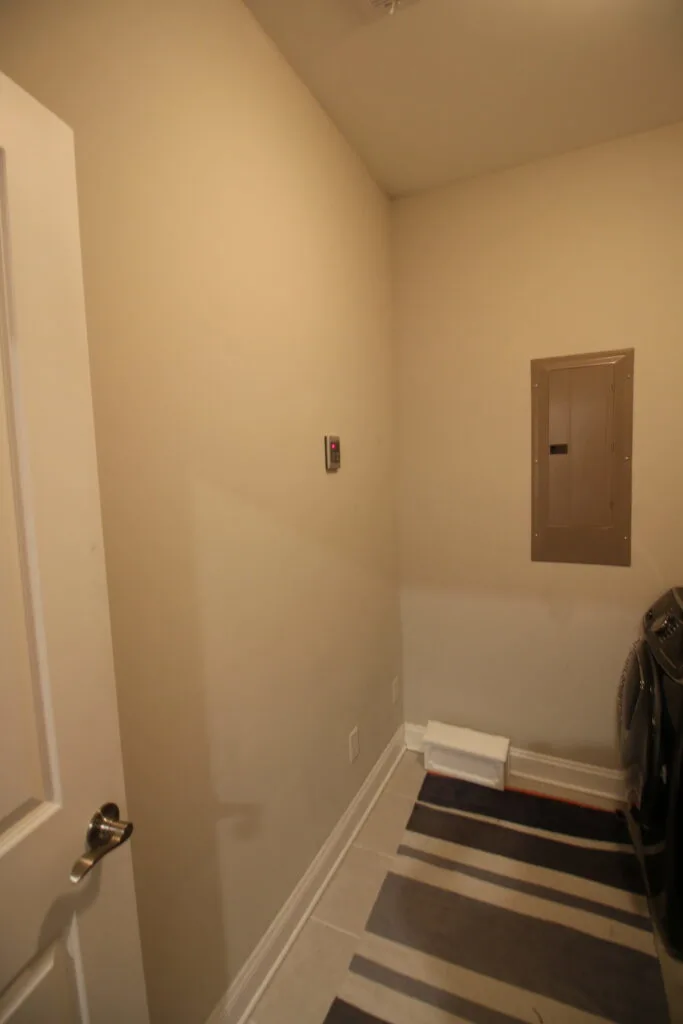 Paint colors
The walls are painted Behr Laurel Tree. We actually got 2 gallons for Luke's bedroom and only used one, so this was an economical move as well as we really really love the color.
One thing that I love in the current boho decor trend is the popular murals of arches or circles on the wall.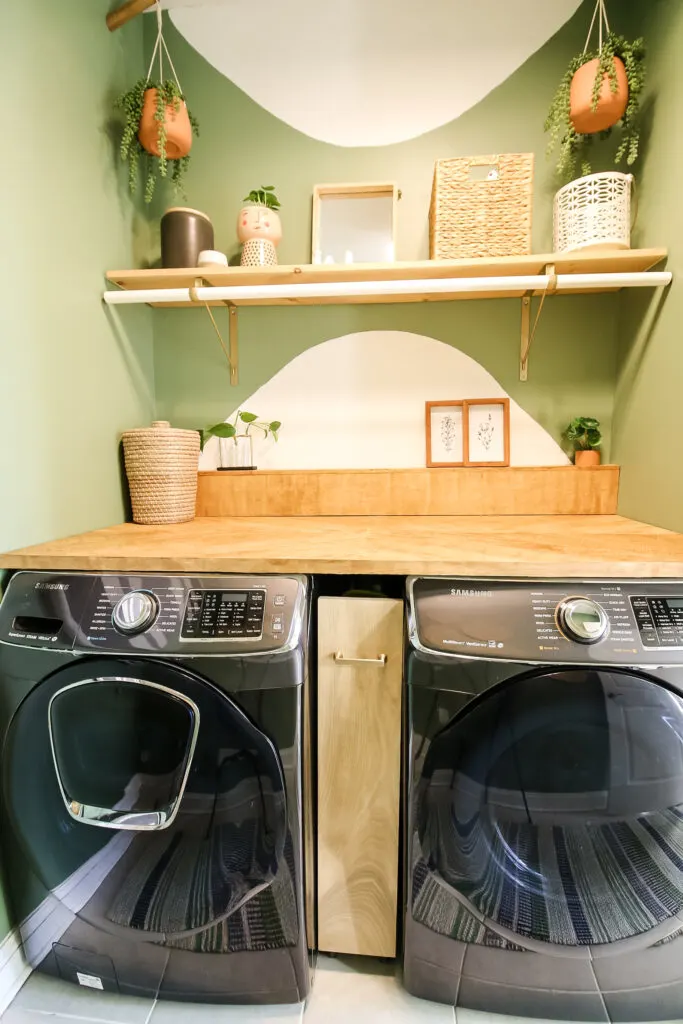 So, we painted two white semi circles. One on top of the countertop (like a sunrise) and one coming down from the ceiling, like a reflection.
Here are my tips on how to paint a wall mural!
This white is Ultra White from Behr, the whitest white there is. It's the same white that all of the trim in our home is, and I love it for a crisp look.
Shelving
We wanted to add wooden shelving and a hanging rod so we could hang clothes as we fold them.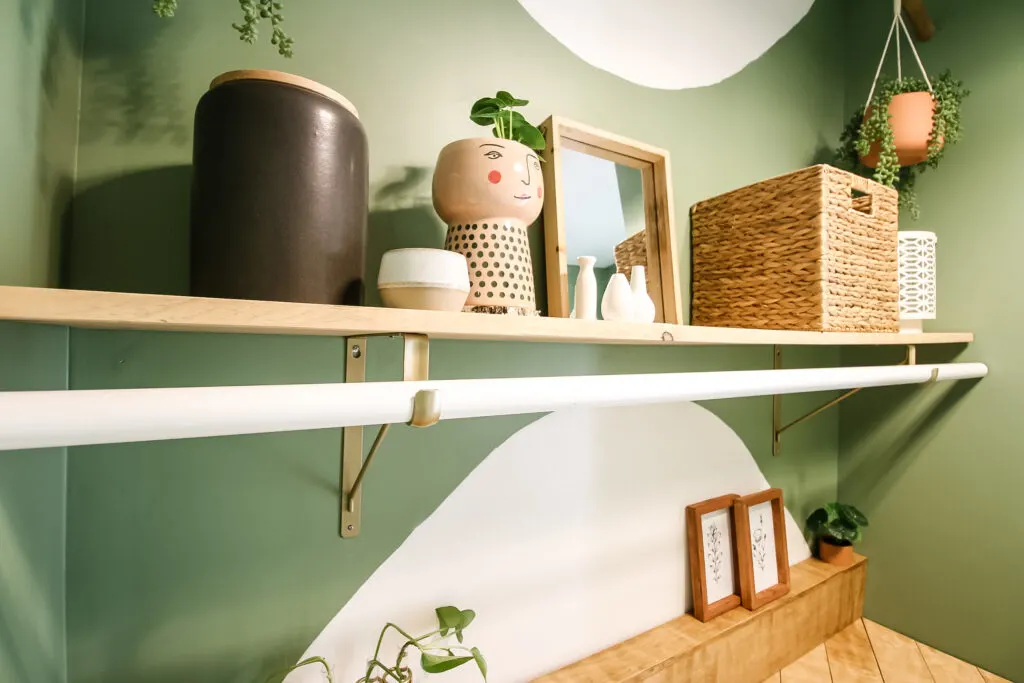 We chose the National Hardware Adjustable Shelf and Closet Rod Bracket. It was white but I spray painted it gold for a bit of a pop and to tie to some of the other hardware in the laundry cart and light fixture.
Here are a ton of different over the washer & dryer shelf ideas!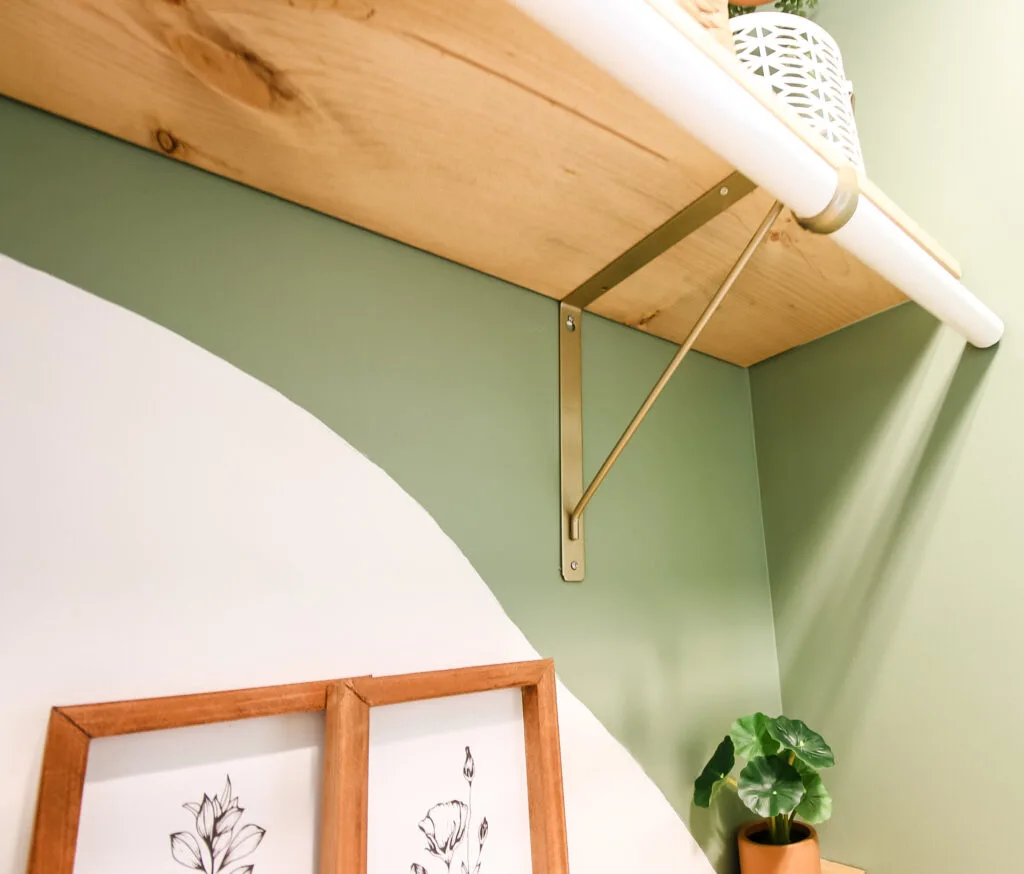 We paired it with the National Hardware white rod. It came in a six foot length but was easy to cut to custom fit our space using a reciprocating saw.
We topped the bracket with a piece of 10″ deep wood stained with Minwax Golden Oak stain.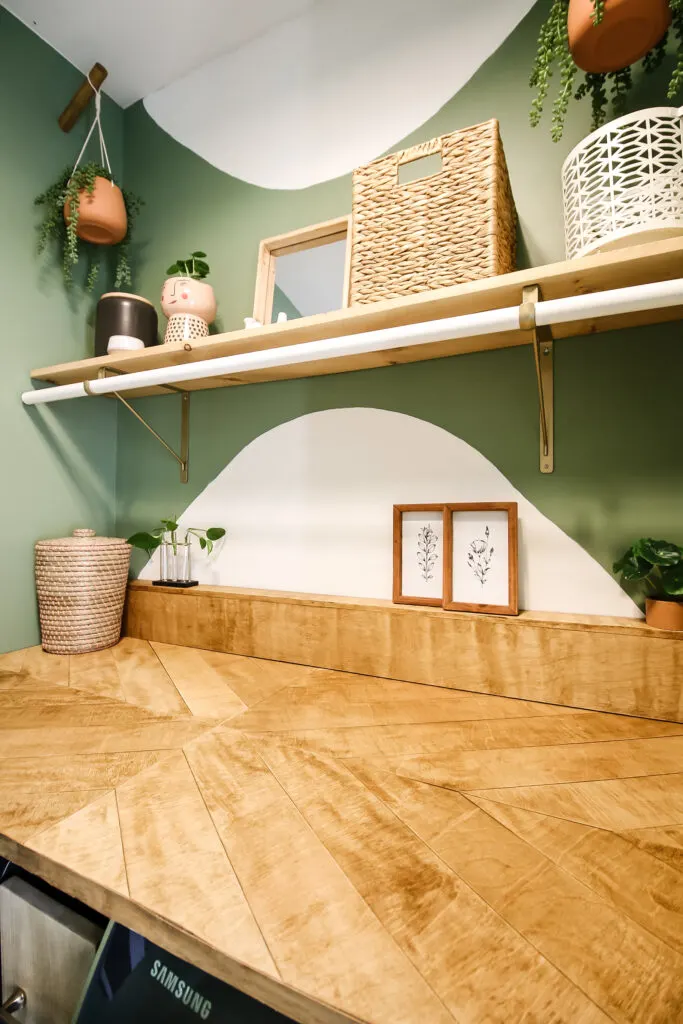 I think that this shelf turned out beautifully and love how functional it is, too!
Countertop
One thing that I find essential in a laundry area is a countertop for folding.
I've been having a hard time stacking folded clothes just on the washer and dryer – they tend to lean and fall into the cracks, and it's dirty and gross down there. Gross as in when we cleaned back there, we found hundreds of old dryer sheets from the previous owners.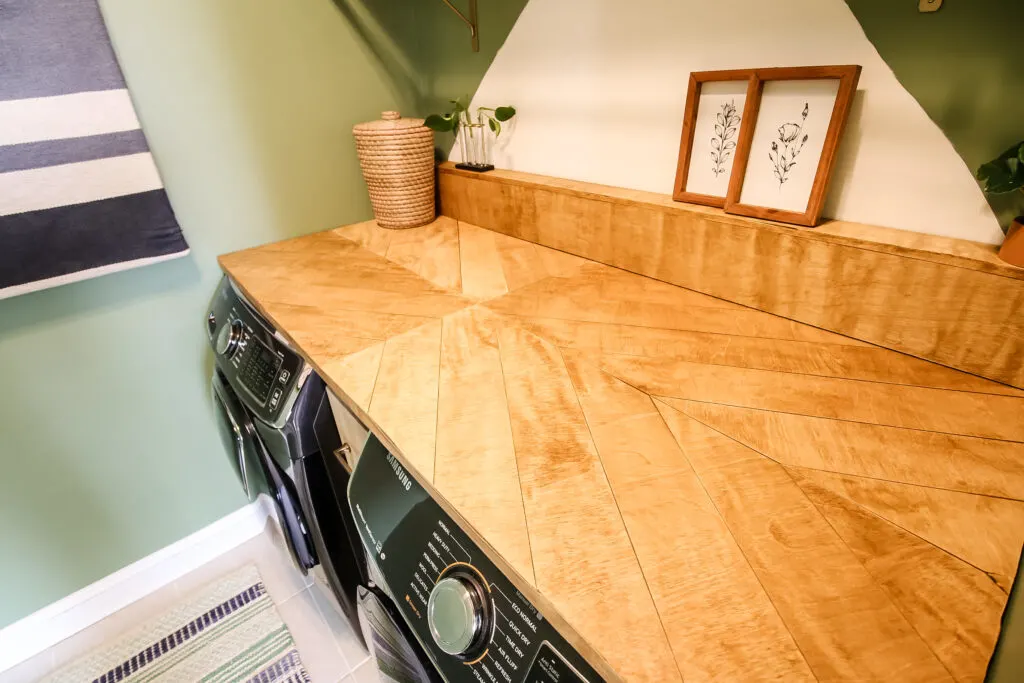 So, we built a custom wooden countertop.
We built a simple plywood countertop in our last laundry room and wanted to go for a similar look this time.
However, we wanted to have a little more interest and pattern, so we cut the top sheet of plywood into strips and pieced them back together for a geometric look.
Check out the full tutorial for how to make this geometric countertop!
Plant Hooks
I wanted to add some plants to this space but since there is zero natural light, I knew that faux was the way to go.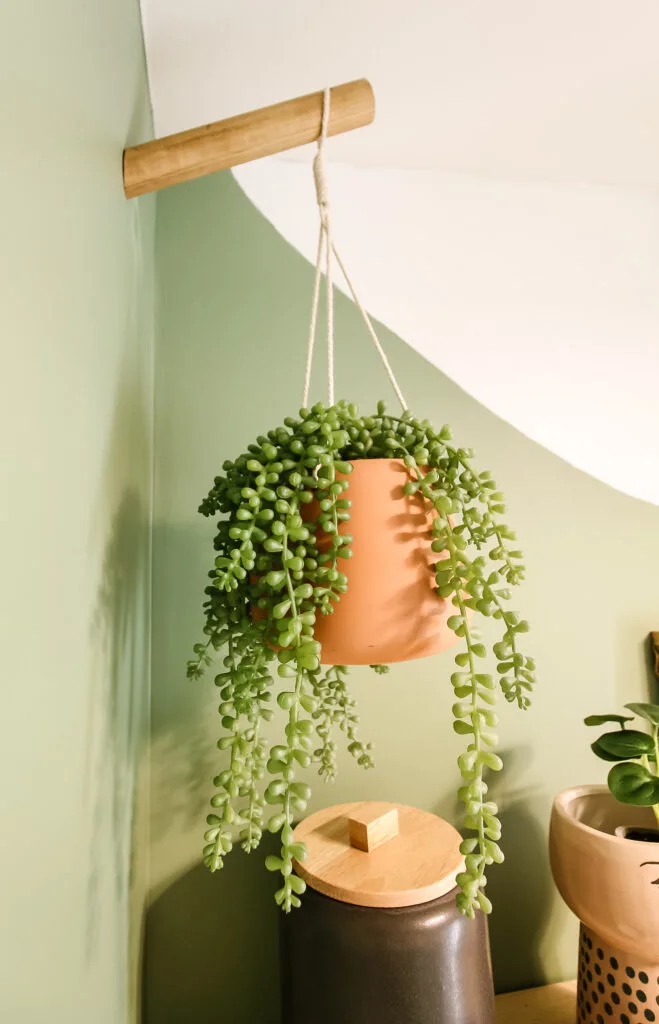 I had these hanging faux string of pearl plants from our old guest bedroom just gathering dust, and loved how they matched the boho vibes in this space.
To hang them, we created wall-mounted dowel hooks. I love the sleek, simple look and the extra pop of wood tones!
Check out the full tutorial for these dowel plant hooks!
Rolling Laundry Cart
What this small laundry room really lacks is storage.
We had to get creative and squeeze storage into every possible inch.
So, we scooted the washing machine to the far left and the dryer to the far right. This gave us about 8 inches of space to play with.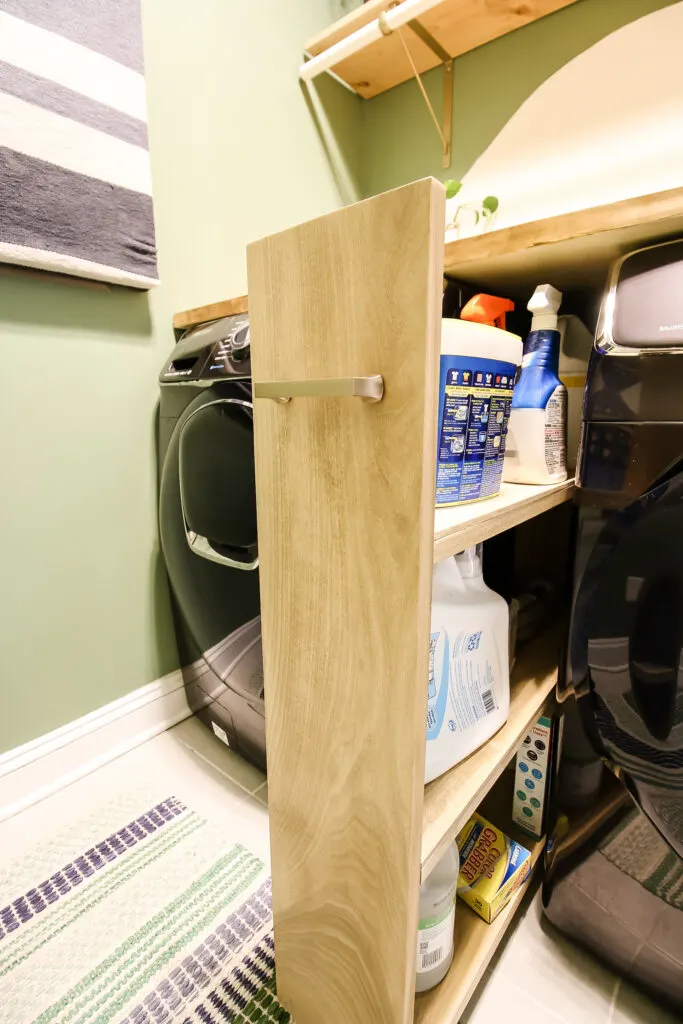 Our storage solution was a very narrow rolling cart.
It has three shelves and pulls in and out using a handle and casters. This cart is the perfect laundry room organization hack for small laundry rooms!
This rolling laundry room storage cart holds:
laundry detergent
cleaning supplies
lint roller
stain removers
Get the free woodworking plans to build this rolling laundry cart.
Wall Tapestry
Somebody on the Pulte building team had the brilliant idea of putting the electrical panel square in the middle of the laundry wall, so it's the first thing you see when you open the door.
Obviously this wouldn't do.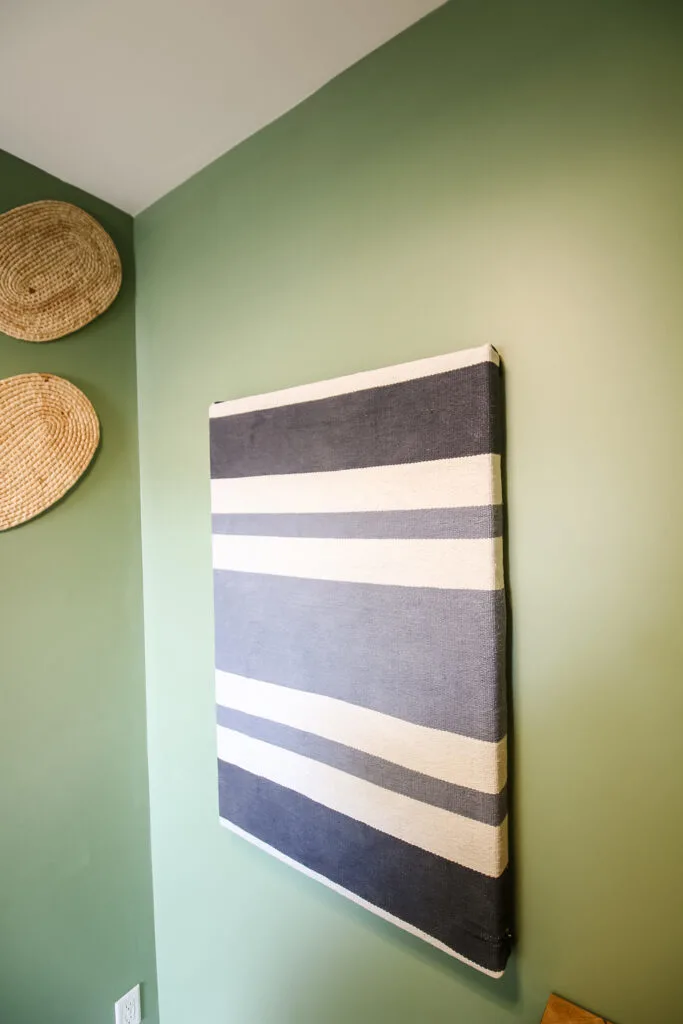 We decided to hang art over the panel. It's just resting on two nails so it's easy to remove if we need to access the panel.
This is actually an old rug that we stretched over a wooden frame. Check out the tutorial to see this super easy way to re-purpose a damaged rug! And it was essentially a free project!
Be sure to check out how we covered our electrical panel with a frame on hinges in our condo.
Basket Wall
I wanted to add something to the wall opposite the machines, so I decided to hang an abstract wall hanging. It's actually made of place mats from Goodwill!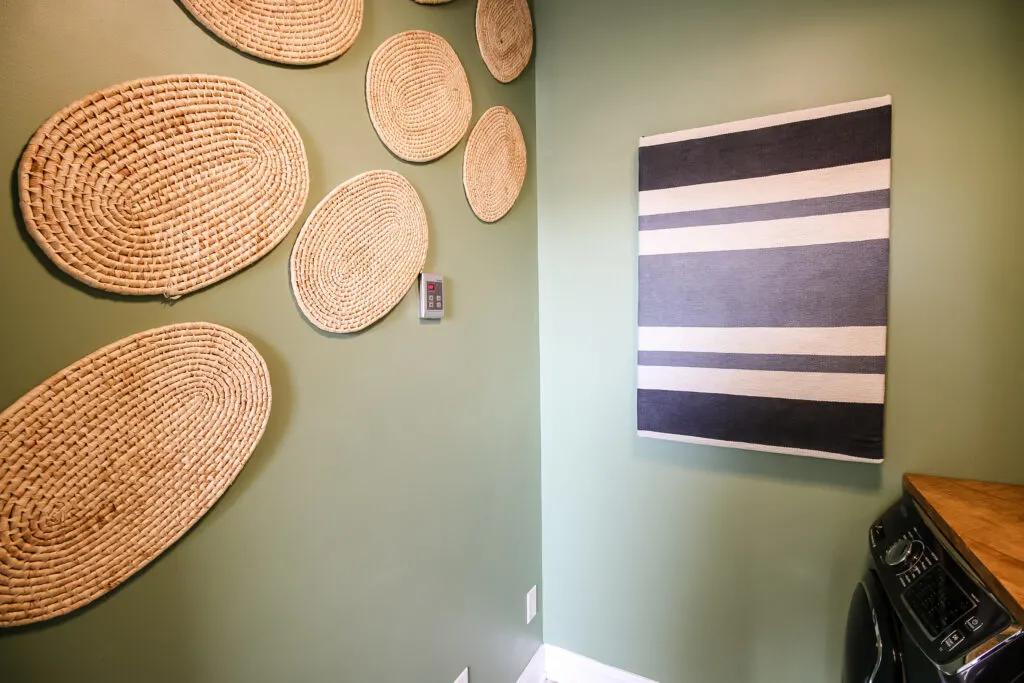 I hung them on a diagonal axis and was kind of going for a "birds in flight" type pattern.
I love getting the basket-wall look without the added depth of actual baskets.
Lighting
The previous lighting in the room was one boob light. It gave out terrible, yellow toned light and actually one of the bulbs was burnt out, making it even sadder.
I had plans to build a cool wooden light, but was unable to find a 3-bulb flush mount light kit. For the price of the lights I was seeing, it just made more financial sense to buy a light that I liked.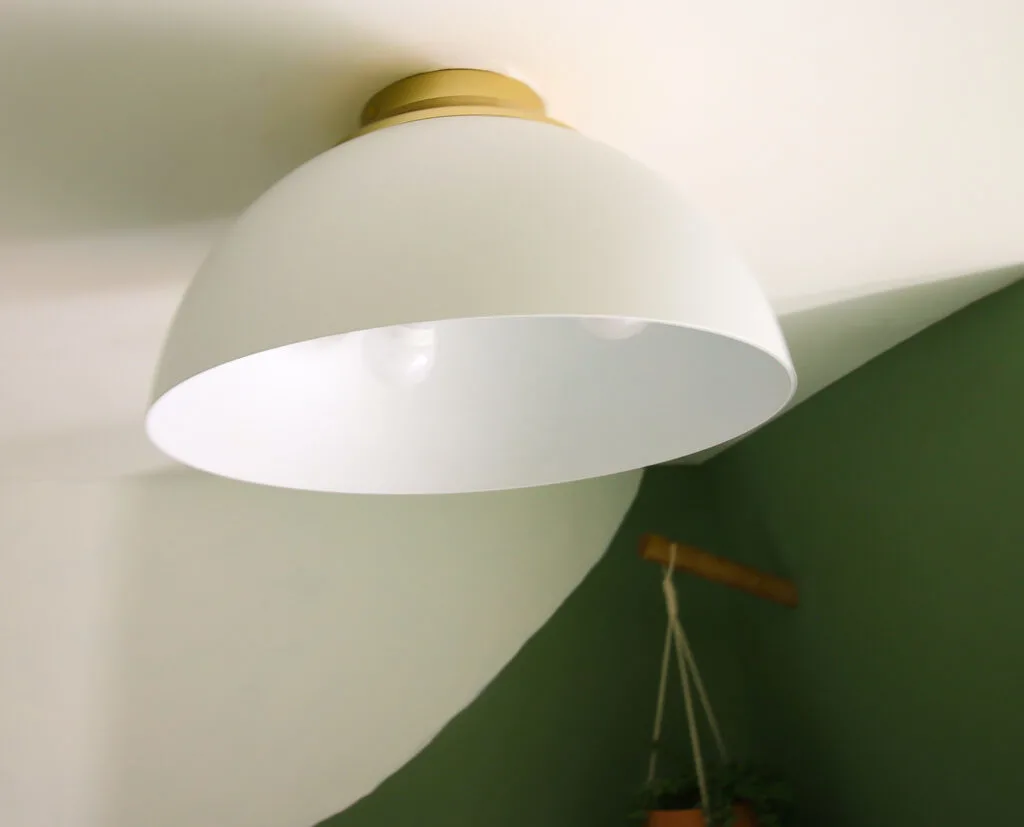 I ordered this light from the Home Depot website. I liked that the white bowl shape mimicked the painted arches and the small amount of gold to match the brackets.
Accessories
While we kept it pretty simple in here, we did add some accessories. They include:
This is a tiny laundry room, but we really were able to maximize the space! I love how this room makeover turned out!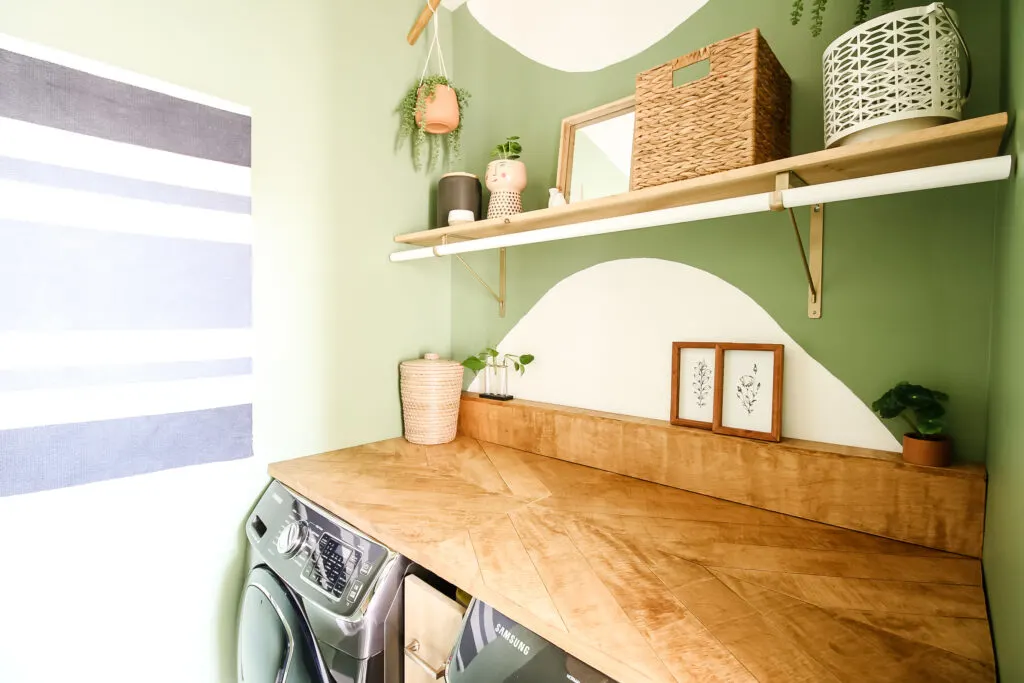 Any questions about our laundry room makeover?