There are many reasons that you might like to start flipping furniture for a profit. Of course, the profit might be the big draw for you. Or, you might love renovating furniture but have run out of space in your home for any more pieces.
No matter what your motivation is, flipping furniture can be a good side hustle and can even grow to be a full time job if you do it correctly.
We do not focus on furniture flipping as a major part of our business, but it is something that we definitely do several times a year. If you have the time to put into it, furniture flipping can be very lucrative.
Here is our best advice for starting a furniture flipping business.
How to flip furniture for a profit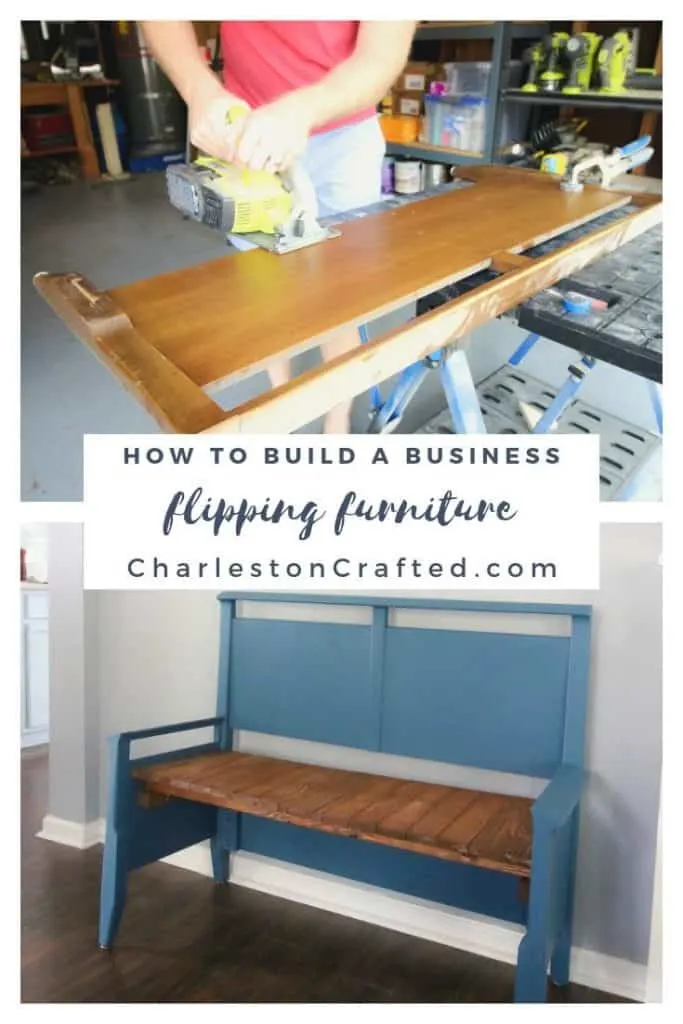 If you want to get started flipping furniture for a profit, here's what you need to learn:
What is furniture flipping?
Furniture flipping is the process of acquiring furniture for a good price, fixing it up, and selling it for a profit.
It sounds crazy, but there is actually a ton of money to be made in furniture flipping.
Where do I find furniture to flip?
You can find furniture anywhere that you can score a deal. Here are a few of my favorite places to find furniture to flip:
Thrift stores
Habitat for Humanity ReStore
Estate sales
Garage sales
Neighborhood Facebook groups
NextDoor
We wrote a whole post on the best places to find used furniture so be sure to check that out!
What furniture should I pick to flip?
You will have to learn over time what sells best in your area. It really helps to create a spreadsheet so you can track how long it takes to sell certain items.
In general you are going to want to look for:
Solid wood furniture instead of laminate plastic coated pieces
Furniture that is cosmetically ugly but structurally sound
Anything with a very popular brand name
What kind of skills do I need to have?
You can start flipping furniture as simply as identifying something valuable, wiping it clean, and re-selling it. However, you will likely have the best luck maximizing your profits if you learn some simple DIY skills.
Can I flip things other than furniture? What about decor?
I have had massive success flipping home decor. I made over $4,000 profit in one year selling brass home decor on Etsy and Chairish. Here's how I did it.
Spend some time where you hope to sell (in my case, Etsy + Chairish) and see what is popular and trending. Make a list of 2-3 big categories to research.
Hop over to eBay and search to see if you can find similar items. You are really looking to buy things in bulk (or, in a "lot").
Once you order the items, you will need a spot to store them. I had shelving floor to ceiling in my guest room closet.
You will need to photograph each item. Get pictures from several angles. Highlight anything interesting. Be sure to capture detailed shots of any wear or damage. With vintage items, wear is expected but you want to disclose it upfront to avoid returns or annoyance later.
List your items for sale. You will want to include all dimensions and as many details as possible. Anticipate the questions that your buyers will have and answer them in the listing.
Once the items sell, pack and ship them. Be sure to communicate tracking numbers to the buyer so they can track their package.
Repeat this process over and over again!
Where do I sell the furniture?
There are a ton of places to sell furniture that you have flipped. There are pros and cons to each of them.
Facebook Marketplace
A Facebook group for your reselling
Craigslist
In person at a booth at a market
eBay
Etsy
Chairish
How much can you make selling furniture?
Most furniture flips should have a sales price from around $100-500.
Your profits flipping furniture will depend on a few things. The easiest way to make a bigger profit is to flip a larger quantity of furniture. The more that you can flip, the more that you can make.
Flipping a lot of furniture will also bring down your costs per piece because of stretching out your overhead and supply costs. For example, you can buy a huge pack of sand paper and use it on ten or more flips. This will make the subsequent flips less expensive since you will have one less supply to buy.
Another way to make more money flipping furniture is to really watch the market. See what is selling quickly and for top dollar and do more of that.
The costs of flipping furniture
There are costs associated with flipping furniture. They are going to include:
Buying the furniture to begin with
Supplies such as sandpaper and wood filler
Paint, stain, sealant
Packaging and shipping (if you ship)
Initial investment in tools such as drill, sander
Once you accumulate tools and supplies, your main ongoing expense is going to be the acquisition cost of the furniture. That is why it is so important to buy smartly and not only get good deals but buy things you know will sell quickly.
How much money do I need to get started flipping furniture?
This will depend on what you already own. I would invest first in:
One piece of furniture
One can of paint
A quality paint brush
You should be able to get all of these things for under $100.
How do I photograph my furniture to sell?
I wrote a whole blog post about tips for photographing furniture to sell!
Here are some examples of thrifted pieces that we have flipped:
DIY Thrifted Furniture Makeovers
Love thrifting for furniture? You will love these inspiring DIY thrifted furniture makeovers.
Do you have any more flipping questions that I can answer for you?