Ready for a fun furniture makeover? I am so excited to share this Goodwill dresser makeover with you today!

Ever since we upgraded our bedside rope lamp, I've been itching to instill a little more teal into the master bedroom. The no sew bow pillow was a good start, but I wanted even more of the color. I have been looking to upgrade the dresser holding our bedroom TV and this was the perfect excuse to do so.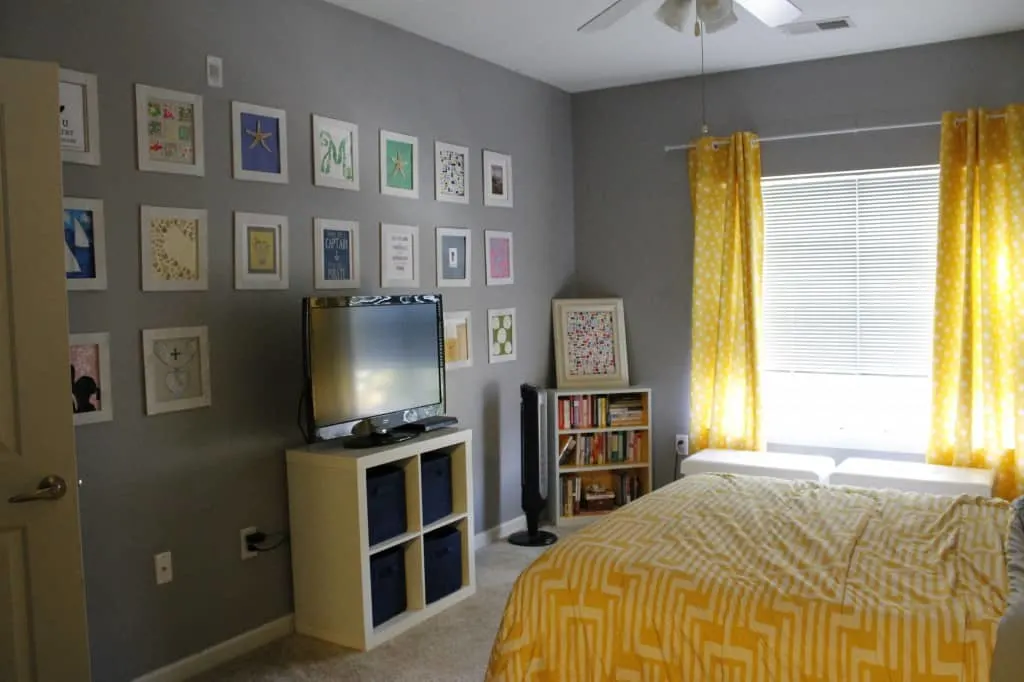 The existing "dresser" was really an Ikea Expedit 2×2 storage shelf. I got it at a thrift store 2 years ago when my sister was planning to live with me for a summer and needed somewhere (in the guestroom in my old apartment) to store folded clothes. This shelf, plus four large bins, was the perfect low-cost solution. However, I wanted a more upscale look for our current master bedroom.
The Plan
I decided to look for a slightly wider dresser. I had a vision of a jewel-toned, campaign-inspired piece with wide drawers and chunky hardware. However, that is the kind of thing that you have to stalk Craigslist for hard, and for a long time. I set myself a budget of $100 and wasn't seeing anything inspiring on Craigslist.
The Shopping
So, I decided to spend a Saturday afternoon thrifting (while Sean was out of town). I started at the closest spot to my house – the Folly road location of Palmetto Goodwill. I have a set loop that I always walk through this goodwill, and it was toward the end of my loop that I spotted this dresser.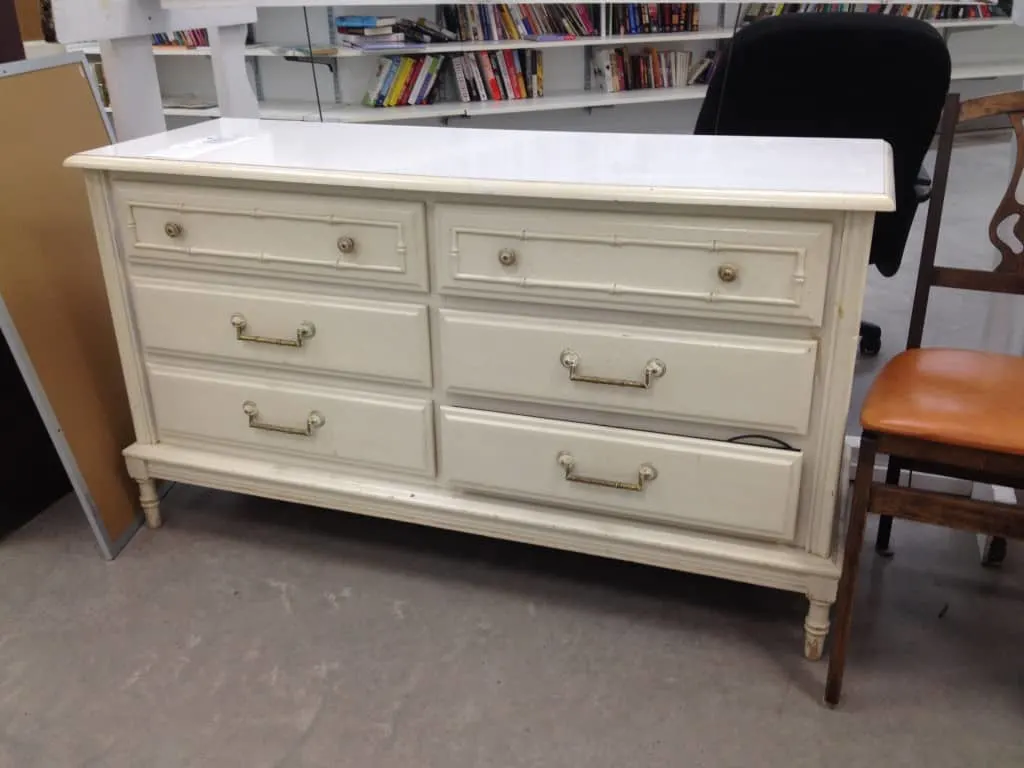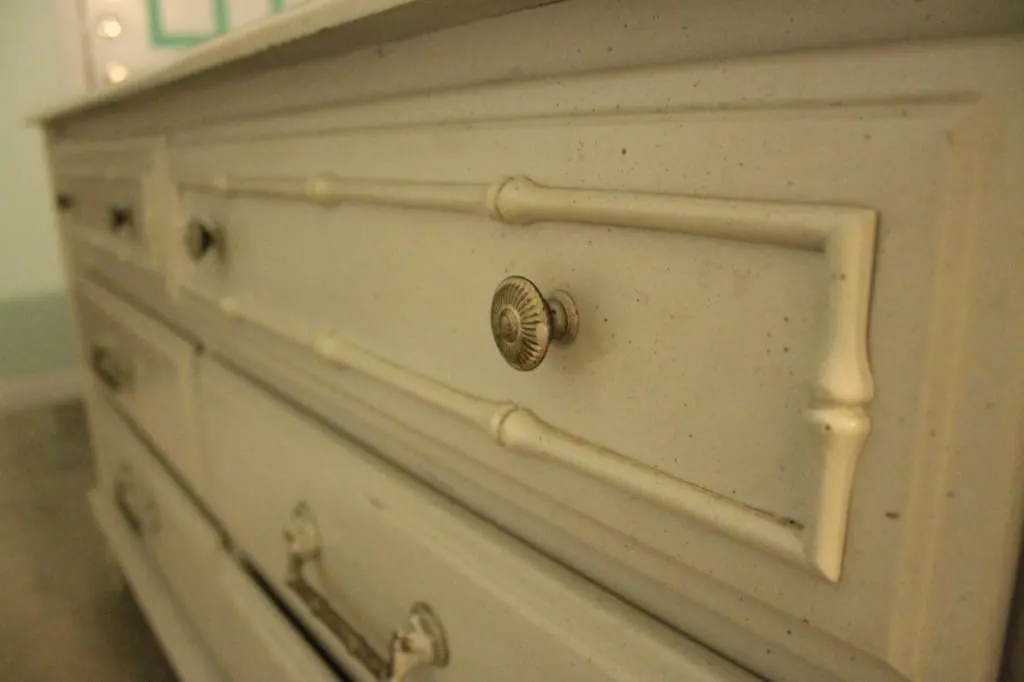 I was immediately drawn to the faux-bamboo detail on the top drawers and knobs. The paint job was in pretty bad shape but otherwise it looked structurally sound. I took some pictures, tweeted about it, and went on to the next store on my list. After visiting three more stores, I still couldn't stop thinking about the Goodwill dresser. That was my indicator that I needed to go get it. It was originally $49.99, but was marked down to $35.99. I had a 10 percent off coupon (they put them on the donation receipts!) so I ended up getting it for just over $32! Well under my self-imposed $100 budget.
Now, if you're out thrifting for a piece of furniture, here are a few tips:
1. Know what you're looking for – but have some wiggle room: I knew I wanted a dresser, and I knew the approximate dimensions that I wanted it to be. I wrote them down in a note on my phone so that I couldn't get confused. However, I was flexible in the exact design of the dresser. If you have too specific of a vision, it is easy to be disappointed unless you are willing to stalk the thrift stores for a longer period of time.
2. Overlook the cosmetics – but know what is not repairable: Personally, I like to make sure that a piece is steady (doesn't wiggle or rock), and that all the drawers and doors slide and swing well. If they don't, and you don't know how to fix it, it is probably not a good buy. However, dings and scratches I know I can sand and paint or stain over do not bother me at all, and can often get you a lower price.
3. Pay attention to materials: If you're wanting to stain the piece, make sure it is solid wood. Paint or a previous stain can be sanded off, but it can make a project more difficult. Note if the item is particle board, metal, or plastic. Think about what you want to do and what materials you plan to use and whether they are compatible with this material. Not sure? If you have a smart phone, stand right there in Goodwill and google "can I stain bamboo" or "can you spray paint porcelain." Most thrift stores do not allow returns, so be sure that your plan is at least possible before you haul it home or you'll be hauling it right back for donation.
4. Make sure it can fit in your car: This might sound silly but it is crucial. I drive a small car. Like really small. Sean has an SUV, but I have the measurements of the insides & doorways of each of our cars in a note in my phone. That way there is no guessing. Most thrift stores will hold things for 24 hours, but I always prefer to "Cash and Carry" – and can often negotiate discounts this way.
But back to my dresser. It fit in my car – to the inch! The guy who helped me load it said, "it was like this car was made to carry this dresser!" I think he was kidding but I took it as another sign.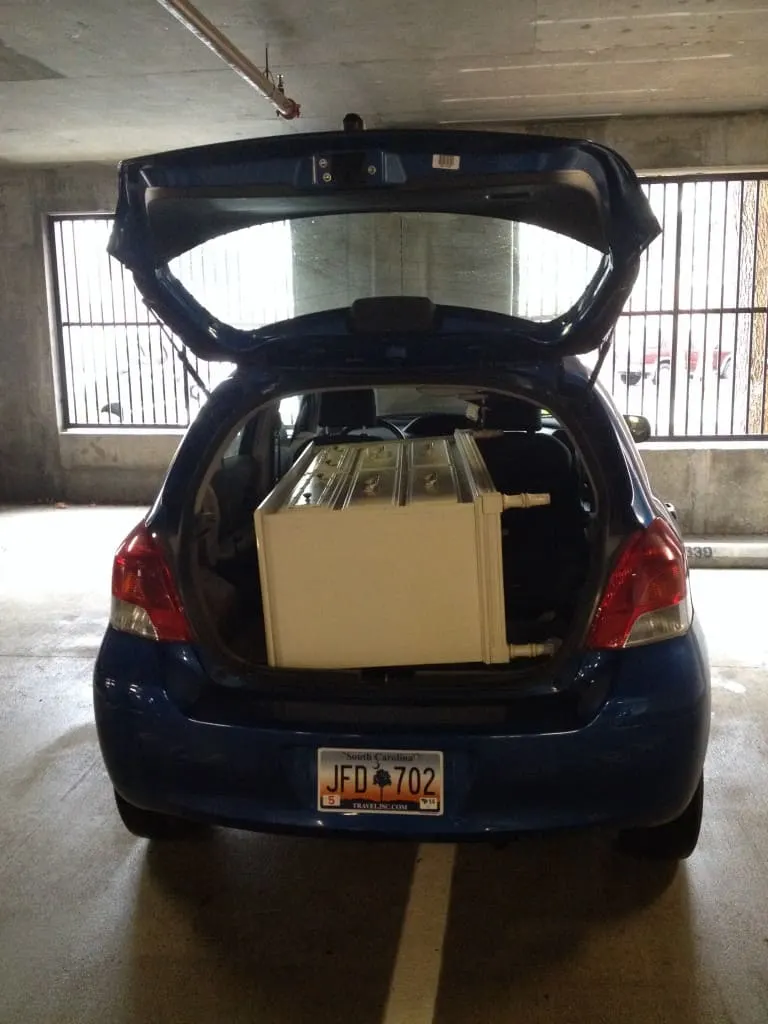 Then I got it home & realized that, even though it was not that heavy, it was still impossible for me to carry or lift myself. Luckily, my building has an elevator, so it wasn't too painful of a process to twist and drag.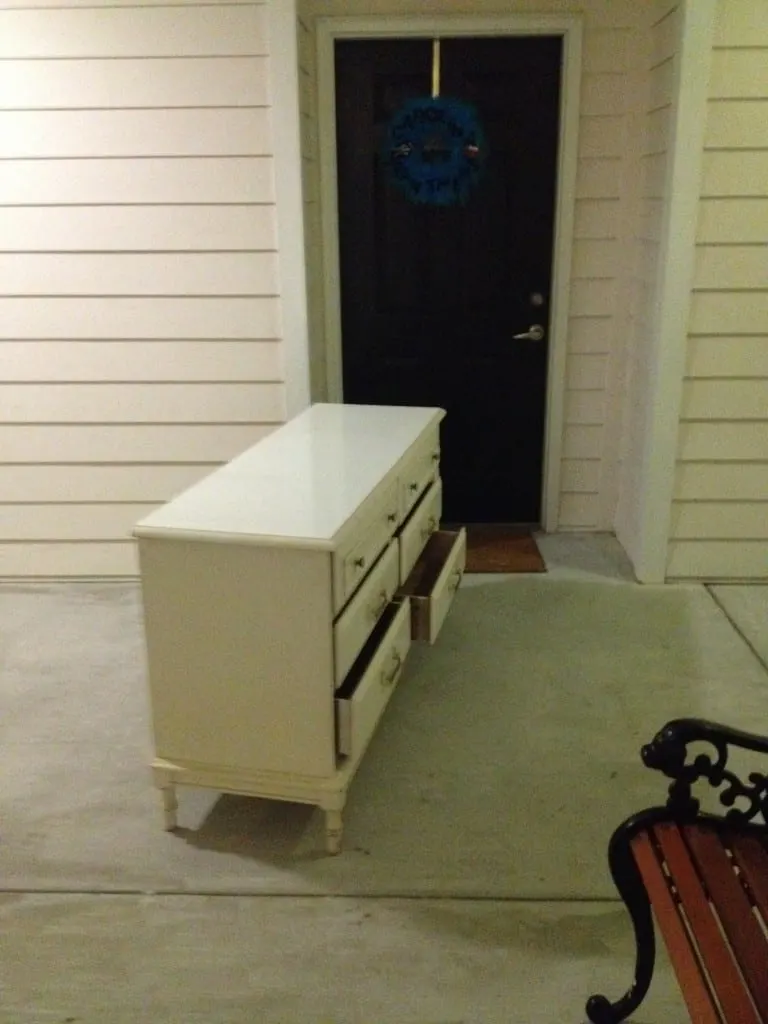 The Makeover
We started the makeover with a really good sand. We don't have an orbital sander in our toolbox (yet!), so Sean just used a sanding block and some regular sandpaper to give the whole thing a good wipe down. I followed behind him with a damp rag and then vacuum to clean up all the dust bunnies.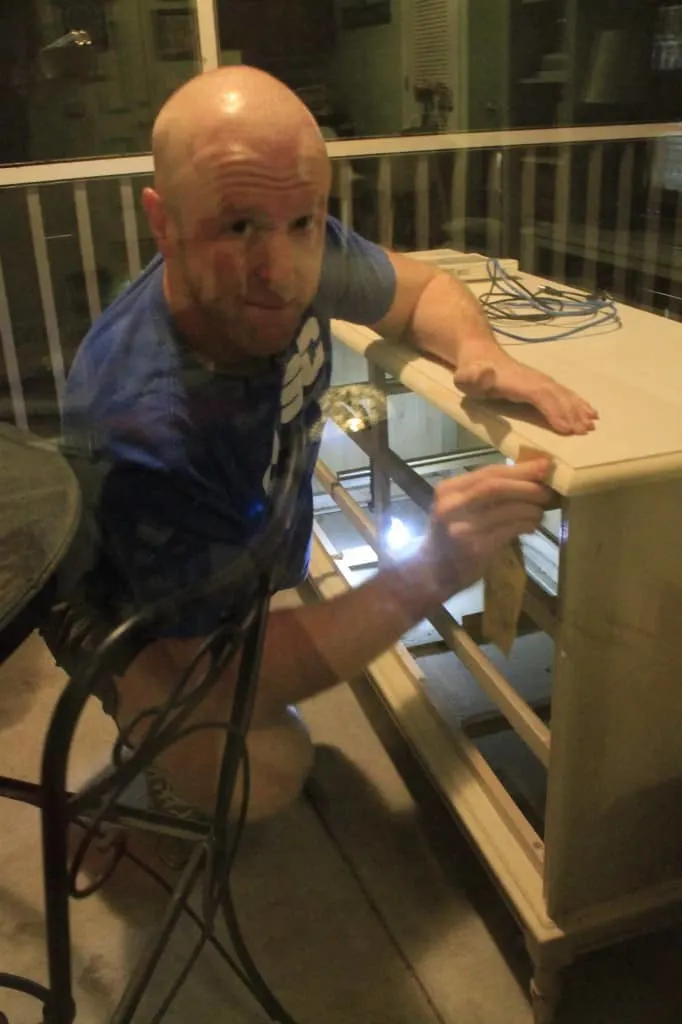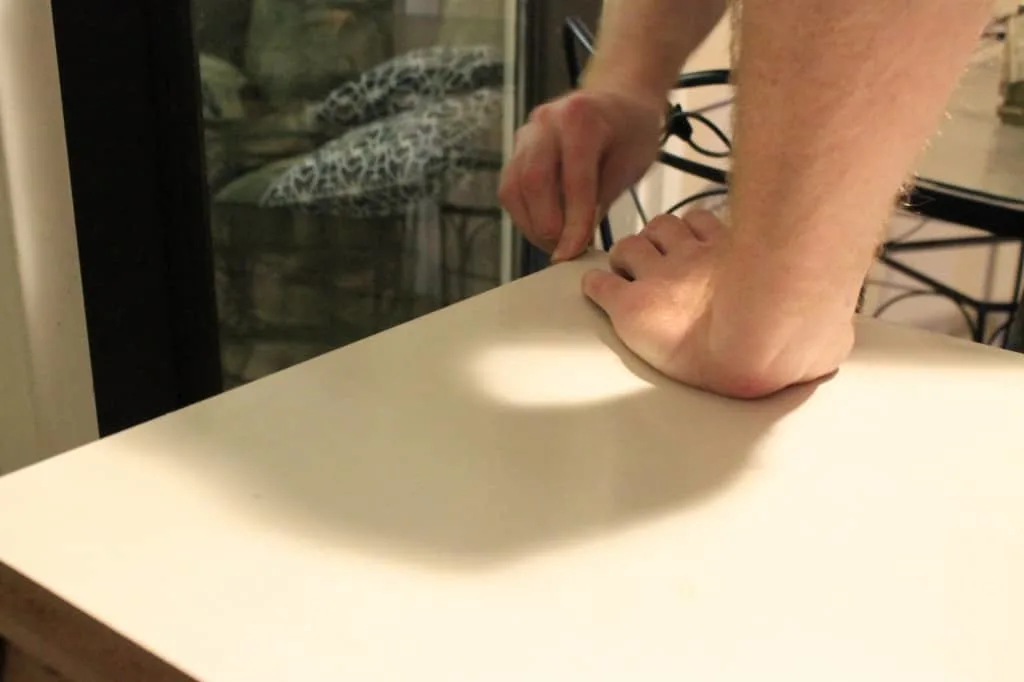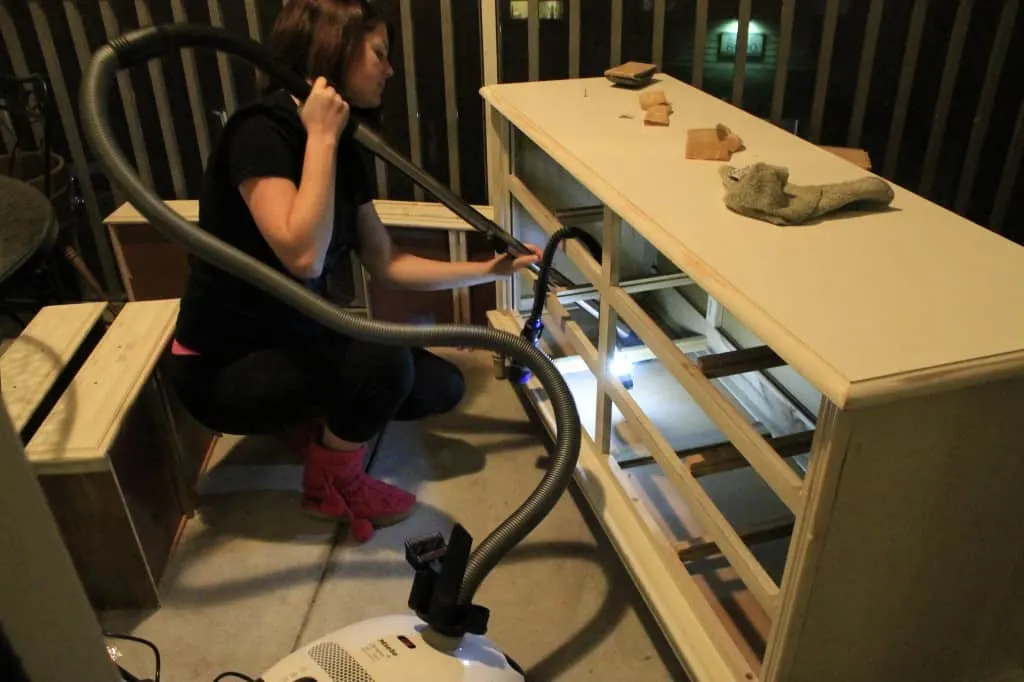 Funny story – when we took out the drawers, all of this stuff was inside (not in the drawers – inside the body of the dresser!) It must have been in a rental property on Folly beach, because this binder was a guide to the island and the property! We threw all this away and it made me smile to think of giving it a second life.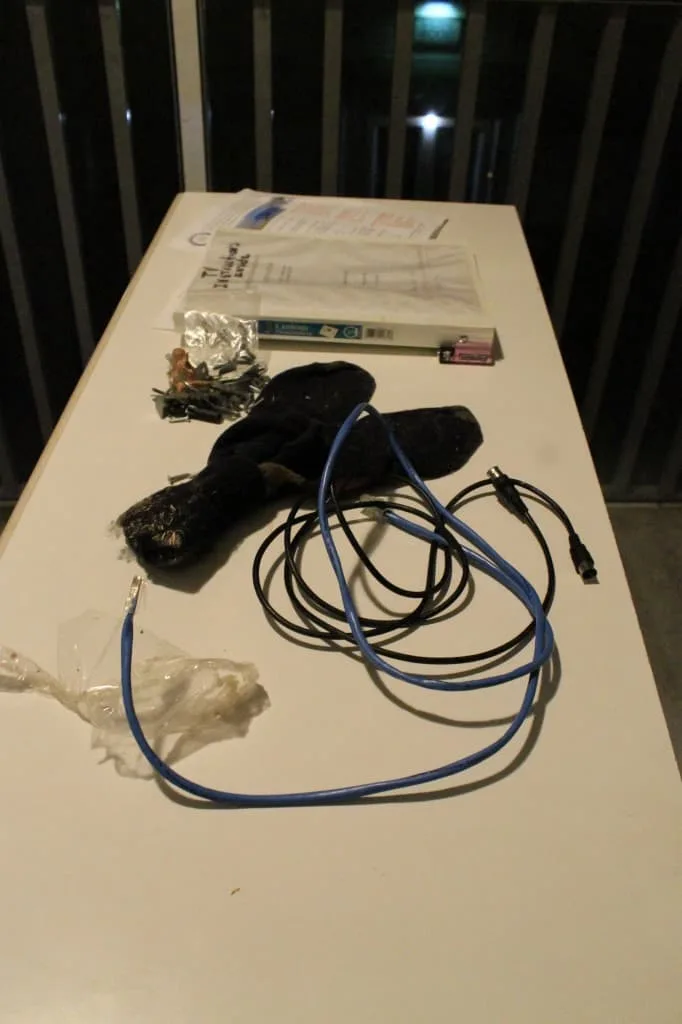 After sanding, we got painting. I got a quart of Olympic One (paint & primer in one) in a satin finish and Bimini Blue color. Fun fact: the glossier the finish, the more it shows imperfections, like dents or scratches. I love a satin finish – a little more durable than eggshell but not at all glossy.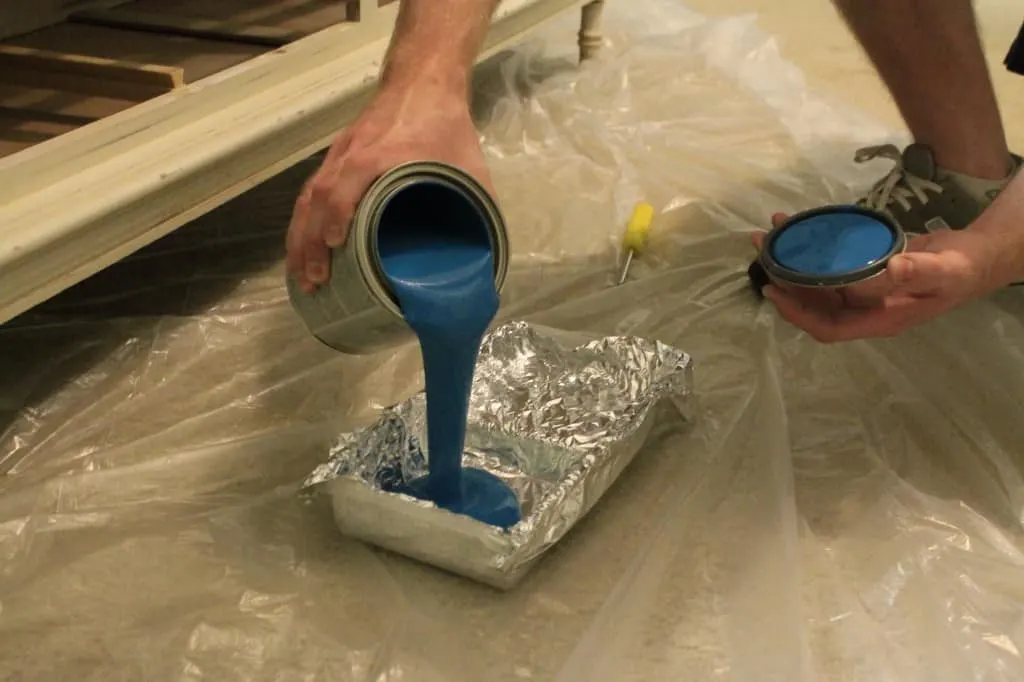 It took four solid coats to get a perfect finish. We used a foam roller on the flat sides and drawer fronts (designed for cabinets) and foam brushes for the rest. I like using foam to avoid visible brushstrokes.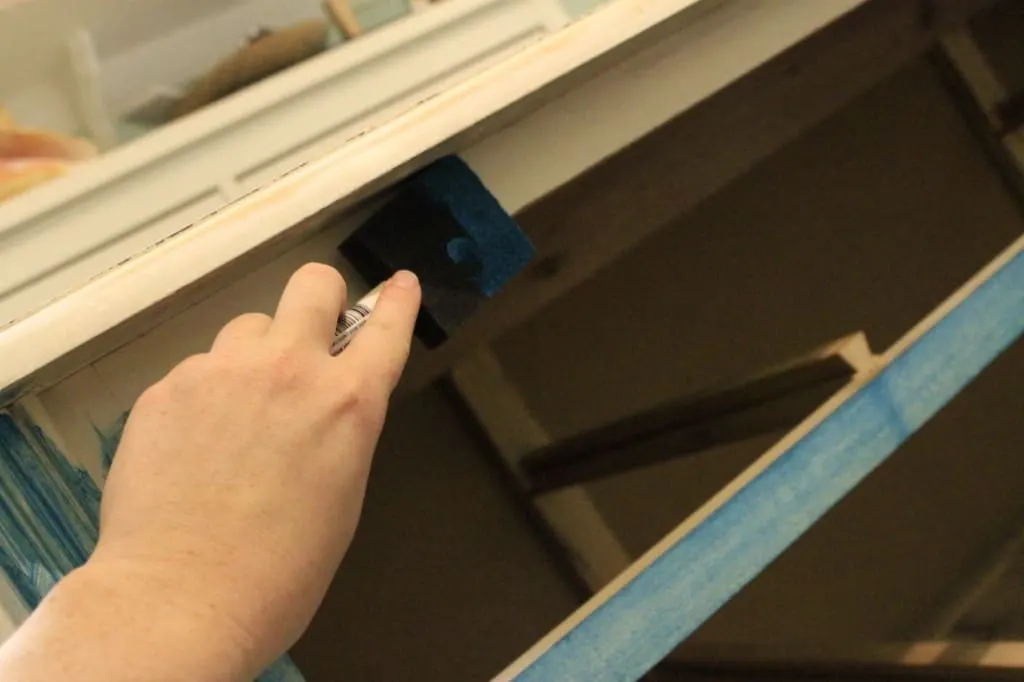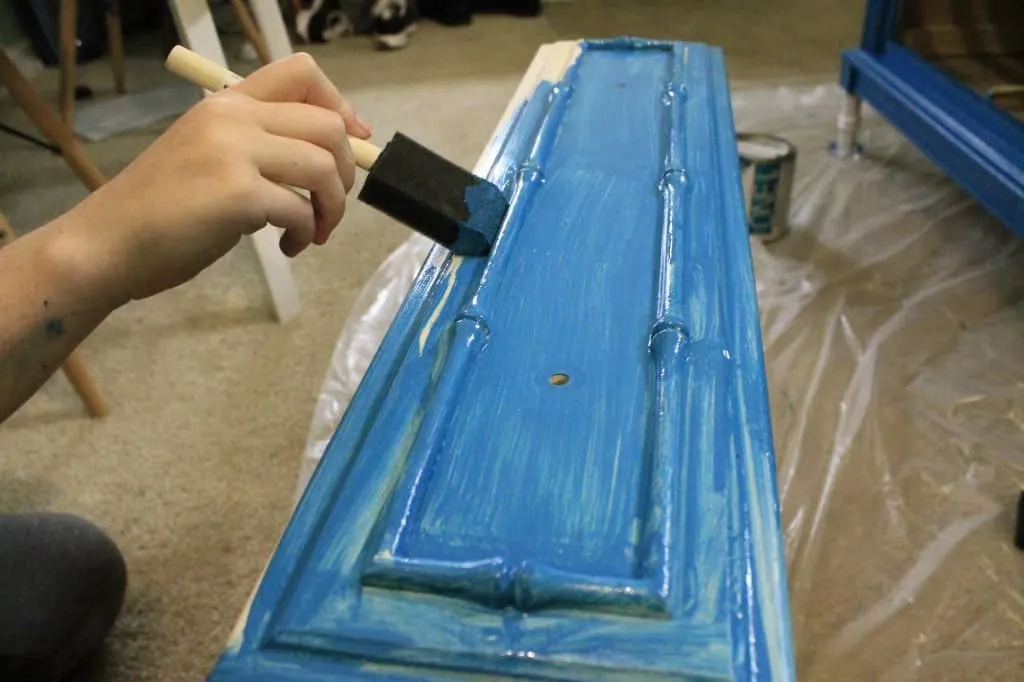 My original plan was to paint the entire thing teal. However, Sean had the idea to leave the top white. I wasn't totally sold, so after the first coat we left it overnight with a white top. I loved it! We have a lot of white in the master bedroom so I think it ties in well, plus it's a great way to break up the bold color.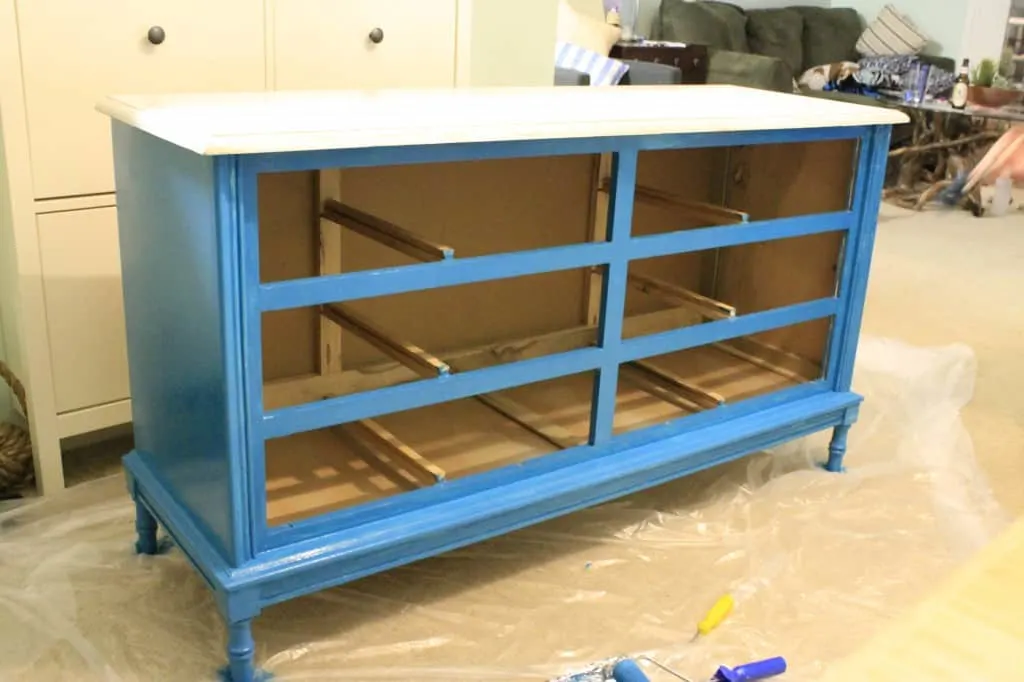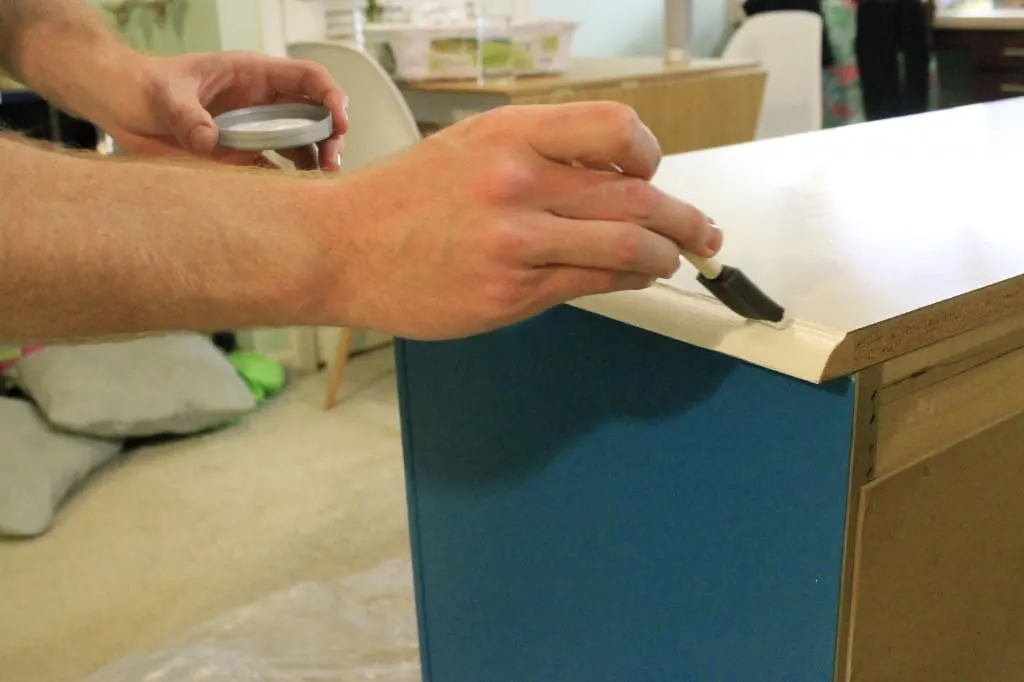 I decided that it would look cool to have white legs, too. So, I had to paint over the one coat of teal. It took six coats of white to cover it up! The white was a sample of Valspar Bright White and was not paint and primer in one, so that had something to do with it I'm sure.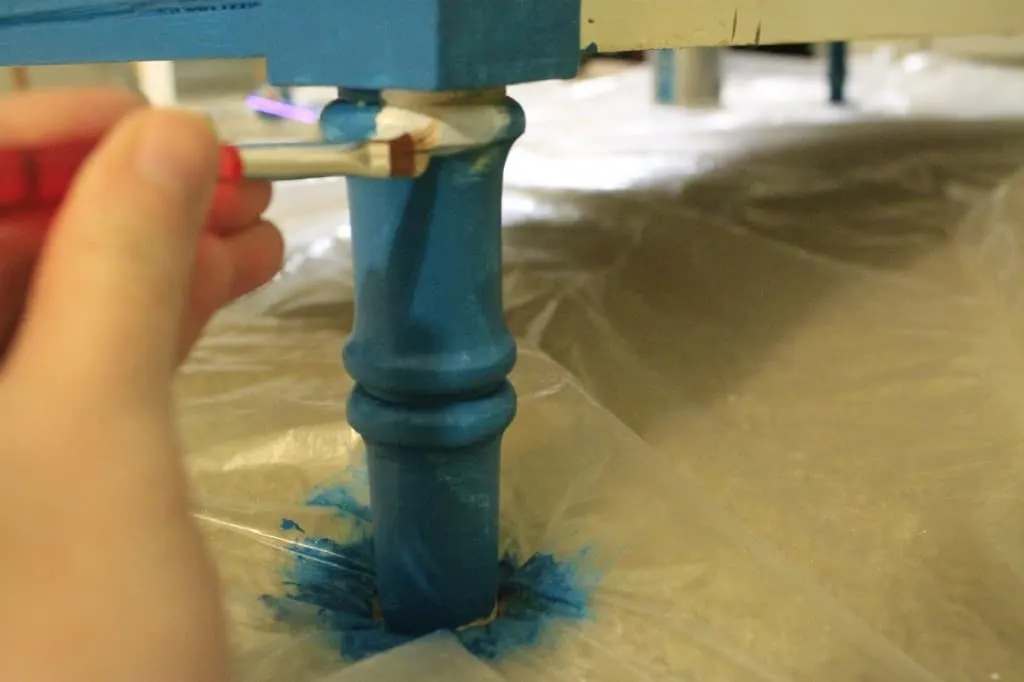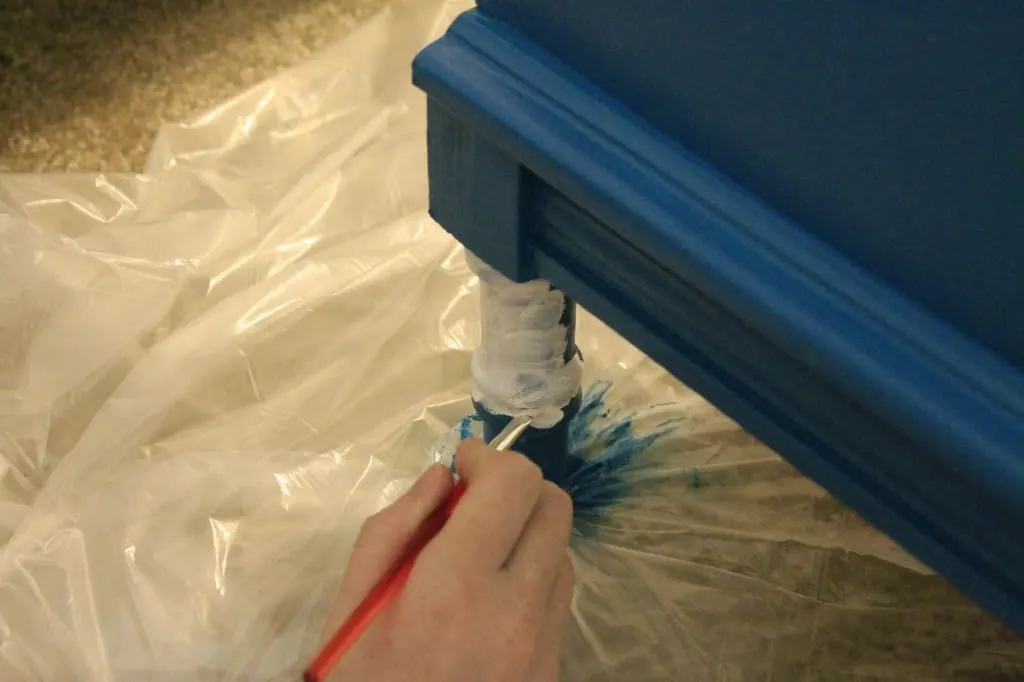 After that was all dry, we sealed it with two coats of polycrylic. We've had this can forever and just keep on using it. It works great! Just be sure to catch any drips before it dries.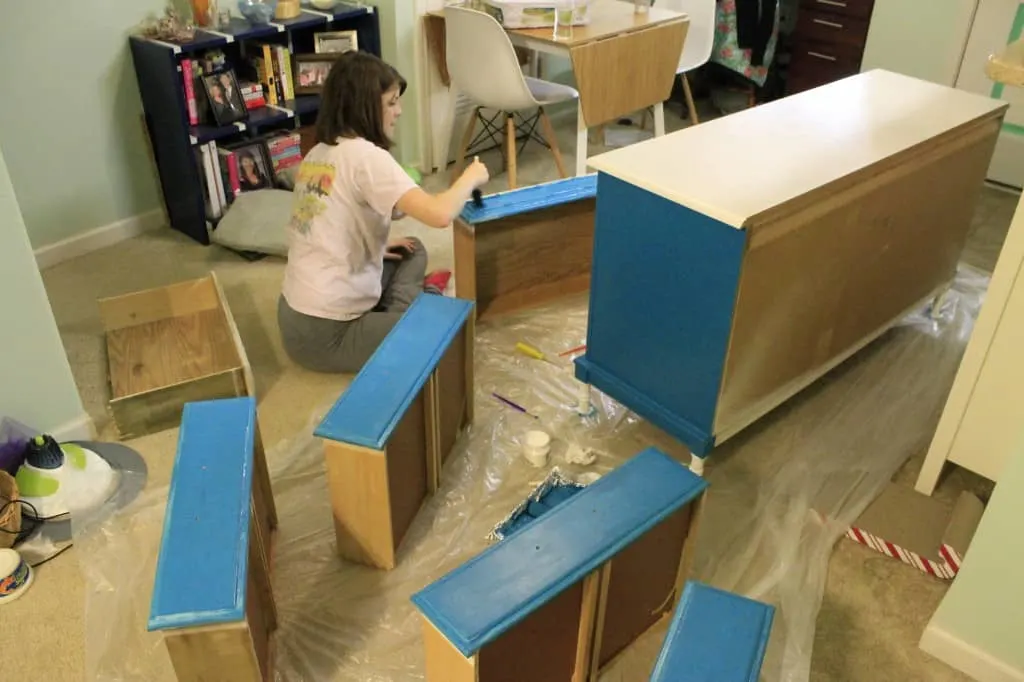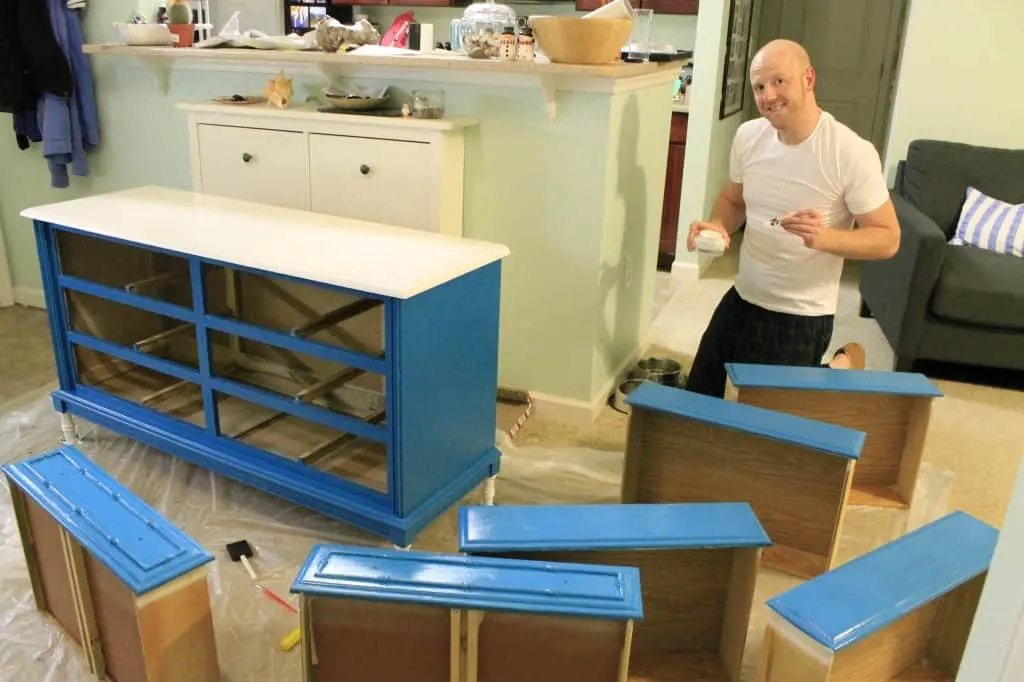 The painting phase of this project was easy. However, we did hit two (small) snags that we were able to overcome.
The Snags in the Plan
The first snag in the plan was the fact that one of the drawers was missing a back. This is probably how all those things fell inside the dresser! Sean fixed it in less than five minutes. Since it's not really visible and shouldn't get a lot of wear and tear, he replaced it with pegboard. Mostly because, after upholstering our headboard, we had a ton left over!
He used his reciprocating saw to slice a piece the size of the back. The peg holes made cutting a straight line easy.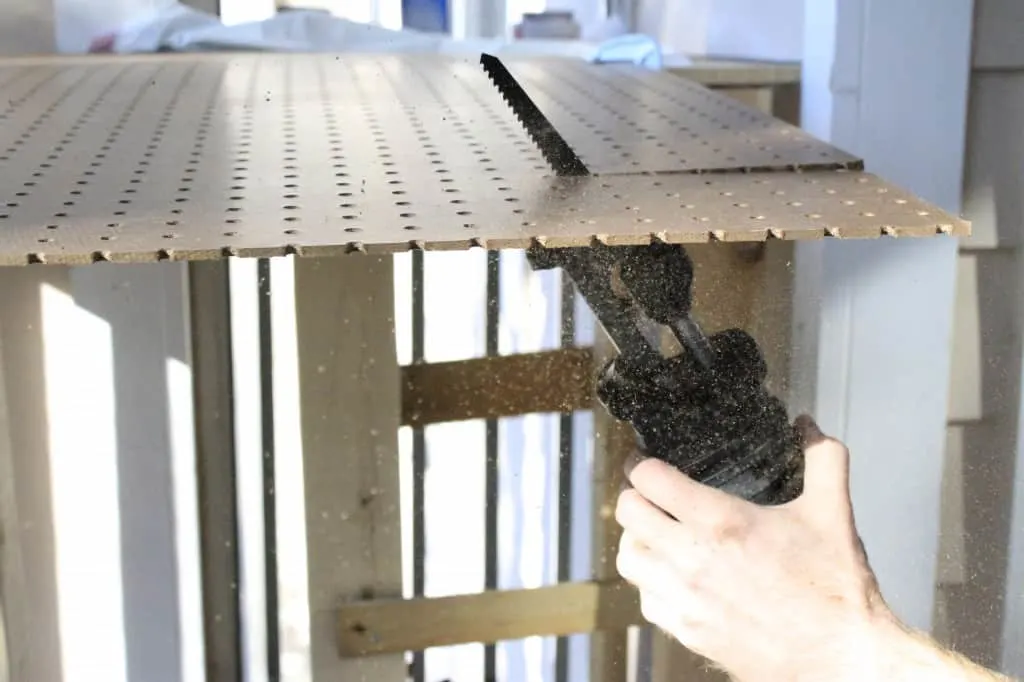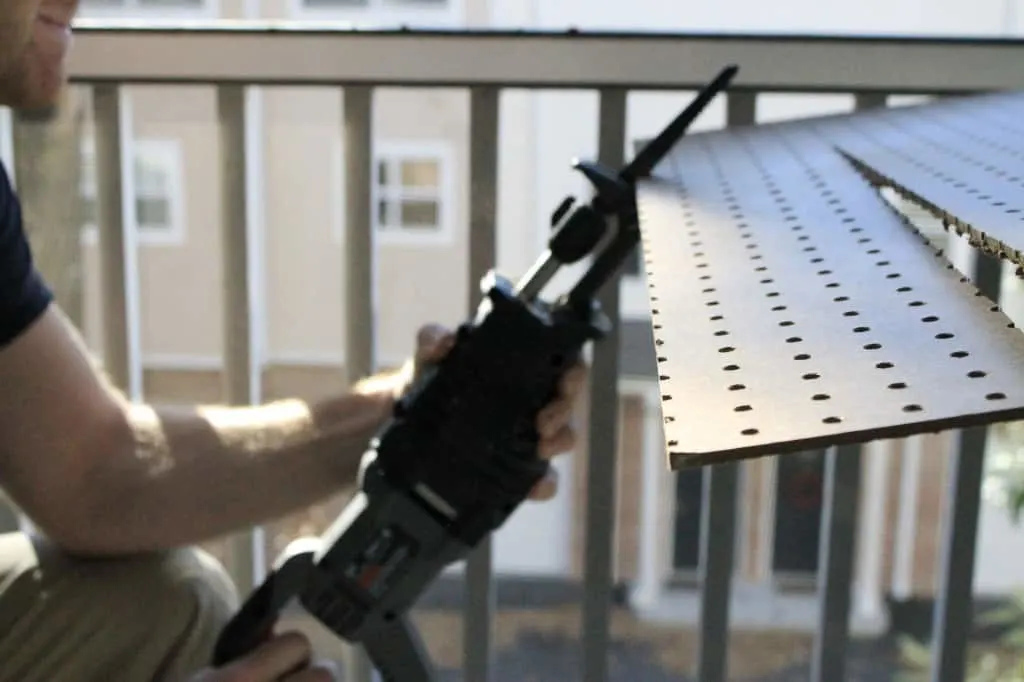 Then, he stapled it in place with 1 ½ inch staples. So easy!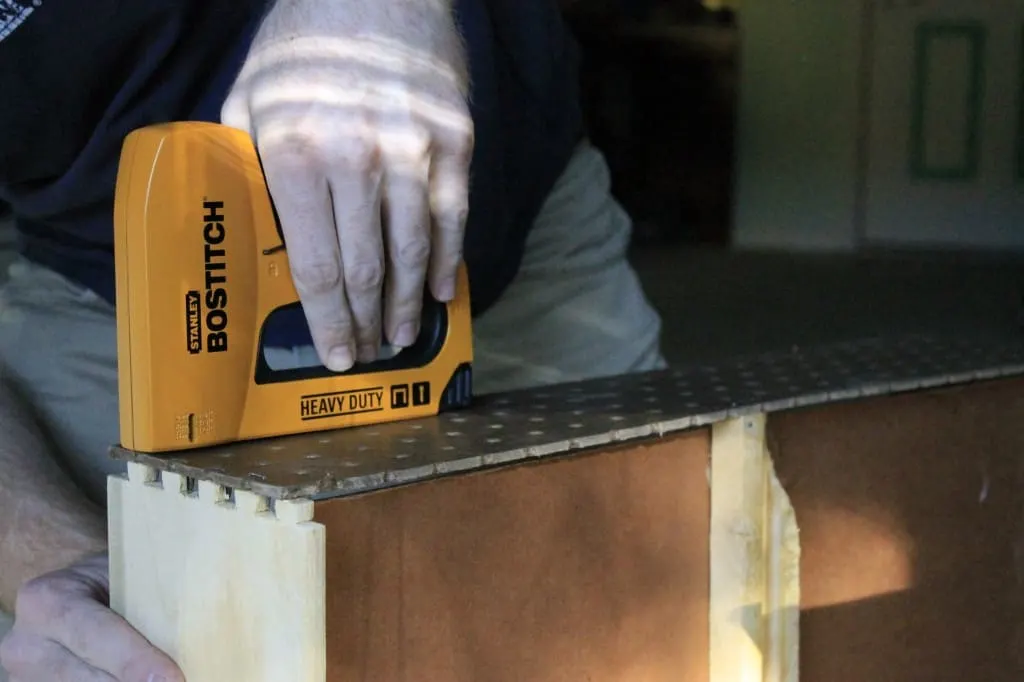 Then he used the saw to cut a small notch in the bottom of the board so that it could still slide on the drawer track.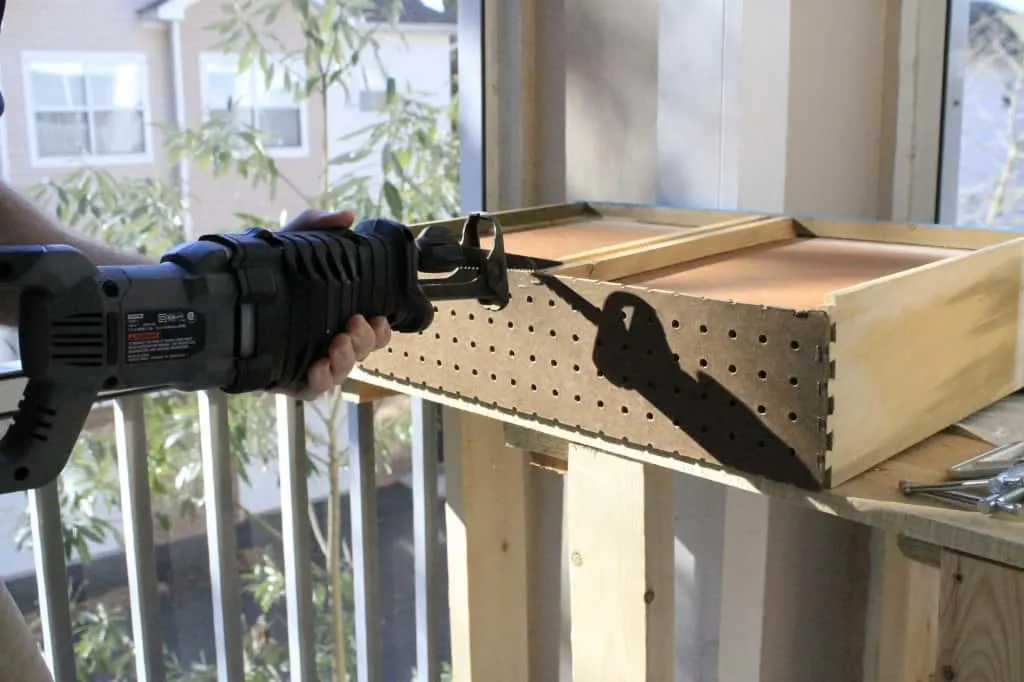 The second snag was that I was too lazy to prime the metal knobs. I got "paint and primer in one" spray paint, but it didn't get good coverage. See the dots where it didn't take?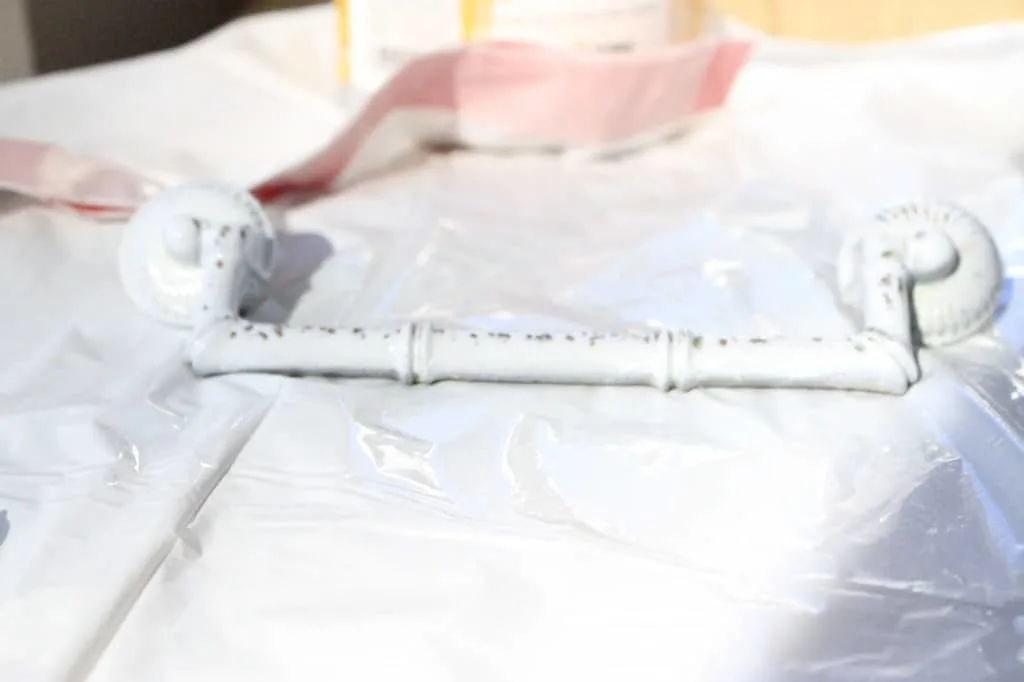 So, I ended up having to redo it. I soaked them in (eco-friendly) paint stripper for about 30 minutes then used steel wool to wipe off the paint. I could have gotten it 100 percent off by trying a little harder but I knew I was about to paint them again.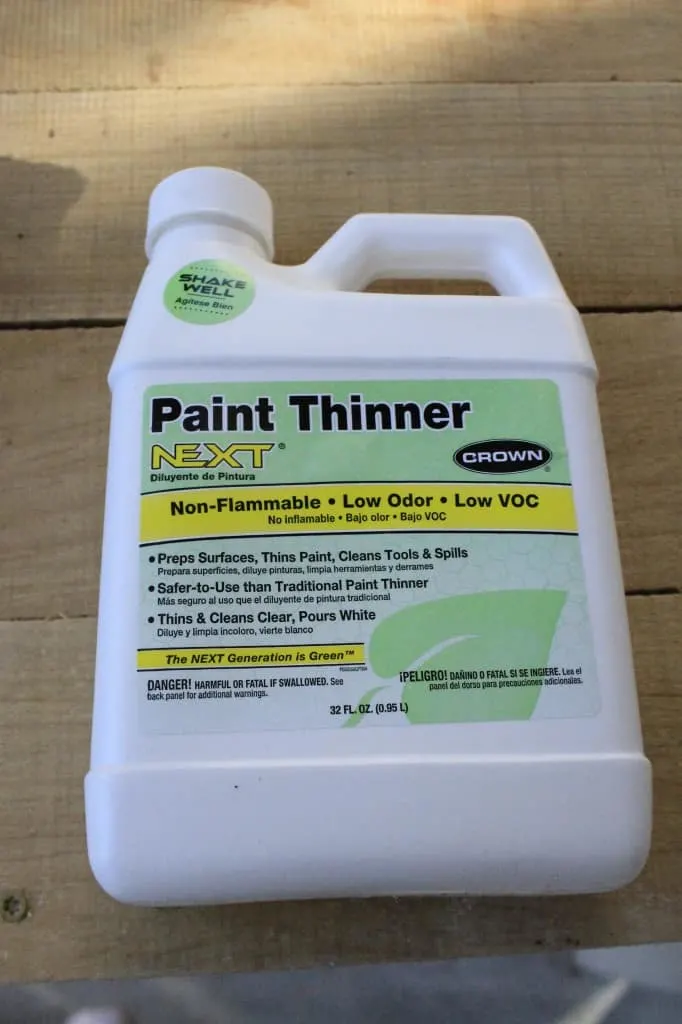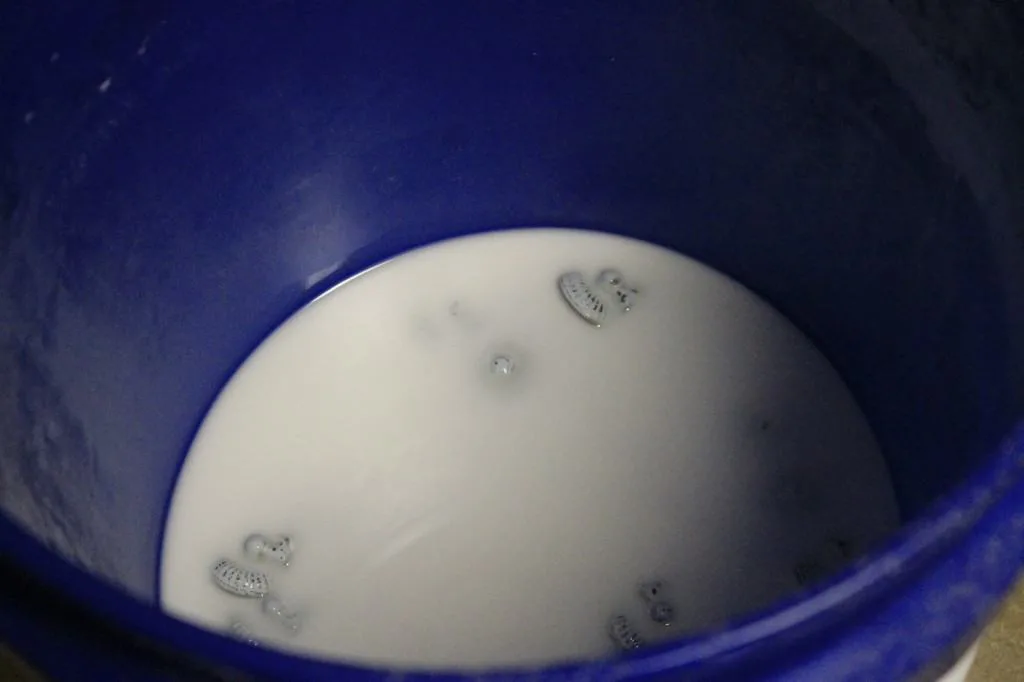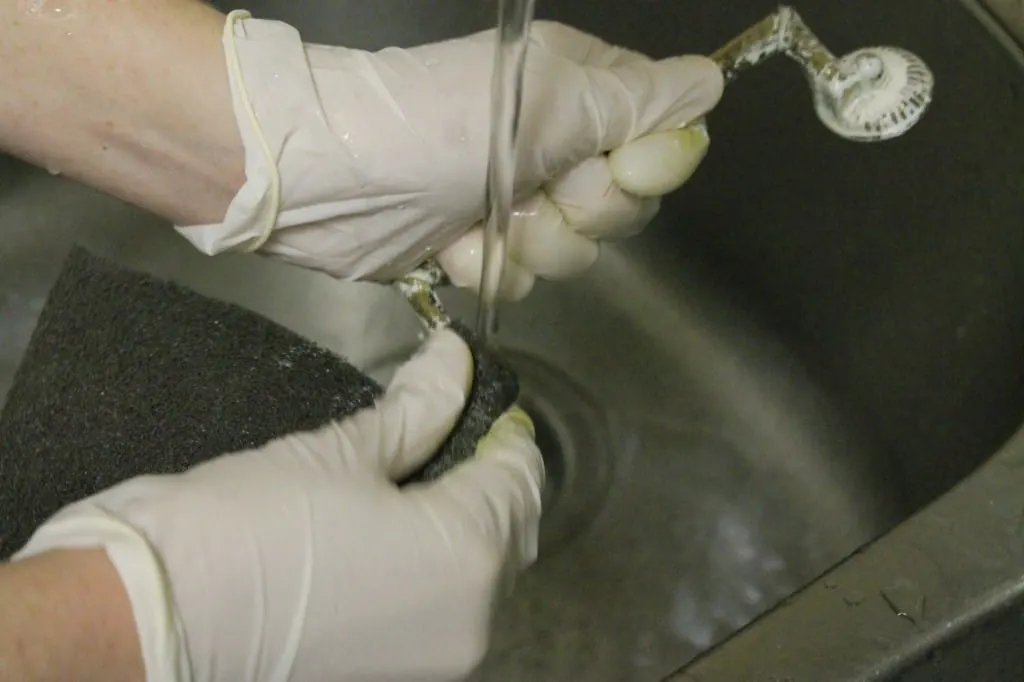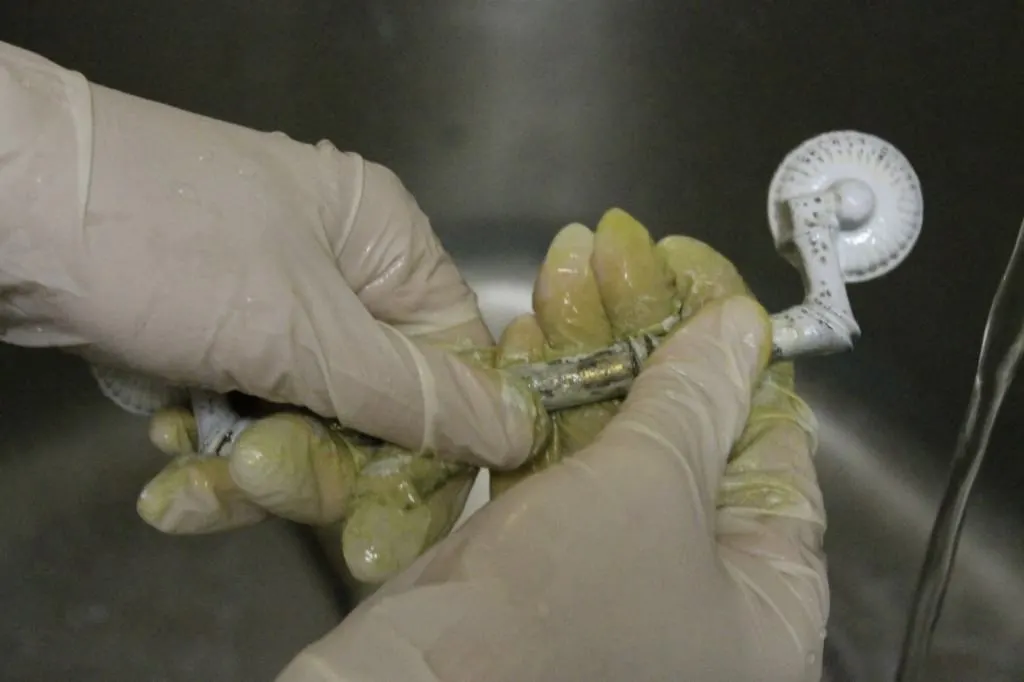 Then I used separate primer & glossy paint and got a much better finish.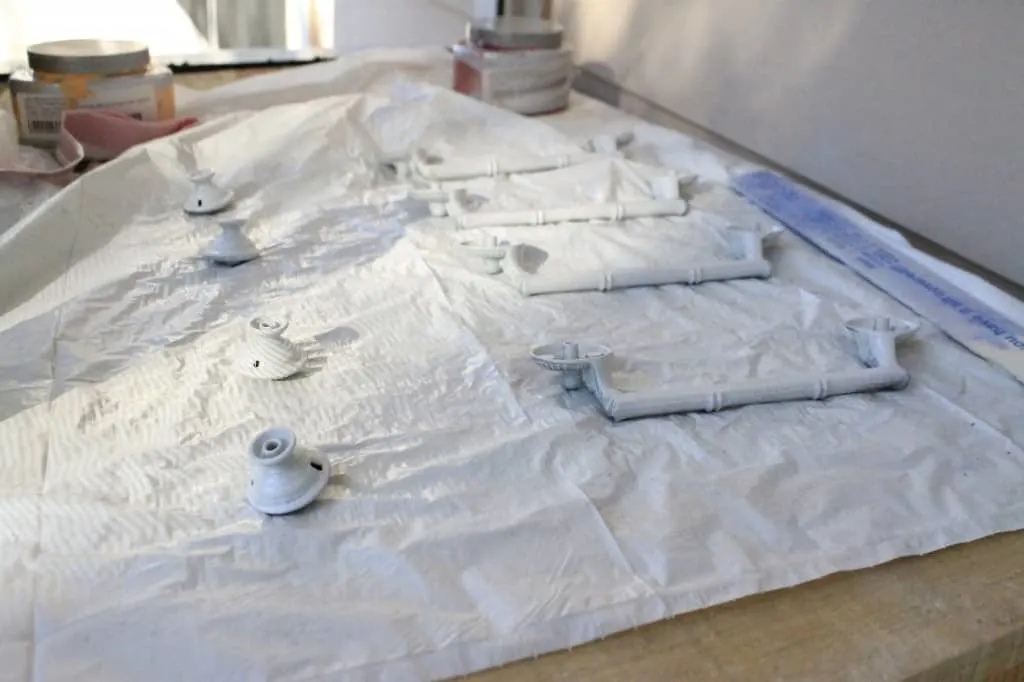 The Results
I love how this dresser turned out! It looks so much better than the old set up and I love bringing more teal into the room.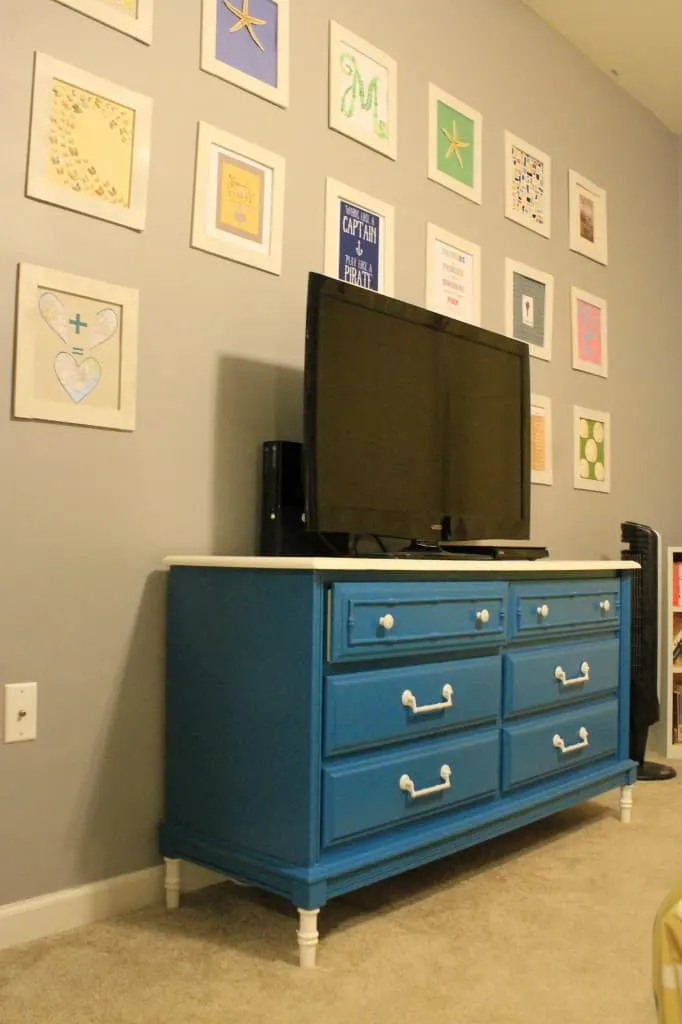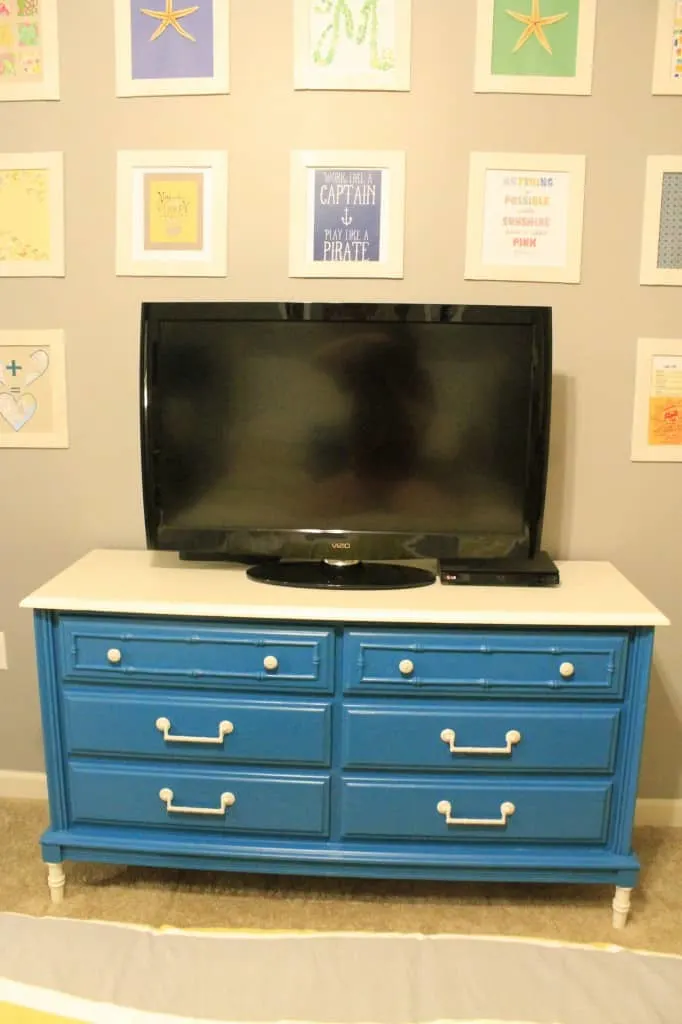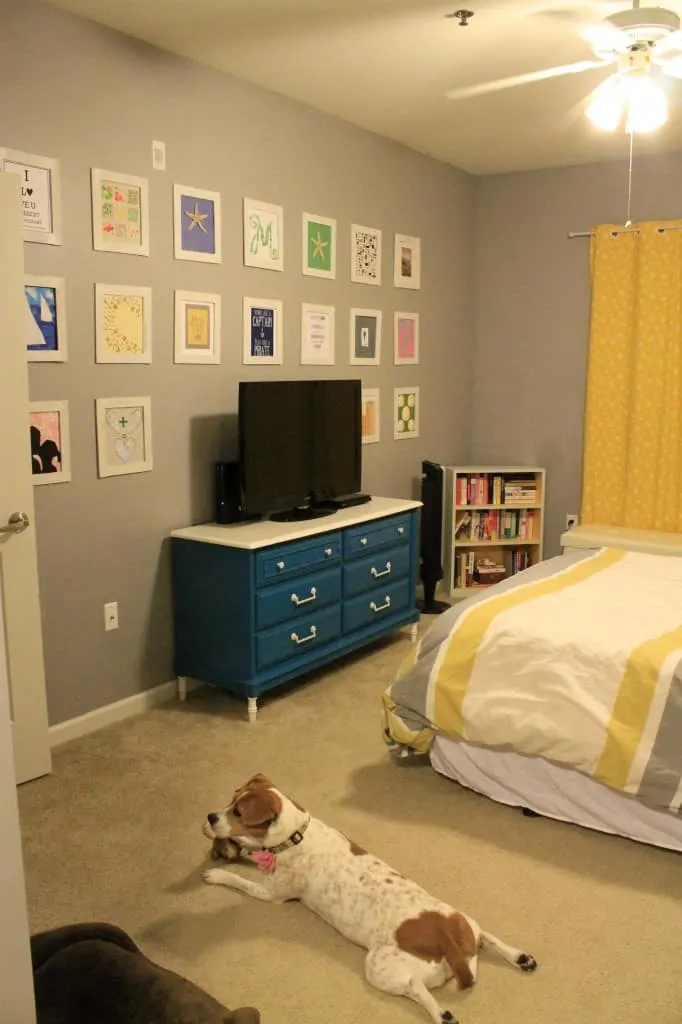 I'm in love. It just shows that thrift stores are definitely the best way to get a great piece of furniture. If you have a vision and are willing to put in a little work, you can get the ultimate piece on a great budget!
Want to learn to flip furniture for a profit? We have a whole resource library of files to help you get started! Sign up for free:
Have you made over any thrift store furniture lately?