Today I have a super simple furniture makeover for you. When we moved, we had all of our boxes unpacked within a week. All of them except this one. This box has been J Chilling in our guest room, serving as a side table, for 9 months.
Side table has been on my thrift store list this whole time but I had a hard time finding one. I wanted one tall enough for this bed (it's awkwardly tall), with open shelving for books (these are "beach books" we like to have on hand for guests). And I wanted to spend less than $10. Super cheap because, really I don't know what direction this room is going to go in. I don't have a design or really purpose goal at the moment but I expect that it will get a makeover in the next 12 months. No need to spend $$ on something that we won't be keeping for long. Thrifted = cheap and sustainable so it was a win win.
I finally found this dresser on a random Wednesday Goodwill trip (follow my Insta-Stories because I love going live when I am there!) It had cool bamboo detailing, a big drawer, the right height, and 2 open shelves for books. Bingo.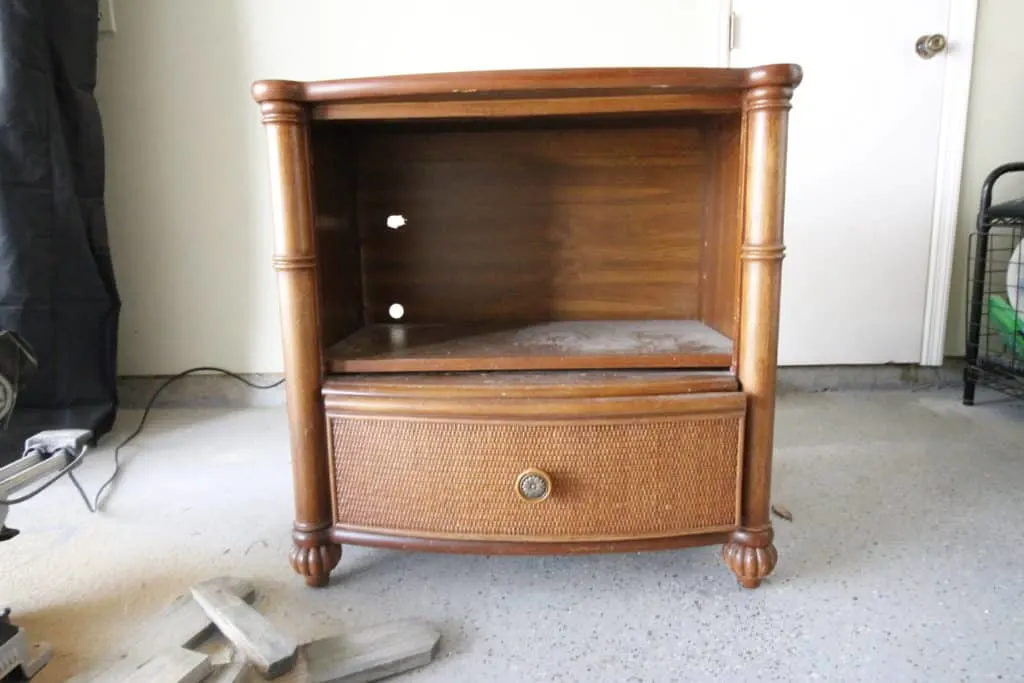 The big downer was that it's super fake wood and really plastic-y. Like I said, not a long term investment. So, I knew that it would not sand well and that I couldn't save the wood tone. White it was!
I usually paint furniture with a brush, but decided to do this one with spray paint. The main reason for that was the amount of detail – faux bamboo and woven details – on the front of the table and the fact that it wouldn't sand well.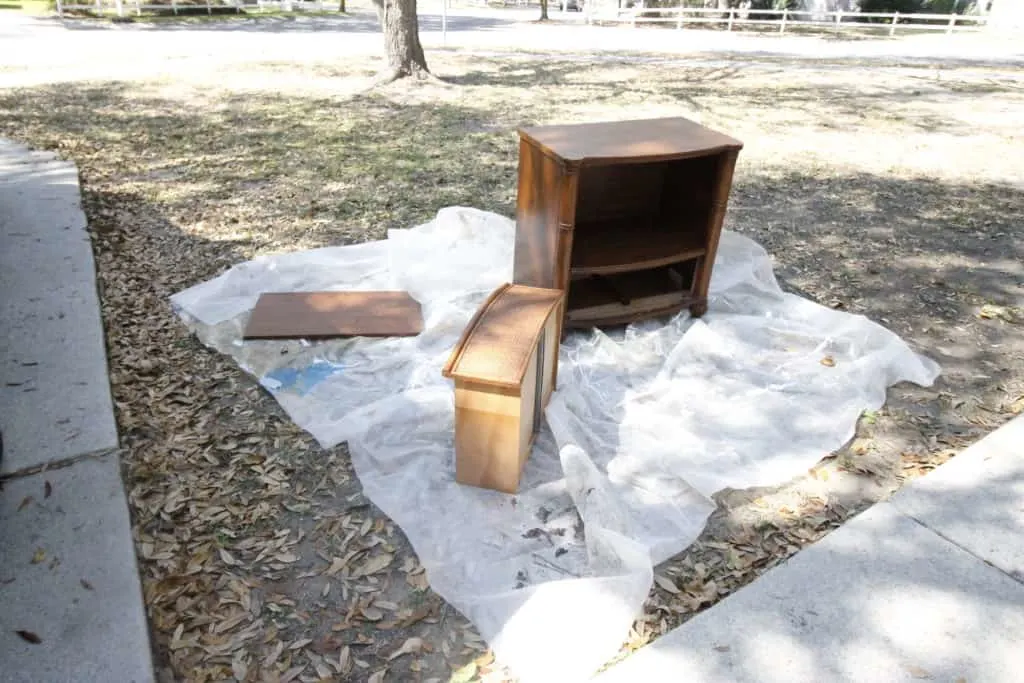 To spray paint furniture without sanding, especially particle board furniture, start with a deglosser. Use a rag to apply it all over the piece & it acts to break down anything on the surface and help the paint to adhere better.
Then, apply spray paint. Work in a ventilated area and cover anything you want to keep clean. Here are my best spray paint tips.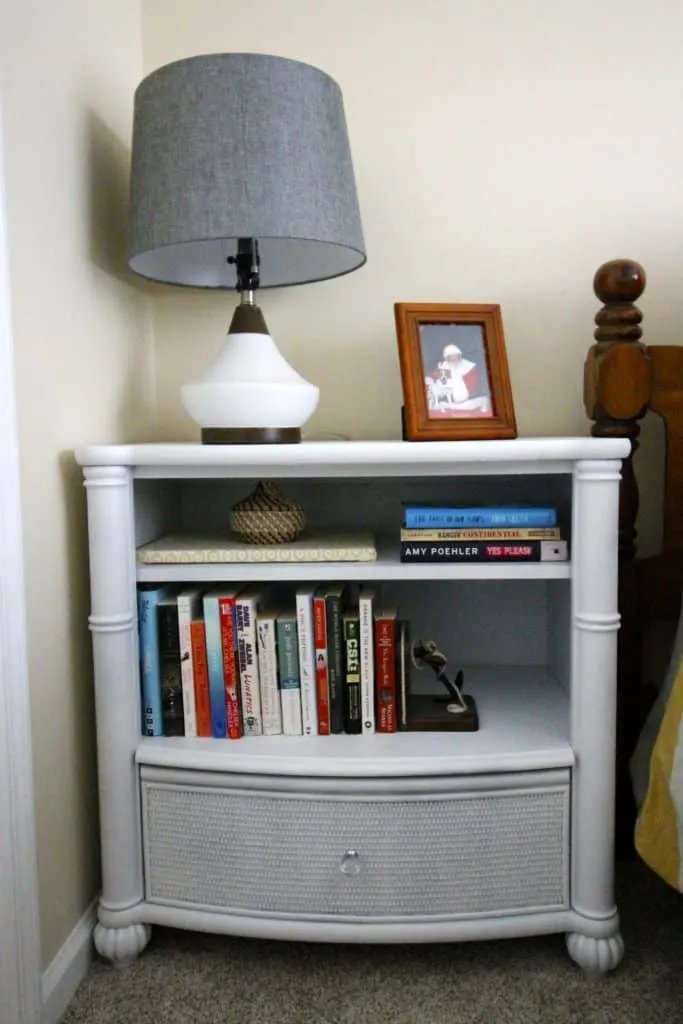 I let the whole thing cure for 3 days to really be sure that the finish was dry. Then, we moved it into the guest bedroom. It is perfect for what we need it for. I love the bamboo details, I love that it hold books, it is the perfect height, and I love that it was inexpensive!
Want to learn to flip furniture for a profit? We have a whole resource library of files to help you get started! Sign up for free:
What have you been updating lately?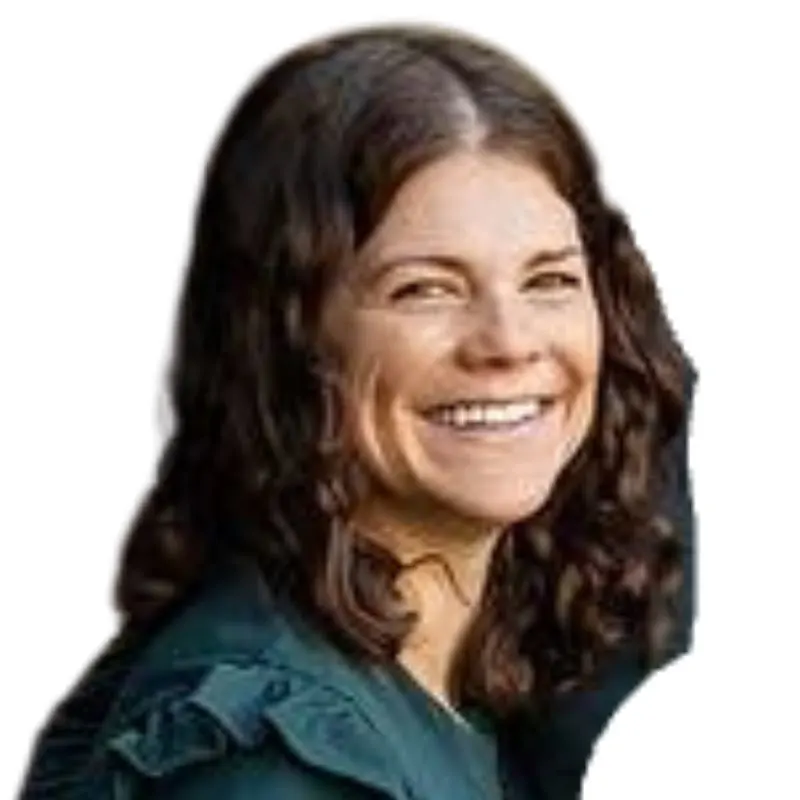 Hello, I'm Morgan, half of the creative force behind CharlestonCrafted.com! With a passion for DIY that dates back to 2012, I've transformed three homes and now I'm dedicated to helping others craft their dream spaces. Let's turn your house into a home together!