I love buying used furniture. It's great for a few reasons.
You keep old furniture out of the landfill by giving it a new life
You get a deal on some great furniture
It's a great way to buy something inexpensive to experiment with a new DIY technique on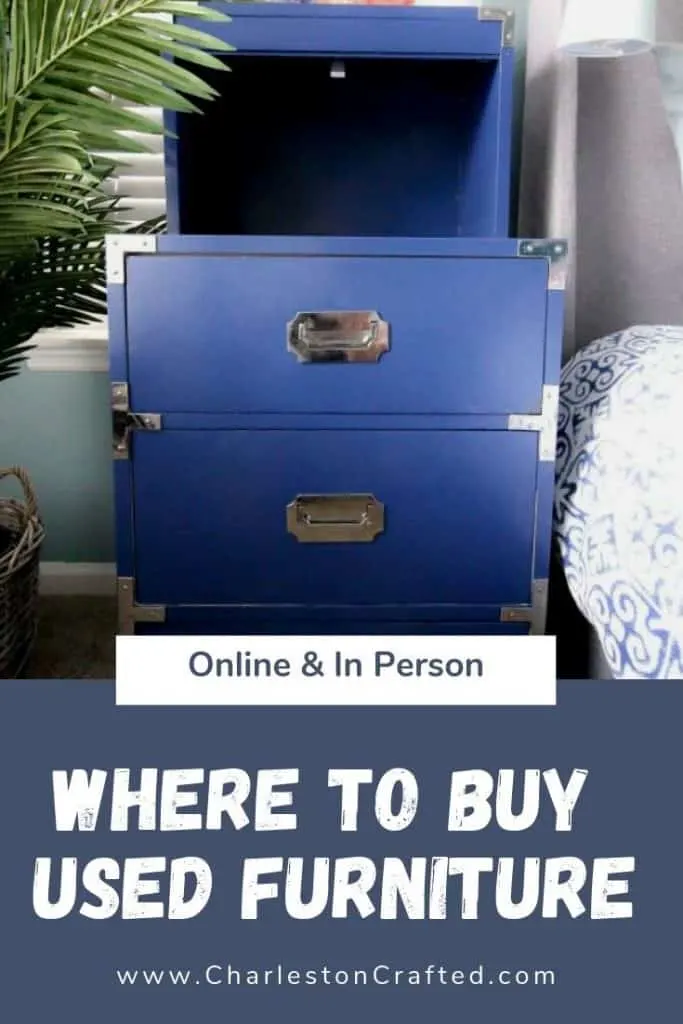 Where to find the best used furniture
The hardest part about buying used furniture is finding it. You can either hunt in person or online.
Remember when buying furniture online, if you see a good deal, you probably have to move quickly. It's not like a store where you can see your competition – you never know who many people may be shopping for the same thing online!
Another thing to keep in mind when looking for used furniture is knowing your goal. If you are just desperate and need anything to furnish your home ASAP as cheap as possible, your best bet is going to be freecycle, Craigslist, or Facebook Marketplace filtered by price.
If you are looking to take your time hunting for the perfect vintage piece, some of these other spots might be for you!
Where to buy used furniture online
When shopping online, be very cognizant of the location. If you have to drive a long long way to get it or if it has to be shipped, it might not be worth it.
Offer Up
Chairish
eBay
Freecycle
1st Dibs
Etsy
LetGo
Where to buy used furniture in person
Shopping for used furniture in person will vary depending on where you live. Here are some of my favorite spots to check out.
Thrift stores
Habitat for Humanity ReStore
Consignment stores
Estate sales
Yard sales
Search Yelp for local stores
Be sure to check out my tips on what to thrift and what not to thrift. Some things aren't worth it, but some things you'll be able to get a great deal.
Did I miss any of your favorite used furniture spots?