Here are my best DIY Thrifted Furniture Makeovers!
Love thrifted furniture? There is little better feeling than finding a hidden gem with tons of potential.
I love buying used furniture. I love thrift stores, Craigslist, Facebook marketplace, yard sales. I love digging through the dumpster. I am that person that pulls over my car to check out a trash pile on the side of the road.
Click here to read my article on what to thrift and what not to thrift.
I guess that I just love a good redemption story. I love to take something that has seen better days and give it a whole new look & life.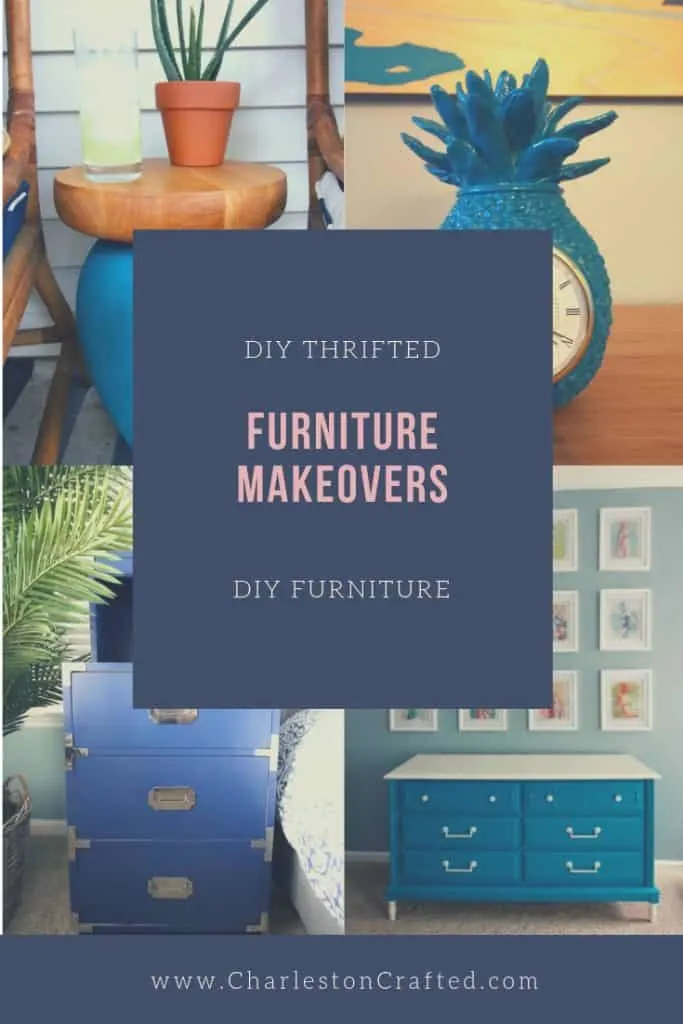 What tools do I need to do furniture makeovers?
You don't need tons of fancy tools to do furniture makeovers. You can start out with just a can of spray paint! However, it helps to have on hand
You can shop our favorite tools here!
Whether you are using paint or a saw, it's easy to give a thrifted piece of furniture a makeover. Below I have rounded up my favorite thrift flip furniture makeovers that we have done and blogged about.
I hope that these projects will inspire you to give a new (old) piece of furniture a second chance at life!
How to refinish furniture
I have written a lot of blog posts on refinishing furniture! Be sure to check out:
How to fix gouges in furniture
How to flip furniture for a profit
If you are looking to flip thrifted furniture for a profit, you can check out this bench makeover. We share the whole process of how we bought it, made it over, and re-sold the bench online. It shares the real numbers that we spent and our estimated cost of supplies that we had on hand.
Want to learn to flip furniture for a profit? We have a whole resource library of files to help you get started! Sign up for free:
Thrift store before & afters:
DIY Thrifted Furniture Makeovers
Love thrifting for furniture? You will love these inspiring DIY thrifted furniture makeovers.