Since being pregnant, I have really increased the amount of time that I spend laying on my couch.
We have had this couch for only about 3 years, but it hasn't held up.
As my friend told me, "buy cheap and weep". The sofa has just really not held up well and is saggy and you can feel the metal springs in your butt when you sit down.
I desperately wanted to buy a new sofa, but Sean shot that down completely.
He describes the couch as "totally fine" and while I can usually convince him to change his mind, he was not going to allow me to buy a new couch without it becoming a big fight.
Click here to pin this project to your Pinterest board!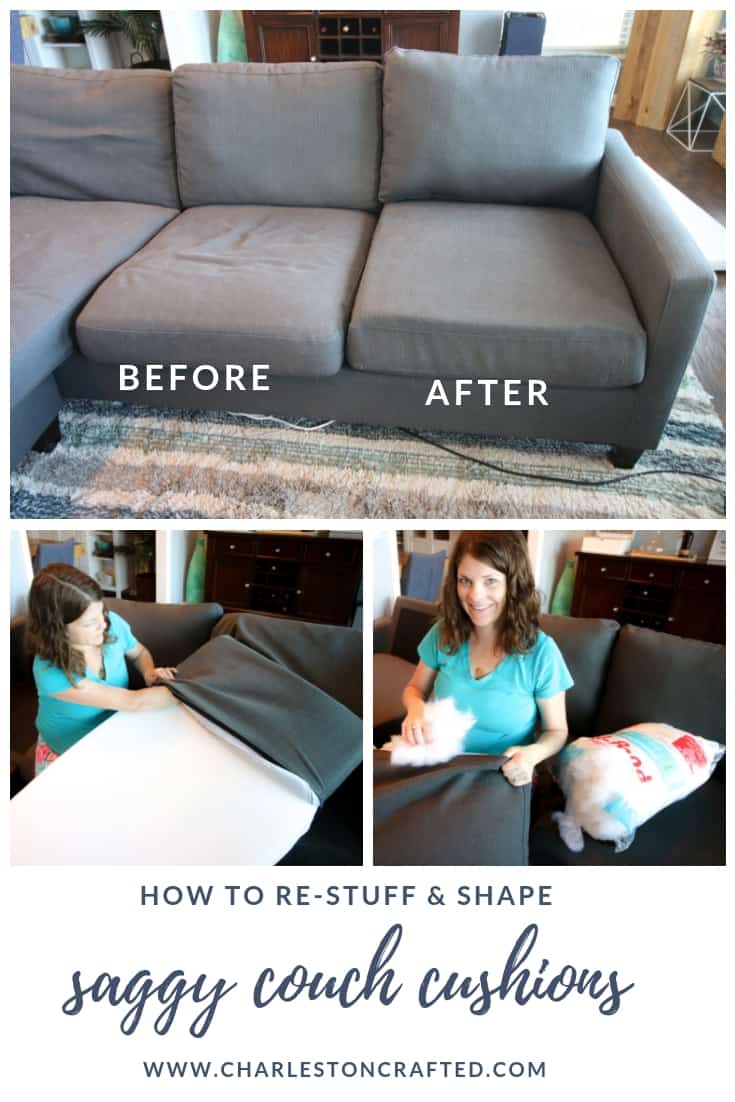 In the interest of our marriage, I decided to pursue options for reshaping and fluffing our existing sofa to make it more comfortable for my tired third trimester and a maternity leave of nursing a baby.
I did a little research and decided to order some new foam and stuffing to try to replenish the saggy pillows.
I spent about $100 on replacement foams for this project.
Click here to share this project on Facebook!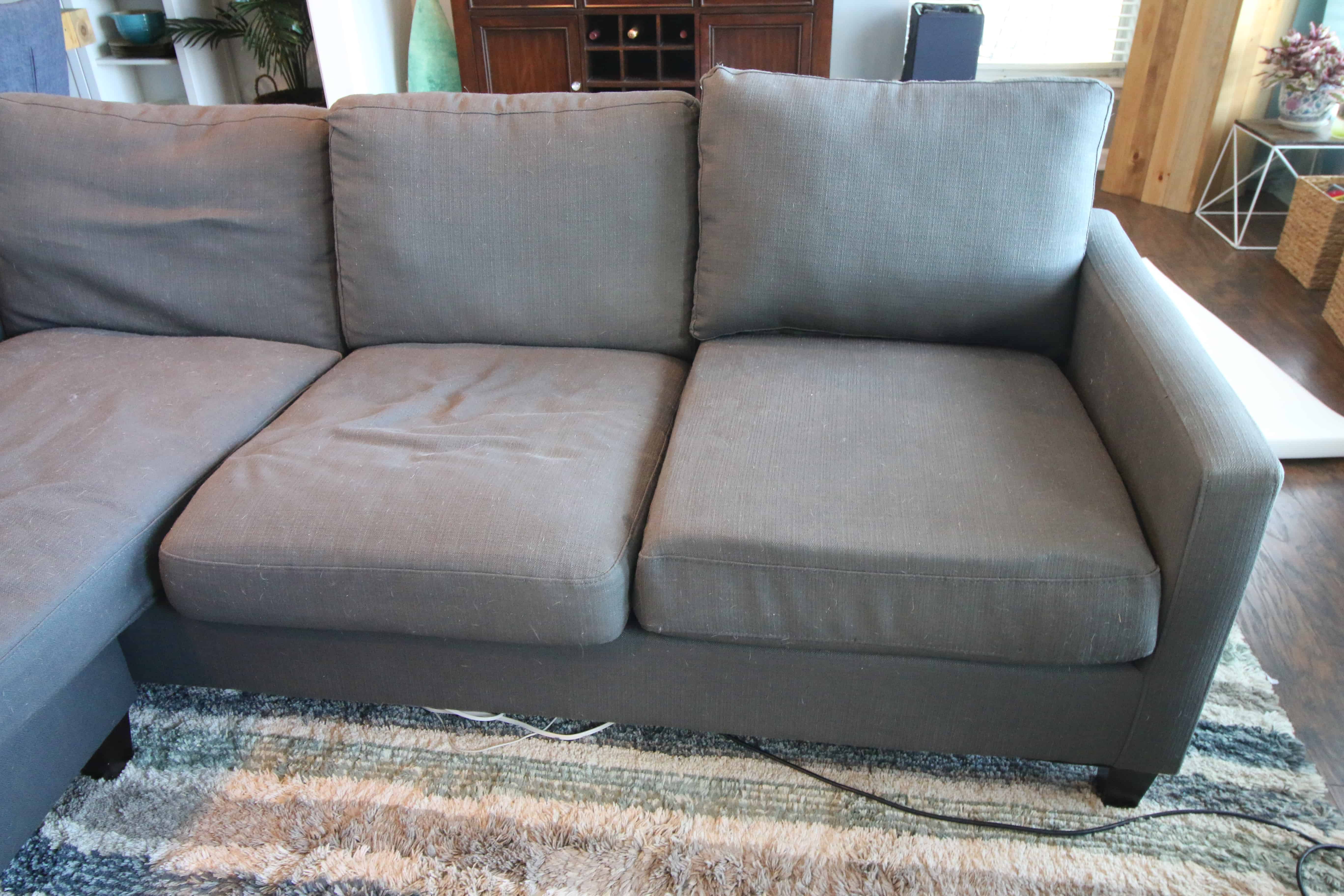 In the above photo, you can see the original cushions on the left and the re-stuffed cushions on the right.
This process will definitely make couch cushions look tighter and more full! It's a great way to make your couch cushions firmer.
What to use for couch stuffing
To re-stuff seat cushions, you should use high-density foam.
Of course, you can use any sheet of foam, but you don't have much space inside the cushion cover, and regular foam doesn't give much cushion per-inch. High-density foam is more expensive, but you will really feel it!
To re-stuff pillows, you will want to use polyfil. This is like traditional pillow fill and is easy to add by the hand full. This is also the best filling for sofa back cushions.
Where can you buy foam for seat cushions?
You can get high-density foam at most craft and fabric stores. I prefer to order on Amazon since it's convenient and they have easy free returns!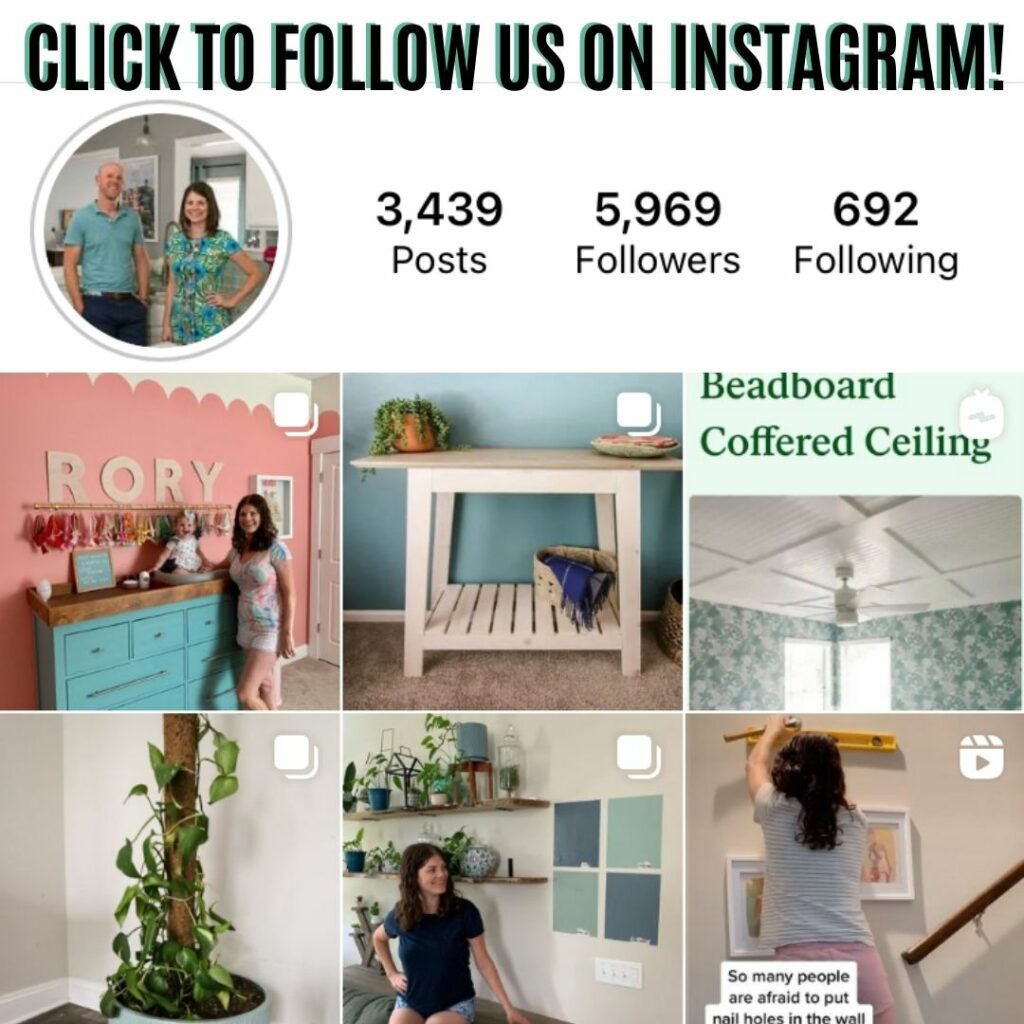 How to stuff sofa cushions & give new life to a saggy couch!
Click here to get this project tutorial in a free printable PDF.
What you need to stuff sofa cushions
2″ upholstery foam to the size of the seat of each couch cushion
Scissors
Optional: Vacuum, lint roller, dog hair remover, etc. for cleaning the couch
How to re-stuff sofa cushions
STEP 1: REMOVE & CLEAN
First, remove your cushions and clean the couch. I vacuumed under each cushion (there was a lot of dirt + sand in there).
I also lint-rollered all of the pillows and cushions.
This is a great time to tighten the legs of your chair or throw any pillow covers into the washing machine for a really fresh start.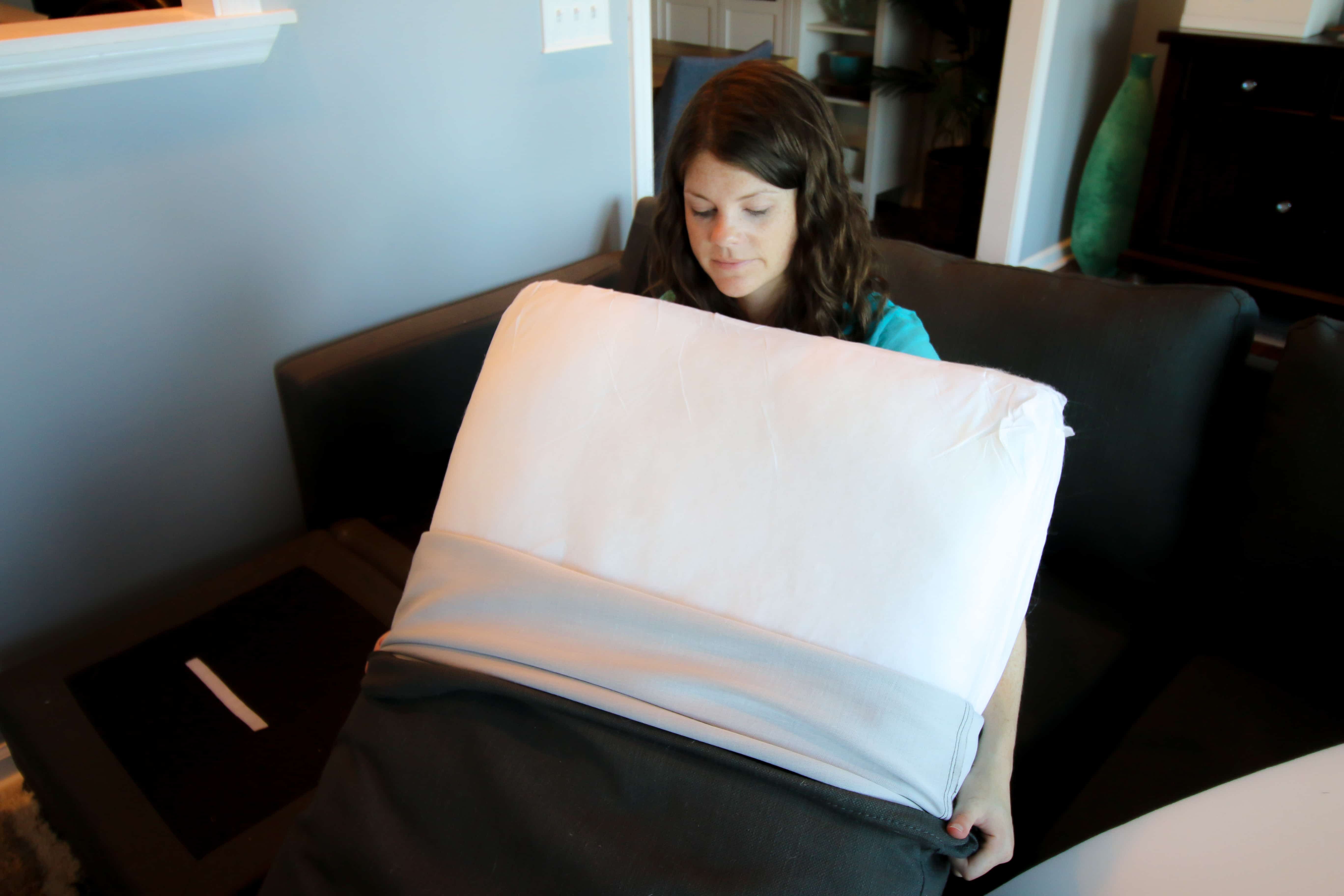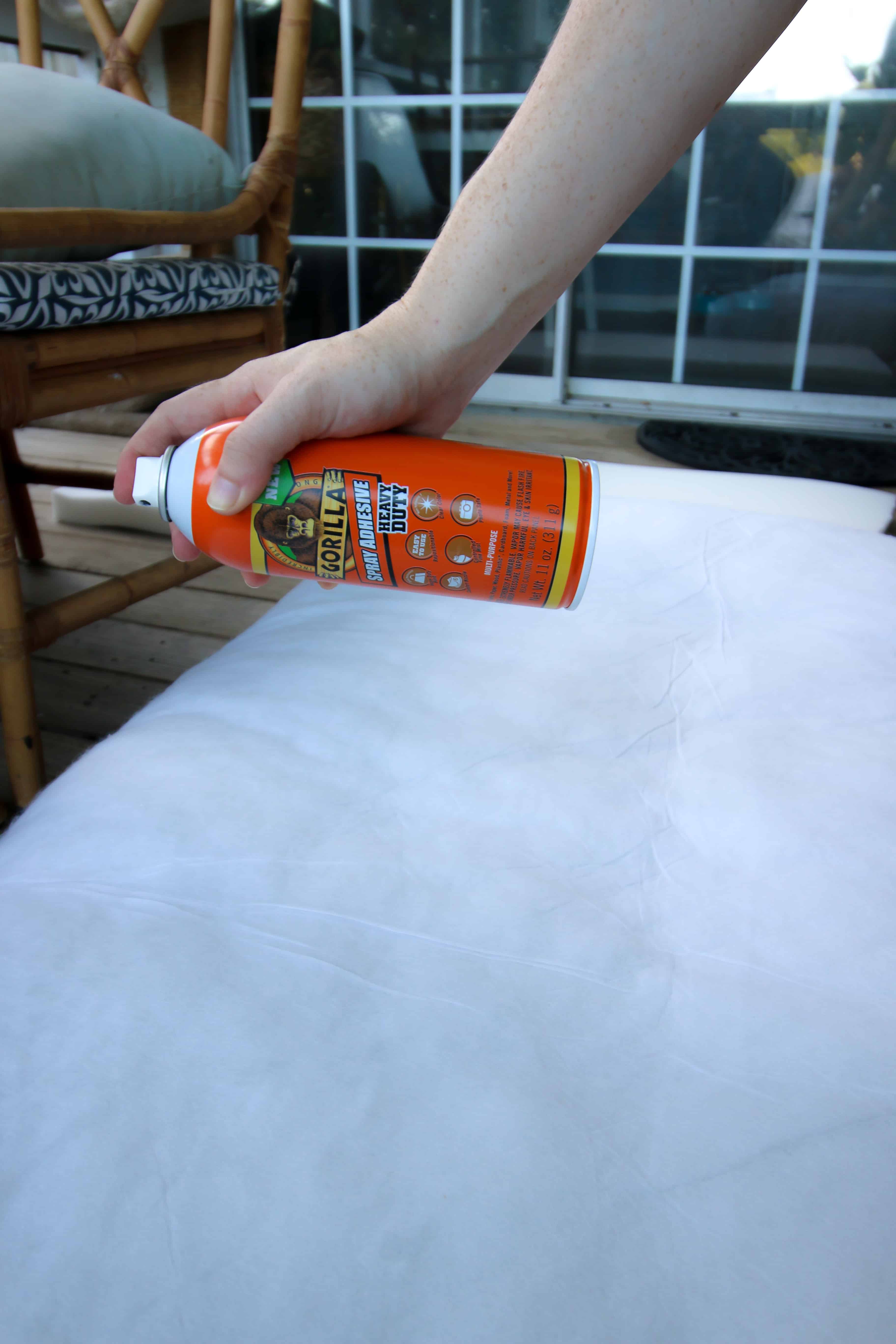 STEP 2: REMOVE A SEAT CUSHION
Start with a seat cushion. Unzip the cover and pull out the insert.
STEP 3: MEASURE
Measure the length and width of the cushion. Cut that size of foam.
STEP 4: CUT THE FOAM
Cut a piece of foam to the size of the top of your cushion. You can use sharp scissors or an electric knife if you have one.
STEP 5: ADHERE THE FOAM TO THE CUSHION
Use spray adhesive to attach the foam to the top of the cushion.
Follow the instructions on your can of spray adhesive and give it time to dry – you'll be glad that you did!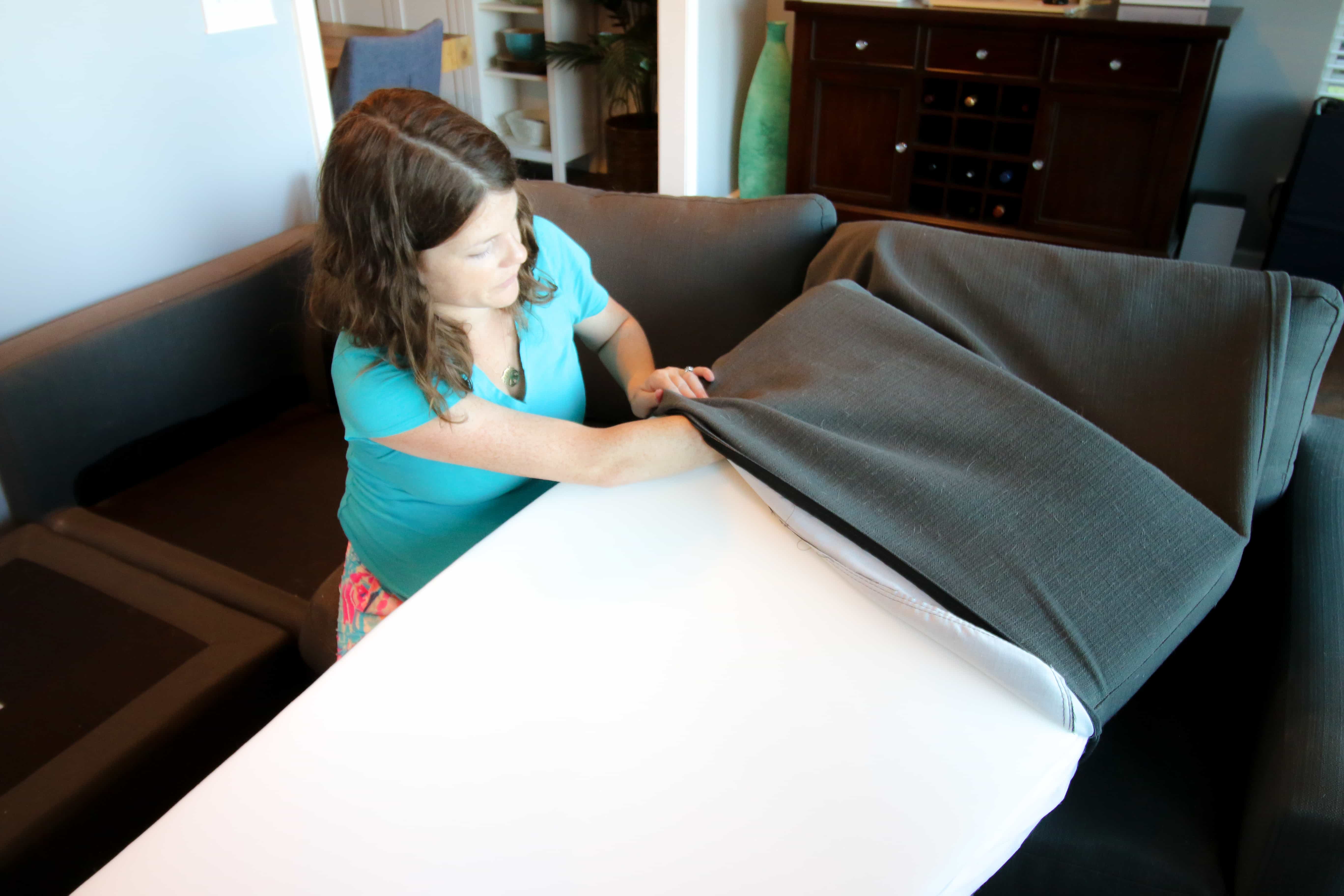 STEP 6: REPLACE THE CUSHION IN THE CASE
Insert the cushion back into the cover. This might now be a really tight fit.
Go slowly so you don't damage the cover and it can help to have a second set of hands! Zip up the cover and you are done.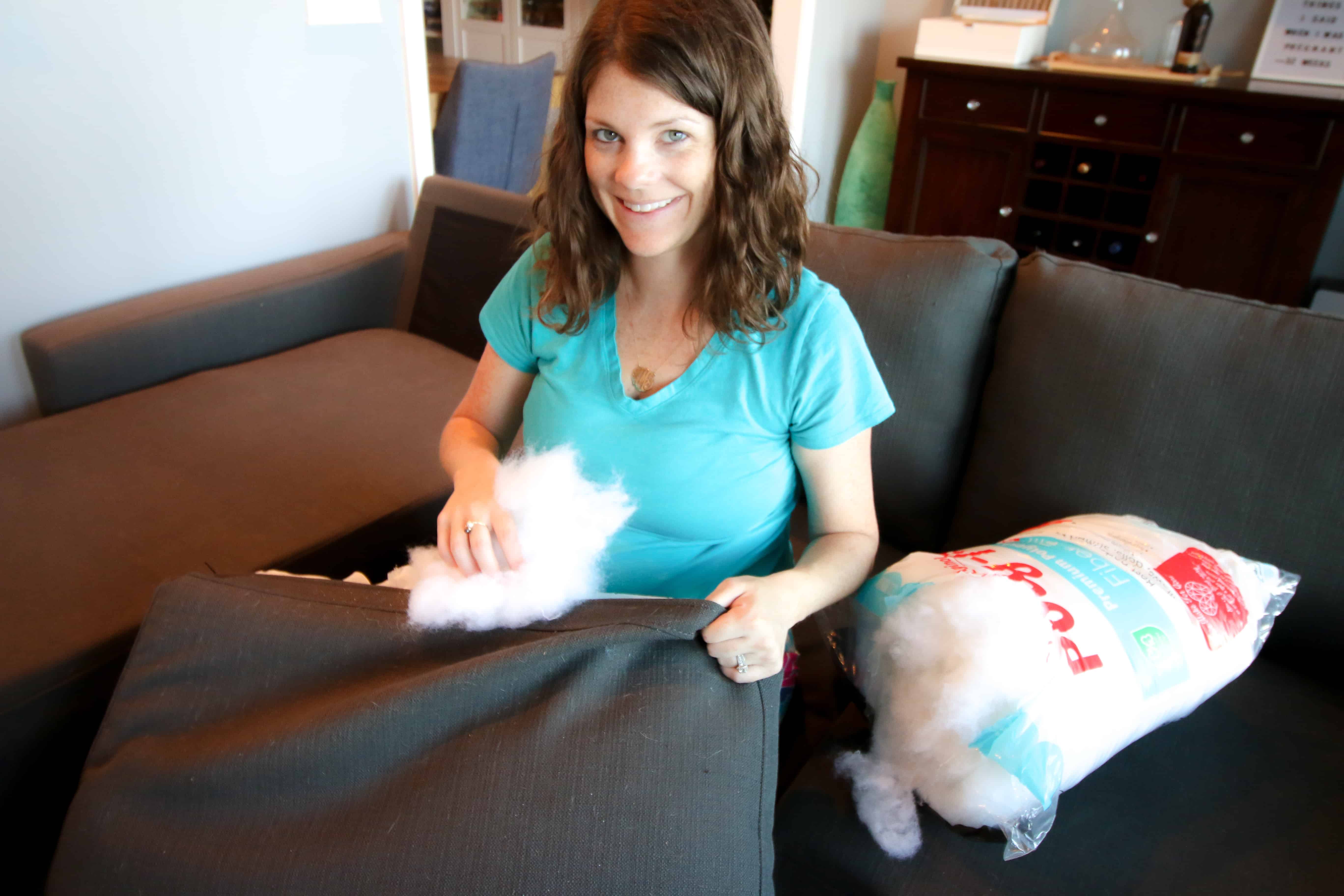 STEP 7: REMOVE THE BACK PILLOW
Now address the seat back cushions. Unzip each cover.
STEP 8: ADD POLYFIL
Add polyfil to the side of the cushion that will face your back.
I used about 2/3 of a 20oz bag on each seat back. Be sure to shove it into the corners and edges and then zip the cover back.
STEP 8: REPLACE THE PILLOW
Replace all of your cushions and repeat until you are done! Your couch should now look a lot tighter and less saggy and feel a lot more comfortable to sit on.
Click here to pin this project to your Pinterest board!
Any questions about how to restuff couch cushions?
Video demonstration
Be sure to check out my video demonstration of stuffing our sofa!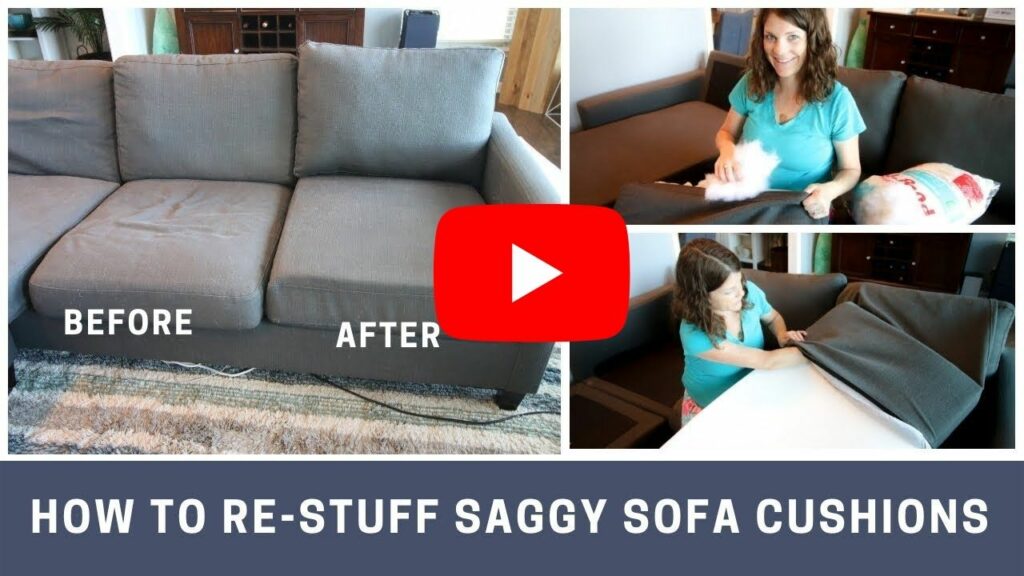 Click here to get this project tutorial in a free printable PDF.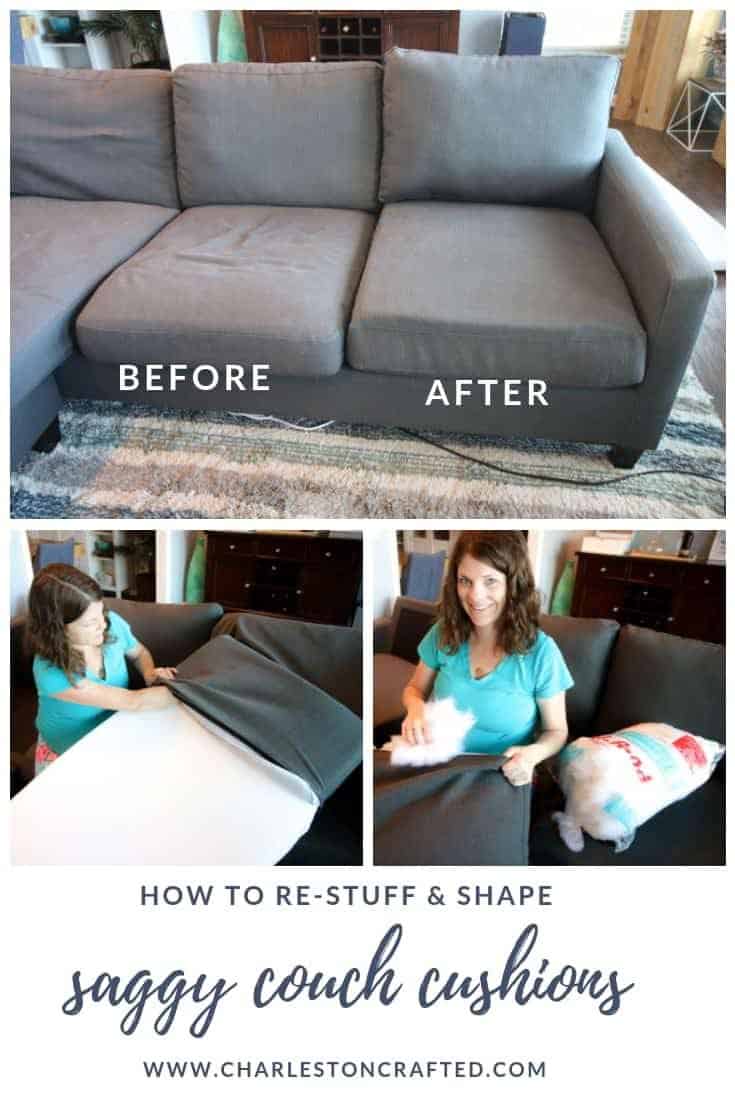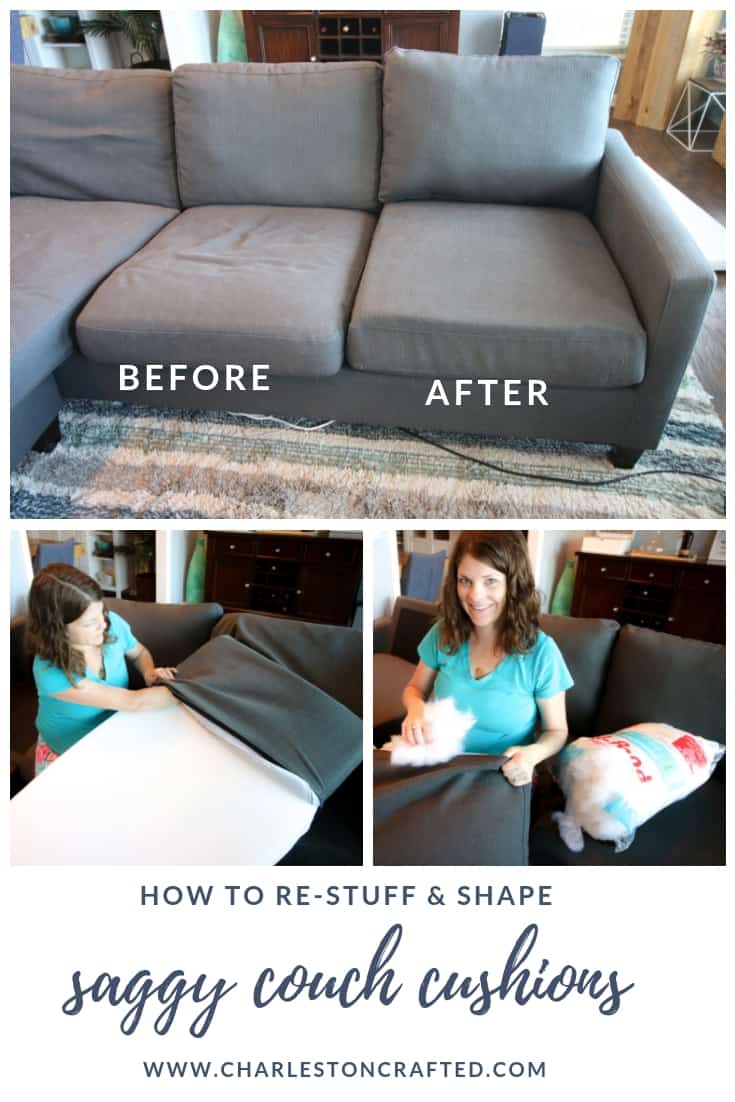 Yield:

1 newly stuffed sofa
How to stuff sofa cushions & give new life to a saggy couch!
Sofas are expensive to replace! Here is how to save some money and re-stuff your saggy couch instead.
Materials
2" upholstery foam (linked below)
Polyfil (linked below)
Spray adhesive (linked below)
Instructions
Remove your cushions and clean the couch.
Unzip the seat cushion cover and pull out the insert. Measure and cut foam to fit.
Use spray adhesive to attach foam to cushion.
Insert cushion back into the cover.
Unzip seat back cushions. Add Polyfil until they are fluffy. Re-zip.
Replace all cushions on couch.
Recommended Products
As an Amazon Associate and member of other affiliate programs, I earn from qualifying purchases.
Do you have a saggy couch? Would you try to update it or just replace it?
Be sure to click over and check out my favorite cheap couches!
Facebook | Instagram | Pinterest | Twitter | YouTube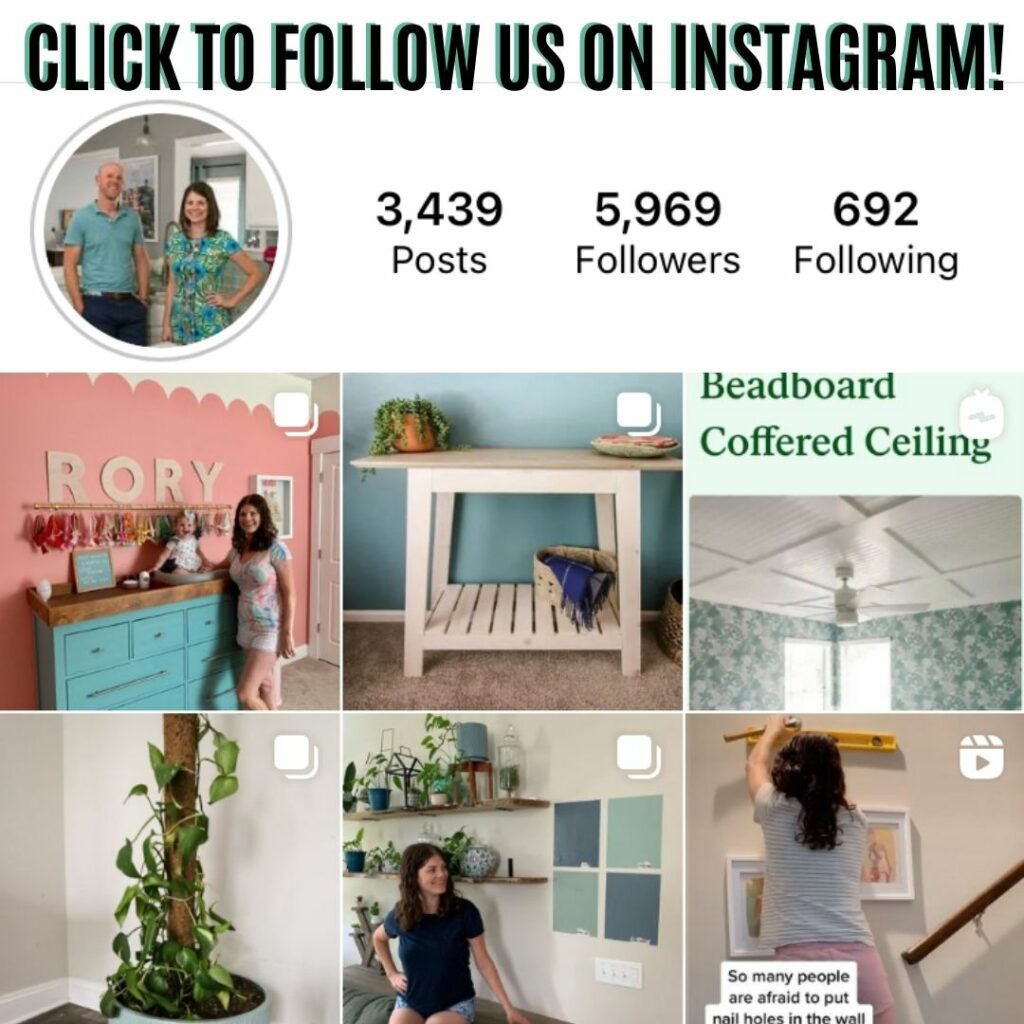 ---
Can we send you our newsletter?
Another great way to keep up with out latest projects is by joining our weekly newsletter! Get alerts of our latest projects and special peeks behind the scenes!
Follow along on Instagram
Join our online community where we share real time behind the scenes looks at our DIY projects and peeks inside our home + family!
---