Whether you are first starting out decorating a home, redecorating on a budget, or just interested in decorating in a more environmentally friendly way, thrift stores and online yard sale groups can be a great way to get a deal. You can find lots of different types of items in those ways, but I have some advice on what you should thrift and what you should not.
This also applies to rummage sales like the Whale of a Sale!
That being said, thrift whatever you want! This is just based on my experiences. Some of the items on my don't thrift list just require additional patience or tools.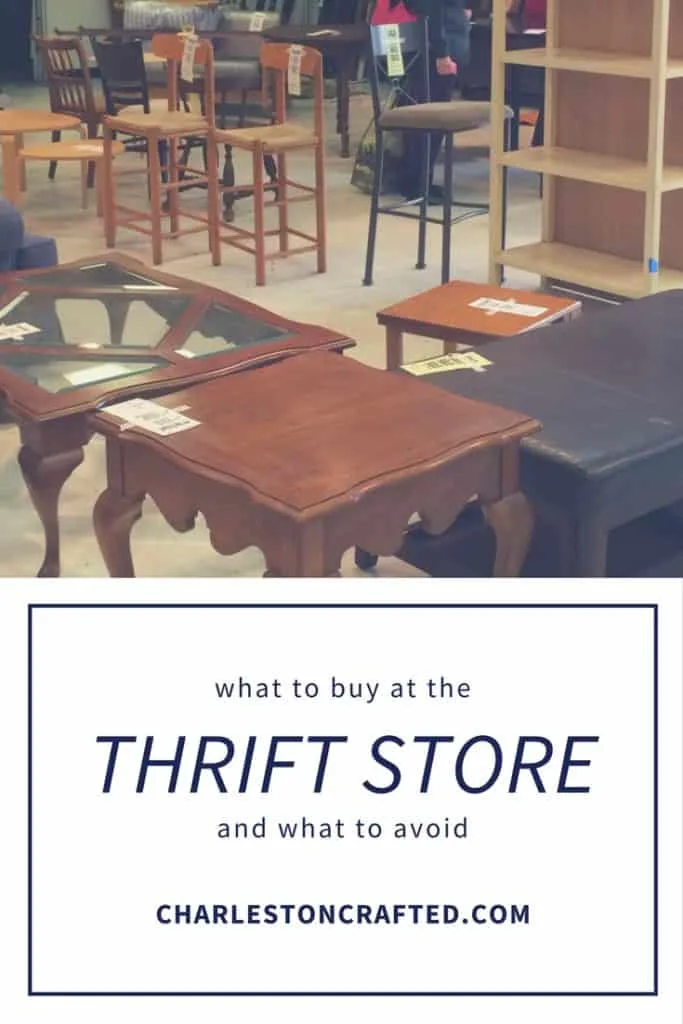 WHAT TO THRIFT
Solid wood vintage furniture – sometimes, they really don't make them like they used to. Vintage furniture can be the way to get great prices on solid wood dressers, tables, and more.
Something that you loved but has a scratched or damaged finish – sanding, staining, and/or painting are cheap and easy. You can do it! Items with damaged finishes are often your best bet for scoring a deal.
Something that you love the shape but don't like the color – paint is your best friend. It's cheap and doesn't require special tools or skills. Look beyond the color when you are thrifting!
WHAT NOT TO THRIFT
Anything upholstered – fabric and soft materials tend to absorb stains and smells more than wooden or hard pieces. You can certainly DIY re-upholster things (for example a dining room chair seat isn't too hard) but anything major, like a couch, will require skill and time to do right, plus, fabric can be expensive.
Anything you can't wash – comforters or large pillows can seem like a good buy, but if they won't fit in your washing machine, think twice. What seems fine at the store can stank like dog once you get it home. Febreeze can only do so much 🙂
Things that are just cheap – everyone needs to fill their space, but don't buy something that is not your style and that you can't fix up, just because it's cheap. You'll end up either hating it and replacing it, or hating it but leaving it there.
What do you think? What do you and don't you thrift?