Happy Halloween! This post will give you a roundup of our Halloween decor projects from this year and get you in the spooky spirit!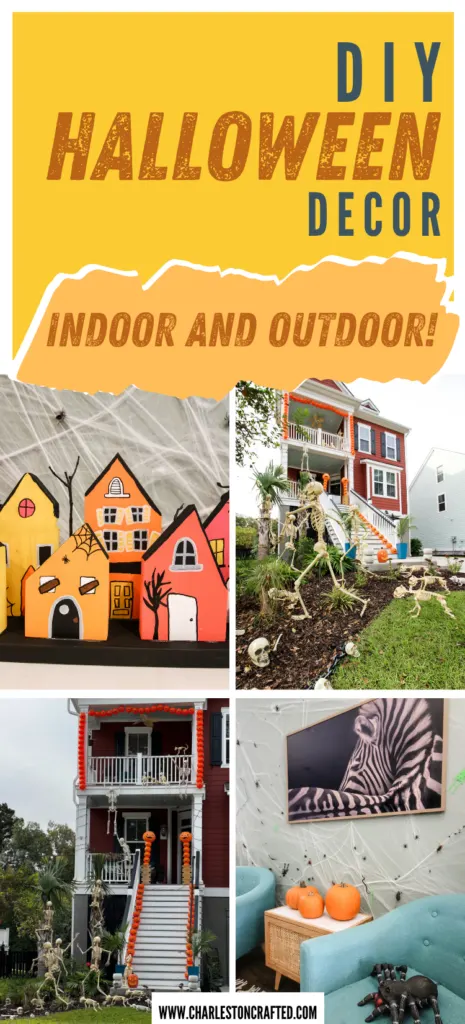 Happy Halloween! We've shared a lot of DIY Halloween projects this year and wanted to make sure you saw them all in one place!
We did a variety of indoor and outdoor Halloween decor projects this year and have loved sharing them with you.
Halloween is our favorite time to get fun and creative and make a happy time for our kids while also sharing our ideas for you for this year or the next.
Here's a look at everything we did this year for Halloween!
Outdoor Halloween Decor Projects
Here's a look at all of our Halloween decor this year!
Skeleton dog chase
The main theme of our outdoor decor this year is our skeleton dog chase.
We reused some skeletons from our old skeleton pirate display and bought some new ones, plus lots of skeleton dogs to set up this display.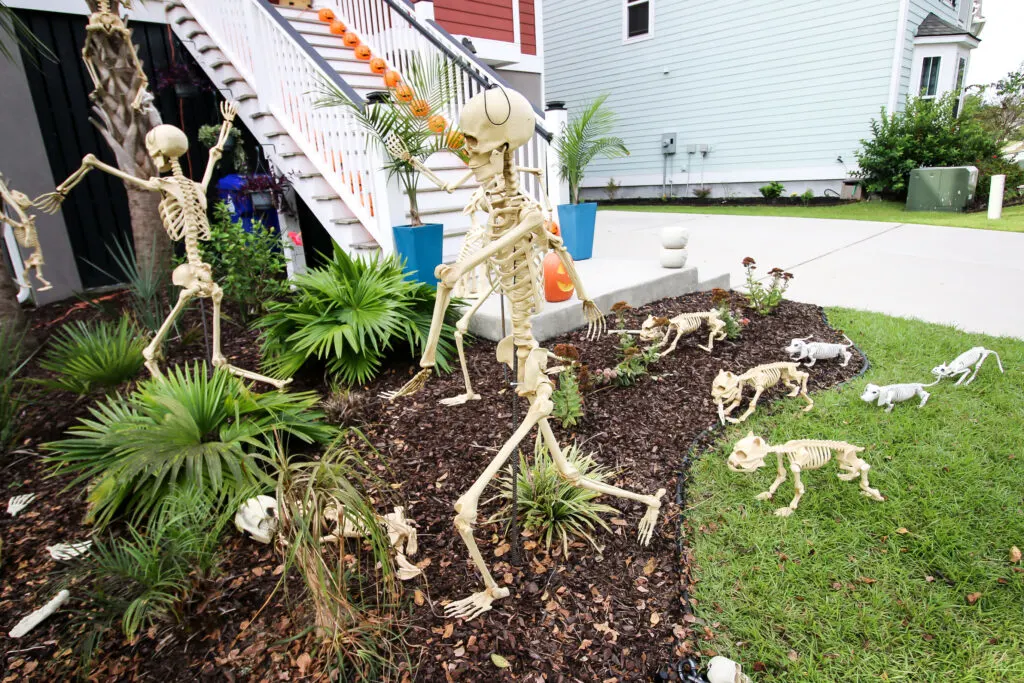 We used rebar to pose our skeletons running away from the dogs and tied them to our palm trees and porches to make it look like they were all running away and climbing to safety. It's a real hit!
Plastic pumpkin garland
In past years, we've had a row of plastic pumpkins up our front stairs that light up at night, leading to our plastic pumpkin topiary display.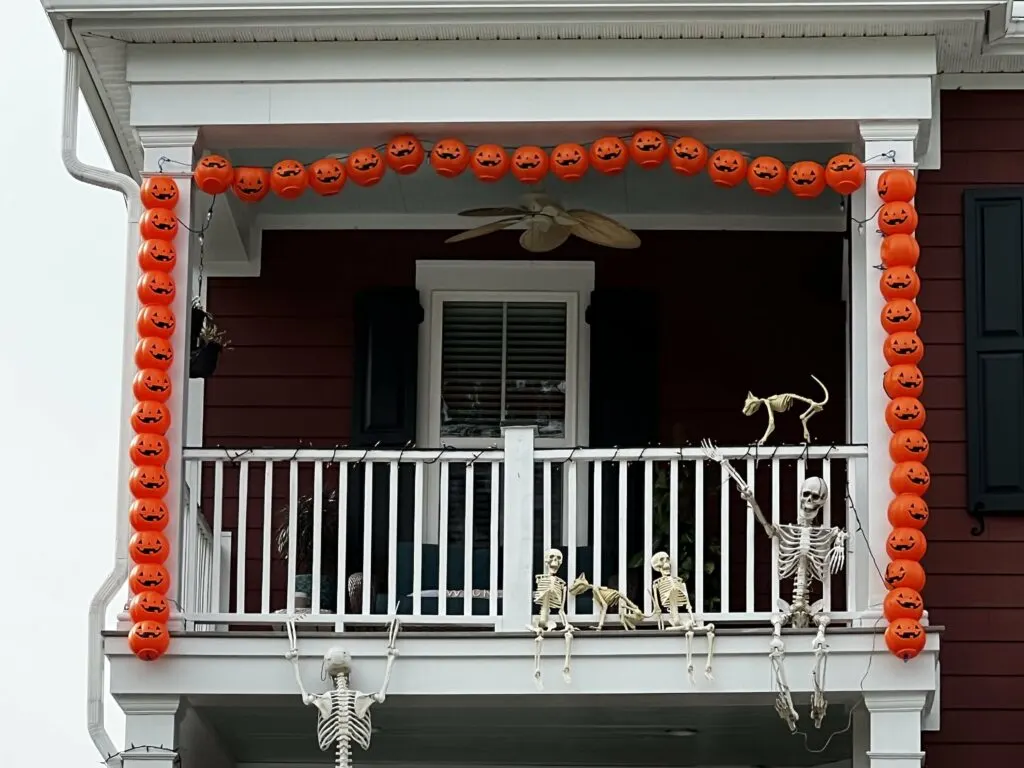 This year, we decided to add a huge plastic pumpkin arch garland on our upper porch. This adds light to the top of our house and matches with the lower display.
This garland was huge with nylon-coated wire and hooks and looks great from below!
Other outdoor decor
Our kids also love inflatables, so we have a 12 foot tall pumpkin man that towers over our displays.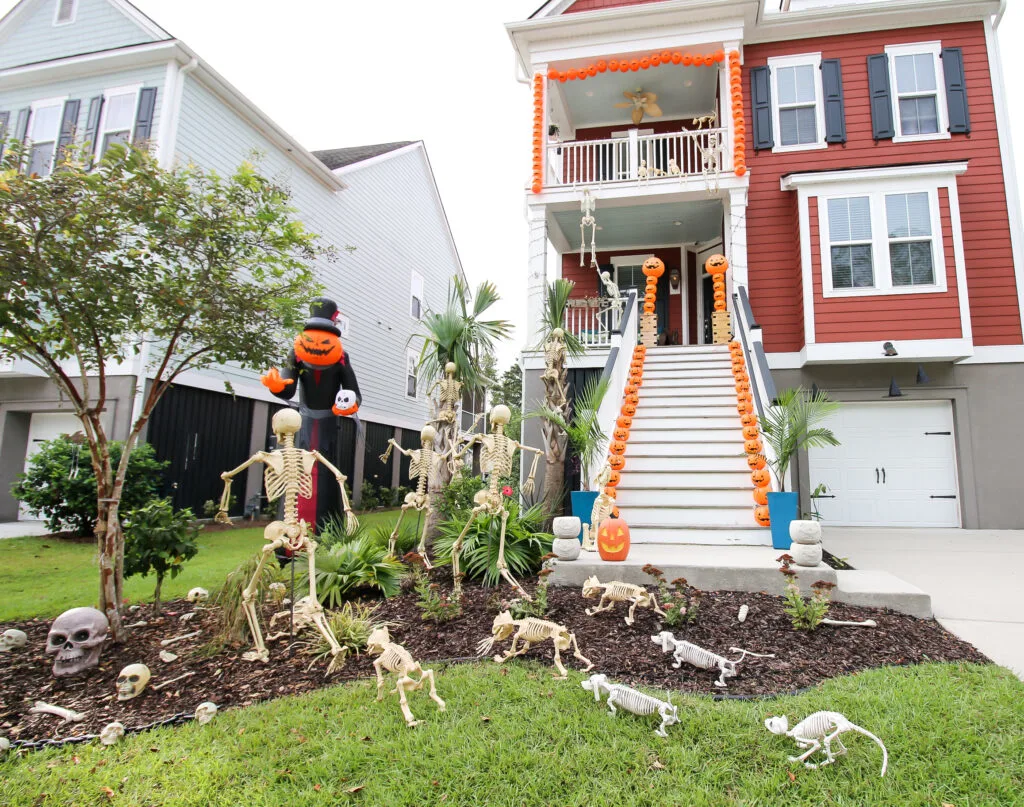 We also added inflatable window ghosts and a strand of ghost garlands from our upper porch to the garage. Spooky!
Our old DIY concrete pumpkins are guarding the steps and there are some other accessories floating around and we just love it in general!
Indoor Halloween Decor Projects
Here's a look at some of the indoor Halloween projects we did this year!
Spooky Halloween Village
We wanted to do some actual crafting, so we whipped up a spooky Halloween tabletop display.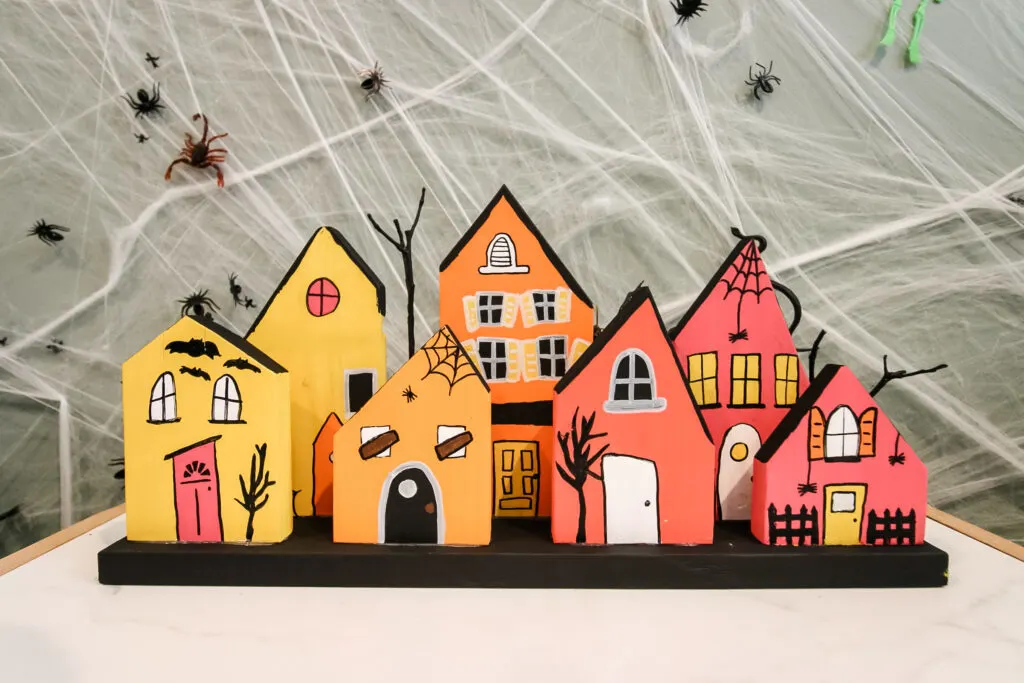 This is just a few pieces of wood cut with strange angles on top and painted to look like a spooky village.
This is a fun art project that you can do lots with!
Spider Stairs
Our rainbow staircase from our kids' bedrooms to the playroom is always a hit for the kids and we thought it would be a great way to add a little Halloween flair!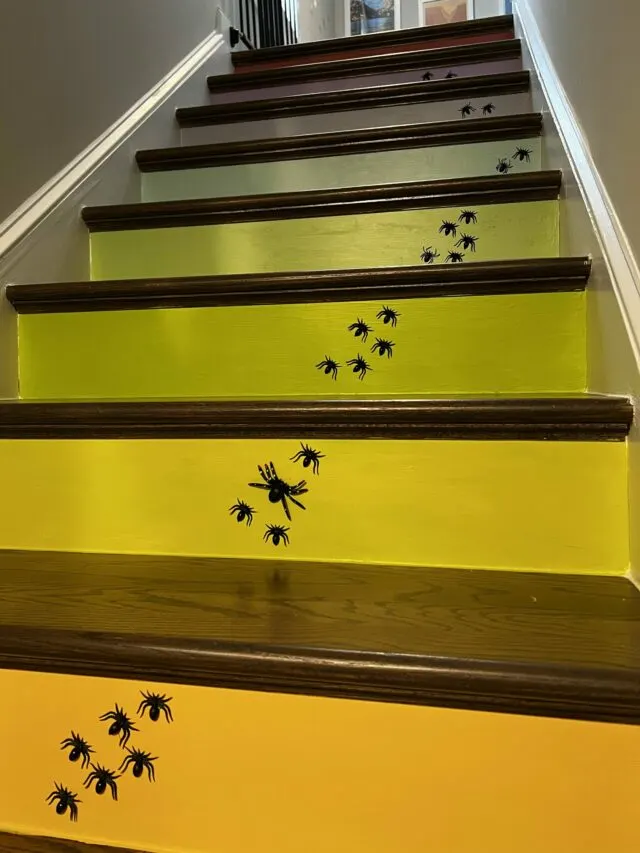 So, we tacked up some spiders on each riser to give the look that spiders were climbing up the stairs!
Spider Web
We also tacked up spider web across the entire living room and shared our best tips for how to do that.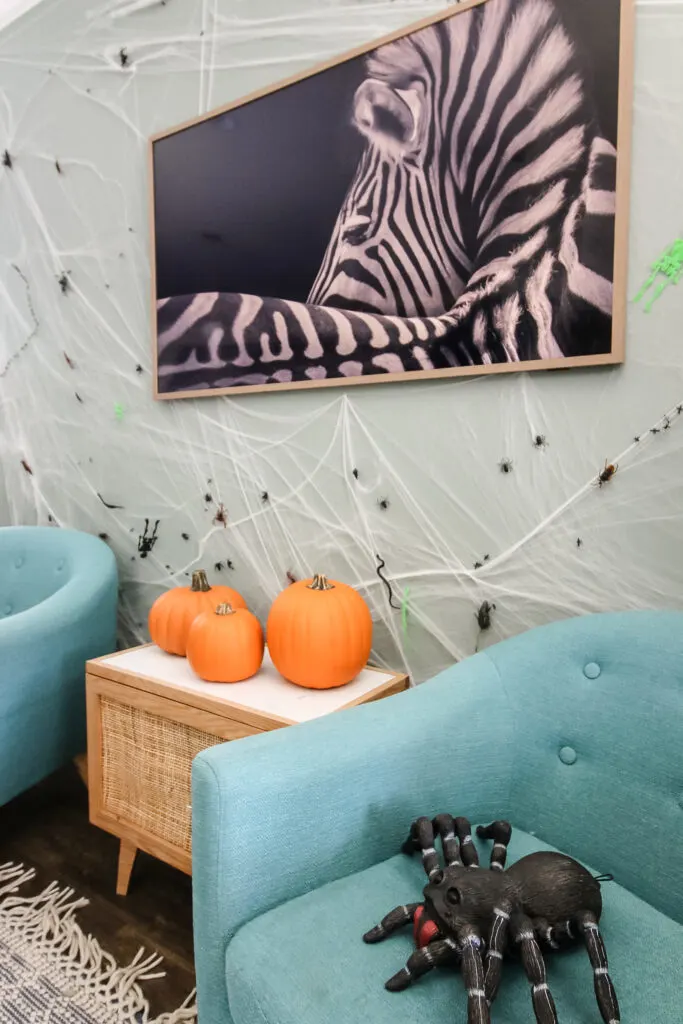 We hung the web around our Samsung Frame TV and above our DIY media console and let the kids put all the spiders and bugs in it. It looks so cool.
Our mantel got decorated too and we have little creepy guys around the house, but we just love Halloween so much and hope you enjoy it too.
Happy Halloween!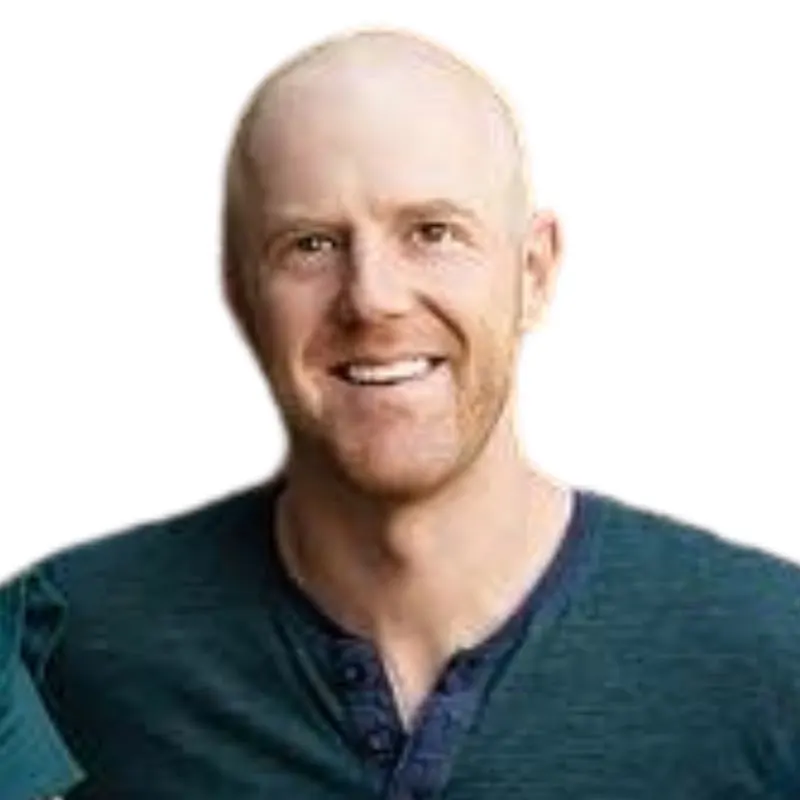 Hey there, I'm Sean, the woodworking enthusiast and builder behind CharlestonCrafted.com! Since 2012, I've been sharing the magic of turning raw materials into beautiful creations. I love teaching others the art and satisfaction of woodworking and DIY. I try to inspire fellow crafters to make something extraordinary out of nothing at all.